AI Writing Article Generator Tool
An intro paragraph is where you capture your reader's attention. It is probably the most important paragraph in any blog post, essay, novel, screenplay, article, etc. Now you can write one with AI.

What should be included in an intro paragraph?
An intro paragraph should be, above all else, compelling. Common ways to achieve this include: starting with a question, agitating the reader by underscoring the problem, or by citing a quote or statistic.
Following a delightful hook, you should give your reader the context needed to understand the topic. This may include an outline of your thesis, definitions of key terms, or the "who, what, where, when."
Differences do exist depending on what you're writing.
→ Blog post: Keep it short and tease the topic. You want to keep readers on page and make sure they know they've landed on the right article.
→ Essay: An essay intro can be longer and should outline a thesis that logically leads into the paragraphs that follow.
→ An article: Particularly for a news article or press release, you must include the "who, what, where, when."

Write long-form blog articles that rank on Google… 10x faster
Are you wasting time and money on blog posts that don't rank? GrowthBar's AI enables you to click one button and get paragraph after paragraph of 100% original content.
Writing long blog posts? No problem, you can write an entire post of 10,000+ words using GrowthBar — all from our slick and convenient text editor. Just enter your target keyword and begin writing… with the help of the largest natural language model ever.
GrowthBar also offers recommendations along the way, so your error-free copy is more engaging and ranks higher in Google.
Did we mention that GrowthBar is also the highest-rated writing assistant on G2?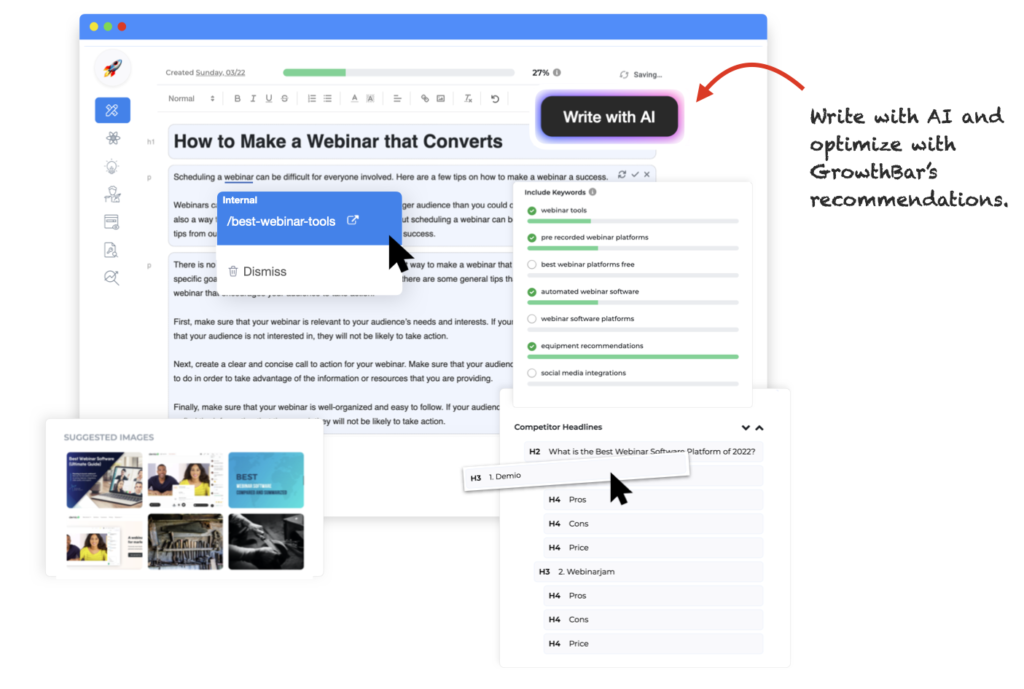 Write SEO content that ranks
Blogging is the foundation of almost any modern SEO strategy. Whether you're an agency, an entrepreneur, or an in-house marketer, you know the pain of writing huge blog posts. The process is expensive, time-consuming, and disorganized.
AI writing tools like GrowthBar can alleviate a lot of that burden. AI content creators can help you automate the writing and publishing process, which can save you a lot of time. They can also help you identify topics that people are interested in, which can allow you to be a better content creator or copywriter.
GrowthBar does all of that and more.

Optimize your content
GrowthBar picks up where a lot of other tools fall short. As you write your AI blog post, follow the prompts and best practices to make sure your blog post ranks. GrowthBar pulls hundreds of signals from the Google search engine results page (SERP) to give you SEO suggestions. You'll get:
→ Suggested keywords to use
→ Optimal length of the post
→ Optimal image count
→ Headline count
→ Internal and external link counts
→ Flesch Reading Ease score
→ GrowthBar's AI even suggests internal links while you write
Check out the Content Optimization Meter to see how optimized your AI blog post is from 0-100. Write smarter content that ranks.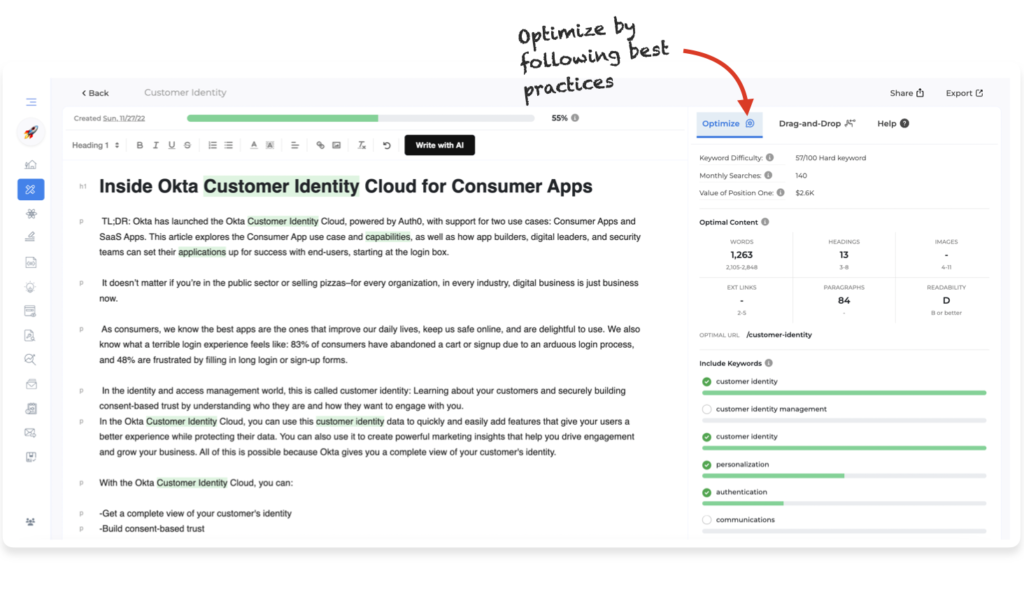 Drag-and-Drop
Plus, you can drag and drop images and headlines from the Drag-and-Drop feature, saving you even more time. Headlines are pulled from content in the SERP as well as the most commonly searched questions about your topic.
In fact, our AI and algorithms work best if you include headlines in your article. So go for it and write comprehensive blog posts, fast.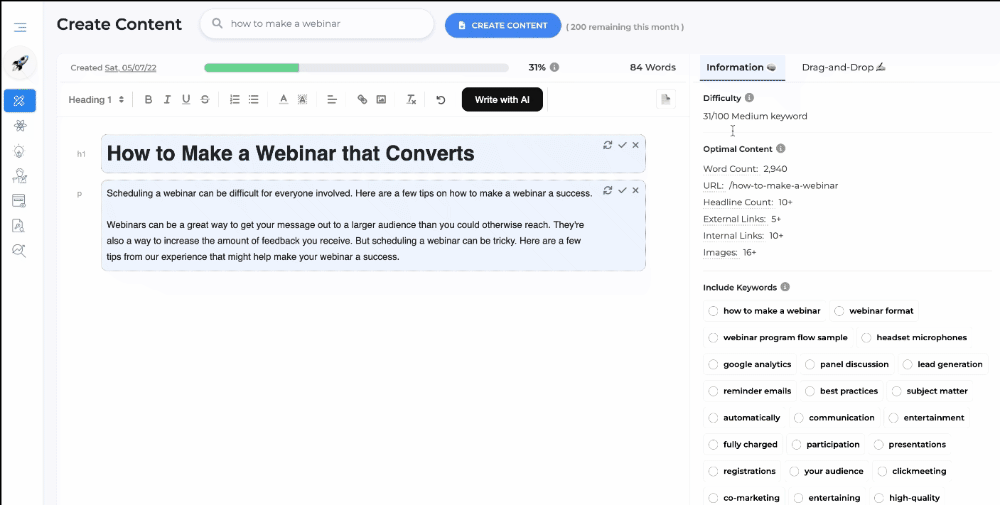 Dominate Your Niche With GrowthBar
Research write and optimize content with AI.
How do AI writing tools work?
Most natural language processing models like GrowthBar, start by training an AI. AI is "trained" by "reading" billions or trillions of data points. In the case of NLP models, the data is webpages. GrowthBar's model is trained on 45 terabytes of data. From there, AI is fine-tuned by a human review of outputs.
When the user writes a query, a properly-trained AI will result in an output that is logical.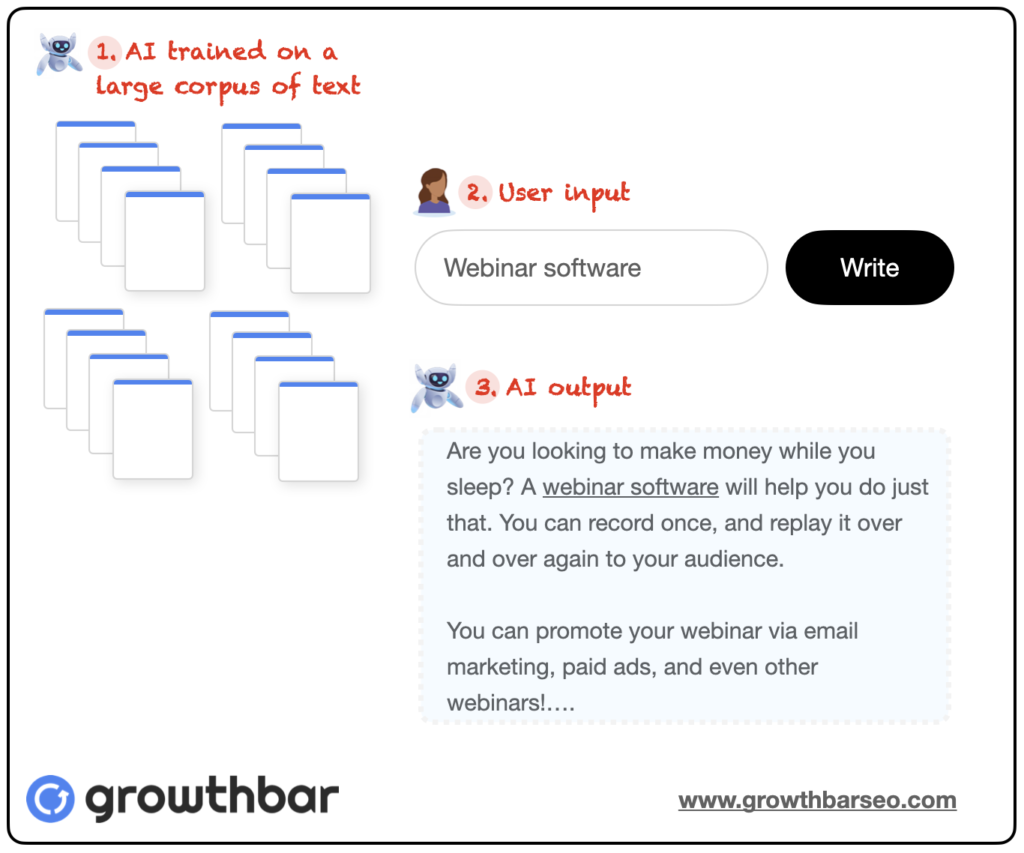 Extra AI writing features
Save time planning and writing content with GrowthBar. Need to brainstorm new blog post ideas or write a quick paragraph with AI? Rewrite a quick paragraph? Or maybe write a press release or marketing email? GrowthBar has you covered. Simply enter any keyword and GrowthBar does the rest — generating 100% unique content.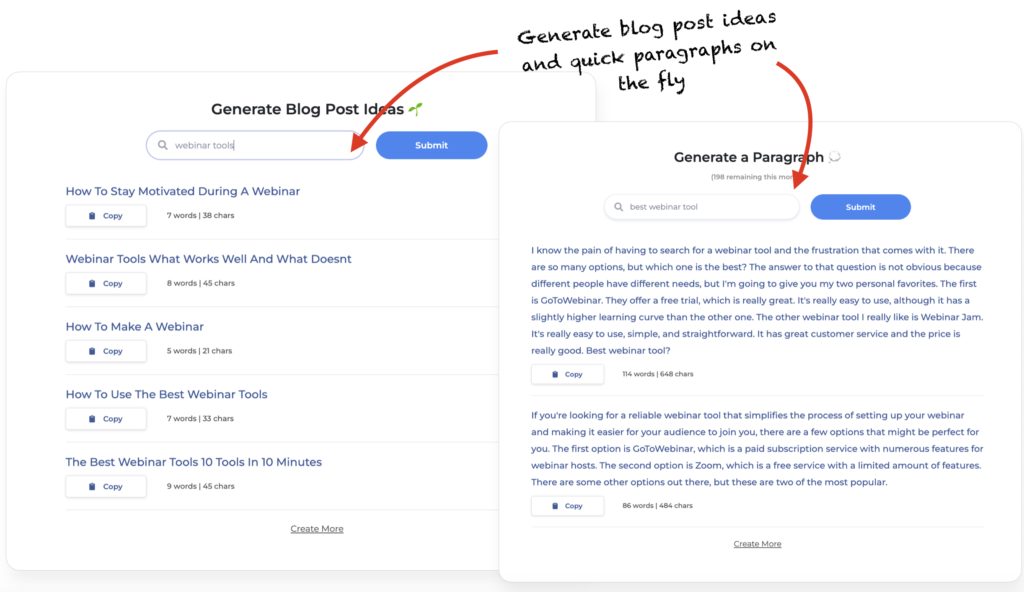 Export and publish
Export your blog post to a Google Doc or copy/paste into WordPress or another CMS and you're ready to rank. Try GrowthBar now →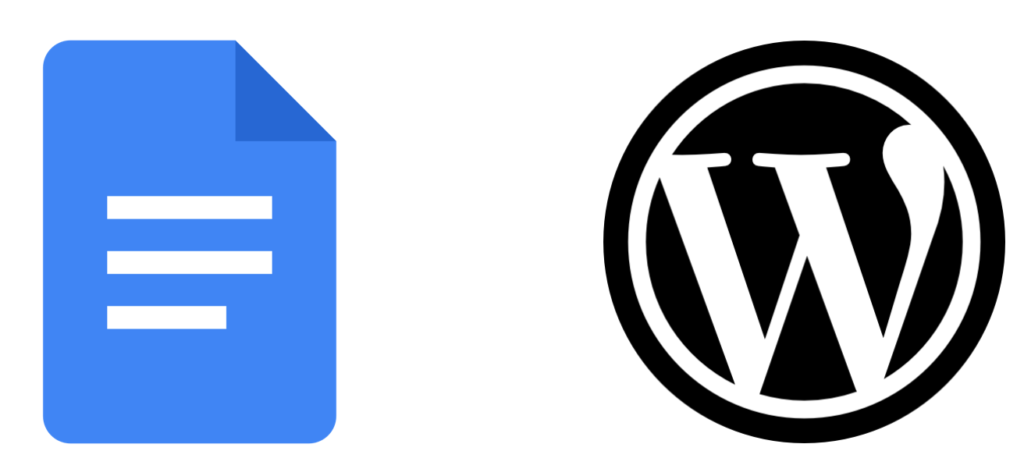 GrowthBar Tools
Quantitative Research and Source Workflow
Use GrowthBar's AI Chat directly in the Content Generator to find useful research (including the source to use as an external link).
Paragraph Rewriter
Harness the power of AI to rewrite and reword paragraphs of text with GrowthBar. Use it for essays, blog posts, love letters, or wherever else you need some writing assistance.

Blog Idea Generator
Research and find keywords. Then, create incredible blog ideas in seconds using AI. Writer's block no more with GrowthBar's AI blog idea generator.
Meta Description Generator
Want to create a meta description, but unsure how to start? GrowthBar has you covered with its AI meta description generator. Create 160 characters of pure gold.
Email Newsletter Generator
Want to create an email newsletter, but unsure how to start? GrowthBar has you covered with its AI email newsletter generator. Create paragraph after paragraph of engaging email content in one click.
Sales Email Generator
Want to create a sales email, but unsure how to start? GrowthBar has you covered with its AI sales email generator. Enter a little information below, including your "ask" and get quippy, engaging sales emails 10x faster.
Intro Paragraph Generator
With GrowthBar, you can create long-form blog posts in half the time. You can also generate quick introductory paragraphs with AI.

Sentence Rewriter
Harness the power of AI to rewrite and reword sentences of text with GrowthBar. Use it for essays, blog posts, love letters, or wherever else you need some writing assistance.

Common Questions
Who should use GrowthBar?

GrowthBar is the highest-rated AI writing tool on G2. It's an end-to-end tool for researching, writing, and optimizing SEO content -- using intelligent algorithms and AI. GrowthBar is for anyone who wants to write content 10x faster and get more organic traffic. That audience includes marketing agencies, in-house marketers, content creators, and editors.

Does GrowthBar work in other languages?

GrowthBar works in about 20 languages and 25 countries. This means you can write in most languages and optimize your content for the country you care about ranking in. "Write in Portuguese and optimize my content to rank in Brazil" -- GrowthBar can do that. "Write in English and optimize my content to rank in France" -- GrowthBar can do that too.

Can I use GrowthBar on client sites?

Yes, you can use GrowthBar on client sites. In fact, almost half of our customers are agencies!

What is the GrowthBar Chrome Extension?

The 5-star rated GrowthBar Chrome Extension comes free with every subscription. It enables you to write with AI in WordPress and get keyword and competitive insights while you Google search. Simply download it, then activate it in your Chrome top toolbar (if you don't see it immediately, click the puzzle piece icon and find it).

It depends on when you submit your refund request. We offer a 100% money back guarantee if you ping us back within the 7 days after the expiration of your free trial. You can reach us any time at

[email protected]

if you have questions.

GrowthBar was created by Hailey and Mark -- the founders of Growth Marketing Pro, the largest growth marketing blog on the internet. Today, GrowthBar is a full-time remote team of marketers and developers devoted to creating the best SEO tool for content creators. Our team is spread across Northern California, Southern California, New York, North Carolina, Pakistan, and Ukraine.

How does GrowthBar compare to other tools?

GrowthBar has 5 stars on Capterra and 4.9 stars on G2 for a reason! It generates AI content with superior algorithms that practically write and optimize your blog posts for you. Even more, GrowthBar does keyword research, rank tracking, and backlink research like big SEO tools you've heard of. Bottom line: if you want the tool that will actually increase your web traffic, try GrowthBar.

Where does GrowthBar get data?

We pride ourselves on data quality. Our data is aggregated from proprietary algorithms and trusted data providers including industry-leading Google Ads tool, SpyFu and OpenAI's natural language model, GPT-3. There are different methods for gathering different types of information but the high standard of quality across our databases remains the same.

Is GrowthBar content plagiarized?

No, GrowthBar's content is 100% unique.

Does Google penalize AI content?

Google has come out and said that it is not against AI content. Google does not care who – or what – writes your content, as long as that content is written to help people and not to manipulate the search results. This means that you should edit, fact-check, and make sure your AI-enabled articles are of high quality.

Can I use GrowthBar to audit existing articles?

Yes, GrowthBar has an article import feature. Simply enter the URL of the page or post in the Content Generator, wait a few seconds, and voila! GrowthBar imports your existing article so that you can add to it with AI writing and optimize by following GrowthBar's SEO best practices.

How does AI writing work?

GrowthBar's AI and proprietary algorithms guide you in researching, writing, and optimizing content. GrowthBar has been trained on 175 billion parameters, from books to websites, to research text. It has extracted an accurate understanding of natural language and combines those learnings when you instruct it to research a keyword or write for you.