Meta Description Generator
Want to create a meta description, but unsure how to start? GrowthBar has you covered with its AI meta description generator.


Make meta descriptions fast
Meta descriptions are an integral part of winning clicks on the Google Search Engine Results Page (SERP). So if you're not using them, you need to be.

Are you wasting time making meta descriptions manually? With GrowthBar, you can enter a little information and generate meta descriptions ready to copy and paste on your website. Descriptions are created using a powerful natural language model called GPT-3.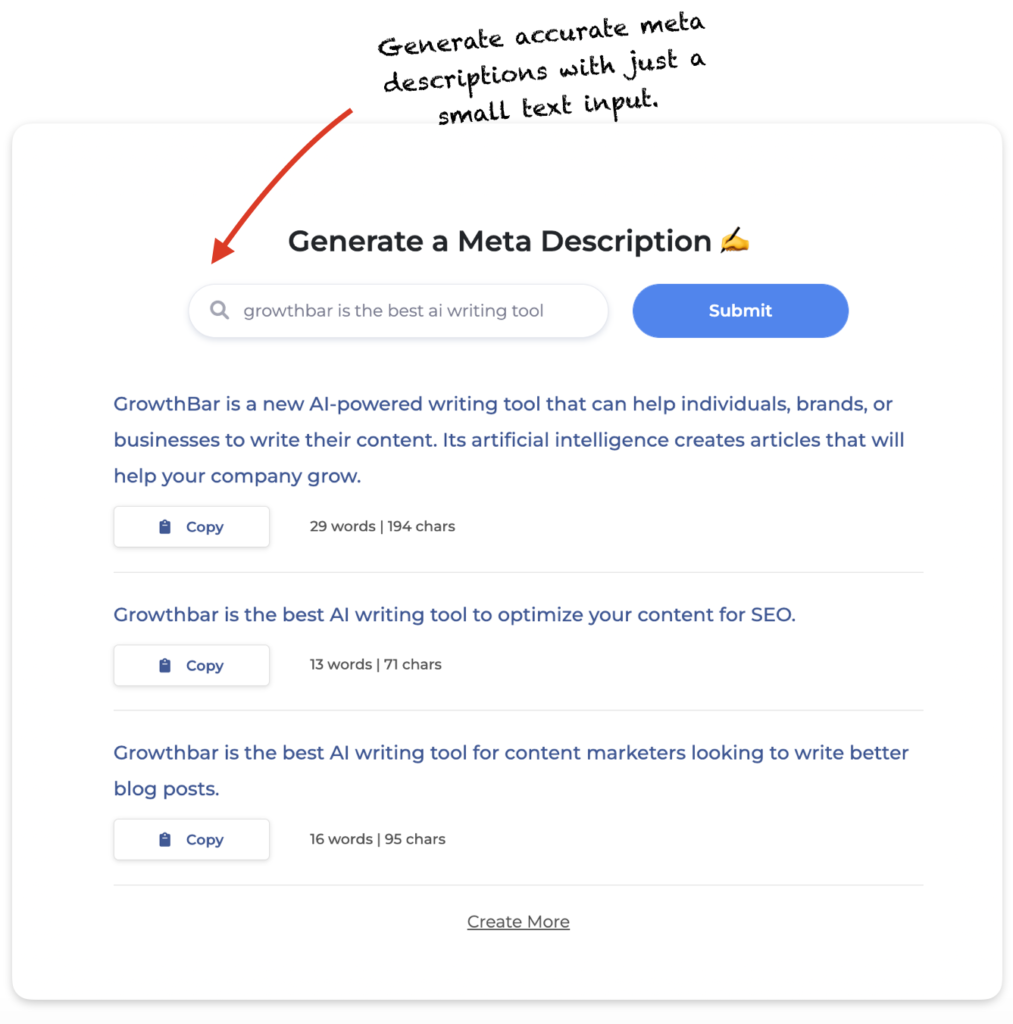 What are meta descriptions?
Meta descriptions are about 155 characters of text that summarizes the page's content. Meta descriptions show up on search engine results pages below the title as a snippet. They can be added as an HTML tag within your page's code, or via a plugin. Some website builders automatically assign a meta description to every page you publish.

Why do meta descriptions matter?
Meta descriptions provide helpful information to both Google and readers. Both parties use this information to understand what your post is about, which they then use to make decisions:
→ Google can use it as a ranking factor to decide where your post should be ranked on their search engine results pages
→ Searchers can review it to decide whether or not they want to click on your page
GrowthBar's AI meta description generator takes care of meta descriptions for you… with the click of a button.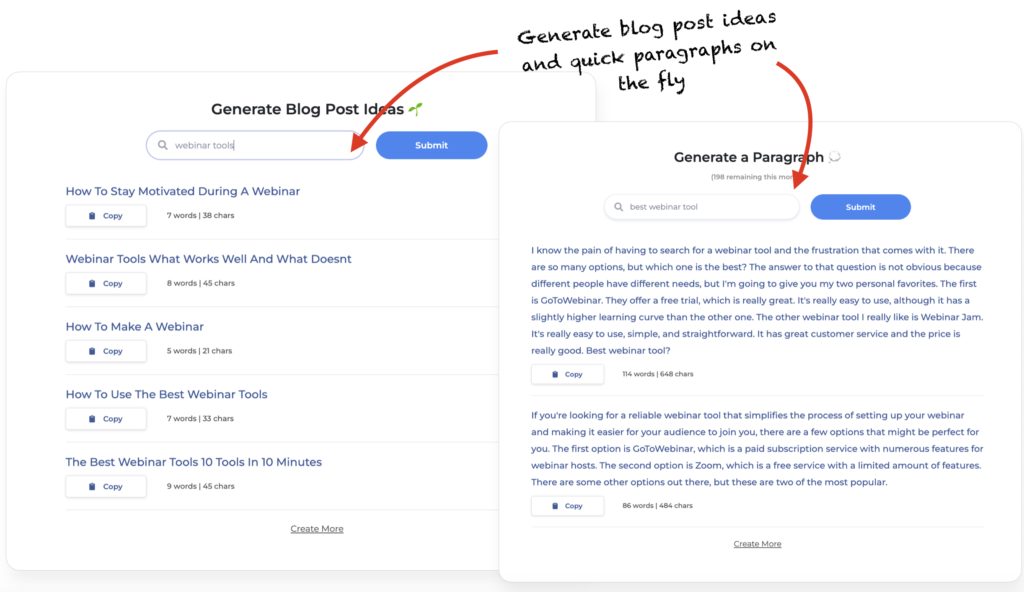 How to write great meta descriptions
Crafting a great meta description isn't difficult. Follow these rules:
→ Use your target keyword(s) in your meta description. Google often favors those results in the SERP and even highlights those keywords in some cases–drawing more attention to your webpage.
→ Make your description unique so that it stands out in the Google SERP. But also be sure to include concepts people understand, so that Googlers know that while unique, your result will answer their question.

→ Make your description 155 words or less so that it takes up as much room as possible in the SERP without being truncated.

→ Look at high-ranking pages in the SERP for clues as to what Google favors. Perhaps the highest ranking pages have the current year "2022" or a list of products and services related to the query. Take note.



Extra AI writing features
Save time planning and writing content. Need to brainstorm new blog post ideas or write a quick paragraph with AI? GrowthBar has you covered. Simply enter any keyword and GrowthBar does the rest — generating 100% unique content.