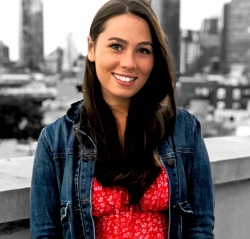 Latest posts by Madeline Hogan
(see all)
If you're on the top page of Google's SERP you've accomplished something huge.
But, what if despite being on the first page, you're not seeing the traffic that usually comes with it. Potential problem? Your meta descriptions.
Great meta descriptions (and titles) can help with low click-through rates on Google. With eye-catching, compelling, and inspiring meta descriptions, you can attract that searcher traffic. And it's a lot of eyes to catch.
Take a look at these SEO stats: Almost 70% of online experiences begin with a search engine (with some studies even showing over 90%). And Google itself processes 3.5 billion searches per day–per day!
So what does it take to write a great meta description and what do you need to include? We'll start at the beginning so you can start ranking in no time.
---
Want to write meta descriptions fast?
Use our Free AI Meta Description Generator, built with Open AI's GPT-3.
---
What is a Meta Description?
Meta descriptions are about 155 characters of text that summarizes the page's content, though meta description character limits can depend on what device and browser you're searching on. Meta descriptions show up on search engine results pages below the title as a snippet. It can be added as an HTML tag within your page's code, or through a plugin.
The text below the title here is a meta description:

If you don't specifically add a meta description, don't worry: Google will take the first 160 characters or so of the text from your post or create rich results from other content on the page and the page's markup.
A great meta description balances using keywords, being accurate, and is interesting enough to get the approval of both Google and searchers.
Why is your content's meta description important?
Meta descriptions provide helpful information to both Google and potential readers. Both parties use this information to understand what your post is about, which they then use to make decisions:
Google can use it as a ranking factor to decide where your post is ranked on their search engine results pages
Searchers can review it to decide whether or not they want to click on your page
With a great meta description, you can support your SEO efforts by signaling what your page is about and that you're covering the topic well. It can also help you stand apart from the competitors on search results and get clicks to your post.
Seventy-five percent of people never scroll past the first page of search engines, and only 7% make it to the third page. So if you've been able to get on the first page, you need to take advantage.
And making a meta description good really does matter. Google will only use the meta descriptions you add if it's a more accurate description than what they can pull from your page themselves. They say it plainly in their Advanced SEO Google Search Documentation: "Google sometimes uses <meta> tag content to generate snippets, if we think they give users a more accurate description than can be taken directly from the page content."
Also, be aware that what meta description comes up can be impacted by what you search. If you're searching "how many blog posts should I write per week using SEO tools?" then the meta description that comes up might just mention SEO tools versus how many blog posts you should write per week.
Improving this on-page SEO factor helps you improve the (already great) ROI you get from SEO. Once you can rank articles at will–and get people to click on them–you've got a repeatable, profitable, and scalable business on your hands.
How do I know if I have to improve my meta descriptions?
Doing a good old-fashioned SEO audit can help give you insight into how your meta descriptions and other metadata. SEO audit tools help uncover website deficiencies that are holding your site back in terms of organic rankings.
You can also take a look at your traffic based on your rankings. If you're ranking first or second, you should be getting a correlating amount of traffic to your site. If you take a look at this chart, the first position should give you a CTR of about 30%, and the second should be around 25%, etc.
If that's not your CTR, it's time to review your meta description and meta title!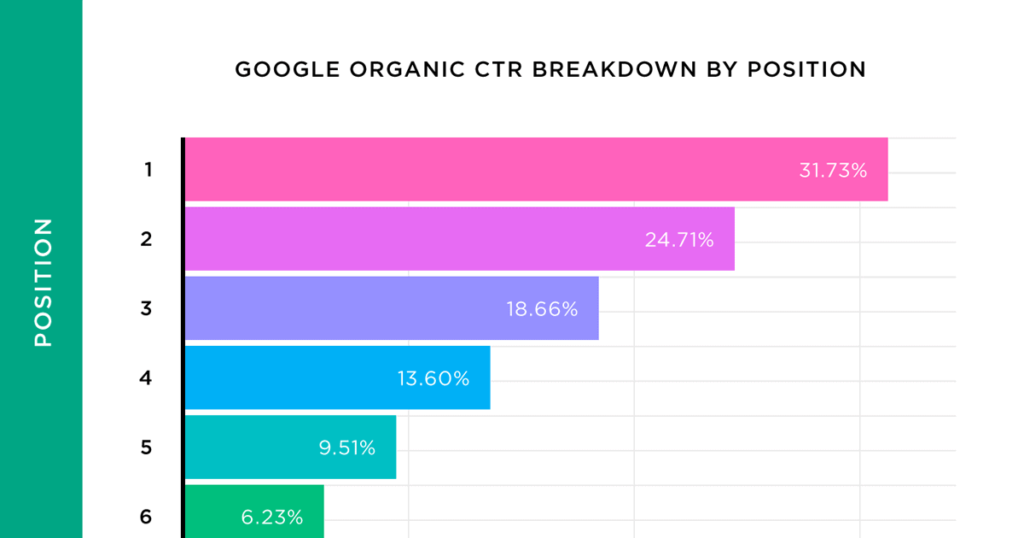 You might just also notice some meta descriptions that need editing. I was doing a bit of research when I noticed the meta description Google was pulling for our "how to write a long-form content for SEO" was my author bio, and my baking might not really entice people to learn about how to write long-form content…

This came up because I was Googling "long-form content for SEO GrowthBar" and it pulled those queries from my bio at the top of the page. But, I still went in to add a specific meta description so Google will hopefully pull that instead.
How to Write a Great Meta Description for SEO
What should you include in your meta description? Everything below.
Or you can try using an AI meta description generator like GrowthBar. Try generating one:
1. Mention a solution or answer a question
Searchers are looking for something when they come to Google, so they want to know if your page will have it before clicking on it. Of course, you can't do so much in 160 words, but if you're writing a post on how to write a listicle, you might use this as your meta description:
"Listicles are great ways to generate traffic to your site. Learn how to write a listicle with this step-by-step guide."
2. Include keywords
Keywords are an important part of meta descriptions because they show both Google and searchers if your post is relevant to what they're searching for. That being said–just like with a standard post–you want to avoid keyword stuffing.
It should still sound natural and organic. So if you have your post on listicles from above, you wouldn't want to do something like:
"How do you write a listicle? Learn how to write a listicle with this step-by-step guide to writing listicles. Read more on how to write listicles!"
3. Add a CTA in active voice
If possible, you should try to include a CTA that encourages your reader to click on your post. Keep it in an active voice, and try words like "Try," "Learn," "Find," "Get," and "Browse," to motivate your readers to take action.
A good meta description example of a post on how to make a content calendar might be:
"Learn how to easily create a content calendar with this step-by-step guide. Don't forget to download the content calendar templates!"
4. Make it interesting & engaging
While you want to include keywords and CTAs, you also want to keep the content as engaging as possible. This can be challenging in 155 characters, but it's worth it to use some of them to add something eye-catching in there.
What post would you rather click on if you want to learn about SEO for NFTs?
"This article is about how to do SEO for NFT (non-fungible token) sites."
"Ready to get more traffic to your NFT website with SEO? Learn how to take advantage of SEO for your non-fungible token site with these easy steps."
How Do I Add a Meta Description to My Blog?
Now that you know how to create the best meta description out there, you need to add it to your posts and pages to get the benefits! There are a few ways to do this.
Add meta tags to your code
In order to add a meta description to your site, you will need to use a <meta> tag in the <head> section of your page's code. The following is an example of how to add a meta description:
<meta name="Description" content="This is the meta description.">
So for example, if I was adding a meta description for this post via meta tags, the HTML would end up looking like:
<!DOCTYPE html>
<html>
  <head>
    <meta name="Description" CONTENT="What if despite being on the first page of Google, you're not seeing great traffic? Great meta descriptions can help with low click-through rates on Google. With eye-catching, compelling, and inspiring meta descriptions, you can attract that searcher traffic.">
  </head>
</html>
Of course, you can also include meta tags for your title, ones that control Google's robots, content type, character set, and more.
Use plugins
If you're not a fan of dealing with HTML, using plugins is one of the easiest ways to add meta descriptions to your posts. Using a plugin is an important best practice if you use a WordPress blog. We use Yoast SEO to edit our meta description and meta title before we go live–or after.
Here's how it looked for this article. I went in to edit both the SEO title and the meta description to be slightly different than what you'll see on this page.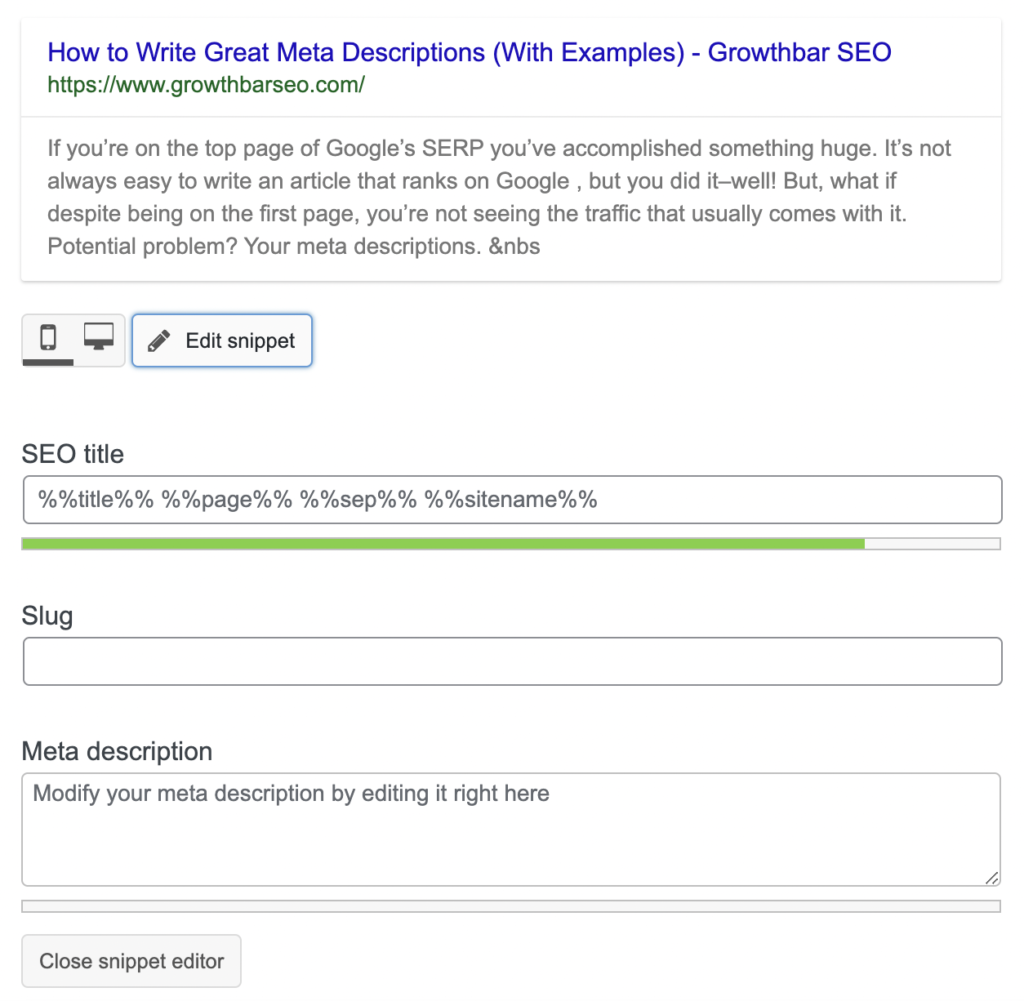 Your website
Some website and blog hosting sites make it easy to add meta descriptions without needing a plugin. For example, you can add your meta description and meta title on WebFlow for all your posts and pages in their "SEO Settings."
You'll need to check with your website host to see what's possible for your pages and articles.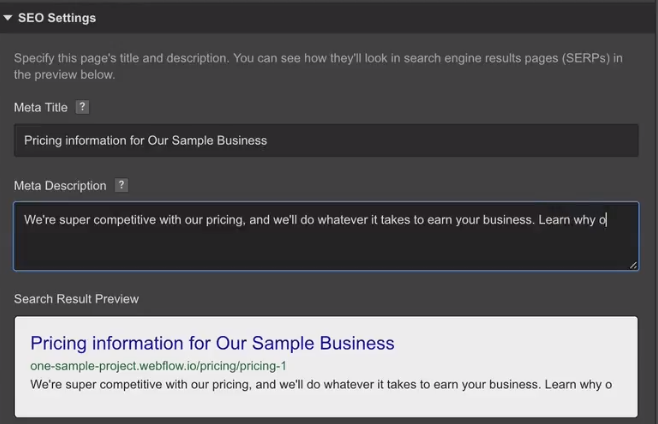 Extra Tips for Writing Strong Meta Descriptions
Be flexible on character length
Even though the optimal meta description length is about 155-160 characters, if you can convey the message in less, go for it! There's really no perfect meta description length: you just want it long enough to include keywords and CTA, but short enough so it stays interesting!
That being said, try to get it to around 120 characters, and keep it less than 160. If it's longer than 150, Google will cut off your meta description with ellipses. If you're trying to get a specific message across, that's not ideal, but it can also attract readers to learn more, so do a little experimenting.
Make sure it matches the page
One of the most important parts of meta descriptions is making sure the content of your meta description actually matches the content of the page. You don't want to try to trick readers into clicking on your page and then not providing the information they're looking for. Not only is that frustrating and leads to high bounce rates, but Google will most likely just not use your meta description at all.
Google takes your meta descriptions and any structured site data as "suggested content" for what they'll include. So you can make the most exciting meta description ever–but if it doesn't accurately portray what is on the page, they'll choose what they think works better.
Google says they "will sometimes use the <meta name="description"> tag from a page to generate a snippet in search results if we think it gives users a more accurate description than would be possible purely from the on-page content."
Plus, by making sure content matches the meta description, naturally helps prevent duplicate meta descriptions, another mistake site owners make. Duplicate meta descriptions make it hard for Google bots to crawl the site, or they end up flagging it as low quality.
Test your meta descriptions
When trying to make the best meta description for your article or webpage, it's not really one-size-fits-all. What works for eCommerce sites will be different than a doctor's website which will be different from cryptocurrency sites.
That means experimenting with some A/B testing for your meta descriptions can help you figure out what resonates with your core customers. Try switching up CTAs, action words, and length–of course only one change each time you test–to see what works best, and then keep building on that.
Meta Description Examples…
For blog posts
For webpages

Notice "Get" and "Browse" as well as keywords "meal" and "shopping list," wants searchers to get started on Wegmans' website.
For product pages

This meta description from Bee's Wrap provides helping pricing information, keywords "beeswax" and "vegan wraps," and a fun "Heads up!"
For eCommerce pages

Pacifica made sure to include perfume, fragrance, smells, and sprays in their meta description, as well as the active "Enjoy."
Meta Description FAQs
Best meta description generators?
I might be biased, but I love GrowthBar's new AI meta description generator within the AI writing tool. Definitely makes publishing a lot easier.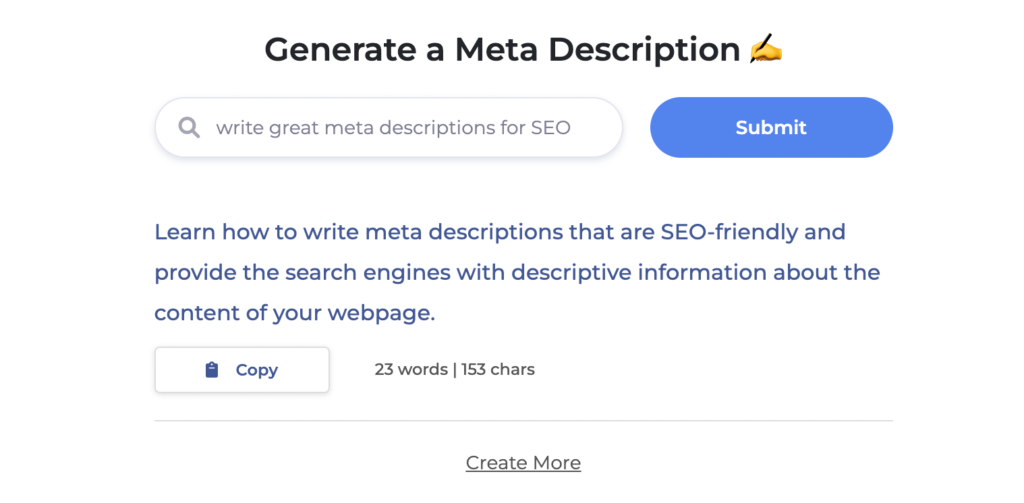 Plus, GrowthBar offers a free meta description generator that you can try right now.
How to use meta description checkers
Meta description checkers are often included on website plugins, like Yoast SEO. They're pretty easy to use because they check the meta description automatically–meaning there's not much to do on your end besides make any changes needed.
What are meta description tags?
Meta description tags are the same thing as your meta description. Your meta description is used within your HTML tags (like we discussed above) as part of your document's metadata.
Bottom Line on Creating Great Meta Descriptions
When you're writing a meta description, focus on being accurate, engaging, and helpful for your searcher. It's really just like SEO as a whole: you want to provide content that is answering searcher's queries in an easy-to-read way with research-supported information.
Need some support to get started? Try GrowthBar's free meta description generator to get started!