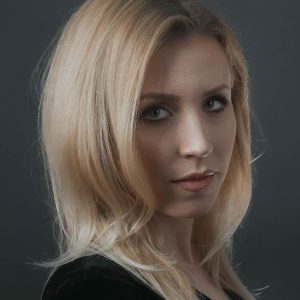 Latest posts by Natasha Lane
(see all)
Source: unsplash.com
Investing in content marketing is one of the best ways to propel your business forward.
Knowing how effectively well-optimized content can attract high-quality web traffic, boost brand awareness, generate leads and conversions, and even improve customer loyalty, it's no surprise that 69% of marketers plan on increasing their content marketing budgets in 2023 and beyond.
But the simple truth is that producing perfectly optimized content isn't always easy — especially if you want to strike a balance between SEO and user needs. Yes, generative AI tools can make the production process relatively easy. Nonetheless, achieving harmony requires extensive research so that all your hard work results in an impressive ROI.
So, if you're looking to conquer the art of perfectly optimized content, here are the best tips on how to balance SEO and user needs in your content marketing strategy.
Why Is SEO Important in the First Place? And Does It Go Against User Needs?
When investing in content production (or any other marketing strategy, for that matter), the last thing you want to happen is to waste your energy and resources. But the simple fact is, content that's not optimized to rank high on SERPs is just that — money down the drain.
According to data from FirstPage, web users are most likely to click on one of the top 3 organic search results, which have a collective CTR of 68.7%. Additionally, the #1 search result (39.8% CTR) gets 18x more clicks than the #10 search result (2.2% CTR). And if that's not indicative enough of the importance of SEO, consider that only 0.63% of Google users click on a result on the second page.
From this data alone, your conclusion may be that the best way to get your content to deliver results is to focus on creating an amazing SEO strategy. And that's absolutely true.
But the one thing that most beginner marketers need to remember is that good SEO is about more than just keywords, links, and technical performance. More than that, it's about producing high-quality, user-oriented content that delivers unique value, engages your target audience, earns backlinks from high-authority sites, and intrigues web visitors enough to make them browse more than one page on your website.
In other words, perfectly optimized content is made by investing in search engine optimization while prioritizing (and consistently meeting) user needs.
What Do Users Want (and Need)?
When optimizing your content to rank and meet user needs, you must first do one crucial thing: perform in-depth research about your target audience.
In addition to recognizing the demographic characteristics of people likely to invest in your solutions, your primary goal should be understanding their pain points.
Essentially, by knowing what problems your potential customers want to solve, you can pinpoint relevant keywords you can target to attract their attention, identify the type of value they seek to make your content engaging, and even gain valuable insights into their decision-making process that will help you elevate the effectiveness of your CTAs.
However, if you're just getting started with content marketing, the best thing you can do is familiarize yourself with the most impactful characteristics of user-oriented content.
An Elevated User Experience
The best way to ensure your content appeals to your target audience and positions your business as a credible entity is to invest in UX design. And that's not just because web visitors want to interact with well-designed, simple, easy-to-use content pages while learning information relevant to their experience. It's also because the elements of good UX often act as ranking signals for SEO.
For example, site security has been a top priority for Google since 2014, making it essential for you to use HTTPS by installing the required SSL certificates.
Site speed is equally important. It's another Google search ranking signal, but more importantly, research shows that web users have little patience for slow sites. Even a 0.1-second improvement in site speed can lead to considerable boosts in conversion rates. This shows that there's tremendous value to be gained by ensuring your pages are optimized for speed. And fortunately, that's relatively easy to do thanks to free tools like PageSpeed Insights.
Then there's the question of mobile-friendliness. Again, ranking high on Google depends on your content pages being responsive, which isn't a big surprise. After all, more than 50% of all global traffic comes from mobile devices.
However, if you look into consumer research, you'll find that web visitors consider it crucial for content pages to look good on all screen sizes, with 30% even going as far as to stop interacting with a page if it's not displaying well on the device they're using.
Additionally, there are other elements of UX design that are, essentially, examples of good technical SEO in action. These include doing things like:
Using meta tags, which elevate site accessibility.
Implementing an SEO-friendly site architecture, which is a prerequisite for easy website navigation.
Removing or fixing broken and duplicate pages and creating protocols to encourage web visitors to continue browsing your site/content.
It's also not a bad idea to regularly conduct site audits, as this will ensure that your content (and entire website, for that matter) delivers a high-enough user experience and is not putting your marketing strategy at risk due to easy-to-fix technical issues like loading speed, duplicate pages, or lack of responsibility.
Content Aligned with Search Intent
One of the best ways to ensure you publish perfectly optimized content is to pay attention to search intent.
Essentially, Google differentiates between four types of user search intent:
Navigational
Informational
Commercial
Transactional
By understanding these different user intentions and optimizing your content pages to align with them, you can guarantee that your content offers sought-after value to your target audience, ensuring appropriate dwell times and minimizing bounce rates.
Moreover, by optimizing for intent, you can help your posts engage your audience and inspire them to look at other content on your website and, hopefully, convert.
For instance, if you know that your target audience needs content that will provide them with helpful information, optimize your posts to align with the informational search intent:
Target the keywords that include terms like "how to" or "guide."
Use formatting and structure to make it super-clear what information each section presents (and to ensure skimability).
Make sure that you are as thorough as possible.
Lastly, make it easy for your audience to quickly access the value offered by the article, either by including a table of contents or by summarizing your main point in the top section of the post.
For instance, if you look at this resource guide from Going, you'll notice that it accomplishes all of these things, making it a prime example of a piece of writing optimized to rank on Google and fully meet user needs.
Source: going.com
Or, if you're creating a resource for consumers who wish to solve their pain points by investing in a product or solution, your goal should be to optimize for commercial search intent.
In this case, your objective won't be to present web visitors with basic info (as they're already likely to have a solid grasp of the subject). Instead, it will be to support them by giving them relevant facts related to making a buying decision. This includes:
Presenting them with pertinent, purchase-decision influencing info like price and product features.
Allowing them to gather information without putting too much sales pressure on them.
And targeting the right keywords — like "top," "best," and "comparison" — to ensure your content ranks in the first place.
This is what Eachnight does in its Mattresses Without Fiberglass: A Buyer's Guide, where it balances SEO and user needs by using the right language and keywords and presenting readers with shopping-related data like price, warranty, and shipping, as well as links to product pages where readers can complete their buyer's journey.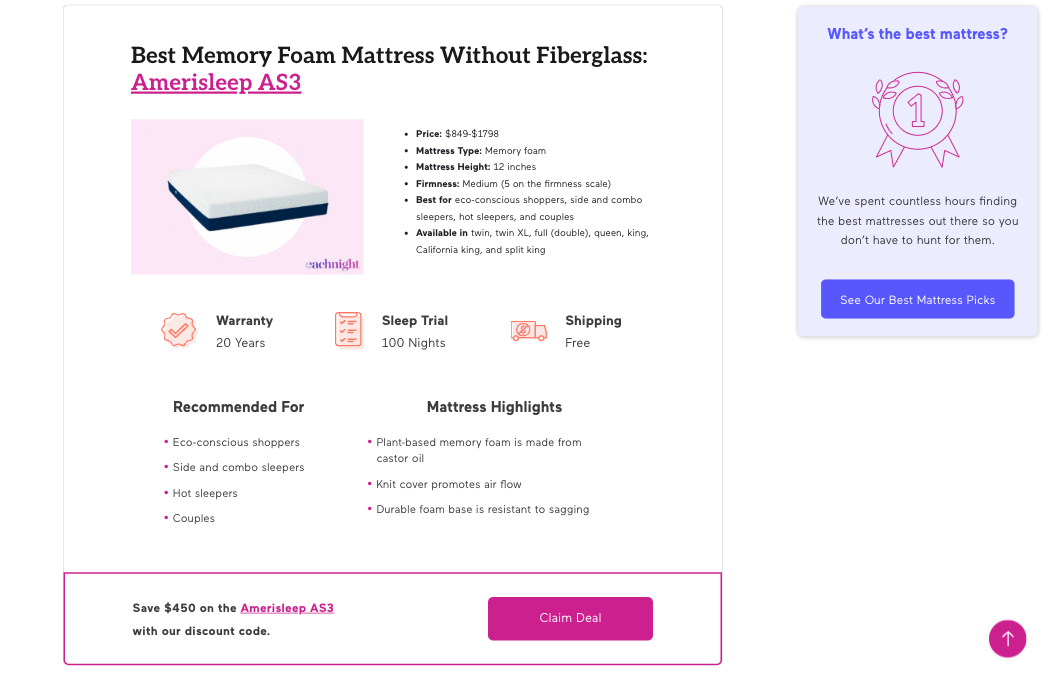 Source: eachnight.com
Content Quality
One of the most common content marketing mistakes businesses make is thinking that prioritizing content quantity over quantity is likely to deliver results.
However, while posting more often relates to better organic traffic — Hubspot suggests publishing 3-4 new blog posts per week — optimized content that is of high quality regularly outperforms its lower-grade alternatives.
So, as you look for ways to balance SEO with user needs, do your best to approach the content optimization process by prioritizing quality above all else.
First and foremost, your primary goal when producing content to attract high-quality organic traffic is to deliver unique and valuable information that directly relates to your audience's pain points.
Don't make the mistake of leaving things unsaid or forcing your audience to go through multiple pages to find the info they seek, as they won't do this. Instead, make it your mission to be as user-friendly as possible, even if, at times, it means giving some of your industry expertise away for free. Take a look at how Aura did it in this article.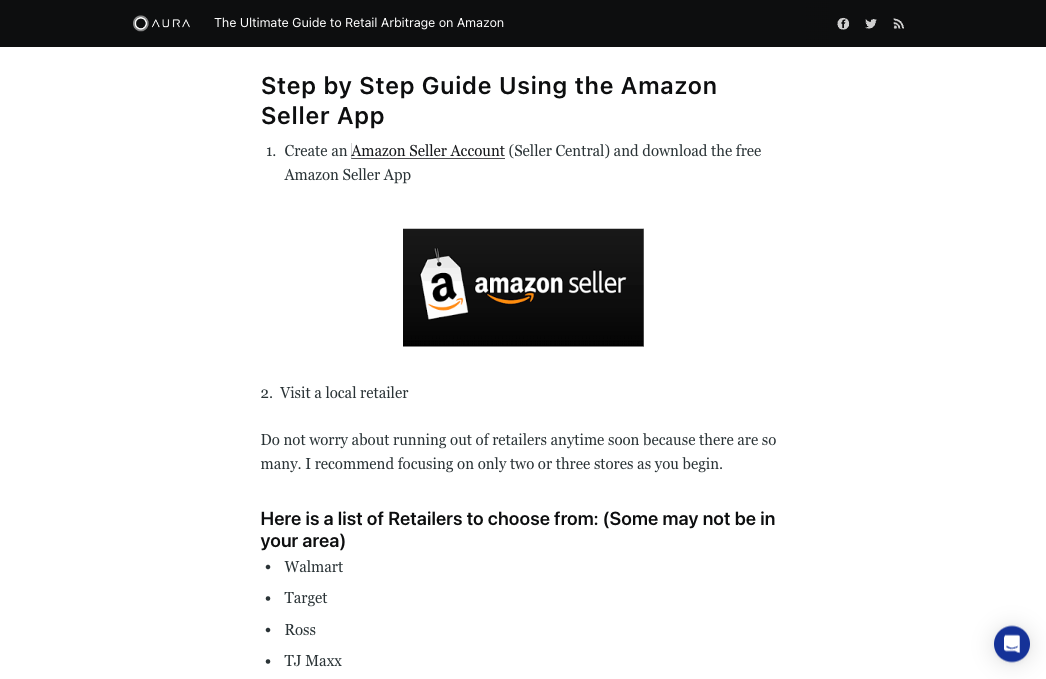 Source: goaura.com
Secondly, if you wish to optimize your posts to meet user needs, encourage engagement, and get more backlinks, try to support your claims by enriching your posts with evidence.
For instance, knowing that 39% of consumers want to invest in solutions backed by science, it's not a bad idea to format your written content in a way that includes links to relevant research data, survey results, or advice from trustworthy entities in your industry.
An excellent example of a business doing this can be seen in this article on Transparent Labs. The brand adds several direct links to scientific research papers, knowing its audience appreciates high-quality and verified information and won't purchase a product without knowing that it's safe and scientifically proven to work.
Source: transparentlabs.com
Thirdly, as you explore ways to produce optimized content that will attract traffic and meet user needs, don't forget the technical aspects of writing great articles. Pay attention to grammar, information accuracy, and readability. These three factors have been shown to drive conversions for complex solutions in the SaaS industry.
Finally, to ensure long-term returns on your content marketing efforts, do your best to regularly update articles — particularly evergreen pages that aren't affected by seasonal ups and downs in search volume — with new and relevant information.
For example, if you check out Tech Radar's Best Ereader guide, you'll notice it includes a Latest Updates section. This small addition to the article makes it easier for readers to collect comprehensive and up-to-date information while researching a topic. Moreover, it positions the brand as more trustworthy thanks to its dedication to continually presenting its audience with new and relevant data.
Source: techradar.com
Aesthetic Appeal
When producing well-optimized content, most marketers focus on keywords, formatting, and technical page performance to ensure high rankings. But the thing is, meeting user needs also necessitates a dedication to creating aesthetically appealing posts.
In fact, 59% of people prefer beautifully designed instances of content over plain resources. On top of that, research from Stanford shows that 75% of online buyers judge brand credibility and trustworthiness based on aesthetic criteria. This shows just how important design is for producing perfectly optimized content.
Fortunately, elevating your content marketing efforts with aesthetically pleasing elements doesn't have to be challenging or resource-intensive.
In most cases, adhering to the basic principles of design (contrast, balance, emphasis, proportion, hierarchy, negative space, cohesion) will do. However, if you want to take things to the next level — or boost the engagement potential for long-form posts — elevate blog posts with visual formats like images, illustrations, videos, or interactive features.
For example, if you look at Vivion's blog post about the 10 Key Capsule Definitions, you'll see that it includes several visual elements. These illustrations make it easier for readers to grasp new terms used in capsule manufacturing, automatically making the content more valuable to non-expert readers who are still in the early stages of the buyer's journey.
Source: vivion.com
It's also important to mention that visual content can also boost your SEO for several reasons.
First of all, video content significantly improves page dwell time for 87% of marketers. So, by adding short-form videos to your content pages — or even allowing web visitors to consume entire articles in video format, like HubSpot did in its How to Measure Social Media Marketing ROI guide below, you can boost on-page engagement. This will signal to Google that your article offers value and help you rank higher.
Source: hubspot.com
Secondly, note that images make long-form resources more engaging and less tiring for readers. So, by doing something as elementary as using images throughout your article — like in Smash.vc's Best Investing Newsletters guide — you can boost readability by breaking up large chunks of text and making it easier for readers to get through lots of information.
Source: smash.vc
Lastly, note that optimizing visual or video content can be an additional source of organic website traffic. That's especially important, knowing that video results on Google have a click-through rate between 2.3% and 6.4%.
Final Thoughts
As you can see, producing perfectly optimized content isn't a question of choosing SEO over user needs (or vice-versa). Rather, it's a delicate balancing act that necessitates a deep understanding of what your target audience wants in the first place and the dedication to creating high-quality content.
Fortunately, user-oriented content creation often aligns with SEO best practices.
So, if you're looking for the best way to guarantee your posts rank high, tap into your industry expertise to ensure they deliver genuine value to the web visitors you want to attract. Then, use GrowthBar's AI-powered tools to optimize them for SEO, make them more engaging, and certify that you outperform your competitors.