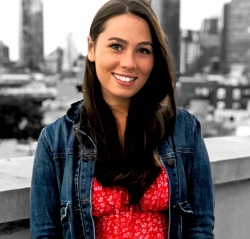 Latest posts by Madeline Hogan
(see all)
"Content is king" is a common refrain for marketers for a reason.
But really, when it comes to search engine optimization (SEO) the quote should be "long form content is king." Long form content might very well be the best way to rank your content in 2022.
Longer content–really anything that hits over 1,500 words–gets more shares and backlinks, supports your SEO efforts, and serves as a sustainable marketing strategy to improve your ROI… if done correctly.
Of course, there's always room for short form content, but when it comes to ranking articles highly on Google and getting the best engagement and conversion rate–it's going to be through long form content.
What is long form content for SEO?
Long form blog content should be content that is high-quality, informative, and effective for conversion. The goal of long form content is to educate and inform, so you should organize your content in a way that is logical, easy to read, and most importantly, information-rich.
When blogging first began, you could rank pages at 500 words. Now, with over 5 billion pages being indexed by Google and more than 90,000 searches per second, Google considers a lot of factors before giving a webpage the top spot. Some of those include:
Quality and number of backlinks
Comprehensiveness and accuracy of content
Inclusion of keywords in appropriate densities
Clean URLs and titles
Easy-to-read text and formatting
Technical factors like loading speeds and site structures
Long form content takes care of a lot of those things.
How does long form content help SEO? Search engine optimization is about answering a searcher's query better than anyone else on the Internet–and getting rewarded with high rankings in search engines, whether that be Google, Bing, Yahoo, or others.
Your goal should always be to produce content that is engaging, informative, and well-written. And to do this, you need to be as comprehensive as possible, which means your content naturally should end up as long form content.
But, how long is long form content?
There's no definitive answer to the exact length of long-form content, but usually long-form content are blogs and other online content that is longer than 1,500 words, and generally tops out at around 8,000 words.
Much longer than that, and you'll have a novel on your hands–not an effective lead generation tool.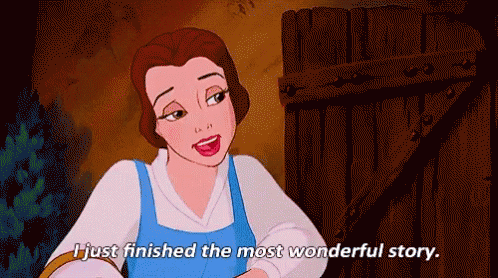 Examples of long-form content include:
E-books (usually around 2,000-3,000 words) 
White papers (2,500-5,000 words) 
Long-form blog posts (1,500+ words)
Pillar posts as part of an SEO cluster model (3,000-4,000 words) 
Reports (this is variable depending on the report topic, so could range between 500-2,000+ words) 
Case studies (500-2,000 words) 
These word ranges are approximate, and all depend on the topic and goal of the content. But hitting a certain word count can be the difference from being at the top of the SERPs…and not being indexed at all.
In fact, it's so helpful to know your ideal word count for posts that when GrowthBar was created we made sure to add word count features to instantly see how long any other webpage is–as well as an estimated length of how long your blog post should be to rank well. This post below on "how to do lead generation" should end up between 2,451 and 2,819 words.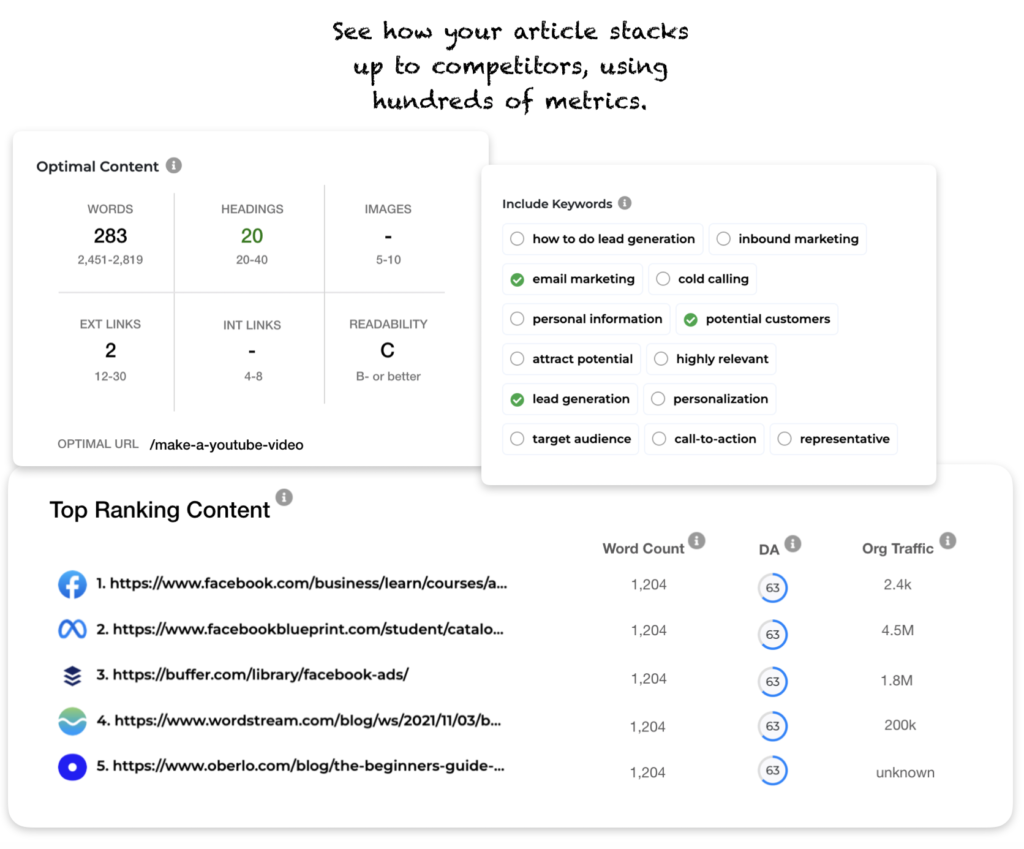 Long form content writing is great for SEO (and a lot more)
Long form content is great for search engine optimization opportunities. SEO is about the readers: the people using search engines to help them get information and answer questions.
And these search engines, like Google, are businesses: they don't want to provide their customers (searchers) with products (content) that they won't use or like. That's why it's in their best interest to use their search algorithm to reward pages that provide relevant, quality information with higher rankings.
If you want to rank nowadays, you need an article that's comprehensive—so that it demonstrates expertise, authority and trustworthiness—and fully answers the searcher's query.
Longer articles help content writers provide searchers with answers to everything they want to know about a topic–and that's how you get the top SERP rankings.
If readers searched "why does long form content matter in 2022?" and I only gave a few paragraphs in response, I definitely wouldn't blame them for leaving the page immediately and finding a better source that covers the length of long form content, benefits of long form content for SEO, how and when to use long form content, etc.
Other long form content benefits include:
Lead generation by exchanging content for email addresses or other contact information
Keeps readers on the page longer
More spots to include CTAs throughout the content 
Builds industry authority and audience trust 
More opportunities to link to other pages
Can encourage more comments and conversations about the content
It's important to note that longer content is understandably more work: you're not sending off a quick tweet–you're putting together thousands of well-researched words that have been optimized for search engines.
But, this work is worth it when you can reach the billions of 5.4 million Google searches that happen every minute. Long form content will be the foundation of your SEO strategy if you do it right.
Why is SEO so important?
SEO is the process of improving your website so your pages appear higher in the search results for your desired keywords. It's a marketing strategy that uses keyword research, great content, and backlink building to get your pages ranking on search engine results pages (SERPs).
That is, ranking high. The goal of SEO is for your webpages to rank at least on the first results page, and hopefully in the few spots above the fold. These higher rankings can lead to more clicks, website traffic, and eventually profit.
It's one of the best marketing channels out there: SEO can reduce the cost of customer acquisition by almost 90% compared to digital advertising, and companies that prioritize SEO and content marketing are 13x more likely to generate a positive ROI (return on investment)–all without paying for advertising.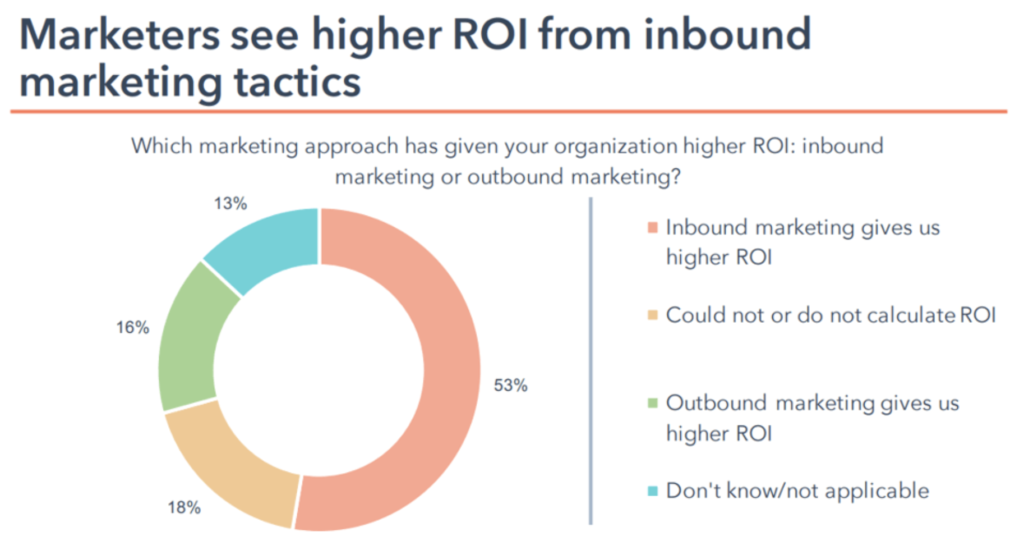 So if your blog post is being indexed at the top search engines as soon as it goes live, creating quality long form content is important for improving your traffic, backlink gathering, and hopefully profit.
SEO is a long-term investment into the power of Google. You're putting some time and effort into writing and publishing great content so that whenever anyone searches "NFT SEO" or "DALL-E AI generated images" for example, you're the first site they see 😊.
And one of the most sure ways to get there is by producing long form content that is high quality, easy and enjoyable to read, and answers questions.
How to know when to use long form content
You'll most likely want to invest in creating long form content if:
You want to rank highly on Google for a specific search query
You're offering high-end and/or expensive enterprise services or products that require more commitment to purchase
You're a B2B product or service working with larger enterprises
Your product or service is technical or complex
Your product or service has the YMYL designation (your money your life), meaning it can have potential impact on a user's health, finances, or life (like doctors doing SEO)
You're trying to broaden your marketing funnel to bring more customers into the awareness stage
That being said, long form content isn't the best choice for everything you're producing. Short form content has its merits too.
Long-form vs. short-form content
While long form content is great, short form content also has its place. Short form content is going to be content that is less than 1,000 words, but is usually much shorter. Content experts vary in saying that short form content is anything less than 1,200 words to others saying it's anything less than 200 words.
This content is something that is easy and quick to read, and can get a simple message across efficiently and effectively. Examples of short-form content include:
Social post captions
Email newsletters
Infographics
Short videos
News articles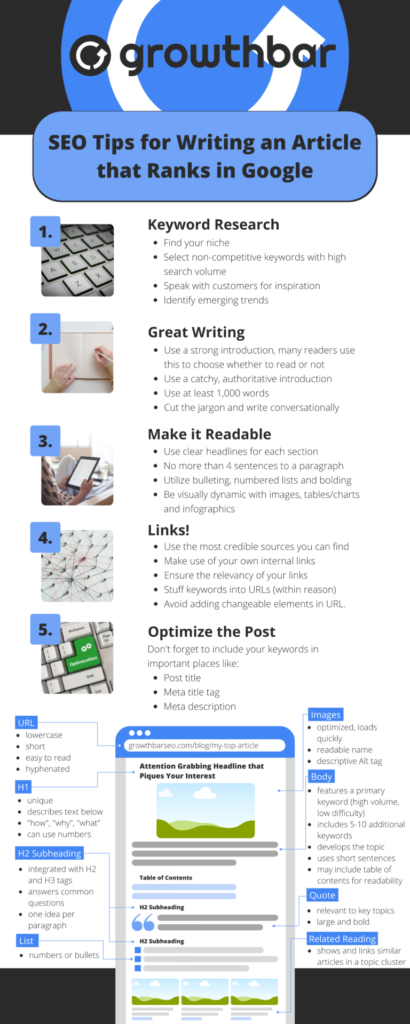 How to decide between the two? It depends on the goals and intent of your users. Are your users…
Looking to make a quick, inexpensive purchase? Choose short form content
Searching for an answer to a question on Google? Choose long form content
Previous customers who you want to return? Choose short form content
Reading an email from you? It should definitely be less than 1,000 words (short form content)
Looking for a guide to a complex strategy or product? Choose long form content
Primarily on Twitter or Instagram? Short form!
To really engage with your audiences, there's a need for both short-form and long-form content in your content creation strategy so you get the benefits of both.
Planning long-form content for SEO
When you're planning your long form content strategy, you want to focus on:
Aims and Goals
Is this content for Google rankings? Is it to share in-depth information on a topic to demonstrate your business' expertise? Or do you need to document your results with a client through research?
Depending on your sales and marketing goals (and overall business goals) you'll need to create different content. You can have multiple goals for each piece of content because they need to not only get a lot of traffic, but also convert.
Topic
What topic are you writing about? Determining your topic is one of the most important aspects of SEO. You need to pick a specific niche within your domain that you would like to own, and then subsequent topics within that niche.
Once you have your niche, it's keyword time–but not all keywords are created equal. The surest way to succeed with SEO is to find keywords that have high search volume and are relatively uncompetitive. The keywords you choose must both have high search volume and be related to your product offering.
In this case, using a keyword research tool like GrowthBar is super helpful. The best keyword research tools enable you to see keyword search volume and competitiveness, and also suggest long-tail keywords to give you thousands of keyword ideas.
Because long-form content requires more effort and time, make sure your topic makes sense. If you have marketing data that's better off in a chart than being described in a long blog post–do that!
Audience
Who are you trying to reach with this content? Is it a new consumer base? A current customer? Are they younger college students, or older professionals? Depending on your audience (which really depends on your product or service), this will guide you to what long form content works best.
For example, if you're selling a service directed at older adults, you'll need to choose content relevant to them on platforms where they can find it. And if you're selling a product for kids, you need to understand where to reach their parents.
Type
All of the answers to these previous questions will help you choose what type of long form content you need. Depending on the goals of your content, who you're making it for, and what the topic is, that will help determine what kind of content you need, whether it's an e-book, a blog post, or a how-to guide.
However, topic, content type, audience, and aim are not linear. You might know you want to make a case study to show off work with your clients, but you need to go from there. You'll have to determine the aim of this case study: social proof, converting prospective clients, etc.
Who are you sharing it with and how? Is it going to your email list, on your website, or is it just for closing deals? And finally, what is the topic of the case study: what impressive successes you want to share?
How to make long-form content by type (with examples)
In order to write long-form content, you first need to understand the different types of long-form content that are available to you. Once you know what type of content to write, you can then begin to plan and execute your content strategy.
Long form content can also include roundups, annual reviews, reports, brochures, data sheets, and more.
Long-form blog posts
What they are: Long form blog posts are as they sound: articles that have longer word counts than your standard post.
Length: 1,500+ words
Ideal audience: Anyone searching on Google for queries that are higher in your marketing funnel.
How to get started: Choose a high search volume keyword relevant to your offerings that has low competition–and then get to outline and writing! Using an SEO tool like GrowthBar makes this process a lot easier: as the #1 SEO tool for bloggers and content teams, it features not only AI content generation–for blog outlines, paragraphs, headlines, ideas and more–but also keyword research, backlinks, competitive metrics, and keyword rank tracking.
Long form blog post example: This post on how to do SEO for NFTs is a great example of a long form blog post. It topped out at over 3,400 words and started ranking in the top three on Google…just one day after it was published.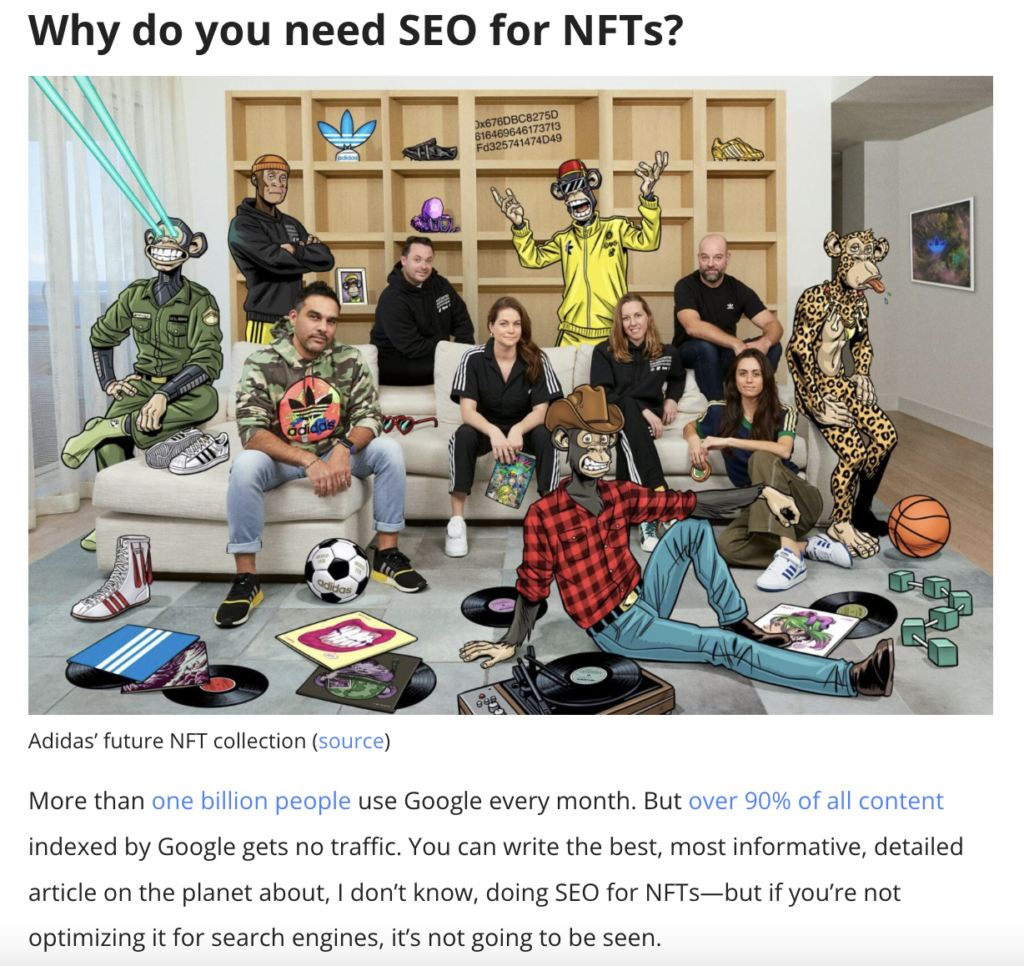 Case Studies
What they are: An in-depth look at how a particular company or individual solved a specific problem. Case studies are great for showing off your skills and expertise and success with clients.
Length: 500-2,000 words
Ideal audience: Potential future clients looking for proof of the effectiveness of your product or service.
How to get started: Determine what client or solution you want to focus on, gather data and client success stories and quotes, and create graphs and infographics to include.
Case study example: This case study from Canva uses the classic case study outline to demonstrate how their design solution supported UNHCR's global teams to visually communicate their brand and mission effectively so that they could continue to operate quickly.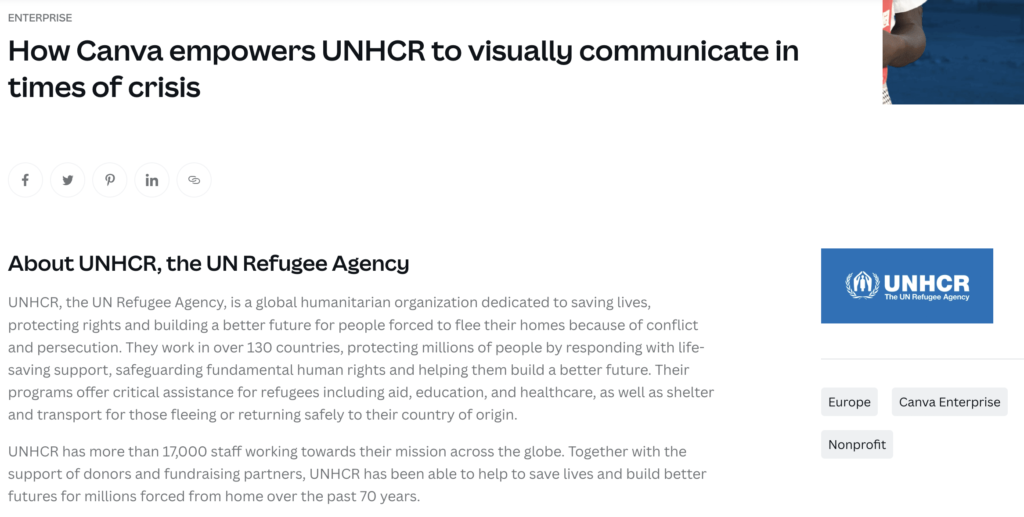 Pillar Posts
What they are: Pillar pages are part of the "Topics Cluster Model" strategy, in which you have several main topic pillar pages, and then multiple content pages relating back to each of the pillars and each other.
Length: 3,000-4,000 words
Ideal audience: Potential customers that are searching for answers to a question
How to get started: You'll want to develop content clusters for SEO based on the overall topics or product you want your business to compete in, and then use specific keywords in multiple articles under those topics. So instead of writing about X, Y, and Z topics—and treating each article as equally important individual pieces—in the cluster model you choose a single "pillar" page which acts as the main hub of content for an overarching topic.
Pillar post example: This post about content generators for every business type. It's over 4,200 words, and covers one of our favorite parts of GrowthBar: its content generator! (Which you should definitely try for free.)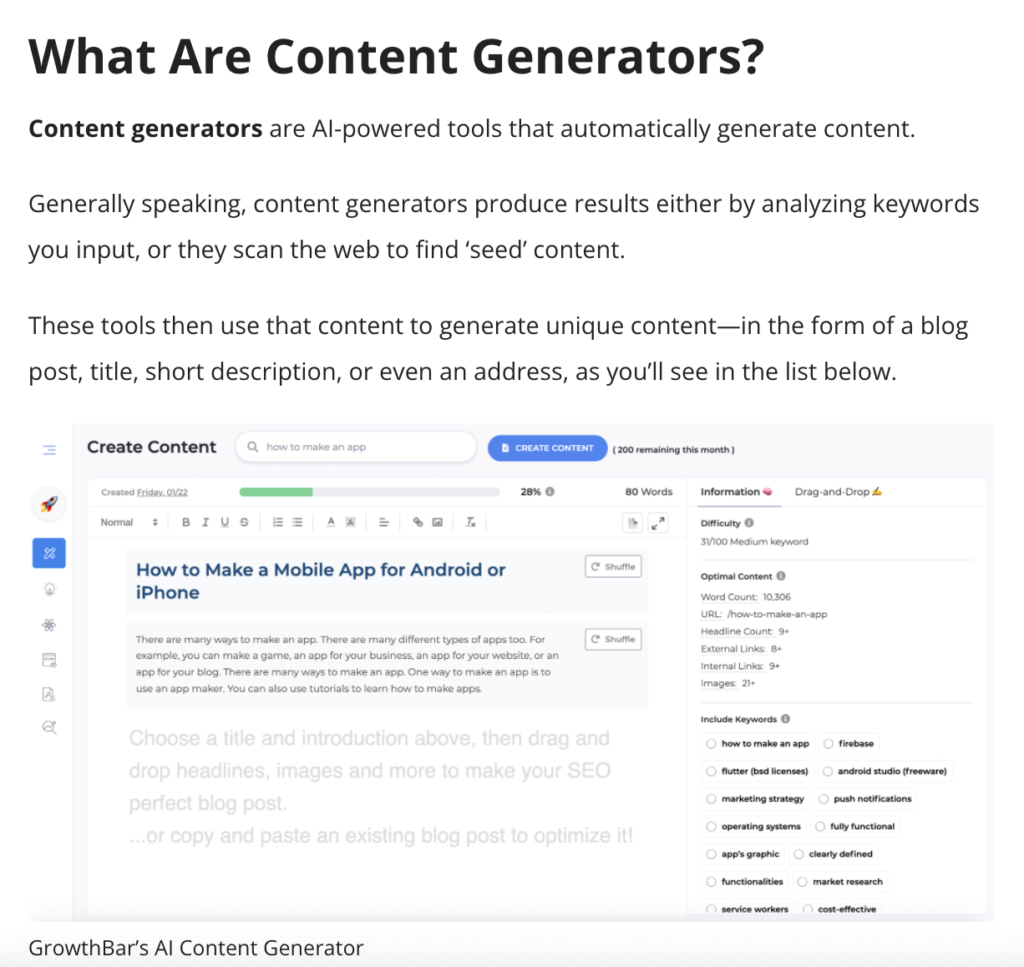 Whitepapers
What they are: Research-based, often academic-style reports that offer solutions by an organization for a particular problem or issue. White papers (or whitepapers) are great for establishing yourself as an authority in your field and persuading readers that your solution is the best solution.
Length: 2,500-5,000 words
Ideal audience: Pre-sale customers for larger B2B companies, or companies that offer technical and complex services
How to get started: Decide what you're trying to provide, what sort of whitepaper you'll create (technical, problem/solution, etc.), and gather in-depth information on your product
Whitepaper example: This whitepaper from Ethereum was originally written in 2014, when many cryptocurrency sites were trying to get consumers to trust their product. While some were legitimate, there were issues with the accuracy crypto white papers when they first began circulating.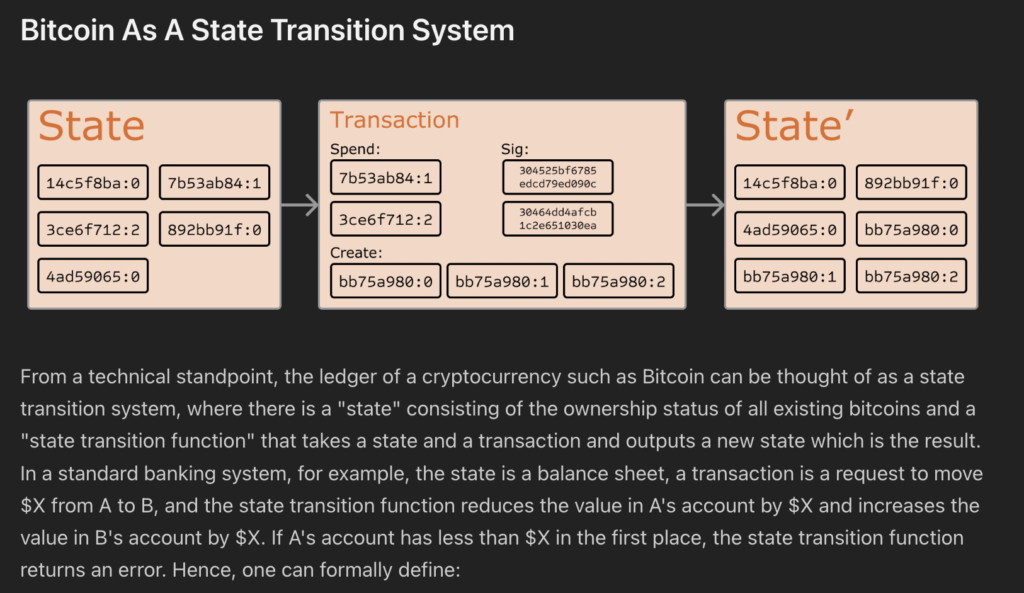 Evergreen pages and posts
What it is: Search-optimized content that stays "fresh" for readers over a long period of time by being continually relevant to searchers, which means it might need to be continually updated by content managers. So it wouldn't be a post about the top SEO stats for 2022. But it could easily be a landing page, a blog post, or even a webinar!
Length: 1,500+ words
Who it's for: Current and potential customers
How to get started: Choose content that will be relevant for years, and then what of format you want to offer: a product webpages, listicles, tutorials, product reviews?
Evergreen content example: This blog post on setting up and using Google Search Console is a great example of evergreen content. We can always update it if there are changes, and for as long as Google Search Console is around, it's going to be relevant.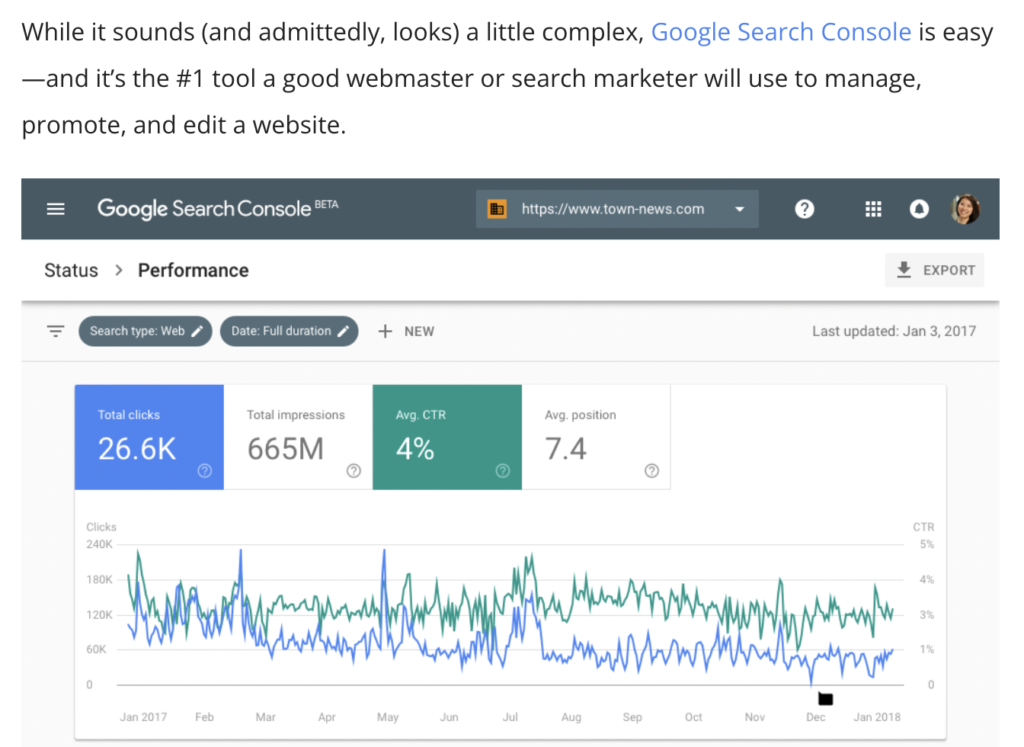 E-books
What it is: An engaging, well-designed digital "book" that provides visual and written content on a specific content or solution the reader is searching for.
Length: Around 2,000-3,000 words
Who it's for: A new lead you're trying to capture.
How to get started: Find something you can offer potential customers that they would find valuable enough to exchange their email address for. This content should somehow align with your product.
E-book example: This sewing site offers tons of free ebooks to teach technique and patterns…in exchange for your email of course!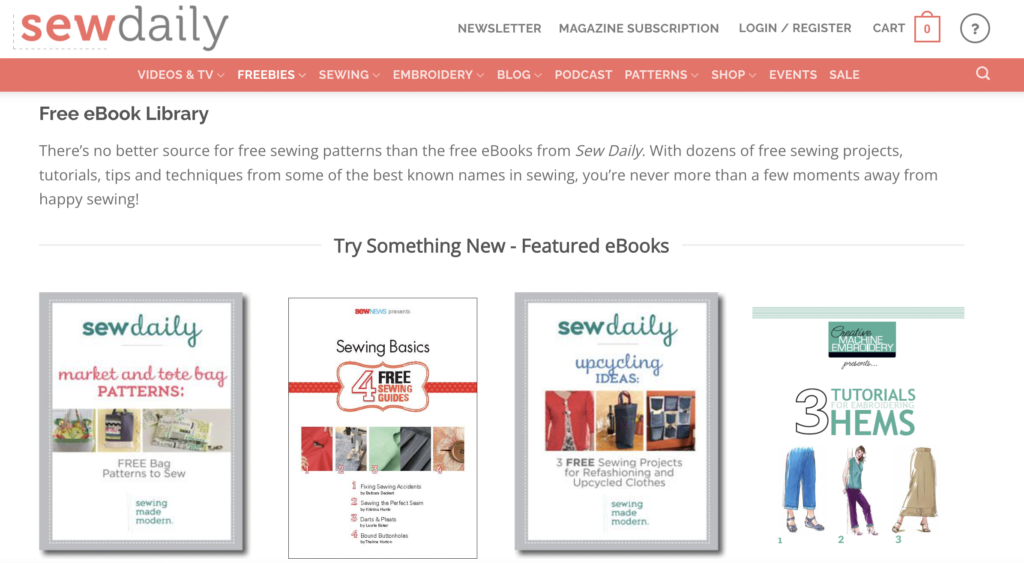 Tutorials and guides
What it is: A "how-to" or "what is" piece that should be incredibly comprehensive about a topic, naturally lending to more length.
Length: 1,500+ words
Who it's for: A potential customer looking for a solution for a problem or question.
How to get started: Choose a high-intent search keyword and develop a step-by-step instruction to answer the guided question. Adding images or videos with each step is really helpful.
Tutorial/guide example: This how-to guide on writing a content brief provides step by step instruction to help you write a content brief…in just over 2,000 words.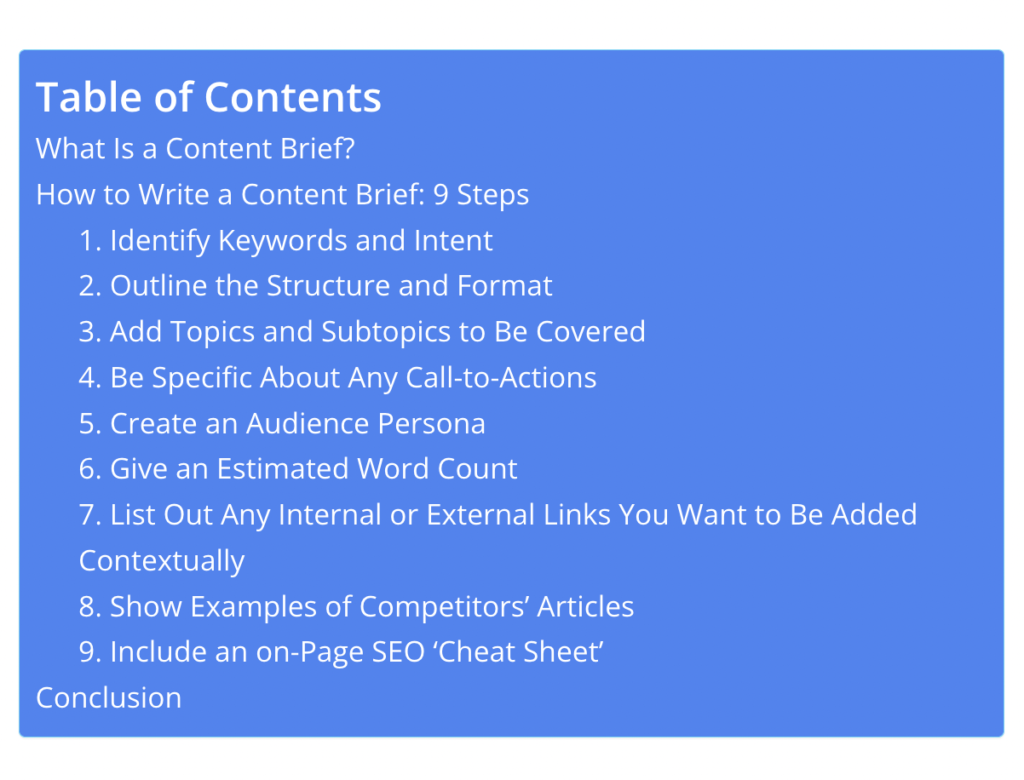 Essays and articles
What it is: More personals pieces of writing or articles that share thoughts and experiences. Essays are great for building trust and establishing yourself as an expert in your field, or to tell a great story.
Who it's for: Essays are more personal, so these are best to demonstrate thought leadership and share company values and missions. They're most likely to reach current customers that are already on your mailing list or receive your content, but depending on the topic can be great at bringing new customers in as well.
How to get started: Choose something inspiring that you can bring a lot of personality and interesting touches to.
Length: 1,500+ words
Essay example: The original expose on Anna Delvey in The Cut. Definitely more than 1,500 words!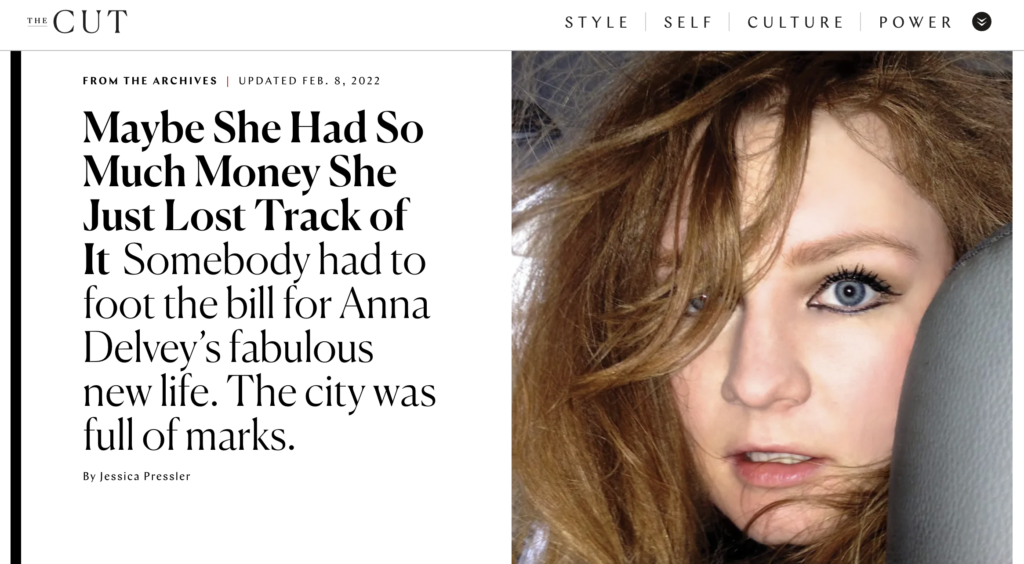 How to make long form content…longer!
While getting the ideal length is important, you want to make sure you're adding relevant, helpful information. Here are some tips you can try to add length without fluff:
Hook your reader with a great introduction. Share a very interesting anecdote, cite statistics, or give actionable advice right in the beginning of your post. Not only will it hook the reader, it will prove your authoritativeness on the topic and will add to your post length.
Add FAQs. This not only adds length, but can help flesh out your piece so you answer any additional questions your reader might have about a topic. The most engaged readers will stay on page to learn everything they can about a topic. Take a look at Google's "People Also Ask" and "Related Searches" sections, or use a tool like GrowthBar to find additional questions people ask about a specific topic. You should really already be answering these questions in your posts if you're trying to rank on Google.
Optimize keyword density. Keyword stuffing is no good, but including your keyword, and synonyms for your keyword (LSI keywords), in appropriate amounts for your post (once for every ~200 words) can help you add some words in there.
Include alternative options when relevant. In listicles or reviews, you can add alternative options for your reader at the end of the post. For example, in this Rytr content generator review, we provide Rytr alternatives and competitors.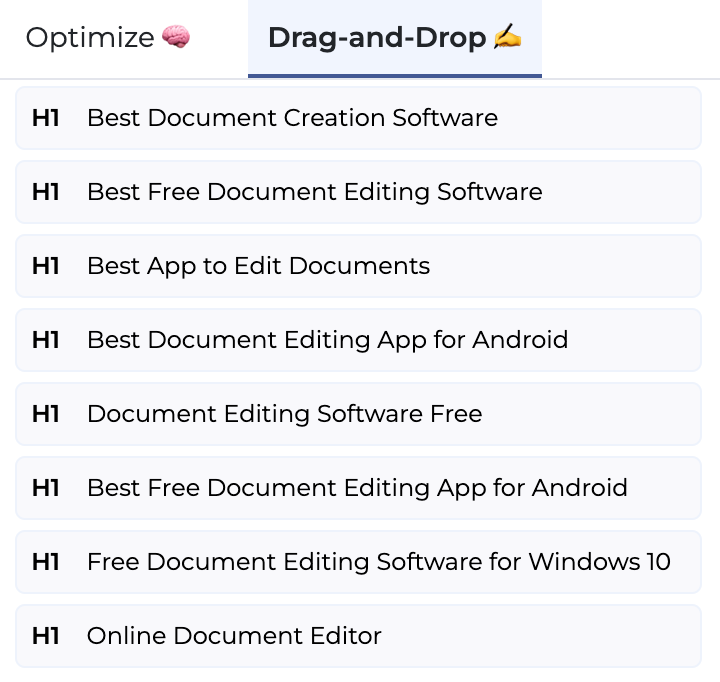 Conclusion: write long-form content like an expert
To write the best long form content you need to focus on quality, not just quantity. You'll want to keep sentences concise; add images, infographics, charts and videos; include bullets and lists; and create actionable items they can take with them…. much like this post 😊.
Comprehensive content often is long, but long content is not always comprehensive. Longer blog posts don't rank better just because they have extra words tossed in. It's because they're the best solution for searchers' needs.
To get your content to the right length–and make sure it's ranking–try out GrowthBar's content generator for free. And don't forget to check out it's keyword ideas, blog topic generator, and competitive insights too!