Latest posts by Mark Spera
(see all)
Copywriting is one of the most important aspects of SEO. Good copy can help you rank higher in search engines, and it can also help you convert more of your website visitors into customers and leads.
Take it from me: I know what I'm talking about.
I led marketing at telemedicine app, PlushCare before its sale to Accolade Health for $450 million. We grew the PlushCare blog to over 1 million organics per month back in 2020.
My blog, Growth Marketing Pro gets 50,000+ organic visitors per month and makes 7-figures in passive income. And we rank for some of the most competitive terms on earth.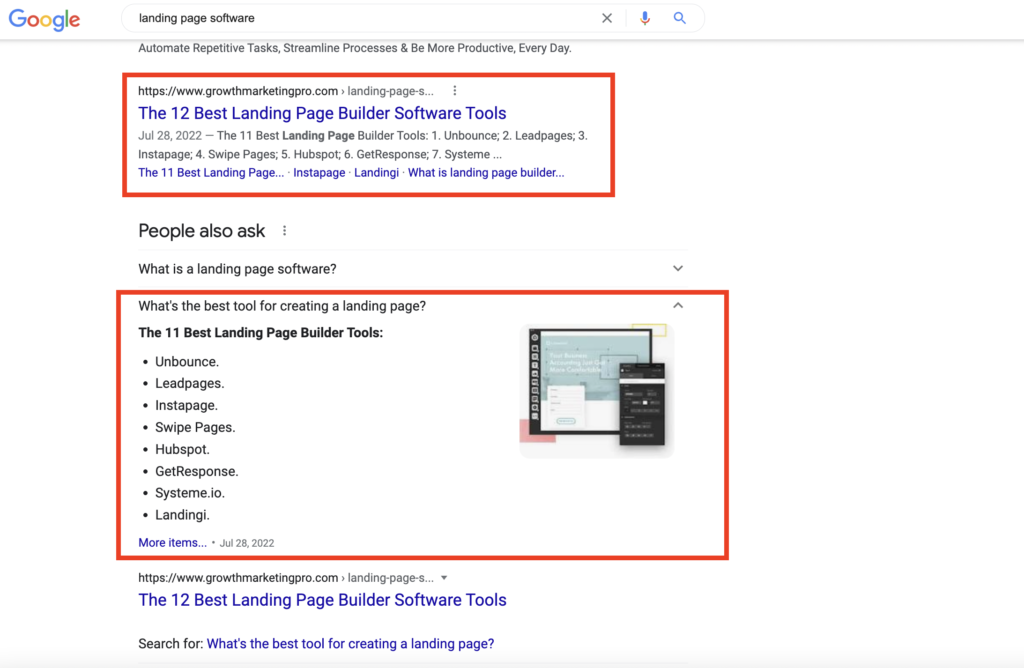 In this guide, I'll teach you everything you need to know about SEO copywriting. I'll cover the following topics:
What is SEO copywriting?
How can you improve your SEO copywriting?
What are the best practices for SEO copywriting?
Plus, there are several best practices you must follow, like:
Keyword research
Writing with LSI keywords
Using modifiers in your titles and headlines
And more
The art of SEO copywriting is all about understanding search intent and catering to your audience. By understanding what people are looking for and what they want to read, you can create content that is both informative and engaging.
How can you improve your SEO copywriting?
Keep reading and find out how to avoid mistakes and actually rank on Google.
Also read: The 11+ Best Content Generators to Automate Your Writing
How Does Copywriting Help with SEO?
Copywriting is one of the most important aspects of SEO.
Why?
Because at the end of the day, Google wants to serve Googlers the best content. Doing so prevents you and I from going to DuckDuckGo or Bing for our searches.
And copywriting is all about serving up the best content for your readers.
Copywriting can help you to target the right keywords and use them in the right way. It can help you to create titles and descriptions that are attractive to your readers – and to Google. Copywriting can also help you to create engaging content that encourages readers to stick around and explore your site. And the longer people stay on your site, the more likely it is that they will click on your links and convert into customers.
8 Things You Have to Know
Want to succeed? Do these things…
1. Make a List of Relevant Keywords
Put down your pen! (or computer)
Before you start writing, you'll want to come up with a list of relevant keywords. This is the first step in SEO copywriting.
These are the words and phrases that you think people will use to find your site. They should be specific and relevant to your business or topic.
For example, if you own a pet store, some relevant keywords might be "pet supplies," "pet food," "dog toys," etc. It wouldn't be helpful to rank for something unrelated, right?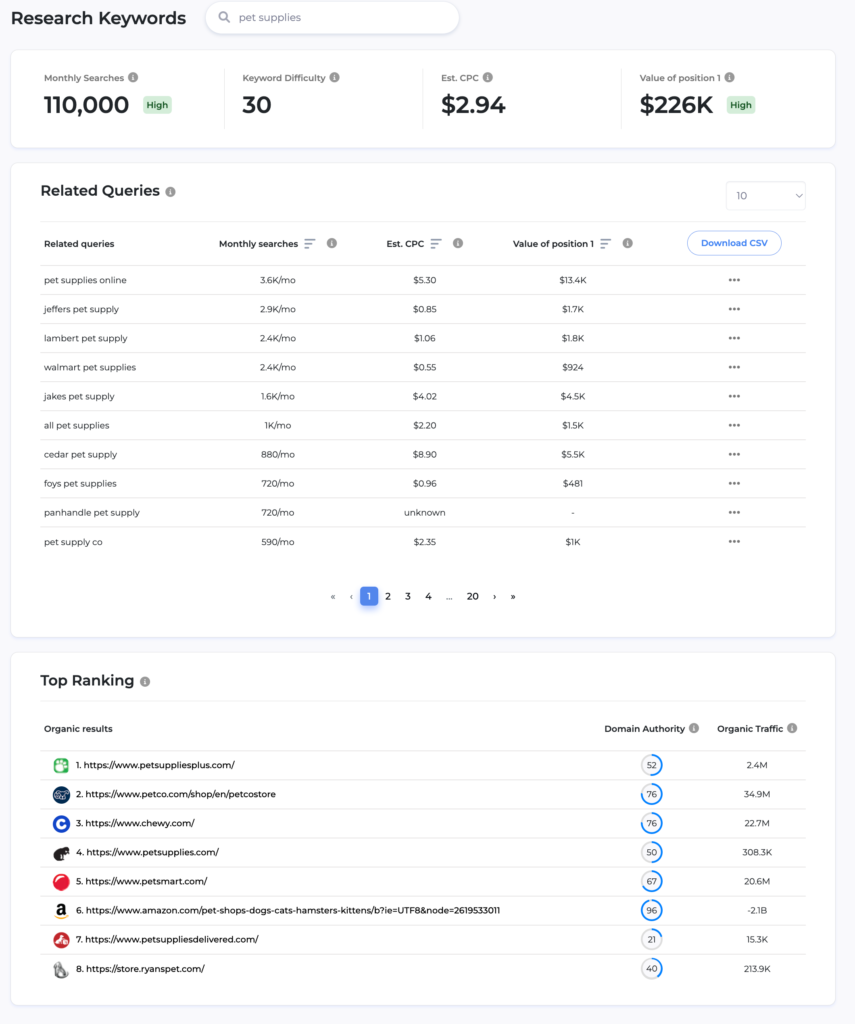 Usually, a keyword research tool is pretty important for this process.
But I also love to rack my brain for emerging topics.
If you're the subject matter expert in your field, you probably know some things others don't. For instance, if you're a technology blogger, you might have the inside scoop on the newest product coming out — before there's even search volume for it. Write about that product before anyone else and you're very likely to rank.
Another simple way to use some logic in your research process is by using Google and YouTube's autocomplete feature. While it won't be the most precise way to do your research, it's another way to use your brain to find some long-form keywords that might be good candidates for your content.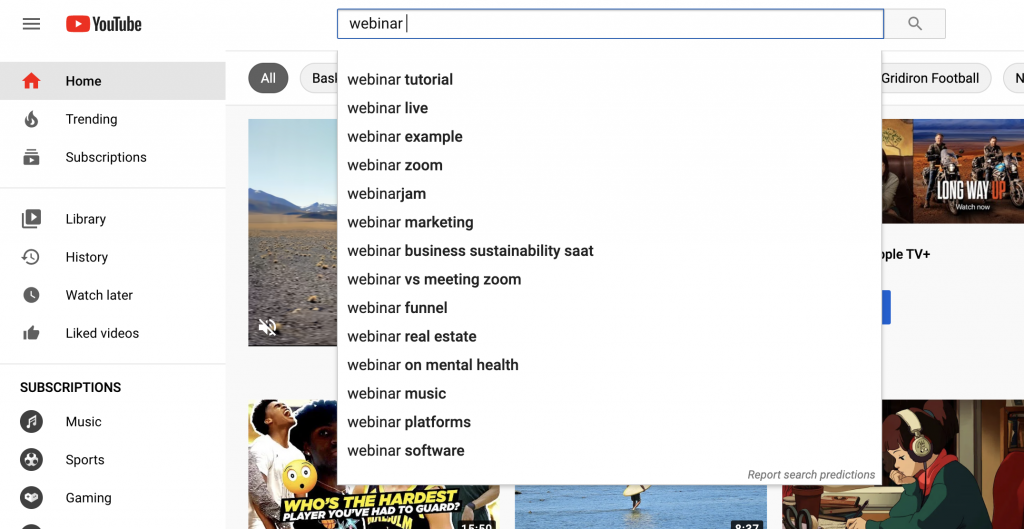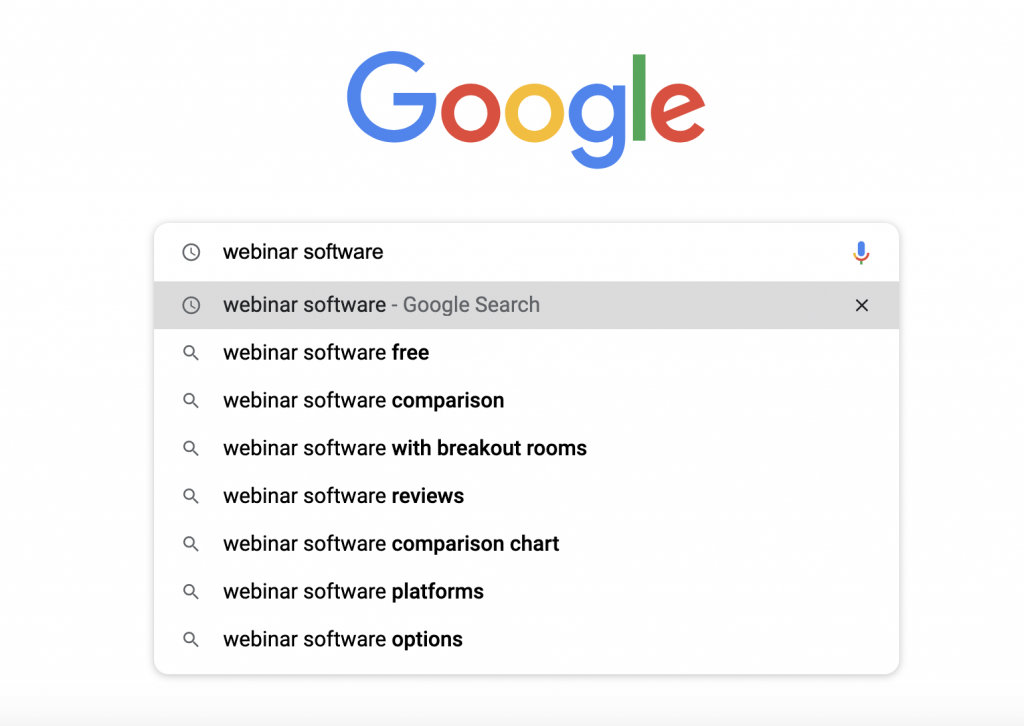 In blog posts, on your site pages, or even within your product, using the proper keywords is a pivotal part of SEO copywriting.
2. Look at Search Intent
Finding keywords: easy enough.
Finding the right keywords and using them properly: more difficult.
When you are creating your SEO copy, you must always bear in mind the search intent of your potential customers. What are they looking for? What are they trying to find? What solution are they hoping to find?
There are four general types of intent:
Informational: Informational searches are based on general questions or information-based searches. They almost always involve the 5 W's and 1 H (who, what, why, when, where, and how). Read about how-to posts here. Consider your audience's pain points when researching and writing for this type of intent. Examples include: "how to change your oil" or "why is SEO important?" Long-form content is important for this intent.
Navigational: Navigational searches have a direct intent behind them. Navigational searches look for a specific brand, page, idea, or based on location. Examples include: "Instagram" or "repair shop near me." I find that keywords, URLs, and other on-site metrics are most important here (more on those in a bit).
Commercial: Commercial searches are based on investigating brands, products, or services. Commercial searches look to browse, research, compare, and contrast products /services to make an educated decision. Content for commercial posts is usually in the form of long-form content or product pages. Examples include: "Salesforce vs HubSpot" or "best webinar software." Long-form content is the champion for most of this type of search.
Transactional: Transactional searches are direct intent on buying (think ecommerce). Examples include: "buy sneakers" or "where to get an iPad." This type of search is where product descriptions, titles, meta descriptions, and URLs matter.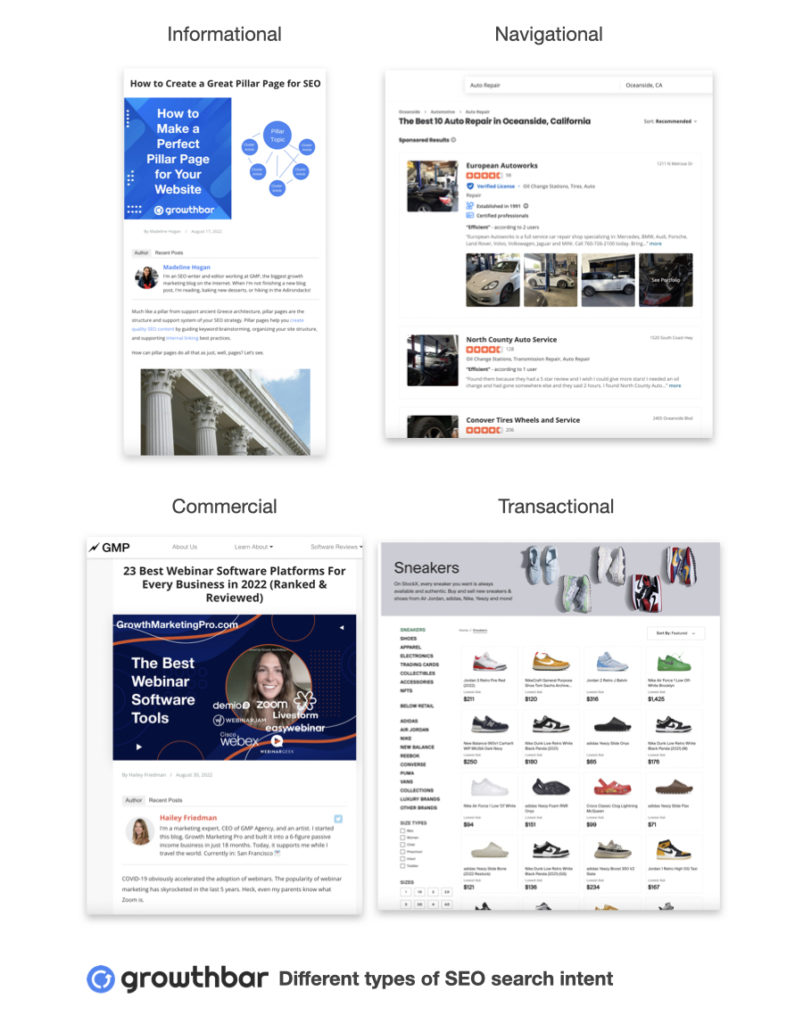 So think hard about intent. Use the bullets above as a rough guideline, but even better take a look at what ranks for a given query.
Is it all ecommerce pages? All long-form blog content? Whichever style ranks is what Google favors. Your content style should mimic those results to meet the intent of your reader.
Next, let's talk about the types of keywords to include in your content.
3. LSI Keywords
Latent Semantic Indexing (LSI) keywords are those that are semantically related to your target keyword.
When you include these keywords in your content, you help Google better understand the content of your article. As a result, your content may rank higher on search engine results pages for related queries.
Take a look at the image below. You'll notice GrowthBar includes LSI keywords (bottom right) so that you know which additional keywords to include in your articles.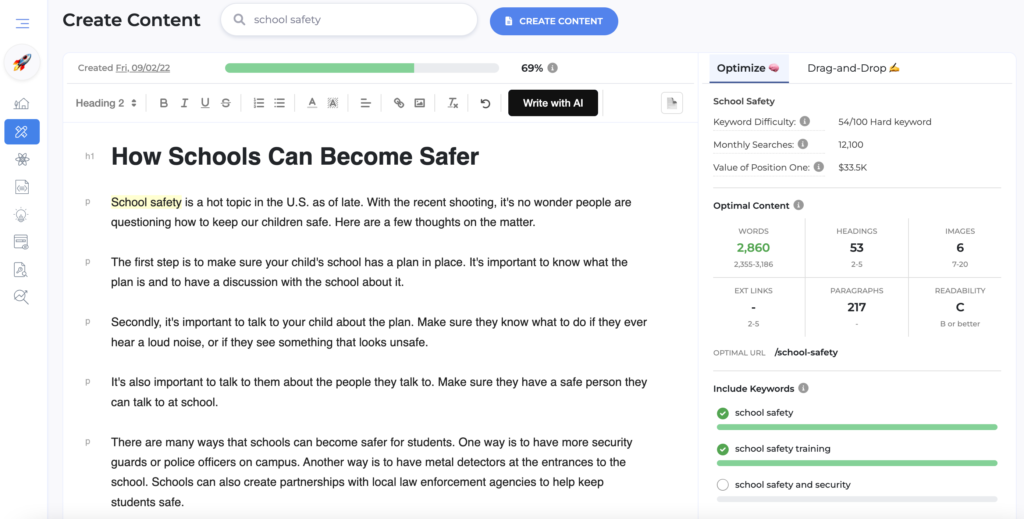 To find LSI keywords, start by brainstorming. You're simply trying to tell Google your article or webpage is most definitely about your subject. So for instance, if you're writing an article about webinar software, you'll want to include LSI keywords like:
Zoom
Automated webinars
Best webinar software
etc
LSI keywords are a relatively straightforward part of SEO copywriting. But it's very much worth mentioning.
There are tools like GrowthBar, Surfer, and Clearscope that show LSI keywords for every search query. Use these tools or, if you're on a budget, use your best judgment to determine which LSI keywords to write with.
4. Agitate the User
Agitating your user or reader isn't something you expected to be in this blog post.
After all, you're trying to give users a great experience on your site — in order to keep them on-page and show Google you have awesome content.
But what if I told you agitating users is one of the best SEO copywriting techniques for improving your on-page optimization?
Agitation is an age-old sales technique. If you can really relate to the users' problem, agitate them about the problem, and then offer a solution to the problem, you'll keep them hooked and reading more of your content — which of course is a great Google signal. And it's a super simple copywriting technique.
Let's look at some examples:
"You might be finding that the old tactics you know and love just don't work anymore. You write and write, and Google just won't rank your content. I used to be like you, but now…"
"Using a suboptimal cooking pan is going to make your guests want for better food. You probably don't want your dinner party to go over horribly, right? Well, this pan is the answer…"
"I used to toss and turn all night. Maybe you do too.

Want to know

the secrets about sleep I know that no one else does?…"
"Are you stuck in spreadsheet hell? Maybe you're spending hours a day working in sheets, not getting other work done. Or even worse, your sheets aren't accurate and the boss is breathing down your neck. Well, you need to…"
Get in your users' heads. Well-appointed agitation — particularly in sections of your blog posts where you're coming to a huge "aha" moment or places where you think the user may abandon the page — is incredible for keeping users on your site.
Why does this work? Humans are programmed to avoid pain more than seek pleasure. In the hunter-gatherer sense: we were more apt to avoid the scary cave that might have a bear, even though there could be some good fresh meat in there. It's simply more adaptive to avoid pain.
So you can keep users reading by agitating them a bit.
Get creative and really put yourself in the head of your user.
5. Your Introduction
I spend more time on my introduction than any other part of my blog post. You only have a few seconds to establish trust and credibility with your readers (and Google) and keep them engaged.
Here are three copywriting tips to write an effective introduction:
1. Establish your authority.
Your readers need to know that you know what you're talking about and that you can be trusted. You can do this by citing your sources, linking to credible articles, or sharing your own experience. In this article, I started by sharing my experience growing my personal blog and a venture-backed startup using SEO. I'm sure you, as the reader, were much more apt to trust my article and keep reading. And especially because Google values expertise, authority and trust (E-A-T) so much, you'd be smart to include a little self-promotion early on in your copy.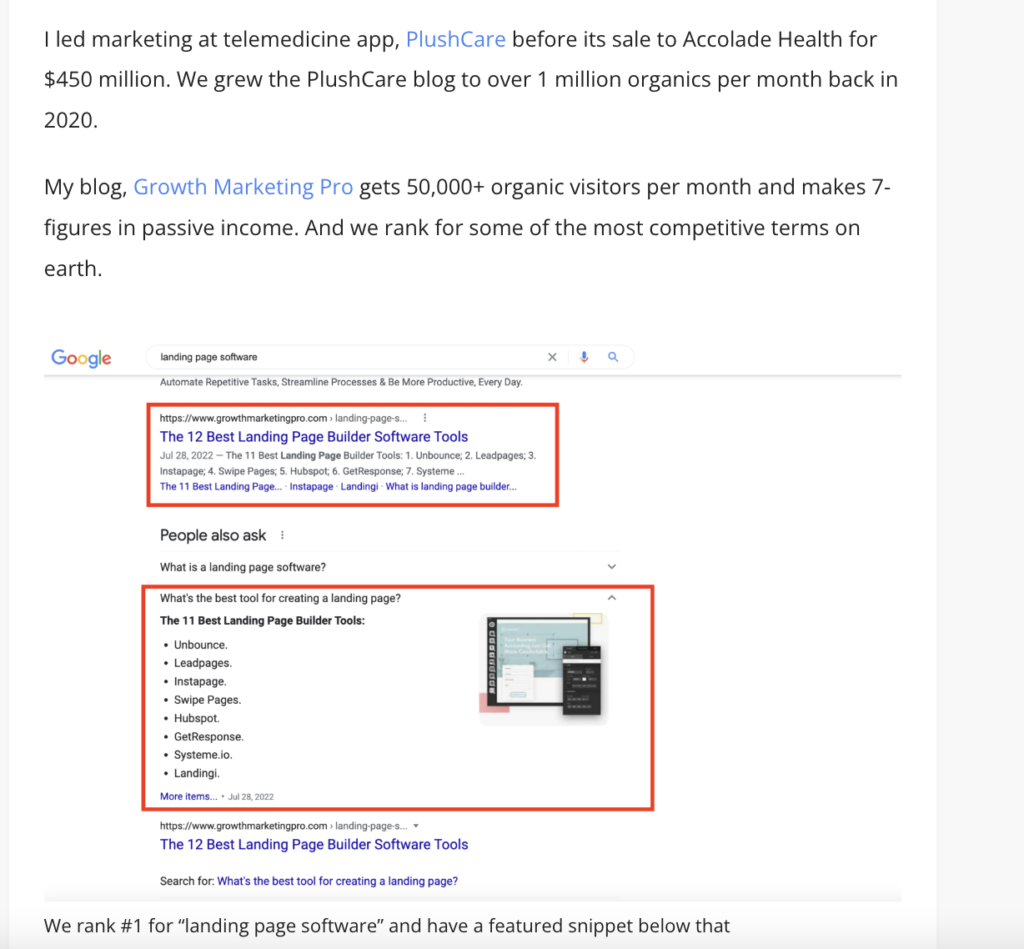 2. Hook your readers.
Your introduction should engage your readers and make them want to read more. You can do this by starting with a question, sharing a story, or making a bold statement. Citing shocking statistics is one of my favorite ways to do this.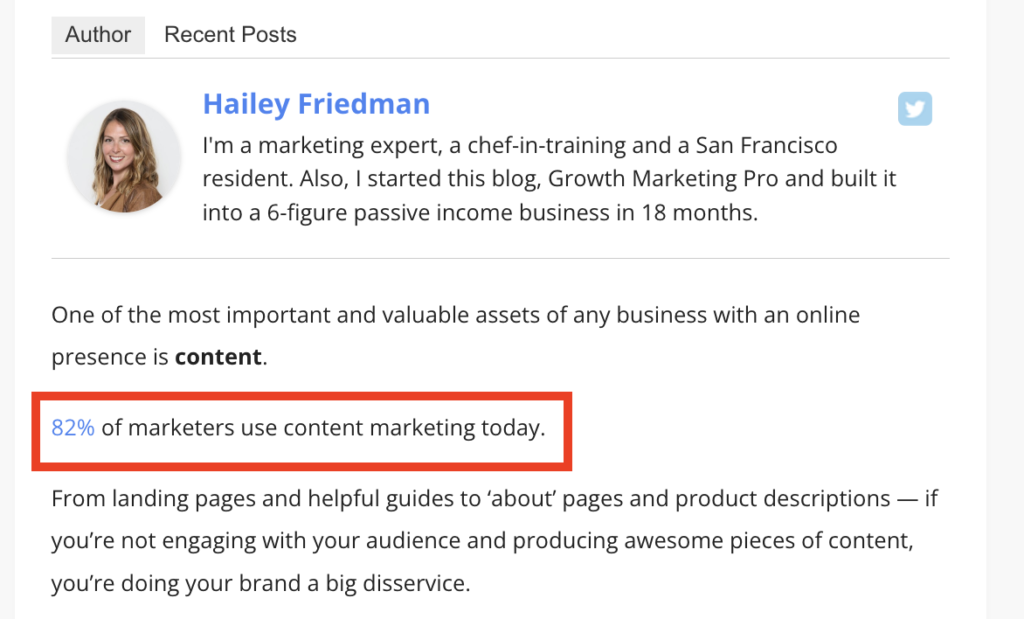 3. Highlight what they'll learn.
Your introduction should be brief and to the point. You don't want to overwhelm your readers with too much information at once. Once you know what you want your readers to takeaway, you can then begin to craft an introduction that will capture their attention and leave them wanting more. One of the best ways to do this is by including a summary of all the great stuff they'll learn in the article. I like to use a table of contents plugin to solve this for every blog post, but you can definitely just write these out in bullets.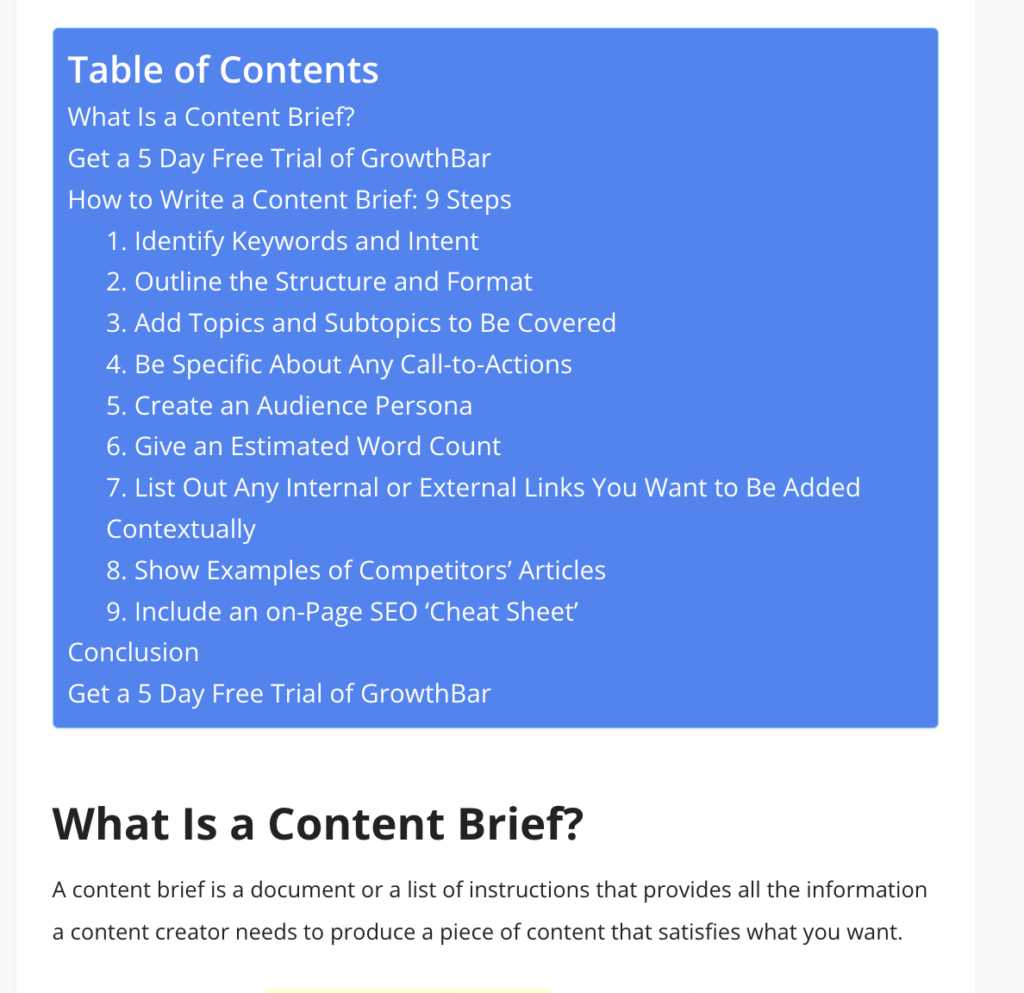 Also in your introduction:
Make sure your keywords are included in your copy but don't overdo it. You want your copy to be readable and engaging, and not brimming with keywords. But you do want your readers (and Google) to know that your article will indeed answer their questions or solve their problems.
Focus on the benefits. When you are creating your SEO copywriting, you must focus on the benefits that your product or service can provide. What are the benefits of using your product or service? What are the benefits of clicking through to your website?
Include Testimonials: When relevant (particularly in your introduction or on your ecommerce page above the fold) including testimonials in your SEO copywriting can be a great way to boost your time on site and conversion rates. 79% of customers read online reviews before making a purchase, so it's important to have a strong testimonial presence on your website.
6. Vary Sentences and Paragraphs
This is one of the simplest SEO copywriting rules.
Users (and Google) look for text that is not all in one long paragraph. It likes text that is broken up into short, easily digestible paragraphs.
Vary the length of your sentences and paragraphs. Short, choppy sentences can be hard to read, while long paragraphs can be daunting. Varying sentence length and paragraph length will make your content more readable and engaging.
This is becoming even more important as the world is becoming even more mobile-first. It's pretty tough to read a blog post on a bus if the post is a big dense brick of words.
When you read great writing aloud, you may notice that the long sentences speed up the reading; it's like you're accelerating towards the next full stop. In contrast, the short sentences slow you down a little. Because each full stop makes you pause.
Here's a nice example: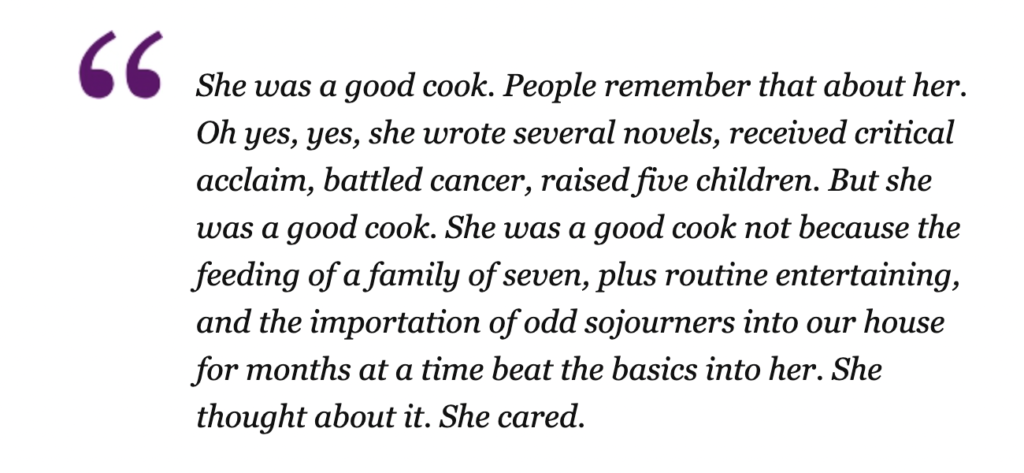 Varying sentence length is a great SEO copywriting tactic that will keep your users on page longer — which of course, will help curry favor with Google. I find it easy to do this with some short keyphrases that keep users engaged, and vary my language. Examples include:
Here's the deal:
Now:
What's the bottom line?
You might be wondering:
This is crazy:
It gets better/worse:
But here's the kicker:
Want to know the best part?
7. Nail Your Title and Headlines (Modifiers)
Titles and headlines are perfect places to add modifiers. There are two types of modifiers you should be interested in as an SEO copywriter:
Modifiers that enable you to rank for additional keywords
Modifiers that will make your content stand out
Modifiers are a great place to include additional keywords. Take for instance my article "The Best Landing Page Software." It used to rank for just "best landing page software." But after doing a little keyword research, I realized that even more people were searching for "landing page builders." By simply adding the word "builder" to my title and to a couple of places throughout the article, I was able to increase my blog post's ranking for the additional modified keyword. This nearly doubled my traffic to the article overnight.
This doesn't work in every case, but I find it's particularly effective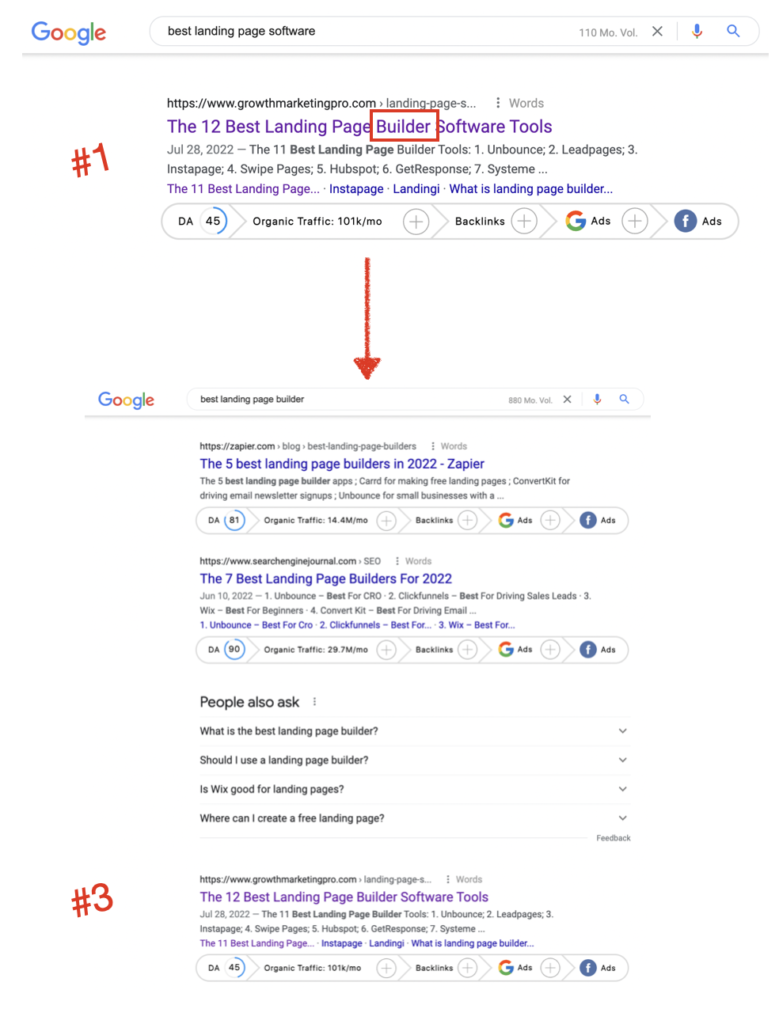 Modifiers can also make your content stand out in the Google search engine results page (SERP). Such modifiers include:
The year: "best results for 2023"
A little fear of missing out: "tips you don't want to miss"
Examples: "the best webinar software for every use case"
Some verticals are so competitive, that you'll notice almost every result has some type of modifier.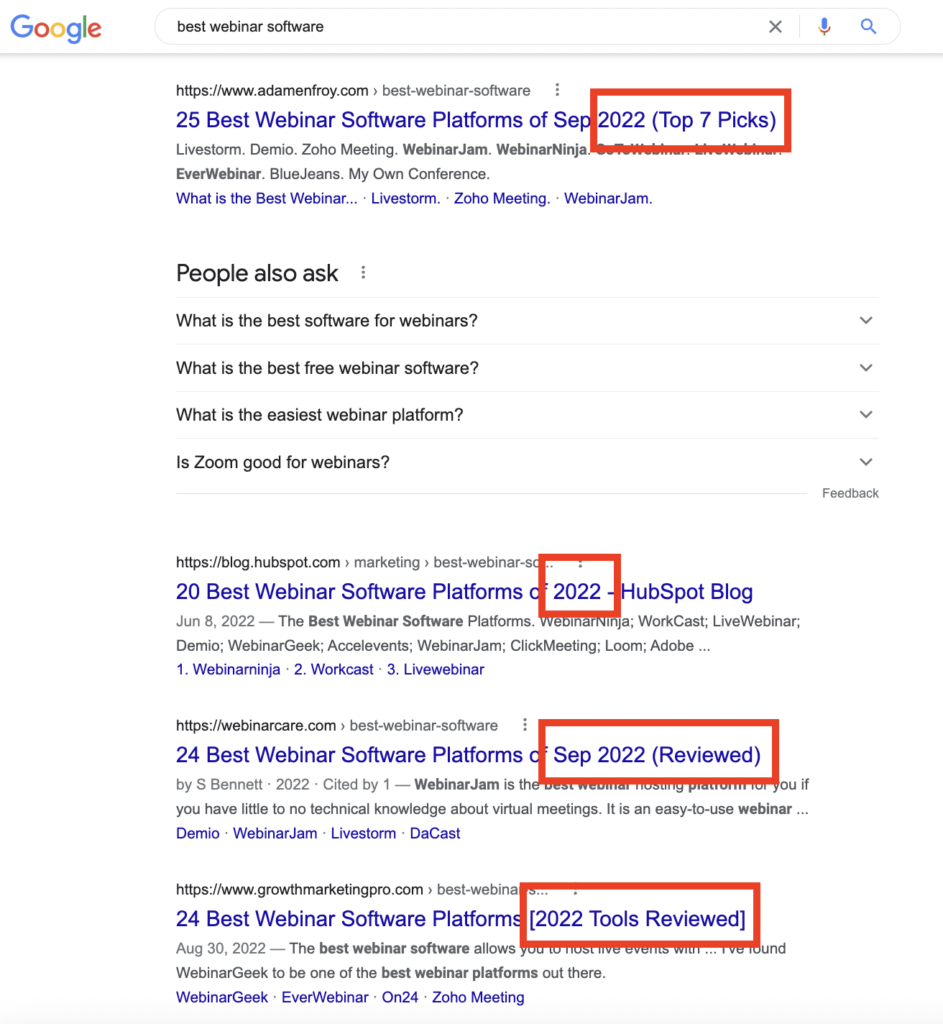 This type of modifier can help you increase your click-through rate in the Google SERP and better prime your audience.
Here are a few other best practices for your titles and headlines:
Use keyword-rich titles: When you are writing your copy, be sure to use keyword-rich titles. This will help you rank higher in SERPs, and it will also help your visitors understand what your content is about.
Use strong verbs: Use strong verbs to create powerful titles. This will make your titles more compelling and interesting. Examples include: "slice through your competition" or "this is where best practices and great experience collide."
Use emotional language: Use emotional language to create powerful titles and headlines. This will make your titles more appealing to your readers. Examples include: "recover from the flu faster than ever before" or "enough with hair despair, get a blowdryer that works."
8. Bullets, Colons, and Images
Bullets and colons are great for breaking up large chunks of text and making it easier to read. Images are also great for breaking up text and adding visual interest.
When using bullets and images, be sure to keep your text concise and to the point. And always use images that are relevant and interesting.
Bullets
Use bullets to highlight important points
Keep bullets concise and to the point
Make sure bullets are relevant and interesting
Colons
Use colons to introduce lists
Keep your text concise and to the point after a colon
Make sure colons are relevant and interesting
Images
Use images that are relevant and interesting
Keep your text concise and to the point when using images
Name your images and give them alt text that includes the keywords you wish to rank for
Like varying sentence length, using images, colons and bullets make the text more readable — particularly for a mobile audience. And make no mistake, user experience (UX) really matters for SEO.
According to a study by Google, 61 percent of users are unlikely to return to a mobile site they had trouble using, and 40 percent will go to a competitor's site instead.
So if you want to keep your customers and keep them coming back, you need to focus on optimizing your text and blog posts for readability.
SEO Copywriting Tools
Search engine optimization (SEO) copywriting is the process of writing copy that ranks high in search engine results.
And there are tools that can really help.
1. GrowthBar

GrowthBar can…
Writes your entire blog post: GrowthBar takes your input keyword/topic, scans the web using a powerful SEO decision engine, and makes suggestions in a content editor using GTP-3 AI — the largest, most powerful language model on earth.
Creates content outlines: GrowthBar is completely drag-and-drop. So you can create your perfect blog post with perfect headlines, Images, keywords, and AI-generated text. Then export to Google Docs or Word. Plus, GrowthBar's Content Optimizer will tell you how SEO-optimized your final post is.
Keyword and competitor research: GrowthBar surfaces billions of data points so you can make sophisticated decisions about your content strategy: it includes over 2 billion keywords and search data in the Keyword Research tab, plus competitive data on every site on the web.
Chrome Extension: GrowthBar also has a Chrome Extension, which enables you to use GrowthBar's AI writer directly in WordPress.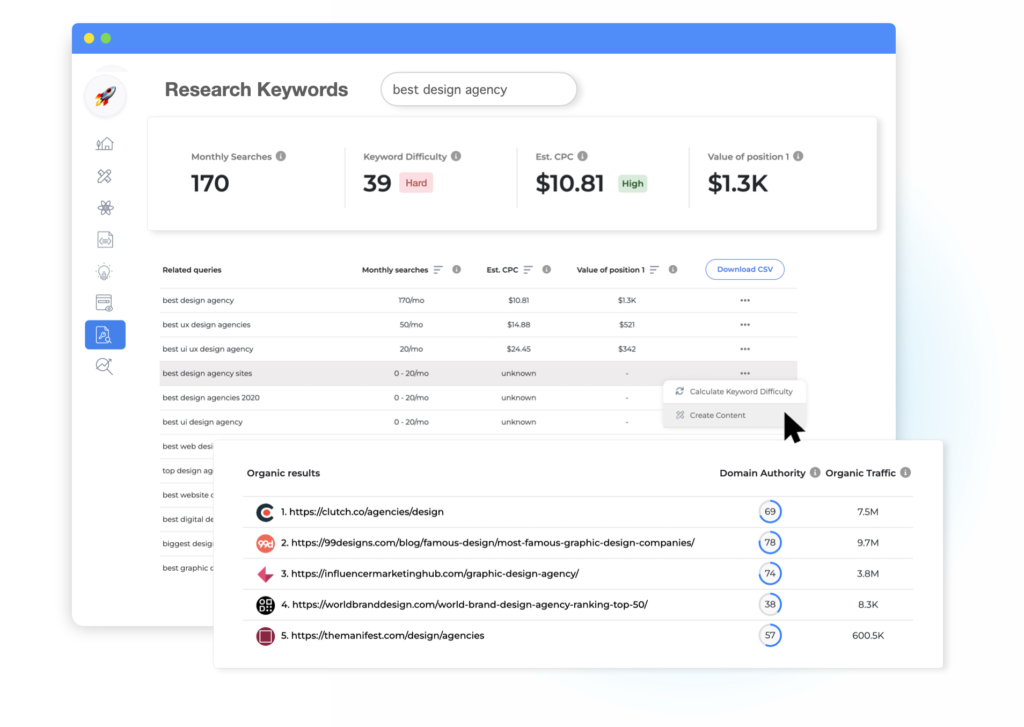 2. Copy AI

Copy AI can…
Generates copy: Copy AI can help you generate short pieces of copy to use in your SEO copywriting. Features include writing a blog introduction, blog conclusion, or creating a blog post outline.
Generate landing page copy: If you need a tool to help generate copy for homepages or ecommerce pages, Copy AI may be the tool for you. With just a little bit of seed content, it social media content, website copy, blog content, and any other form of digital copy. It has the most styles of copywriting of any tool (over 90 functions).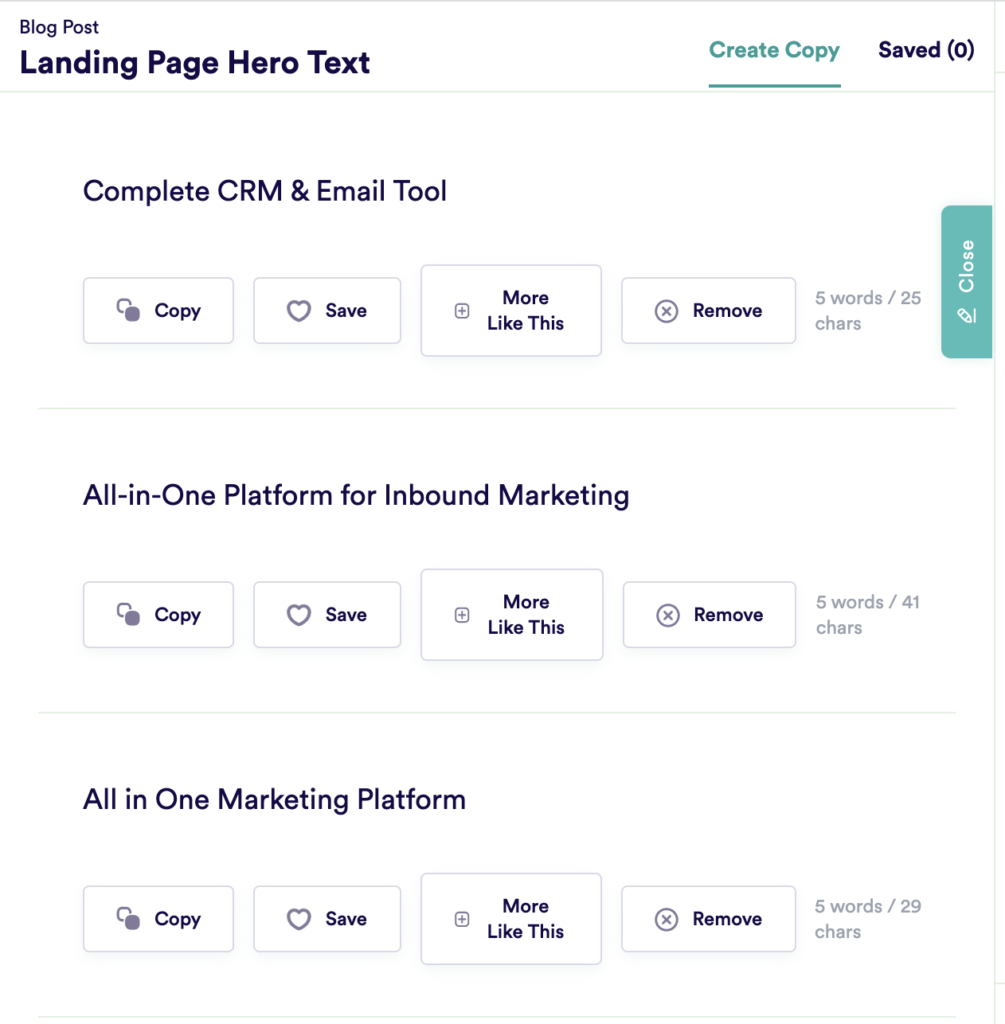 3. Grammarly

Grammarly can…
Checker: Grammarly is a free online grammar checker that helps you write mistake-free copy. It features a paragraph checker that helps you identify and fix paragraph-level errors.
Vocabulary enhancement: Additionally, it offers a vocabulary enhancement tool that suggests synonyms for words you've used to help you improve your writing style.
Improve style: It can help you improve your writing style by suggesting synonyms for words you've used. Additionally, it offers a vocabulary enhancement tool that helps you choose the best words to use in your writing.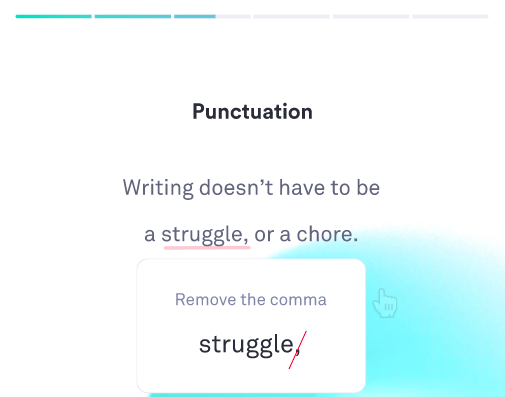 Wrapping Up
There's a lot to think about when it comes to SEO copywriting, but if you keep the basics in mind, you'll be well on your way to writing copy that not only looks great and packs a punch but also ranks high in the search engines.
Some tips to remember:
Write for humans, not search engines
Research keywords and get creative with keywords
Understand search intent
Agitate your readers (occasionally)
Modify titles and headlines
Focus on your introduction

Use your keywords throughout your copy, but without getting robotic

Make your copy easy to read and understand and vary sentence length
Use formatting and images to break up your text
Always proofread your copy!
By following the tips outlined in this guide, you can create copy that is both search engine friendly and engaging for your readers. So what are you waiting for? Start writing!