Latest posts by Mark Spera
(see all)
You may have been looking for a good SEO newsletter and found this post. If you are in the industry, you know how important it is to stay up-to-date with the latest trends in SEO. It can be hard to find the information you need, so we've compiled a list of the best SEO newsletters to help.
Plus, I've signed up for almost every one of these lists — so this is the real deal. Learn which are most valuable for you and your goals.
Best SEO Newsletters
There are a lot of SEO newsletters out there, but which are the best? Check out our list of the 21+ best SEO newsletters on Earth, and some you may not have known about.
1. #SEOFOMO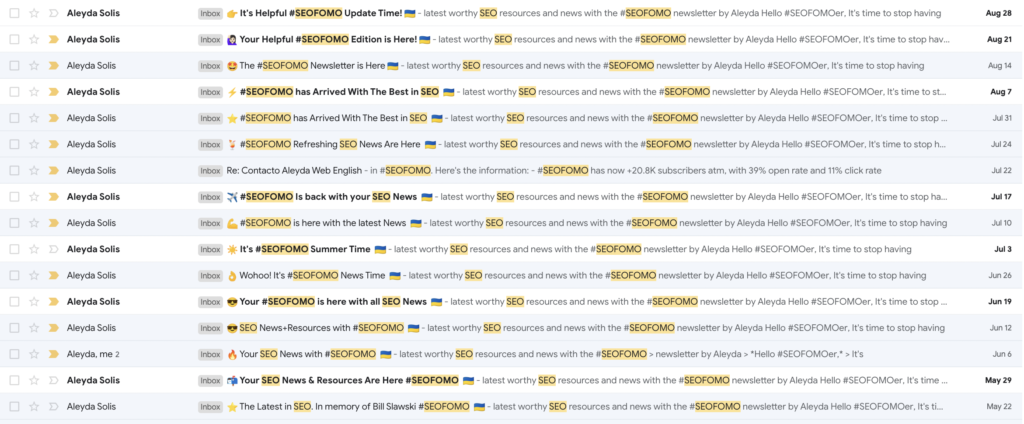 Author: Aleyda Solis's #SEOFOMO newsletter has experienced a meteoric rise during Covid, behind Aleyda's strong social media presence — and even stronger content. Before starting #SEOFOMO, Aleyda was an SEO manager at Bodaclick and Global SEO Manager at Forex Club.
About: #SEOFOMO is a weekly newsletter that covers everything from SEO to social media to online marketing. It's an excellent resource for staying up-to-date on the latest trends and changes in the industry. Aleyda religiously sends one email per week with roundups of the best articles, podcasts, and videos on the web about SEO. It's my #1 choice for intermediate-to-advanced SEO practitioners.
Sign Up: https://www.seofomo.co/subscribe
2. Copyblogger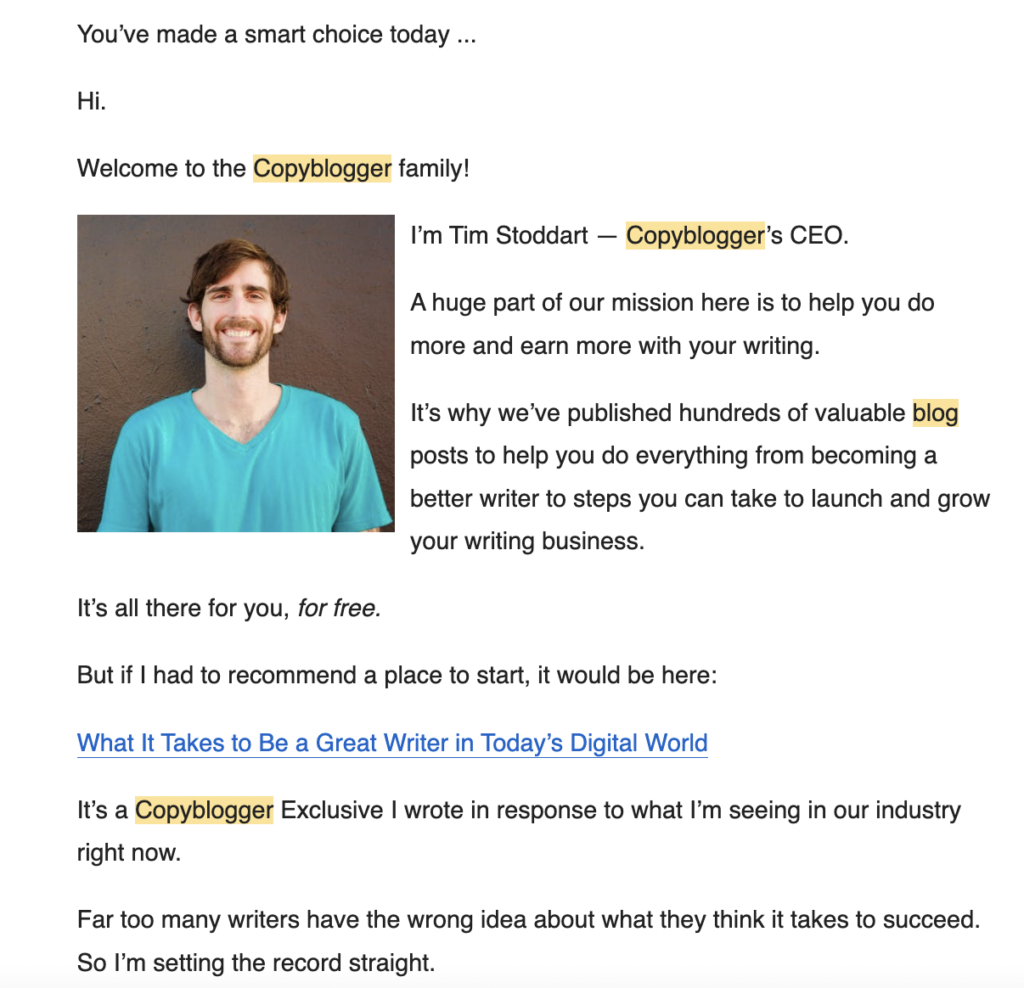 Author: Brian Clark and Tim Stoddart are partners on Copyblogger, the largest copywriting newsletter on the internet. They're both entrepreneurs who have worked building 7-figure digital businesses for decades.
About: Copyblogger is one of the best sources of information on content marketing, and its weekly newsletter is no exception. They specialize in (as you would expect) copywriting. Copywriting is a tricky topic… after all, teaching someone to write better with an email newsletter is like teaching them to play basketball without a ball. However, Copyblogger provides tips and advice on everything from creating effective headlines to understanding Google's algorithm changes. It really hits the mark and stands as one of the best resources for effective copy and SEO.
Sign Up: https://copyblogger.com/
3. Search News You Can Use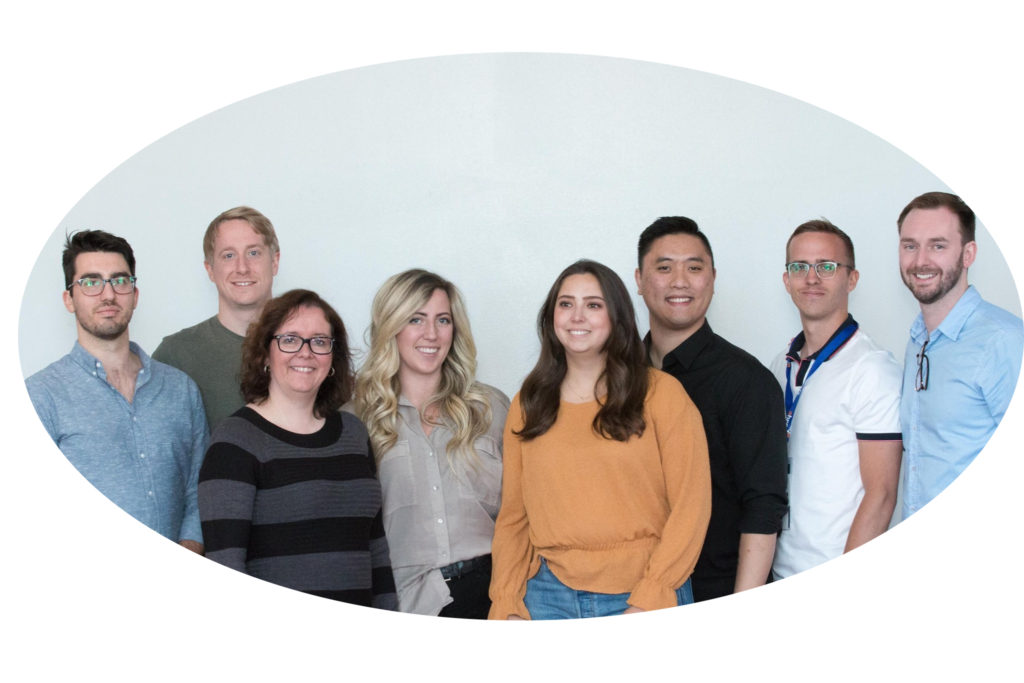 Author: Marie Haynes is an SEO expert and founder of her own agency, Marie Haynes Consulting. Marie has been recognized as a leader in the SEO industry since 2008. She offers several services including site quality assessments, Google penalty consultation, and help recovering from Google's recent-ish Helpful Content Update.
About: Marie's weekly newsletter and biweekly podcast have been live for a while now. She has over 170 podcast episodes and sends them all to you via email + her perspective on industry trends. There is also a paid version of the newsletter that's pretty affordable and offers additional insights. I love this newsletter for intermediate and advanced SEOs and marketers.
Sign Up: https://www.mariehaynes.com/seo-newsletter/
4. Tl;dr Marketing
Author: Saijo George is a Melbourne Australia-based entrepreneur and digital marketer.
About: Tl;dr (Too Long Don't Read) Marketing is an incredible website and newsletter that I didn't even know about until researching this article! Needless to say, I've signed up. What I love about it is how actionable and short the tips and tricks are. While the newsletter focuses on SEO, there are also super relevant digital marketing tips as well.
Sign Up: https://tldrmarketing.com/
5. SEO MBA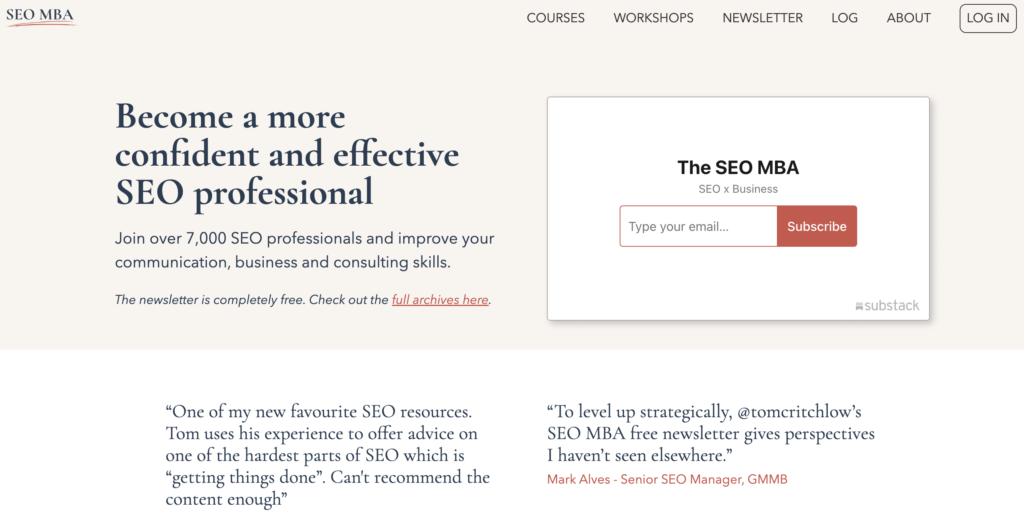 Author: Tom Critchlow has worked with huge companies like The New York Times, Gartner, SeatGeek, and DotDash. He's a content and commerce expert — meaning huge online publications are his bread and butter.
About: SEO MBA is an email newsletter with 7,000+ subscribers. Tom has two verticals within the newsletter:
The big company SEO looking to build influence within their company using data-backed tips
The agency owner looking to manage and retain clients
There's something for everyone.
Sign Up: https://seomba.com/
6. SEO For Lunch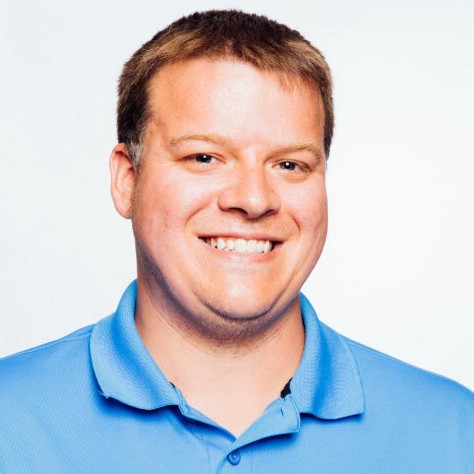 Author: Nick LeRoy was the Director of SEO at ICF Next and Ovative Group. He's a professional SEO consultant specializing in technical SEO, content strategy, and website migrations. He's also an entrepreneur who owns a bunch of niche websites and businesses, like SEOjobs.com.
About: Nick's 5,000-person email list has been running for a couple of years now. In his newsletter, he touches on industry trends and technical SEO, making it a bit unique.
Sign Up: https://www.seoforlunch.net/
7. SEO Notebook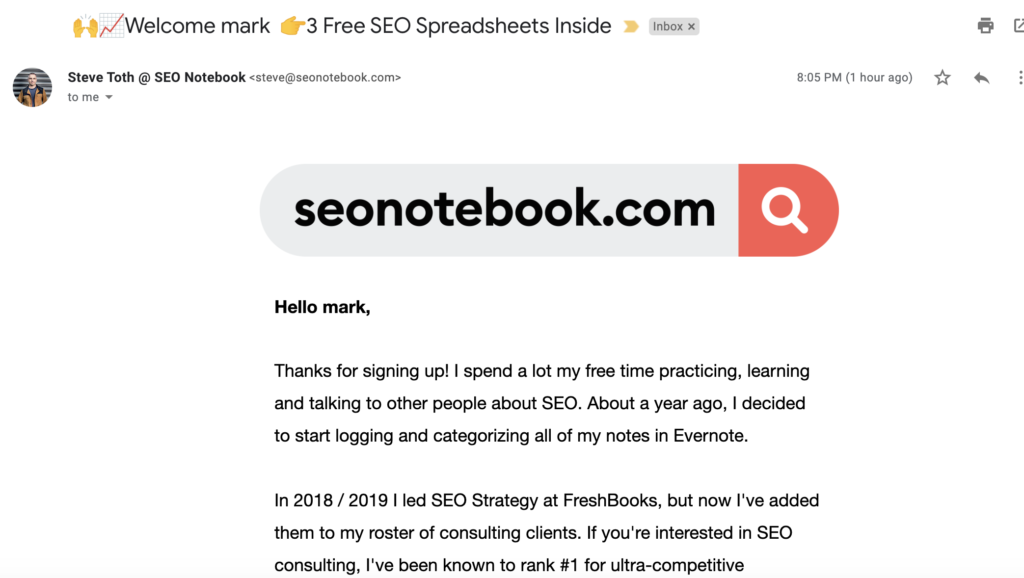 Author: Steve Toth is a Canada-based SEO who's spent years leading SEO for companies like Freshdesk and serving as an advisor to many more, including Mejuri, Purple, UpLead and many more.
About: Every Tuesday at 9:30 am EST you can expect to hear from Steve. He's an advanced SEO with years of experience and an advanced newsletter. He includes growth hacks, personal triumphs, and a ton of other great content to help you become a better big company SEO. SEO Notebook has over 10,000 subscribers.
Sign Up: https://seonotebook.com/
8. Matthew Woodward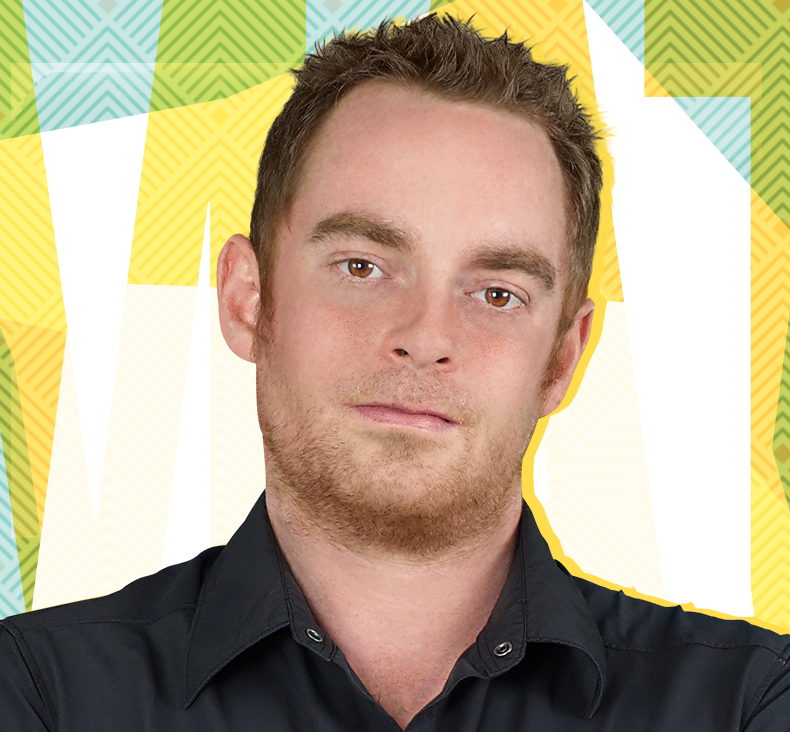 Author: Matthew Woodward is prolific SEO, agency owner, and link-building expert.
About: His newsletter comes weekly (give or take). He generally pulls back the curtains on clients he's working with. He shows exactly how he grew their traffic using backlinking and smart on-page content marketing.
Sign Up: https://www.matthewwoodward.co.uk/
9. Growth Memo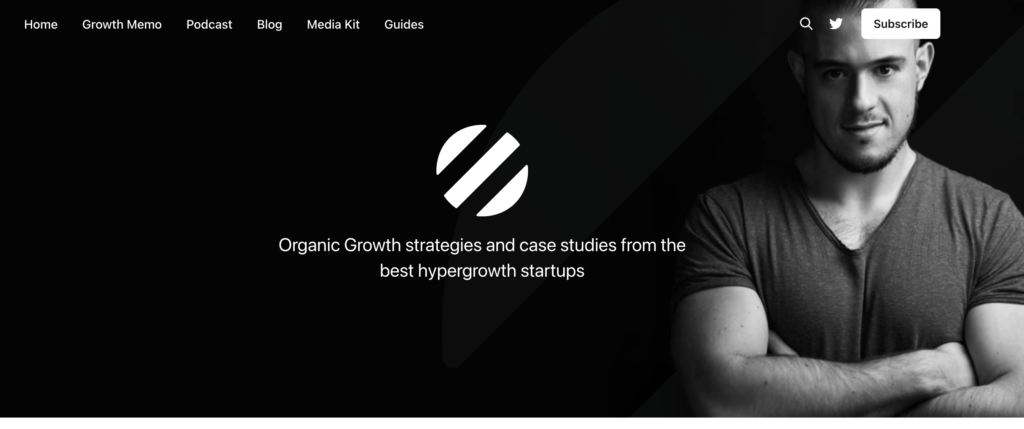 Author: Kevin Indig is an SEO powerhouse. He's one of the most vocal members of the SEO community on LinkedIn and Twitter. He cut his teeth at Shopify as Director of SEO. Before that, he was a VP at G2 and Head of Technical SEO at Atlassian. I know Kevin personally and can also attest to his character. He's a great guy who actually wants you to succeed.
About: Kevin's newsletter is second-to-none when it comes to advanced SEO tactics. He's learned a ton in the trenches of hypergrowth companies and shares all of those experiences in his newsletter and on Twitter and LinkedIn. If you want the real deal info from someone who has "been there, done that," Growth Memo is your newsletter.
Sign Up: https://www.kevin-indig.com/
10. Gotch SEO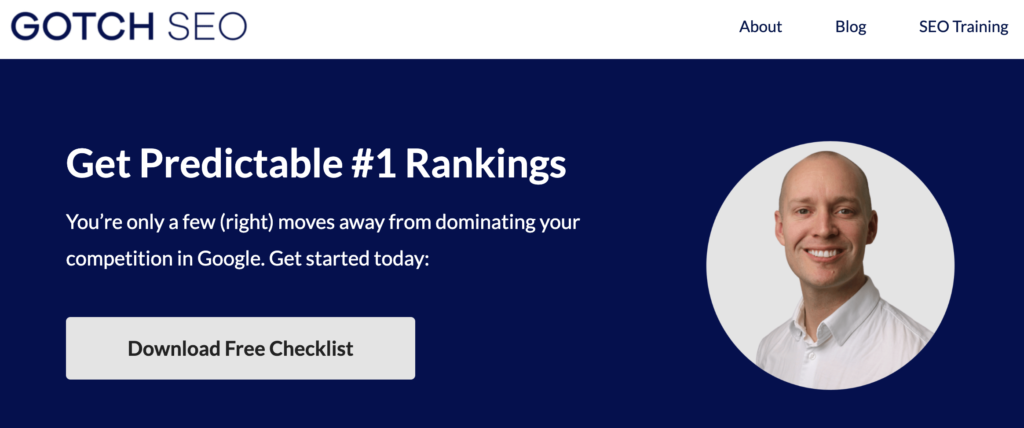 Author: Nathan Gotch has built a huge following on YouTube and through his decade-old marketing agency (also called Gotch SEO). Nathan is a straight-talking, no-nonsense SEO who is always on the forefront of the latest changes in the industry. If you're looking for actionable advice and tips on how to improve your SEO, Nathan's newsletter is a great place to start.
About: Nathan does much more than blog. He also has a super helpful YouTube serious in which he touches on both beginner and intermediate SEO strategies. His email newsletter series starts with the ultimate SEO checklist — a helpful beginner tool. In general, I think his content is strong, but it is geared towards a beginner/intermediate crowd.
Sign Up: https://www.gotchseo.com/
11. The Weekly SEO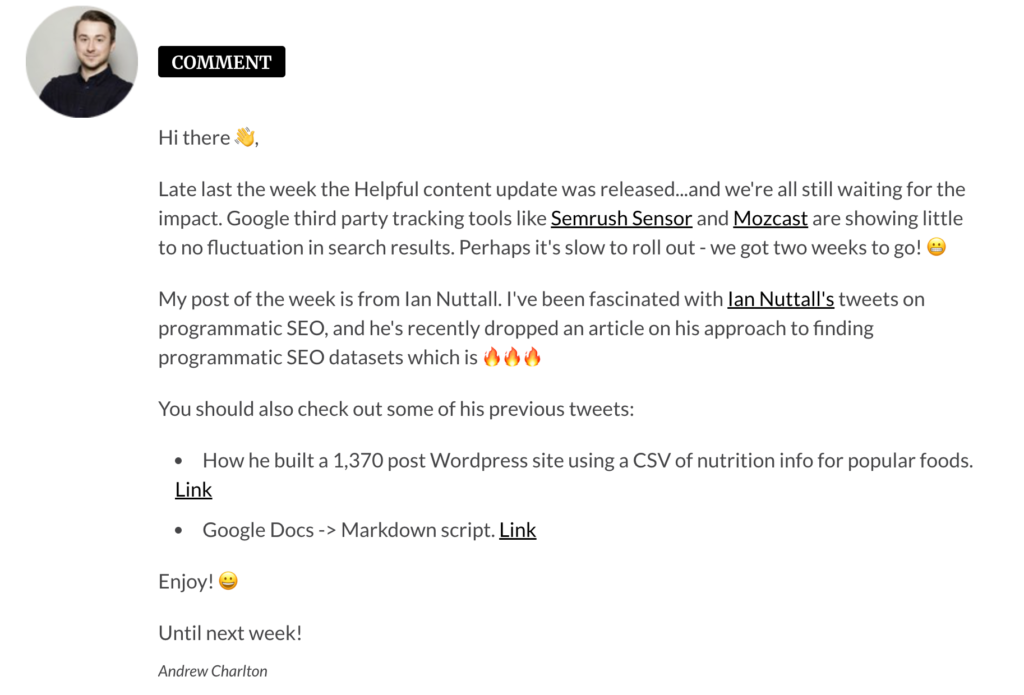 Author: Andrew Charlton is the brains behind the newsletter, Weekly SEO. He is an agency owner and former Head of Search Marketing at Silverbean.
About: Weekly SEO is a weekly roundup of the latest SEO news, tips and strategies from Andrew Charlton and the team at Weekly SEO. Why you should subscribe: If you want to stay up to date on the latest SEO news, tips and strategies, Weekly SEO is a great resource. You'll get an email every Monday with some pretty interesting news and advanced SEO concepts.
Sign Up: https://theweeklyseo.com/
12. The Saturday Solopreneur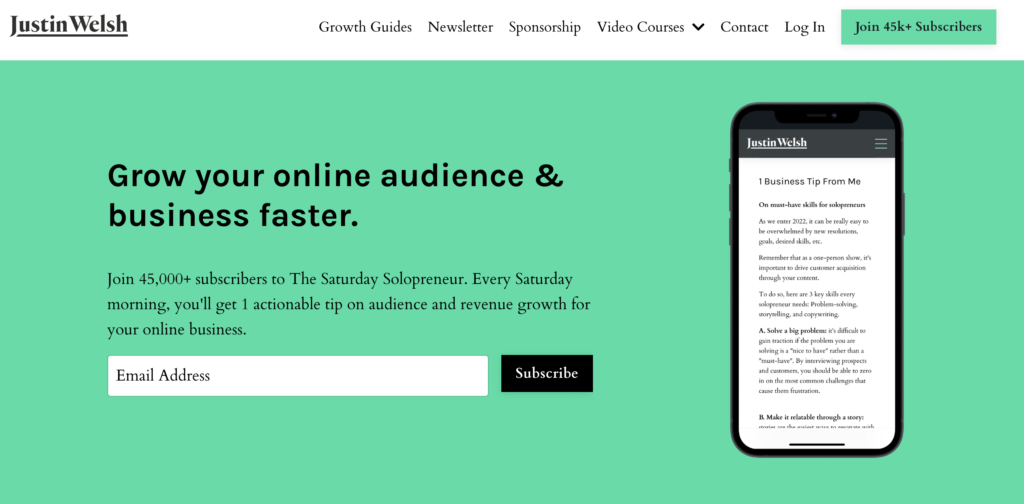 Author: Justin Welsh comes from the healthcare SEO and sales space. He's interesting because while his content is extremely applicable to SEOs, it's not completely SEO-focused.
About: Justin's 45,000-person newsletter, the Saturday Solopreneur muses about all sorts of things from social media, to entrepreneurship, to life experiences. Justin built the newsletter primarily via Twitter and LinkedIn audience growth… which is pretty unique. If you're looking for a well-rounded newsletter, this is it.
Sign Up: https://www.justinwelsh.me/blog/
13. SEO Chatter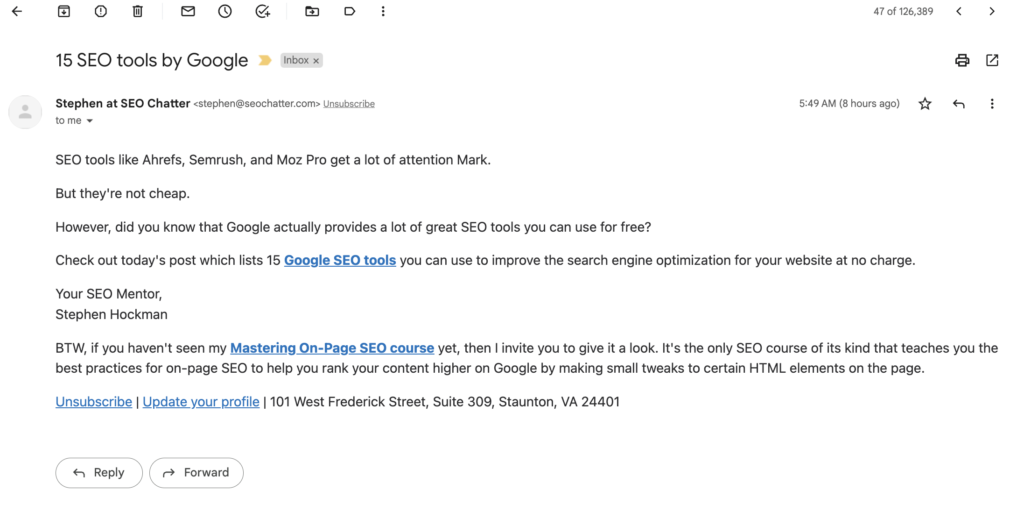 Author: Stephen Hockman is an entrepreneur and founder of SEO Chatter. He specializes in search engine optimization and digital marketing. He cut his teeth in education marketing, then as President of a digital marketing agency, Blue House Brands.
About: SEO Chatter is a blog and newsletter. Stephen curates news stories at the top of the blog and then includes blog posts below. However, what's most remarkable about his properties are the emails. His newsletters are chock full of downloads and free advice. Whereas many newsletters try to immediately sell you on something, Stephen provides value from email number one.
Sign Up: https://seochatter.com/
14. Search Engine Land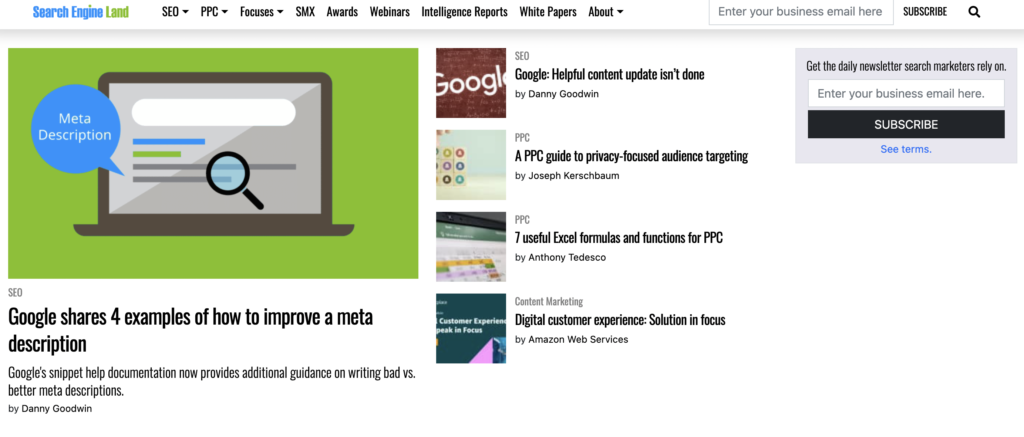 Author: Multiple
About: Search Engine Land is the leading industry publication for search marketers. Most of the best SEOs subscribe to Search Engine Land's daily newsletter.
Why should you subscribe? If you're interested in keeping up with the latest news and changes in the search engine industry, Search Engine Land is a must-subscribe newsletter. They offer comprehensive coverage of both the major search engines like Google and Bing, as well as the latest trends in SEO, PPC, and social media marketing.
Sign Up: https://searchengineland.com/newsletters
Also, Read:
15. Google Search Central Blog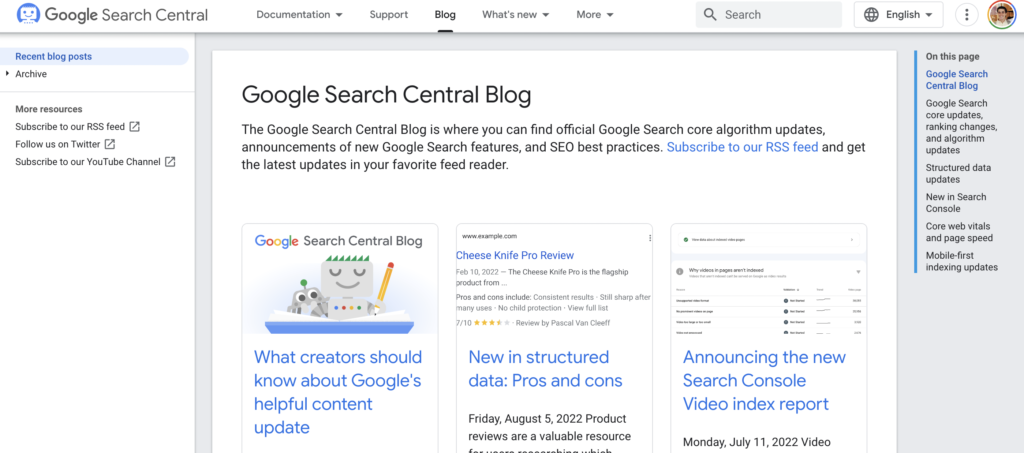 Author: Google team
About: The Google Search Central Blog is a great resource for keeping up with all the latest news and changes related to Google search. The blog is written by the Google search team, so you can be sure the information is accurate and up-to-date. Why You Should Subscribe: The Google Search Central Blog is a great resource for staying up-to-date on all the latest changes and news related to Google search. If you're looking to stay ahead of the curve, this is a must-subscribe newsletter.
Sign Up:
https://developers.google.com/search/blog
Conclusion
If you want to get the most out of your time, I recommend focusing on the newsletters from Search Engine Land, CopyBlogger, Growth Memo, and SEOfomo. These newsletters are all well-respected sources of information in the SEO community, and they regularly publish high-quality content. Plus, this way you get a full spectrum of news:
Industry insights from Search Engine Land
Copywriting from CopyBlogger
And two bleeding edge industry experts in Growth Memo and SEOfomo
SEO newsletters are an excellent way to stay informed about the latest changes in the SEO industry and to learn new techniques that you can use to improve your website's ranking. The best newsletters provide valuable information that is both relevant and timely. They also offer a variety of resources, such as case studies, tutorials, and articles, that can help you to improve your SEO skills.