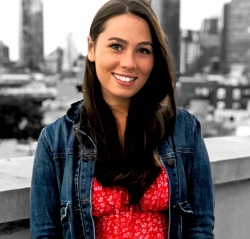 Latest posts by Madeline Hogan
(see all)
How often do you find yourself going to the Internet for a service? Looking for a car repair shop? You Google it. Want a new sushi place? Head to that search engine!
So, just like almost every other organization in the modern world, if you're a doctor or healthcare provider, you need to know how to do SEO (search engine optimization). Most US adults use the Internet for healthcare-related queries, and you want to be the one providing the answers.
This is especially true with Millennial and Gen Z moving away from home and searching for their own healthcare providers and doctors online. Plus, with an increasingly remote workforce, individuals are looking for doctors wherever they go.
We have five simple steps on how to do SEO for doctors and specialities like SEO for plastic surgeons, SEO for dentists, and more!
Why is SEO Important for Doctors and Other Healthcare Practices?
You may have heard of SEO before, but perhaps more in connection with marketers or web designs. But, doing SEO as a doctor and for physician websites is just as important.
We're here to answer all your questions: Why do I need SEO as a doctor? Can SEO really help my medical practice?
But before we cover why you need it, let's do a quick overview of the basics of SEO.
What is SEO?
Search engine optimization is—as it sounds—the process of optimizing your site and content for search engines. The more optimized it is, the more likely your site or page will appear on Google's search engine results pages on whatever topic you are providing information about.
The primary goal of Google (and other search engines) is to accurately answer the question you're searching for by providing you a list of web pages helpfully ranked from the most relevant to the least relevant.
Therefore, to rank a site or article well on Google, you need relevant content and authority and expertise in the subject area. Of course, SEO includes other on-page ranking factors, off-page ranking factors, and technical ranking factors that all impact where your webpage or blog post ranks.
Read our complete Beginner's Guide to SEO for more!
Why Do I Need SEO as a Doctor?
So, why do we care about search results and your search engine result page rankings?
Quick fact: The SEO industry is estimated to be worth somewhere in the region of $79 billion (give or take a few billion). That means SEO is right up there with some of the largest industries in the world.
Which makes sense. Billions of people are making inquiries every day, and each search you direct to your site is worth something to you. In today's world, if you're not appearing on search engine results pages, it's going to be tough to get new clients.
Let's put it this way: if your local practice isn't at least on the first page of Google, it's essentially invisible.
Here's why: The top position in the search results receives 32% of all search clicks. The 7th position around 4%: And the bottom position? Around 2%.
Take a look at Chitika's analysis of Google result page rankings versus how much traffic you get: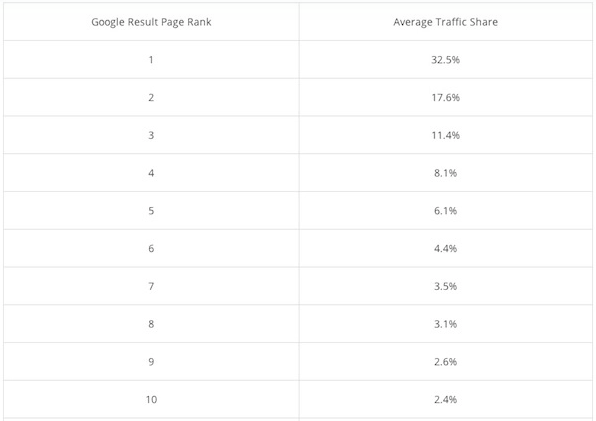 Ranking in the top position on Google means you can reach more customers searching for your medical practice or healthcare services. If you're not taking up that spot, those clicks are going to your competitors.
And when SEO is done well, the ROI on time and money spent can be incredibly high. Once you've achieved a high rank for keywords that are driving traffic and sales to your site, you're effectively getting "free" leads.
And free is much better in comparison to paid ads, you pay on a cost-per-click (CPC) or cost per 1,000 views (CPM) model.
With SEO, you only pay for the cost of making web pages (which you should already have as a doctor) and blog articles. You don't pay for every click or view, which makes SEO a valuable and cost-effective marketing channel.
Plus, SEO lasts: you can have a well-ranked post that brings customers to your site for years…versus the one day or week of people you would get from an ad.
Why is SEO Different for Doctors and Healthcare?
SEO at its core is going to be similar across many industries but there are some key differences for those in the medical field looking to optimize their practice's site.
Reviews are More Important
Customer reviews are always important, but even more so for doctors and other healthcare providers.
Google weighs your overall ratings, the number of reviews you have, and the number of reviews that mention specific keywords (hopefully the ones you are trying to rank for).
Your Money, Your Life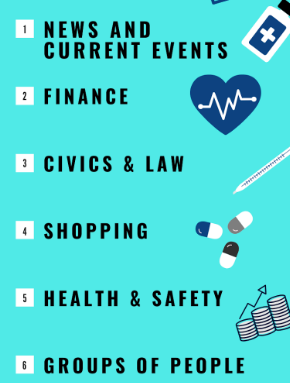 Plus, Google is cracking down on YMYL businesses. In more recent Google algorithm updates, organizations in the "Your money or Your life" (YMYL) search space have been impacted most often in search rankings.
"Your Money or Your Life" pages (YMYL) is a Google term referring to pages that Google determines could impact "the future happiness, health, financial stability, or safety of users." And any type of medical service falls directly into that category.
YMYL pages are held to a higher Page Quality standard because the information they provide can have a proportionally higher impact on individuals health and finances, and therefore a greater impact on one's life.
There has been an increased focus on E-A-T (Expertise, Authoritativeness, Trustworthiness factors we discussed above) as a ranking factor for Google, and their Google's search quality guidelines make it clear that E-A-T is incredibly important when deciding how to rank a YMYL page.
Healthcare Plans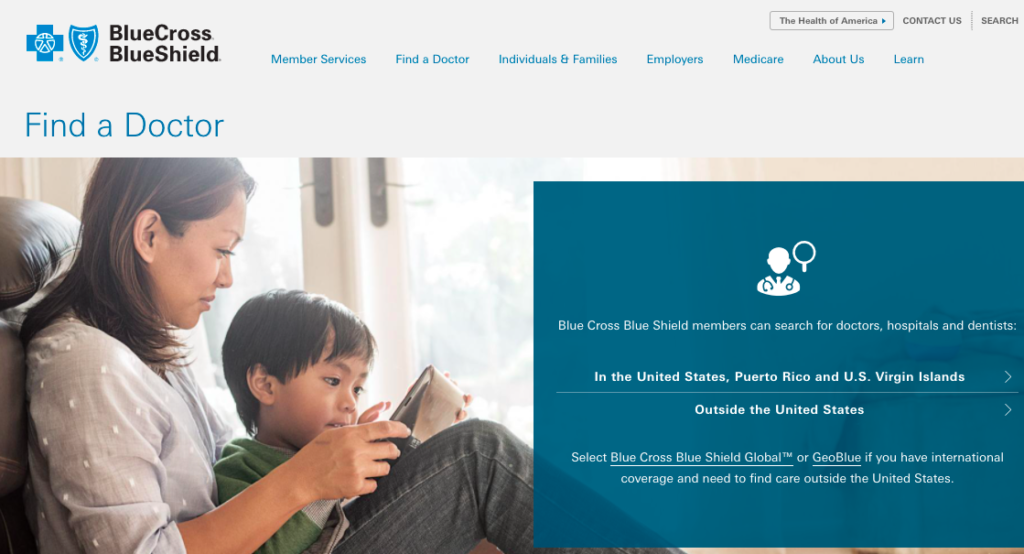 When people are searching for doctors and medical services, what healthcare plan or insurance they have is a large factor. They don't want to end up at a doctor's office to find out later it isn't covered by their insurance.
Plus, many insurance companies have "find a doctor" search tools on their site, so you don't want to miss out as an option.
That means it's important to optimize for and include what plans you accept at your medical practice on your website. You can do this with healthcare plan provider names, as well as their acronyms, and any specialty names they include.
Physician Specialties
When a new client is looking for a doctor or healthcare provider, they will often search for the specific physician they're looking for e.g. "therapist that can help with anxiety" or "urgent care near me for a broken wrist."
This means you'll have to optimize specifically for what you do. We'll go more into this for specific specialties later in this post, but just remember this is important to keep in mind as you go through the five steps for SEO as a doctor.
Local SEO
When most people are searching for doctors, they're looking for someone nearby. Though telemedicine is on the rise, and you can work with a therapist through an app, most individuals want to be able to access their doctors in person.
This leads to a hugely important aspect of SEO for physicians: local SEO.
What is Local SEO?
Some SEO stats for you: 90% of consumers use the internet to find local businesses. And Google captures 92% of the search engine market. So, Google is definitely where you want to focus your local SEO efforts.
In fact, Google is placing increasing emphasis on local search results, as over 85% of Google's daily search traffic comes from local searches.
Google understands that local queries have local intent—if you're in Buffalo, New York and you search for "coffee near me," it knows you want coffee in Buffalo, New York, not San Francisco. That would certainly not be helpful!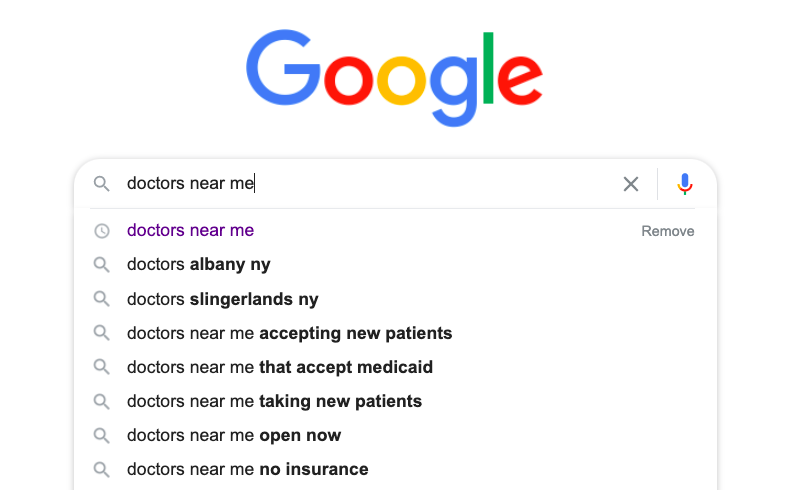 This is why, as a doctor, it's so important to understand local SEO. Unless you specialize in virtual services or telemedicine, you'll most likely be seeing patients in person that live nearby.
How to Do Local SEO:
On-Page SEO Factors: We'll go into more detail below, but basically on-page ranking factors include local keywords, title tags, and proper meta descriptions.
Google My Business: Again, we'll get into this below, but Google My Business is hugely important for both local SEO and your practice's reviews. When you search locally, Google provides a map and providers above the traditional organic search results. But, the only way you can get ranked there is if you have a Google My Business profile, and are working to optimize it.
Local citations: These are other online directories and mentions that will list your business. This might include larger organizations like Yelp, local websites, or niche-specific directory sites like WebMD or Medicare.
Building backlinks: If you want your local business to rank, you'll need backlinks to your site. Think of a backlink as a vote — the more you have, the better. More "votes" is an indication to Google that your site is credible and that searchers will find what they're looking for.
Customer reviews: Like we mentioned above, customer reviews are especially important to personal services like doctors, dentists, psychiatrists, and other healthcare providers looking to improve their SEO.
Mobile-friendly: Mobile-friendly sites are those optimized to be viewed (and used) by a smartphone, not only via computer access. The good news is that most site builders automatically optimize your site for mobile. So unless your site has been built from scratch or has a lot of features or custom code that make it pretty unwieldy, it should be mobile-friendly already! We'll cover this more in depth later in the post.
Social media: Social media is less about SEO, and more about multiple access points to your healthcare services Individuals now use social media as a way to search for local businesses, so having a profile with contact information on Facebook, Twitter, and Instagram can be helpful for both you and prospective clients.
This was just a quick overview of local SEO, so head here for a more detailed guide to local SEO.
How to DO SEO for Doctors in 5 Steps
1. On-Page SEO
On-page SEO ranking factors relate to the content on your pages. This means both writing a great piece of content or creating a great experience for your visitors, and telling search engines what keywords you want your page to rank for.
This means including:
Proper keywords: You determine proper keywords with keyword research: the process of identifying terms that your audience is entering into search engines like Google. If you're a dentist, let's say you want people looking for root canals to come to your site. Then you might want to write a post called: "How to Know if You Need Root Canal Surgery." You'll also want to rank for "Root canal specialist in [your city]," "Emergency root canal surgery in [your city]," and "Root canal expert in [your city]." What keywords to choose? Review our guide to keyword difficulty scores for SEO.
Page titles & title tags: Crafting accurate page titles is important for SEO. Each page title on your website should include the keywords you would like to rank highly for, as well as your location. Note: your site title should include your location, such as "Doctor in San Fransisco" or "New York City Urgent Care Provider." You should also use your secondary keywords in your headers to improve the relevance of your content and make it easier for users to navigate.
Meta descriptions: Meta descriptions are short snippets of text that display underneath the page titles. They aren't necessarily a local SEO factor, but they can affect click through rates, just like your site title. You should be able to edit your meta description right on your host site.

2. Website User Experience
Web experience is another important aspect of building the best site as a doctor. You want your practice's website to be well designed, neat, and professional. User interface (UI) and user experience (UX) impact your SEO.
But more than that, current and potential patients may be using your site to get in contact with you, making appointments, and other information.
This is for appearances but also for SEO purposes. SEO is impacted by how navigable, responsive, and easy-to-use your site is. You could have the best information from the most authoritative expert in the world, but if the font is too small or your site loads slowly, it will be very tough to rank your site well.
Web UX/UI is primarily involved in the on-page SEO factors we mentioned above, as well as:
Site speed: Site speed is an important part of any good web experience. In fact, the number of people who leave your site will increase dramatically the slower your webpage loads. If your site takes longer than five seconds to load, you can lose 40% of your traffic.
User interface: Your UI (user interface) should be clean and functional in order to maximize your website's SEO value. Again, that's because websites that are easy on the eyes and easy to navigate keep users on-page longer than ones that do not. Stick to a simple, clean web design with a clear page hierarchy: it shouldn't be confusing to get from one page to the next.
Mobile-friendliness: Have you ever clicked on a site from your phone and half the page is off the screen, the buttons are too small to click, or you can't find the nav bar? It's frustrating right? This is why it's so important to have a website design that's optimized for mobile usage. Google recommends responsive design — a grid-like design that dynamically adjusts to all screen sizes including desktops, tablets, and smartphones. You can check for free with Google's free mobile-friendly checking tool.

3. Content
If you want to have a strong online presence, you have to formulate a strategic, ongoing content strategy.
There's really no way around that—particularly, if your goal is search engine optimization (SEO)—you need to produce great blog posts pretty frequently. FAQ pages can also be a good place to include content you can optimize.
You'll first need to come up with topics and keywords relevant to your audience and then produce great copy. Copy might be a blog, FAQS, or webpages like:
"About Us" section including all practitioners part of the practice
Patient testimonials
Treatment offerings
How to contact your office
And any other pertinent information that can help patients work with your practice!
When writing blog posts optimize for SEO and rank highly on Google, you also need to think about the intent that's bringing them to your site. Intent can range from informational to transactional, meaning while one person is learning about a topic, another is ready to take an action like scheduling an appointment with your office.
You also need to consider what they're using to search for you, like the elements we listed earlier. So whether you're a plastic surgeon, therapist, or offer another niche medical service, keep this in mind as you work through your healthcare SEO activities.
4. Local Citations
Local citations are online directories and mentions that will list your business. This might include larger organizations like Yelp; local websites; niche-specific directory sites like WebMD or Medicare; online directories relating to your practice (insurance providers, hospital affiliations, other industry associations).
Medical practices that effectively leverage local citations have a better chance of growing, attracting qualified leads, and reaching the top of local search results, which is the goal!
One of the most important local citations to get on as a doctor is Google My Business. Google My Business's motto is to "Drive Customer Engagement on Google." You can think of GMB as a search engine within the Google search engine: it works to bring relevant results that are local to the user (versus relevant results from anywhere).
Google My Business provides location maps and addresses, reviews, details about your business (hours, busy times), pictures, and more. Including quality content will help build credibility, establish your online reputation, and give potential patients as much information about you as possible.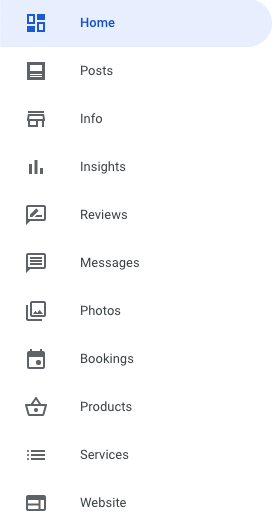 A few things to keep in mind when creating your local citations:
Accuracy: Ensure that the information included is accurate. This happens more often than you think! Double check everything matches on your site and your listings, including any updated business hours (such as for holidays or office closings).
Informative: Get as specific as possible. This helps the right clients find your business. In GMB, you can fill in the business category section, as well as specific services. For example, you might put your business under category "Men's Health Physician" and then add services like "Mental health" and "Surgery for men."
Get great reviews: Now, more than ever, it's important to create a system that routes your patients to provide reviews after a service. That might include a follow-up email or administrators and yourself specifically requesting clients to leave a review. Chances are, if they're happy with your services, they will! And like we talked about above, this is currently one of the most important ranking factors.
An effective SEO strategy requires taking full advantage of local citations, especially Google My Business. Just make sure to fill your private practice listing out completely with quality content in addition to your website URL, address, phone, and office hours.
5. Backlinks
Backlinks have always been one of the strongest ranking factors for SEO. A link pointing to your site from another site can greatly impact where that page or your site ranks in the search results.
More commonly referred to as backlinks or inbound links, these links are HTML hyperlinks that direct people from one site to another. When someone links to another site, Google sees this as a kind of vote of confidence in your content and website.

The best links are from sites that are in the same space or niche as you. When a site like that chooses to link to a piece of your content, it's sending a signal to Google that your content is worth being recommended. They're a great way Google knows that your website is trustworthy enough to send searchers to.
Building backlinks are a necessary part of any good search engine optimization (SEO) strategy, so it's important to invest some time into building up high-quality backlinks to your site.
Looking for some help? Check out our SEO agency, where we work with doctors and healthcare providers to improve their rankings. And when I say improve, I mean 20% MOM growth…
How to Do SEO for Healthcare Specialties
While it's important to know how to do SEO as a doctor in general, most physicians have some sort of specialty, so it's also important to optimize for that. You want to show up when your potential clients need you the most!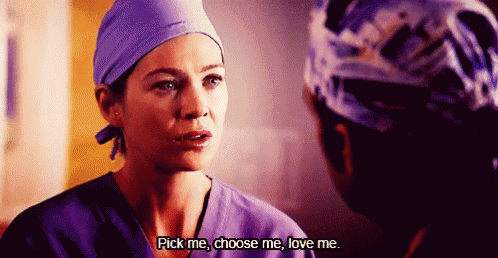 SEO for Plastic Surgeons
Optimizing your site for SEO as a plastic surgeon is going to follow the five steps we list above, but will also require a bit more specificity.
Choose more specific keywords focused on plastic surgery
Within those keywords, get specific for the plastic surgery you provide, as well as the reasons individuals might consider plastic surgery
For cosmetic plastic surgery, optimize non-text elements, like images and videos, to show the efficacy of your service.
Some content examples could be: Where to get plastic surgery in [your city], do I need surgery for breathing difficulty
SEO for Psychiatrists
SEO for psychiatrists can vary in a few ways as well:
Optimize for specific, long-tail keywords on psychiatry
Within those keywords, get specific for the psychiatry you provide, as well as the specific reasons individuals might consider psychiatry (depression, anxiety, for children, etc.)
Include content that covers the psychiatric practices you follow, treatments and services you provide, and what insurance plans you accept
Some content examples could be: anxiety psychiatrist near [your city], how do psychiatrists treat depression, how can psychiatry help me
SEO for Therapists
SEO for therapists is going to be similar to SEO for psychiatrists, with a few key changes:
Optimize for specific, long-tail keywords on therapy
Within those keywords, get specific for the types of therapy you provide. Even if your practice offers several therapeutic services, list them, and build content around each topic e.g. therapist for depression, psychotherapist near me, art therapy
Include content that covers the psychiatric practices you follow, treatments and services you provide, and what insurance plans you accept
Though Local SEO is still important, if you offer virtual or live streaming therapy services, make sure to include content around those offerings as well
Some content examples could be: Therapist that treats anxiety in [your city], virtual therapist for depression, types of sound therapy near [your city]
SEO for Urgent Care Centers
Urgent Care Centers should include:
Optimize for specific, long-tail keywords on urgent care centers, focused particularly on local SEO. Make sure to use variations or "urgent care centers" like "emergency clinics," "quick care," or "acute care"
Within those keywords, get specific for the types of service you provide, especially if there are special services like offering vaccines or disease-specific tests
Providing information on what healthcare plans you accept is especially important since many individuals that use urgent care centers might not have their own primary doctor
Some content examples could be: Urgent care center in [your city], the benefits of urgent care centers, how to best take advantage of an urgent care center
SEO for Dentists
When making a site optimized for dentistry, make sure to:
Optimize for specific, long-tail keywords for dentists, particularly for local SEO.
Within those keywords, get specific for the types of dentistry you provide. Do you only work with kids? Provide oral surgery? Make that clear through your site and your content
Some content examples could be: Dentist in [your city], dental [surgery type] in [your city, what to do about [dental issue]
Conclusion
And there you have it: how to do SEO as a physician…not to mention as a plastic surgeon, psychiatrist, therapist, urgent care center, and dentist!
Though SEO can seem complicated, if you follow these five steps to optimize your medical service site, the investment you put into it now can help you see ROI for years to come.
Prefer some guidance? Reach out to our SEO agency to see how we can grow your traffic, conversions, and rankings: