Latest posts by Mark Spera
(see all)
AI content generation and copywriting tools innovate how content is created online by using artificial intelligence to write content based on a given subject and tone.
These AI copywriting tools are great for writers looking for support with content creation. Two of the best-known tools in this category (aside from GrowthBar) are Copysmith and Copy.ai.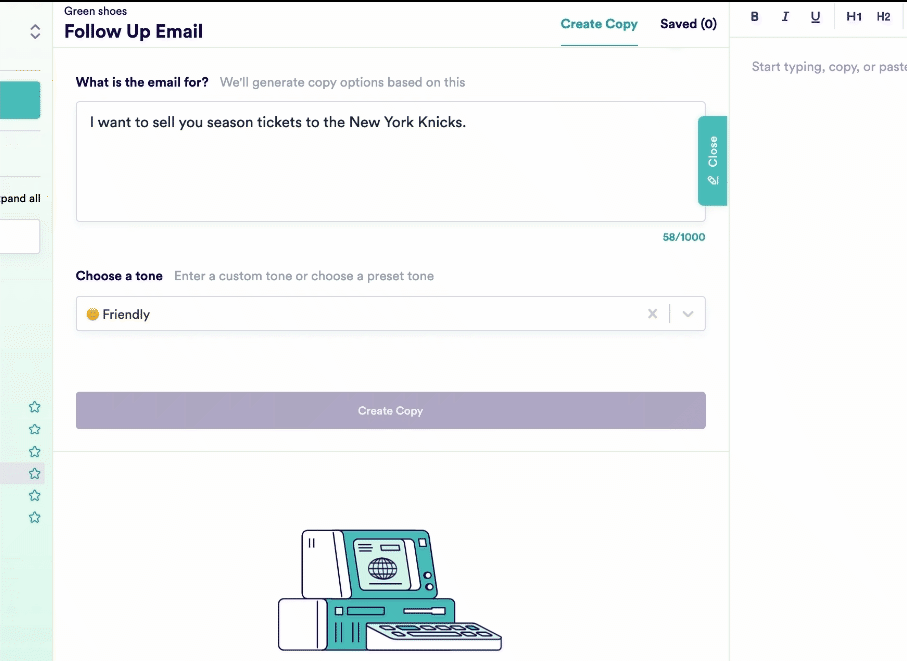 Marketers and writers are stepping up their productivity with the help of AI tools — utilizing them for ad copy, emails, blog content, and much more. This is a compare/contrast of Copysmith and Copy AI.
Looking for the best AI writing tool for bloggers? Check out GrowthBar.
How Do These Tools Work
These online tools work by leveraging artificial intelligence — usually GPT-3 — to surface natural language suggestions to marketers. Both tools enable users to produce accurate, authentic content in minutes, helping streamline team productivity and increase business growth.
Some of the most common use cases include copy for:
Facebook Ads
Google Ads
Social media posts
Product descriptions
Sales outbound email copy
Email marketing
Copysmith vs Copy AI
When choosing the right tool for your team, it is best to consider what type of content you require through these tools.
Consider how many team members will be utilizing the tool and the type of content you need assistance with the most. Both tools excel in creating custom copy, but one is more affordable and works better with foreign languages. The other has more templates.
Comparing Copysmith and Copy AI


Copysmith supports marketers by assisting in the generation, collaboration, and launching of quality content. Individuals can manage, organize, and store all their copy on one platform. They have pivoted to support ecommerce teams and agencies — so they're more niche than Copy AI. But it is able to take care of many use cases outside of ecommerce as well.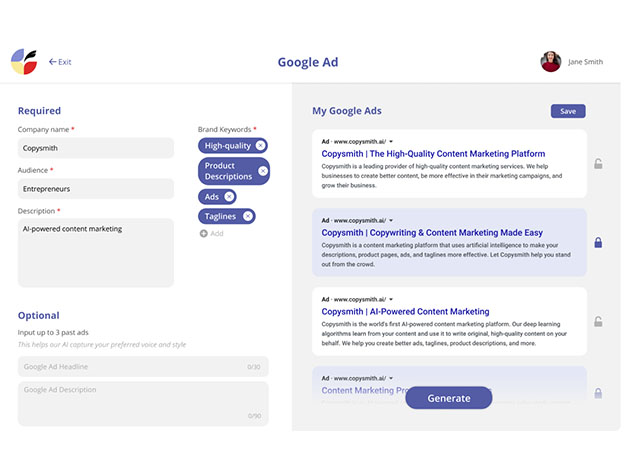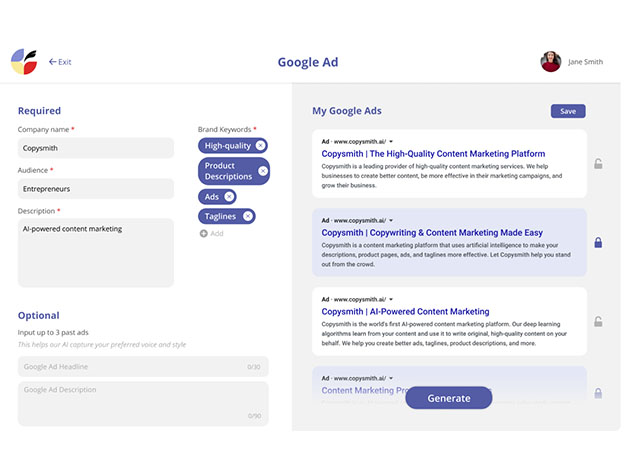 Copysmith offers templates of all types and friendly dashboards that are easy to navigate. I give it an A+ in terms of usability and user interface.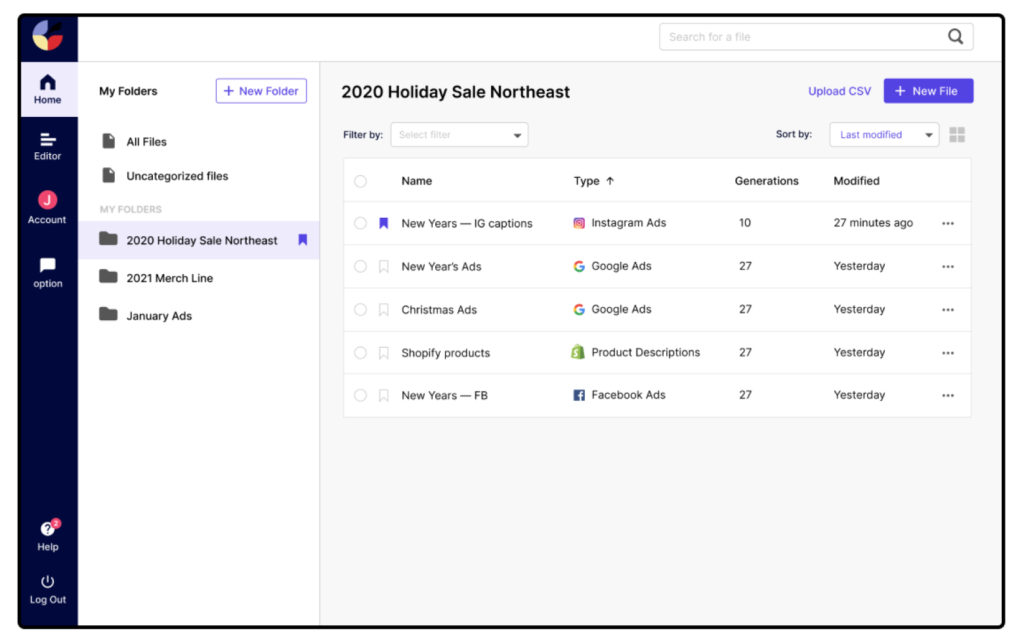 Usability: All teams can utilize Copysmith and the accurate content it produces
Content Templates: Over 30 templates are available for use, including ad ideas, ad headlines, captions, FAQ ideas, YouTube video descriptions, brand essence copy, SEO meta tags, landing page taglines, sales copy, and more. See a full list of templates here.
Price: Copysmith offers three different pricing packages, beginning at $19/month and ranging to $118/month.
Supported languages: Copysmith writes copy in over 60 languages
Quality of support: Copysmith has quality customer support that is easily reachable at their 24/7 via email and live chat.
Other features

Features to help organize and store all copy
Quality integrations with Google Docs, Shopify, Google Ads and more
Copysmith Review
Copysmith is used by large ecommerce/retail companies like Marshalls and Ocado, so it's perfectly suitable for large teams. It has a diverse set of copy functions, so your ecommerce team or agency will be able to write copy across ads, product descriptions, blog content, and email marketing — everything an ecommerce team needs. If you're in ecommerce, Copysmith is the solution for you.

Copy AI is a short-form copy generator. It enables users to produce email lines, headlines, and bullet-point lists for short copy. Individuals select a type of copy, describe their product, and get results, simple as that for quality short-term content. It's not specialized in a certain industry like Copysmith.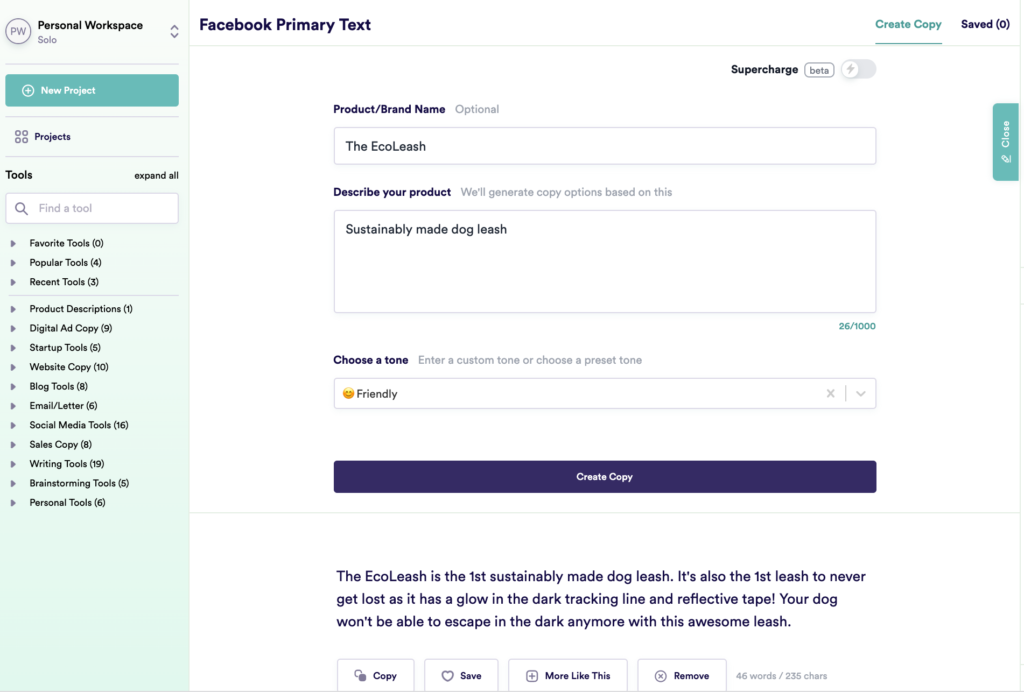 Usability: Great for teams of marketers or copywriters that work together on projects together.
Content Templates: Copy AI has over 90 templates across digital ad copy, social media content, website copy, blog content creation, and more.
Price: Copy.ai offers a free trial for those looking to try out their software. When individuals are ready to commit, they can choose from the solo package for $35/month or a custom pricing package, in which we recommend calling for a quote.
Supported languages: Copy AI supports over 20 languages; we suggest viewing their website for the complete list of supported languages.
Quality of support: Copy AI has excellent customer support that includes email and chat for reliable and fast solutions to your problem.
Other features

Innovative tools that include 90+ copy commands
Free trial period
Copy AI review
Copy AI is an affordable tool that enables you to create copy, write, rewrite, and optimize web content. There are a huge number of use cases. In my opinion, Copy AI is trying to become the "everything store" for copy. So if your needs are diverse — across social media, email, blog posts, and more — Copy AI is probably the right choice for your team.
Conclusion
Using an AI content creator may be precisely what your business needs to streamline productivity and increase content marketing growth. When deciding which AI platform to choose, consider what content you will be writing and what teams will be utilizing the tool.
You can't go wrong with Copysmith or Copy AI. They both produce humanlike content with the click of a button. Differences come down to the number of languages they support, the price, and integrations.
For my money, I prefer Copysmith, as the copy tends to be a bit clearer and more refined. Though venture capital has poured money into both tools, so I expect quality to only continue improving!
Looking for the best AI writing tool for bloggers? Check out GrowthBar.
Also read: