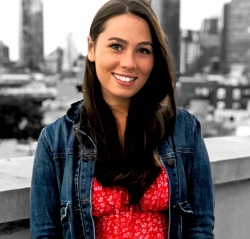 Latest posts by Madeline Hogan
(see all)
How would you prefer to start a post about a Copy.ai review?
"The problem Copy.ai solves is utterly fascinating and has been a long time coming for the content marketing industry: writing original content just got a lot easier. If you're an inbound marketer, like I am, you'll know that creating great content consistently is a major pain point. You have to research extensively, then write detailed reviews and articles that not only provide useful information to the reader with valuable insights but are also optimized for SEO and shareability to further drive traffic and conversions."
Or maybe…
"If there is one thing you need for on-page SEO, it is original and quality content. But hiring a writer doesn't always make financial sense. What if I told you that you could build 20 blog posts by the end of today? And what if I also told you this could be done for less than the price one article from the writer? If this sounds too good to be true, read the Copy.ai review further and find out what this clever platform can do for your business."
Or even…
"If you are looking for a way to generate high-quality content but don't have the skills or time to do it. Then CopyAI is something worth looking at. Here's my review of the platform along with some opinions on whether or not it could benefit your business or blog."
These are just some of the many content options that Copy.ai provided after I put in some context for its AI content generator to start work with. And some of the outputs really were great. Of course, like most content generators, there aren't always perfect outcomes. But, let's review!
What is Copy.ai?
Copy.ai is a copy generator that provides "automated creativity tools" for various industries. Focusing on providing copy for blog writers, social media managers, and email marketers, Copy.ai primarily provides short-form copy generation, but is currently releasing longer form copy like their blog content outline.
Basically, users select their template of choice, provide some context (from product to content to tones and style), and get 10 results to review, save, copy, remove, or make more of. It's that simple!
Copy.ai offers 90+ content generation options…but some of those include a baby name and wedding hashtag generator, which you might not get multiples uses for.
Who uses Copy.ai?
Copy.ai boasts that over 1 million "professionals and teams" work with Copy.ai, from marketers to social media managers to bloggers to entrepreneurs. Their client roster includes Microsoft, eBay, Ogilvy, and Nestle.
Is Copy.ai free?
Is Copy.ai a free copywriting generator? While it's not completely free, it does offer a free plan, which provides:
10 credits
20 bonus credits the first month
25+ languages
90+ copywriting tools
Blog Wizard tool
The 20 bonus credits the first month is very helpful, but after that 10 credits can run out pretty quick. Still, it can be a great way to get started and try out the product.
How You Use Copy.ai
Copy.ai is a very straightforward platform to use. Let's take a look step by step!
1. Make a new project
The first step in using Copy.ai's copy generator (after making an account of course) is starting a new project. You can also start by selecting the specific template type you want to create.
After you start your project, you can label it and add the website you're making content for. This feature is helpful if you're a content marketer or blogger for several sites.
2. Choose a template if you haven't yet
If you haven't chosen a template to start with, you can choose one next here. There are over 90 content tools to choose from, ranging from value propositions and meta descriptions to viral ideas and analogies.
3. Add context to your generation request
The next step is including enough information so Copy.ai can do its generation. Since I was trying to make a blog post introduction (like you saw above) I had to include a blog title, overall description of the blog post, and the tone of voice I wanted the post to be written in.
If you don't provide enough input, it will prompt you to include more. Generally, the more input you can provide, the better your output will be.
4. Review your outputs, and take action
You'll get various outputs to review, which you can:
Copy and paste into another document, or Copy.ai's document editor.
Save to your Copy.ai project so you can review later. Make sure you really do save it, because the outputs will disappear if you leave your project.
Make "more like this" (which I'll review next)
The remove button just gets rid of the output
5. Make "More Like This"
Make more like this is a pretty cool feature because you can select the output you like and get similar options that can help you tweak and find the best output.
6. Use your outputs!
Whether you're writing within the Copy.ai interface or copying and pasting your outputs to another editor, you can start using the outputs you got, or create some other outputs.
Copy.ai Review
Copy.ai Features:
90+ copywriting tools including bios, email subject lines, instagram captions, TikTok ideas, name generators, paraphrasing, and…about 80 more!
25+ languages
Grammar and tone checker
Various tones to choose from, or input anything yourself
Can get 10 generations for each input you put in
Copy.ai Pros
Copy.ai community and supportive help center
Free plan option to try before you buy
You can organize your copy by projects
It's very simple to find their writing tools, but if not they also have a search feature
Some of their copywriting tools are free to use without an account, like their blog ideas generator
Copy.ai Limitations
Better for short-form than long-form content
Not always 100% accurate (though that's common with AI generators)
Some of their generators might not be overly helpful for what you need
Less focus on search engine optimization or specific marketing goals
Copy.ai Pricing
Free: This plan includes 10 credits (plus a bonus 100 for your first month) and access to 90+ copywriting tools
Pro: $35/month or $420 for the year for unlimited credits, unlimited projects, priority support, and access to their newest features
Enterprise: You can build a custom plan with their team
Our take on Copy.ai
Copy.ai is a good content generator that offers a lot of different output options. Of course–like most AI generators–it's not going to be perfect. Some of the Copy.ai outputs for the introduction paragraphs ended up like this:
Copy.ai is an AI Yoast for eCommerce stores. It allows you to consistently create variations of the same product with just one click. Their platform has helped dramatically increase my conversion rates, and it'll do the same for your store as well.
So, clearly not perfect, but still good! And, they provide so many outputs (a lot more than many other content generators out there) that you can usually find one that works for what you're looking for.
But if not, there are also some Copy.ai competitors and alternatives that can be better fit for different content needs.
Copy.ai Alternatives
GrowthBar
GrowthBar is the #1 SEO tool for bloggers and content teams. It combines AI and SEO to help you rank your content on Google. It features not only content generation–for blog outlines, paragraphs, headlines, ideas and more–but also keyword research, backlinks, competitive metrics, and keyword rank tracking.
What it does:
GrowthBar has a wide range of SEO features, but the hero feature content generator is what has earned GrowthBar 5 stars on Capterra and G2 Crowd.
GrowthBar generates content by:
It takes your input keyword/topic, scans the web using a powerful SEO decision engine, and makes suggestions in a content editor using GTP-3 AI — the largest, most powerful language model on earth.
GrowthBar analyzes thousands of data points and the generator delivers you blog title ideas, paragraphs, or a content outline complete with title suggestions, word count suggestions, keywords, headlines, images, and more.
Key features:

AI content creation
Keyword research
Competitor analysis
Google Ads and Facebook Ads
Backlink analysis
Writing editor interface

Pros:

It's AI content generator offers blog posts titles, paragraphs, outlines, heading suggestions, keywords to include, and much more
Your copy is being designed to rank on Google, so your content can do the work for you
It offers a suite of other SEO tools, as well as access to their writer's marketplace if you need an article writing service

Cons:

It focuses heavily on SEO content, so if you need copy like social media captions, video subtitles, and X then it won't be the best tool for you

Best for: SEO-focused bloggers, freelancers, and marketers who want more than just copy generation.
Pricing: Monthly pricing starts at $29 for Standard, $79 for Pro, and $129 for Advanced.
Copysmith
Copysmith targets marketing agencies and teams that generate content day in and day out, redirecting the time and resources saved towards company growth. Copysmith produces the content you're looking for through the input of a few keywords.
Key features:

File sharing
Bulk imports and exports of files
One platform for teams

Pros:

Provides helpful content idea templates
Bulk content generator
AI-powered workflow queue

Cons:

Lower priced packages lack innovative features
Higher monthly costs than other platforms

Best for:

Copysmith is geared towards teams of marketers or copywriters frequently collaborating on projects together.

Pricing:

Copysmith's starter package comes in at $19/month, and the team's package will run $118/month, unlocking team-focused features.
Read: Copysmith vs Copy.ai
Jasper (previously Jarvis)
Jasper has many features and functions that solidify it as one of the best long-form content generators on the market. The AI instantly generates high-quality SEO-friendly content for almost endless options even beyond your marketing classics, from "explain it to a child" setting to real estate listings and Quora answers.
When I say "almost endless," I mean it. Jasper has more copy options than most copy generators out there. So if you're looking for versatility, Jasper is a great choice.
Key features:

30+ use cases
25+ languages
18+ tones

Pros:

Long-form writing assistant called "Boss Mode" in addition to 30+ short-form templates
Community "recipe" options you can use to get more AI-made content
Integrations with Surfer SEO to provide more optimized content and Grammarly for perfect writing

Cons:

You'll need to edit the outputs before publishing
Higher monthly costs than other platforms

Best for:

Jasper is great for medium and larger businesses that have a decent budget for content.

Pricing:

Starter: Starts at $29/mo for 20k words per month and access to all 50 copywriting skills
Boss Mode: Starts at $59/mo for 50k words per month, access to all 50 skills, long-form copy, SEO mode, Grammarly integration, plagiarism check, and more
Also read: our full review on Jasper here.
Conclusion: Copy.ai or…
Copy.ai's features, ease of use, and pricing do make it a great content generator. However, depending on your budget, writing priorities (for example, if you need support with SEO, we always recommend GrowthBar), and marketing needs, an alternative can always be a better fit.
Which is why we've reviewed them all for you! Read them all here: