Latest posts by Mark Spera
(see all)
ChatGPT crossed 1 million users in 5 days.
It grew faster than any other product in history.
If you haven't heard of ChatGPT by now, you're either
Not paying attention
A communist
The AI chatbot, ChatGPT is everywhere. When I browse social media, I see a million and one threads about how best to utilize ChatGPT for a variety of purposes. I'm actually a culprit of this shameless ChatGPT instruction: check out my blog post about the best ChatGPT prompts to use for SEO to learn a little more.
But since ChatGPT is often at capacity, you might be looking for an alternative. And while ChatGPT is probably the best jack-of-all-trades AI tool, there are a bunch of great alternatives. Plus, some are more finely tuned for specific use cases or even do things that ChatGPT can't, like:
Generate real-time data: ChatGPT is unable to generate real-time data. There are alternatives capable of generating up-to-date results.
Voice search: Some alternatives offer better voice search capabilities.
Persona types: Other alternatives will enable you to create different personas for your chatbot.
API support: Alternatives offer API support for those who want to integrate a chatbot into apps.
Support tools: Some alternatives provide support tools, from user-friendly dashboards to valuable customer service.
What Is ChatGPT?
ChatGPT is an abbreviation for Chat-based Generative Pre-trained Transformer. It is a powerful and large language model based on GPT-3 with training on billions of words for the internet. ChatGPT can understand, respond to, and generate text. All these will depend on what the user inputs. ChatGPT handles extensive data and complex conversions with high intelligence and accuracy levels.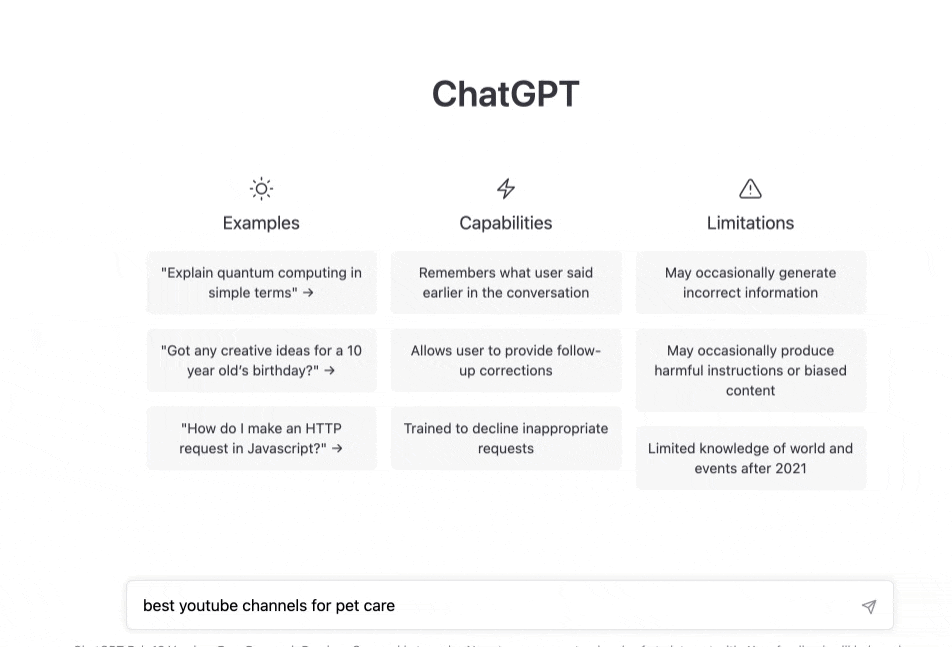 What are the Best ChatGPT Alternatives?
I've personally used all the tools on this list. I'll tell you why each one is worth considering, how much it costs, and I'll even sprinkle in some objective reviews from G2.
ChatGPT Alternatives for Writing
1. Bard

Bard is Google's newest and revolutionary AI chatbot. It is an excellent experimental conversational AI service that will significantly impact the AI world. Google Bard gives context to responses and is capable of helping with follow-up questions. Bard is not available to everyone, but you can sign up for beta access (you'll likely get in within a few hours). In a head-to-head comparison of ChatGPT and Google Bard, ChatGPT is still the more sophisticated language model.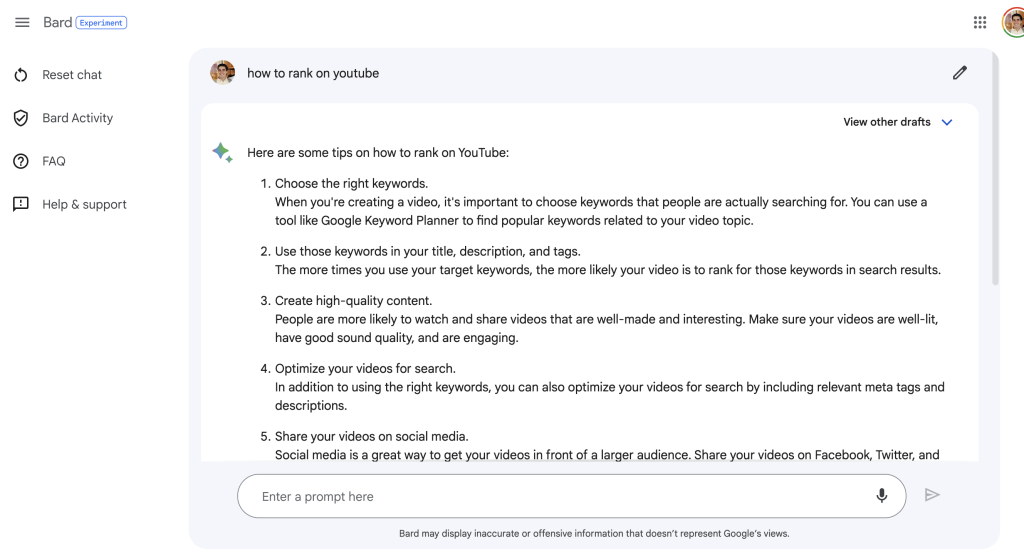 What it does:
Bard draws on information from the web to offer the latest responses.
Who it's for:
Bard is ideal for individuals who want to integrate into message platforms, websites, and desktop applications.
Features:
Uses LaMDA lite version for initial testing purposes
Showcase power, creativity, and intelligence combination
Collects information from the web and user responses
Collects feedback to improve the AI system
Pricing:
Bard is still an experimental project; hence, Google has not announced the pricing.
2. GrowthBar

GrowthBar is an AI writing tool that specializes in SEO content generation. The hero feature is the long-form content editor, which helps you to write blog posts in 2 minutes flat. But GrowthBar also has a powerful Chat feature. Like ChatGPT, GrowthBar Chat enables you to query anything and get a response in a second or two. GrowthBar has all the capabilities of ChatGPT and more.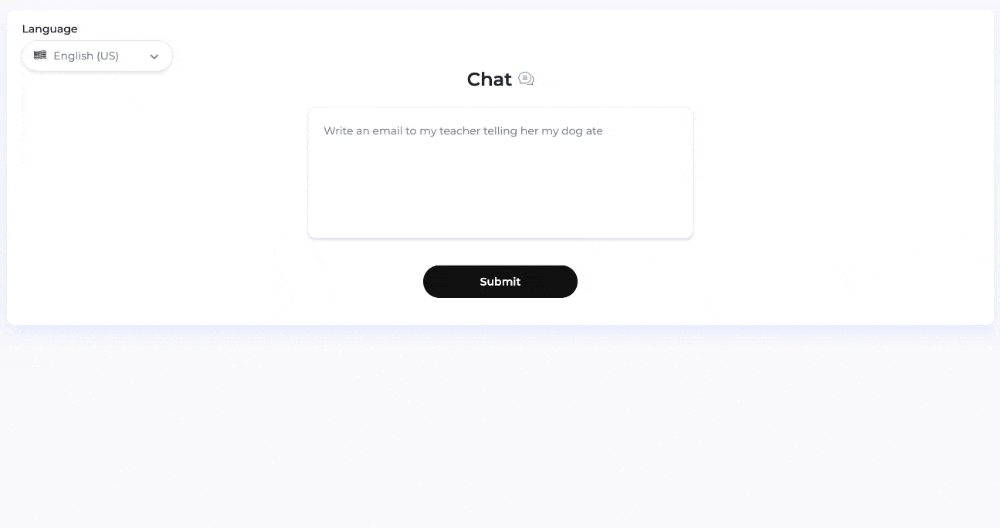 What it does:
GrowthBar is an AI writing tool for SEOs, but it also has a chat feature that behaves nearly identical to ChatGPT.
Who it's for:
GrowthBar Chat is for everyone. However, given the other features within GrowthBar, it's best for marketers.
Features:
Great speed
Full flexibility of ChatGPT
Also has a full suite of features for writing long-form blog posts, press releases, sales emails, meta descriptions, and much more
Pricing
GrowthBar costs $29/month. Try it here free for 5 days.
3. OpenAI Playground

OpenAI Playground is like a ChatGPT demo version. It is a web-based tool that enables one to quickly and easily build and test predictive language models. OpenAI Playground uses all the GPT-3 model series. It requires an API subscription from OpenAI.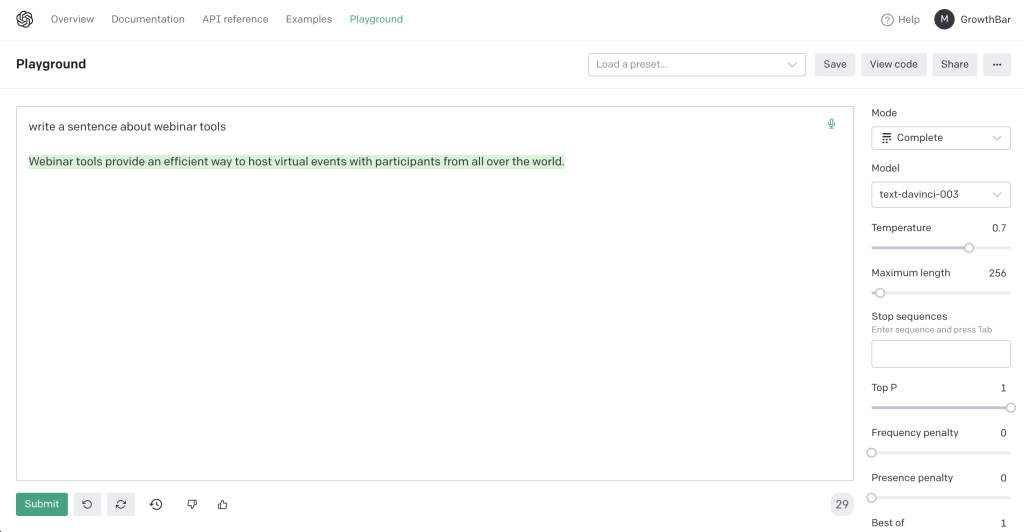 What it does:
OpenAI Playground enables you to write anything and provides reactions humanly and authentically.
Who it's for:
OpenAI Playground is not for the everyday user. It is an excellent product for those locked out of ChatGPT, enabling them to taste its functions.
Features:
Have great speed and accuracy levels.
It is very flexible
Offers different language types to choose from
Pricing
OpenAI Playground is free to use, although it has a time limit. Users will get an $18 credit when they sign up. The most expensive OpenAI Playground will produce up to 65,000 words.
4. Chat by Copy AI

Chat by Copy AI uses natural language processing and machine learning to help generate high-quality content. It is an excellent ChatGPT alternative as it works with real-time data like LinkedIn profile updates. This feature makes it an excellent option for salespeople.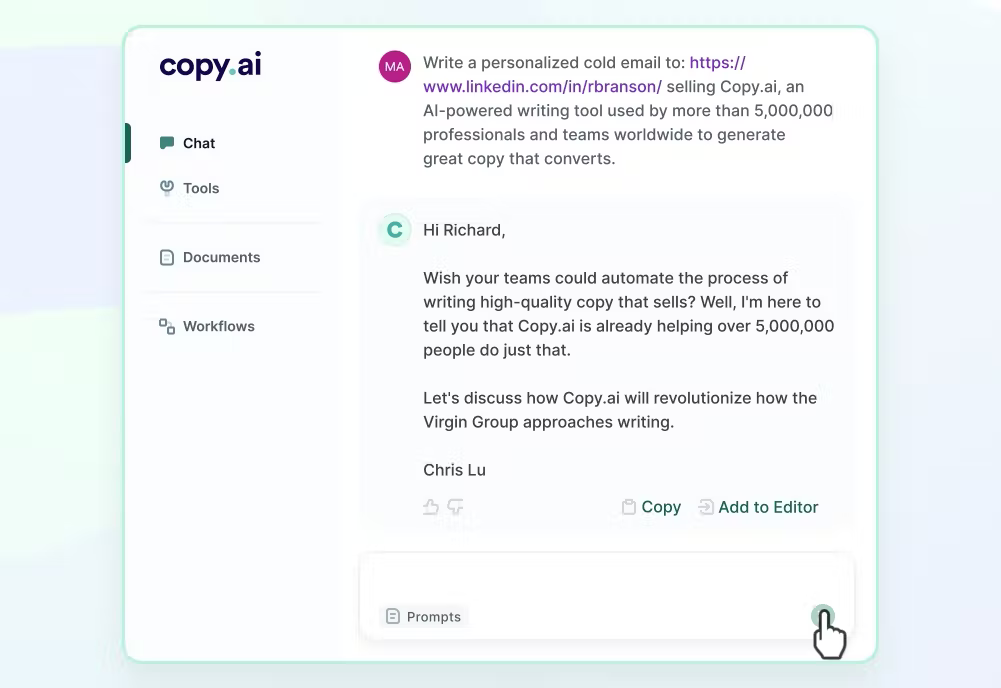 What it does:
Chat by Copy AI automates writing processes to help increase productivity and save time. It helps users develop new ideas, improve writing quality, and overcome writer's block.
Who it's for:
Chat by Copy AI is an excellent writing tool for copywriters, content creators, and marketers.
Features:
AI-generated content: It uses artificial intelligence to help in creating compelling content.
Customization options: Enables users to customize a copy to suit their needs.
Content templates and Writing tools: The tools offer a wide range of templates that helps users in content creation.
Automated workflows: Chat by Copy AI supports workflows that automate content creation and operational processes.
Many Language support: Chat by Copy AI supports more than 25 languages allowing users to generate content in different languages.
Pricing
Chat by Copy AI has a free plan allowing users to generate up to 2,000 words monthly. The pro plan costs $49 every month. Here, users can generate an unlimited number of words. They can also access many new features and priority customer support. Enterprise plan suits businesses and organizations as they can develop custom plans that suit their needs.
5. NeevaAI

NeevaAI merges the ChatGPT power with other large language models. Vivek Raghunathan, ex-vice president of monetization at YouTube, and Sridhar Ramaswamy, ex-senior vice president of Ads at Google developed NeevaAI.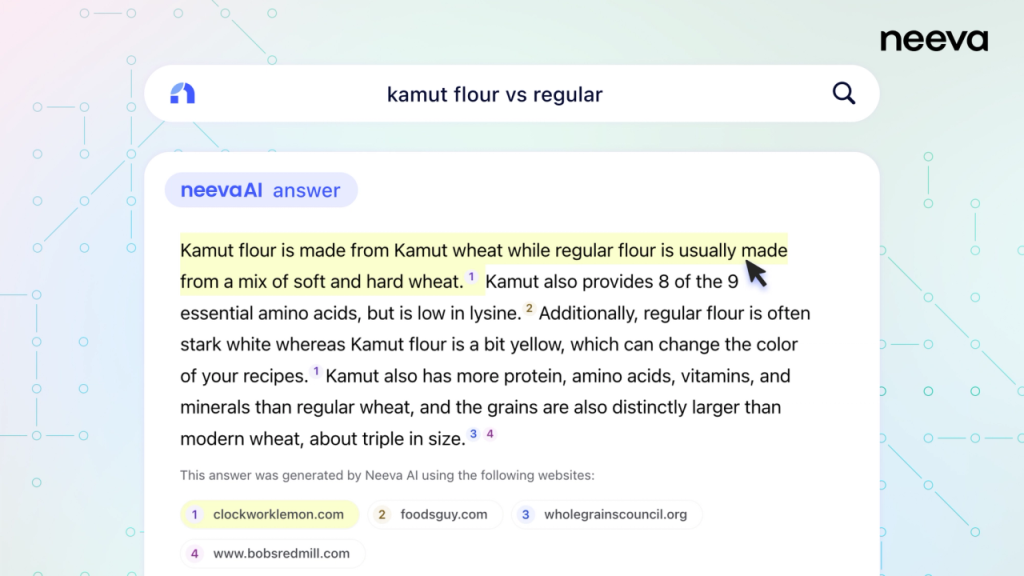 What it does:
NeevaAI can search through and sift through millions of web pages to come up with a comprehensive response and it cites sources.
Who it's for:
NeevaAI is suitable for publishers as it helps them address common referral traffic issues and ad revenue.
Features:
It is a search engine with AI capabilities but not a fully-fledged AI-powered chatbot.
Guarantees a tracker-free and ad-free browsing experience.
Provides references in results
Pricing
NeevaAI has a free trial period with a monthly subscription plan of $4.95.
6. Chatsonic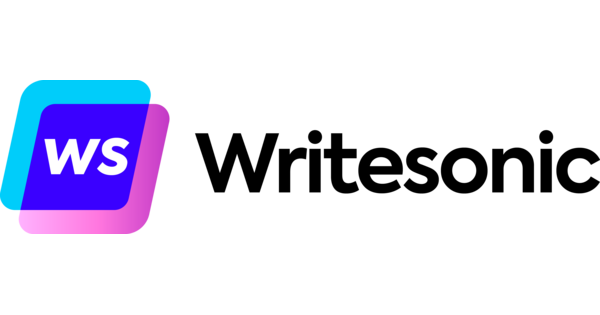 Chatsonic by Writesonic is one of the latest and greatest ChatGPT alternatives. It is built for multi-turn conversations. Chatsonic is integrated with Google and provides the latest topics results.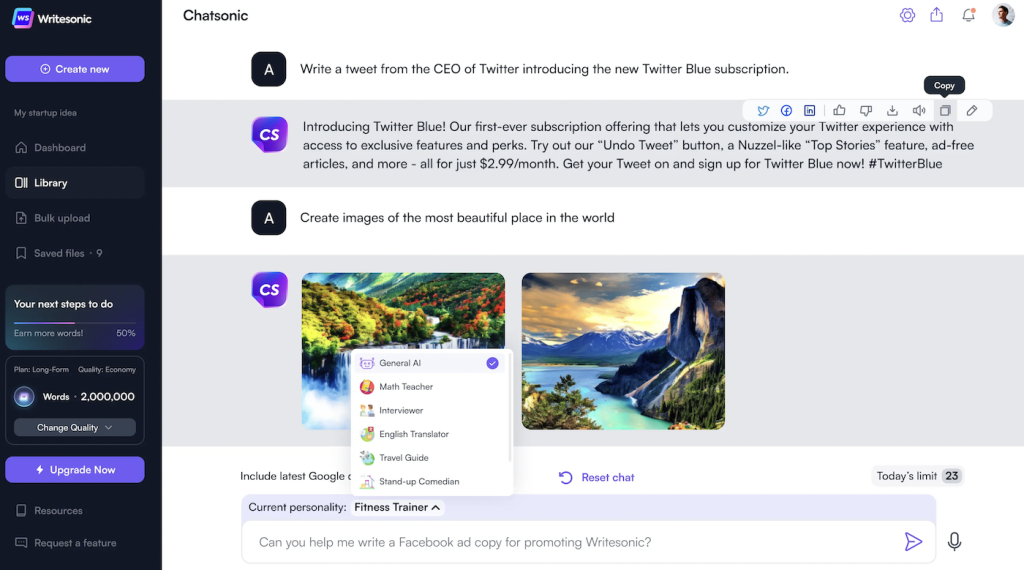 What it does:
Chatsonic brings sage knowledge and therapist conversion skills. It also brings standup comedian wit and the creativity of a novelist. Chatsonic never gets tired, invites awkward silence, or forgets conversations.
Who it's for
It suits freelancers and businesses who want powerful AI capabilities to customize content.
Features:
Capable of generating AI art
It comes with four powerful utility features.
It has voice command capabilities.
Can reset chat in a single click
Capable of toggling memory on or off
Real-time data integration with Google search
Pricing
Chatsonic is available in free trial and long-form paid plans. Upon signing up, you will get 10,000 free premium words. Its users can use the existing word balance to generate more on Chatsonic.
7. Jasper Chat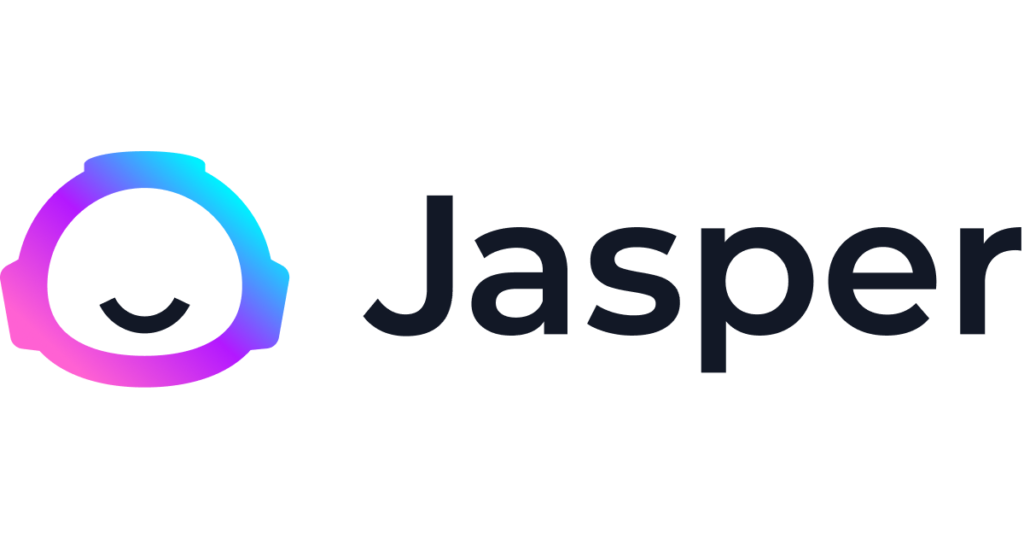 Jasper Chat is an AI writing software tool launched by Jasper. It is among the most popular AI writing tools currently available online. It is an excellent option for companies in need of generating high-quality content.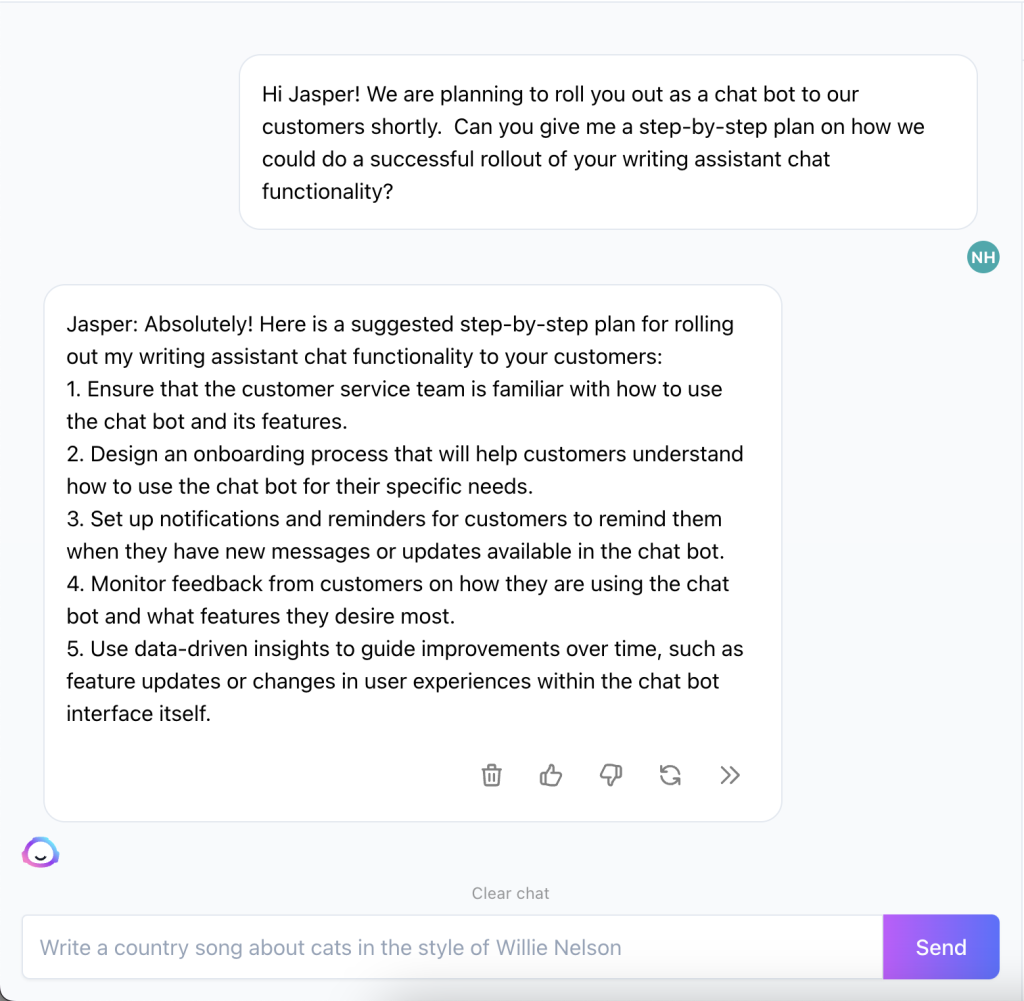 What it does:
Jasper Chat uses the power of machine learning and artificial intelligence. It produces enticing and persuasive content. It produces social media posts, landing pages, blog posts, marketing emails, and ads. With Jasper Chat, you can write 5x more content fast.
Who it's for:
Jasper Chat suits businesses, freelancers, writers, or individuals who want to create content.
Features:
It can answer queries up to the summer of 2021. Jasper Chat is trained on large amounts of content from 2021 and before. It can provide information on all matters before the summer of 2021.
It has a ChatGPT-like interface. Jasper Chat has a simple user interface. Its users are capable of accessing the AI with ease.
It makes continuous conversations possible. Jasper Chat can remember conversations. This provides better content for your chats.
Pricing
Only paid subscribers can access Jasper Chat in boss mode and the business plan. Boss mode plans start from $49 per month.
8. ZenoChat (by text.cortext)

ZenoChat by text.cortext uses machine learning and natural language processing. That explains why it understands and responds to its users. ZenoChat ability to learn from its conversations ensures it is accurate.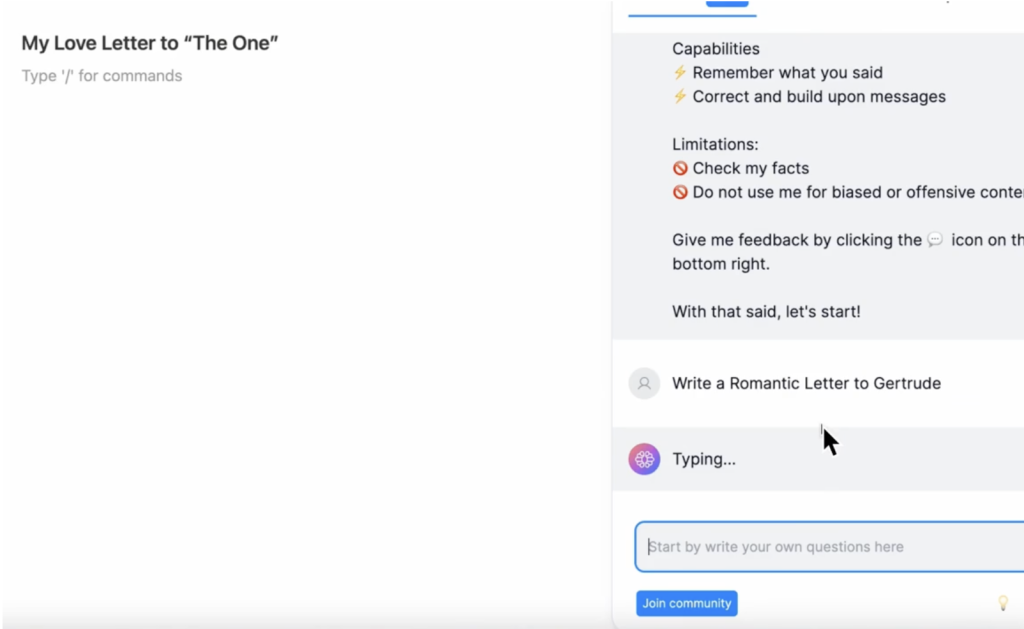 What it does:
ZenoChat allows its users to generate website copy and marketing sales in seconds. It is a top AI copywriting platform capable of integrating with over 200 platforms. ZenoChat enables businesses to cut down on content outsourcing costs. It can cut down costs by over 18 times. It also reduces the time spent writing sales copies by 70%.
Who it's for:
ZenoChat is a product for businesses that want to create and achieve marketing goals. Content writers, customer service representatives, and marketers can use ZenoChat.
Features:
Templates: It provides over 60+ content-generation templates.
API: ZenoChat offers text generation API that users can integrate into their interface.
Languages: ZenoChat is capable of generating content in 25+ different languages.
Browser extension: ZenoChat provides extensions for popular browsers. The browsers are Firefox, Chrome, Edge, and more.
Pricing
ZenoChat provides a free plan where new users can generate up to 10 creations daily. The paid plans are in two categories. A Pro plan costs $24.99 monthly, and a Business plan costs $79.99 monthly.
ChatGPT Alternatives for Coding
Do you generate code with ChatGPT? Try these alternatives.
9. Codex (by OpenAI)

Codex by OpenAI will bring you closer to what you want from computers. It enables you to say what you want and get it!
The latest version of Codex by OpenAI was released back in August 2021. Codex performs well at remembering and storing huge amounts of context.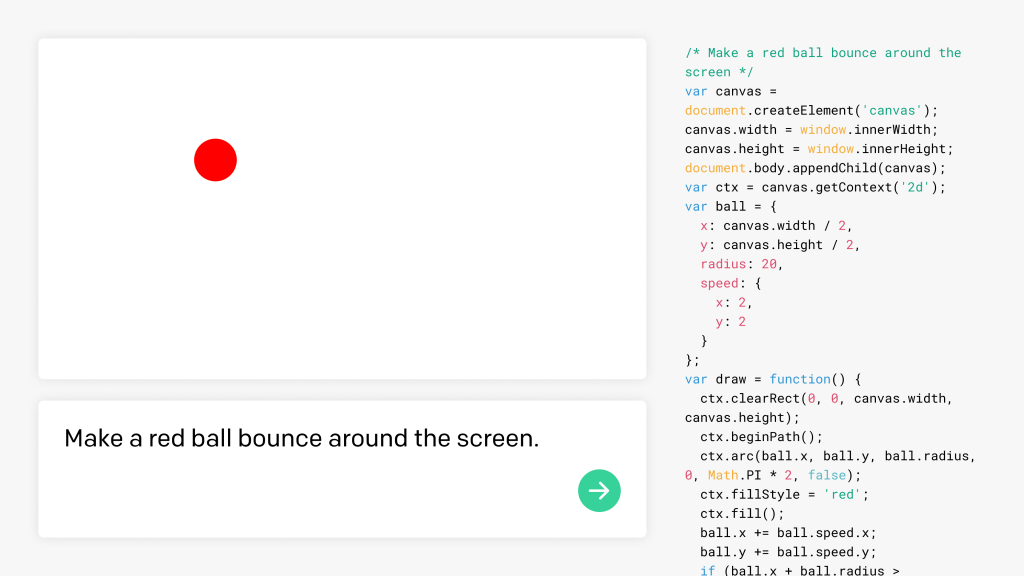 What it does:
Codex by OpenAI translates natural language into code. It can turn English or another natural language text into corresponding code lines.
Who it's for:
Codex by OpenAI is an excellent machine-learning tool for professional programmers. It enables programmers to speed up their code-writing work.
Features:
It converts comments to code. You can write a comment describing the logic you want, and Codex by OpenAI will assemble the right code for you.
It auto-fills repetitive code. Codex by OpenAI works fast in producing repetitive code patterns. All a programmer has to do is feed in a few examples, and it will generate the rest.
It tests without toil. Tests are important for any robust software engineering project. Programmers import a unit test package, and Codex by OpenAI will suggest the tests match the implementation code.
It shows other alternatives. Codex by OpenAI will show you a list of solutions to evaluate a few different approaches. You can use the code as it comes or make edits to enable it to meet your needs.
Pricing
Codex by OpenAI offers a free plan that costs nothing. One can access free content, three projects, and 25 lessons in the free plan. You will also receive help from the Codex by the OpenAI community. You can also access new projects and receive a completion certificate.
The creator's plan costs $9 per month. This plan gives you access to 10+ projects and over 250 lessons. You will also receive help from the community and certification after completion.
10. GitHub Copilot

GitHub Copilot is a ChatGPT powered by Codex OpenAI. It is an AI pair programmer that did fine-tune the Codex engine using codes from GitHub repository.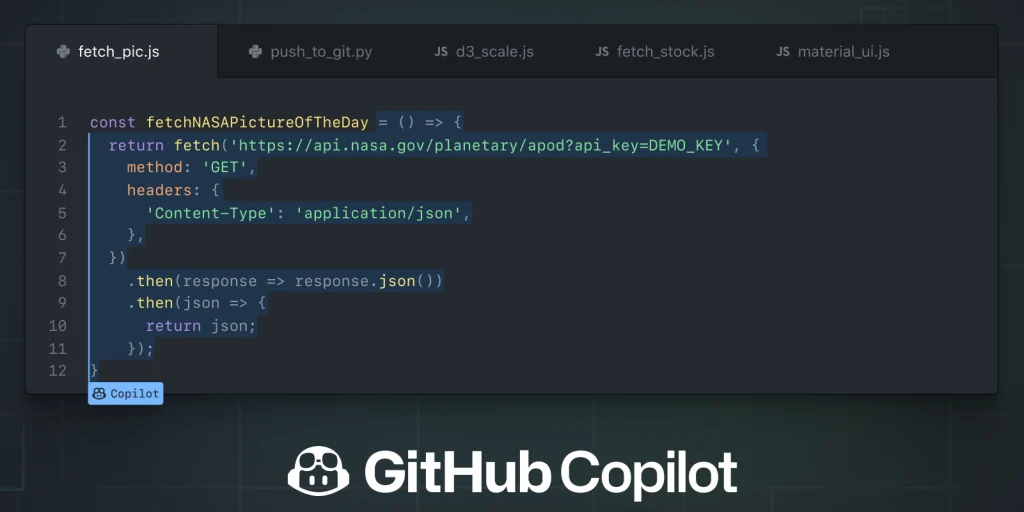 What it does:
GitHub Copilot uses code and comment context to suggest whole functions and individual lines.
Who it's for:
GitHub Copilot suits programmers who want to write code quickly and efficiently. It helps programmers save effort and time.
Features:
GitHub Copilot analyzes the code and suggests code snippets depending on the context. It can suggest functions, variable names, and entire code lines.
It generates code depending on the comments you write in natural language
It supports programming languages like Ruby, Python, Shell, Java, PHP, and CSS.
It is present as an extension in Visual Studio Code and Neovim.
Pricing
GitHub Copilot subscription for individuals can be paid per month or every year. It will cost you $10 per month and $100 per year. You can always make changes to the billing cycle at any time.
A GitHub Copilot subscription for businesses is available every month. It costs businesses $19 per month.
ChatGPT Alternatives for Education
Do you need a super smart ChatGPT alternative capable of teaching you new concepts or translating any language? Here are some of the most reliable options.
11. Duolingo Max

Duolingo is a leading online learning platform. It launched a new product Duolingo Max that OpenAI powers. OpenAI is a top research and deployment company. Duolingo Max helps provide different language learners with an in-depth explanation of answers.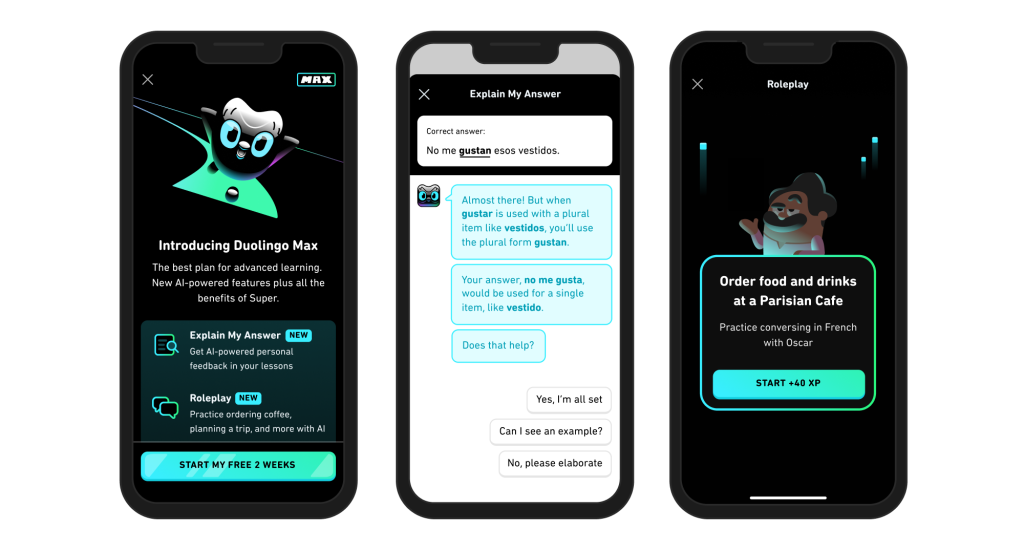 What it does:
Duolingo Max uses generative AI to help create an advanced language experience. Duolingo Max subscribers will have access to all the Duolingo Max benefits and new features.
Who it's for:
Duolingo Max is suitable for language learners needing in-depth explanations of answers and conversation practice.
Features:
Role-playing: This feature allows the system users to practice real-world conversational skills with an interactive AI chatbot.
Explain my answer: It is a Duolingo Max feature that allows users to learn more about their answers in lessons. They can tell if their answer is right or wrong.
Pricing
Duolingo Max costs $29.99 per month or $ 167.99 per year. If you want to try Duolingo Max, you can get it in the buy tab.
12. Elsa Speak

Elsa Speak is an AI language learning application. It runs a user speech examination and can also easily formulate a set of tasks its users can comprehend.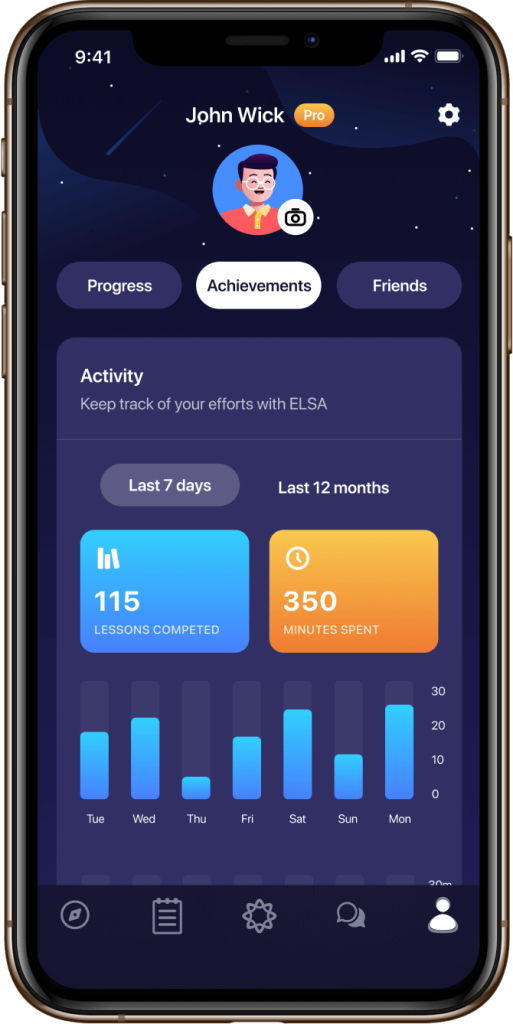 What it does:
Elsa Speak helps its users translate different types of languages into English.
Who it's for:
It is an excellent ChatGPT for English learners who want to improve their pronunciation.
Features:
Elsa Speak offers a fast assessment to test your progress.
It offers bite-sized customized lessons to help improve your English
Comes with a real-time speech recognition feedback
It has AI coaching support that helps you stay motivated and focused
It has a progress tracking board and graphs that show all your accomplishments
Pricing
Elsa Speak pro plan costs $11.99 per month. Payment is on a monthly or yearly basis. When you sign up, you can opt for a 7-day free trial.
13. Elicit.org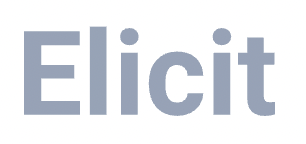 Elicit.org is a popular ChatGPT alternative. It is a research assistant utilizing language models like GPT-3 to help streamline the processes of a researcher.
Currently, the literature review is part of the current workflow with Elicit.org. When you type a query, it produces an immediate summary of highly rated documents. It is an excellent option that helps attain fast and precise comprehension without sacrificing your source's dependability.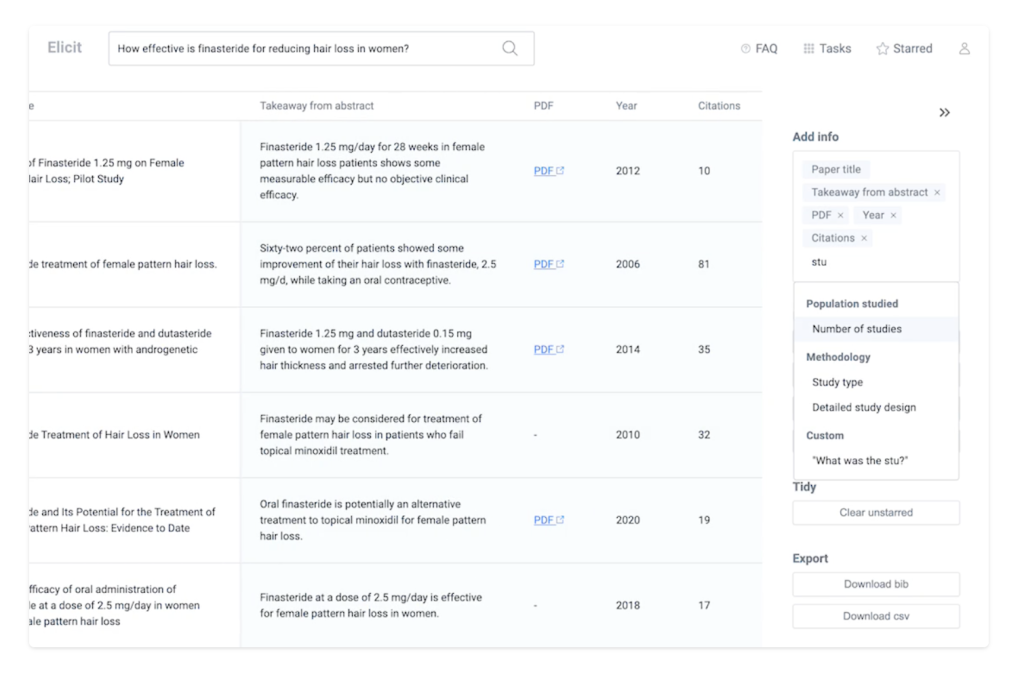 What it does:
Elicit.org uses language models such as GPT-3 to help automate researchers' workflows.
Who it's for:
Elicit.org is suitable for students and researchers as it helps them track down relevant papers. It cites and enables researchers to get an idea of future research avenues.
Features:
It helps in discovering datasets analyzed together with results achieved by different authors.
It can access a collection of publications in line with your inquiry.
It helps students to discover information relevant to their coursework and answer questions.
Pricing
Elicit.org is free to use on its official website.
14. CoGram

CoGram is a top ChatGPT alternative that takes automatic notes during your virtual conference. It ensures all your data remains secure and private.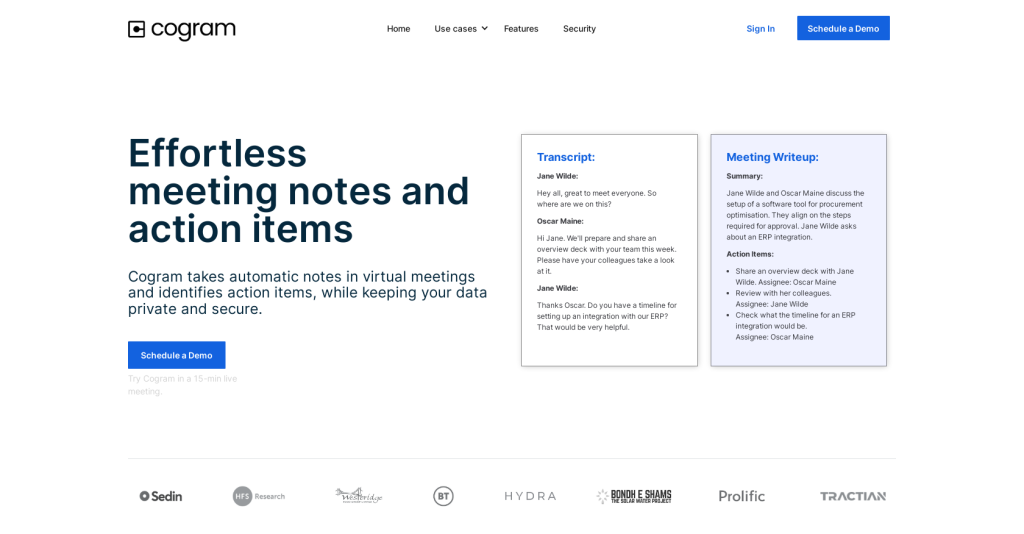 What it does:
CoGram uses artificial intelligence to take notes during virtual meetings. It also tracks action items and automates downstream tasks. CoGram also keeps your data secure and private.
Who it's for:
CoGram suits individuals who want to take notes during virtual meetings and want to keep their data secure and private.
Features:
CoGram makes accurate and comprehensive minutes. It detects tasks that need to be accomplished fast. It also helps in compiling succinct summations of meetings.
It is possible to schedule CoGram to join meetings through the calendar and view every word and action item.
It blends with zoom and Google meet smoothly.
Pricing
CoGram does not cost you a cent for the first 15 minutes. Contact CoGram for tailored pricing if you want to continue using it for your meetings.
Why is ChatGPT Always Down?
ChatGPT is always down due to its fast increase in popularity. More and more people are using it for different types of tasks. ChatGPT helps in solving complex tasks that consume lots of computing power. These tasks lead to server overload. Sending in several requests simultaneously also leads to the 'too many requests' error, which can make it unresponsive.
OpenAI tried to solve the issue by limiting the number of requests users could send in an hour. It helps prevent the ChatGPT from overloading since the users will not exceed the limit.
Part of the limiting factor is how expensive it is to train and run ChatGPT. They're trying to mitigating some of the insane costs of running ChatGPT ($100k+ per day).
What the Future Holds for Chatbots
There is a future for chatbots, which will stay around for the foreseeable future. Chatbots are transforming the way businesses communicate with and understand their customers. With the growth of artificial intelligence, chatbots can deliver a personalized customer experience.
Chatbots are also helping companies save money through internal processes, customer service, and marketing. There is much potential to incorporate chatbots through the company's apps, website, and social media platforms.
Different e-commerce brands are already capitalizing on the capabilities of chatbots. Brands have great opportunities to take advantage of how chatbots help grow brands.
Chatbots are effective right from handling customer inquiries and providing real-time support to offering personalized recommendations of products. With continued advancements in artificial intelligence and machine learning technology, chatbots will continue to increase in different industries.
Conclusion
Above are the top 13 best ChatGPT alternatives. With ever-evolving technology, artificial intelligence will be among the essential parts of our businesses. They will help in enhancing customer experience. Each of the options in the list possesses exclusive abilities and attributes. They are an excellent choice for any person or business seeking ChatGPT alternatives. If you are interested in having a top ChatGPT option and learning more, Growth Marketing Pro is here to help. We have years of hand on practice experience and have developed good tactics that resulted in millions of dollars in revenue.