Latest posts by Mark Spera
(see all)
If you're running a marketing agency or you're a freelance marketer with a big roster of clients, you're probably a little stressed out.
I've been there before.
My business partner and I started Growth Marketing Pro and turned it into the biggest growth marketing blog on the web. Plus, we started an agency to support all of the readers who wanted to pay for our expertise.
Between onboarding new clients, managing client relations, running marketing channels, and data reporting, there's literally never a shortage of work.
The good news is, there are tools that can make your life as an agency digital marketer or freelancer a lot easier. Great acquisition marketing and project management software can mean the difference between average client results and an unstoppable marketing campaign that sees lasting ROI.
And great results are what keep clients around.
What Types of Digital Marketing Agency and Freelancer Management Tools Should You Get?
Tools and software for marketing agencies and digital marketers should make your life easier, make your clients' work more precise, and make your reporting simpler.
Some statistics for you:
Social Media Today's 2019 State of Marketing Automation Survey reported that 75% of all companies already use at least one kind of marketing automation software.
The global marketing technology industry grew by 22% in 2019, reaching over 121 billion U.S. dollars worldwide.
Studies have shown that marketers use an average of 7 marketing technologies or platforms that are often integrated for the best effect, ranging from CRMs to landing page software to SEO services.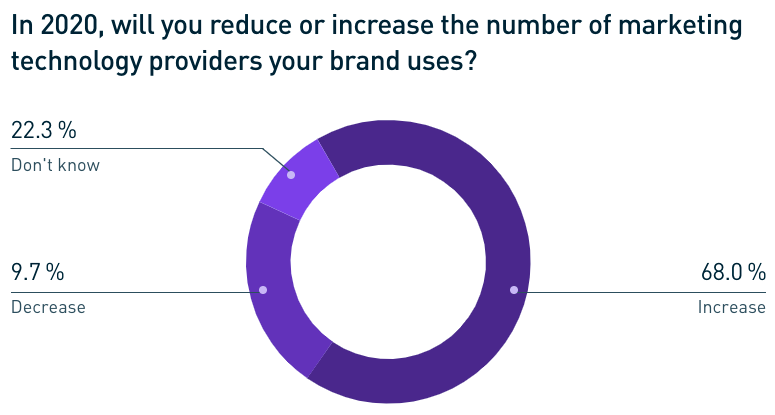 There are lots of marketing technologies to choose from, which is why we decided on the best tools on the market. The marketing software on this list fall in a few categories:
Digital marketing, content creation, and SEO tools
Project management software
Analytics software
Plumbing: apps and sites that create a smoother workflow
Reporting tools
Try out one or all of these tools to wow your clients and watch your business grow!
---
Get a 5-Day Free Trial of GrowthBar
This post ranks on page 1 of Google and was written with GrowthBar. Which tool do you trust for your AI blog post writing now?
---
The Best 15 Tools & Software for Digital Marketing Agencies and Marketing Freelancers
1. GrowthBar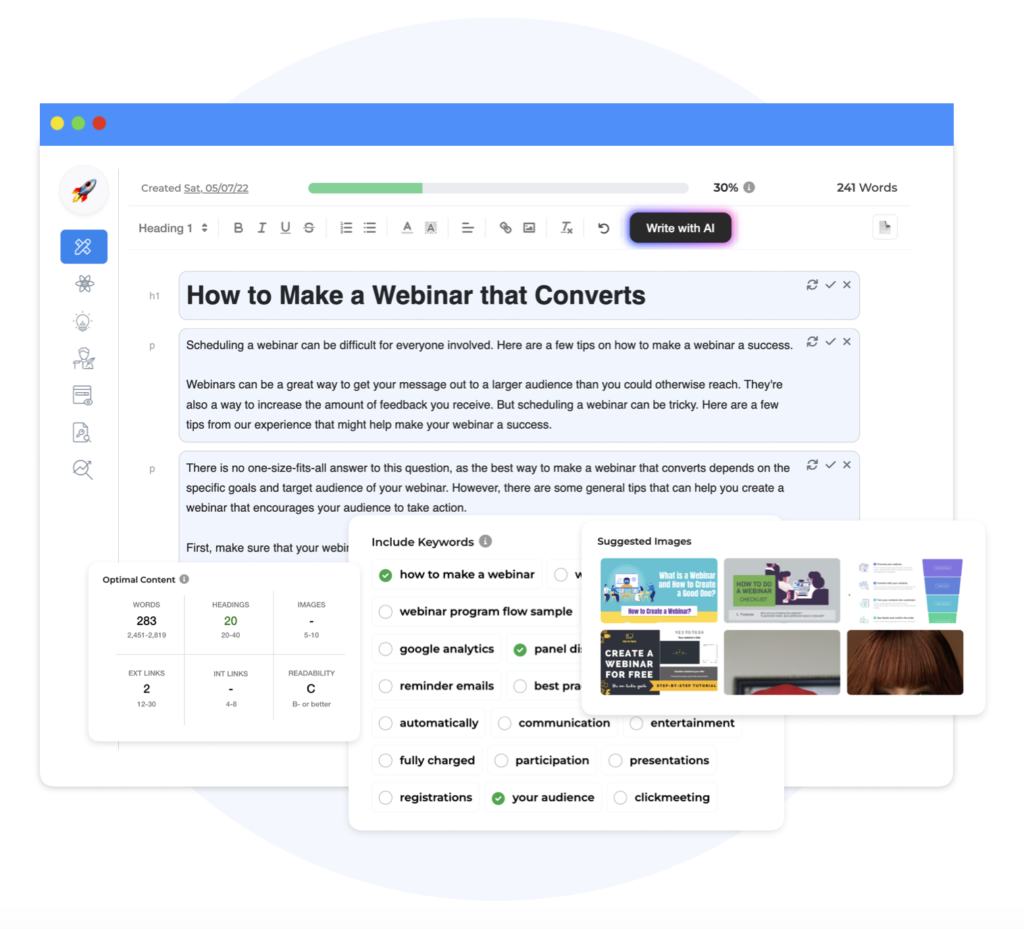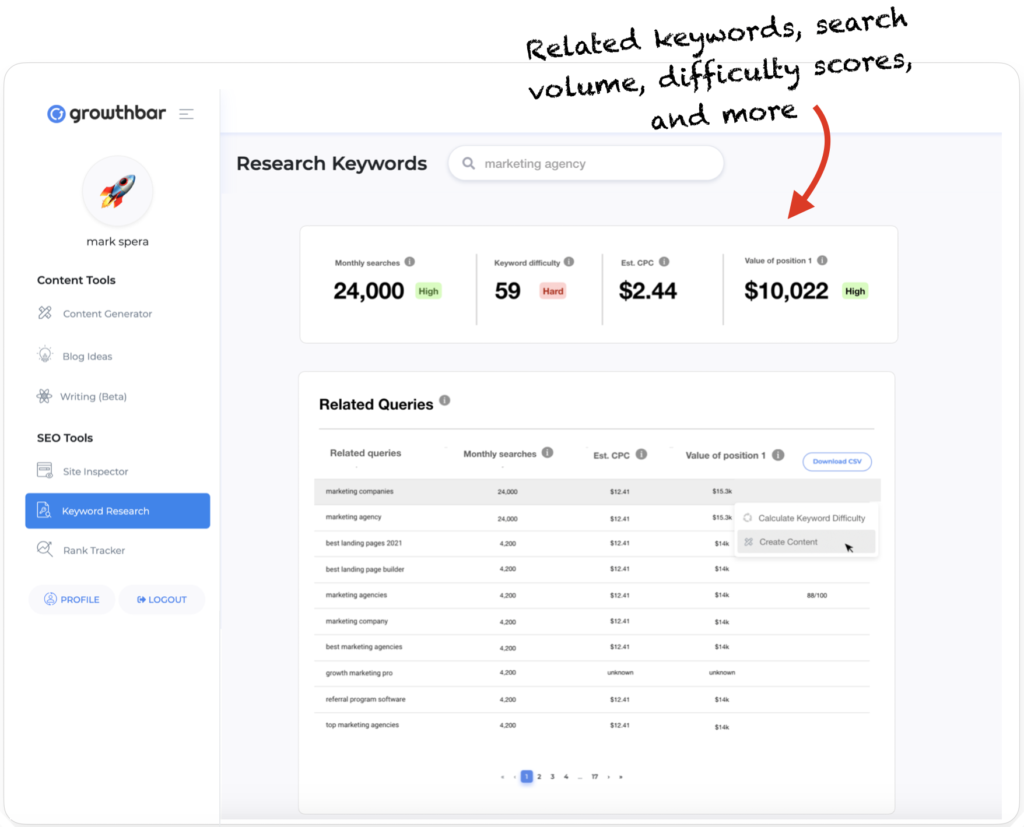 GrowthBar is an SEO tool that pulls together only the data points that modern-day marketers actually need to make everyday decisions. GrowthBar is also an automated content generation tool. Together, this makes GrowthBar the number one tool for content creators and bloggers.
GrowthBar Features include:
AI blog post outlining, including proper keywords, word counts, headers, images, links, using GPT-3 tech — so that you can create content briefs in a snap
AI writing: or write the article yourself by clicking a few buttons
Keyword difficulty scores
Keyword suggestions
Competitive research
Backlink research

Export data to CSV
GrowthBar has the same backlinking, Google Ads, and organic keyword capabilities as other larger (and more expensive) SEO tools, but it also has specialty features that make bloggers' lives way easier. For small SEO agencies, particularly ones that specialize in content, GrowthBar is a must-have.
GrowthBar can help you identify exactly which strategies are going to move the needle for your business so you're not wasting time and money on the wrong places. Then of course, GrowthBar enables you to make blog post content outlines with one click of a button.
Plus, GrowthBar has a Chrome Extension to find insights when it's most convenient for you. Because we know: bloggers and content creators don't always have a ton of time!
GrowthBar's secret sauce is the content generation feature. If your clients require a lot of blog content, GrowthBar is the answer you've been looking for. With one click, GrowthBar creates AI-powered content outlines that enable you, your writers, and clients to create articles according to SEO best practices. Get optimal URLs and titles, word counts, internal and external links, headlines, keywords, and intro paragraphs. Then hone and export your work to a Google Doc for easy collaboration. It's game-changing for just $29/month.
For: SEO, Google Ads research, backlinks, content, data reporting
Price: Starts at $29/month
2. SEMrush

Semush is an online marketing tool that provides SEO, content marketing, competitor research, PPC, and social media marketing services all on one platform. It's probably the most sophisticated and comprehensive tool in the SEO universe. Keyword (8 billion of them) and backlink results are as accurate as I've seen in the industry. Semrush also has really nice historical website data and real-time trend and rank change data. Plus, get nice alerts to your email inbox for all of those features.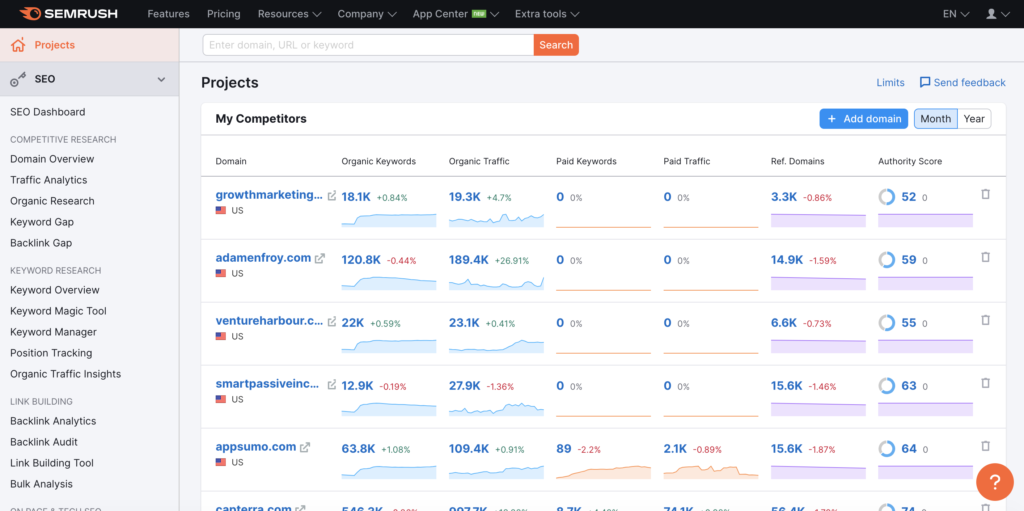 It's a complicated interface because there are so many features, but once you get used to it Semrush becomes really powerful.
Semrush features include:
Keyword tracking
Backlink analysis
Domain analysis
Technical SEO audits
Tools for local SEOs
Competitor PR monitoring
Link monitoring
Semrush and its competitors Ahrefs and Moz have a wide variety of services and tools for SEO, but have gone very upmarket. They're now less focused on being an SEO tool than being full-service firms.
For: SEO, Google Ads research, backlinks, reporting, content marketing, market research, social media scheduling
Price: Starts at $99/month
Also Read: The Best Semrush Alternatives
3. Zapier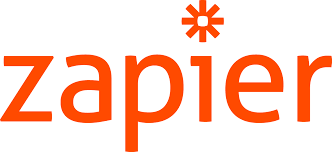 You hope your clients keep it simple, but let's face it, companies run a million different tools.
You may step into a project in which a client uses Mailchimp, HubSpot, Google Sheets, WordPress, Trello, Calendly, Typeform, Salesforce, and many, many more.
Zapier is the tried and true way to connect processes from one app to another. Instead of taking hours to figure out native integrations, use Zapier's two-click integrations to automate any weird or confusing processes.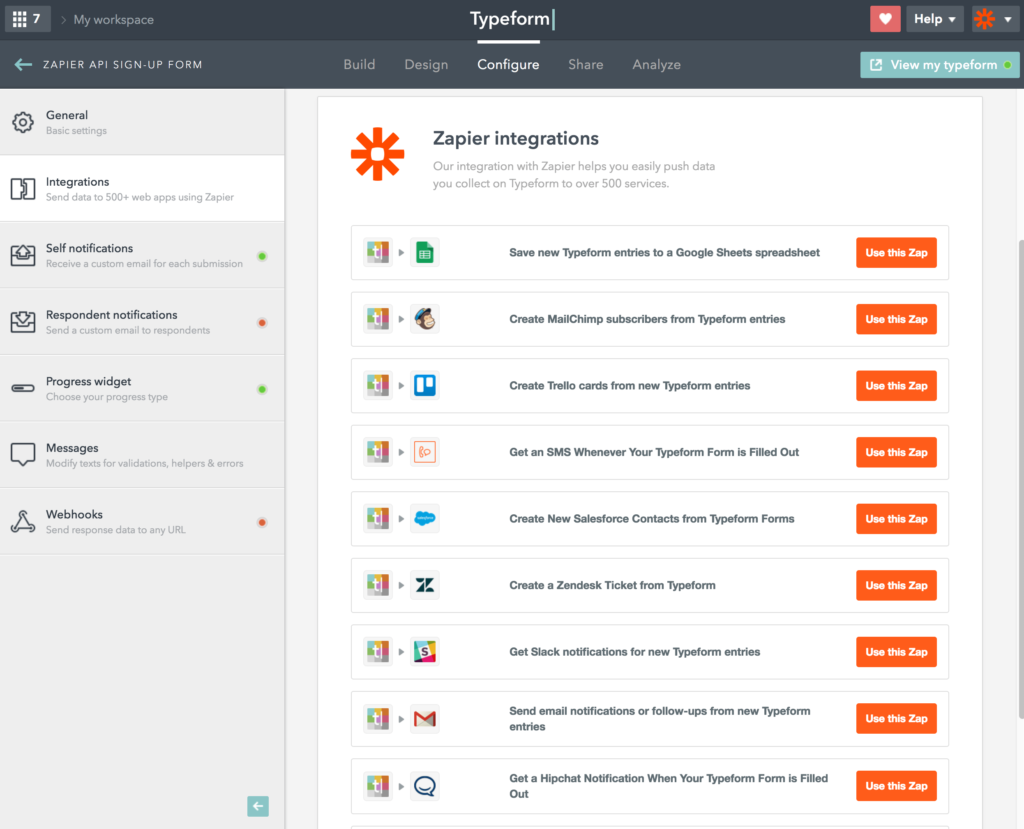 Making a "Zap" using Zapier is very easy. You simply choose the applications that you would like to "speak" to each other. Send Mailchimp leads directly to a Google Sheet. Automatically create a new field in Salesforce whenever a user submits a form. Send a Calendly invite to new users as soon as they enter a certain list in Marketo. Send a LinkedIn lead form entry to HubSpot. The list goes on!
The possibilities are almost limitlessly endless. Zapier allows you to do almost anything–no code needed. Your clients will definitely be impressed. Zapier truly is the plumbing of the internet — at a pretty affordable price.
For: Connecting apps and creating automations
Price: Start free; First paid plan is $19.99/month
4. Google Analytics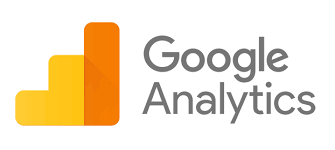 Google Analytics (GA) is the best-in-class tool that most marketers use to analyze site performance. If you don't have your client's Google Analytics access, what are you doing!? I find that 95% of my clients use GA on their website.
30 to 50 million websites use GA today. GA is the way most companies read traffic trends, measure on-site engagement rates, and accurately record goals and conversions, and then use this data to continue to improve.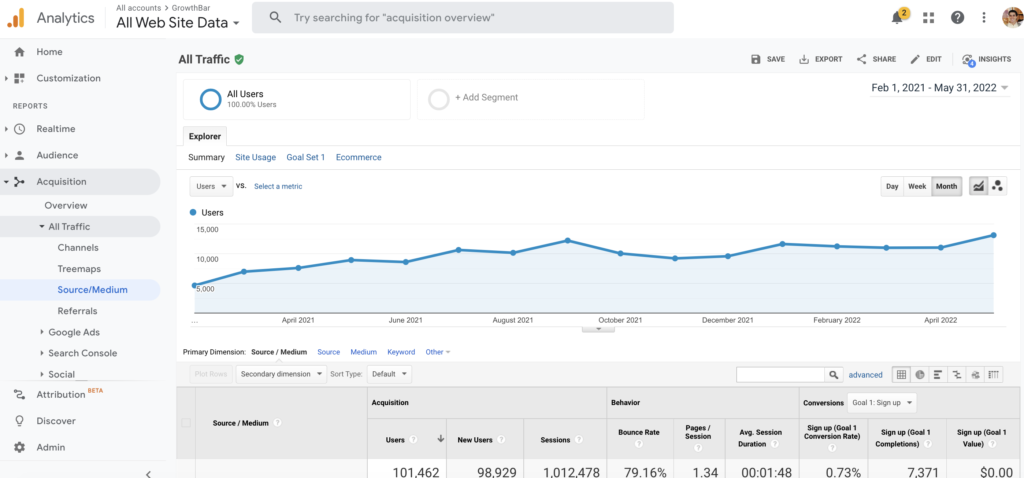 Google Analytics includes analytics intelligence, users and conversions, audience reports, advertising reports, acquisition reports, user flow reports, data freshness, funnel analysis segmentation, data importing, user access control, predictive analysis, and more. GA also has a great UI for visualizing traffic and conversion rate trends.
Google Analytics also integrates with Google Ads, Surveys 360, Optimized 360, Google AdSense, Google Cloud, Salesforce applications, Google Ads manager, Google Search Console…and more!
For: Analytics and reporting
Price: Free, unless you're using Google Analytics 360
5. Monday.com

If you're an agency, it's a good idea to have a project management tool. Some agencies use a project management tool to keep track of sales pipelines and internal processes and others interface directly with clients with them — assigning and executing tasks.
Monday.com makes it easy work to keep track of your client pipeline, personal projects, and tasks for your clients all in one tool.
Planning, tracking and delivering your team's best work has really never been easier. You can automate any repetitive work, and create your ideal workflow in minutes from any of their 200+ ready-made templates or by making your own.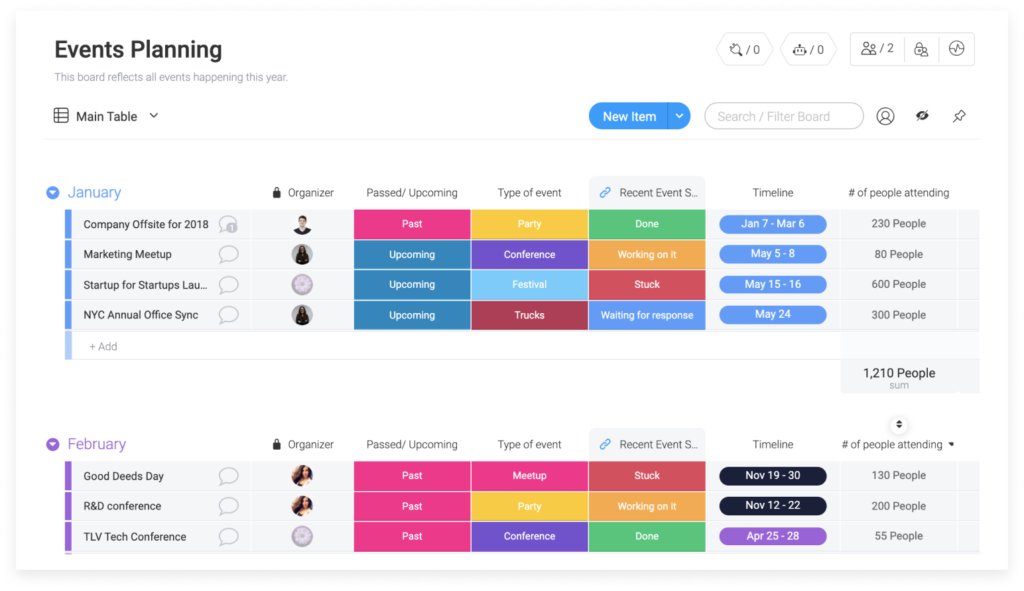 For: Project management (for all types of projects and industries), CRM, and task management
Price: Starts free; First paid plan at $6/month
6. Jira

Jira is made by Atlassian, a software developer that makes software and management tools, including Trello, Sourcetree, and Confluence. Jira is basically a more enterprise-looking version of Monday.com.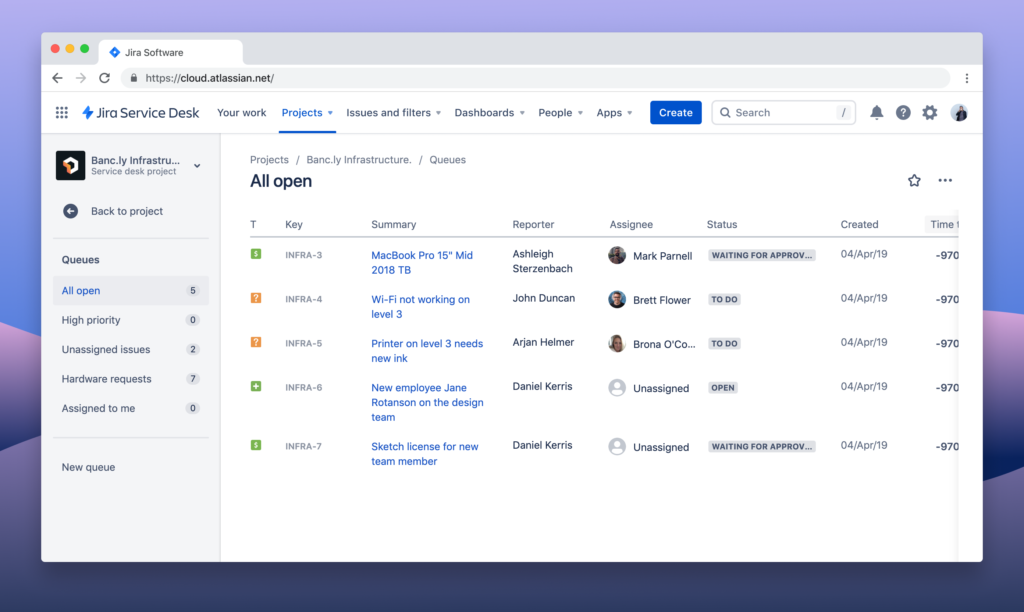 Jira Software specifically helps software team members plan, track, and release great software on the right timeline. Many product development teams and even large agency teams use Jira.
You can create user stories and issues, plan sprints, and distribute tasks across your software team; prioritize and discuss your team's work with complete visibility; and improve team performance based on real-time, visual data. It's a 10 out of 10 at what it does.
For: Project management, CRM, and Task management, specifically for tracking, planning, and releasing software
Price: Starts free; First paid plan is $70/month
7. Your Bank!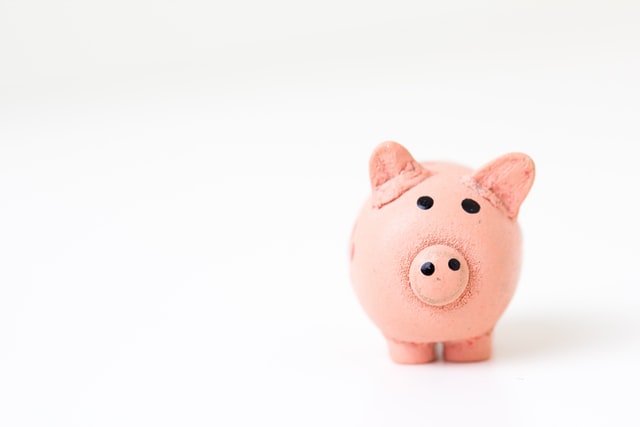 This one is a bit weird, but you should try and run as many transactions through your bank as possible. PayPal is tempting because it's fast and simple, but the fees can be brutal: it costs 2.9% to receive money from a PayPal transfer.
Wire transfers are way cheaper for your client and for you. Also, make sure to write off any fees you incur for financial transfers at the end of the year.
Make your bank your friend, and you'll see savings you didn't realize you could have! A little bit of extra time it make take is well worth that 2.9%.
For: Financial transfers
Price: Usually about $25
8. Agency Analytics

Agency Analytics is one of the best SEO tools and platforms if you're an SEO marketing agency. Agency Analytics offers automated SEO reports for clients with backlinks, keyword rankings, website analytics, and more.
They also offer analytics on PPC, social, email, call tracking, reviews, and e-commerce.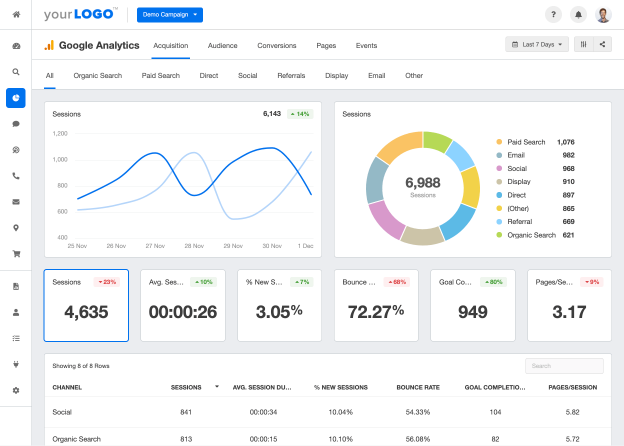 Features include:
Automated reports
Custom dashboard
White label
SEO tools

Ranking
Monitors backlinks
Site audits
Competition analysis
They also have an API that can be useful for larger agencies trying to create customer reports or combine data sets.
For: Backlinks, keyword rankings, and website analytics for SEO agencies
Price: Starts at $10/month
9. Unbounce

It's time to wow your clients with beautiful landing pages by using some landing page software. And out of all of them, Unbounce is one of the best.
Unbounce was the first landing page software. You could actually say they invented the category. It's incredibly intuitive: even if you have no design experience, you simply choose one of Unbounce's elegant pre-made templates and insert your brand elements.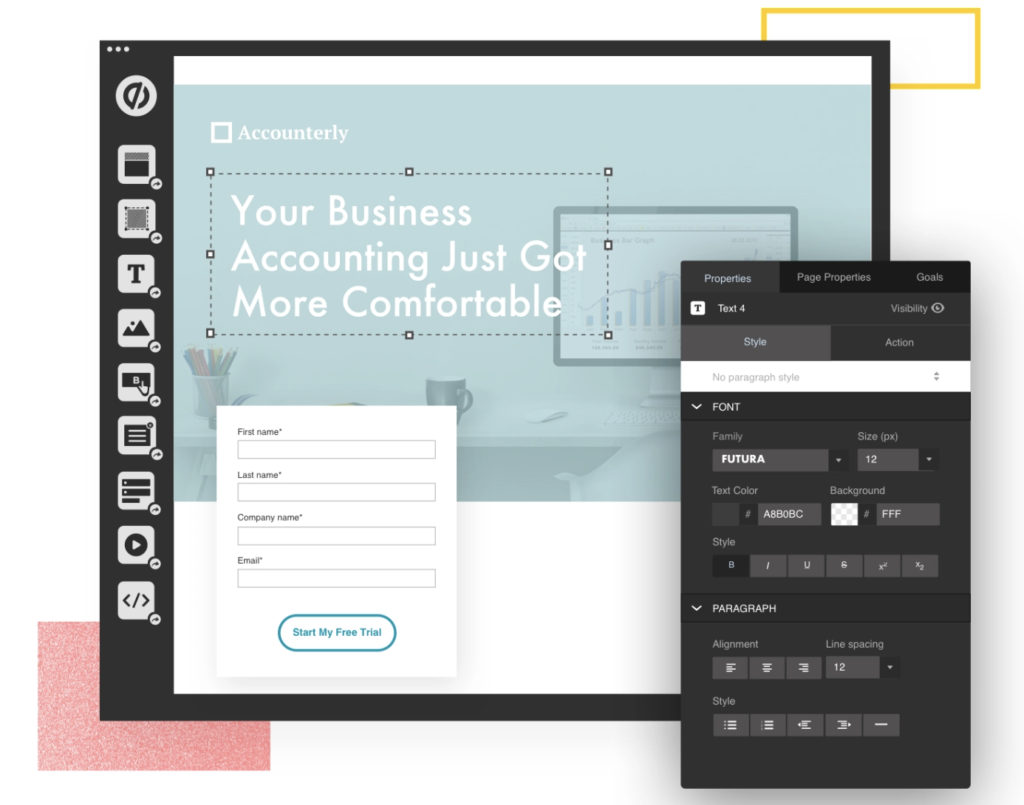 Pages look professional, and more importantly: they convert!
Whether you're marketing for a B2B business or high volume consumer business, your Google, Facebook, and LinkedIn campaigns will all perform better with pixel-perfect, contextually-relevant landing pages. And you can do all this from Unbounce.
Unbounce has an easy drag-and-drop builder and 100+ landing page templates so you can bring any campaign vision to life without any coding needed (though there is optional JavaScript and CSS).
By using Unbounce Conversion Intelligence™, and latest AI feature, Smart Traffic, marketers can A/B test their pages, simplify their workflow, and launch high-conversion landing pages faster and easier.
For: Landing pages, pop-ups, conversion boosting
Price: Starts at $90/month; Has a free trial
10. Hootsuite

Hootsuite is an online platform that supports marketers in all their social media needs. You can share and schedule engaging content to several profiles at once, address incoming messages and deliver timely replies no matter where your clients are coming from.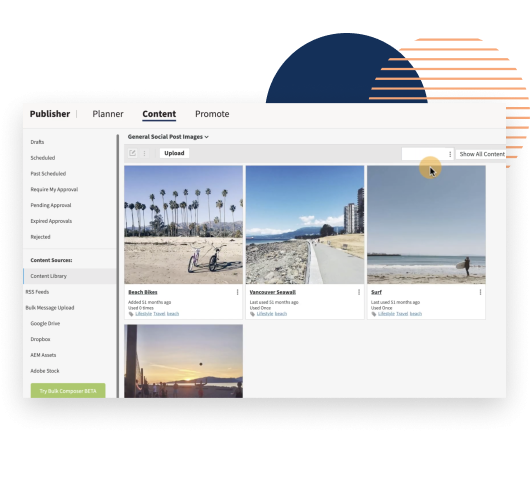 Hootsuite also helps you monitor your results across all social networks, stay informed about market trends and competitors, and even set up advertising with organic content and paid ads.
For: Social media management
Price: Free; Paid starts at $129/month
11. Buffer

Buffer is a social media tool that describes themselves as platform to provide "authentic engagement" with your clients. Buffer is there to help marketers tell their brands' stories, grow their audience, and manage their publishing, analytics, and content planning for Instagram, Facebook, Twitter, Pinterest, and LinkedIn–all from one dashboard.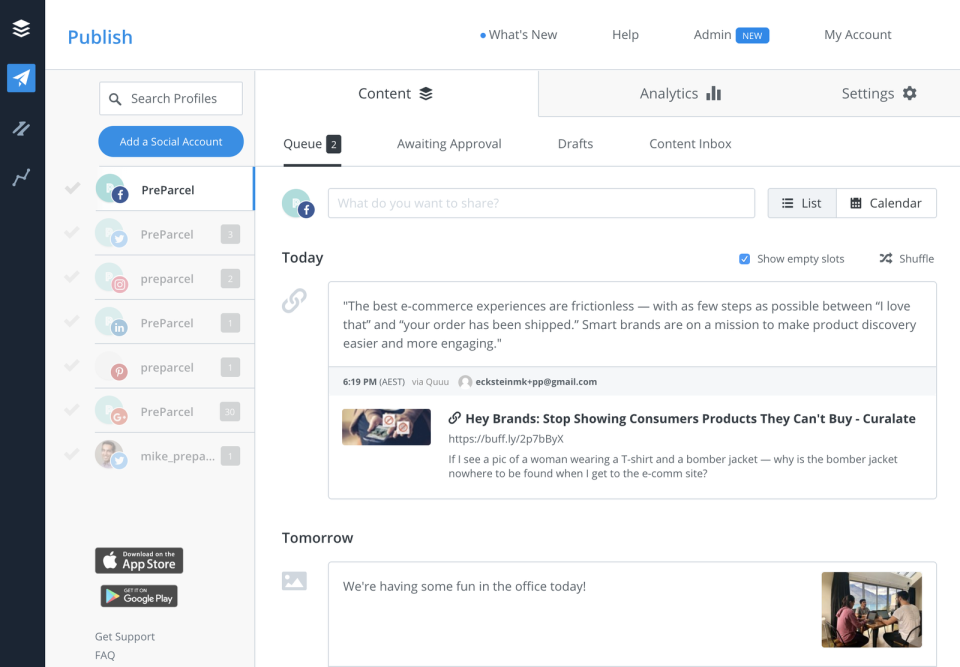 You can plan and publish social media performance, create reports, and get recommendations from Buffer for growing, reach, engagement & sales.
For: Social media management
Price: Starts free; First paid p lans start at $5/month
12. Calendly

Calendly is a scheduling app that can connect with up to six of your calendars to automatically check availability and help you connect with contacts, clients, and prospects, without a million back and forth emails! I use Calendly for GrowthBar to schedule meetings with customers and let them schedule demos with me. You can allow your invitee to schedule individual slots; automatically distribute meetings to your team based on availability, priority, or equity; and enable your invitee to schedule a time with multiple team members at once.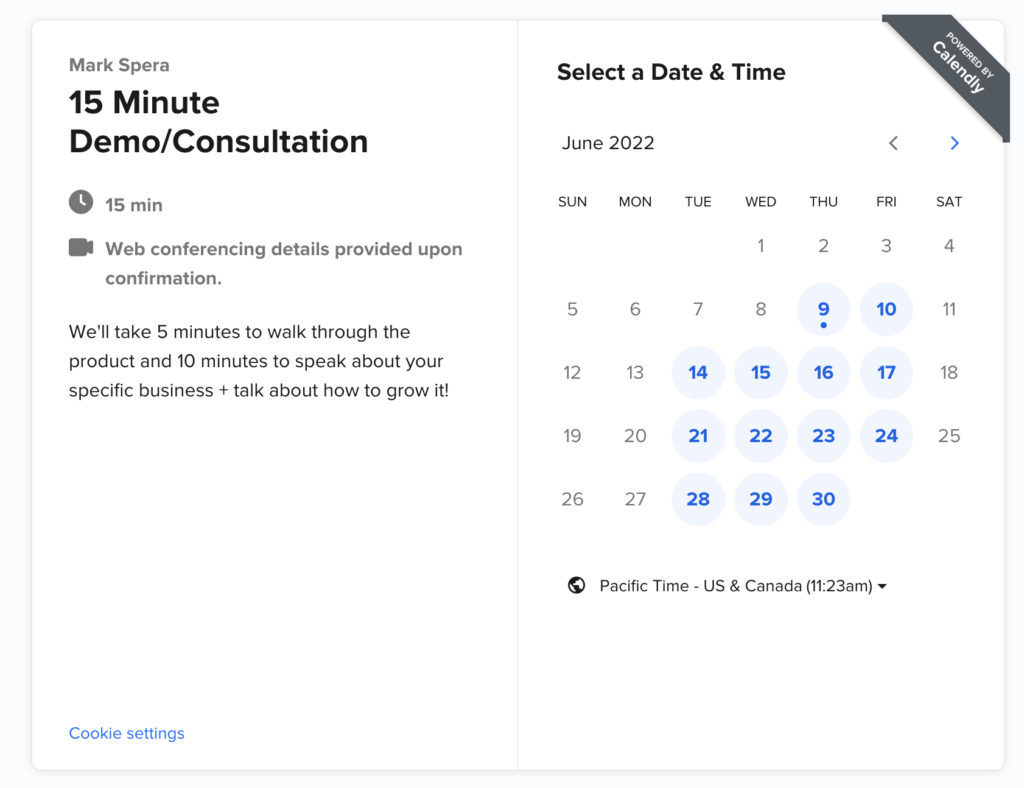 It's pretty incredible for keeping your schedule manageable… while you sleep.
For: Scheduling & calendaring
Price: Free; First paid plan starts at $8/month
13. Better Proposals

At Better Proposals you can create high-converting, easy-to-sign proposals in minutes instead of hours.
The Better Proposals Automatic Designer makes it easy to create a proposal in minutes with a customizable template from our Marketplace in minutes.
You can also add, remove, and change the content to fit your exact needs by inserting your company colours, adding an introductory video, or brand the proposal with your logo.
Clients can immediately sign your proposal and pay your fee, all from the secure and encrypted web. Their reporting and tracking features let you see where each proposal is during the sales so you can track who's ready to sign, who's ready for a follow-up, and who needs more nurturing throughout the process.
For: Proposal writing, designing, managing
Price: Starts at $19/month, with a free 14-day trial
14. Canva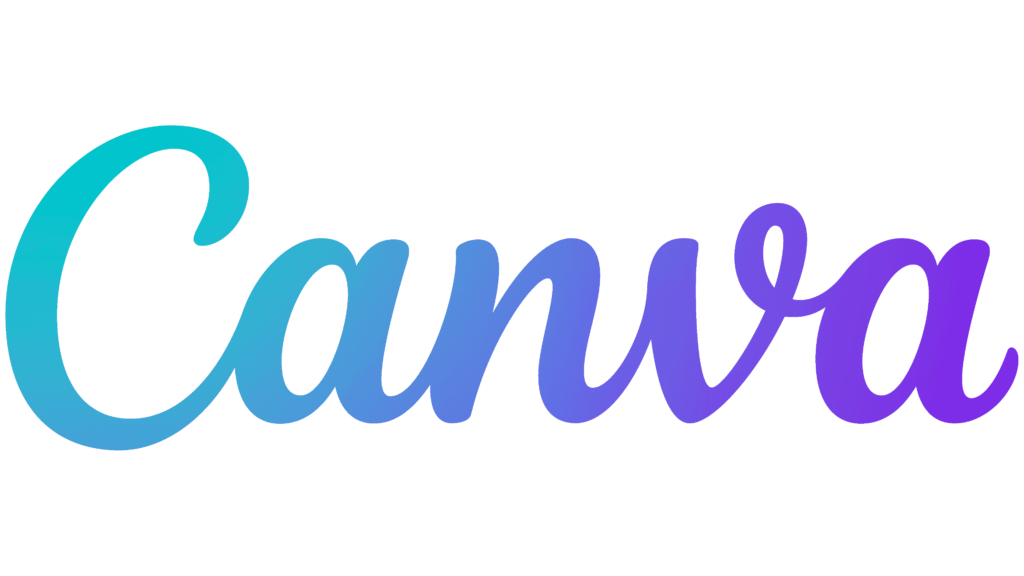 Start making beautiful logos, ads, landing pages, and custom graphics for your clients (and yourself!) at Canva.com.
Canva enables small and medium size businesses to create customizable graphs, prints, and presentations with professional layouts, templates, frames, voice icons and more.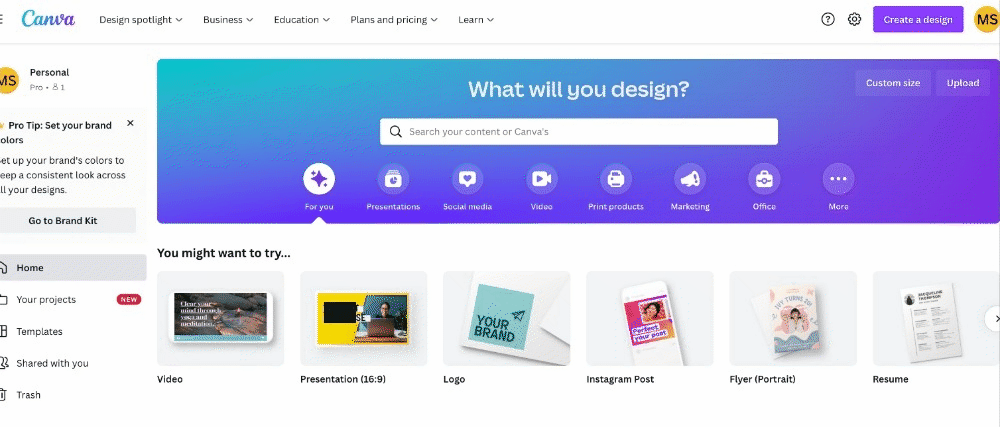 Canva has a media library, text and image editor, and a whole suite of tools that help you to make fun, professional images without needing graphic designers. It's a favorite tool for marketers who need to create pixel-perfect images for ads or landing pages quickly.
From business cards and flyers to videos and presentations (and more), you can pick from hundreds of templates, designs, fonts, images, and more for whatever project you have.
Their free option is great, but if you want access to all their tools, stock images, and features, premium is the way to go. For classrooms and non profits, the pro option is free!
For: Design & creative services
Price: Use it for free! Premium starts at $119 a year
15. Loom

If you're troubleshooting with a client and it's requiring more than an email or two, you can shoot a quick video with Loom. It's faster typing an email or coordinating a meeting live, especially if there is something too detailed to explain that would benefit from a screen share.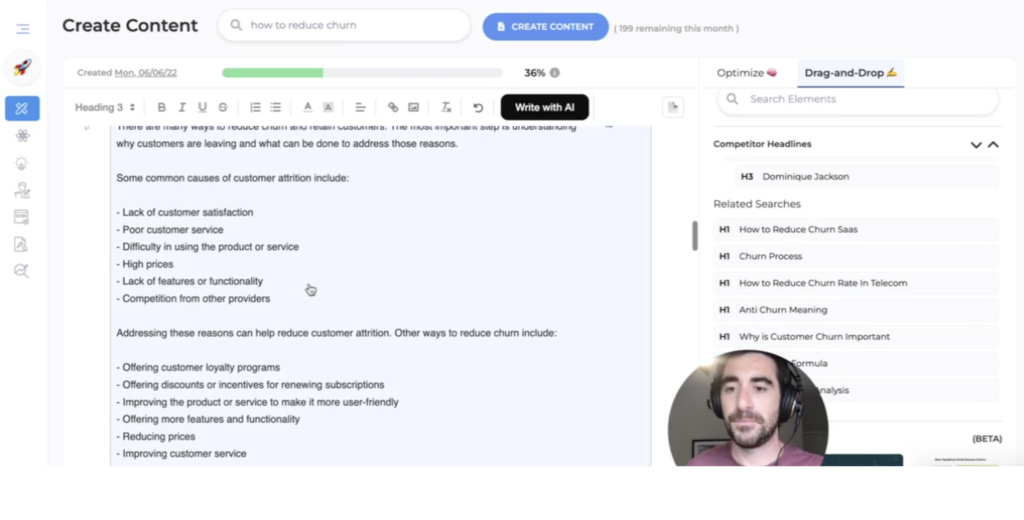 So-called asynchronous video is changing the way companies do business. Loom has raised over $200M and is the leader in the space. Simply download the Chrome Extension, click a button, and begin recording yourself. Share with teammates to accomplish tasks fast and keep everyone on the same page.
For: Team management, sales, marketing, design, product management, support…all through video!
Price: Free; Business subscription starts at $8
Conclusion: It's Time to Use These Must-Have Digital Marketing Agency Tools!
Sixty-eight percent of marketers are looking to increase the number of marketing solutions they use. As digital marketers, we know that anything that can make your lives easier—and clients happier—is necessary!
Depending on what your needs are, as a freelance marketer or a digital marketing agency, any of these top tools and softwares will be a great edition to your services, and give your work a competitive edge your clients will appreciate!