Latest posts by Mark Spera
(see all)
When I was leading marketing for PlushCare, a telemedicine provider that was acquired for $450M, we did some crazy things in the name of search engine optimization (SEO).
In doing some of those things, we ended up with serious technical debt. For instance, we experimented with programmatically publishing 10s of thousands of SEO pages. That experiment failed and we were left with pages that were not only unhelpful for our SEO, but were actually hurtful for our SEO!
You can see the screenshot from Semrush below. Our organic traffic was very volatile as a result of some of those experiments.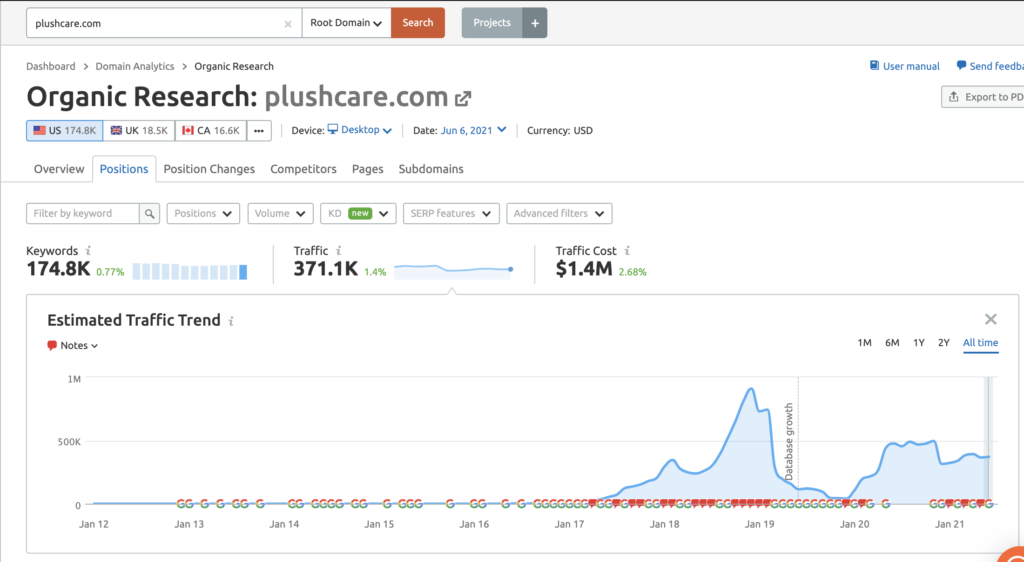 However, we were always able to recover and grow after traffic declines because we were really diligent about auditing the stuff that was causing the decline. An SEO audit tool will uncover website deficiencies that are holding your site back in terms of organic rankings, and help you create quality content for SEO that can get your articles ranking on Google.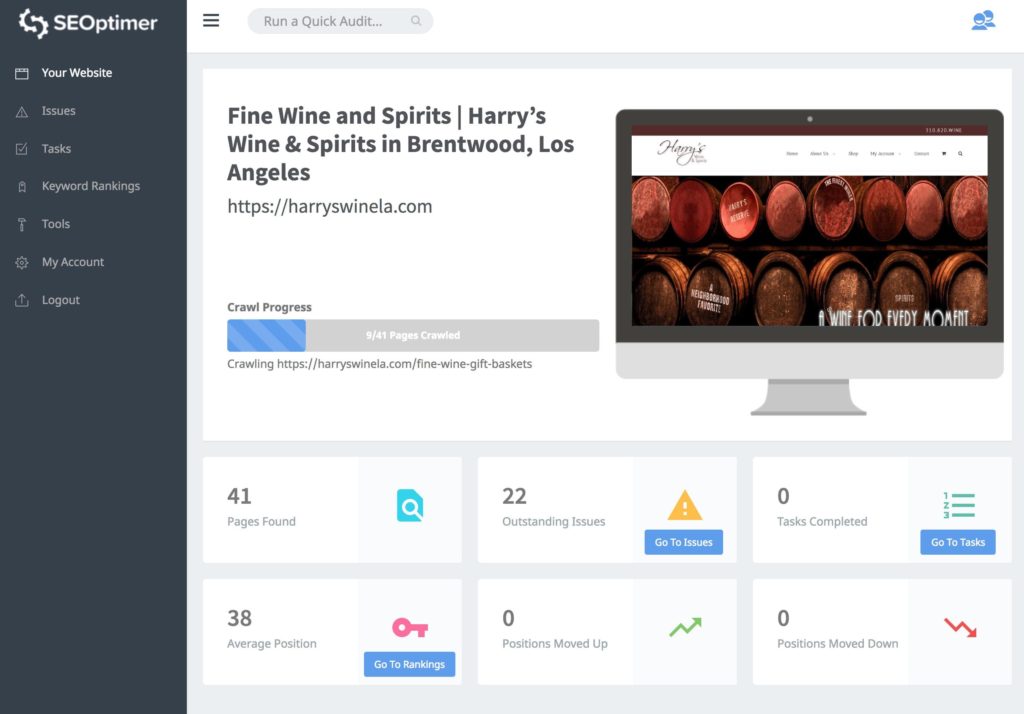 What is an SEO Audit? How often should they be done?
SEO audit is sort of a misnomer.
An SEO audit is actually a few different audits.
You can audit your website's:
So when I audit a customer's site (or mine), I tend to take a pretty fine-toothed comb to all of these. Doing periodic audits on websites draws a direct line to organic traffic, securing rankings, and increasing revenue.
Because no website exists in a vacuum—updates and content additions typically happen on a regular basis—many professionals recommend auditing at least once per year.
If you're seeing a drop in rankings, I recommend running a bunch of audits right now (stay calm)!
Some SEO agencies offer SEO audits, but you can do them yourself. And very affordably. There are a few must have tools and a couple of them are free!
What are the best SEO Audit tools?
SEO audit tools are suites of tools that identify technical, UX, and content issues on your site. The best tools tell you where you're at and offer actionable strategies for improving. Keep reading to see the best ones.
Also read:
– SEO Analytics: How to Do it Right Step-by-Step
– What is the Value of SEO?
– How to Write Great Long-Form Content for Google

Features: Good news: Google LightHouse Audit is free. If you've never used it before, stop what you're doing and try it now. This free, open-source software is available to everyone. Google LightHouse Audit is a Google-created tool for auditing your site for performance, accessibility, SEO, and best practices. Combined, all those things cover a lot of what the Google Algorithm cares about. Plus, it was created by Google. "Straight from the horse's mouth" as they say.
There are four ways to use Lighthouse:
1) in Chrome DevTools, for pages requiring authorization
2) automated, from the command line, via shell scripts
3) as an integrated Node module
4) from a web UI without installing anything
The easiest way to access Google LightHouse is in Chrome DevTools Tools. Simply open a webpage in a Chrome browser. Right click on the page and click "inspect." This will open DevTools. Then select "Lighthouse" and "Generate report."

Give it a few minutes and voila!
Google will surface a whole bunch of key metrics in an easy-to-understand interface.
It even prints a step-by-step roadmap for fixing your site

I like it because it's fast and free.
For: As a free, open-source software, this tool can be used by just about anyone!
Price: Free, no matter which method you use.
2. Screaming Frog: best for technical audits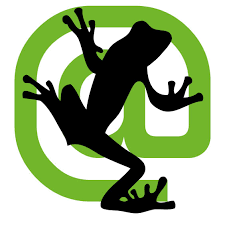 Features: Screaming Frog is one of the best known technical audit tools out there. Known industry-wide for developing their groundbreaking SEO spider tool, Screaming Frog also has a complete lineup of SEO management software, including link building, Pay Per Click (PPC), content and social media marketing, analytics and Conversion Rate Optimization (CRO).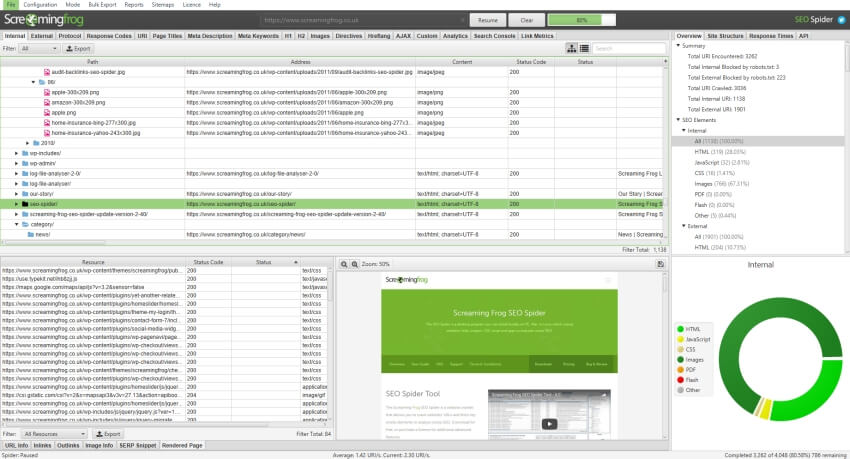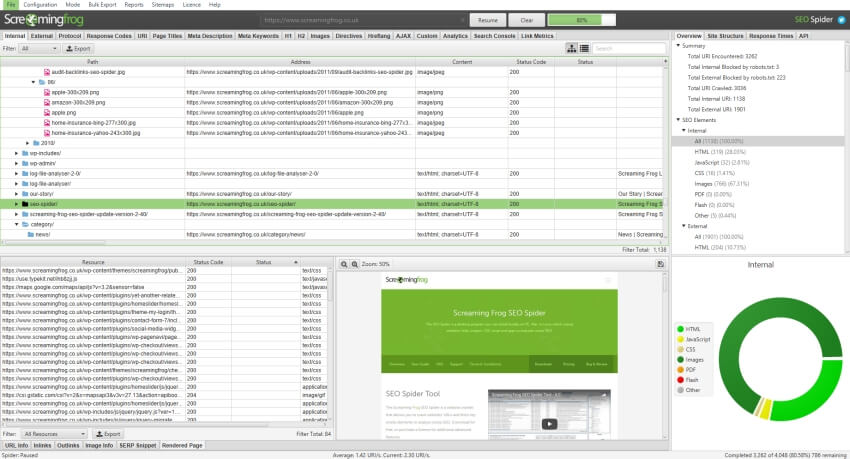 Screaming Frog's core audit tool crawls websites, much like a spider. It takes snapshots of each page as it crawls, and then uses those snapshots to create a visual representation of a website. This representation includes a list of all broken links, in order of how many times they were found. It is also capable of generating a sitemap, finding duplicate content, and scanning for malware.
The Spider SEO Crawler allows you to audit up to 500 URLs for free, but upgrading to a premium plan removes that limit as well as opens access to extra features. Sift through page titles and metadata, zero in on duplicate content, extract site data, even generate XML site maps with ease. Integrate your favorite tools like Google Analytics and PageSpeed Insights with API integration, and get in-deep with bot programming directives.
Screaming Frog also has a Log File Analyzer.
The Log File Analyzer provides intuitive insight into SEO efficacy with log file upload, bot verification and data analysis and crawled URL reporting – both identification and frequency. Screaming Frog enables you to discover errors and broken links that are holding back your SERP performance, locate temporary and permanent redirects, and highlight load times to isolate large and slow pages.
For: Small-medium size businesses
Price: Many features are available for analysis of up to 500 URLs free, but many more advanced features are available, for unlimited URLs, starting at $149.00 per year.
3. Semrush: best for agencies

Features: Well-known and well-loved, Semrush is one of the most popular all-encompassing SEO suites available today. Offering many common desirable features like keyword research, competitor analysis, rank tracking, PPC research, content marketing, link building and social media management, they also provide audit-specific features like a Log File Analyzer to examine Google crawler interactions, an on-page SEO audit to pinpoint coding and loading issues, verify crawlability and correct broken links, redirects and nofollow errors. These features are also internationally applicable, making multilingual site audits a breeze.

Semrush's audit feature amounts to a technical audit similar to Screaming Frog's.
Tracking your optimization process has never been easier with Semrush automated reports – schedule recurring scans, and watch your number of found issues disappear with each report sent straight to your inbox.
In fact, Semrush is so sure they'll satisfy your SEO needs, the CEO has offered to eat his hat if you find another service offering the same list of uniquely helpful features! Yes, it's a bit corny.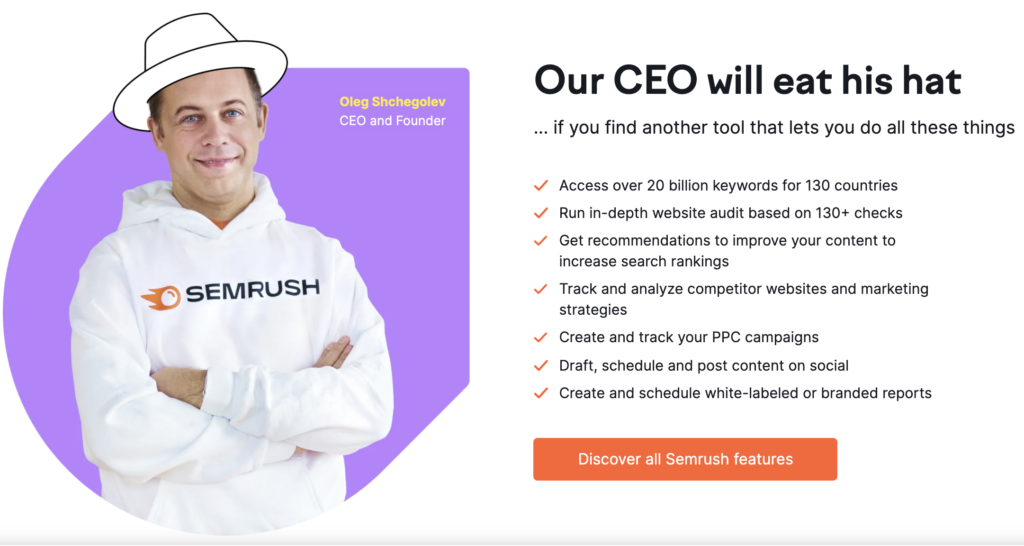 Semrush's audit covers a lot of territory. It's almost as comprehensive at Screaming Frog, but in my opinion it falls short in technical detail. Where it excels though is in customizability, prioritization, and automation.
Here's what I mean: say you're an agency keeping track of multiple clients' websites, all with important pages, varying technical issues, and reporting cadences. Semrush can handle that.
For: Established, enterprise businesses.
Price: Starts at $99/mo when billed annually.
Also Read: The Best Semrush Alternatives or Best SEO Tools for Agencies
4. Sitechecker: best for actionable checklists

Features: Aptly named, Sitechecker.pro is a Swiss army knife of audit tools. It enables users to perform standard backlink audits and track keywords by geo (rank tracking). But where Sitechecker gets much more sophisticated is when you hook it up to Google Search Console and Google Analytics. While you don't have to use these integrations, I highly recommend you do. Doing so enables Sitechecker to monitor your site for errors 24/7, perform page-specific audits and create checklists.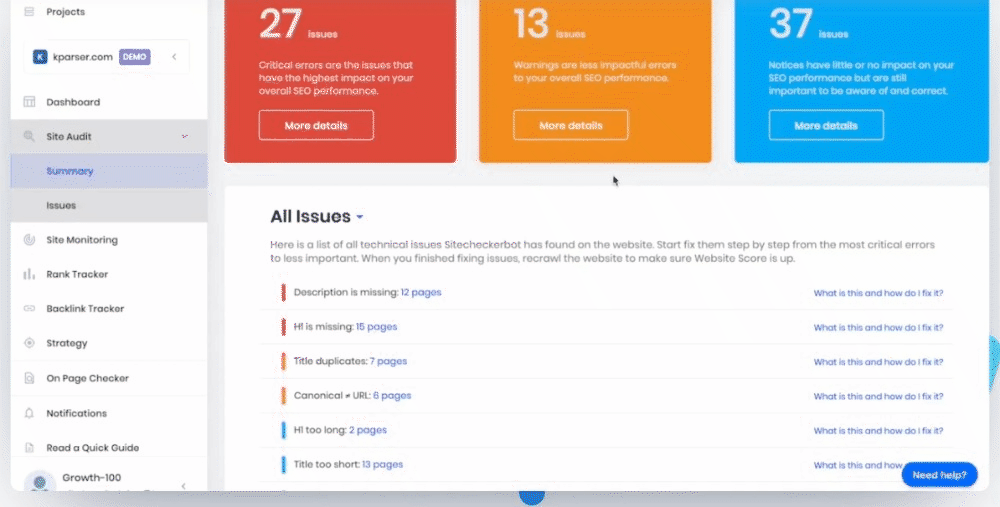 The checklist functionality is super convenient if you're working in a team setting or you want to integrate elements of checklists into the engineering roadmap.
The 24/7 Monitoring is essential (and free with all plans) if you're an entrepreneur or a search marketer that wants to stay on top of site health. Plus, the Site Monitoring can help you identify patterns via a website change log.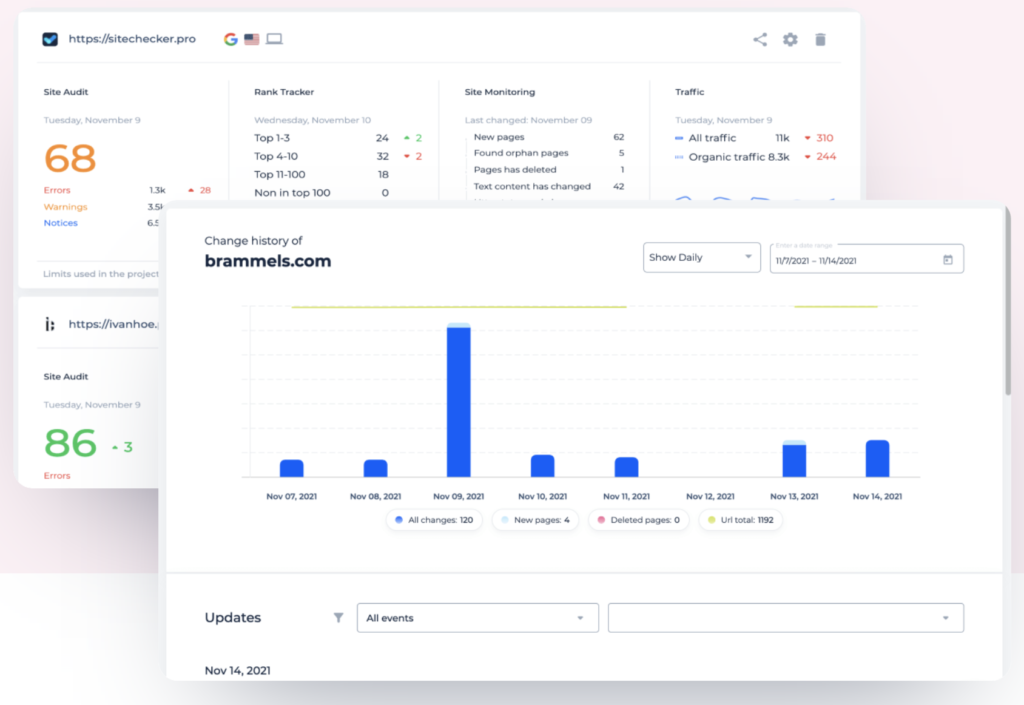 Finally, Sitechecker's Chrome Extension enables you to audit pages on the fly — so you can get suggestions as you naturally browse webpages.
For: Small-medium size businesses
Price: Starts at $41/mo when billed annually.
5. Surfer SEO: best for content audits

Features: Another full-feature SEO suite, Surfer SEO doesn't just offer site auditing – they also specialize in content generation, content scores and much more.
Their auditing tool is nothing to scoff at either – analyzing and providing you with insights for editing and optimizing previous content and content length, keyword density, domain referrals, NLP sentiments, page speed, meta tag structure and more. Their insightful tool will even tell you what terms your site is missing that would drive more traffic. And not only does Surfer SEO offer all these wonderful tools, but the vast majority are able to be fully automated, ensuring you can focus your attention on the things bots can't do (yet).
Surfer also has a new tool called Grow Flow that uses your Google Search Console data to identify biggest gaps in your content strategy.
For: Anyone ready to take their site accessibility and content to the next level
Price: Start with a 7-day trial for just $1, then basic plans start at $59/mo, including unlimited keyword research.
Also Read: The Best Content Generation Tools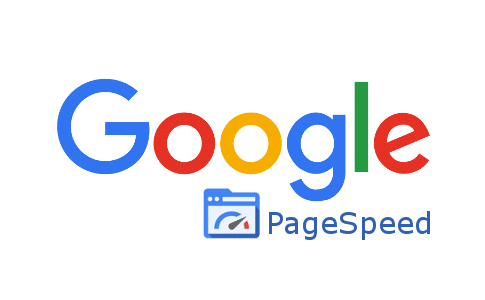 Features: Used in combination with Lighthouse, Page Speed Insights (PSI) scrutinizes Chrome User Experience Report (CrUX) data collected from page loads on both desktop and mobile devices within the last 28 days. This is used to determine your site's speed index, first input delay (FID), first and largest contentful paints (FCP, LCP), cumulative layout shift (CLS) and total blocking time, and your site is assigned a rating between 0-100. A score of 90+ indicates your site is functioning quickly and properly, with minimal issues. 50-90 highlights errors and calls for an audit, and a score below 50 – yeesh!
PSI then further stratifies your score into individual scores for FCP, FID, LCP and CLS, giving you a better idea of what percentage of each type of content loads at which speed.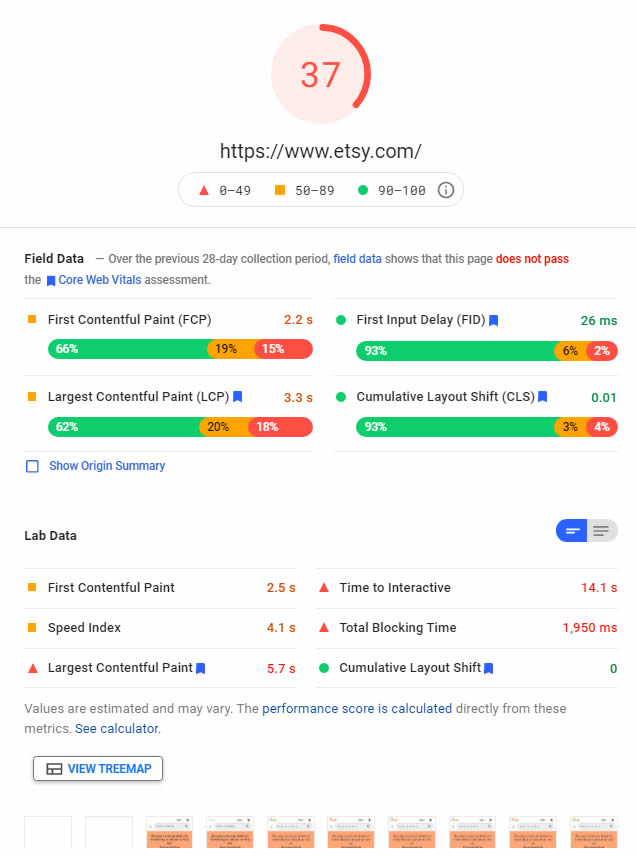 There are two predominant data sets that Lighthouse/PSI use to determine your site's score; lab data and field data. Lab data is extracted from a controlled environment, using predetermined network and device settings.
To solve page speed issues, look into
For: Anyone who wants to optimize their loading times
Price: Free.
7. Ahrefs: best interface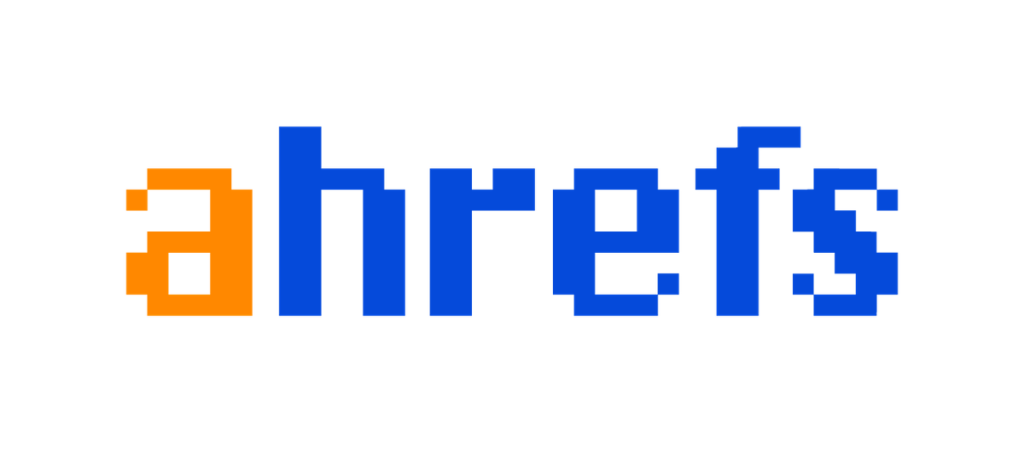 Features: Another all-in-one SEO super suite, Ahrefs is an industry leader with an edge – they operate only in the cloud. This means that whatever your home, office or home-office setup, you'll never have to worry about hardware or software limitations, simply click "start crawl" and Ahrefs will do all the heavy lifting.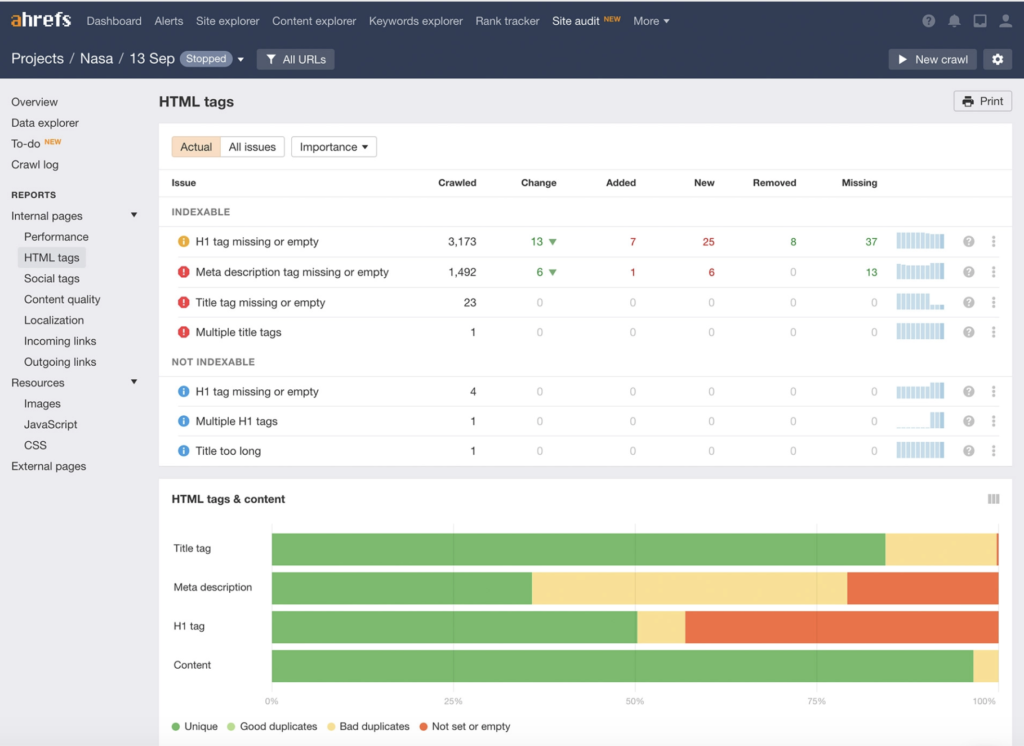 Like Semrush and Screaming Frog, Ahrefs surfaces technical issues like missing titles, faulty meta descriptions, missing tags, thin content, and broken links.
They also rank as fastest online crawler (second only to Google.) After a lightning-speed analysis, Ahrefs displays your crawl results in easy-to-read graphs and charts, and each crawl can be stored and referenced again in the future. They are also working on a feature that would allow for easy side-by-side comparisons of previous crawls, to chart your progress and make cohesive action plans.
For: Mid-size and large businesses looking to bring their SEO game to the next level. Ahrefs includes a complete arsenal of SEO tools, including rank tracking, keyword exploration and more.
Price: Plans start at $99/mo, with two months free if you choose annual billing.
Also Read: The Best Ahrefs Alternatives

Features: Claiming to be able to crawl any website just like Google does, OnCrawl offers a full suite of SEO management tools; from backlink and index analysis to orphan and error page flags, mobile platform optimization and more.
OnCrawl also offers analysis of third-party datasets, which can give you a more triangulated view of what success looks like for your domain. Open the SEO toolbox to find valuable programs like Entity and Header Detectors, Payload and SEO Log Analyzers, and a useful Chrome extension.
Soon, they will also have an Entity Explorer, where you can do a deep dive, seeing how different entities relate to concepts and categories.
The reason OnCrawl made this list however is the usefulness of its API. If you're white labeling reports or doing really complex things with large data sets, this is really handy. As such, its definitely recommended for enterprise customers that want to marry audit data with their own internal business data (clicks, revenue, gross margin, etc.).
For: Enterprises and developers looking for an in-depth, hands on approach to cleaning up and optimizing their site.
Price: Try free for 14 days, then select a plan starting at 49 EUR/mo which includes up to 100K URLS and unlimited subdomains for one project domain.
9. GrowthBar: best for blog post audits

Features: GrowthBar is a suite of tools made for content SEOs. That means if you're a blogger or part of a marketing team executing an SEO strategy, GrowthBar may be the tool for you.
GrowthBar has a number of features, but it really excels in content auditing. Simply enter a query and input your blog post. GrowthBar will surface all elements of the blog post that might be holding it back, including word count, headline count, image count, external links, internal links, readability, NLP keywords and more.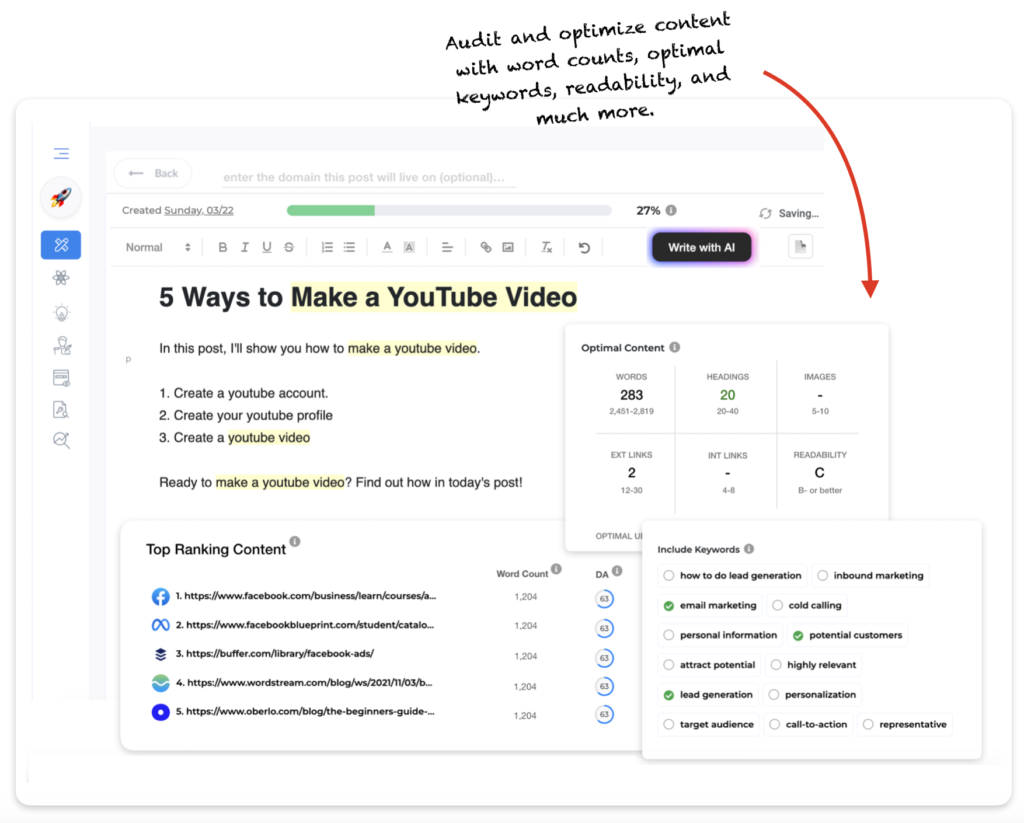 GrowthBar operates using correlational SEO, which means that GrowthBar scrapes the top posts in the Google search engine results page and determines which elements are the most important for ranking. GrowthBar's intelligent algorithms weight different factors in the SERP and deliver a delightful dashboard and roadmap for improving your blog post.
For: Bloggers, agencies, and content teams
Price: Try all the features free for 5 days, then plans start at $29/mo and include premium bonus features like keyword research, backlink research, and other AI content generation functions.

Features: Don't let the name fool you, RankTracker will do more for you than SERP monitoring. Their web audit tool is an attractive feature, scanning the entirety of your site in seconds, analyzing its performance on over 100 data points, and offers helpful insights for how to improve performance and visibility.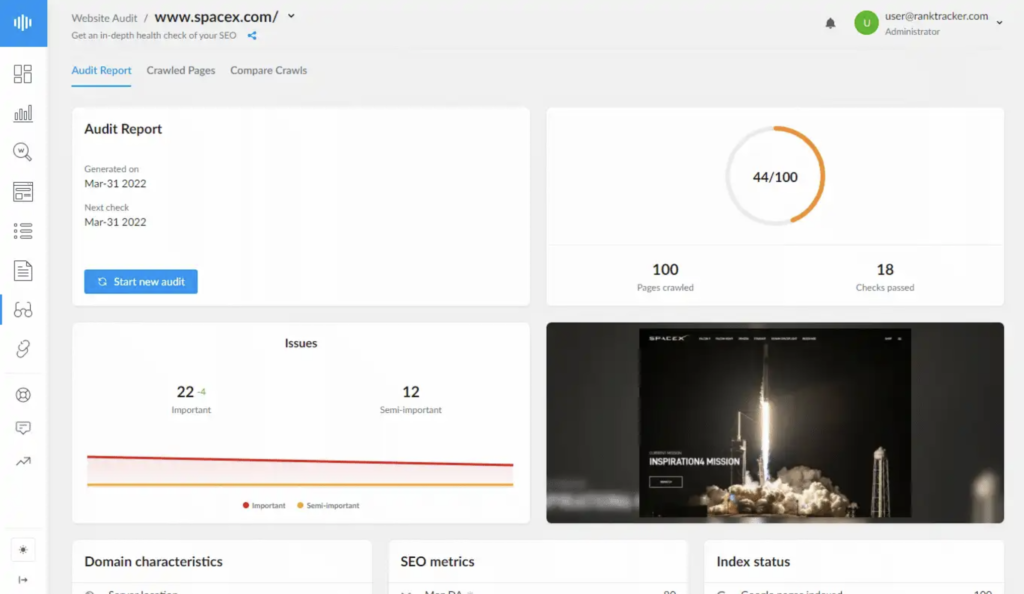 You can download these results in XML format to compare with previous scans or share them with teammates and clients. RankTracker also prides themselves on keeping close tabs on Google algorithm changes, making sure that you're ranking today, not yesterday.
For: Anyone looking to up their SEO game.
Price: RankTracker offers a dynamic pricing model, based on how many keywords, domains and competitors you want to track. Plans start at just $6/mo for 50 keywords, 1 domain and 3 competitors!
Also Read: The Best Rank Tracker Tools
11. RavenTools

Features: Like several other options on the list, RavenTools is a full-service SEO toolkit, offering everything from rank tracking to keyword research, even a Link Spy that tracks your competition and steals their best SEO secrets. Their auditing tool works on all platforms and is comprehensive and clean, collecting all errors and pre-loading them in six categories to help you prioritize your solutions: visibility, meta, content, link, image and symantec issues. Set up automatic and recurring audits, peruse the professional recommendations, synthesize a checklist to make sure you don't forget to implement each solution and even compare previous audits to chart your progress over time.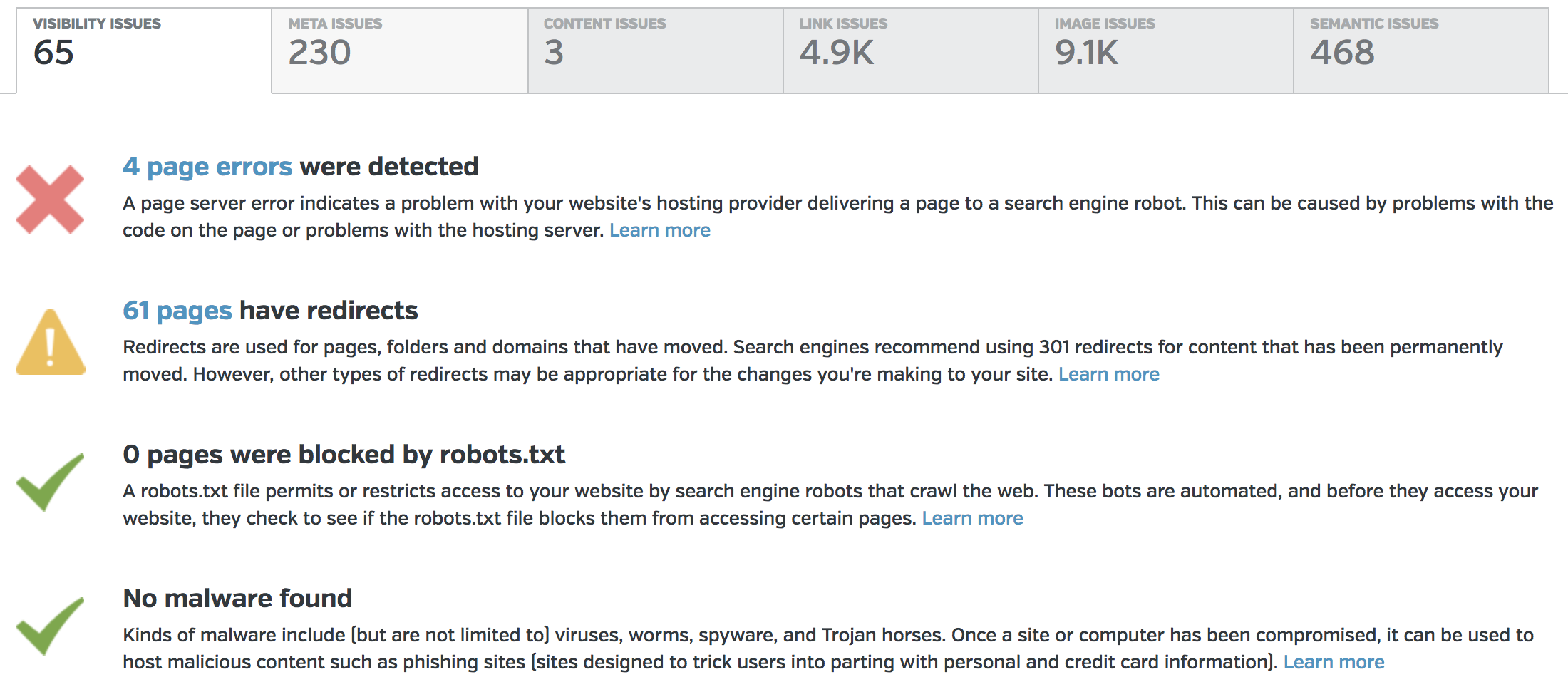 For: Anyone looking to improve their SEO and SERP results, whether a new startup or a well-established enterprise.
Price: RavenTools offers an unparalleled free plan that always remains free and includes one site, 25 keywords, 100 queries/day and 100 crawls/mo. Upgrade any time and recieve up to 320 domains and 30,000 position checks.

Features: SEOmator is a free online tool you can use to asses your site's SEO performance with metrics like Google PageSpeed, content quality, HTML tags and more. As a free tool, the features are fairly basic, but they also offer a paid option (with 7-day free trial) that includes the ability to monitor and track competitors' sites, bulk processing with full data CSV export and API access.
They also offer an embeddable widget that offers on-site SEO audits and White Label, giving you access to your users' websites or sites they are interested in. This provides insight into effective lead generation, driving traffic and improving conversion rates.
For: Small-scale or startup businesses, who want basic privileges in SEO auditing and don't mind a more hands-on approach.
Price: Free for the basic package, with option for additional features starting at $5 for a one-time use, or $19/mo with free 7 day trial.
Conclusion
SEO audit tools are an absolute game changer when it comes to improving your SEO. Technical issues surface on almost every website at some point in their life.
If you have too many pages, broken links, missing meta descriptions or titles, your site is too slow, or you have any number of other issues, a proper SEO audit tool will help you identify them and provide recommendations for solving.
Personally, I like Screaming Frog for technical SEO and Surfer or GrowthBar for content SEO. I run a Screaming Frog audit for most of my clients and take it to the bank, it finds one or two (or more) issues every time. I use Surfer and/or GrowthBar every day for AI content creation and page auditing.
However, any of the reputable audit tools above like Semrush or Ahrefs will do a great job as well (often at a higher price point).
And finally, don't forget Google's free tools, Page Speed Insights and LightHouse Audit!