Latest posts by Mark Spera
(see all)
Peter Drucker said, "you can't improve what you can't measure."
Nowhere is this truer than in search engine optimization (SEO).
If you're spending time and money executing against an SEO strategy and you're not measuring performance for you or your clients, you're missing a lot of opportunities.
For instance: say you rank on page 1 for a keyword, but you find that you're not getting traffic to your site from that page. Using one or more SEO analytics strategies may help you identify the root cause. Perhaps your click-through rate from the Google Search Engine Results Page (SERP) is bad. In that case, you might identify through rank tracking that you're on page 1 but in the 9th or 10th position. Clearly, the largest opportunity for this hypothetical query is to improve content and climb the SERP.
But say you're on page 1 and you're still not getting traffic…
By identifying the low click-through rate from the SERP you might be able to improve performance by changing your title and meta description to be more click-worthy for Google searchers.
This is just one example.
But there are countless opportunities you're likely to identify with the right SEO analytics approach. And there are plenty of tools to support your analytics strategy — many are free. Plus, a bunch of them are automated, meaning they'll run in the background so you can make SEO progress while you sleep!
What is SEO Analytics?
As it sounds, SEO analytics is the process of using your Google SERP, onsite, and offsite data to create a clearer view of your SEO efforts. Great SEO analytics will help you surface and take advantage of opportunities in a number of ways.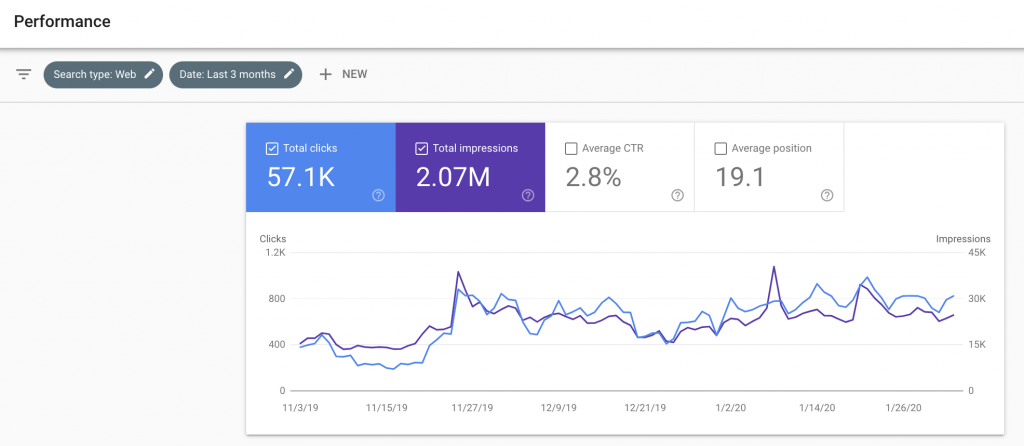 Below are the major categories of SEO analytics. Figuring out which are relevant to your business use case takes some time, but I'll do my best to explain.
SERP analysis: I love marrying my site data and SERP data to paint a really comprehensive picture of my websites' SEO funnel. SERP analysis refers to anything having to do with the Google search engine results page — where your pages rank and for what keywords, what your click-through rate from the SERP is like, etc. SERP analytics includes anything from impression volume and click data to conversion data on your website.
Technical SEO: Technical SEO audits are one type of SEO analytics. There are a multitude of tools that enable you score your site for metrics like load time, first contentful paint, image optimization, accessibility, and more. The good news: the best tool for this is 100% free.
Off-page SEO: Backlinks are a huge part of any cohesive SEO strategy. You can monitor your off-page metrics like total backlinks, quality of backlinks, anchor text and much more. Keeping a longitudinal record of your off-page metrics will enable you to plan your linking strategy and capture more authoritative links.
Site content: Content refers to the words, images, and videos on your site. There are data-driven ways to optimize your content in terms of keyword usage and density, word count, headline count, images, and so much more. Deep analytics for site content (also called on-page) will uncover opportunities on specific pages on your site.
What are the Best Tools for SEO Analytics?
When it comes to analytics there are a number of tools that will help you analyze data and improve your performance. The good news is some are free! And if you have a small site, the free tools will totally suffice. If you have a larger, more complex site, or lofty SEO goals, you may want to invest in some of the paid tools on this list.
Also read:
– The 7+ Best AI Content Generator Tools
– How to Write an Article that Ranks in Google
– How to Write a Listicle in 7 Simple Steps

1. Google Search Console
Google Search Console is pretty much the favorite tool of every SEO on the planet. With a simple pixel drop on your site, Search Console will enable you to see how your site appears in the Google SERP, as well as address a bunch of important metrics. Metrics like:
Available impressions for a given keyword
Clicks to your site from a given keyword
Click-through rate from the Google SERP
Ranking position in the SERP for a given keyword
Pages not indexed by Google
And much more
Google Search Console is incredibly useful. You know the data is accurate because it's straight from the horse's mouth (Google itself). Even more, the interface is easy to understand and there's a ton of useful documentation.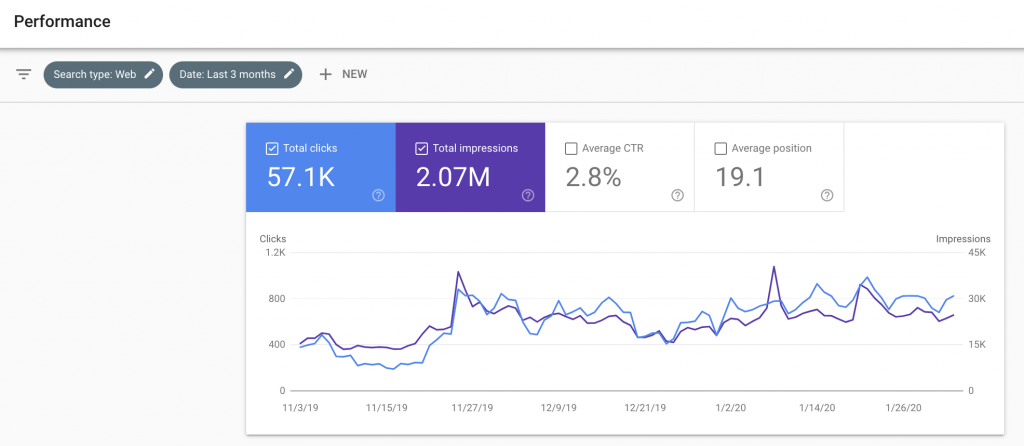 In addition to providing data, Search Console enables you to take action on your site in a number of ways. For instance, you can submit a sitemap via search console and disavow spammy links. If there's one tool I recommend on this list, it's Search Console.
Search Console is useful on its own, but I like to use it as an input to analyses I run. I'll explain more later on the article.
Price: Free
2. Google Analytics
Google Analytics picks up where Search Console leaves off. Plus it's just as easy to implement. Navigate to google.com/analytics to claim an account and site pixel.
Once set up, the first thing I recommend you do with Google Analytics is create goals (conversion events). Goals in Google Analytics will enable you to identify which pages are actually converting and which aren't. If you find a type of page that is converting traffic into customers, you know you've got a winning keyword set. In that case, I highly recommend creating more, similar content — or at least content that is adjacent to the type that is converting. For instance, on this site, we convert 5% of visitors who hit our Best Content Generators blog post from organic search. Upon seeing that, I knew that scaling this category of content could be huge. As such, we've since created 15+ blog posts about AI blog content, AI writing tools, and reviews of software tools that make products similar to ours. We now get over 200 GrowthBar signups per month just from organic search. And our site is only a year old!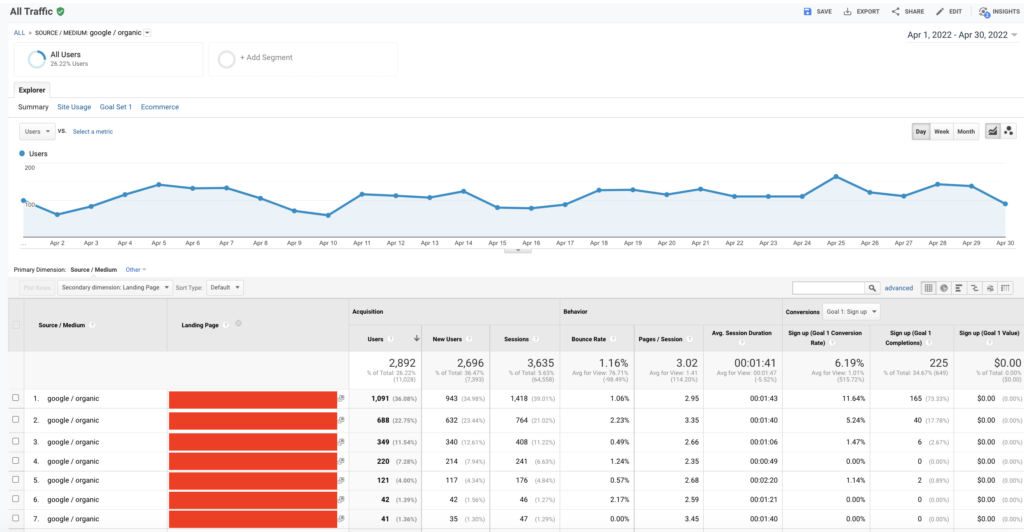 Google Analytics will also enable you to see metrics like:
Conversion rate by page: As I detailed above, conversion rate by page will enable you to understand the types of pages and content that convert Googlers into customers. Double down on those content types!
Bounce rate by page: How many people hit your site and immediately bounce off. Understanding which of your pages have a high bounce rate will enable you to make improvements to keep users on page. If I see a high bounce rate, I usually try and solve it in one of a few ways: 1) Improve
Time on page: Also called dwell time, time on page will enable you to see how engaged users are who hit your webpages. Like bounce rate, time on page can help identify pages that need some work keeping users on page. It's important to note that some queries naturally have a low time on page. Particularly when Googlers are looking for a quick answer to a question like: how long does it take to get from San Francisco to San Diego in a car, expect a low time on page. Those queries often lead to users that hit your page, find the answer, and bounce off.
Referring domains: If you're keen on off-page SEO (backlinks), Google Analytics surfaces referring domains and the corresponding traffic they drive. The best referring domains (especially ones that convert to customers) are a good signal to double down on similar websites for backlinks. Conversions indicate that they are likely very relevant links — the kind Google loves to see for any off-page strategy.
Price: Free
3. Google Lighthouse
Google LightHouse Audit is free. If you've never used it before, stop what you're doing and try it now. This free, open-source software is available to everyone. Google LightHouse Audit is a Google-created tool for auditing your site for performance, accessibility, SEO, and best practices. Combined, all those things cover a lot of what the Google Algorithm cares about. Plus, it was created by Google. "Straight from the horse's mouth" as they say. I run a Google Lighthouse audit monthly.
There are four ways to use Lighthouse:
1) in Chrome DevTools, for pages requiring authorization
2) automated, from the command line, via shell scripts
3) as an integrated Node module
4) from a web UI without installing anything
The easiest way to access Google LightHouse is in Chrome DevTools Tools. Simply open a webpage in a Chrome browser. Right click on the page and click "inspect." This will open DevTools. Then select "Lighthouse" and "Generate report."

Give it a few minutes and voila!
Google will surface a whole bunch of key metrics in an easy-to-understand interface.
It even prints a step-by-step roadmap for fixing your site

Price: Free
4. AgencyAnalytics
AgencyAnalytics is a program and service that allows companies to measure and manage the effect of marketing on their business. With AgencyAnalytics program, you can track the ROI of marketing campaigns by measuring the impact of marketing expenditures, the effectiveness of marketing programs, and the performance of marketing channels. The program also allows you to measure how well marketing campaigns resonate with your target market.
For SEOs, AgencyAnalytics features some awesome tools to keep track of your site and client sites' SEO performance. AgencyAnalytics pulls from its own tools like its Site Audit and Rank Tracking and pairs that data with Search Console, Google Analytics, and Google Ads data. The result is a full dashboard of metrics for you or your clients. The dashboard enables you to keep track of changes in performance and react accordingly.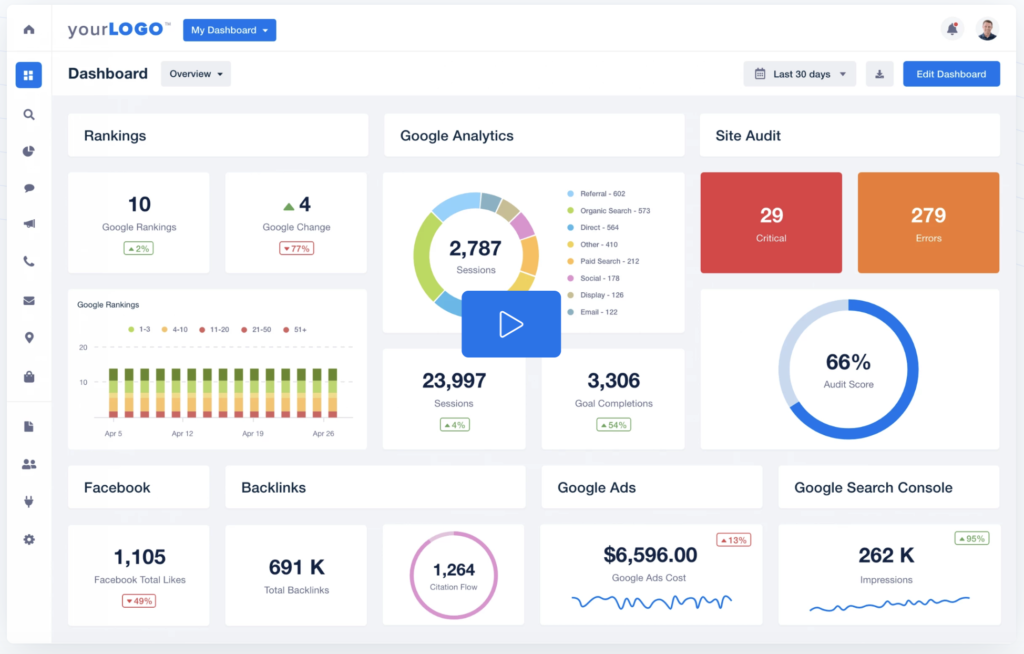 Price: $10/mo per client campaign — it gets expensive fast if you're a large agency
5. Ahrefs
Ahrefs has one of the most comprehensive SEO suites on the planet. While it comes with a hefty price tag, its backlink analytics are second to none. Off-page SEO (backlinks) is a top five ranking factor. That means if your webpage has more backlinks than a competitor's site, you've got a great chance of ranking above them. Ahrefs surfaces every metric related to backlinks you ever could need.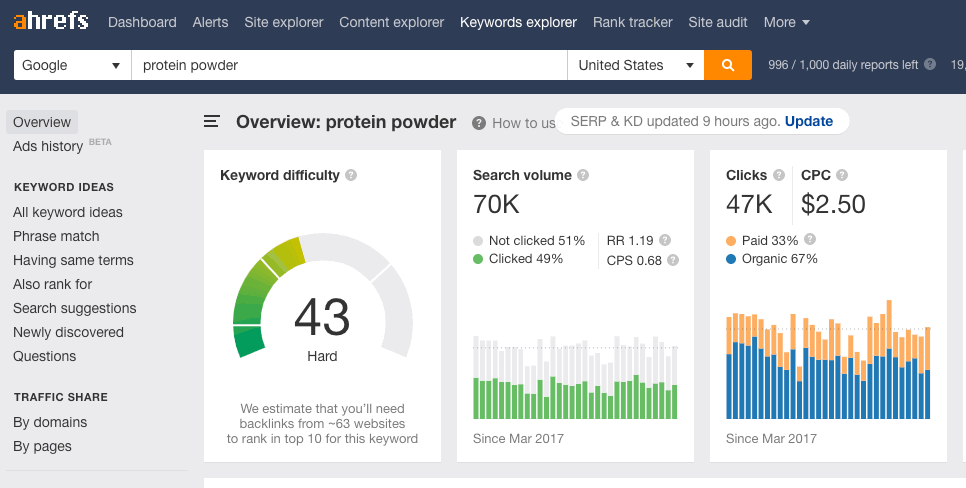 See how many links your site has
See how many links specific pages have
Growth of links
The anchor text of said links
Lost or broken links
Competitors' link profiles
Ahrefs tracks all this and it does it in an automated way. Get updates to your inbox whenever you like. The Ahrefs analytics suite enables you to diagnose issues — primarily off-page SEOs — and stack them up against your competition. For instance, say you rank below your competitors for a given query: I like to look at my backlink profile and anchor text vs top competitors in the Google SERP. Easy enough, right?
Price: Starts at $99/mo
6. GrowthBar
When it comes to on-page analytics, GrowthBar's tool suite is second to none.
GrowthBar has a number of features, but it really excels in content auditing. Simply enter a query and input your blog post. GrowthBar will surface all elements of the blog post that might be holding it back, including how long your blog post should be, headline count, image count, external links, internal links, readability, NLP keywords and more.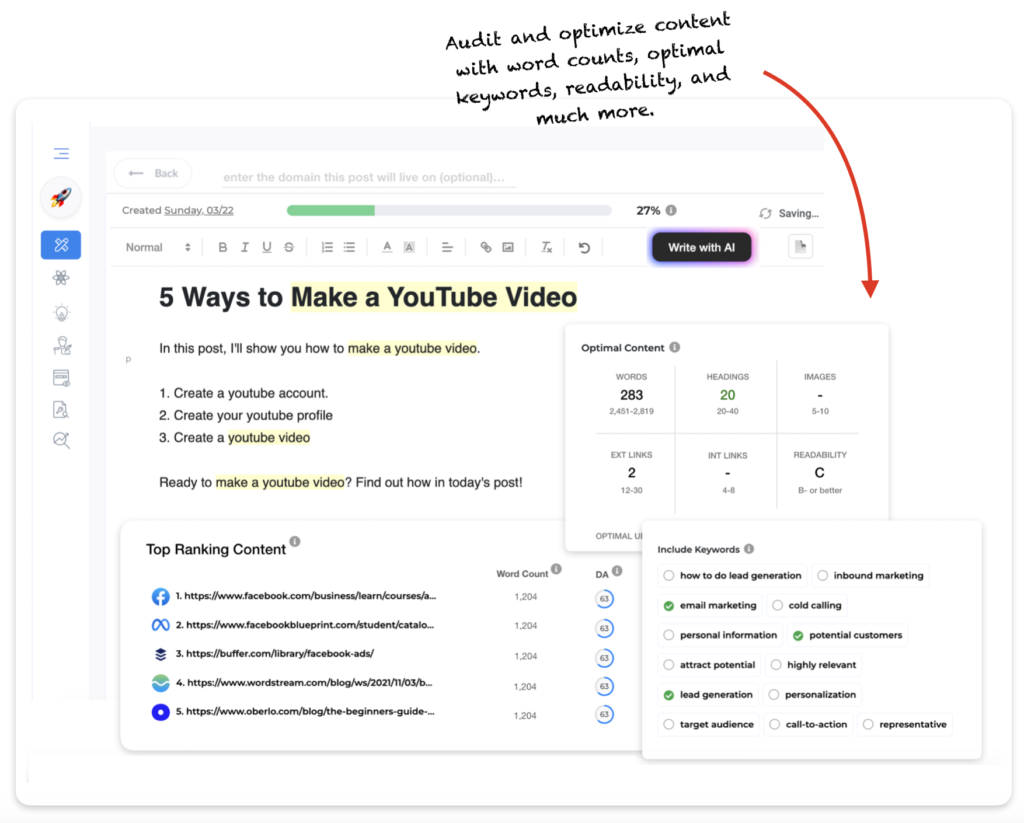 GrowthBar operates using correlational SEO, which means that GrowthBar scrapes the top posts in the Google search engine results page and determines which elements are the most important for ranking. GrowthBar's intelligent algorithms weight different factors in the SERP and deliver a delightful dashboard and roadmap for improving your blog post.
Price: Starts at $29/mo
My Favorite SEO Analyses to Run
It takes some finesse to figure out where to focus your efforts for SEO analytics. Some of this takes time and experience, but I'll outline the analytics I run on most of my sties.
1. SERP and Conversion Funnels
One of the first places I start when analyzing a site is with a funnel view. Knowing where users drop off in your funnel will enable you to plug leaks in the funnel and convert more Googlers into paying customers for your product or service.
As such, I like to marry Google Search Console and Google Analytics data. You can do this manually or with a tool like Agency Analytics. By doing this, you're able to see total impressions for a given query, the number of clicks you get for that query, then the number of conversions. This enables you to see if your funnel is working properly or not.
Take this example:
Blog post 1: 20,000 impressions, 6,000 clicks, 3 conversions.
Creating a funnel like this shows that the biggest drop-off is in on-site conversion rate. A 30% click-through-rate from the Google SERP is pretty solid. So in this case, the issue is not related to ranking or your meta information. But a .05% conversion rate on a post with 6,000 clicks is dismal. In this scenario I would look very closely at my on-page experience. Are there enough CTAs (calls-to-action) on page? Am I selling my product in a way that is appealing to users on the page or post? Identifying issues like this enables you to correct them.
2. Rank Tracking
It's pretty simple to understand. Rank tracking (https://www.growthbarseo.com/blog/what-is-rank-tracker-tool-do-i-need-one/) is one of the most important SEO analytics metrics. Understanding where you rank for keywords you care about will help you stay on top of the important pages on your site and optimize them if your ranking falls. If your ranking climbs? Congrats, you're doing the right stuff!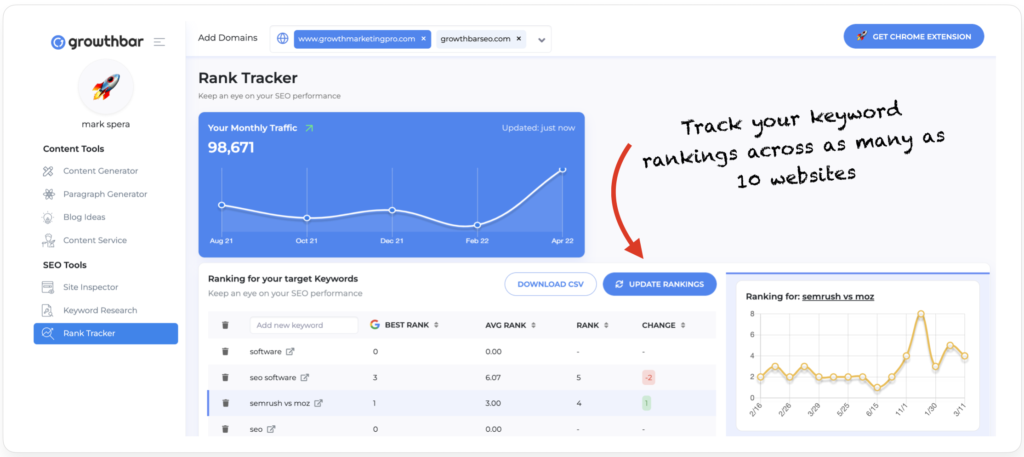 One of my favorite things to do with rank tracking analytics is identify pages thank rank between 3 and 10 in the Google SERP. It's no secret that the first and second results in the Google SERP get 40%+ of the clicks. So if you rank third in the SERP, getting to the first position will potentially increase your clicks (traffic) by 500% or more. That's huge! I try my keyword rankings using GrowthBar every week or two. By doing so, I can identify low hanging fruit. If I rank 3-10 for a particular blog post or webpage, I then throw the post into GrowthBar to identify gaps in my on-page content. It's worth putting in that extra effort given how significant the opportunity is climbing from the 3-10 position to the first.
Summary: SEO Analytics
SEO analytics can be really helpful in measuring the effectiveness of your SEO efforts. It is important to have a baseline and to measure your progress over time. After all, you can't improve what you can't measure.
Analytics allow us to see where people are coming from, what they're looking for, what pages they land on, and whether or not they're buying your product or service. This information can help us make informed choices about how to execute or pivot our SEO strategies.
There are a host of free and paid tools that will help you stay on top of this and show your clients you're doing your diligence when it comes to their website.