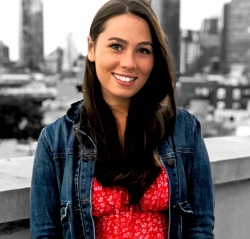 Latest posts by Madeline Hogan
(see all)
If you're a marketer or content creator, you've most likely done some research on the importance of internal and external links while trying to write quality content for SEO. Queries like "Does having external links help SEO" and "internal and external links in SEO" are common searches on Google. 
Well, external links and internal links are both important parts of SEO. External links help you to build trust and authority with your audience and also help to improve your search engine rankings.
In this post, we'll go over best practices for using external links, how to add external links to your articles, and how to get them to your website.
If you just want more information on internal links, don't worry. Head to our guide on how to do internal linking for SEO right.
External Link vs Internal Links in SEO
Internal links are hyperlinks placed on your website that lead to other pages on your site. In the case of internal links, the source domain is the same as the target domain. Common types of internal links on websites include:
Links in the navigation/menu bar to important pages on your site
Links from one blog post to another
Links to "related products" on product pages or "related posts" on blog post pages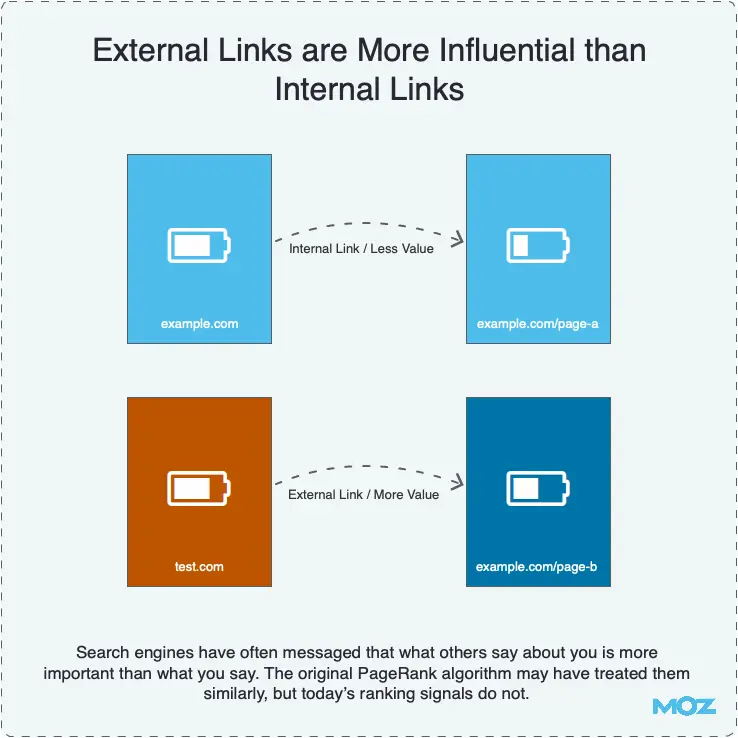 The theory behind why internal links matter is quite simple: Internal links provide a clear path for crawlers. They also help prolong a user's journey on your site by leading them to new page paths, which in turn signals to Google that the user is satisfied with the content you are providing.
Internal links:
Help with website navigation by giving users cues on where they might find more information on a given topic. Also read: What is UX/UI and Why's it Important for SEO?
Define the website architecture and hierarchy by highlighting which pages are most important via their link frequency and prominence.
Distribute ranking power through the site by, again, signaling the importance of a linked page.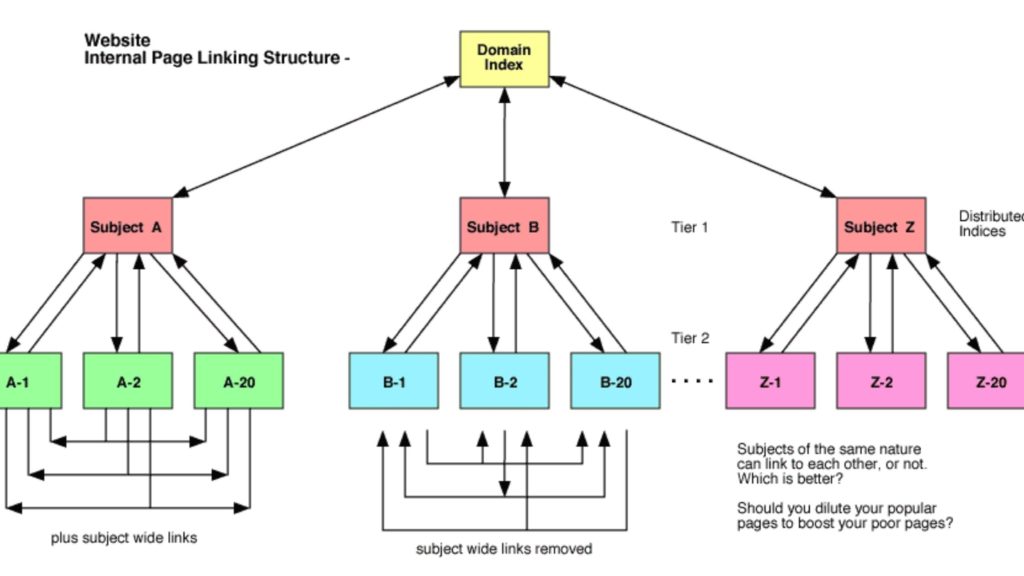 External links are, by contrast, links in which the source domain is different than the target. They are links that will take a user off of your site, or alternatively take users from other sites to yours. Think of these as like works cited from school: you want to prove you got your information from the best, most authoritative sources.
The phrase "external links" covers both backlinks (links coming to your site) and outbound links (leaving your site).
External link example:
Let's say I wanted to write a post about Surfer SEO vs MarketMuse and alternatives…I'm definitely going to include external links to Surfer, MarketMuse, and the alternatives listed. So you'll see this hyperlinked blue text right when we mention their competitor: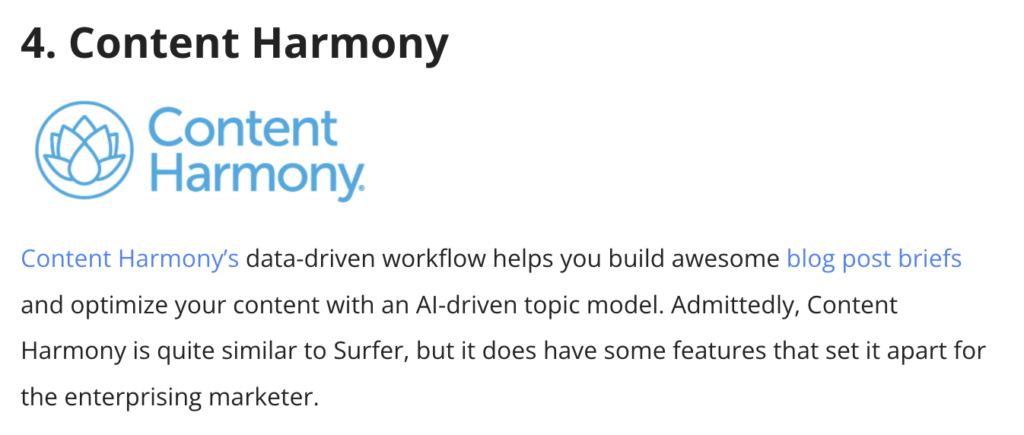 Through our backend of WordPress you can see links out to their website: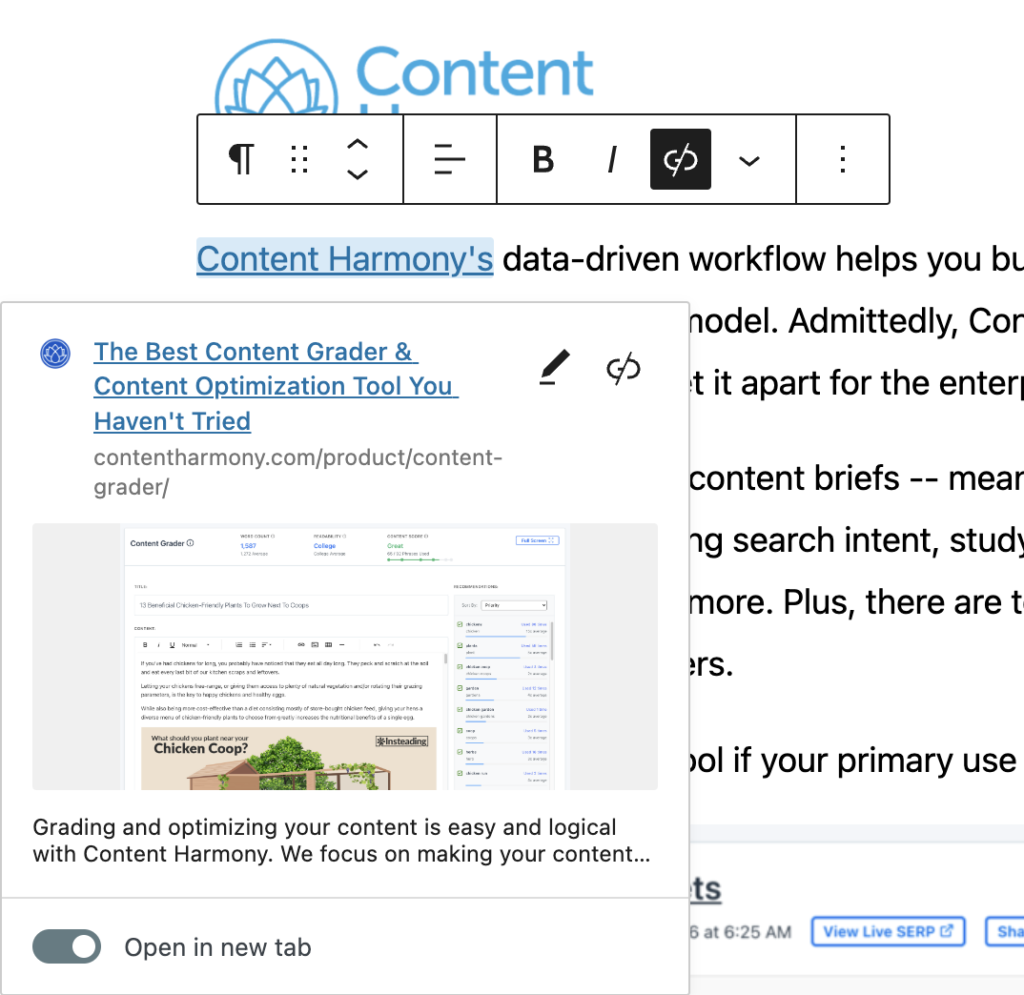 Do External Links Help SEO?
Thanks to Google's ever-updating algorithms, there's not a 100% consensus on exactly how valued external links are as a Google ranking factor. But we know that they are.
In fact, links are one of the top two criteria Google considers for page ranking and the majority of marketers believe it will continue to be so in the future.
External links improve rankings as they provide a way for websites to build up their link authority or domain authority. Domain authority (DA) is the ranking strength of an entire website or domain.

For example, New York Times has a domain authority of 95, which means:
It will most likely rank very high for post topics it writes
Backlinks from them will improve the DA of the site they're linking to
Linking back to them can show Google your post is well-researched
They can rank pretty highly for almost any topic they write about within their industry, while newer sites with lower domain authority will have a tough time ranking unless there is very little search engine competition.
The more backlinks you have, the more trustworthy your site seems, which gives Google the confidence to boost the posts or websites in the search rankings. And the higher it is there, the more likely you'll see a New York Times article the next time you do research, and the more likely you'll use their data and link back to them.
Then they'll get more external links, and the cycle continues. That's why it's so important to prioritize getting external links to your site. But, it's also important to add outbound links to your site.
Outbound external links show Google that you care about quality and that you're producing fair, well-researched content. They are important for SEO because they help to build trust and authority with your audience by showing them that you have sources for your information: you're not just sharing opinions.
Google appreciates seeing these sources because then they know your post is okay to send searchers to. Google isn't just trying to be helpful: it's a business, and its customers are searchers. The more satisfied searchers they get on their pages, the more advertising dollars they can charge, so it's beneficial to them to provide the best results.
Ultimately, the impact of external links on SEO depends on a variety of factors, including the quality and relevance of the external websites, the number of external links, and the anchor text used to link to them.
Benefits of External Linking
Though we've covered some of these in our discussion on the importance of SEO external linking, let's take a look at all the benefits of both outbound links and backlinks.
Increased web traffic
External links can lead to increased web traffic in a couple of ways, such as when:
A reader goes through a post and clicks on a link to your page to learn more.
Other websites link to your website, which sends a strong signal to search engines that your website is valuable and worth indexing. This leads to higher rankings for you, and you'll likely see an increase in web traffic as your website's ranking improves.
Improved SEO
One of the most important factors that search engines take into account when ranking websites is the number and quality of links pointing to your site. By building high-quality links from reputable websites, you can improve your website's SEO and rank higher on search engine results pages.
And when you link out to high-quality pages, Google sees this as a sign of creating good content, which they like to share.
Plus, external links provide more value to readers by providing well-researched content and additional sources for them to reference in their research. And value for readers means value for Google.
Increased brand awareness from referral traffic
When other websites link to your website, it exposes your brand to a larger and newer audience as well as sends referral traffic to your website. This can help increase brand awareness as well as drive more traffic to your site.
Networking & connection opportunities
Writing guest posts, requesting guest posts, and linking to other sites can be a great way to stay connected and make new connections within your niche. 
Also read: How to Make a Niche Site that Makes 6-Figure Revenue
External links to and from websites within your industry are important. If you have a travel agency and only get backlinks from food manufacturers, then that's not a great signal that you're a reputable travel agency that Google should trust. If you were getting links from other travel agencies, travel blogs, transportation services, and other similar websites then it demonstrates your site can probably be trusted.
It goes in the opposite direction too. If you're only linking to sites that are unrelated to your content, then it's not clear to Google what you have expertise in. Google prefers blog posts organized into content clusters.
The "topics cluster" model or "content cluster" model is when a blog or website has several main-topic pillar pages. Each pillar page then has multiple content pages relating back to each pillar, and to one another within each pillar.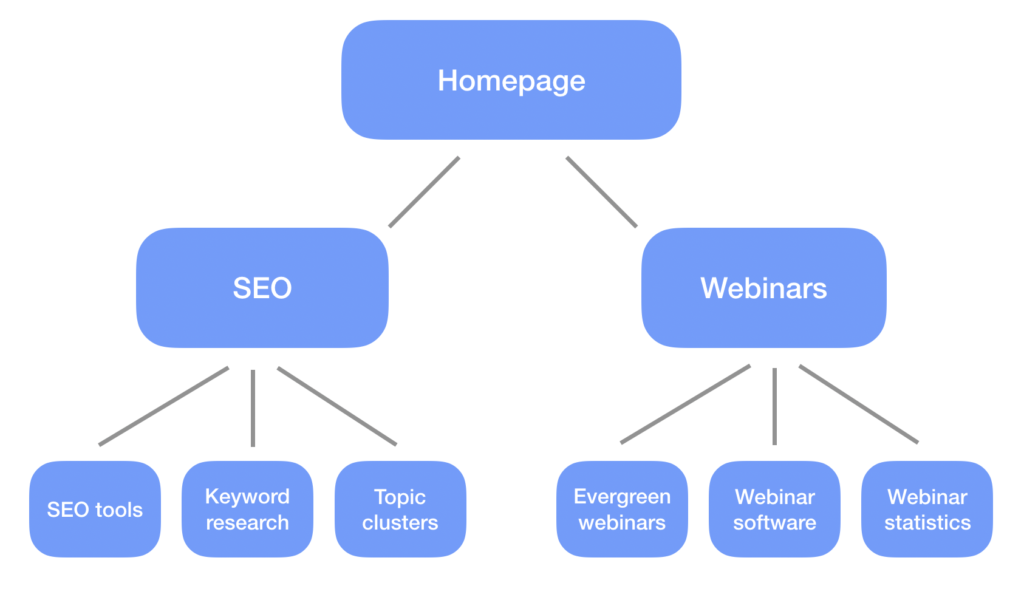 So instead of writing about a wide array of topics—and treating each article as equally important individual pieces—in the cluster model, you choose a single "pillar" page that acts as the main hub of content for an overarching topic.
By organizing your content into content clusters, you're indicating to search engines a few things:
What topics do you have expertise and authority in
What your readers should trust you to provide information about
That your blog is organized and posts are connected to each other: you aren't writing posts just because they'll rank well, but because they're relevant to your site and your readers
So if you are linking to lots of sites and posts that have nothing to do with the product or service you sell, these external links not only won't help you, but they could harm your rankings.
External Linking Best Practices
How to Add External (Outbound) Links to Your Articles
1. Use accurate anchor text. Anchor text is the text that you use to hyperlink to another website. When linking to external websites, you want to use keyword-rich anchor text that accurately describes the content of the destination page. For example, I just linked the phrase "anchor text" above to a post about what anchor text is.
You also want to be sure that the external links you're getting do the same thing. We wouldn't want someone linking to our "How to write a how-to article post" with the anchor text of just "blog" or "article" (or something even more irrelevant).
How do you add one? It can depend on the word processor or website you're using, but often you'll first highlight the anchor text you're looking to link from. Then you can usually select a link icon to add a link. For example, on WordPress it looks like this:

2. Don't include too many external links, whether that's more than one external link per sentence, or even too many links within the same paragraph. Why? One reason is UI and UX: the more link (internal or external) that are together within a few lines, the harder it is for users to click on them.
Seems simple, but it's just not a great user experience. The other reason is to avoid SEO penalties. Too many external links can look like link networks or spam, which can hurt your SEO efforts.
3. Make sure that all external links open in a new window or tab. This means that your visitors won't leave your site even if they click on one of your links. This not only reduces bounce times, but it's just a better user experience.
4. Avoid linking to low-quality websites. When it comes to external links, quality is more important than quantity. You should only include links to websites that are relevant to your content and have a decent domain authority.
You can check the domain authority of other sites by using an SEO tool. On GrowthBar, I can either view domain authority on the platform, or in my favorite way: the Chrome Extension that provides me SEO insights whenever I'm on Google.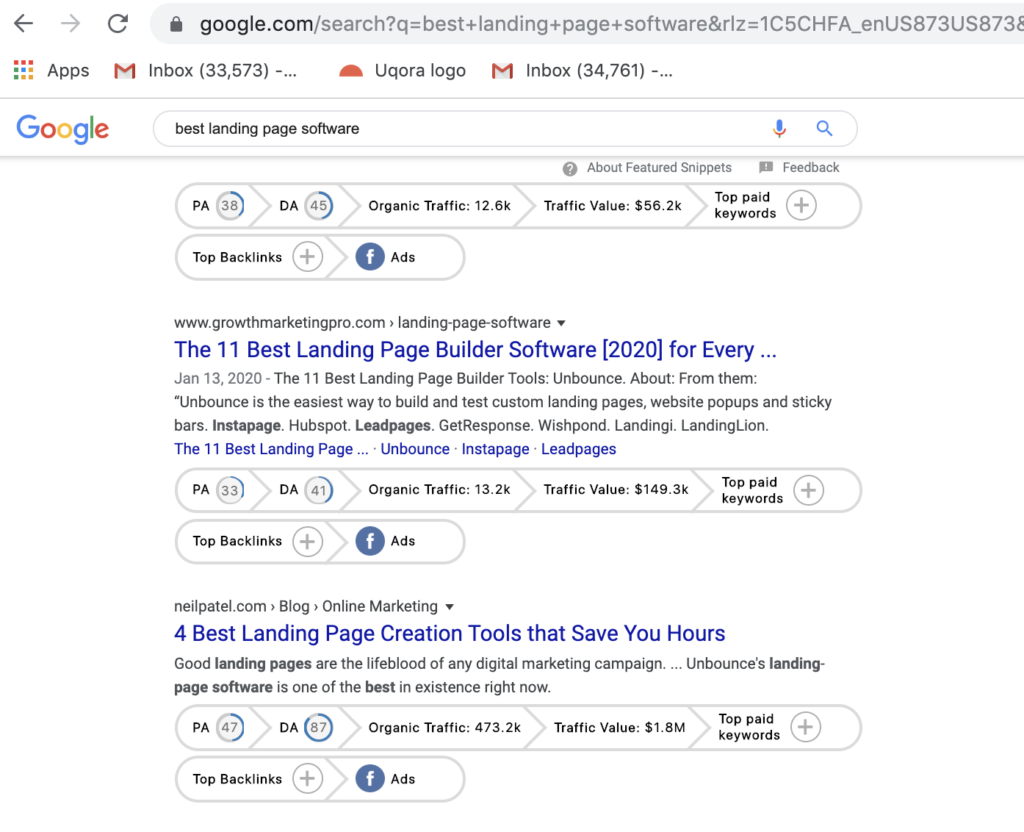 5. Always test external links before publishing your page. You want to make sure you're not adding a bunch of broken links to your site, or worse, links to spammy content.
6. Include external links within the first few paragraphs of your post, or at least whatever appears before the fold. This is especially important if you are a YMYL site–your money, your life–because information on these sites can impact individuals' financial standing or health.
How to Get External Links to Your Website
1. Create great content. First and foremost, you want to focus on creating great content. This means well-written, engaging, and informative articles that are useful to your target audience.
Above all link-building exercises, this one is the most beneficial. When you produce great content, people will naturally want to share it with others, and that will help to improve your website's search engine ranking.
Not only that, but creating optimized content will help you write articles that rank on Google while you build up your domain authority. Need help? Try GrowthBar.
GrowthBar was designed by marketers for marketers to create AI-generated content that ranks. And with its keyword research, keyword rank tracking, and competitor analysis, you not only can write optimized content in minutes but also have a complete SEO tool right at your fingertips.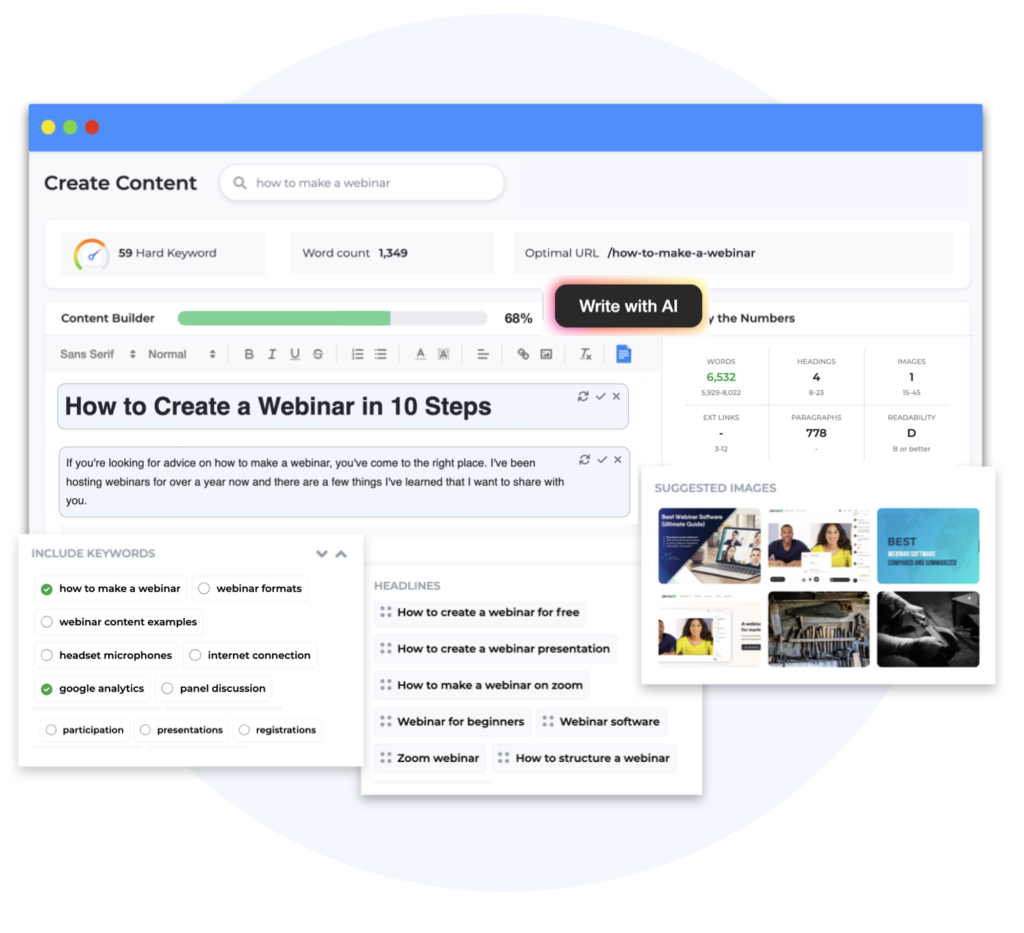 2. Promote the content. Sharing your content to your email list, social media channels, and through PR pieces can help create natural links back to your site. The more people that see your post, the more likely someone will link back to it.
You can also use social media to build relationships with other bloggers and website owners, which can lead to links and referral traffic.
3. Write guest posts. Guest posts are another great way to get backlinks to your site. When you guest post for other publications, you often either link back directly to your site or to articles you've written. This provides a lot of opportunities for links and also to get your name and brand's name in front of new eyes.
4. Use external link outreach. If you still need help with external links, you can try reaching out to posts that are writing about topics related to posts, or that are linking back to your competitors. You can send them relevant posts that you're written and politely request that they add a link back to your site or a specific page.
The Bottom Line on External Linking for SEO
External linking has been and will be an important part of search optimization strategies. Whether you're gathering more backlinks to your site, or adding outbound links to your content, Google rewards using external linking best practices with higher rankings.
To dive more into why links matter, try these posts next: