Latest posts by Mark Spera
(see all)
A listicle is — as it sounds — a blog or social post that has several items in a list.
Companies like Buzzfeed have created entire publications out of listicles.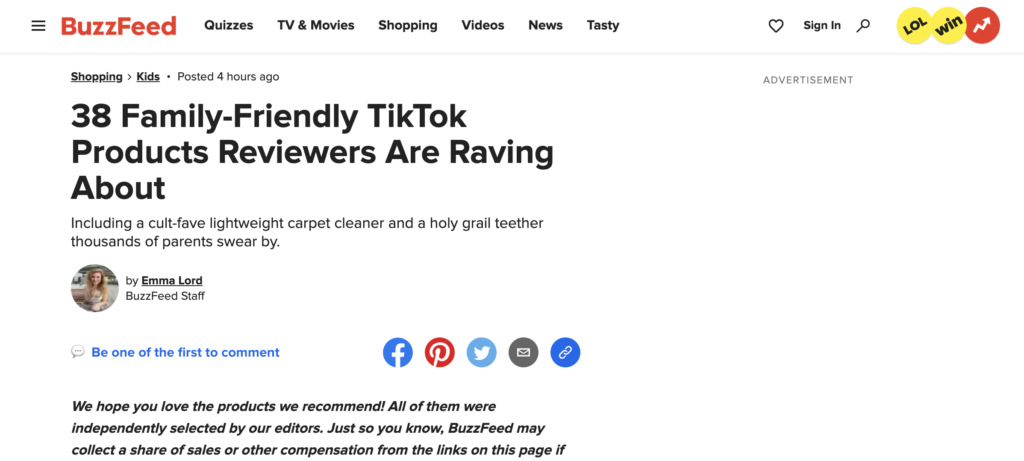 So why are listicles so popular?
Because they're very shareable, they rank in Google search, and they tend to convert readers into customers if done right.
Plus they can be pretty entertaining as well.


Why do marketers love listicles?
If you're here, I'm going to assume you're not writing listicles for your own enjoyment.
I bet you want to create listicles fast and even convert readers into customers for your product or service.
I've written listicles on my blog Growth Marketing Pro that rank in the top couple results on Google for hugely popular search queries like "best webinar software" and "best landing page software."
I know what I'm talking about.
These are the reasons I love listicles:
They're great at capturing attention: Listicles are easy to consume and they tend to keep people reading. Human psychology dictates that we always want to know what comes next. We always want more!
They are a great way to generate traffic: Listicles generate traffic because they're shareable on social media and roundups of products are highly searched on Google. For instance, according to GrowthBar, "best TV" is searched 40,500 times per month. "Best meditation app" is searched 9,500 per month. And "best Christmas gifts" is searched a whopping 397,200 times in the four weeks before Christmas.
They convert: 76% of our organic traffic conversions on GrowthBar's blog happen within listicles. That's because you've got readers in buying mode. If someone lands on a listicle, they're choosing between products or services — which means you have an opportunity to convert them to your product or service.
7 tips for writing listicles
This is my foolproof process for writing listicles that get traffic and convert readers into customers.
1. Keyword research
I'm going to assume you want your listicle to rank on Google.
If so, the first step in creating a listicle is to do some keyword research. What good is creating a listicle about a topic nobody searches for?
Keyword research sounds scary… and difficult. It's not.
Use a tool like GrowthBar or Google Keyword Planner to uncover queries that are highly searched (even a couple hundred searches/month works) and aren't too competitive. They should be in or adjacent to your niche so that once you get the traffic you have a chance of converting that traffic into customers.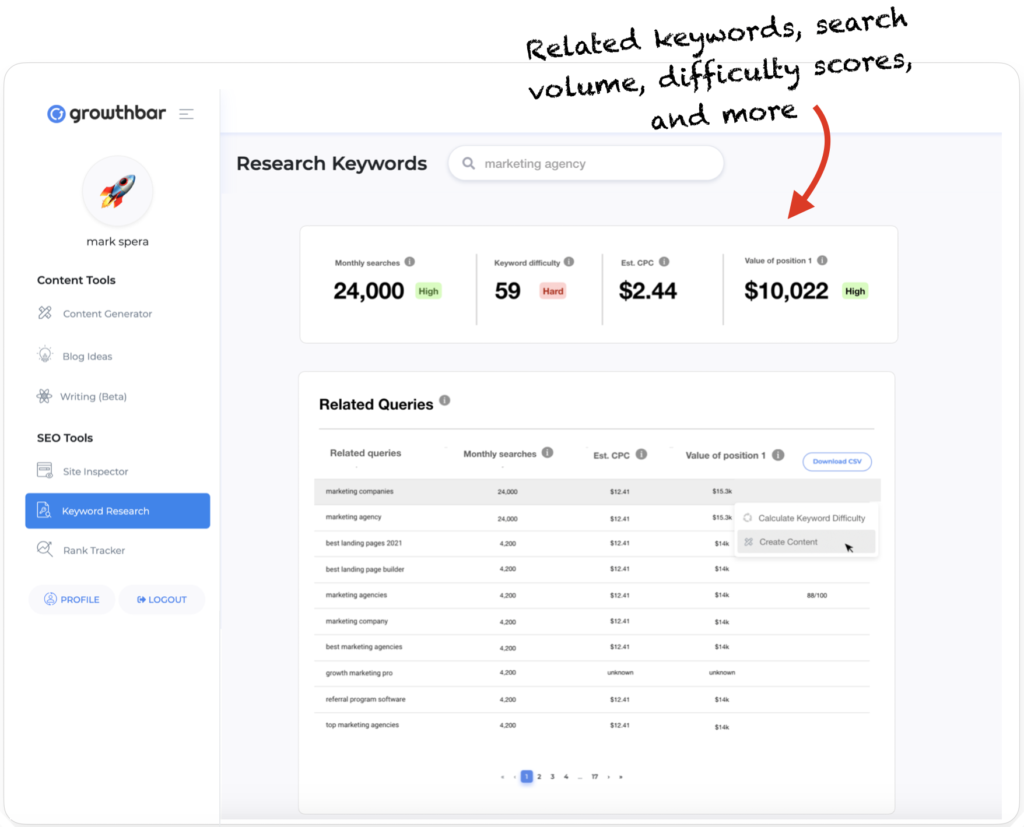 I've also found time and time again that great pockets of opportunity exist in emerging topics.
If you can get ahead of a growing niche, your listicle is more likely to rank than if you're writing about something really established. That's because 1) the competition is lower and 2) listicles that rank in merging topics are more likely to garner backlinks.
Here are a few examples of established topics and corresponding emerging topics you could consider writing about instead:
| | |
| --- | --- |
| Established Topic | Emerging Topic |
| Best SEO Tools | Best AI Writing Tools |
| Best Instagram Influencers to Follow | Best TikTok Influencers to Follow |
| Best Office Desks | Best Work From Home Desks |
| Best Facebook Ad Examples | The Best TikTok Ad Examples |
| Best Dog Food | Best Raw Dog Food |
I find it's best to do your own brainstorming to find emerging topics. However, if you want to use a tool, try Exploding Topics or Google Trends. However, take them both with a grain of salt. The emerging topics with the most opportunity are ones that don't even register on any tool yet.
2. Write a great introduction
If you can hook your readers with a catchy introduction, they're likely to stick around to see what your list is about. And if you can deliver on the promise of the introduction, you may have yourself a conversion.
The best introductions are concise, well-written, and they draw your reader in. Remember to be conversational, use short sentences, and use simple words.
Beyond that, these are the three surefire ways to make sure your reader scrolls beyond the intro of your listicle:
Use the problem-agitate-solve copy technique: Remember, if someone is reading a listicle, they're probably looking to solve an issue or find the answer to a question. The best way to take advantage of the reader's psychological state is to restate the problem they're likely facing (e.g. "you're probably wondering how to write a listicle"). Then, underscore the issue and why it's so important (e.g. "if you don't write great listicles, you probably won't get traffic to your site — I know this from experience.") Finally, solve their problem (e.g. "lucky for you, I've written hundreds of listicles that rank highly in Google search — keep reading to learn how.")
Establish credibility: Use your credentials to establish credibility. If you're writing a software product listicle, remind your readers that you've worked in the software industry for 15 years at startups and public companies alike. If you're writing a listicle about dog food, remind the audience about your background as a vet tech or nutritionist. People are more likely to continue reading if they know they're getting expert advice. Plus, establishing credibility is a great way to adhere to Google's E-A-T guidelines — which should help your article rank better.
Leave them wanting more: This one is a bit tricky because you want to give your readers enough information so that they know they've come to the right article. But in some cases, saying less is more. For instance, if you're writing a listicle about the "best flower delivery services" you could try something like this: "There are hundreds of options for flower delivery. But they're not all created equal. I've tested them all. Some services are slow, some are too expensive, and others send old, decaying flowers. But I've found two services that hit the mark every time. Keep reading to learn more…"
The introduction is the most important part of any listicle. It establishes your credibility as the author and it (hopefully) keeps readers on page long enough to take action (more on that later).
3. Get the format right
There are some formatting "must haves" if you want to write a listicle that works.
Start your list with a catchy title: Google will replace your title in the search engine results page (SERP) if it's too clickbait-y, but that doesn't mean it should be bland. Make sure to include your target keyword in the title and take cues from what other articles that rank are doing. Perhaps they're using the year ("2022") in the title or mentioning one or more of the options contained within the listicle in the title. Take note!
Write a great introduction: We already spoke about this one.
List your items: Use a numbered or bulleted format and make sure to take advantage of headings (h2's and h3's) so that readers and Google can easily scan the page for information. Remember: Google now operates with mobile-first indexing. Make your article easily scannable.
Use formatting features: Use bold, italics, underline, etc. to emphasize important points.
Use a table of contents: While not necessary, a table of contents does help readers navigate listicles. Listicles tend to be long form articles, so a table of contents really helps make them more reader-friendly.
Use images: People love lists, and they love images even more. When you're writing a listicle, be sure to use images to break up the text and to capture your readers' attention.
End with a helpful conclusion and answer other questions: This one is important enough that I've devoted a section to this later in the article.
Also read: How to Write a Blog Post that Ranks on Google or How Many Blog Posts Should I Write Per Week?
4. Be different than what's out there
You definitely want to take cues from your competitors in the Google SERP, but your chance of making a high-ranking or really shareable article is much higher if you add some of your own flavor.
This is what I mean: do you see big gaps in your competitors' articles? Are they missing key points or some detail about each item of the listicle?
For instance, on my blog, Growth Marketing Pro I write a lot of software roundups. I noticed however that none of my competitors were including customer information in their listicles. Since it's helpful to know which businesses use which software tools, I started including that information in my software roundups. Lo and behold, many of my posts started ranking above competitors — as readers and Google found my articles more comprehensive.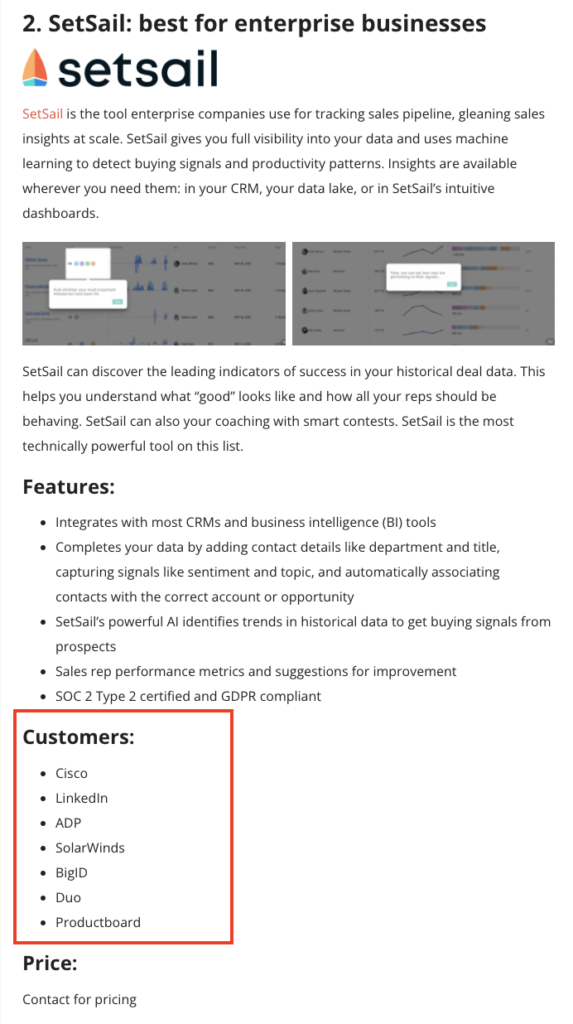 The point is this: don't just keep up with the Joneses. Set a new standard for excellence for your readers and Google.
Also read: How to Do Competitor Research with GrowthBar
5. Create an outline
Ok, you don't need to create an outline, but I promise if you want to scale your content production, outlines will make creating listicles much faster and easier.
Why?
Outlines give you a chance to look at your competitive set and include important elements. Plus, you can determine the order of operations in your post:
What is your desired word count, title, meta description, etc.?
Which products will you include?
Will you include pricing information or some other subheadings that set your listicle apart from the rest?
Hint: GrowthBar enables you to drag-and-drop listicle elements into your post so that you save tons of time organizing and writing your article.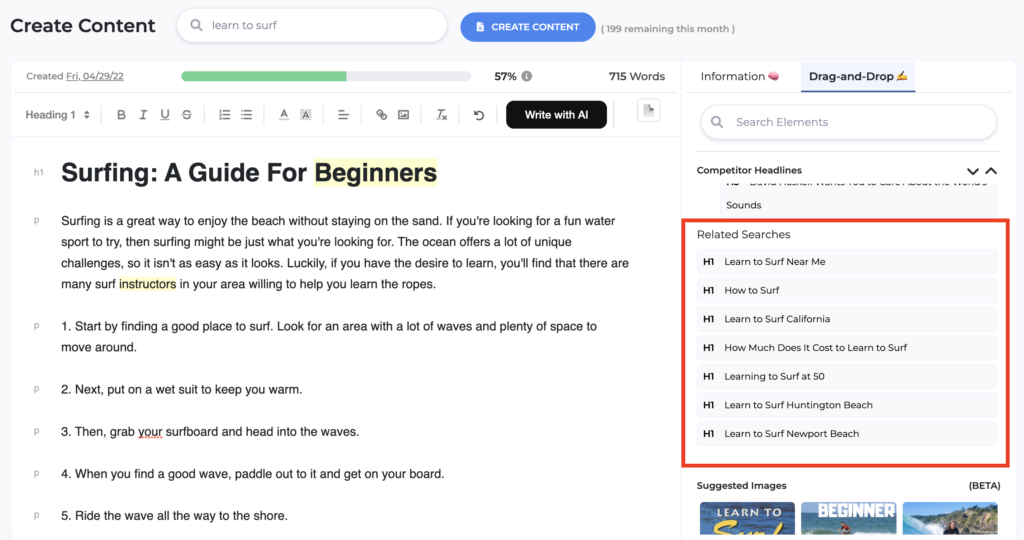 6. Include calls-to-action
Like I said, you're probably not writing your listicle for funsies.
You want to convert readers to your product or service.
Including a call-to-action (CTA) is a great way to get readers to take action while reading your listicle. Without a CTA you're relying on readers to passively navigate to your homepage and take action themselves.
Some ideas for CTAs include:
Share the listicle with your friends on social media
Subscribe to your blog or email newsletter to get more content like this
Visit your website or online store to learn more
There are a million and one CTAs that work! Finding the right one for your audience can be a bit of a challenge though.
I suggest trying a tool like Leadpages or Hello Bar to create multiple CTAs and A/B test them against each other. Both tools enable you to capture emails, announce promotions, and integrate it all with your CRM or email marketing software.

Where should you include CTAs in your listicle?
I'm happy you asked!
Include CTAs where appropriate throughout the article (without seeming spammy). Definitely include one near the introduction. I've found my CTA interaction rate increases by 9% by adding a CTA within the first 200 words of the post. After all, even if your listicle is great, not everyone will read the whole thing.
7. Answer other questions and write a helpful conclusion
Have you noticed that the best blogs include additional questions at the end of a listicle?
That's by design. Notice that after this section I include a section for "how many items should I include in my listicle?"
In general, even if you nail the listicle, people will still be left with additional questions. If you answer those near the conclusion, you'll keep users on page longer — which increases your dwell time. Dwell time is a metric Google uses to grade your content. All things equal, an article that keeps users on page longer is probably superior to one that only keeps a reader's attention for only a brief time. And Google wants to serve users the best content — or else they'd go use Bing or Yahoo.
So if you want to increase dwell time, make sure to include additional questions at the end. These could be questions you're wondering yourself. After all, if you're wondering your audience probably is too.
Also look at the bottom of the Google SERP. Google actually surfaces additional FAQs down there. Some of those are usually good sections to include in your article as well.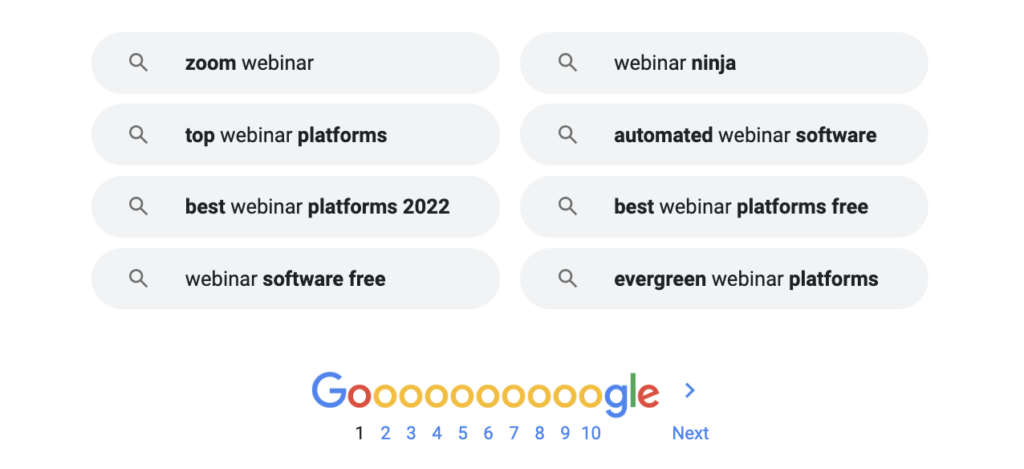 These additional questions and related queries are so important that we actually included them in the GrowthBar drag-and-drop section to save you some time.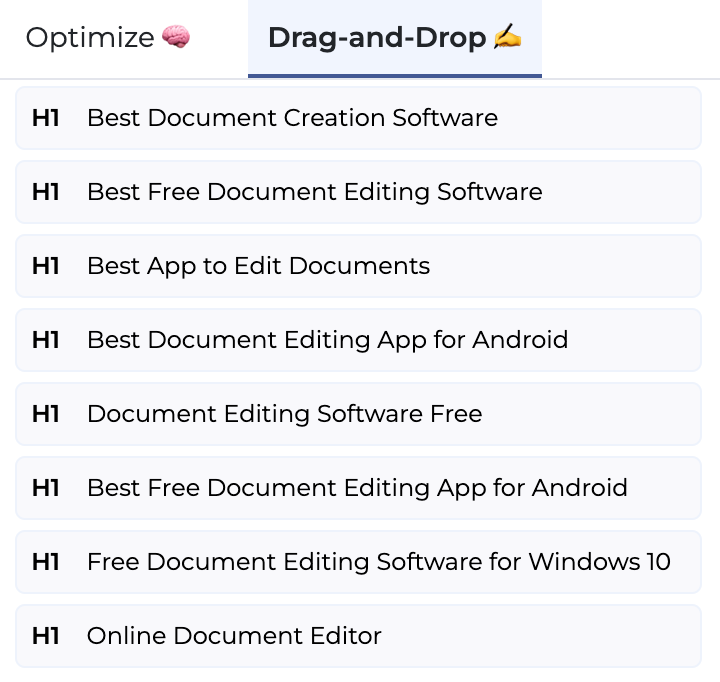 Finally, make sure to wrap up your article with a helpful conclusion.
Believe it or not, a lot of readers scroll down to the conclusion first to understand if the article indeed answers their question fully. So don't lose steam at the end of your listicle!
I like to restate the problem or question in the conclusion, agitate by underscoring the problem, and then recap the main takeaways of the listicle.
How many items should I include in my listicle?
Some "experts" will tell you to make sure your listicle contains more items than whatever else is out there. Using that strategy, a listicle about "the best organic baby formula" should contain 15 or more brands, given the number one result has 14 brands.

However, the reality is more nuanced.
Think about the topic and your reader. If you're looking for the best organic baby formula, do you really need more than 14 results? I would be more inclined to write a more comprehensive article with just 8-10 results. If I'm a parent looking for organic baby formula, I'd much rather know the nitty gritty details about a few products than get a brief overview of 30 products.
However, if the topic is "best gifts for mother's day" the answer might be different.

In that case, I don't think a list of 10-12 products would be all that helpful. Surely there are 10s or even 100s of products that could be relevant for all sorts of moms. The #1 article by NY Magazine is a listicle with 42 gifts. If I were competing with their 91 domain authority, I would write an article featuring the top 99 or 101 gifts for mom.
One final note: I've found time and time again that odd numbers work better than even numbers for listicles. The "top 9" is better than the "top 10." People are more likely to click on odd numbers in the Google search engine results page (SERP). Strange, right?
Conclusion
I hope this article demystified and simplified listicles for you. They really stand as the best way to garner traffic, social shares, backlinks and conversions if done correctly.
If done incorrectly, you're going to waste a lot of time. When it comes to Google and a fickle internet audience, it pays to do it right.
Remember to:
Do keyword or trend research (for emerging topics)
Write a great intro that hooks your reader
Follow formatting best practices
Don't just copy what's out there! You'll curry the favor of Google and your audience if you do things differently
Create an outline
Include CTAs to capture leads
And write a helpful conclusion answering all of your readers' questions — making your listicle the most comprehensive on the web
Let me know if I missed anything in the comments!
Also read: How to Write the Best How-to Article or How to Make a Killer Content Calendar