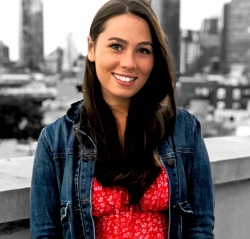 Latest posts by Madeline Hogan
(see all)
Seventy-five percent of people never scroll past the first page of search engines, and only 7% make it to the third page.
Plus, the link in the top Google search ranking has an average click-through rate of 32%…while results on the 2nd page of Google receive less than 1% of all clicks.  
Clearscope's goal is to get you off that second page and into the top of the first by helping you create highly relevant content that is shareable, clickable, and readable. Through their AI-powered platform you can optimize content, get refreshed content, and access content outlines that can help you get the search engine optimization results you're looking for. 
Can Clearscope do all that? Let's review Clearscope's features, pros, cons, and pricing, and how to use the Clearscope platform.
What is Clearscope.io?

Any SEO knows that proper keyword usage and density in an article is one of the primary ways Google determines where your page or article should rank on their search engine results pages (SERP), so it makes sense that Clearscope focuses on keywords for their content optimization.
Clearscope enables you to simply enter a keyword you want to rank for and it will help you build a custom blog post outline so that you or your writers can create quality content that can rank on Google. The Clearscope content builder gives you:
Word count targets
Real-time article updates
Real-time link quality assessment
Real-time keyword suggestions
Letter grades on readability and content
How do you use Clearscope?
Clearscope focuses its product on content optimization. Similar to other online editors, you can type directly into the interface with whatever topic you are trying to rank for. It evaluates the topic and then provides you a list of keywords that are ranked in order of importance, as well as their number of uses in ranking posts and how often they're in headings.
They also give you examples so you can see how they might be used in your work. If you'd like, you can sort the list by keywords you haven't used yet, so you can make sure to include them.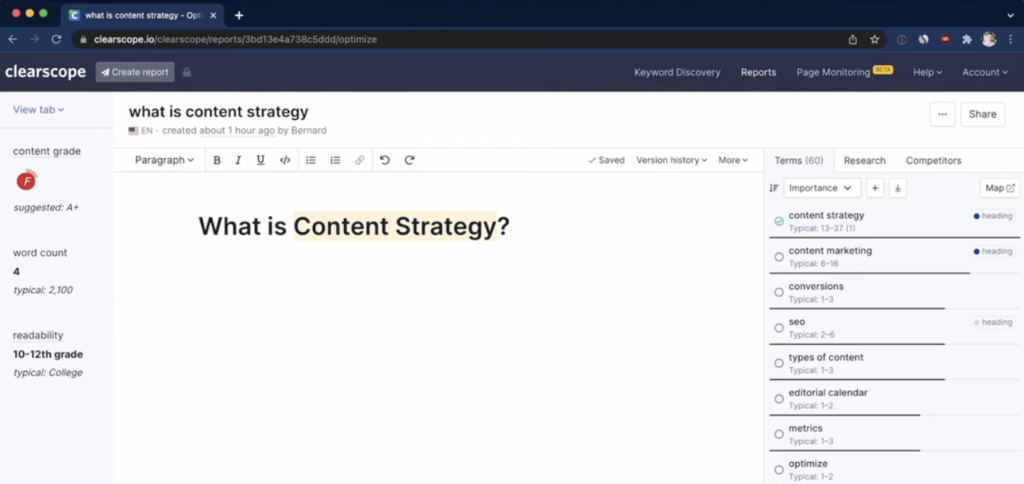 Once you start writing using these keywords, or paste in pre-written content, Clearscope provides you with a content grade, your current word count (compared to the recommended), a readability score–and checks off all the keywords you have used.
If you want to get a little more help with your work, you can try Clearscope's content briefs and outlines. These content outlines aren't automatically generated in the sense that they make an outline for you, but you can use their content suggestions to build an outline yourself.
How do you run a Clearscope report?
Clearscope reports are pretty straightforward. From the "Create report" page, you can type in your keyword or phrase around which you'd like to create your next post. Once you choose your domain (like Google) and language (out of five) you click "Run report" to see the results.
Clearscope analyzes your domain's results for about a minute or two and then provides its insights, which you can view under the entire Reports page. You can also label each report with which sort of content you want to make from it, who you want to work on it, and its current status.
Clearscope also provides batches of reports from a direct URL.
Clearscope Review
We've covered how to use Clearscope, but let's take a look at its features, pros and cons, and current pricing.
Clearscope Features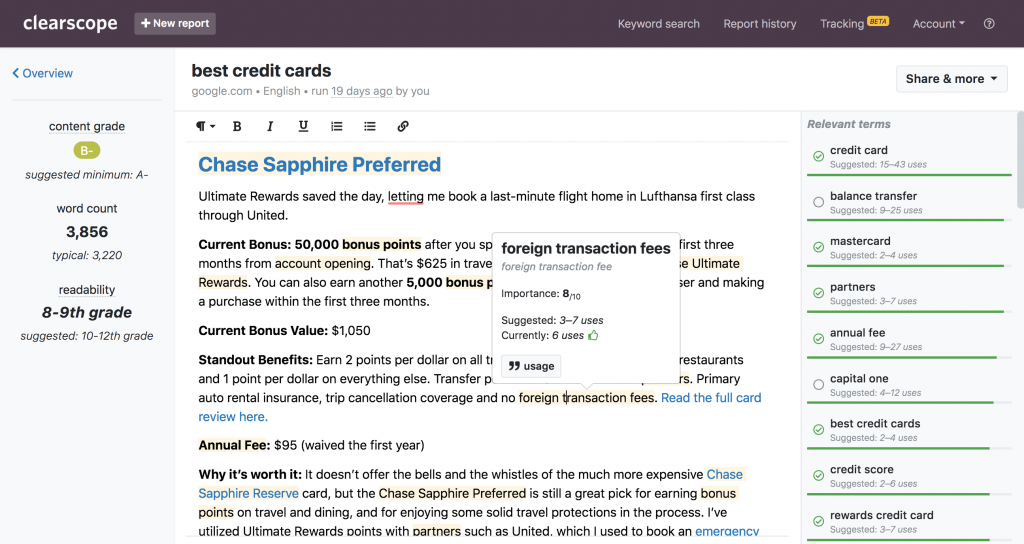 Content reports and grades
Content optimization including length suggestions
Keyword and search intent discovery
Google Docs and WordPress integration
"Example Usage" feature that shows context of where and how it appears
Content refresher provides ideas to optimize an article that's already written
Competitor content analysis
Unlimited sharing and exporting
Free onboarding and training
Clearscope Pros
Tells you what questions Google is being asked about the topic
Provides recommendations for how many times to use each keyword
Shares how many other sites like yours are using that keyword to rank with their relevant articles
Indication if keywords are commonly placed in the header or not
Great customer support for all plans
Clearscope Cons
One of the higher price points for content optimizers, so might not work for small and medium-sized businesses
Very focused on content optimization, which is great, but other content optimization tools offer many additional features
Only 20 content reports if you're at the lowest price point
Limited information provided on their website
Clearscope Pricing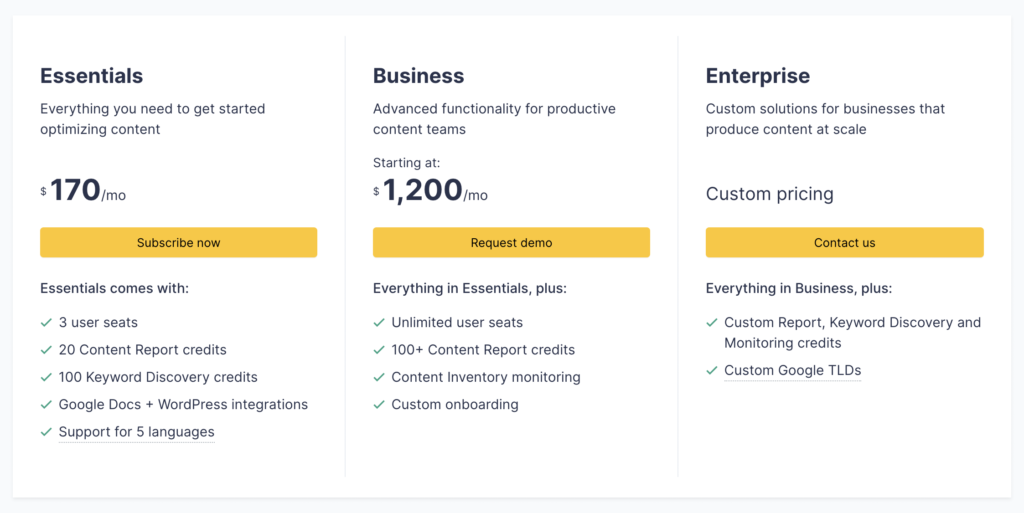 Clearscope includes free training, priority support, and unlimited sharing & exporting in every plan. Their terms are also flexible, and you can switch between plans any time without questions or hassles.
Essentials: $170/month for 3 user seats, 20 content credit report credits, 100 keyword discovery credits, Google Docs and WordPress integrations, and support for 5 languages
Business: $1,200/month for unlimited user seats, 100+ content report credits, Content Inventory monitoring, custom onboarding
Enterprise: Custom pricing includes everything in Business plus custom reports, keyword discovery, monitoring credits, and custom TLDs
There's no way around it: Clearscope is one of the more expensive tools on the market.
Our take on Clearscope
Clearscope makes on-page SEO insights as clear and accurate as can be. If you want to know how many words a post for a specific keyword should be, Clearscope has you covered. If you want to know which additional keywords to include in a particular article, Clearscope will suggest them.
Clearscope is easy to use–you can easily train your writers to use it in a few hours–and it really works. It's got a host of useful features, but…the price tag is extremely high, so is best for mid-large size companies.
That's why some marketers are searching for Clearscope alternatives that provide similar services–and even better for your needs at a more affordable price point.
Clearscope Competitors & Alternatives
GrowthBar
GrowthBar is the #1 SEO tool for bloggers and content teams. It combines AI and SEO to help you rank your content on Google. GrowthBar offers not only content generation–for blog outlines, paragraphs, headlines, ideas and more–but also keyword research, backlinks, competitive metrics, and keyword rank tracking.
Whether you need help with SEO for your NFT site or SEO as a doctor, GrowthBar has you covered.
What it does:
GrowthBar has a wide range of SEO features, but the hero feature content generator is what has earned GrowthBar 5 stars on Capterra and G2 Crowd.
GrowthBar generates content by:
It takes your input keyword/topic, scans the web using a powerful SEO decision engine, and makes suggestions in a content editor using GTP-3 AI — the largest, most powerful language model on earth.
GrowthBar analyzes thousands of data points and the generator delivers you blog title ideas, paragraphs, or a content outline complete with title suggestions, word count suggestions, keywords, headlines, images, and more.
Key features:

AI content creation
Keyword research
Competitor analysis
Google Ad and Facebook Ad insights
Backlink analysis
Writing editor interface

Pros:

It's AI content generator offers blog posts titles, paragraphs, outlines, heading suggestions, keywords to include, and much more
Your copy is being designed to rank on Google, so your content can do the work for you
It offers a suite of other SEO tools, as well as access to their writer's marketplace if you need an article writing service

Cons:

It focuses heavily on SEO content, so if you need copy like social media captions, video subtitles, and X then it won't be the best tool for you

Best for: SEO-focused bloggers, freelancers, and marketers who want more than just copy generation.
Pricing: Monthly pricing starts at $29 for Standard, $79 for Pro, and $129 for Advanced.
MarketMuse

MarketMuse is another AI-enabled tool that–differently than Clearscope–uses a patented, cloud-based AI module to analyze your website and create your Inventory. Your Inventory is an organized list of all your topics/articles and their current traffic/ranking/income stats in an easily navigable dashboard.
What it does:
MarketMuse suggests the most authoritative, relevant, and traffic-driving content for your individual brand and site, based on ROI. Like Clearscope, MarketMuse's proprietary software enables you to see which keywords will be most effective in your article. Unlike Clearscope, they're ranked according to how critical they are.
Then, the MarketMuse optimization tool will give you a step-by-step guide through what's working in your article and what's not. It does this by scanning other articles that rank highly in the Google SERP.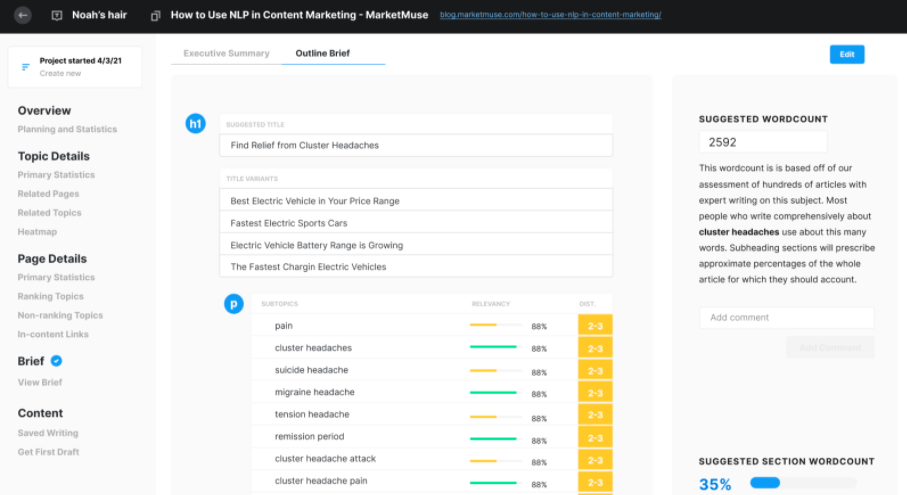 Key features:

Content brief builder for writing teams
Internal and external linking suggestions
Workflow support and team collaboration
Metrics for current and potential page ranking potential
Inventory feature that collects, organize, and analyzes pages for you

Pros:

Sophisticated enterprise tool
Natural language processing (not keyword processing)
Analyzes 100s of pages to provide accurate, non-repetitive data

Cons:

One of the more expensive options on the market

Best for:

Enterprise companies that need content generation and optimization support

Pricing:

Free: 1 user, 15 queries per month, 10 projects
Standard: $7,200/yr for 1 user, 100 queries a month, unlimited projects, and more
Premium: $12,000/yr for 25 users, unlimited queries a month, unlimited projects, and much more
Also read: Full review on Clearscope vs. MarketMuse
Surfer SEO

Surfer SEO is an on-page SEO tool particularly geared toward long-form content creators. It enables you to uncover keyword opportunities, plan content, audit existing articles, and write new articles that rank with AI content generation.
It's similar to Semrush and Ahrefs in that it has keyword research, but it has many more features that make it a better solution for modern day creators and bloggers–and a non-enterprise level price.
What it does:
Using a combination of natural language processing (NLP) and simple Google search engine results page (SERP) scraping, Surfer SEO tells users how to write content for any search query.
Surfer's SERP Analyzer tool examines the top Google search results for a specific keyword and finds commonalities. This feature enables you to more accurately plan your content before you ever start writing.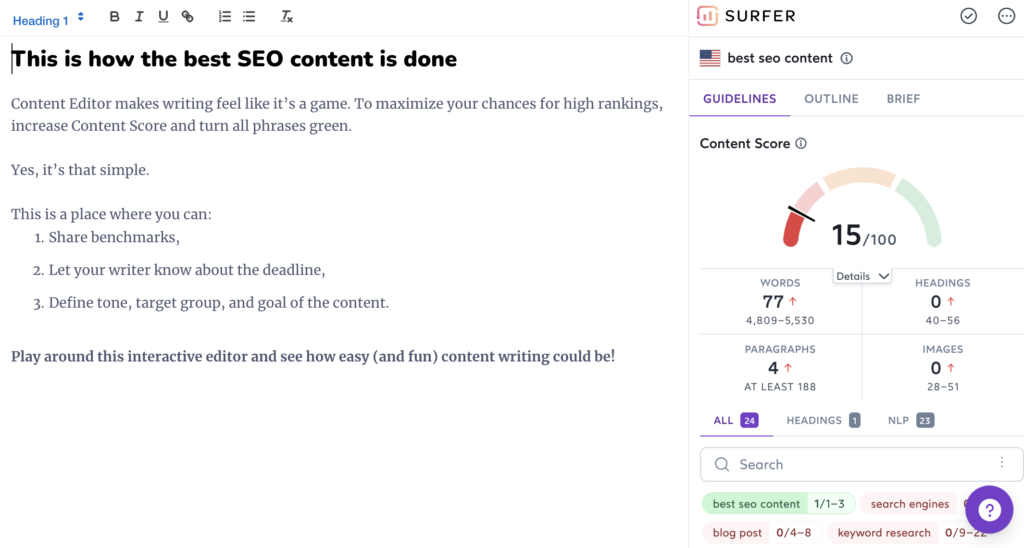 Key features:

Keyword research including keyword volume and difficulty score
SERP analysis for specific keywords to find commonalities and provide content suggestions
Content planner that provides topic clusters based on a keyword and location
Content editor interface that tells you how optimized your article is, the keywords you should include in your article, word count, image count, and much more
Article and page audit that tells you how optimized your article or page is for SEO for a specific keyword

Pros:

Content editor can plug directly into WordPress and Google Docs
Accurate keyword search volumes and the LSI (related) keywords
Affordable pricing

Cons:

Their AI-generated content (provided by Jasper, an AI writing tool) can be generic and don't meet the user's intent
Little competitive analysis

Best for:

Agencies or teams creating content at high velocity

Pricing:

Basic: $49/month with an annual subscription
Pro: $99/month with an annual subscription
Business: $199/month with an annual subscription
Also read: The complete Surfer SEO Review
Bottom Line on Clearscope
Clearscope is a great content optimization tool that makes content creators and marketers lives a lot easier. If you can afford its pricing, it can definitely be worth it. It provides good insights and content, and is easy to use.
That being said, if you have a limited budget and are newly experimenting with SEO, it's probably better to try on-page SEO practices you can manage on your own, or a more affordable SEO content optimization or generation tool.
Speaking of…