Latest posts by Mark Spera
(see all)
According to a study by Ahrefs, 90% of all pages on the web get no organic traffic.
Surfer SEO will help your pages not be one of those.
Surfer is an on-page SEO tool, particularly geared toward long-form content creators.
It enables you to uncover keyword opportunities, plan content, audit existing articles, and write new articles that rank with AI content generation.
Using a combination of natural language processing (NLP) and simple Google search engine results page (SERP) scraping, Surfer SEO tells users how to write content for any search query.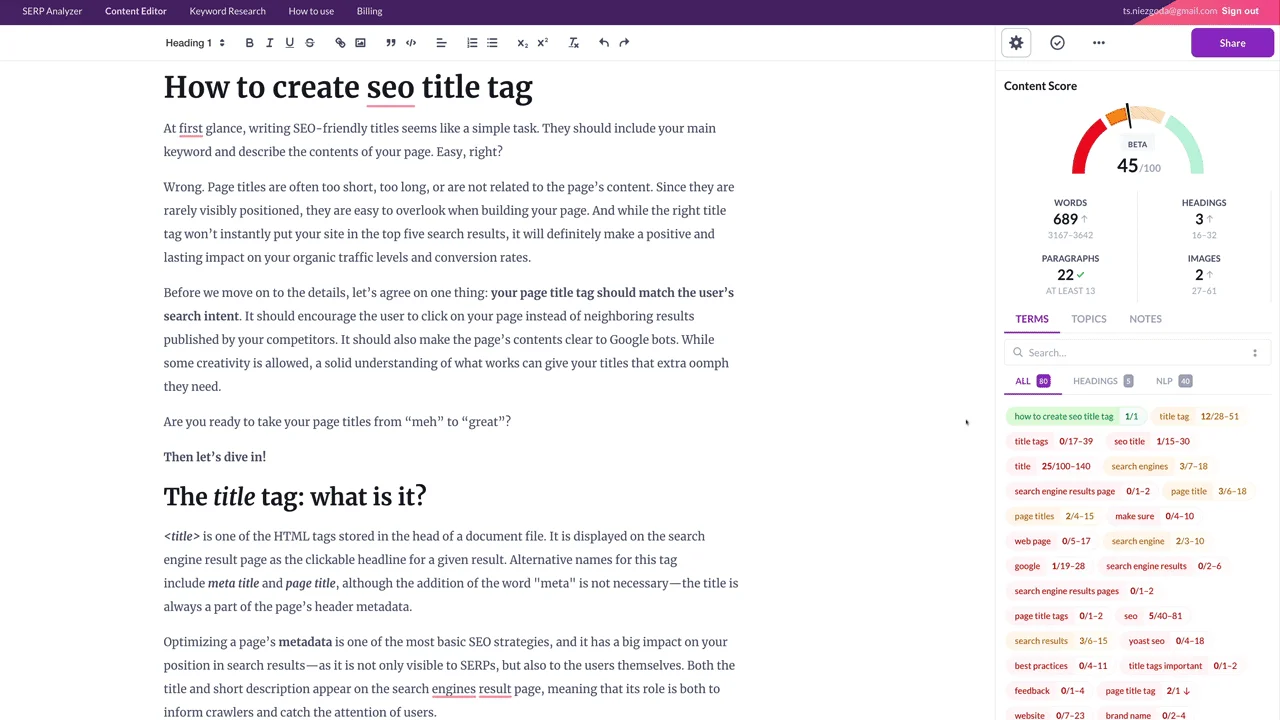 Surfer SEO is a great tool for content creators who care about SEO.
There are many reasons I love the tool, but in this Surfer SEO review I'll recap the:
Features and use cases
Tips and tricks
Pricing
And I'll help you decide if this is the tool for your business
Read on to learn more…
What is Surfer Seo?
Surfer SEO is an on-page content tool suite much like GrowthBar. It's made for bloggers and content creators.
Surfer enables users to:
Do keyword research and cluster keywords by topic
Plan a content roadmap based on intent and competitiveness signals
Create content briefs
Create and grade long-form content
And audit existing content
Plus, it has a friendly SEO Chrome Extension to help with keyword research on the fly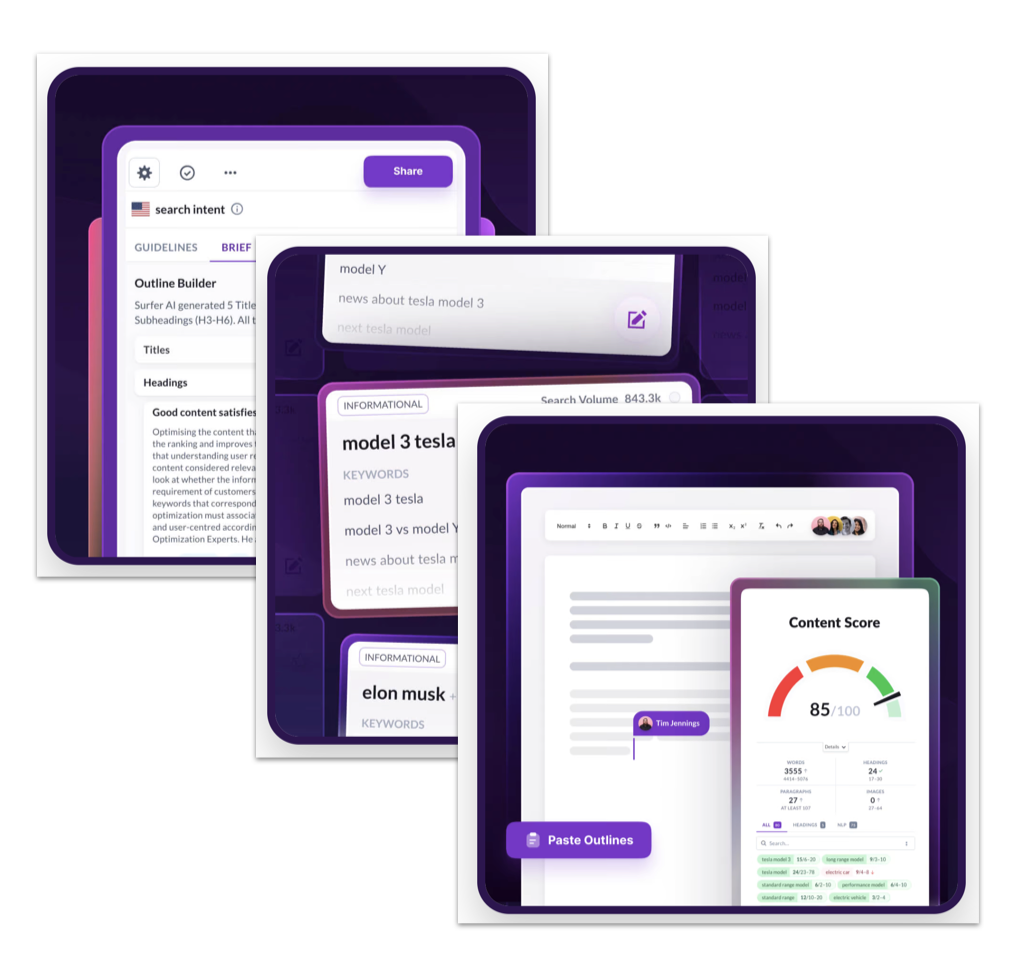 It's similar to Semrush and Ahrefs in that it has keyword research, but it has many more features that make it a better solution for modern day creators and bloggers.
Surfer's hero feature is a Content Editor. Surfer's Content Editor works by scraping data from the best results in the Google SERP so that you can write the most optimized article about a topic.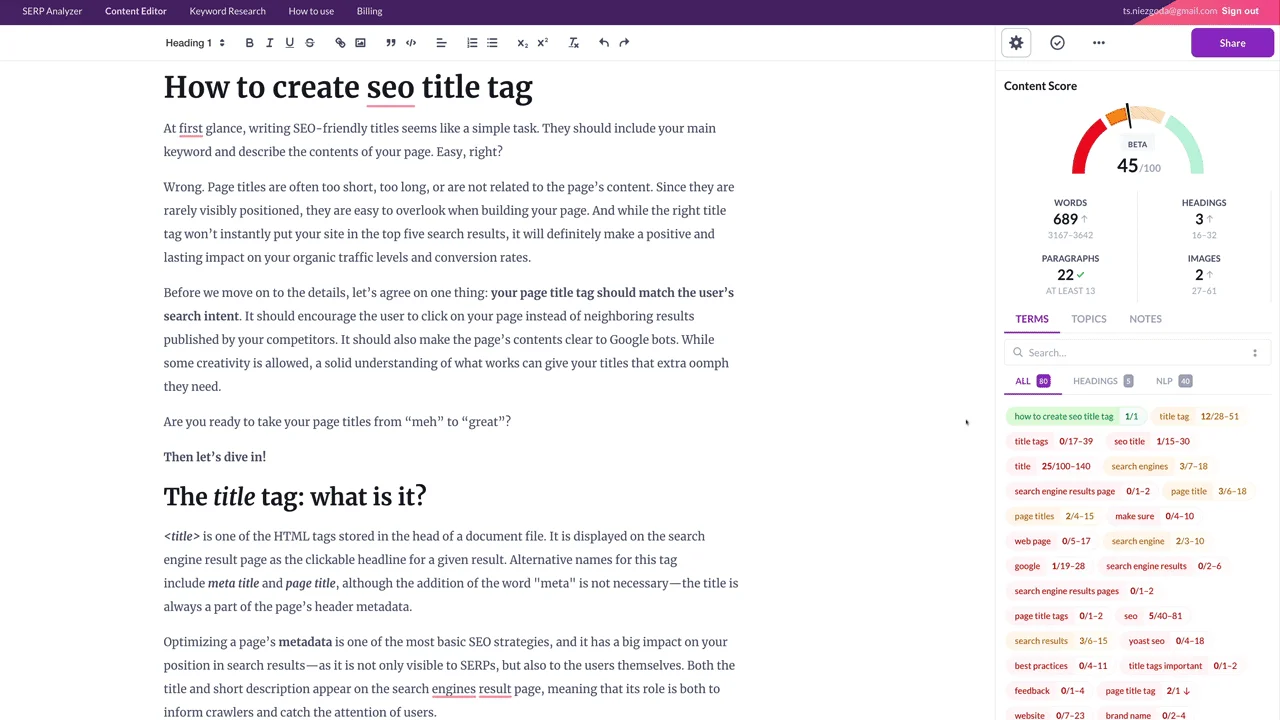 In theory, you have the best chance of ranking for a query if your blog post has many of the same key characteristics of high-performing blog posts in the same search vertical. This strategy is called correlational SEO.
When you enter a query, Surfer scrapes attributes like:
Word count
Keyword usage
Keyword density
Headlines
Meta descriptions
Alt text
Images
And more
All this information enables you to create word-perfect blog posts and content outlines informed by data.
Features
As I said, Surfer is a suite of tools. It has five key products that are all for exploring keyword possibilities and optimizing content. Let's explore each.
Keyword Research
Hm, what to write about?
It's a question that's plagued digital marketers since the dawn of time.
That's why keyword research is table stakes for almost any SEO tool these days. Surfer SEO really hits the mark in terms of size of keyword library and accuracy of results. The two most important analytics for keyword research are keyword volume and difficulty score. These numbers tell you how many people search for the term each month, and how hard it is to rank for that term. Surfer has both.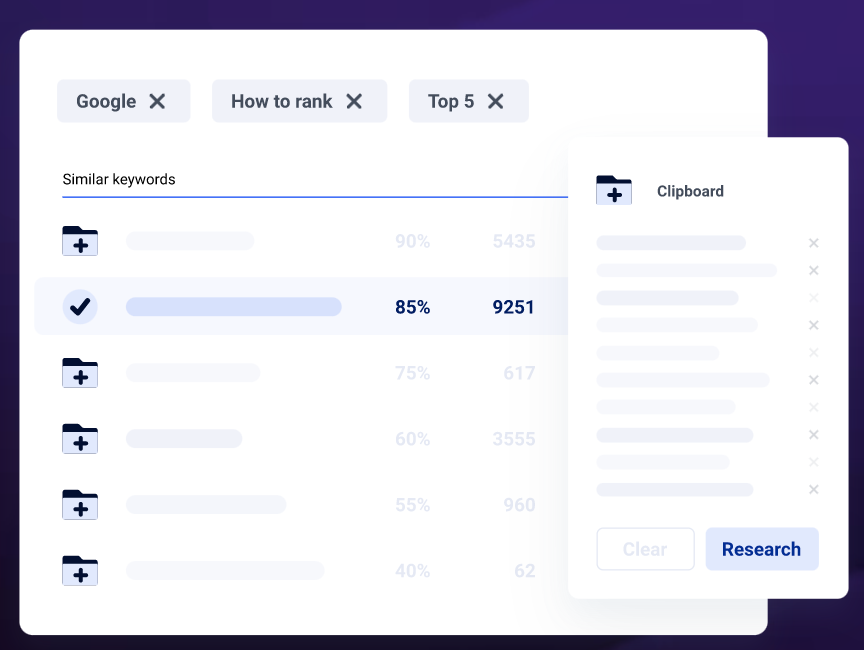 Plus, Surfer enables you to group keywords into search concepts so you can begin writing in an organized way.
I love the breadth of queries Surfer has, plus it does surface most of the important detail about a keyword — and it does so in 20+ languages. However, the data is a bit limited. There is no historical keyword volume data (so you can't find trending keywords), and it's missing CPC data and value of the search query data.
Overall, there are other keyword research tools I'd recommend, but Surfer's keyword research is totally passable.
SERP Analyzer
Google's search engine results page is a beast. If you've ever started the process of writing a blog post, you might begin by typing your query into Google and viewing the other posts that rank. If you're still doing this manually, you're wasting valuable time.
Surfer's SERP Analyzer tool examines the top Google search results for a specific keyword and finds commonalities. This feature enables you to more accurately plan your content before you ever start writing.
What's the sense in writing a 5,000 word article when a 1,000 word article is actually more optimal for your keyword?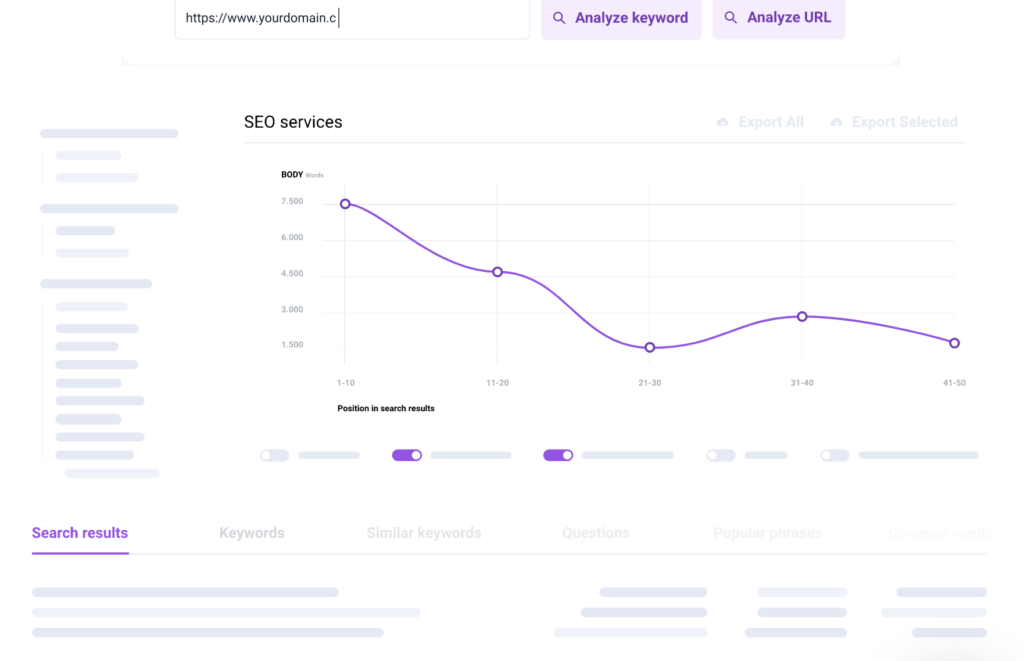 The SERP Analyzer is an excellent correlational SEO tool that users get a lot of value from.
Content Planner
Topic, or content clusters are really important for ranking for keywords.
Google not only values great blog posts, but it values clusters of blog posts which refer to a single "pillar page" — which is the main hub of content for a topic. Said simply, you should be writing about your query and also queries that are adjacent to yours.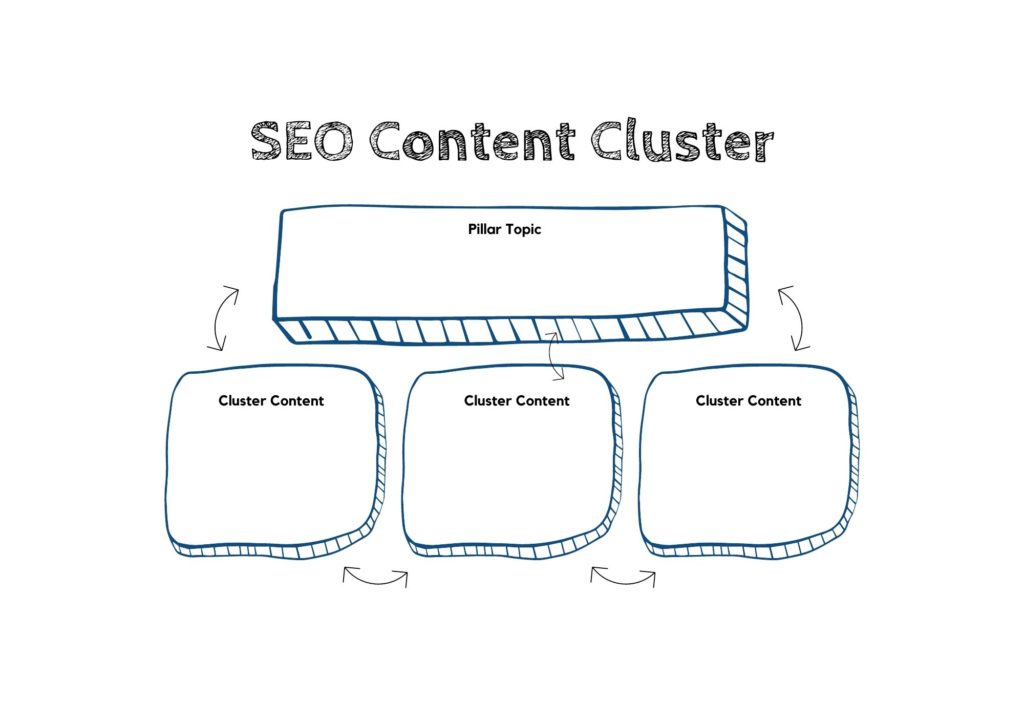 The Content Planner helps you find such topic clusters.
The Content Planner is a feature pretty unique to Surfer.
All you need is to type your main keyword and pick a location. You'll get a list of article ideas (along with the primary and secondary keywords they need to rank for) — this will save you a ton of time planning your content calendar for the next few months.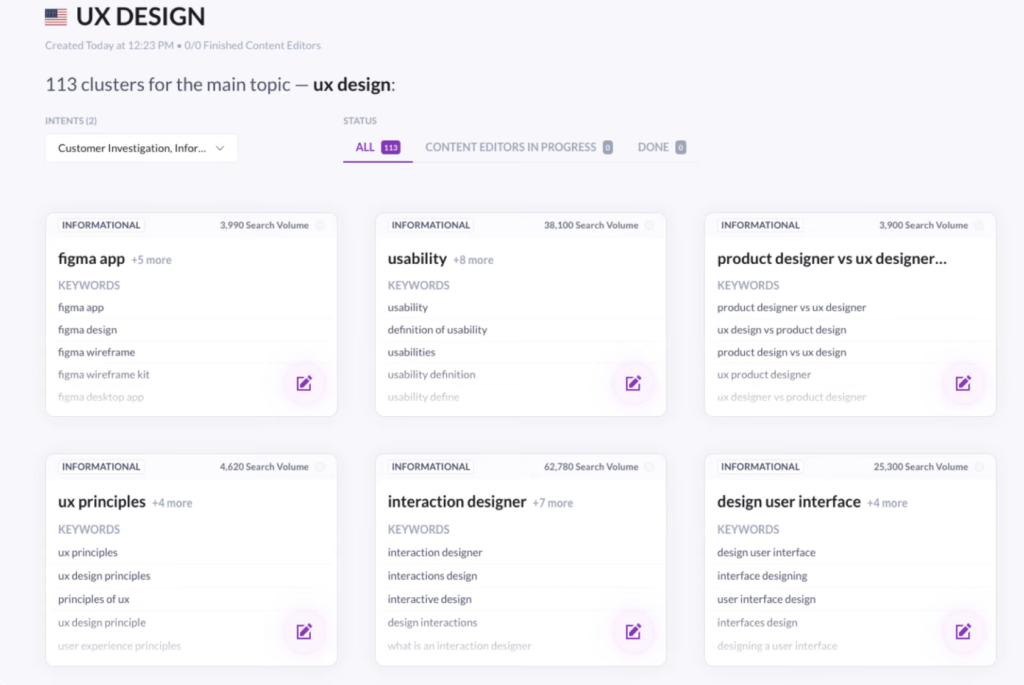 Having run some pretty big content operations, both in-house and for my agency, I know how difficult it is to come up with a content roadmap for a lot of keywords. The Content Planner helps solve that pain point with nice keyword data and topic clusters.
Content Editor
Content editing software is software that is used for editing, modifying, and formatting content for publication. Content editing software can be as straightforward as your Notes App on an Apple Computer, or as complex as Surfer SEO's Content Editor.
Surfer's Content Editor enables you to write your article directly in the tool and get a Content Score as you go. The score will tell you how optimized your article is for your keyword. Along the way, Surfer also gives you the keywords you should include in your article, word count, image count, and much more.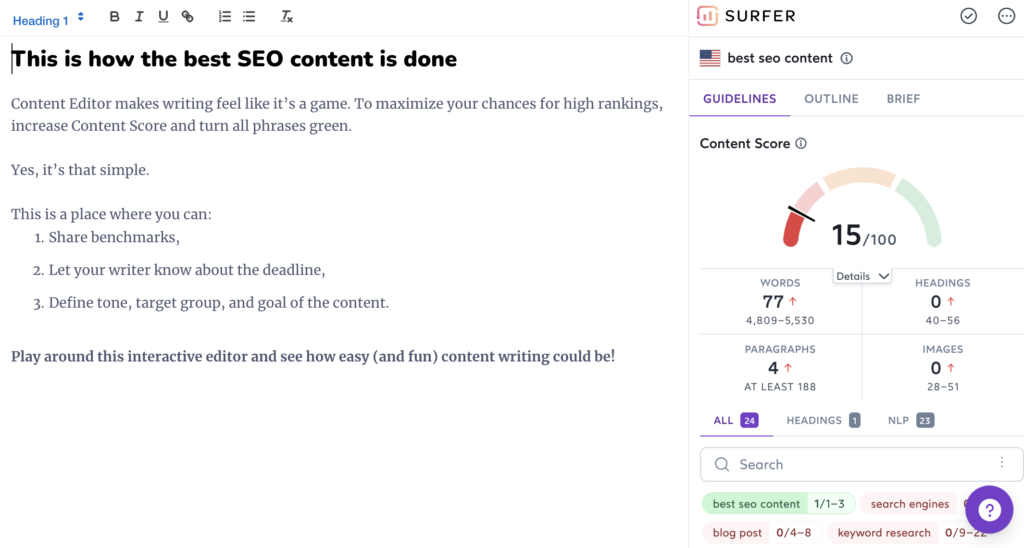 I really like the checkbox system Surfer uses, so that you're able to include the right keywords in your article. They recently updated this logic too, so that it rarely surfaces erroneous keywords.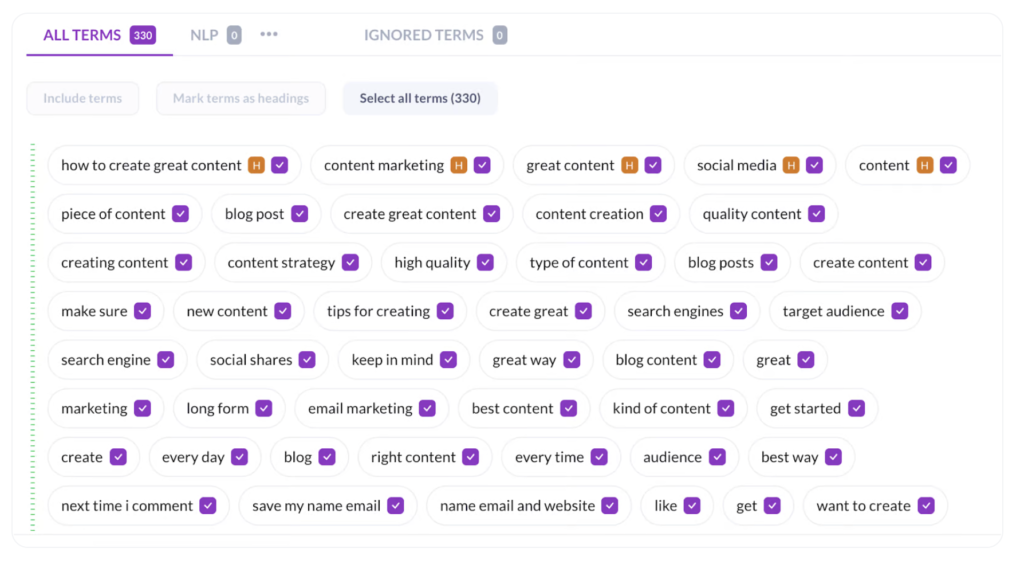 Recently, Surfer partnered with Jasper (an AI writing tool) so that users can actually drag and drop blocks of AI-generated content. Unlike GrowthBar, these AI content blocks tend to be very generic and don't often match the intent of the user's query. I've found them to be useful on occasion, but it's a lot to sift through when you're looking to shorten the time it takes to create an article. For my money, GrowthBar does this much better.
I do love that the Content Editor can plug directly into WordPress and Google Docs — so you can get real-time SEO feedback in your normal workflows.
Article & Page Audit
With the Article and Page Audit tool, you enter a keyword and URL to see how optimized your article or page is for SEO. Surfer SEO then performs a similar analysis to their SERP Analyzer report and breaks down:
Backlinks you're missing
Keywords you're missing
Word count, heading word count, and bolded word count plus suggested ranges
If you have enough headers and images
And more
I don't find this feature particularly useful. It's not as nicely organized as Surfer's Content Editor. I'd rather copy/paste my article into the Content Editor to show opportunities for improvement directly in the lovely dashboard. The running list of improvements (pictured below) makes my eyes bleed a little.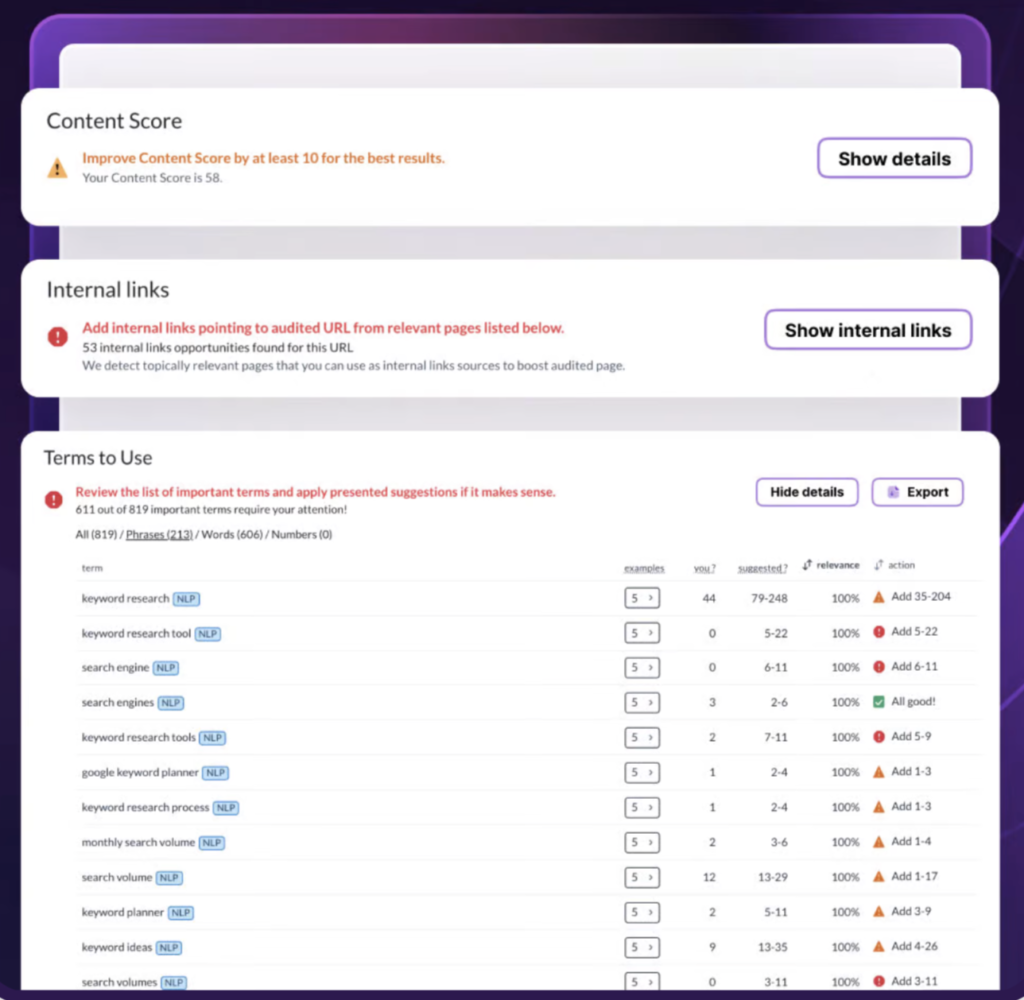 Pros
All in all, Surfer is one of the most comprehensive SEO content tools on the market.
Pros include:
It saves you time: Planning and auditing content takes a lot of time. Surfer enables you to research and create content that ranks fast.
It's accurate: I've found that keyword search volumes and the LSI (related) keywords it surfaces are great when comparing with Google Keyword Tool and other keyword research products.
The Content Planner is a Time Saver: Particularly for agencies or teams creating content at high velocity, the Content Planner will help you get your job done faster, without losing any precision.
The Content Editor is 🔥: The hero feature really is great. The Content Editor uses hundreds of data points to guide you through creating an amazing blog post that ranks. It lives up to the hype!
Cons
Limited AI content: The integration with Jasper is limited. You can drag and drop some blocks of text, but the recommendations are fair and there's no way to shuffle content to get more accurate results.
There is no keyword rank tracking: Keyword rank tracking is a pretty important part of SEO. After all, you can't change what you can't measure. It feels like a miss for Surfer not to have a rank tracker.
The competitive analysis is very limited: Yes, you can see the length of a post and maybe a few key attributes of your competitor's posts, but you can't see backlinks, Google Ads, or many other competitive intelligence metrics that some great SEO tools have.
Surfer SEO Pricing
Surfer is very affordable on the scheme of SEO tools. Ahrefs and Semrush can quickly get up to thousands of dollars per month. Surfer is much more reasonable.
Monthly Pricing:
Basic: $59
Pro: $99
Business: $199
7 day trial for a dollar
Surfer SEO Alternatives
There are three directions you can go when thinking about alternatives to Surfer SEO:
You can take a look at other SEO tools like Semrush and Ahrefs, which tend to have much more deep keyword and competitor analytics metrics. Features like backlink information, Google Ads information, rank tracking and local SEO tools will be helpful for many use cases… but not all. If you're working on an ecommerce site for instance, your SEO strategy won't involve too much content — and you're best off going with a Semrush or Ahrefs.
Or you can try other AI writing and content generator tools. Marketmuse and Clearscope both fall into this category, as do Copy AI and Jasper. Marketmuse and Clearscope have features very similar to Surfer's Content Editor — which enable you to plan and create optimized blog content. Copy AI and Jasper are AI copy generators, which help you write content faster (but with few SEO optimization features).
Or you can try GrowthBar and get all of the above 😊.
Is Surfer SEO worth it?
So, will Surfer SEO help you become a fantastic writer and soar to the top of the Google SERP?
No, but it will save you a ton of time and help you write in accordance with SEO best practices.
Surfer SEO is a solid and affordable tool for people looking to boost existing rankings and create higher ranking content. It's especially useful for less experienced people new to optimizing for SEO and reviewers give it 5 stars on G2.
In my opinion, the speed and insights you gain from Surfer will far offset the price of the tool. Write one blog post that makes you $50/month and it's paid for.
I say give it a go!
Also read: