Latest posts by Mark Spera
(see all)
What's the value of search engine optimization (SEO)?  
As an entrepreneur or marketer, your days and dollars are precious. So wasting them on something that won't yield value for your business is a total misallocation of time and resources.
But I'd argue that for almost every business, SEO is an impactful strategy — one of the few remaining marketing channels that can be ROI positive without a ton of effort. Even more, SEO can augment other parts of your marketing strategy and help build brand equity for your business. It's a sort of virtuous cycle!
So should you invest in SEO? And what's the value of SEO? This data-driven blog post will help you answer those questions.
How You Can Measure SEO Value?
If SEO was like Google Ads, there wouldn't be much of a question of value.
Properly executed, Google Ads should be able to deliver a measurable revenue number and the cost associated to create that revenue.

In other words, you could take the hard numbers to your CEO and make a decision about continuing to invest in Google Ads or not (e.g. "Google made us $200 this month on $50 of spend!")
SEO isn't so cut and dry as far as showing value. Why?
It's hard to know how exactly to execute an SEO strategy: Google doesn't tell us exactly how its algorithm works. It's up to marketers to infer strategies from Google update announcements.
A lot of SEO is sweat equity: In many cases, there isn't much cost associated with SEO — it's mostly people and labor costs (and probably writing costs). Google Ads, Facebook Ads and the rest of the paid acquisition channels require mostly dollars to run. The trick with SEO is that the dollars are pretty small — the sweat equity required to execute is pretty big.
When I was Head of Marketing at a telemedicine startup, my CEO often challenged me on SEO for the above reasons. Sure enough, that company was acquired for $450M, due in large part to my persistence in driving an SEO strategy forward.
While it's difficult to know exactly how to execute a strategy, you can certainly measure the results of SEO… pretty easily in fact. As with most channels, any analytics tool (like Google Analytics) is able to show you the exact traffic numbers and conversions that come from organic search. So anyone who tells you SEO results aren't measurable doesn't know what they're talking about.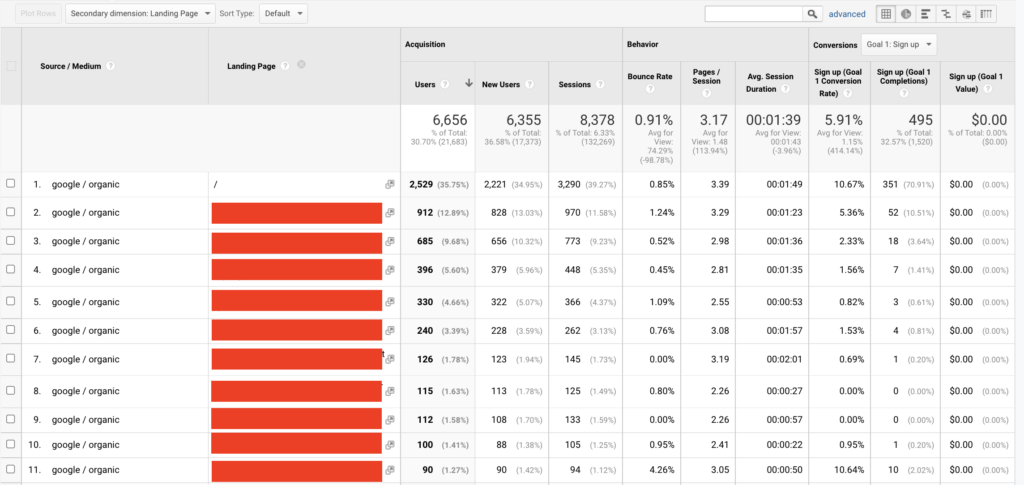 It's very easy to measure the value of SEO!
Now that you know how and why SEO works, these are the reasons you should invest in it…
1. Organic Search is Huge
Organic search is still a major source of website traffic for many businesses. According to a study by BrightEdge, organic search drives 53% of all website traffic on the internet.
That's absolutely insane! Plus, according to Google, that number is growing every year.
I can tell you that for my blog Growth Marketing Pro, organic search accounts for 72% of our traffic over the last 12 months. And that traffic results in affiliate sales, revenue for our SEO agency, and even customers for GrowthBar.
Of course, it's important to do a little keyword research and make sure people are actually search for products or services you're selling — or at least adjacent products or services. Doing so will enable you to be smart about your strategy; you can create pages, blog posts, and get backlinks to drive traffic for those keywords.
The biggest sites on the internet get billions of searches a month. Imagine if your site even got a few hundred. It would probably mean more revenue for your business every month.
Here are a few sites that get huge organic traffic according to GrowthBar:
Wayfair – 274.2M per month
Etsy – 250.7M per month
Healthline – 276.4M per month
WebMD – 380.7M per month
LinkedIn – 735.3M per month
HubSpot – 100.6M per month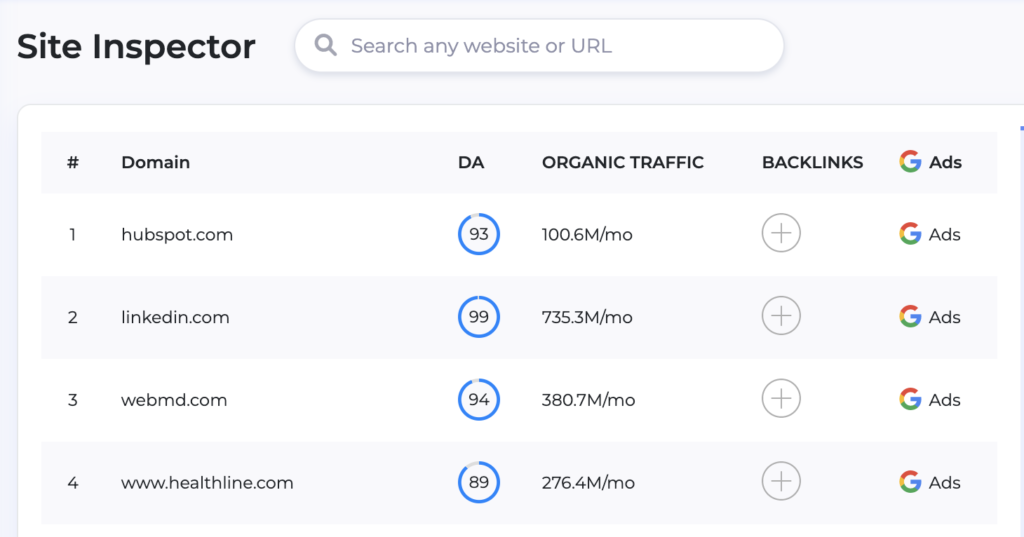 2. CAC to LTV
Your cost of acquisition (CAC) to lifetime value (LTV) is the real measure of how solid your business unit economics are.
If it only costs you a little bit to acquire a customer and you make a massive amount of profit from those customers, you've got a really viable business.
For example, Starbucks spends only ~$140 to acquire its customers — each of which are worth $14,099 according to this source. That's a nice business!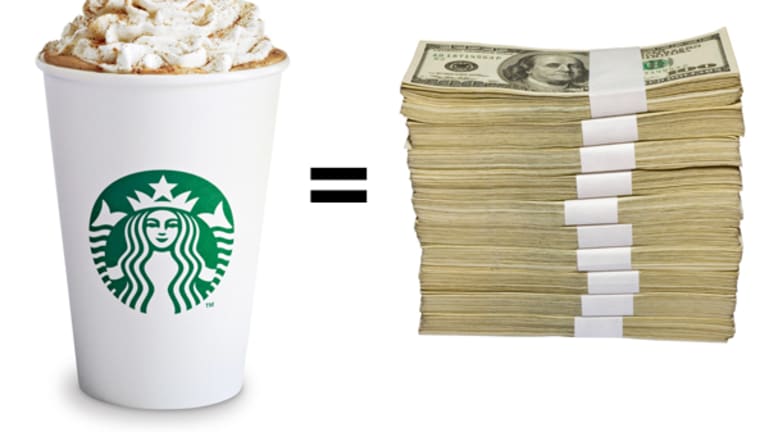 But CACs differ A LOT from one acquisition channels to the next.
I've run countless Google Ads, Facebook, Pinterest, TV and LinkedIn campaigns. I know from experience, it's really hard to get profitable acquisitions from these channels. First off, you need several thousand dollars to test keywords, audiences and creative assets. Then, even once you've found a winning combination, your audiences or creative begin to get exhausted — meaning you have to start the process all over again.
Plus, CPCs and CPMs have gone up significantly over the last several years. As such, it's getting really hard to get favorable CACs today.
A general rule of thumb is that SEO is typically worth about 3-5x the cost of the investment, so if you're spending $1,000/month on SEO, the value of that SEO would be around $3,000-5,000/month.
While this is a super general measurement, we've seen this time and time again with clients through Growth Marketing Pro's agency. When you consider how profitable SEO is, it's pretty damn valuable, just in terms of customer acquisition. Plus, even after you stop working on SEO, you'll continue to reap the benefits of free organic traffic for years to come. SEO doesn't require a ton of maintenance.
3. Understanding SEO Means Understanding Your Customer
The goal of SEO is to improve your website's visibility and to help customers find your website when they are searching for the products or services that you offer.
SEO means understanding how customers interact with the Google search engine results page (SERP) and your website. So the best SEOs develop deep customer understanding via keyword research, surveys, customer inter views and more. Plus, the best SEOs do competitive research to infer which keywords and channels are driving customer acquisitions for competitors.
Growth Marketing Pro's agency starts every engagement with a customer persona deep dive. In this way. Our employees (and customers) can gain a greater understanding of the intent of the user. This enables our team to uncover the most lucrative keywords for clients.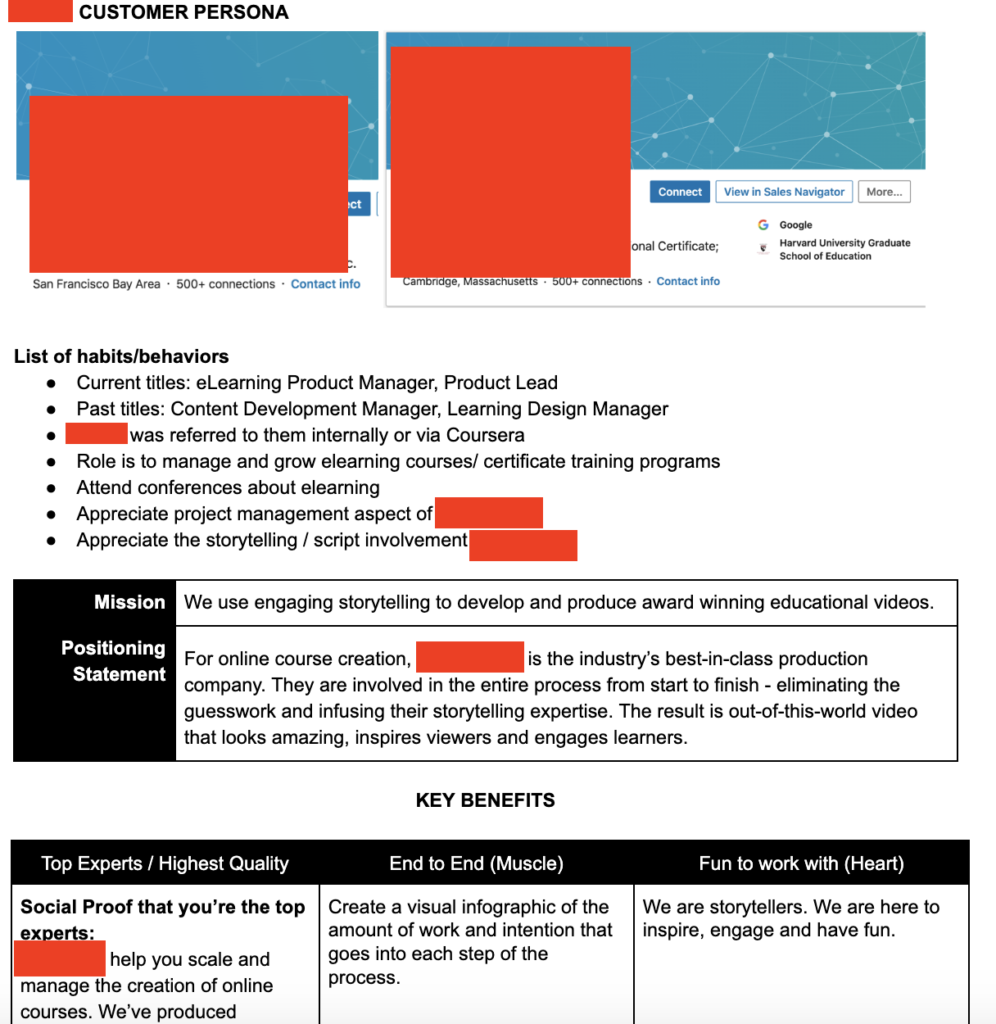 4. SEO Builds Trust and Credibility
PR and Google Search stand as the most trusted customer acquisition channels. When people are looking for a product or service, they are more likely to trust the results that appear in the natural search engine results pages (SERPs) than the results that appear in paid search ads.
To further illustrate: check out the difference in conversion rate between GrowthBar's Google Ads targeting searchers of "best content generators" vs our blog post about the "best content generators." The conversion rate of our organic page — the blog post — is much higher than our Google Ads. That's because anyone can run a Google Ad. Only the best content can rise to the top of the Google SERP.

The value of SEO is that it builds trust and credibility. When a business appears at the top of the search engine results pages (SERPs), it is seen as an authoritative source of information. This increases the trust that consumers have in that business and can lead to more conversions.
5. SEO is Evergreen
Here is GrowthBar's organic traffic over the last 12 months.
All we've done is publish content and follow SEO best practices.

If done right, SEO is the gift that keeps on giving… even when you've stopped doing anything in the name of SEO.
With most channels — Google Ads or Facebook Ads — when you stop spending money, the traffic stops coming. SEO is the exact opposite.
Also read: How Often Should I Blog for SEO? or How to Write a Blog Post for SEO
6. SEO is Good for User Experience
SEO is the practice of optimizing a website for Google search with the goal of earning higher web traffic levels and improving the visibility of the site. And one of the best ways to optimize a site for SEO is by optimizing the site user experience (UX).
Google wants its customers (Googlers) to find the best, most useful content. So if users are coming to your site and bouncing off — Google will not reward you with high search rankings.
Plus, Google is getting more serious about UX when it comes to SEO rankings. The early 2022 Page Experience update was centered around optimizing its search algorithm for sites with great on-page experience.
Also read: Is UX/UI Important for SEO?
7. SEO is Also PR
Backlinking is a huge part of SEO. Therefore, SEO is super helpful.
That means the great links you build in the name of SEO can also drive traffic directly (just like a PR push might).
These are some of the great links GrowthBar has (data courtesy of GrowthBar… which is a little meta). Not only are these links helping our own domain authority and rankings, but they're driving traffic themselves.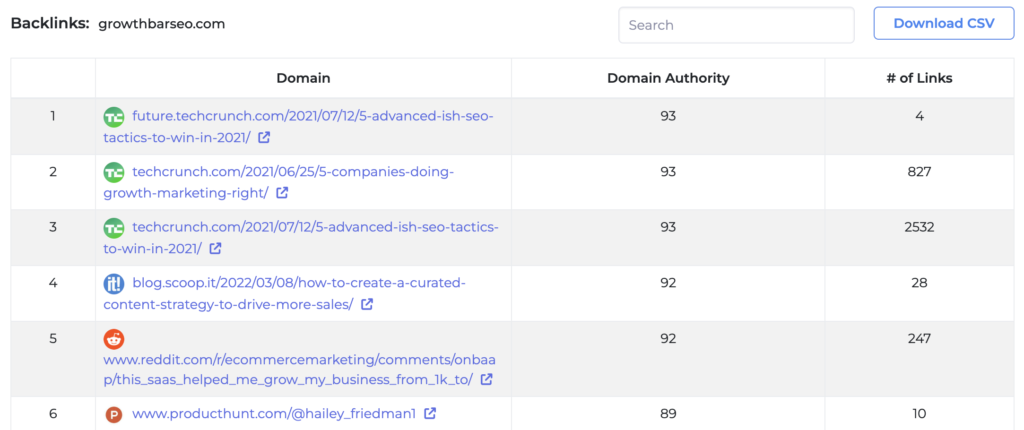 So What is SEO Worth?
SEO is worth a lot to some businesses and less to others. If you're in an industry with search volume, SEO can be your #1 acquisition channel. Companies like Wayfair, Etsy and WebMD have staked their entire business on SEO.
If you're an industry without much search volume, SEO is still helpful for establishing a strong user experience (UX) foundation and for increasing brand awareness and credibility.
I've been in the digital marketing industry for over a decade and I've seen very few businesses that can't benefit from SEO. It's worth its weight in Google gold.
Importance of SEO In Digital Marketing
I'd summarize the importance of SEO in digital marketing in one way: the average Facebook CPM was $.42 in 2017. Now it's over $14!
Long past are the days in which marketers can rely on paid advertising to grow businesses. SEO stands as one of the most cost efficient channels — alongside PR and organic social — for growing a business.
Importance of SEO for Small Businesses
There are a number of reasons why small businesses should invest in SEO. First, SEO is one of the most cost-effective ways to market your business. It can be more affordable than traditional marketing methods such as print advertising, direct mail, and television commercials.
Second, SEO can help you reach a larger audience. By improving your website's ranking in search engine results pages (SERPs), you can attract more visitors to your site. And since many people use search engines to find information online, SEO can help you connect with potential customers who may not have heard of your business before.
Third, SEO can help you improve your website's usability — via great user experience. By optimizing your website for search engines, you can make it easier for visitors to find the information they're looking for.
There is a lot of local search volume. You can and should get a piece of that huge pie if you have a small business.
Conclusion
There are a number of reasons why small businesses should invest in SEO.
SEO is huge and cost effective — it enables you to tap into the largest search engine on earth… pretty affordably.
It's also great for brand building, understanding your customer and getting your user experience right.
Again, I recommend every company look into SEO or hire an SEO agency to get off the ground. You've got way more to lose by not trying SEO for your business. It remains one of the most valuable channels in digital marketing.