Latest posts by Mark Spera
(see all)
Some bloggers try to answer this question with a single round number.
"Publish 3 times per week."
The truth is, that's really bad advice.
The reality is: how much you should post on your blog depends on a variety of factors including your blog age, your blog topic, how much content you have to share, how often you can write new content, and the goal of your content — are you writing for SEO (organic traffic), to build your brand, share on social media, or to onboard users?
And if your goal is organic traffic, posting frequency best practices differ by search vertical. Marketing or technology bloggers don't need to write quite as frequently as healthcare or news sites.
So you see? It depends.
Also read: How Long Should My Blog Post Be? (Our Summary After Looking at 5,000 Posts)
How Often Should I Blog for SEO?
Creating content for SEO is one of the best ways to increase your organic traffic.
More and more websites are turning to blogging as a way to improve SEO and attract visitors. Especially because Facebook and Google Ads have become so expensive, content SEO stands as one of the most profitable ways to generate leads.
But when it comes to the frequency of posting, there is no one-size-fits-all rule of thumb. The frequency depends on your website, your industry, and your target audience. However, a good guideline is to blog at least once a week to keep your website fresh and keep your audience engaged — or at least update an old post once a week.
Also, try our tool GrowthBar to speed up your content creation process with AI.
But most scientific answer (according to HubSpot) is that blogs that post over 15 times per month get 4x or more organic traffic than blogs that publish just one or two articles per month.
See there's this concept in SEO of publishing velocity — many SEOs (myself included) believe that Google favors sites that post more frequently. In Google's eyes, those sites are just more trustworthy.
So as a rule of thumb, aim to post at least a few times a week for optimal search engine results. Doing so will give you the most opportunities to rank, without going overboard.
But note, it differs by industry.
If you're in a massive search vertical like healthcare or personal finance, it makes more sense to blog more often. First, there are a lot of keywords to cover, so the topics naturally lend themselves to oodles of blog posts. Second, these verticals fall in the your-money-your-life (YMYL) category of Google searches. Google values sites that update and publish often to stay in stride with trends. Doing so shows topical authority.
If you're in a news vertical, I'm sorry to say you have the most significant blogging cadence of all. News sites must update existing articles and publish new ones with breaking information. Failure to do so will make it difficult to rank; Google values news sites that are current. In fact, Google has specifically outlined content (like news content) they call query deserves freshness (QDF) content. This means you really need to stay current in the news blogging world. Plus, competition is really steep for news sites. You're up against NY Times, CNN, BBC, and Yahoo News. Making lots of content is the price of entry!
Good news for regular old blogs or niche sites like those you might see on a SaaS product's website or an ecommerce site: you only need to publish 3+ blog posts per week if you're pursuing an aggressive SEO strategy. Even one or two intelligently planned, well-written blog posts per month are enough to begin generating a small amount of organic traffic.
Finally, local websites with blogs — like real estate agents, contractors, plumbers, etc. — need only post enough blog content to cover the questions local searchers are asking… which is probably under 20 total posts. Showing Google that you're authoritative and comprehensive in your space is important, but there's only so much local content to cover. Do a little keyword research and take care of the 10-20 comprehensive blog posts that are important for your niche.
Of course, you can always be more or less aggressive than I detail above, but these are reasonable guidelines for blog posting frequency for SEO.
Final note: Quality is more important than quantity. Google only sort of cares how many blog posts you have, but it definitely cares how good they are. So no matter your posting cadence, make sure to write comprehensive, well-written posts to serve your audience and Google.
Also, try our tool GrowthBar to speed up your content creation process with AI.
Also read: 6+ Steps to Writing an Article that Ranks on Google
Or, check out my video about the 7-step process I used to sell my other blog to a public company (after ranking for 130,000+ keywords). I talk a little bit about the importance of content velocity in there:
How Often Should I Blog for Brand Building?
There is no set number of blog posts that you should write per week for brand building. It really depends on your blog topic, how much content you have to share, and how much time you have to write. However, I recommend posting at least once a month to keep your blog active and engaging for your readers.
Of course, what's more important is the quality of content and driving your visitors to that content via email marketing, press, backlinks, and social sharing. The better your content is, the more likely your audience is to open your emails, read your press releases, and read in the future or share with their friends.
So to answer succinctly: if you're only blogging to build your brand, the quantity of posts doesn't matter a whole lot.
Also try: Our 8+ FREE AI Content Tools
How Often Should I Blog for Customer Support or Onboarding?
In the case of blogging for customer support or to help users navigate your product, quantity of posts doesn't matter. As long as you're comprehensively objection handling and providing enough material for your customers to succeed, you've done enough!
So, How Often Should I Blog if I'm Just Starting?
Just starting to blog? That's fantastic!
If your goal is organic traffic, I recommend you publish a lot of content in your first couple of months… more than you would otherwise.
Having spent 10+ years in the SEO industry, it just seems that Google favors sites that come out of the gate fast. I don't exactly know why this is to be honest, but look at these examples:
DoNotPay.com: Published 430 pages in an 11-month period. They went from 0 to 142,000 monthly visitors in under a year. Today, DoNotPay gets over 3 million organics per month according to GrowthBar.
LogicInbound: Published 100 pages in their first four months, which brought them from 500 to ~60,000 visitors a month in 13 months.
DoggyPedia: 200 pages published in 6 months, rose from 0 to 35,000 visitors per month within a year.
ManlyWellness: My blog (which I've since sold to a public company) grew from 0 to 130,000 organic visitors in 1 year. We posted 50 blog posts in our first 6 months.
Again, I don't quite know why, but Google favors new blogs that publish at a high velocity.
Also read: How to Start a 6-Figure Niche Site Now
How Can I Blog Faster?
Trying to increase your blogging velocity? Look at trying a content generator like GrowthBar.
A content generator is a term that describes any type of software or computer program that can generate content. These programs are often used in the marketing world for the production of a large amount of content, usually for a specific purpose such as email marketing, company newsletters, or of course, blogging! Content generators come in many shapes and sizes — but most use some form of AI or natural language processing. Some content generators are used to create one specific type of content, such as recipes, while others are more general and can be used for many different types of content.
Well-rounded content generators like Copy AI or Rytr are awesome choices. GrowthBar is our favorite for writing long-form blog posts. But I'm pretty biased 🙂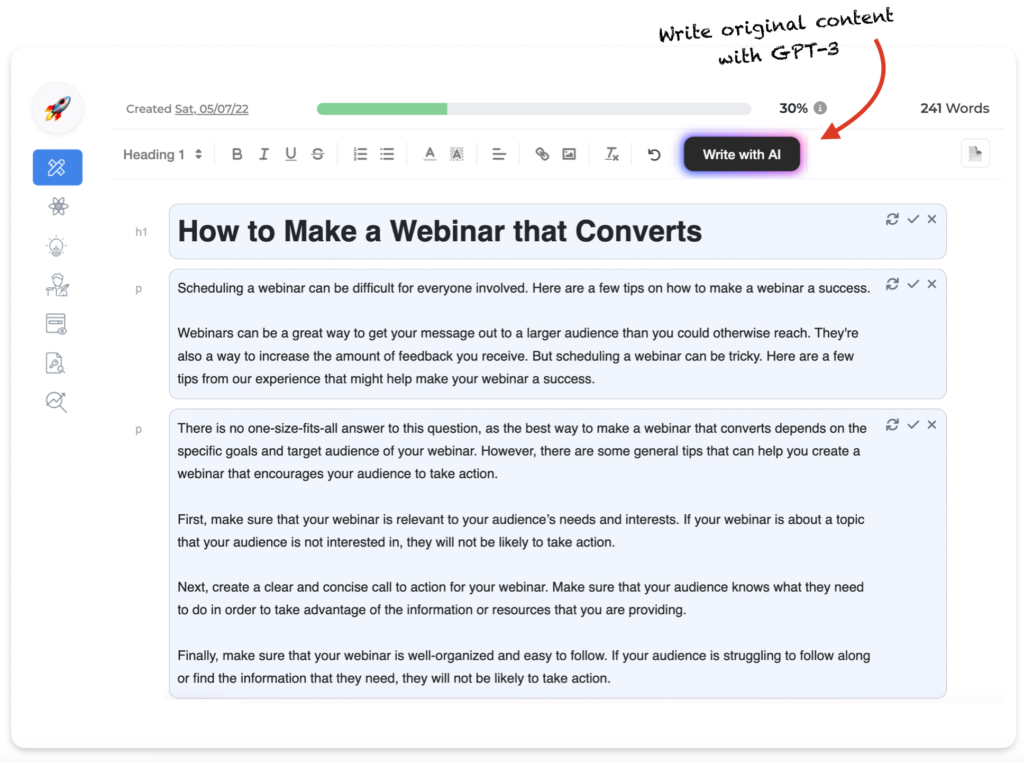 So, How Often Should I Blog?
This is a question with no definitive answer, as it depends on a number of factors, including your blog's topic, your audience, and your blogging goals.
Are you blogging for organic traffic or something else?
Even if you ramp up your posting frequency, keep a minimum threshold on your quality. Don't just publish for the sake of meeting your daily or weekly goal. Remember when asking how often should I blog – quality comes before quantity.
Also read: