Latest posts by Mark Spera
(see all)
Depending on who you talk to, you'll hear SEO described as anything from some sort of mysterious process that magically results in more visitors finding your site, to a simple checklist of things to do before you hit publish.
So, what is SEO (Search Engine Optimization) exactly?
More importantly, how can you use SEO to increase your digital presence and drive more visitors and sales to your website? (Hint, it's not magic.)
I believe SEO is quite simple.
In this article, we're going to pull back the curtain and take you through everything you need to know about SEO, including why it's important to understand SEO and how you use it to gain a competitive edge over your competitors.
What is SEO?
Starting with the very basics, SEO stands for "Search Engine Optimization."
Search engine optimization is—as it sounds—the process of optimizing your site and content for search engines such as Google.
You do this because the better optimized a post is for a search engine, the higher you'll rank on Google, and more visibility it'll have within the search results.
See, we told you it was simple!
---
Also read:
---
Why is SEO Important?
If you're involved with online work in any shape or form, from an NFT website to SaaS company to content marketing agency, you will have either been pitched SEO services or heard about how important SEO is.
The SEO industry is estimated to be worth somewhere in the region of $79 billion (give or take a few billion).
If that sounds like a crazy number, it's because it is. SEO is right up there with some of the largest industries in the world—and with good reason.
Just think of this: billions of people are searching every day, and each search you direct to your site is worth something to you.
When SEO is done well, the ROI on time and money spent can be incredibly high. Once you've achieved a high rank for keywords that are driving traffic and sales to your site, you're effectively getting "free" leads.
Of course, it's not free in every sense of the word, as you will have invested time and possibly money into your SEO efforts. But compared to paid ads, organic traffic is a free source of traffic that keeps on giving.
10 of the Most Important SEO Ranking Factors
We've explained what SEO is and why it's so important. You're probably now wondering just exactly how you can better optimize your site.
This is a lengthy topic that could span several volumes; Google uses over 200 ranking factors to determine which sites to show in their search results.
Don't worry, though. Not all of these signals are treated equally. In fact, a lot of them will either not be relevant to you, or you won't need to spend time on them.
Generally speaking, three key areas contain important ranking factors you'll need to familiarize yourself with:
On-page ranking factors: These relate to the content on your pages. Things like keywords, title tags, and images give Google a good understanding of what your page is about.
Off-page ranking factors: These relate to signals outside of your site, such as backlinks and social signals.
Technical ranking factors: These relate to your site's performance, such as mobile compatibility, accessibility, load speed, and more.
With this in mind, let's take a look at 10 of the most important SEO ranking factors that will make a huge difference to your rankings:
1. Make Sure Your Site is Secure and Accessible
As with most things, you have to start on the right foot. In Google's eyes, that means presenting them with a secure site that's easy for their spiders to crawl.
Having a secure site means installing an SSL certificate. This adds "HTTPS" to the beginning of your URL, as opposed to unsecured sites URL structures that have only "HTTP."
Having a valid SSL certificate encrypts all the data being transferred to and from your site. It's a huge factor in reducing the risk of being hacked, and is a ranking signal because it signifies trust.
Another technical SEO aspect you need to get right from the offset is making sure search engines can crawl your site. If your site isn't visible to search engines, you're not going to appear in the search results no matter how amazing your content is.
To do this, you need to create a robot.txt file. This file tells Google where it can find all of your site information.
The easiest way to do this is by using an SEO plugin. YoastSEO is the most popular SEO plugin on the market and will make sure your site can be easily crawled and indexed.
2. Mobile Responsiveness
The majority of users access Google from a mobile device. As a result, Google now uses mobile-first indexing when indexing and ranking a page.
This means it's essential to check your site loads correctly on mobile and is easy for mobile users to read and navigate. Even if your site looks and loads perfectly on a desktop, your rankings will suffer if you can't say the same about the mobile version.
A mobile responsive theme is a must. As is checking that the text appears large enough on small screens, navigation buttons are easy to press, and so on.
3. Keywords
We cannot emphasize how important keyword research and targeting the right keywords in your blog topics. It's one of the most important ranking factors, yet it's one area most people get wrong.
Keywords are the search terms people type into Google when they're looking for something. Your goal is to deliver content as closely aligned with their search intent as possible.
This starts by matching the keywords your target customers are using. Before writing an article, you must identify the main keyword you want to target. You should then also list several secondary related keywords.
Finding and optimizing a page for the right keywords is something that gets easier with practice. It's also essential you use a good keyword tool, like GrowthBar.
Your customers will not always be searching for the same phrases and asking the same questions as you think they are.
Without a keyword tool to verify keywords have search volume, and more importantly, they are not too competitive to target, you're operating on guesswork.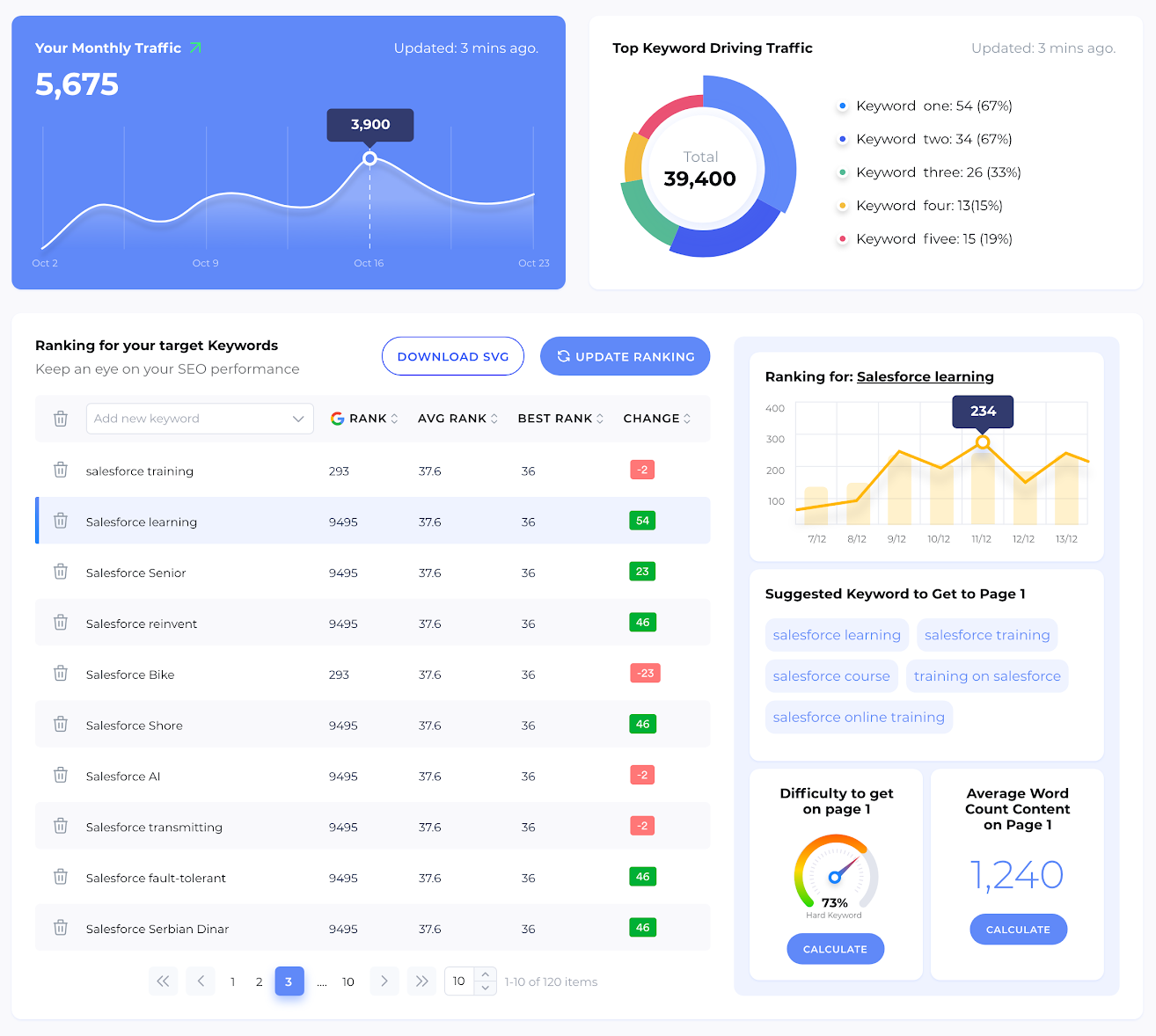 4. URLs, Titles, and Header Tags
Once you know the keywords you want to optimize your content for, you need to know where to use them to help search engines know you're optimizing your content for them.
Search engines put a lot of weight on the URL and the title and header tags of a page. This means including your keywords in the URL for your page, the title that heads up your article, and the meta tag.
5. Images and Alt Tags
Images serve several SEO-related purposes, as well as enriching a piece of content for the visitor.
When performing searches in Google, you'll have noticed images appearing, right? Not just under the "images" tab, but within the "all results" page too.
This is because Google, and people, love images. Visuals often have a higher click-through rate than text—if the images are highly relevant to a searcher's intent.
You should always use as many quality images in a piece of content as is relevant. It's also important you add your keywords to the alt text for each image.
Remember, Google is essentially a bot that crawls text and code. It can't see and interpret images (yet). Alt text tells Google what an image is about and which keywords to rank it for.
6. User Experience
You should always be aiming for a balance between writing for search engines and writing for people.
User experience is a ranking factor as Google measures how users interact with a page, and they test it themselves using something called "RankBrain."
RankBrain is a part of Google's core algorithm, which uses machine learning to try and replicate a visitor's experience with a page. They use these signals to help rank the page based on the quality of that experience.
7. Core Web Vitals
Core Web Vitals is the latest update Google has announced that will impact ranking factors.
Due to be released in May 2021, Core Web Vitals measure the first impression a user gets when visiting a page. More specifically, how fast the page loads, how quickly and easily it becomes interactive, and some other metrics around the page's layout.
In short, pop-ups, intrusive adverts, scrolling elements, and anything else inhibiting user experience are expected to be negative ranking factors.
8. Topical Relevancy and Interlinking
The topical relevance of a site is a huge ranking factor. It's hard to pinpoint exactly how to get to the point where search engines "trust" you as an authoritative source in your niche. However, it's something you should always keep and mind and work towards.
To increase your topical relevance, you need to produce a lot of content around a topic, interlink your articles well, and improve your site's overall authority by attracting links and increasing your traffic.
At the page level, topical relevance relates to how relevant the content is on any page in relation to the keywords it's targeting. At the site level, Google considers all the content on a site to determine how much expertise a site has on a particular topic. You can help yourself out by using the topic cluster model to organize your content.
9. Social Signals
Social signals consist of links and visitors directed to your site from social media sites like Facebook, Twitter, Pinterest, and LinkedIn.
While not a direct ranking factor concerning the number of links or shares a piece of content gets across social media, there are many positive metrics that impact rankings, such as: visitor engagement from the traffic finding your site via social media, the increased chance of backlinks, and the overall increase in exposure your site is getting.
It's certainly worth putting some marketing effort aside for promoting your content on social media.
10. Backlinks
Backlinks have always been one of the strongest ranking factors. A link pointing to your site from another site can greatly impact where that page or your site ranks in the search results.
Admittedly, backlinks are not as powerful as they once were. Also, how Google evaluates backlinks has changed a lot over the years.
There has definitely been a trend towards high-quality backlinks from relevant sites being given more "weight." Long gone are the days where you could pick up backlinks from any site and push a keyword up the search results!
The best links are from sites that are in the same space or niche as you. When a site like that chooses to link to a piece of your content, it's sending a signal to Google that your content is worth being recommended.

Understanding Black Hat and White Hat SEO
While talking about different SEO techniques, we have to touch on the good and the bad. As with most marketing tactics, there are ways to take shortcuts or break the rules in SEO.
First, we don't advocate anything other than playing hard and playing fair. The penalties for breaking the rules can be devastating, and it's not the right way to build a business your customers will trust.
That said, here's a brief explanation of the terms "Black hat" and "White hat" SEO that you will no doubt hear from time-to-time.
Black Hat SEO
Black hat SEO is the practice of "gaming the system" by manipulating search engine algorithms to achieve a higher rank in the search results.
With huge financial gains on the line for ranking higher, some SEO practitioners will, unfortunately, do whatever it takes to rank their site higher.
We're not going to go into black hat SEO in detail. It's a short-sighted, unethical practice that puts a site at risk of being penalized and deindexed eventually.
It's important to be aware of what black hat SEO is, though. If you ever find yourself working with an SEO consultant or an agency and get an uneasy feeling about their tactics, you can check Google's terms and conditions.
White Hat SEO
White hat SEO is the term given to SEO tactics that are fair and ethical and within Google's terms and conditions.
Not only is practicing white hat SEO the right thing to do, but it's also going to produce the best results in the long-run.
Like it or not, Google has by far the largest market share of any search engine. As of July 2020, Google handled 86% of all search queries. Bing came second with just 6% of all online search queries.
When we talk about SEO in this article, we're always referring to white hat SEO. It's the only way to go about increasing your site's visibility online and building a sustainable business in our eyes.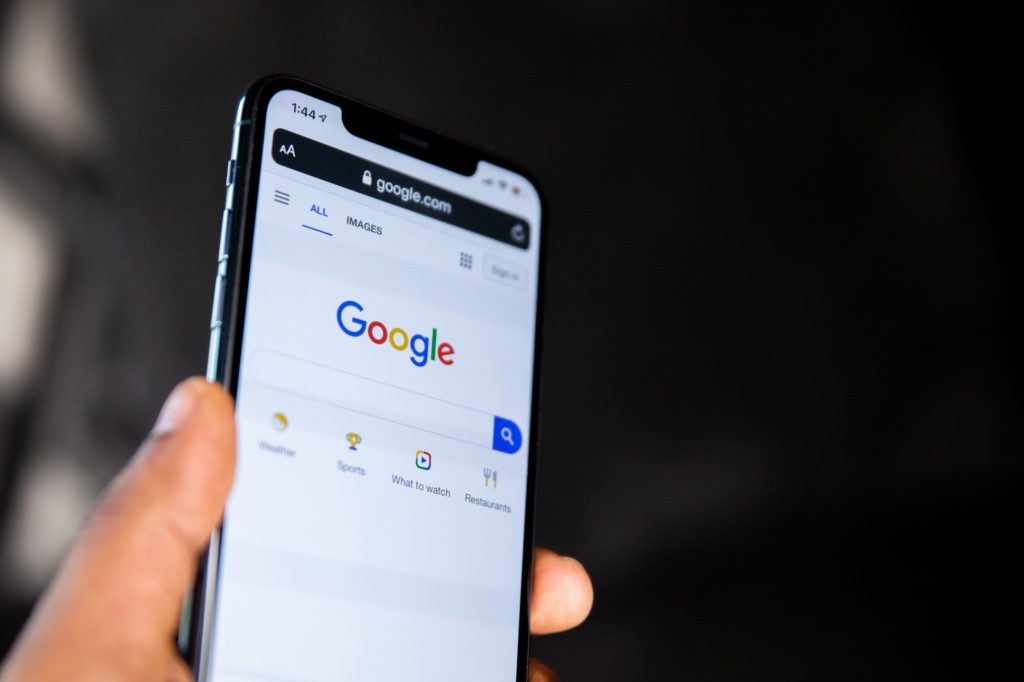 Conclusion
We hope you enjoyed this introduction to SEO. Those three letters, S-E-O, should feel a lot less intimidating now.
At its core, SEO really is simple, right?
SEO is always changing, though, so it does feel like you're never really on top. However, if you keep following best practices and optimizing your site for as many ranking factors as possible, you will see your digital presence improve.