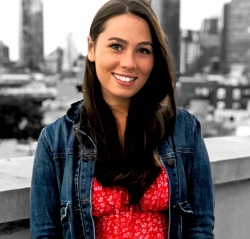 Latest posts by Madeline Hogan
(see all)
AI marketing tools have come a long way in recent years and individuals are finding plenty of software options to help tackle pesky writer's block.
Everyone from copywriters to bloggers, to content teams and marketers can benefit from these new tools.
This article will dive into two of the top tools on the market, Copy AI and Jasper (formerly Jarvis, formerly Conversion AI), and why these generative AI platforms are becoming essential. Plus, I'll tell you which one is best for your business use case.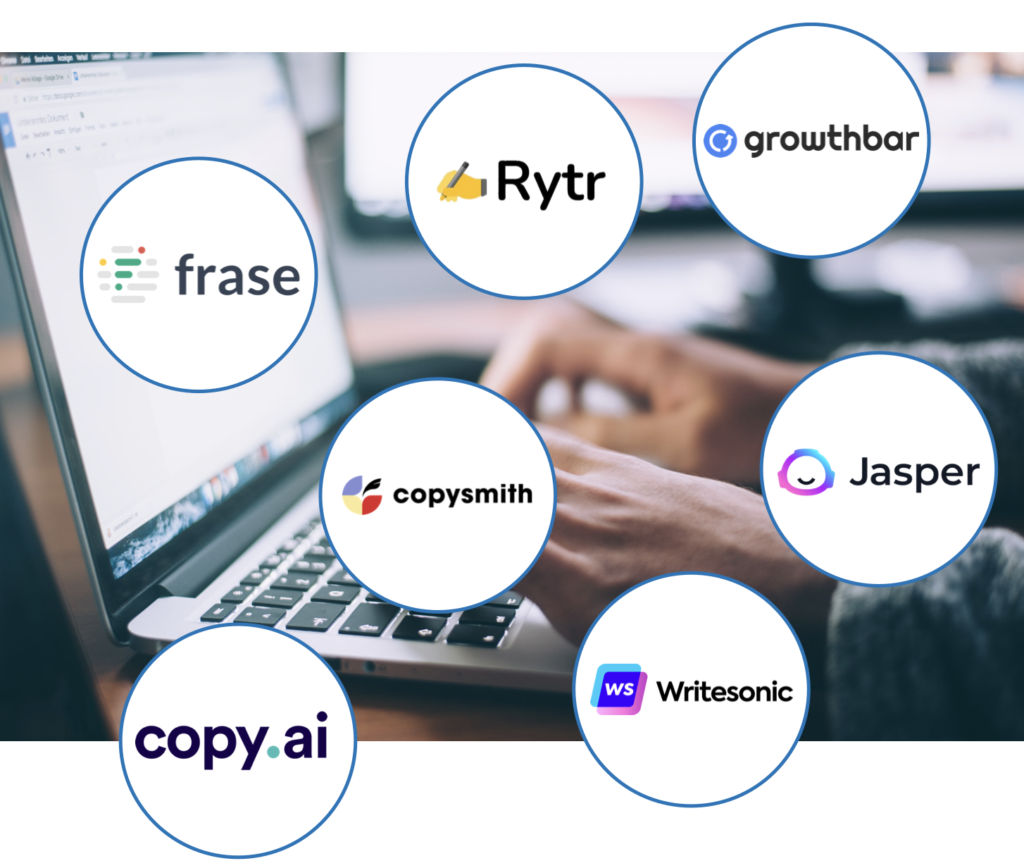 What Are AI Copywriting Tools?
AI copywriting tools (also called content generation tools) like Jasper and Copy AI use artificial intelligence to write content for a given subject and tone.
They're built using Large Language Models (LLMs) — which are basically giant algorithms trained on a huge corpus of text. The precise training LLMs undergo enriches the algorithm so it can get really good at predicting sequential data — in this case, text.
That means tools like Jasper and Copy AI can produce human-sounding language with just a short text input.
In the GIF below, Copy AI generates three follow-up sales emails with just the input, "I want to sell you season tickets to the New York Knicks."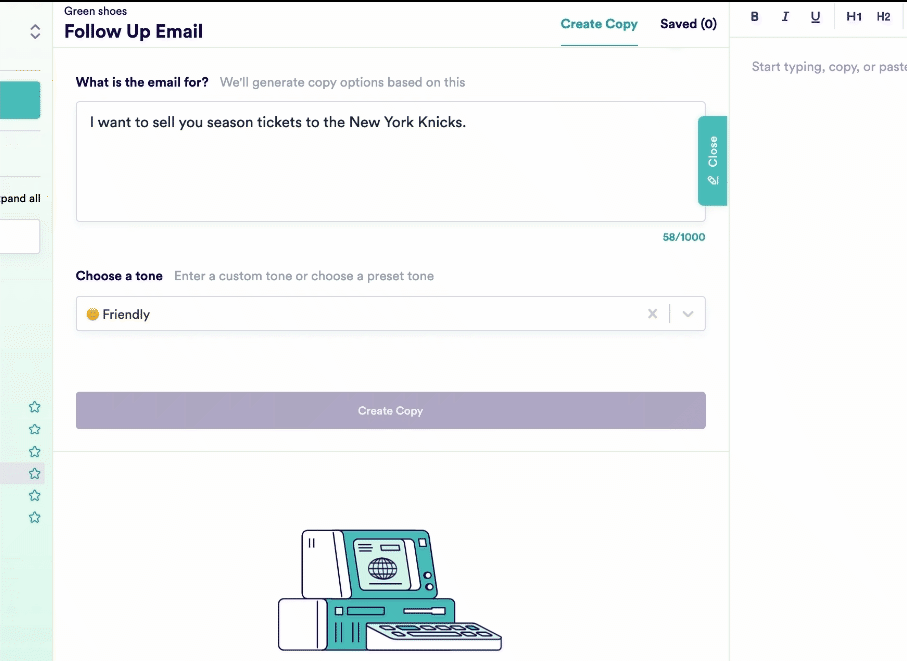 Jasper and Copy AI both try to eliminate manual work associated with copywriting in a few major areas.
Blogging
Email marketing
Social media marketing
Sales emails
Website copy
Product descriptions
Essays and research papers
And much more
In both cases, the user provides some "seed text" that the AI will use to find and generate its own content.
The seed text often includes a title, description, and a field for the user to enter as many relevant keywords as they can fit within the character limit. Once you tell the AI what you want it to do, you can even ask it to provide you with a few variations on the same theme. 
Also, try GrowthBar's Free AI writing tool here.
---
Get a 5-Day Free Trial of GrowthBar
This post ranks on page 1 of Google and was written with GrowthBar. Which tool do you trust for your AI blog post writing now?
---
Copy AI vs Jasper
Use cases, pricing, and examples…
Copy.ai
Copy.ai is basically a short-form copy generator.
It excels at short-form content such as email subject lines, blog title ideas, headlines, social media captions, product descriptions, brainstorming, bullet points, and almost anything else you can think of.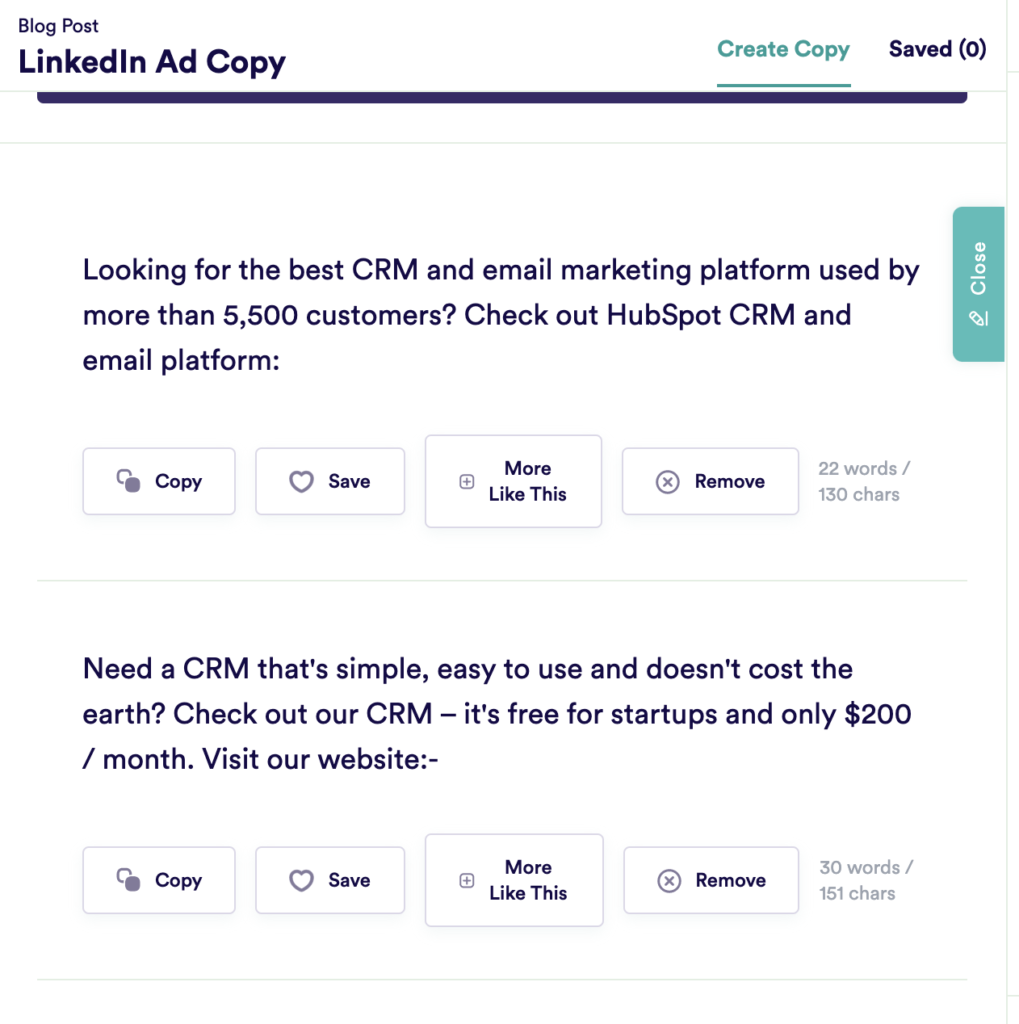 In my opinion, it's the best tool for short-form content. Social media managers, paid marketers, and email marketers rejoice! Copy AI has a range of features and perks that make the software stand out in this niche.
Usability: Copy AI has an intuitive design and a UI that lays everything out transparently without understanding the underlying coding to get the most out of Copy AI.
Content Templates: Copy AI comes with many templates (90+) and tones to choose from for all kinds of short-form content, such as emails, social media posts, and product descriptions.
Supported Languages: Copy AI can translate to 25 languages, regardless of the chosen plan.
Quality of Support: In addition to the Help Center page on their website, Copy AI also has an easy-to-use messaging system to get in touch with their customer support team.
Other Features: Copy AI also offers a training portal on its website that walks through all of the tools and options in the software.
Chat: Recently, Copy AI released its chat feature. It's similar to OpenAI's ChatGPT with one main exception: it has access to real-time web information. So if you asked ChatGPT who won the Super Bowl, it won't know. But if you ask Copy AI's chat feature it would. While this seems trivial, it makes several types of workflows much easier. For instance, you can write a sales email to a specific person on LinkedIn and reference their recent job update… all with AI. Pretty cool,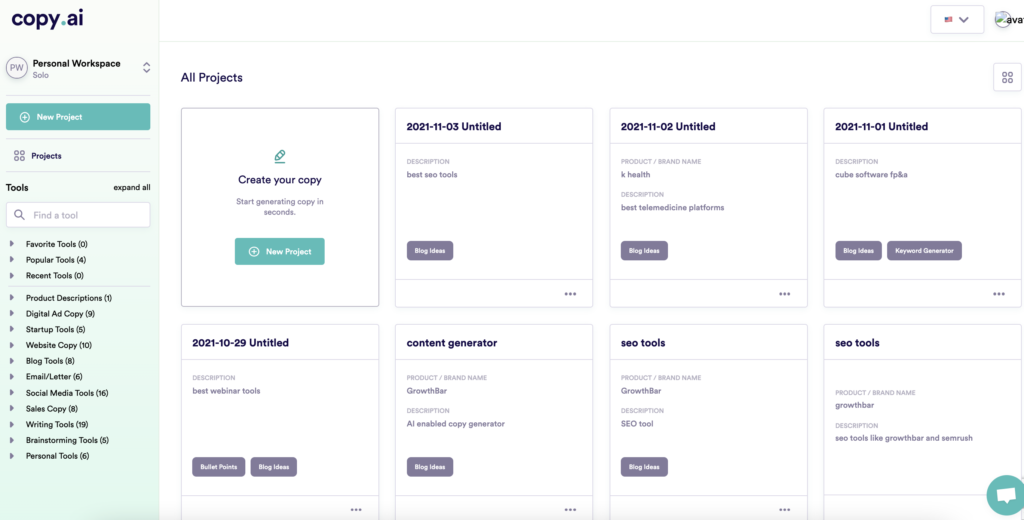 Here are a couple of examples of outputs from Copy AI.
This is what Copy AI returned for LinkedIn Ad Copy when I input "HubSpot / email marketing and CRM."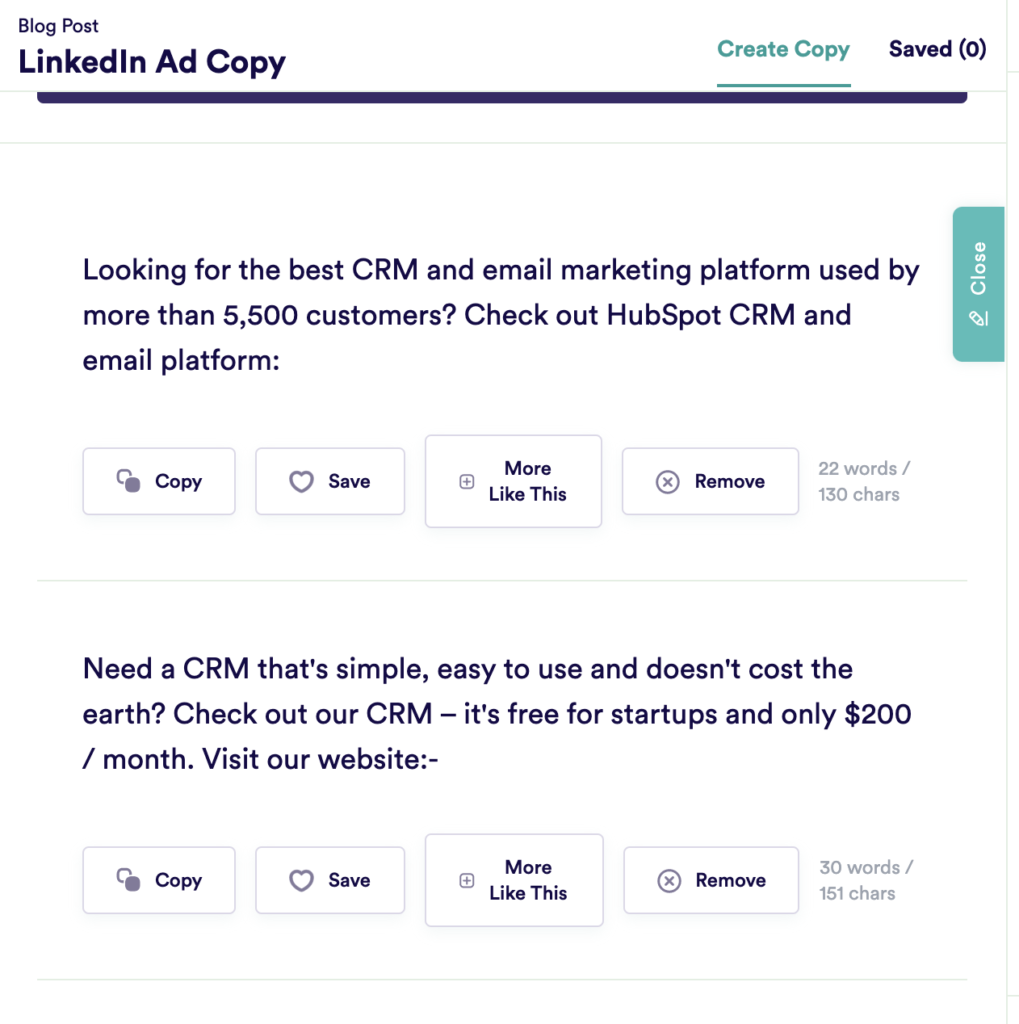 This is what Copy AI generated for the same query for Landing Page Hero Text.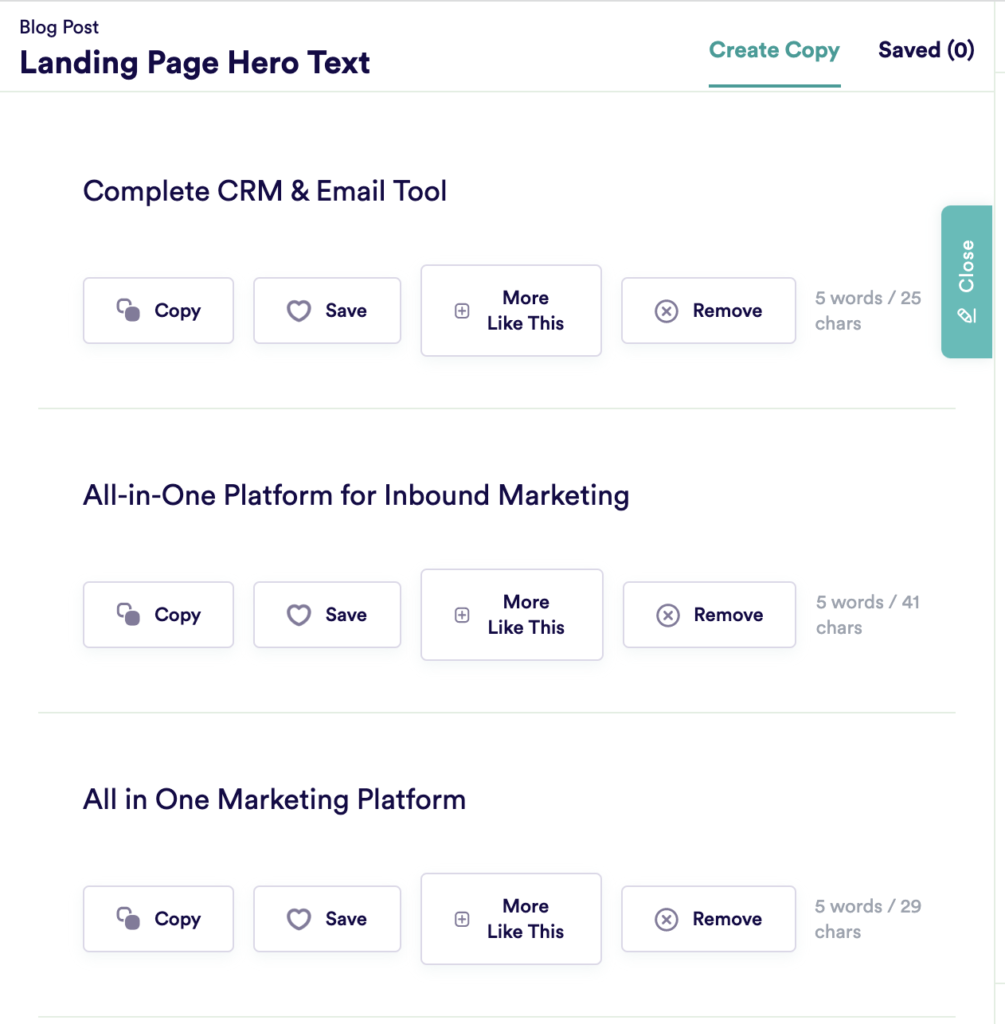 One other cool thing is Copy AI allows you to choose the tone for your text output. You can get text outputs in almost any "voice" you can imagine.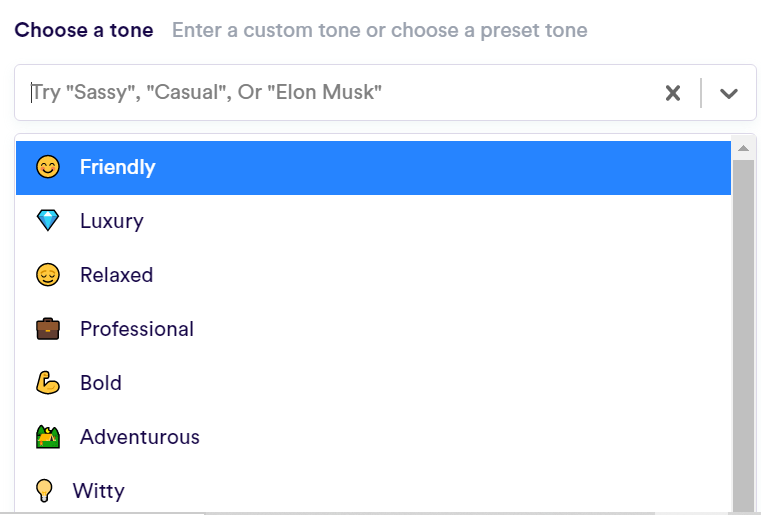 Pricing:
Free: Copy AI has a free plan that includes 10 pieces of copy, which won't get you too far, but it's something!
Pro: $35/month, which gets you unlimited copy credits
Enterprise: no pricing information is provided
Copy AI summary:
With 4.8 stars on G2, Copy AI is definitely among the top-rated AI copywriting tools. Most of the complaints — mine included — are about the quality of text outputs. While the text it produces is generally pretty usable, it's hit or miss. I find that it's best for low-stakes use cases like social media and for content inspiration.
Try GrowthBar free –> www.growthbarseo.com
Jasper
Jasper (formerly known as Jarvis, formerly known as Conversion AI 🙄) has many tools and features that solidify its place as a solid long-form and short-form content generator. Jasper is perhaps the most well-known of the AI writing tools, thanks in part to its $125 million round of funding in late 2022. They've acquired several companies, they have a Chrome Extension that helps you write with AI wherever you are, and they even have an AI image generator.
Jasper is definitely a jack-of-all-trades when it comes to AI content.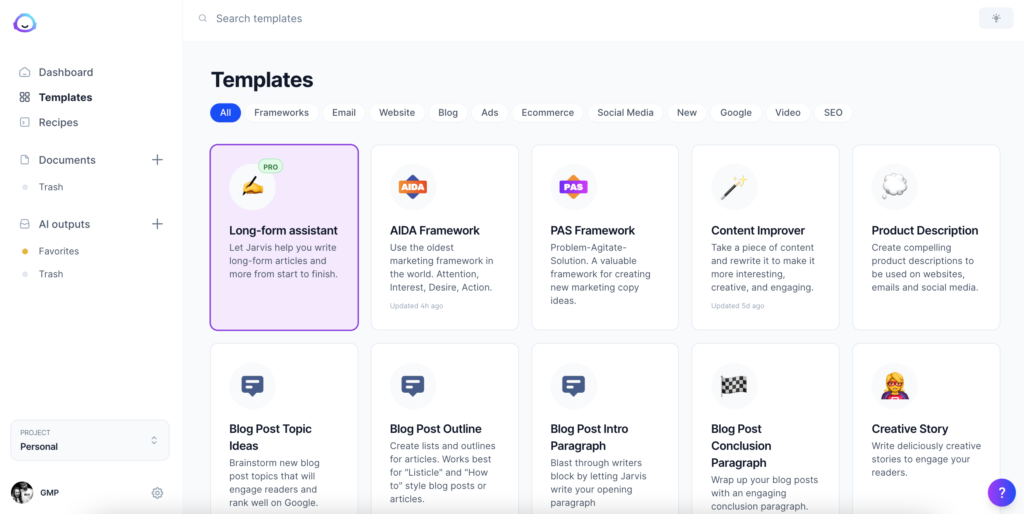 Here are some of the features that make Jasper the choice of over 70,000 writers and content creators.
Usability: Much like Copy AI, Jasper has an intuitive UI that is easy to navigate and doesn't require any coding experience to use.
Content Templates: With over 50 templates to choose from, Jasper has plenty of ways to inspire creating form content.
AI Image Generation: The Jasper Art feature enables you to create AI-generated art for $20/month. And the results are pretty eye-catching.
Chrome Extension: Jasper has a Chrome Extension that enables users to write with AI directly in Gmail, Notion, and almost anywhere else on the web. This is probably their most formidable feature in the battle with Copy AI.
Supported Languages: Jasper supports up to 25 languages for content translation.
Quality of Support: Like Copy AI, there is a Help Center and a direct email message line for customer support in Jasper. Customers who pay for the more expensive package have priority placed on their queries.
Other Features: There are many ways to learn about Jasper, including live training, webinars, and online blogs and courses. The more expensive package also has a plagiarism checker.
Jasper has some of the same features as Copy AI. However, it doesn't excel at short-form content in the same way that Copy AI does. Instead, Jasper is best for long-form content like a blog post or landing page — and even for that I find the results a little suspect sometimes.
Here's an example in which I input "emerging marketing trends" and got a result with "2018" in it (not exactly emerging).

As a composition tool, Jasper leaves a little to be desired. The app bills itself as a time-saver, especially for long-form content, but this is where it falls on its face. It can indeed speed up the writing process, but the more technical the content or the more heavily the user relies on the AI's ability to compose from scratch, the greater the risk that the text the AI produces will contain flat-out wrong statements.
However, I do love the fact that Jasper now has a Chrome Extension — enabling natural language completions while you're working anywhere — composing emails, Slacking coworkers, or writing in Word Docs. It's definitely unique in this regard.
Pricing:
Starter: $29/mo, 20k words per month, and access to all 50 templates
Boss Mode: $59/mo, 50k words per month, access to all 50 templates, plus Boss Mode (the long-form editor)
Jasper Summary:
Jasper is a great option if you have a wide variety of generative AI use cases. If you need short-form copy, long-form copy, images, emails, and even essays — Jasper may be the tool for you. And with 4.7 stars on G2, most people agree! Beware though, the majority of bad reviews come from people who were not refunded money or were deceived into paying for higher-tier plans than they wanted. Yikes, that's not a good look. Read a full Jasper review here.
How to Choose the Right Tool
Which one is the best? The answer to that question came down to preference and required features.
Before choosing an AI-powered content tool, consider the following:
What teams will be utilizing it?
What social media platforms does your business use the most?
What content does the team generate the most?
What are the current content weaknesses you are seeing within your teams?
Personally, I don't have a problem writing short-form copy. I think it's rather fun and not terribly difficult. So for me, I don't find Copy AI all that useful. Though I could imagine it would be a great tool for email marketers or Facebook advertisers — who are constantly coming up with subject lines and ad copy.
Jasper seems to be a better choice for a content team that has multiple use cases.
In both cases, it's going to be difficult for an AI writer to completely replace the work of an experienced copywriter. However, they're both very good at getting you 90% of the way there.
Is your use case primarily writing blog posts for SEO? Then, I think you're much better off with GrowthBar…
How Do These Tools Work?
While Jasper and Copy AI have different strengths, they both use AI and machine learning to generate content based on users' needs.
Functionally, they both take information from across the web and use algorithms to organize that information and surface content results for each user query.
They're pretty similar:
Both of them use GPT-3, the largest language model ever created, to inform much of their generated content.
Both tools offer templates that users can choose to help with content generation for their digital marketing plan.
Both have packages that start under $100.
The AI content is used either as a baseline for digital content creation or as wholesale content for a business. Though in both cases, I don't believe the AI content is as quality as most marketers will like — therefore, there is bound to be some human intervention before pressing publish on your blog, email, or social media accounts.
Both tools make for a great writing tool to help overcome writer's block or inspire new directions.
Jasper & Copy AI Alternatives
They aren't the only show in town. There are a few other tools that are also great Jasper and Copy AI alternatives.
1. GrowthBar: Best for SEO Blog Writing


If your goal is to write SEO-optimized blog posts 10x faster, look no further than GrowthBar. GrowthBar enables you to research keywords and write 1,500+ word blog posts with the click of a button. And it works for any topic, in any language. Plus, while you write, GrowthBar surfaces SEO suggestions so that your blog post actually ranks on the Google Search Engine Results Page (SERP).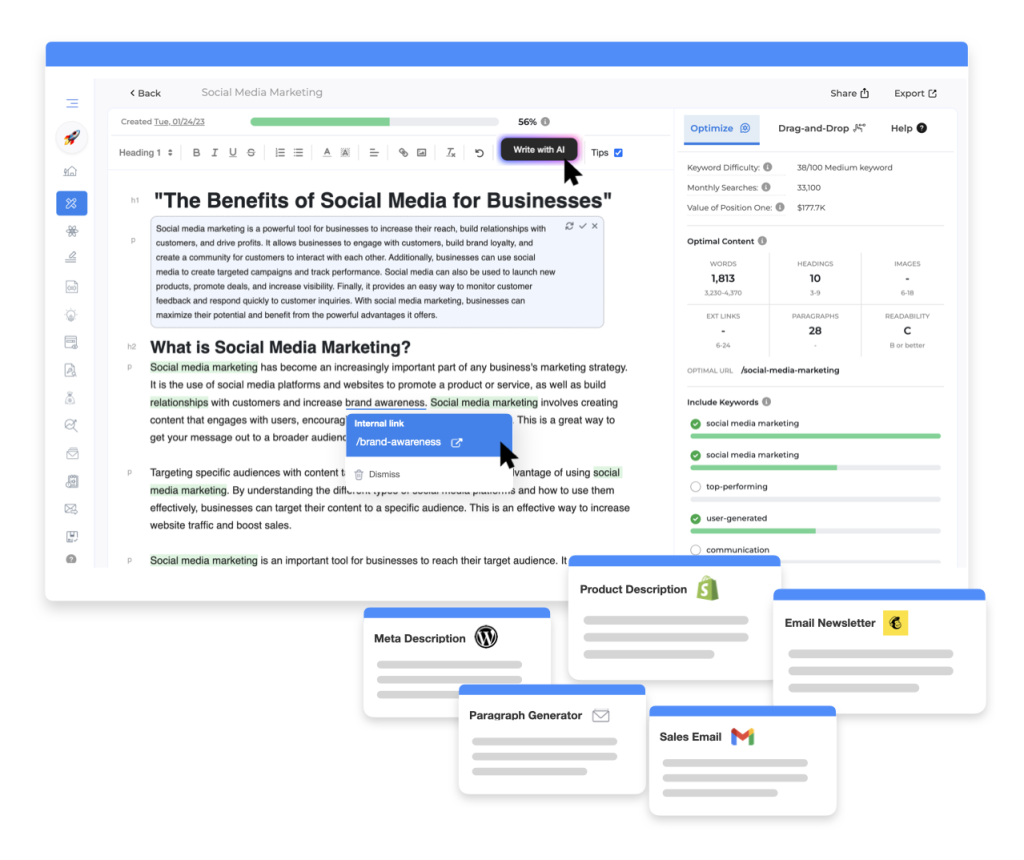 What it does:
GrowthBar has earned 4.9 stars on G2 for its AI-generating capabilities, specifically for SEO content. So how does it work? Well, GrowthBar…
Writes your entire blog post: GrowthBar takes your input keyword/topic, scans the web using a powerful SEO decision engine, and makes suggestions in a content editor using GTP-3 AI — the largest, most powerful language model on earth.
Creates content outlines: GrowthBar is completely drag-and-drop. So you can create your perfect blog post with perfect headlines, Images, keywords, and AI-generated text. Then export to Google Docs or Word. Plus, GrowthBar's Content Optimizer will tell you how SEO-optimized your final post is. Learn how to create a perfect content brief here.
Audits existing posts: GrowthBar enables you to enter any URL and GrowthBar "fetches" the content and audits it for word count, readability, internal links, SEO best practices, and more.
Keyword and competitor research: GrowthBar surfaces billions of data points so you can make sophisticated decisions about your content strategy: it includes over 2 billion keywords and search data in the Keyword Research tab, plus competitive data on every site on the web.
Chrome Extension: GrowthBar also has a Chrome Extension, which enables you to use GrowthBar's AI writer directly in WordPress.
Features:
AI content creation: a full blog writer with SEO content optimization built-in
2-Minute First Draft Builder: write a
AI blog topic creation (try the free tool here)
AI meta descriptions (try the free tool here)
AI press releases, email newsletters, and sales emails
GrowthBar suggests word count, keyword usage, internal links, and other SEO suggestions
On-page SEO audits
Keyword research
Competitor analysis
Google Ads competitor research
Backlink analysis
Who it's for:
GrowthBar is perfect for SEOs, agencies, and bloggers. It's the #1 AI writing tool for the SEO blog-writing use case. Customers include Dell, Product Hunt, Spekit, Wheel, Minted and Bill.com. Plus, at $29/mo it's an extremely accessible price point. GrowthBar works in 20+ languages.
Pricing:
Monthly Pricing plans are:
Standard: $29
Pro: $79
Advanced: $129
Try GrowthBar – Free for 5 Days
2. ChatGPT: Best Free AI Content Generator

ChatGPT is the only truly free AI content generator. If you haven't heard of it by now, you may be living under a rock. Just kidding. ChatGPT enables you to do just about anything with AI. Write an email to your boss, rephrase a sales email, add more polish to a school essay, or even answer simple queries like, "how to make pasta from scratch." I like to use it for a bunch of time-saving tasks like generating a quick and dirty outline for a blog post or for finding topical gaps in my blog posts.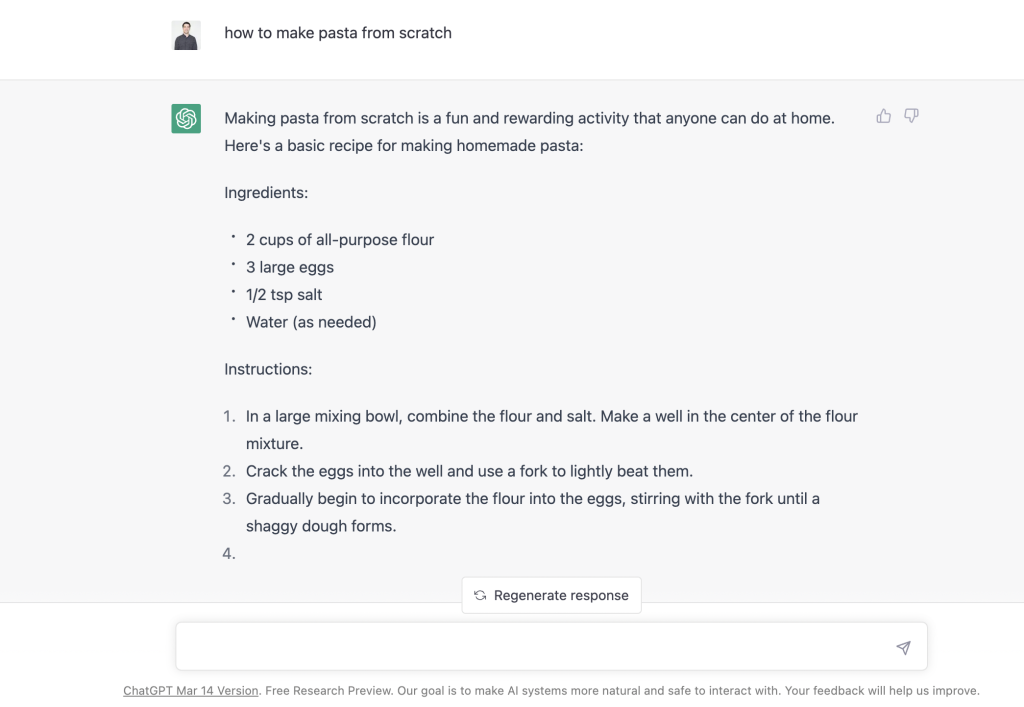 What it does:
ChatGPT is one of the most powerful AI tools ever created. It's essentially a chatbot that has access to billions of documents and a huge corpus of information. That means you can ask it to do or generate basically anything and it will oblige. The use cases are basically endless: from writing code, to crafting emails, to creating a YouTube script.
Features:
Instantly generate copy for anything
Use it as a brainstorming partner
Simple chat interface with
Who it's for:
ChatGPT is for anyone who writes copy.
Pricing:
There are two plans, one free, one paid:
Free forever
$20/month: gives you access to new ChatGPT features, faster completions, and priority access when their servers are busy
Also, watch my video about the many use cases for ChatGPT:
3. Writer.com: Best for Enterprise Businesses

Writer.com is the only end-to-end AI content generator for enterprise businesses. If you want your entire fleet of salespeople or customer support staff to efficiently CoWrite with AI and write according to your company style guide, Writer.com is for you. It's meant for large teams that want to gain efficiency from AI with automated writing that includes business context and company facts. Plus, since they're enterprise-ready, Writer.com is HIPAA, SOC, and PCI-compliant.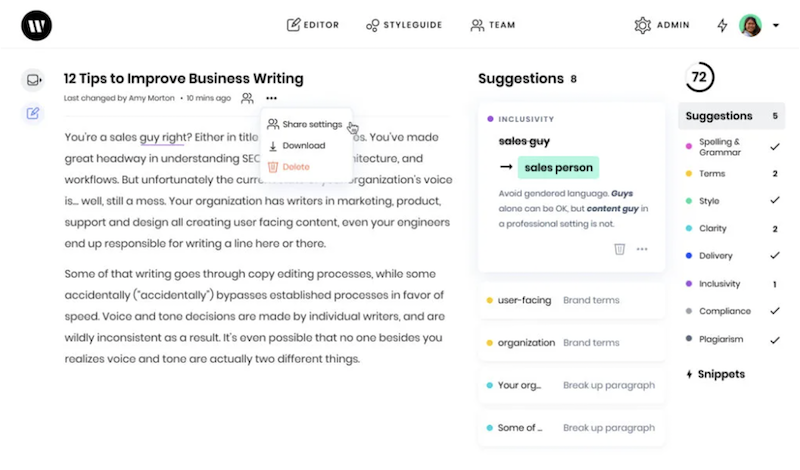 What it does:
Writer.com ingests your company's facts and style guide so that it can train a custom AI model for your business. In this way, Writer.com doesn't pull text from a one-size-fits-all corpus of information. Because it has "read" your business's blog posts, investor reports, style guidelines, and more, it can help your team write in one common voice.
Features:
Writer.com's core product is an AI writing engine that helps your team write with AI and adhere to brand voice and tone
Create a library of brand-approved snippets, so that your team can save time while they CoWrite
Integrates with Chrome (via extension), Google Docs, Contentful, Figma, and Outlook
Has an analytics suite so that your team knows how they can improve their writing
Who it's for:
Writer.com is for enterprise businesses that want to use a custom generative AI model across their organizations. Writer.com customers include Charter, Peloton, Spotify, and Cisco. Writer.com has 4.7 stars on G2.
Pricing:
$18 per user, per month for all of the features without a custom AI model
Contact sales for teams of more than 5 people or if you want a custom AI model
Writesonic is a comprehensive suite of tools for writers, bloggers, marketing teams, and entrepreneurs. It's similar to Copy AI in that there are many use cases. You can create everything from Quora answers to social media posts to blog posts, landing page copy, emails and so much more. Writesonic is unique in that you can actually choose your output quality — premium AI text outputs cost more than more basic text outputs.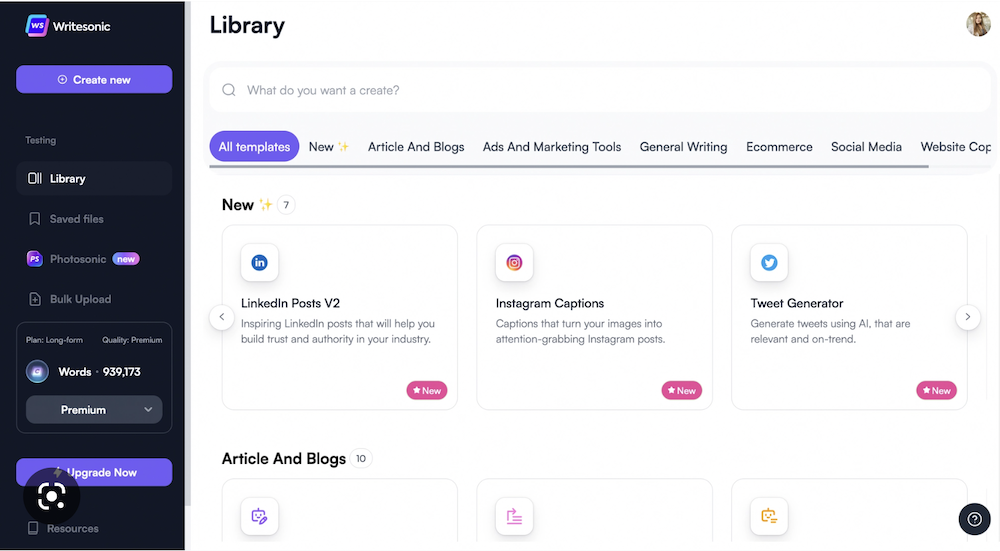 What it does:
Writesonic enables marketers to write copy across a huge number of use cases. They actually have the most copywriting tools of any tool on this list (over 100). They even have an AI image generator and a ChatGPT competitor, ChatSonic.
Features:
AI generations across 20+ languages
100+ use cases
A long-form blog generator
A 5-step blog post writer
AI image and art generation
Bulk processing (generate many outputs at once)
API access
Integration with Surfer SEO for content analytics
Who it's for:
Entrepreneurs and small businesses with a wide variety of use cases. According to Writesonic's website, Rakuten, Genesys, and several other midsize enterprise businesses use the product. Writesonic has 4.7 stars on G2.
Pricing:
Writesonic's basic package goes for $12/month, with the agency package going up to $600/month. Interestingly, you can select output quality — so you can get more words when you use lower-quality outputs.
Try GrowthBar free –> www.growthbarseo.com
Conclusion
Now that you know the dozens of ways your business can utilize AI-powered content tools, waste no time committing to optimizing your team's time and efforts. Jasper and Copy AI are two of the best.
The best way to figure out which of these tools is suitable for a business is to try them out. Almost all of the devices discussed here have a free trial that doesn't require a credit card.
It's best to experiment with these tools and find the best writing assistant that will support all of your team's needs. Try GrowthBar today to get started with all your content and SEO needs!