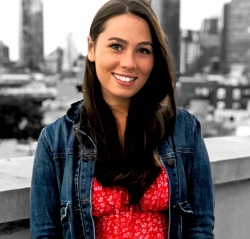 Latest posts by Madeline Hogan
(see all)
AI marketing tools have come a long way in recent years and individuals are finding plenty of software options to help tackle pesky writer's block.
Everyone from copywriters to bloggers, to content teams and marketers can benefit from these new tools.
This article will dive into two of the top tools on the market, Copy AI and Jasper (formerly Jarvis, formerly Conversion AI), and why these generative AI platforms are becoming essential. Plus, I'll tell you which one is best for your business' use case.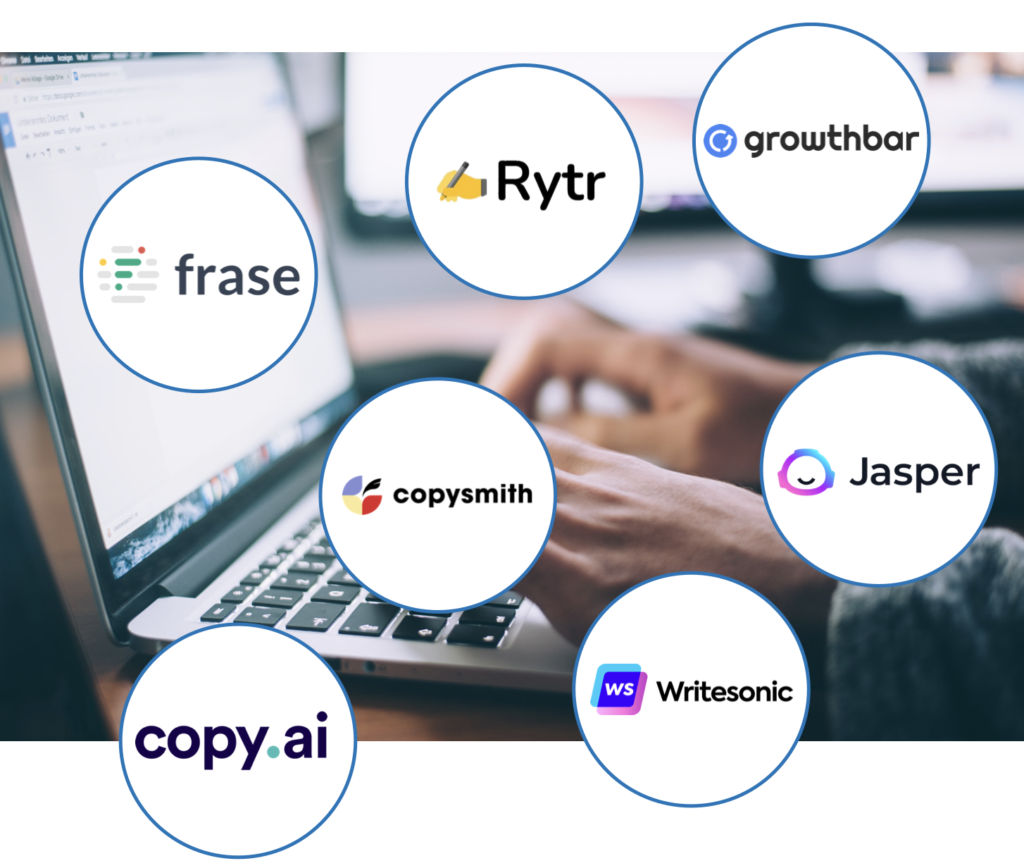 What Are AI Copywriting Tools?
AI copywriting tools (also called content generation tools) use artificial intelligence to write content for a given subject and tone.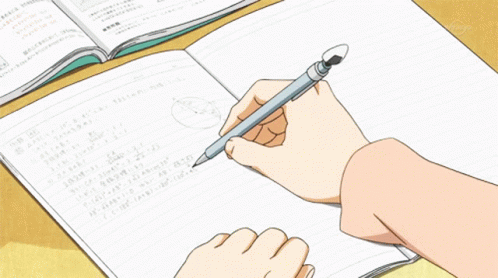 Copywriting use cases include:
Blogging
Email marketing
Social media marketing
Sales emails
Website copy
Product descriptions
And much more
Jasper and Copy AI both try to eliminate manual work associated with copywriting in these major areas.
In both cases, the user provides some "seed text" that the AI will use to find and generate its own content.
The seed text often includes a title, description, and a field for the user to enter as many relevant keywords as they can fit within the character limit. Once you tell the AI what you want it to do, you can even ask it to provide you with a few variations on the same theme.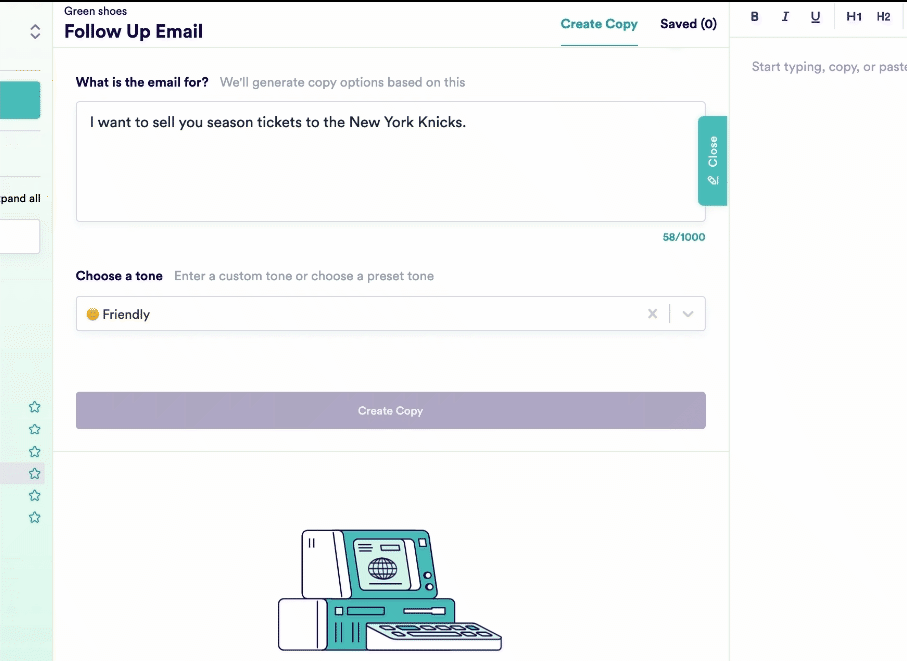 ---
Get a 5-Day Free Trial of GrowthBar
This post ranks on page 1 of Google and was written with GrowthBar. Which tool do you trust for your AI blog post writing now?
---
Copy.ai
Copy.ai is basically a short-form copy generator.
It excels at short-form content such as email subject lines, blog title ideas, headlines, social media captions, product descriptions, brainstorming, bullet points, and almost anything else you can think of.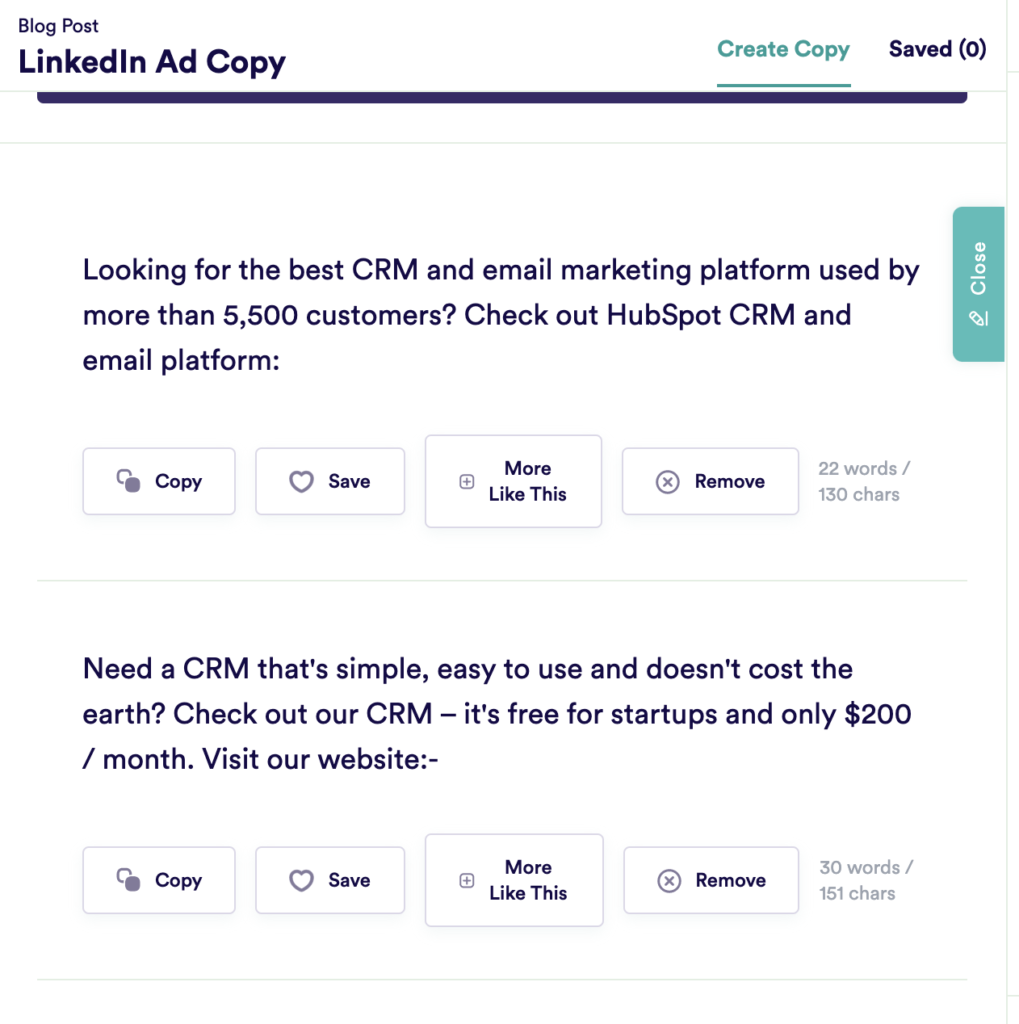 In my opinion, it's the best tool for short-form content. Social media managers, paid marketers, and email marketers rejoice! Copy AI has a range of features and perks that make the software stand out in this niche.
Usability: Copy AI has an intuitive design and a UI that lays everything out transparently without understanding the underlying coding to get the most out of Copy AI.
Content Templates: Copy AI comes with many templates (90+) and tones to choose from for all kinds of short-form content, such as emails, social media posts, and product descriptions.
Price: Copy AI offers a very limited free plan that enables 10 copy generations. From there, it provides both a Solo pricing plan starting at $35/month if paid annually and a Custom plan that is more expensive depending on a team's size.
Supported Languages: Copy AI can translate to 25 languages, regardless of the chosen plan.
Quality of Support: In addition to the Help Center page on their website, Copy AI also has an easy-to-use messaging system to get in touch with their customer support team.
Other Features: Copy AI also offers a training portal on its website that walks through all of the tools and options in the software.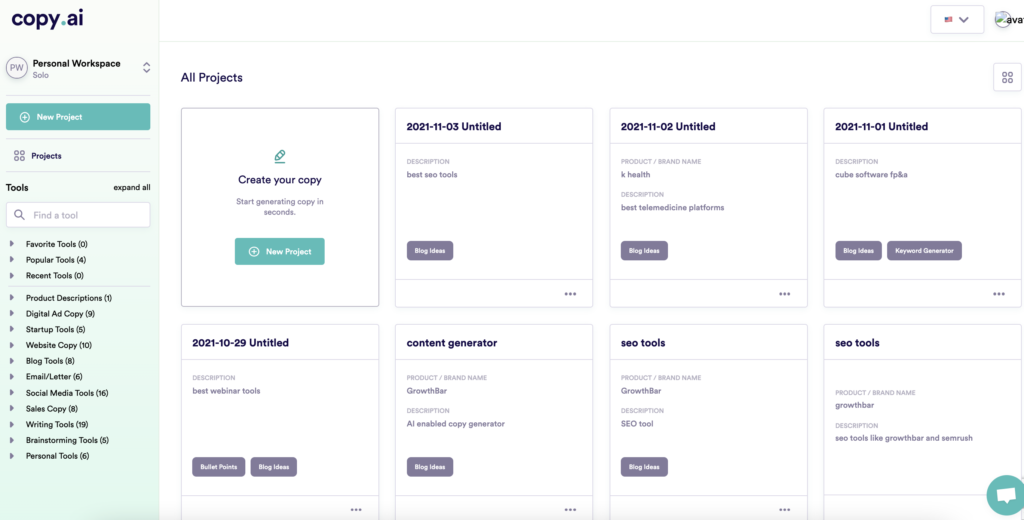 Here are a couple of examples of outputs from Copy AI.
This is what Copy AI returned for LinkedIn Ad Copy when I input "HubSpot / email marketing and CRM."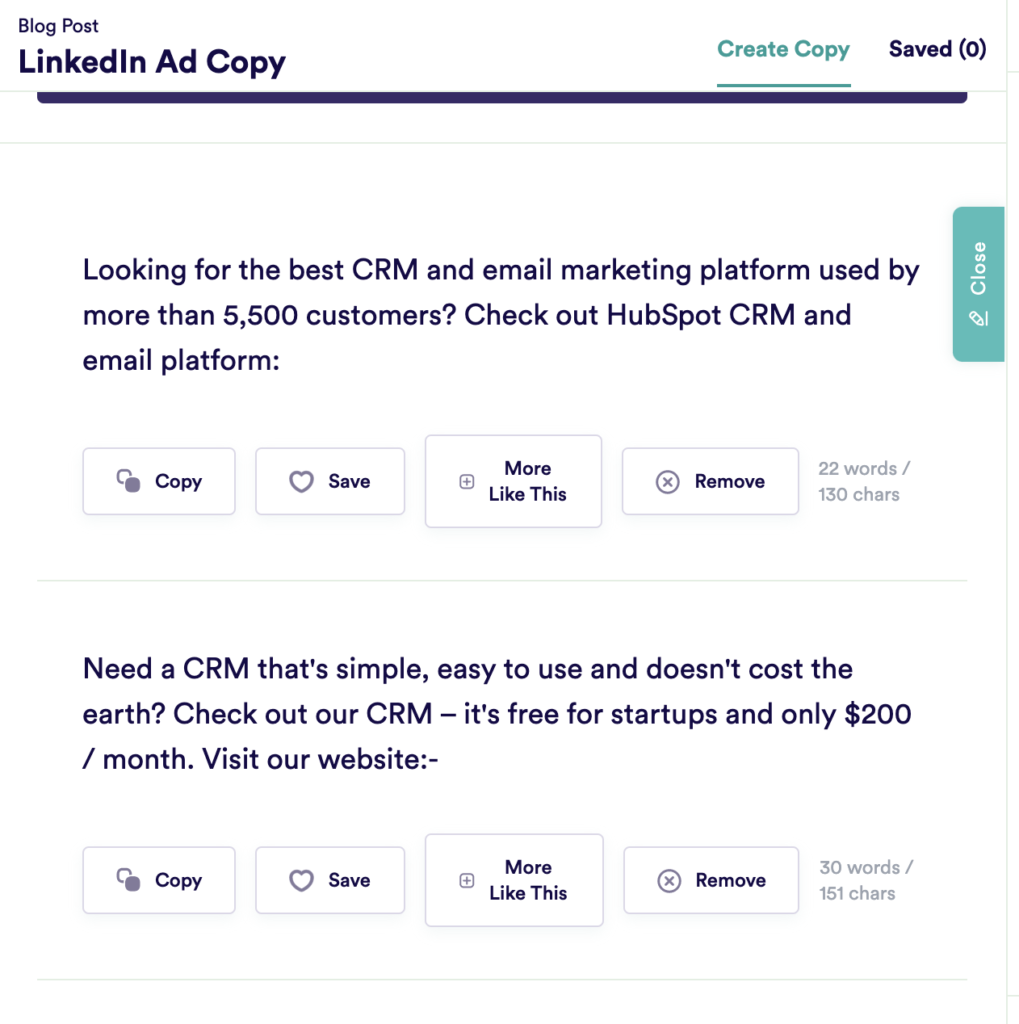 This is what Copy AI generated for the same query for Landing Page Hero Text.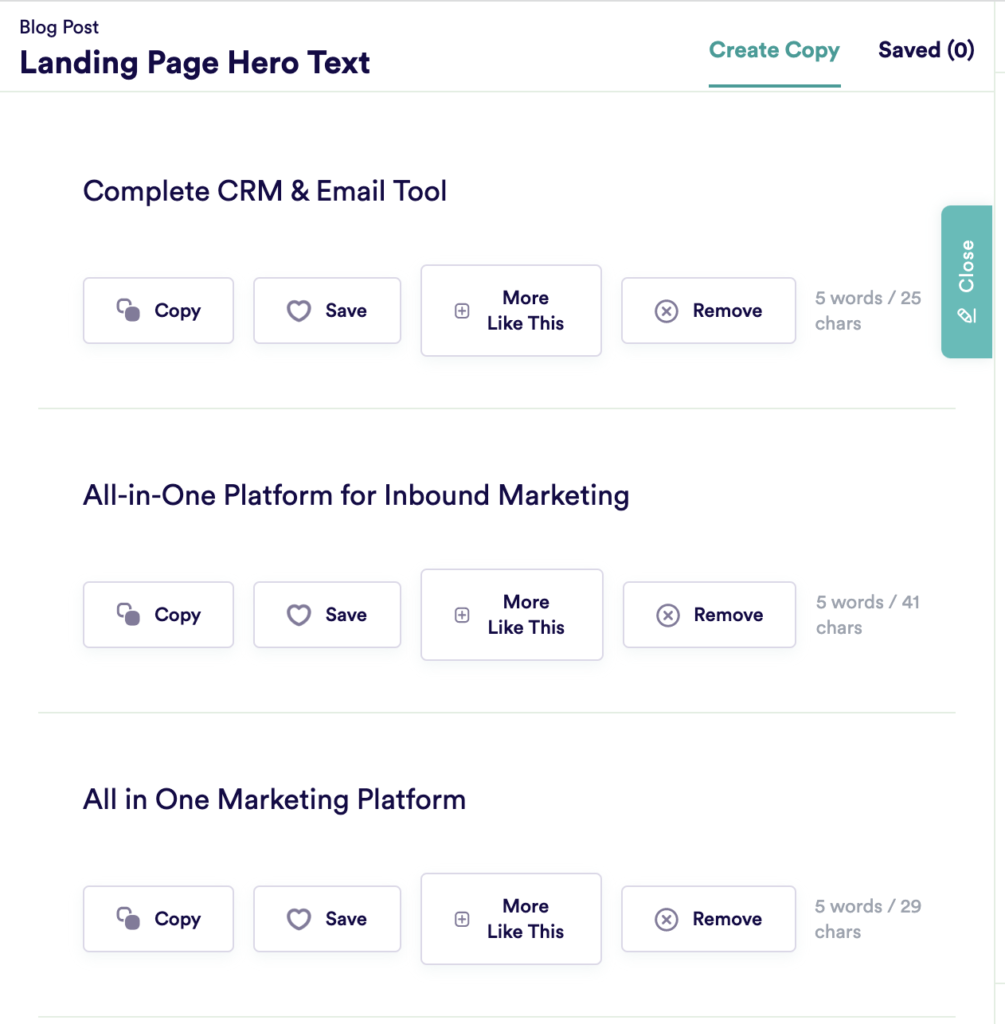 Pricing:
Free: Copy AI has a free plan that includes 10 pieces of copy, which won't get you too far
Pro: $35/month, which gets you unlimited copy credits
Enterprise: no pricing information is provided
Jasper
Jasper (formerly known as Jarvis, formerly known as Conversion AI 🙄) has many tools and features that solidify its place as a solid long-form content generator.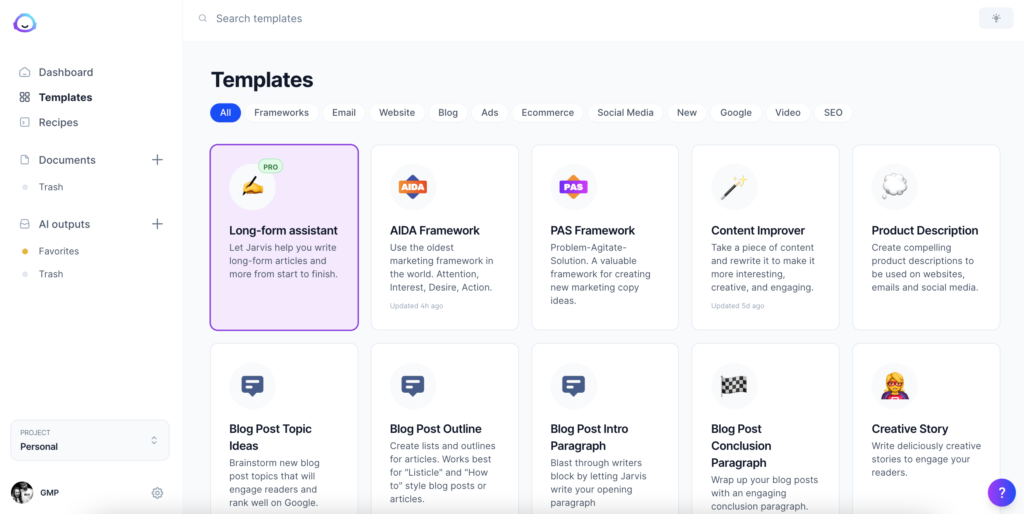 Usability: Much like Copy AI, Jasper has an intuitive UI that is easy to navigate and doesn't require any coding experience to use.
Content Templates: With over 50 templates to choose from, Jasper has plenty of ways to inspire creating long-form content.
Price: The short-form content tools for Jasper start at $29/month for low word counts. The long-form content tools start at $59/month.
Supported Languages: Jasper supports up to 25 languages for content translation.
Quality of Support: Like Copy AI, there is a Help Center and a direct email message line for customer support in Jasper. Customers who pay for the more expensive package have priority placed on their queries.
Other Features: There are many ways to learn about Jasper, including live training, webinars, and online blogs and courses. The more expensive package also has a plagiarism checker.
Jasper has some of the same features as Copy AI. However, it doesn't excel at short-form content in the same way that Copy AI does. Instead, Jasper is best for long-form content like a blog post or landing page — and even for that I find the results a little suspect sometimes.
Here's an example in which I input "emerging marketing trends" and got a result with "2018" in it (not exactly emerging).

As a composition tool, Jasper leaves a little to be desired. The app bills itself as a time saver, especially for long-form content, but this is where it falls on its face. It can indeed speed up the writing process.
But the more technical the content or the more heavily the user relies on the AI's ability to compose from scratch, the greater the risk that the text the AI produces will contain flat-out wrong statements.
However, I do love the fact that Jasper now has a Chrome Extension — enabling natural language completions while you're working anywhere — composing emails, Slacking coworkers, or writing in Word Docs. It's definitely unique in this regard.
Pricing:
Starter: $29/mo, 20k words per month, and access to all 50 templates
Boss Mode: $59/mo, 50k words per month, access to all 50 templates, plus Boss Mode (the long-form editor)
Also read:
---
Get a 5-Day Free Trial of GrowthBar
This post ranks on page 1 of Google and was written with GrowthBar. Which tool do you trust for your AI blog post writing now?
---
How Do These Tools Work?
While Jasper and Copy AI have different strengths, they both use AI and machine learning to generate content based on users' needs.
Functionally, they both take information from across the web and use algorithms to organize that information and surface content results for each user query.
They're pretty similar:
Both of them use GPT-3, the largest language model ever created, to inform much of their generated content.
Both tools offer templates that users can choose to help with content generation for their digital marketing plan.
Both have packages that start under $100.
The AI content is used either as a baseline for digital content creation or as wholesale content for a business. Though in both cases, I don't believe the AI content is as quality as most marketers will like — therefore, there is bound to be some human intervention before pressing publish on your blog, email, or social media accounts.
Both tools make for a great writing tool to help overcome writer's block or inspire new directions.
How to Choose the Right Tool
Which one is the best? The answer to that question came down to preference and required features.
Before choosing an AI-powered content tool, consider the following:
What teams will be utilizing it?
What social media platforms does your business use the most?
What content does the team generate the most?
What are the current content weaknesses you are seeing within your teams?
I don't particularly have a problem writing short-form copy. I think it's rather fun and not terribly difficult. So for me, I don't find Copy AI all that useful. Though I could imagine it would be a great tool for email marketers or Facebook advertisers — who are constantly coming up with subject lines and ad copy.
Writing long-form blog content is difficult, but for my money, Jasper doesn't quite cut it.
I think you're much better off with GrowthBar if you want to write AI-optimized SEO content.
Jasper & Copy AI Competitors
They aren't the only show in town. There are a few other tools that are also great content generator options.


To be clear, GrowthBar isn't just a content generator.
It's a Swiss Army Knife of SEO tools — it features keyword research, backlinks, competitive metrics, keyword tracking, a one-click blog post outline generator, a paragraph generator, and a blog post idea generator.
It's the ultimate tool for bloggers and content creators that will help you rank your content on Google.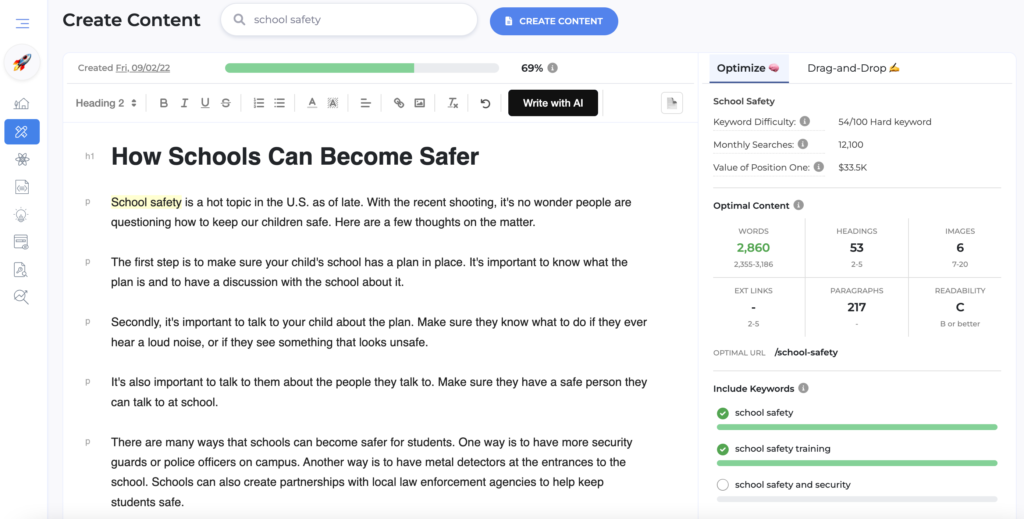 What it does:
GrowthBar has a wide range of SEO features, but the hero feature content generator is what has earned GrowthBar 5 stars on Capterra and G2 Crowd.
GrowthBar generates content by:
It takes your input keyword/topic, scans the web using a powerful SEO decision engine, and makes suggestions in a content editor using GTP-3 AI — the largest, most powerful language model on earth.
GrowthBar analyzes thousands of data points and the generator delivers you blog title ideas, paragraphs, or a content outline complete with title suggestions, word count suggestions, keywords, headlines, images, and more.
Features:
AI content creation
Keyword research
Competitor analysis
Google Ads and Facebook Ads
Backlink analysis
Writing editor interface
Pricing:
Monthly Pricing plans are:
Standard: $29
Pro: $79
Advanced: $129
Copysmith targets marketing agencies and teams that generate content day in and day out, redirecting the time and resources saved towards company growth. Copysmith produces the content you're looking for through the input of a few keywords.
Key features:

File sharing
Bulk imports and exports of files
One platform for teams

Pros:

Provides helpful content idea templates
Bulk content generator
AI-powered workflow queue

Cons:

Lower priced packages lack innovative features
Higher monthly costs than other platforms

Best for:

Copysmith is geared towards teams of marketers or copywriters frequently collaborating on projects together.

Pricing:

Copysmith's starter package comes in at $19/month, and the team's package will run $118/month, unlocking team-focused features.
Also read: Copysmith vs Copy AI
As the freemium option of this list, Smart Copy by Unbounce, formerly Snazzy AI, has a collection of tools that make generating ideas for short-form content easier without a hefty price tag. Users can build campaigns and get instant, reliable results.
Key features:

Tagline generator
Reliable product descriptions
Content templates offered

Pros:

100% free, and users can cancel at any time
Uses GPT-3 AI
Dozens of templates offered

Cons:

Long-form content writer is still in the beta stages
Users are only allowed five daily credits

Best for:

Smart Copy by Unbounce is an excellent resource for startups or those who only need inspiration instead of a writing assistant. The free option is convenient for those looking to save while still receiving helpful guidance from an AI platform.

Pricing:

While users can generate ideas for free with an account, pricing can range from $49/month for Smart Copy by Unbounce's growth plan to $225/month for their accelerated plan.
Finally, Writesonic is best for folks that need help writing quality ads across the different spaces online:
Key features:

Translate well into conversions and sales
AI-powered
It only takes seconds for reliable content

Pros:

Individuals can start for free
Hundreds of templates to choose from
YouTube video copy

Cons:

Other tools generate better short and long-form content
Unreliable customer service

Best for:

Writesonic is great for digital marketing agencies or startups that focus on create advertising for their clients.

Pricing:

Writesonic's basic package goes for $15/month, with the agency package going up to $195/month.
Conclusion
Now that you know the dozens of ways your business can utilize AI-powered content tools, waste no time committing to optimizing your team's time and efforts. Jasper and Copy AI are two of the best.
The best way to figure out which of these tools is suitable for a business is to try them out. Almost all of the devices discussed here have a free trial that doesn't require a credit card.
It's best to experiment with these tools and find the best writing assistant that will support all of your team's needs. Try GrowthBar today to get started with all your content and SEO needs!