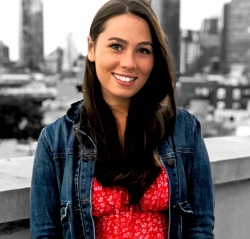 Latest posts by Madeline Hogan
(see all)
AI writing software and content generators are becoming increasingly popular platforms for marketers and content writers.
There are a few options, like Jasper and Rytr, that make it easy to understand why the industry is exploding. Both tools make short and long-form writing a breeze, enabled by OpenAI's GPT-3, the most sophisticated natural language model ever.
There's a serious "miracle moment" when you create your first AI content generation with either tool. It's pretty cool to watch content spill onto the page without lifting a finger.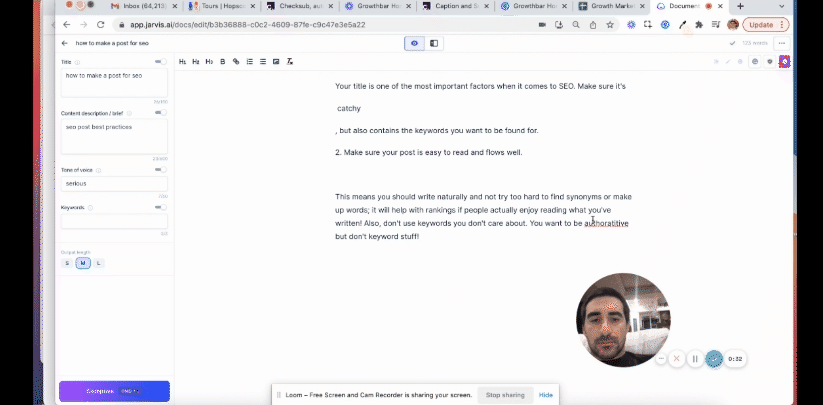 Read on to learn more about Jasper vs Rytr use cases, functionality, pricing, and user reviews.
Also Read: The 5 Ways AI Is Changing Writing
What are AI writing tools?
The emergence of natural language processing and specifically GPT-3 has opened a whole new world of tools that make the lives of writers, authors, journalists, content creators, and SEOs much easier. AI writing tools are groundbreaking technology that can produce content in any genre from any perspective.
There are a number of them. The big 5 include:
---
Get a 5-Day Free Trial of GrowthBar
This post ranks on page 1 of Google and was written with GrowthBar. Which tool do you trust for your AI blog post writing now?
---
Jasper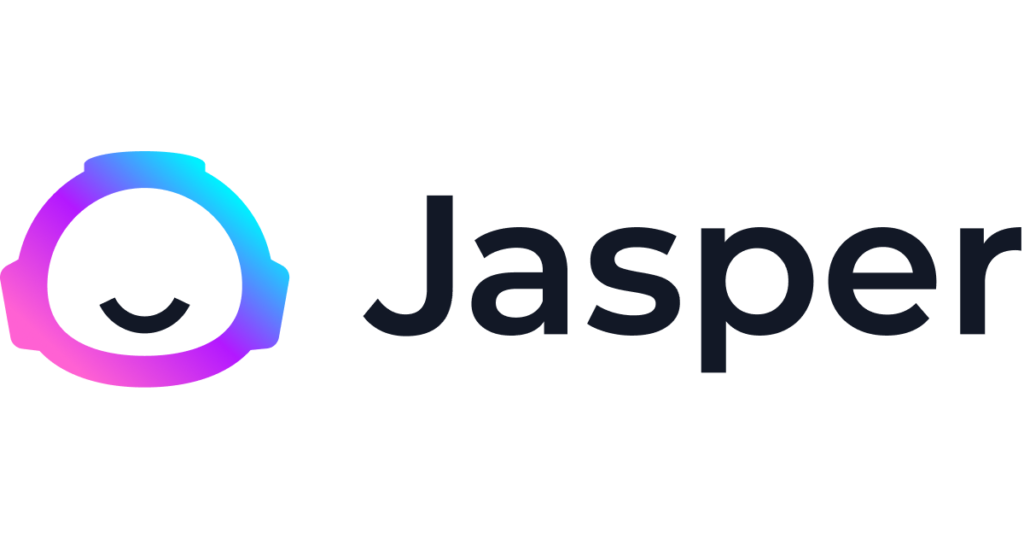 Jasper has many features and functions that solidify it as one of the best long-form content generators on the market. The AI instantly generates high-quality SEO-friendly content for almost endless use cases even beyond your marketing classics, from "explain it to a child" setting to real estate listings and Quora answers.
When I say "almost endless," I mean it. Jasper has more copy options than most copy generators out there. So if you're looking for versatility, Jasper is a great choice. It enables you to write long-form content, rewrite existing content, and even generate images using AI.
Quick Jasper overview:
Usability: Jasper has an intuitive UI that is easy to navigate and doesn't require any coding experience to use. (A great UI and UX are always helpful for SEO).
Content Templates: With over 50 templates to choose from, Jasper has plenty of ways to inspire creating long-form content. Templates include product descriptions, email copy, blog post intro paragraphs, stories, social media copy, Google Ads copy, and so much more.
Supported Languages: Jasper supports up to 25 languages for content translation.
Quality of Support: Jasper offers a Help Center and a direct email message line for customer support. Customers who pay for the more expensive package have priority placed on their queries.
Chrome Extension: Jasper has a Chrome extension that enables you to write with AI in Notion, Google products, Webflow, Canva, and more
Image Generation: For $20/month extra, you can generate images using AI.
Jasper has a long-form content feature, Boss Mode. As it sounds, it's a free-form text editor that enables you to click a button or two and generate paragraphs of content and assemble a full blog post.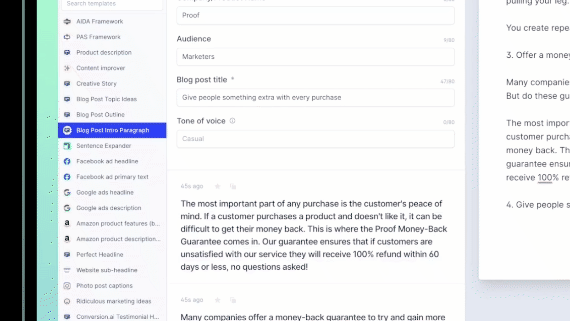 It's a good solution for long-form blog content.
But as with most AI writing tools, the outputs aren't perfect.
Here's an example in which I input "emerging marketing trends" and got a result with "2018" in it (not exactly emerging). However, I'm yet to see a content generator produce perfect content every time. Human intervention is always needed for responsible AI use!
While it's absolutely true Jasper can speed up the writing process, the more heavily the user relies on the AI's ability to compose from scratch, the greater the risk that the text the AI produces will contain statements that are might not be 100% accurate.
Jasper Features
50+ use cases
25+ languages
18+ tones you can select from (convincing, awestruck, inspirational, etc.) to add personality to your content
Jasper Chat: which enables you to "chat with the AI" and get responses fast
Jasper images: create images with AI
Chrome extension so you can write with AI almost anywhere!
API available
Jasper Pros
Long-form writing assistant called "Boss Mode" in addition to 30+ short-form templates
Community "recipe" options you can use to get more AI-made content
Integrations with Surfer SEO to provide more optimized content and Grammarly for perfect writing
Chrome Extension enables you to write outside of the Jasper product
AI imagine generation add-on is fun (and effective) for producing images for blog posts, social media, and more.
Marketers use Jasper at companies like:
Google, Airbnb, IBM, HarperCollins, Keller Williams
Jasper Pricing
Starter: Starts at $29/mo for 20k words per month and access to all 50 copywriting skills, but not the long-form editor
Boss Mode: Starts at $59/mo for 50k words per month, access to all 50 skills, long-form copy, SEO mode, Grammarly integration, plagiarism check, and more
Our take on Jasper:
Jasper is a top-of-the-line AI content writer. It's a great choice when you are looking for a lightweight, enterprise-grade, open-source persistence and object/relational mapping framework. Plus, with new integrations every day, you can tell it's trying to become the only platform you need.
That being said, the outputs aren't perfect and they're not specialized in any one use case. Jasper is a jack-of-all-trades and a master of none. For instance, it does not excel at long-form content writing (blogs). Even if you want to use the long-form editor, you'll need to pay $59/month or more. Plus, their pricing is credit-based and credits do not renew monthly. With a higher price point, it's probably best for medium and large businesses.
The Chrome Extension is unique. So if you have a team that needs to write in Gmail, Notion, Github, and a lot of other places, this feature is super useful.
Read our full Jasper review here.
---
Get a 5-Day Free Trial of GrowthBar
This post ranks on page 1 of Google and was written with GrowthBar. Which tool do you trust for your AI blog post writing now?
---
Rytr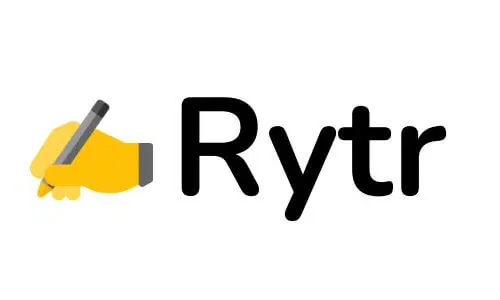 Like Jasper, Rytr is a jack-of-all-trades when it comes to creating copy, but it focuses more on short-form content. It uses AI to generate unique copy for a number of use cases, including business pitch ideas, brand names, calls to action, email, Facebook, Twitter, and LinkedIn Ads, product descriptions, meta descriptions, and more.
It's a straightforward tool that generates unique copy in seconds. Rytr is also great because of the price point — which is significantly lower than Jasper. Plus, Rytr's great because it was made by a solo engineer who was solving his own writing needs… and boy, did he make a great product!
Let's do a quick Rytr overview:
Usability: With easy organization and a simple UI, Rytr is straightforward to use and understand.
Content Templates: Rytr has 30+ use cases, plus various skills within each type. For example, their landing page option provides copy for headers and sections within each heading. It basically writes your entire landing page for you!
Supported Languages: 30+ languages so you can reach all of your potential clients, in 20+ tones of voice
Quality of Support: With resources, FAQs, guides, live chat, and a private community, Rytr works hard to provide good customer support. Plus, their unlimited plan offers priority email and chat options.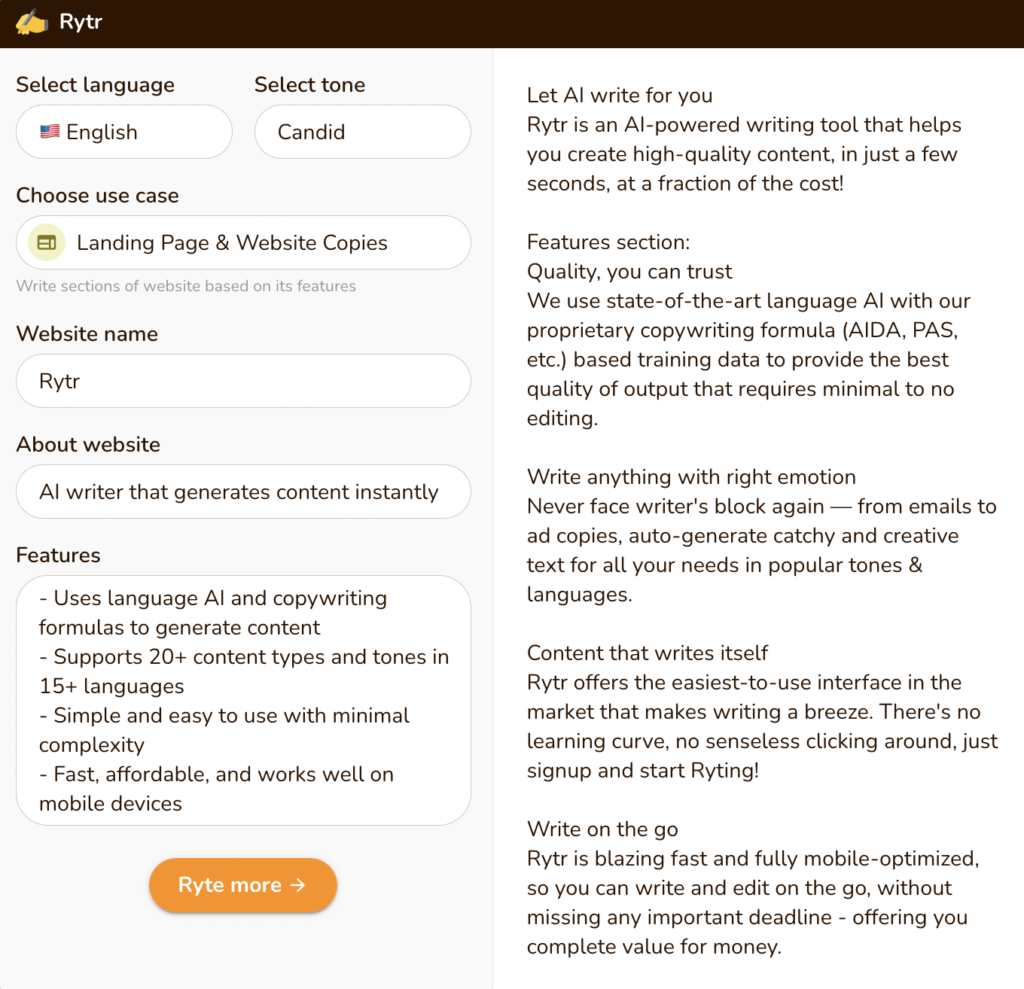 Rytr Features
30+ use cases, 30+ languages, and 20+ tones to add personality to your content
API available
"Reword" or "shorten" option for text you already have that needs a cleanup
Built-in plagiarism checker
"Continue Ryting" option to add on to your content using artificial intelligence
Readability score to see how readers might like your writing
Rytr Pros
Uses scientific copywriting formulas — such as AIDA & PAS — to provide the best quality output that requires minimal to no editing
Honed content outputs mean pretty reliable text generations
Convenient Chrome Extension
Very generous free plan (and affordable plans overall)
Companies using Rytr:
Pfizer, Ikea, Ford, Payoneer, PWC, and Adidas
Rytr Pricing
Free: $0/mo, generate 5,000 characters per month, with all use cases available, plus the plagiarism checker
Saver: $9/mo, generate 50,000 characters per month, plus you can build customized use cases
Unlimited: $29/mo, generate unlimited characters per month, and get your own account manager
Our take on Rytr:
Rytr is a good tool that's young in this space. Their AI content outputs are generally error-free, and their price point is one of the best. For that reason alone it's worth a spin. I think it's one of the best tools for small business owners and marketers who aren't as concerned with search engine optimization suggestions or longer-form content (though I really do like the UI of their long-form content editor). Rytr also has awesome help documentation that's well-organized, plus a chatroom for users.
Read our full review of Rytr here.
Jasper & Rytr Competitors
While Jasper and Rytr both are good writing options, it's not just a Jasper vs. Rytr world. In fact, there are quite a few AI software tools that are also great content generator options.
GrowthBar
GrowthBar is a Swiss Army Knife of SEO tools—it features keyword research, backlinks, competitive metrics, keyword tracking, a one-click blog post outline generator, a paragraph generator, and a blog post idea generator.
Basically, it's the ultimate tool for bloggers and content creators that will help you rank your content on Google.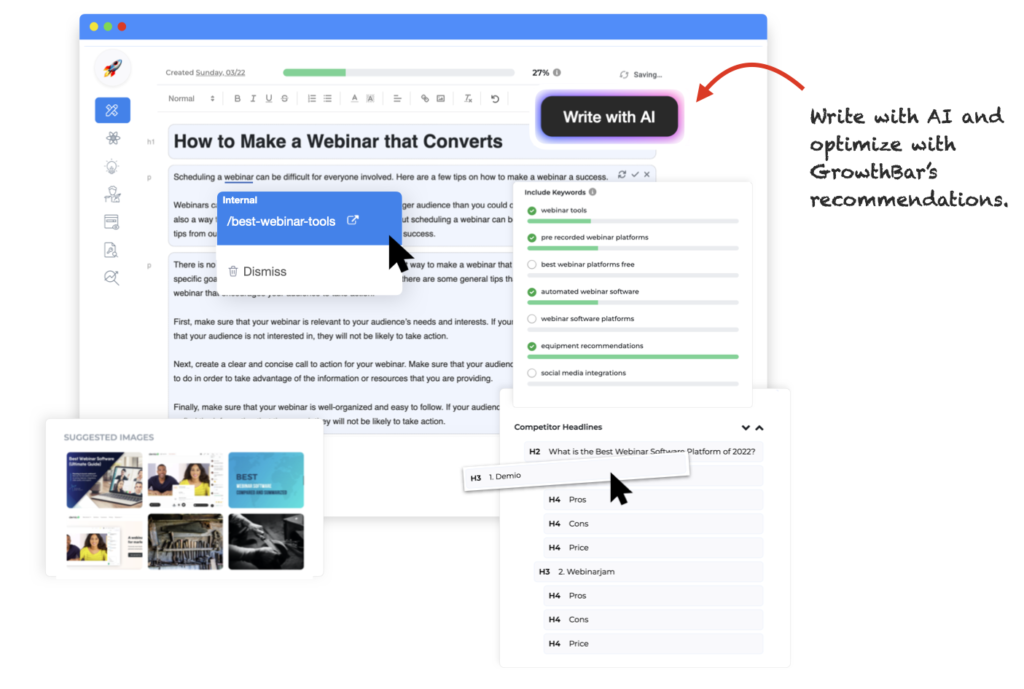 What it does:
GrowthBar has a wide range of SEO features, but the hero feature content generator is what has earned GrowthBar 5 stars on Capterra and G2 Crowd.
GrowthBar generates content by:
It takes your input keyword/topic, scans the web using a powerful SEO decision engine, and makes suggestions in a content editor using GTP-3 AI — the largest, most powerful language model on earth.
GrowthBar analyzes thousands of data points and the generator delivers you blog title ideas, paragraphs, or a content outline complete with title suggestions, word count suggestions, keywords, headlines, images, and more.
Key features:

AI content creation
Keyword research
Competitor analysis
Google Ads and Facebook Ads
Backlink analysis
Writing editor interface

Pros:

The AI content generator offers blog posts titles, paragraphs, outlines, heading suggestions, keywords to include, and much more
Your copy is being designed to rank on Google, so your content can do the work for you
It offers a suite of other SEO tools like rank tracking, keyword research, and competitor research

Cons:

It focuses heavily on SEO content, so if you need copy like social media captions, video subtitles, and business ideas then it won't be the best tool for you

Best for: SEO-focused bloggers, freelancers, and marketers who want more than just copy generation.
Pricing: Monthly pricing starts at $29 for Standard, $79 for Pro, and $129 for Advanced.
Copysmith
Copysmith targets eCommerce agencies and teams that generate content day in and day out, redirecting the time and resources saved toward company growth. With AI trained on best practices in SEO and growth marketing, Copysmith wants to help you scale your eCommerce store, spend less time in meetings, and outrank your competition.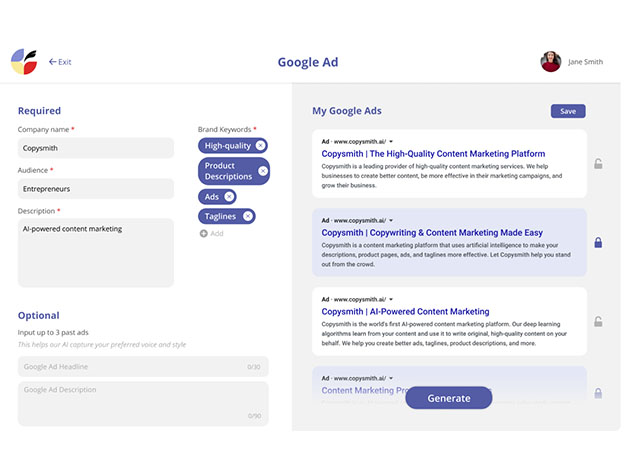 Key features:

Automated campaign-builder
Bulk imports and exports of files
One platform for teams

Pros:

Provides helpful content idea templates
Bulk content generator
AI-powered workflow queue

Cons:

Lower priced packages lack innovative features
Higher monthly costs than other platforms

Best for:

Copysmith is geared towards teams of marketers or copywriters frequently collaborating on projects together.

Pricing:

Copysmith's Starter package comes in at $19/month, Professional for $59/month, and then they must be contacted for Enterprise pricing
Also read: Copysmith vs Copy AI
Smart Copy by Unbounce
As the freemium option of this list, Smart Copy by Unbounce, formerly Snazzy AI, has a collection of tools for writing and remixing content. They also offer an AI-driven Smart Builder that created optimized landing pages.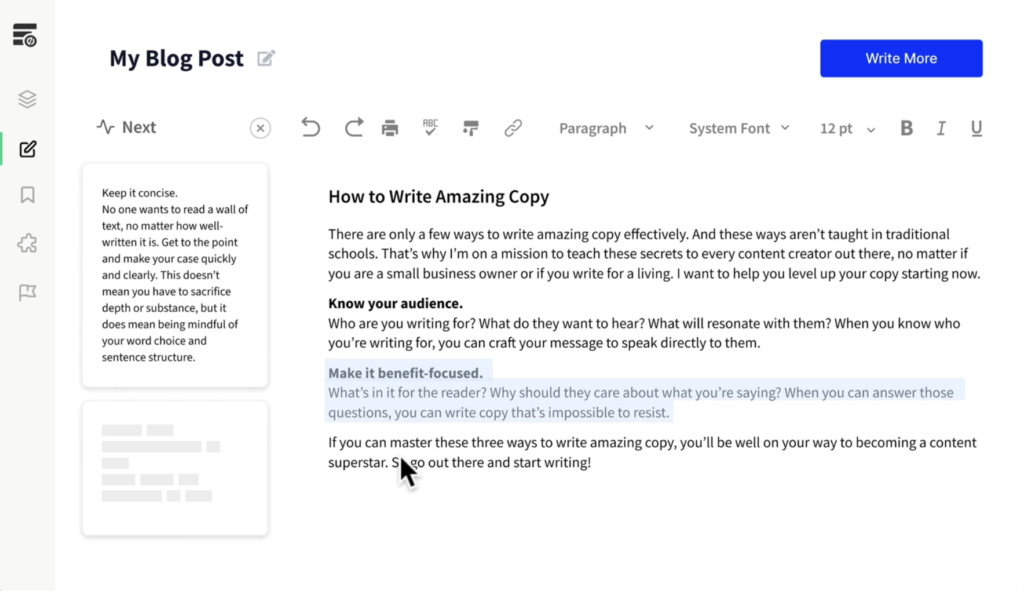 Key features:

AI-writing assistant suggestions
"Write more" option
Content templates offered

Pros:

Free plan option
Uses GPT-3 AI
45+ templates

Cons:

Long-form content writer is at an earlier stage
Users are only allowed five daily credits

Best for:

Smart Copy by Unbounce is an excellent resource for startups or those who only need inspiration instead of a writing assistant. The free option is convenient for those looking to save while still receiving helpful guidance from an AI platform.

Pricing:

They have a great free plan option, and then a Growth membership for for $49/month. Their Smart Builder for landing pages is a separate purchase.
Writesonic
Writesonic is an AI writing tool that generates high-quality articles, blog posts, landing pages, Google ads, Facebook ads, emails, product descriptions, and more in seconds. While it started with focusing on ad content, it now focuses on product descriptions, marketing copy, and article and blog generation.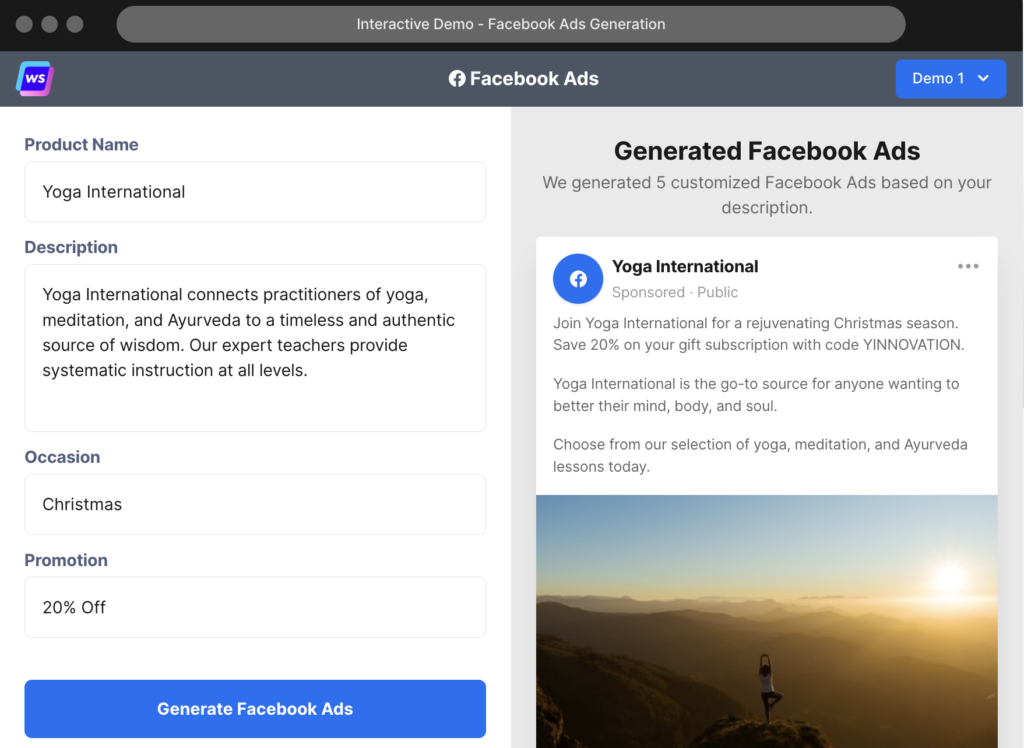 Key features:

Translate well into conversions and sales
AI-powered
It only takes seconds for reliable content

Pros:

Individuals can start for free
50+ content types
YouTube video copy

Cons:

Other tools generate better short and long-form content
Unreliable customer service

Best for:

Writesonic is great for digital marketing agencies or startups that focus on creating advertising for their clients.

Pricing:

Writesonic's basic package goes for $15/month, professional for $45/month, startup for $95/month, and agency for $195/month. They also offer a free trial.
How Does AI Writing Software Work?
Most content generators work by marrying some of their own algorithms with GPT-3 natural language generation. The result is a 100% plagiarism-free text generation.
With AI writing platforms like Rytr and Jasper, the user provides some "seed text" that the AI will use to find and generate its own content. Functionally, it takes information from across the web and uses algorithms to organize that information and surface (ideally accurate) content results from the seed text.
The seed text often includes a title, description, and a field for the user to enter as many relevant keywords as they can fit within the character limit. Once you tell the AI what you want it to do, you can even ask it to provide a few variations on the same theme.
Take a look at GrowthBar's blog topic generator and blog post paragraph generator that can help you automate your SEO strategy.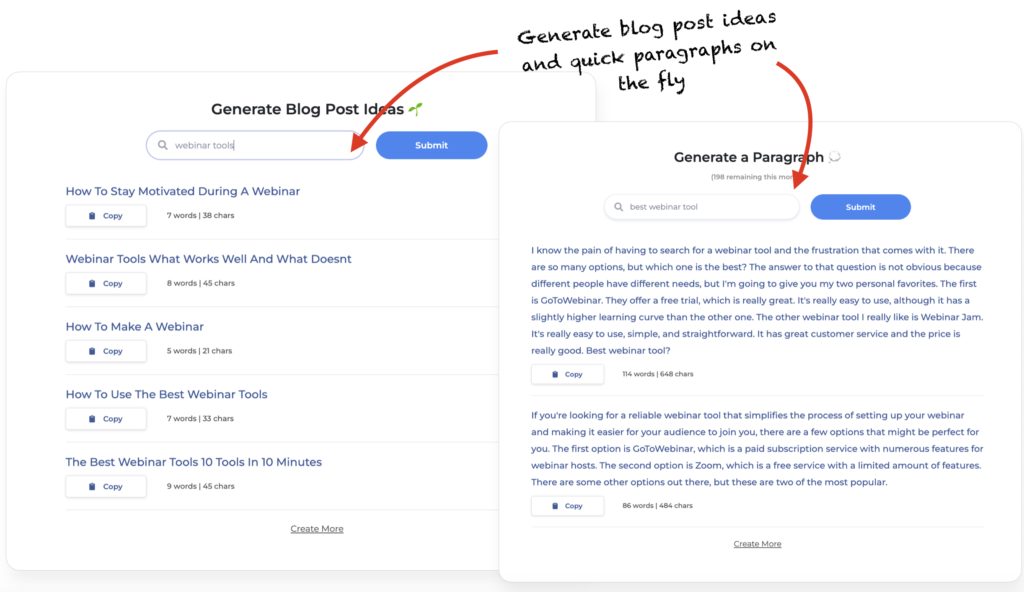 How to Choose the Right AI Writing Tool
AI content is used either as a baseline for digital content creation or as wholesale content for a business. Though in many cases, the AI content won't be the quality most marketers will like for their blog—which means there is usually some human intervention that happens before publishing.
Which tool is the best? The answer to that question came down to preference and required features. Before choosing an AI-powered content tool, consider the following:
What teams will be using it? Marketing? Tech? Design?
What type of content does the team generate the most? Blog posts, social media captions, product FAQs?
What are the current content weaknesses you are seeing within your teams? Is it content quality? Production speed? Need inspiration?
What are your content goals? SEO, improved ad conversions, more blog topic ideas?
Deciding between them really comes down to your budget and needs. The best way to figure it out? Try them!
Our recommendation? Give GrowthBar a try:
Conclusion: Who wins in Jasper vs. Rytr?
Jasper and Rytr are both great AI writing software tools. They both have plentiful use cases, language options, awesome customer support, and great AI content. How to decide?
Choose Rytr if you're a blogger on a budget or smaller company looking for great copy without spending hundreds a year
Pick Jasper if you want a sophisticated tool and you have a bigger budget
Whatever you choose, just know that while artificial intelligence can produce scarily-impressive content, spending time perfecting your inputs and doing some edits will get you the best AI-writing tool experience.
Also read: