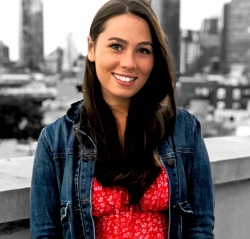 Latest posts by Madeline Hogan
(see all)
Content generators—like Jasper (formerly known as Jarvis, formerly known as Conversion AI)—produce content at the click of a button. Whether you want a new blog post, Google Ad headline, or blog topic ideas, in 2022 you can do all of this with content tools that use artificial intelligence.
Jasper is an AI marketing tool that generates copy with a click of a button–copy that should increase conversions and improve ROI.
Before you get too excited, content generators aren't perfect. They're still prone to error, and nothing beats a good old human edit.
But are they still worth it? 100%.
Why are marketers using AI content generators?
If you want to have a strong online presence, you have to formulate a strategic, ongoing content strategy to win at search engine optimization (SEO). If you manage a website, blog, or any online platform, you know consistently posting quality, optimized content is necessary for growing your audience.
But, producing content from scratch can be expensive and time-consuming. From coming up with an idea or the right keywords to producing thousands of words for a long form article or case study, it can take hours—even days—depending on the level of research required for the topic.
Moreover, marketers spend a lot of time dreaming up quippy ad copy and email pros, which is why bloggers and businesses outsource content creation using a content generator or blog writing service.
How Outsourcing Content Creation Can Help Scale Your Business
Most people don't realize how easy it is to get started with your own blog and begin growing your audience.
If you blog two times a week for three months (about 20 posts) about a topic you know very well, you can create a blog audience large enough to engage users, build a community, sell products, and make a profit.
Growing your SEO-driven blog quickly is one of the best ways to build your business and see a profit. You should really be posting as much high quality, optimized content as possible if you want to increase your organic traffic.
But us marketers don't always have of ton extra time, which is why outsourcing your content creation using content generators is a great option.
There are many content writing tools, and each can operate differently (for example, at GrowthBar we provide marketers with GPT-3 AI technology). But generally, content generators produce results either by analyzing the keywords in your input, or by scanning the web to find 'seed' content.
Jasper Review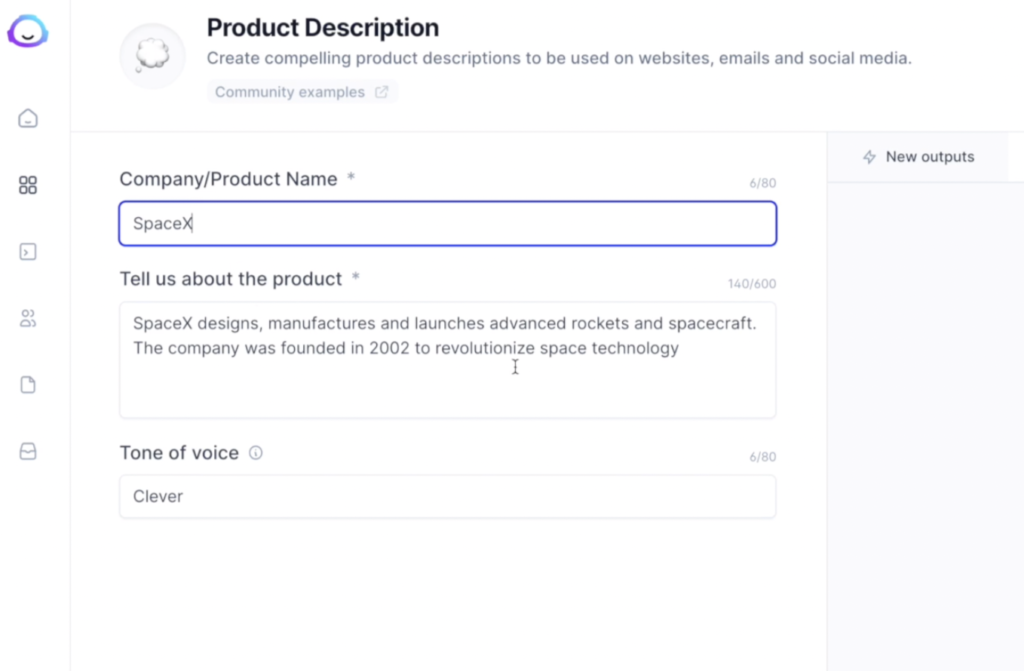 What is Jasper?
Jasper is one of the best content generators on the market. The AI instantly generates high-quality copy for almost endless options beyond your marketing classics, including the "Explain it to a child" setting to real estate listings and Quora answers.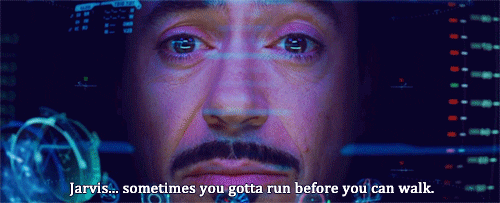 Jasper Features
Jasper has one main feature—content generation—that you can use in almost endless ways.
And when I say "almost endless," I mean it. Jasper has more copy options than most copy generators out there, including:
AIDA framework
PAS framework
Product description
Content improver
Blog post topic ideas
Blog post outline
Blog post intro and conclusion paragraphs
Feature to benefit
Sentence expander
Facebook ad headline and primary text
Personal bio or company bio
Google ad headline and and description
Marketing angles and ideas
Review responder
It can also produce Amazon product descriptions, social post captions, video titles, and even creative stories.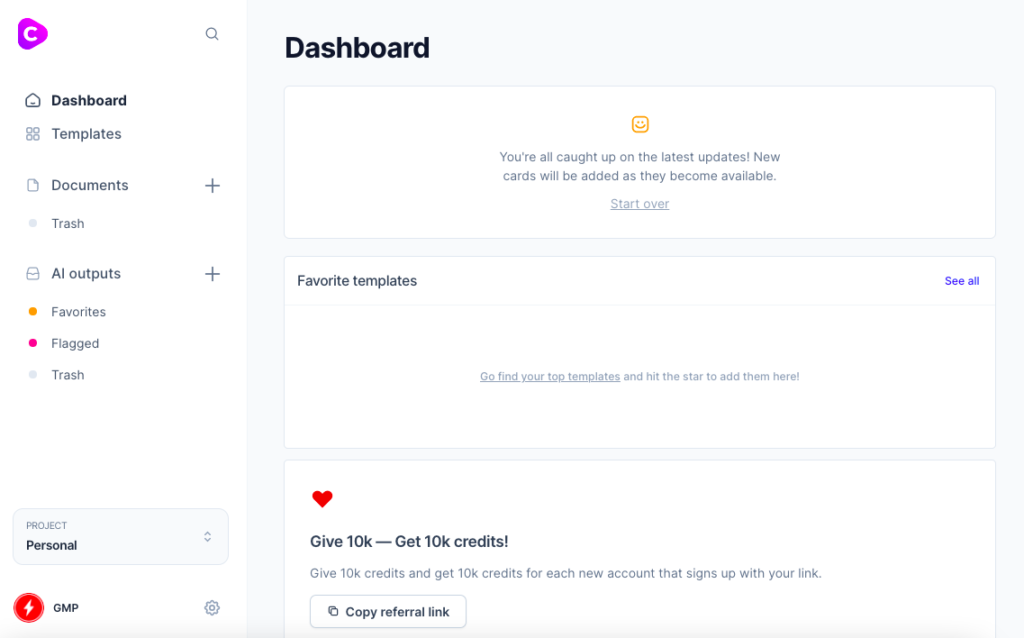 In addition to generation, Jaspser also allows writers to choose the tone of the content they're creating, has 11 language options, perfect grammar, and—depending on your plan—offers a long form writing assistant that works for long blog posts, video scripts, and even books.
How to use Jasper
Jasper is very straightforward. You can choose from two Jasper plans that both have a 5-day money-back guarantee. Then you only have to take a few steps to get some great copy.
1. Choose what content you want to generate
Pick out whatever content you're looking for from their long list of options. We'll take a look with a "blog post introduction" example, because let's face it: great blog intro paragraphs are super important, but can take so much longer than they need to!
Luckily, Jasper uses a very similar process for many of the templates, which makes it easy to learn and use.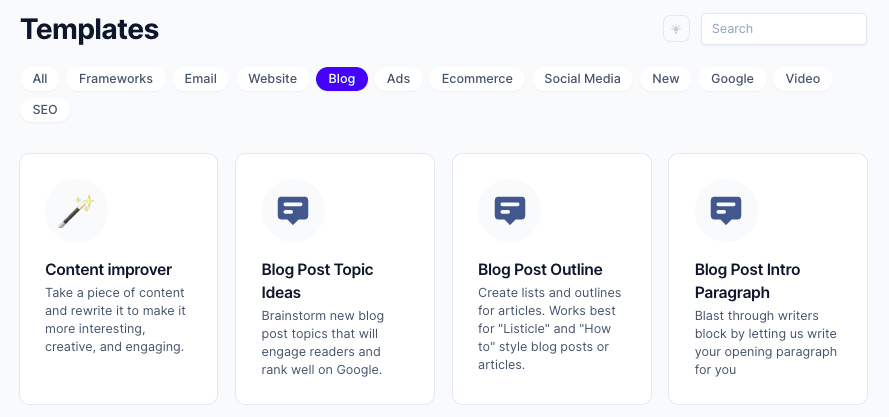 2. Add your content input
Provide information about your brand and product. But don't worry: you don't have to write a whole paragraph just to get a rearranged paragraph, like with some copy generators. A few lines is enough! In this case, you'll just have to input the title of your post.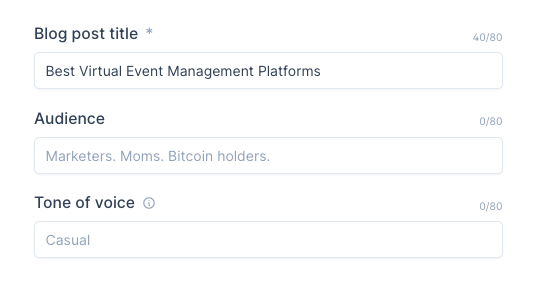 3. Who is the content for?
Add the audience or your "customer avatar." Who are you trying to inspire to take action? This should be pretty easy to come up with if you know your business!
4. How do you want the content written?
The next step is to add the tone of the piece. You can type in anything (up to 80 characters), and they have a helpful list of adjectives—and people—to choose from!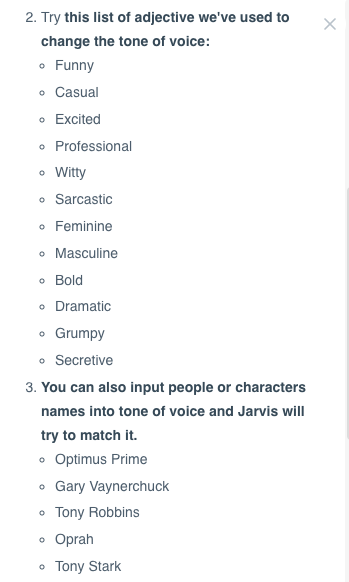 5. Choose how many output options you want
Select the number of outputs you want (up to 10) and click "Generate."

6. Choose your favorite content!
Voila! We now have a selection of various introductory paragraphs to choose from. Even if you don't end up using the exact text, they definitely provide inspiration and can help guide the direction of your post. Look how great this copy is too. I'd be proud to include this in my post.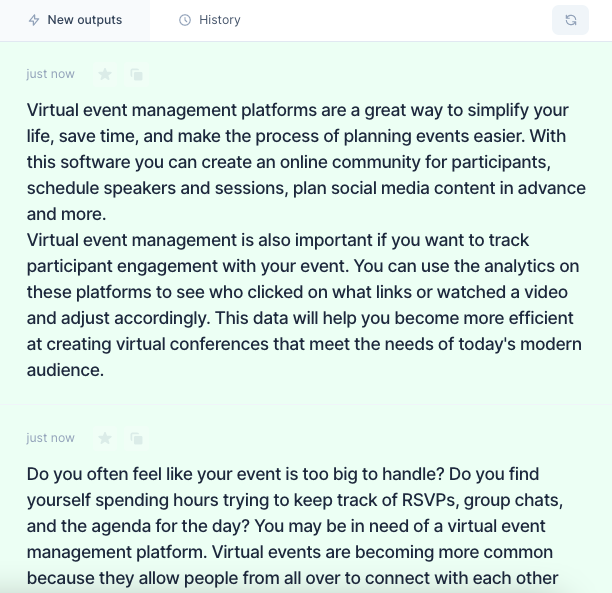 Jasper Ease of Use
Jasper is very easy to use. You can start either with a template, some content you've already generated, or from your dashboard, where they show you how many words you've generated each day, your favorited templates, and a plug for their referral program.
It's very intuitive, and it's very easy to switch between templates while churning out some content.
Jasper Pricing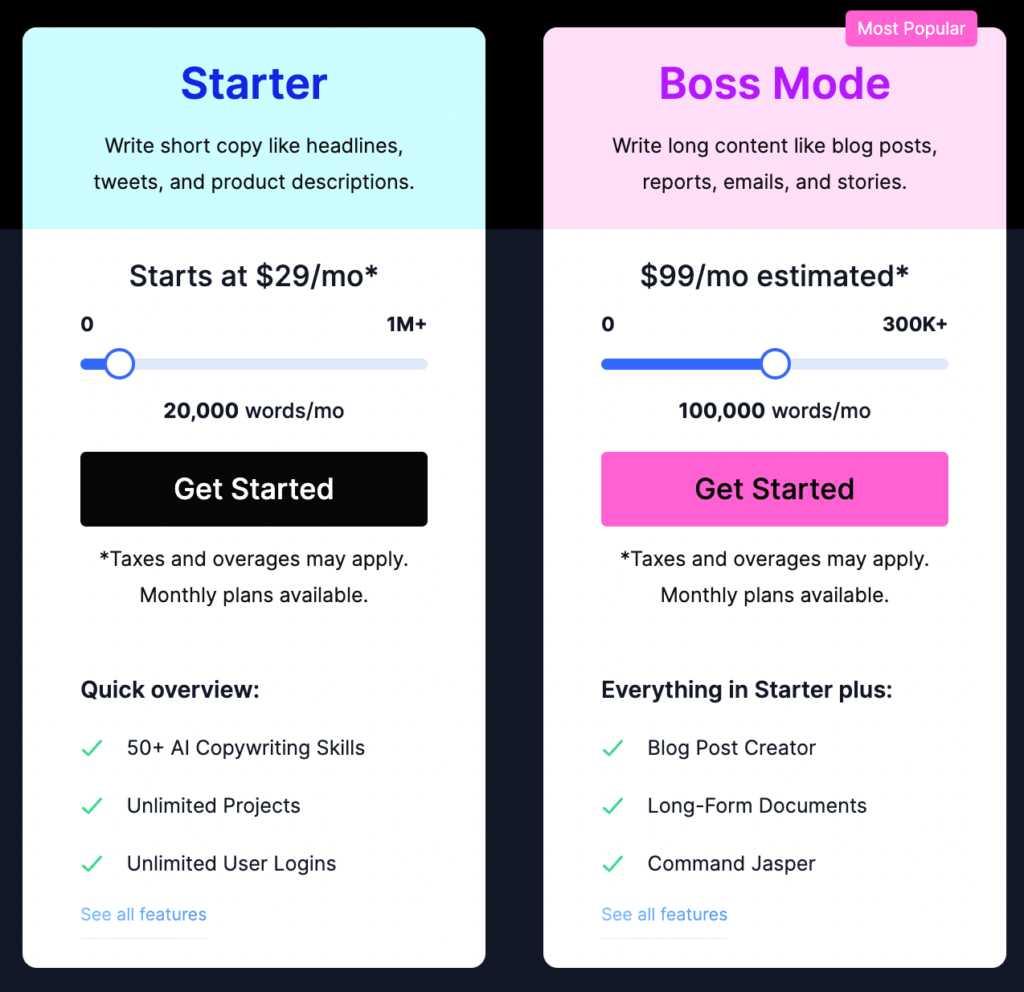 Jasper's pricing works on a starting scale with two options: Starter and Boss Mode, which they say is their most popular plan. Both plans come with a 5-day money back guarantee.
Limitations to Jasper
Is Jasper perfect? Of course not. The AI technology behind content generators is just getting started, and the need for content writers isn't going away anytime soon (phew, I know).
With Jasper, depending on your needs and the quality of what you're looking for, you're going to want to edit the output—sometimes barely, or sometimes a lot. It isn't always relevant to what you're writing about…but that's going to be the case when you give anything (or anyone) only a few words to work with!
Even if you don't love the output, you can multiple options to choose between, combine, and draw inspiration from. For an AI content generator, Jasper is going to be a tool most marketer and content writers will be not only happy with–but impressed by!
Jasper Competitors & Alternatives
Of course, Jasper isn't the only content generator on the market. Here are some alternative content generators Jasper competitors that have similar uses, but it the best choice for you will depend on your price point and marketing needs.
1. Copysmith (Shortform Copy Generator)
Copysmith is a content generator specializing in producing copies for social media, ads, product descriptions, metatags, and other short snippets of content. Their team says their content is ready to deploy instantly in most cases. Although, some companies with specific specifications will need to make edits to the copy.
What it does:
Copysmith has many different templates depending on the type of copy you want to generate. Generally speaking, each template format is very similar; you add keywords and other relevant information, then their AI does the rest.
You end up with a list of short snippets of unique copy that you can either copy and paste directly, or make some edits!
Features:
Instantly generate high-quality AI content
Various copy types available; such as ads, meta descriptions, product descriptions
Original copy that will pass plagiarism checkers
Pricing:
There are four different monthly pricing plans:
Starter: $19/mo
Professional: $59/mo
Enterprise: Contact them directly
2. Copy.ai (Copywriting Generator)
Copy.ai is an automated creative tool that generates marketing copy in seconds, like ad copy, social media content, website copy, blog content, and any other form of digital copy.
It has the most styles of copywriting of any tool. You can create email content, Facebook Ad content, Google Ad content, sales outreach copy, and much more. It doesn't specialize, so it's great for an all-around digital marketer.
What it does:
Copy.ai generates all kinds of digital copy. All you have to do is select the type of copy you want—such as a blog intro, description, ad copy—fill out some basic details about the piece, and Copy.ai will generate the copy.
You get 10 results back at a time. You can go with one or more of these or run the tool again for another 10 unique copy pieces. What you get back isn't always going to be perfect (sometimes the copy doesn't make sense), but it's going to put you on the right path to creating a perfect piece of copy.
Features:
Instantly generate 10 pieces of unique copy at a time
Beat writer's block by inputting some basic keywords and letting Copy.ai do the rest
Try the tool for free for 7 days
40+ different tools to explore
Support for Facebook, Google, email, sales and more
Pricing:
There are three plans, one of which is free for 7 days:
Free
Pro: $35/mo
Enterprise: Contact them for pricing
3. GrowthBar – (Keyword and Blog Generator)


GrowthBar isn't just a content generator, but that's definitely one of its most remarkable features.
GrowthBar is a Swiss Army Knife of SEO tools — it features keyword research, backlinks, competitive metrics, keyword tracking, one-click blog post outline, blog title, and blog paragraph generator. It's the ultimate tool for bloggers and content creators.

What it does:
GrowthBar has a wide range of SEO features, but the hero feature content generator is what has earned GrowthBar 5 stars on Capterra and G2 Crowd.
GrowthBar generates content outlines by:
It takes your input keyword/topic, scans the web using a powerful SEO decision engine, and makes suggestions in a content editor using GTP-3 AI — the largest, most powerful language model on earth.
GrowthBar analyzes thousands of data points and the generator delivers you title suggestions, word count suggestions, keywords, headlines, images, and just about everything else you need to create quality blog content that ranks.
GrowthBar's AI-powered outlines are completely drag and drop, so you can create your perfect blog post with AI generated text and headlines. Then export to Google doc or Word doc.
Need a blog idea first? Try on their blog topics generator, and then use the paragraph generator to add even more.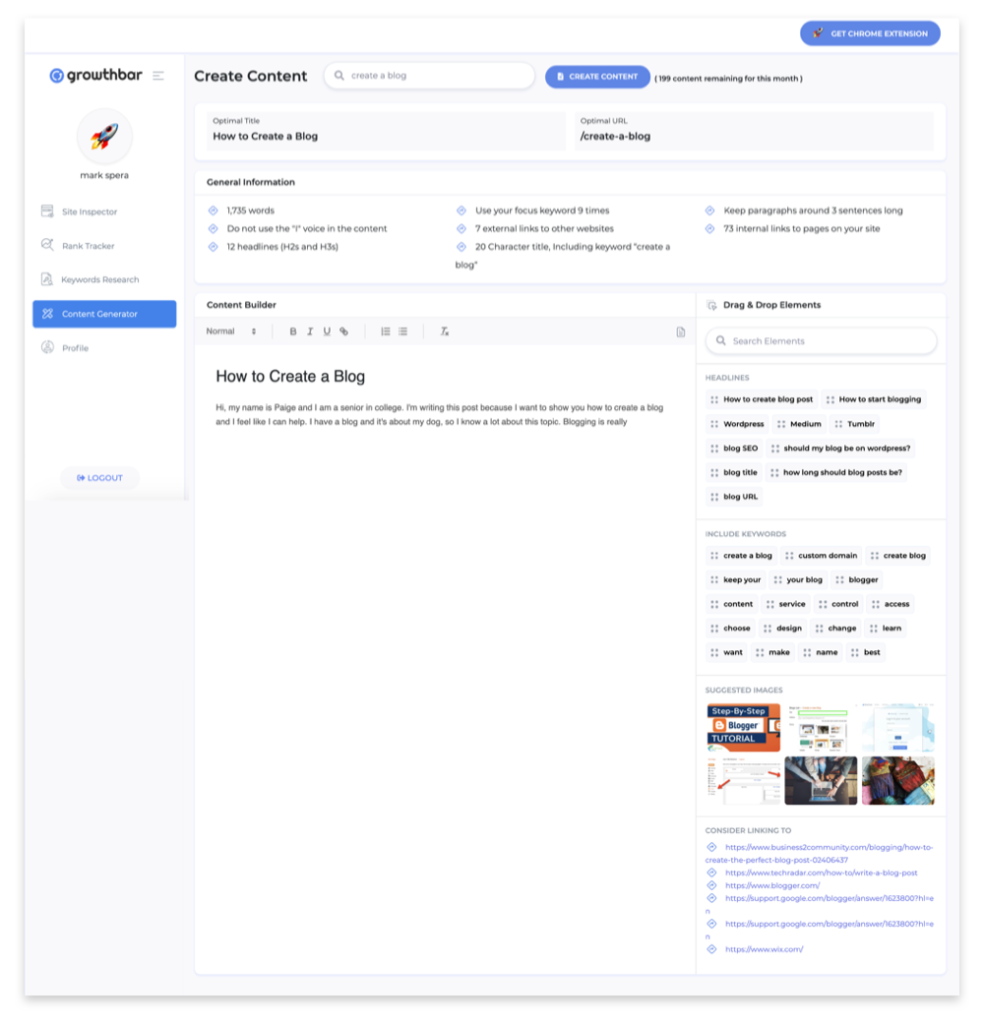 Features:
AI content creation
Keyword research
Competitor analysis
Google Ads and Facebook Ads
Backlink analysis
Writing editor interface
Pricing:
Monthly Pricing plans are:
Standard: $29
Pro: $79
Advanced: $129
Conclusion: Is Jasper Worth It?
The AI powering content generators isn't at a point where it can replace us (yet). But, as you can see from the list of Jasper's options above, there is no question this content generator can save you a lot of time for various marketing needs.
If you need some inspiration, create marketing framework, or just a way to speed up your content production, Jasper is an awesome content generator option for modern-day marketers.
If you need SEO support beyond just content inspiration, check out GrowthBar. Its keyword research tools, competitive insights, Chrome Extension (one of my absolute favorite features), and rank tracking give you everything you need to make really great content that ranks on Google. From crypto websites to SaaS companies and medical sites, GrowthBar has you covered.
Also Read: