Latest posts by Mark Spera
(see all)
Five years ago I started a blog called Growth Marketing Pro.
My business partner, Hailey, and I wrote over 200 long-form blog posts in the first 24 months. We followed that with another 300 posts over the next 24 months. Today, by many measures, Growth Marketing Pro is the most-read growth marketing blog on the internet.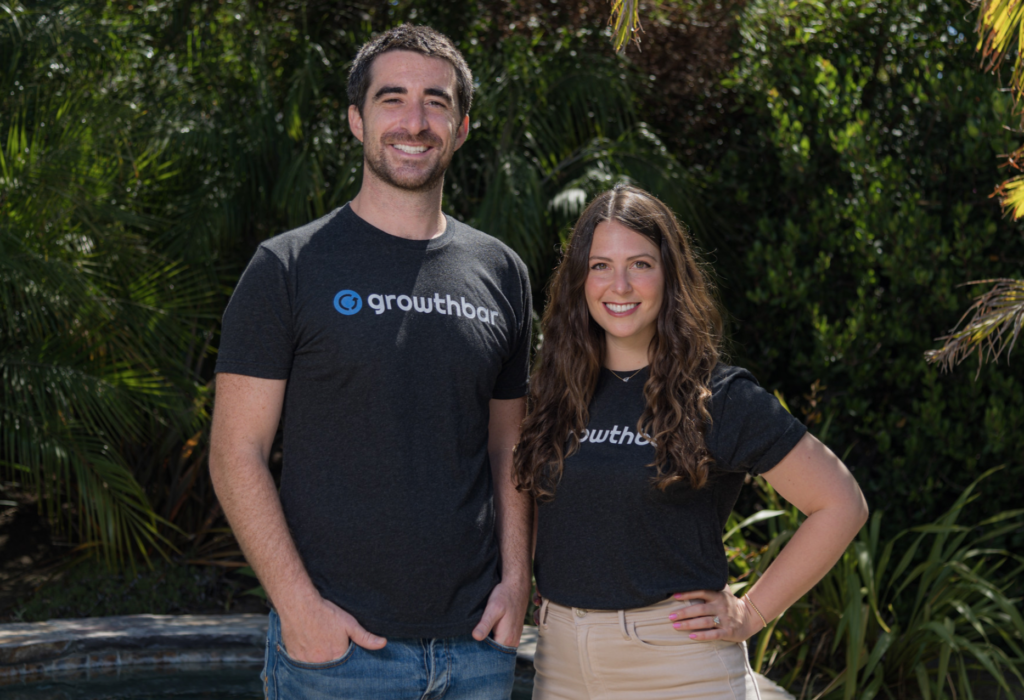 And it was through the process of creating all this content that we hatched the idea for GrowthBar: a tool to help bloggers and creators make SEO-friendly content FAST.
Today, the internet is moving quicker than ever and more entrepreneurs and businesses are investing in SEO. That means competition for Google searches is at an all-time high.
But with GrowthBar, you can:
Research: Outwit your competition with smarter keyword research and competitive insights
Write and optimize: Make better SEO-friendly content faster with AI writing tools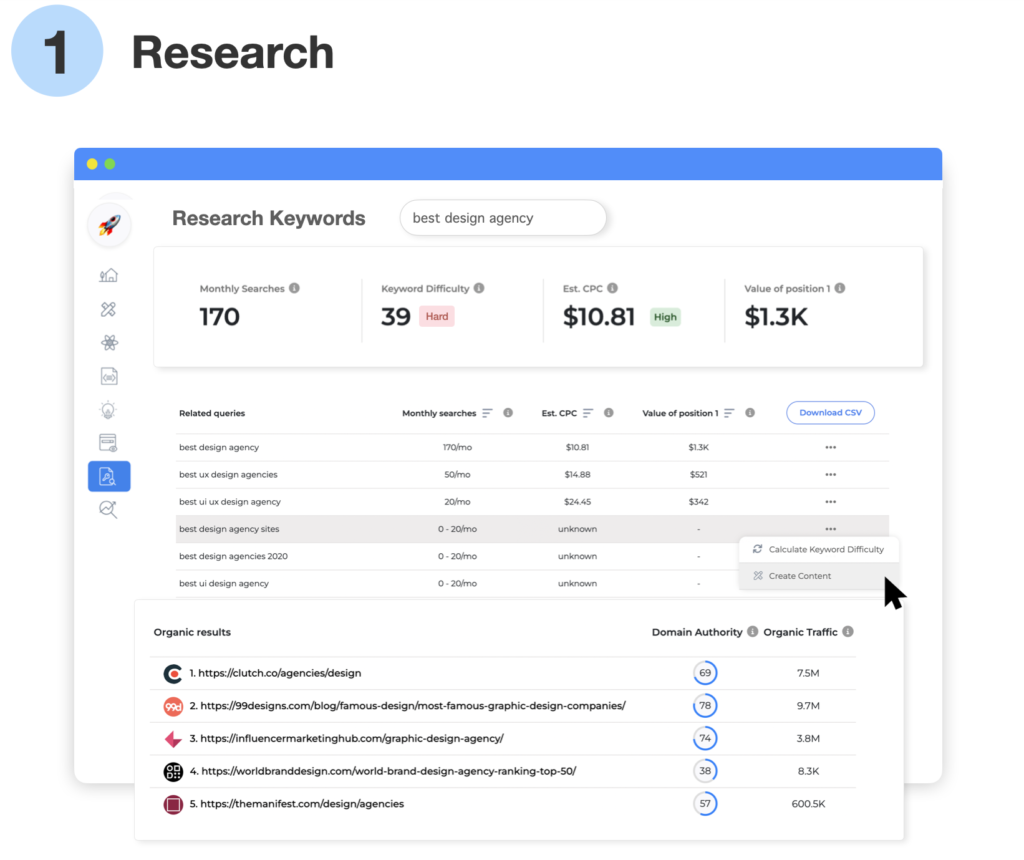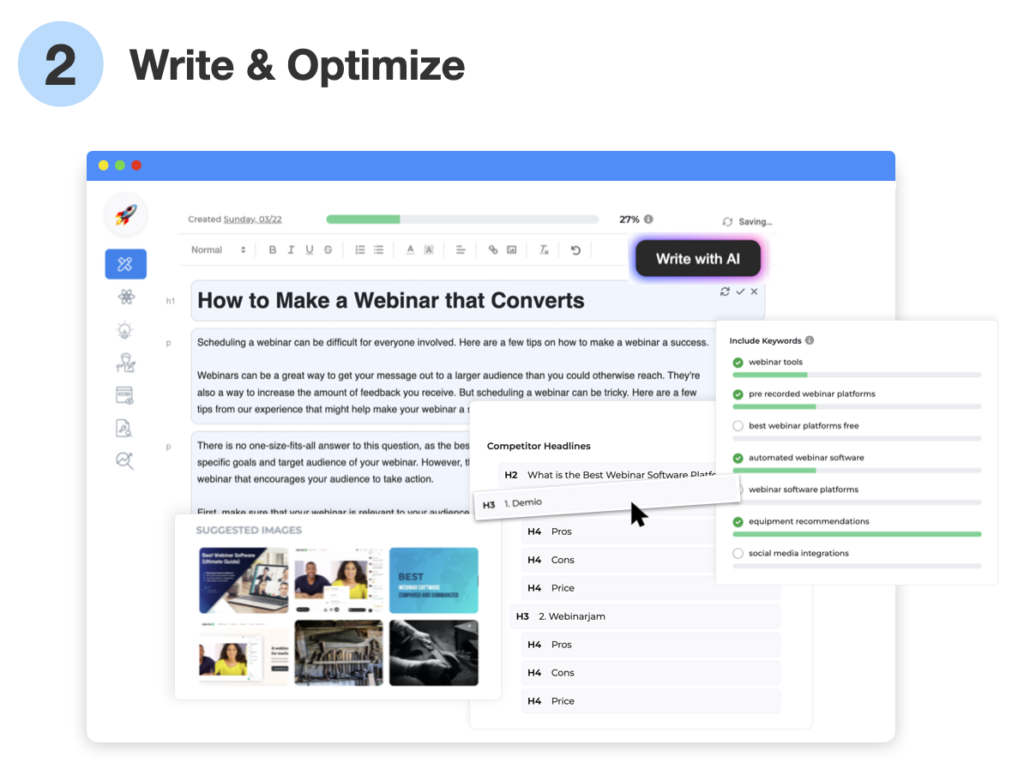 In this article, I'll give a brief overview of search engine optimization (SEO) and then tell you how to use GrowthBar to run your content engine.
SEO 101
(If you have a firm handle on SEO feel free to skip this section)
A lot of so-called experts over-complicate SEO.
They'll tell you to worry about technical SEO or run site audits until your eyes bleed
They'll tell you to do a million guest posts to build links to your site
Or use schema markup to appear higher on the Google search engine results page (SERP)
The truth is this: unless you have a massive website or a team of SEOs, you probably don't need to do much of this at all. Especially if you're just starting, all you need to do is create content. Content is the currency of the internet.
Think about it.
Google has one goal: to show searchers the best possible content for their query. If they don't, you'll probably go use Bing or Yahoo. It's always in Google's interest to surface the best content.
So I guarantee, if you make the best content on the internet, you can rank for almost any query.
So what is the best content?
The best content answers the Googler's question succinctly, but completely. If a Googler wants to know which webinar software to buy, they'd like to see a comprehensive listicle. If they want to know how to change a tire, they'll want to see a robust "how to" post. And if they want to buy a men's blue t-shirt, they'll want a shoppable ecommerce page.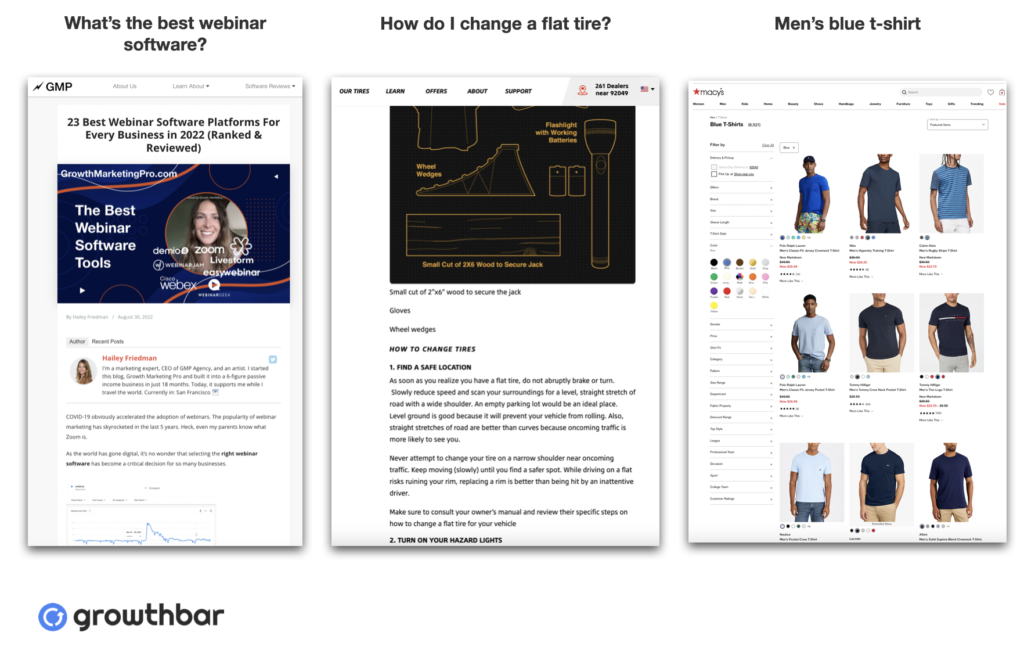 So you see, content can mean a few different things. But in 90% of cases, content = long-form blog posts.
And that's where GrowthBar comes in. GrowthBar helps you research what to write about. And then it helps you write it in the most optimal way for Google to crawl and find it.
Read on to learn how best to use GrowthBar.
One clarification: Backlink-building does matter. Content creation is still the #1 most important part of an SEO strategy, but if you were to spend time doing anything else, try and get hyperlinks from other sites to yours. Backlinks are a trust signal for Google. I'll briefly touch on link-building below, but if you want to read more, check out my article, The 25 Best Ways to Get Backlinks.
Keyword Research and Competitor Research
Sure, content is the most important part of SEO…. but what should you write about?
There are a few ways to figure that out.
The surest way to succeed in the research phase of your SEO strategy is to find keywords that have high search volume and are relatively uncompetitive.
Of course, the keywords you choose must have some search volume and must be related to your product offering. After all, what good is it to rank for music lyrics if you're selling home repair services on the internet?
Here's how to do research:
1. Brainstorm
One of the first steps in your research phase is to use your brain 🧠! Practically speaking, if you're wondering about a certain keyword, others are too. Most people miss this step!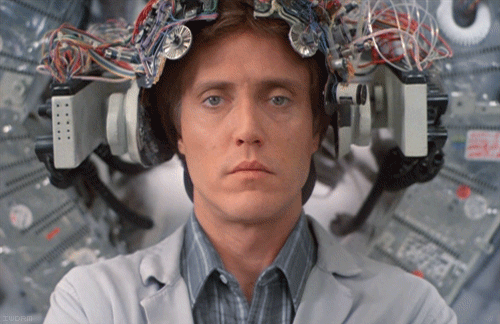 Put yourself in the head of your customer. Maybe you own an ecommerce store selling dresses. What sorts of things might your customer be wondering? Perhaps "best dresses for new years party," or "best dresses for tall women," or "how to buy a dress for your body shape." The point is to be creative and use discretion.
Maybe you own Amazon seller software (like a customer of ours). What sorts of things might an Amazon seller search that could lead to a purchase? Maybe, "Amazon seller software" or "tools for Amazon sellers," or "how to make more sales on Amazon."
I love to rack my brain for emerging topics. If you're the subject matter expert in your field, you probably know some things others don't. For instance, if you're a technology blogger, you might have the inside scoop on the newest product coming out — before there's even search volume for it. Write about that product before anyone else and you're very likely to rank.
Another simple way to use some logic in your research process is by using Google and YouTube's autocomplete feature. While it won't be the most precise way to do your research, it's another way to use your brain to find some long-form keywords that might be good candidates for your content.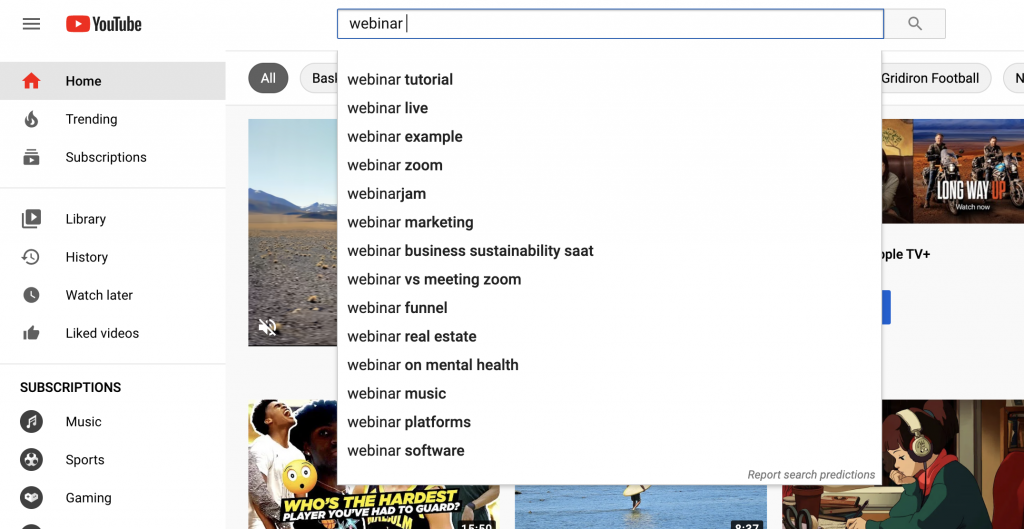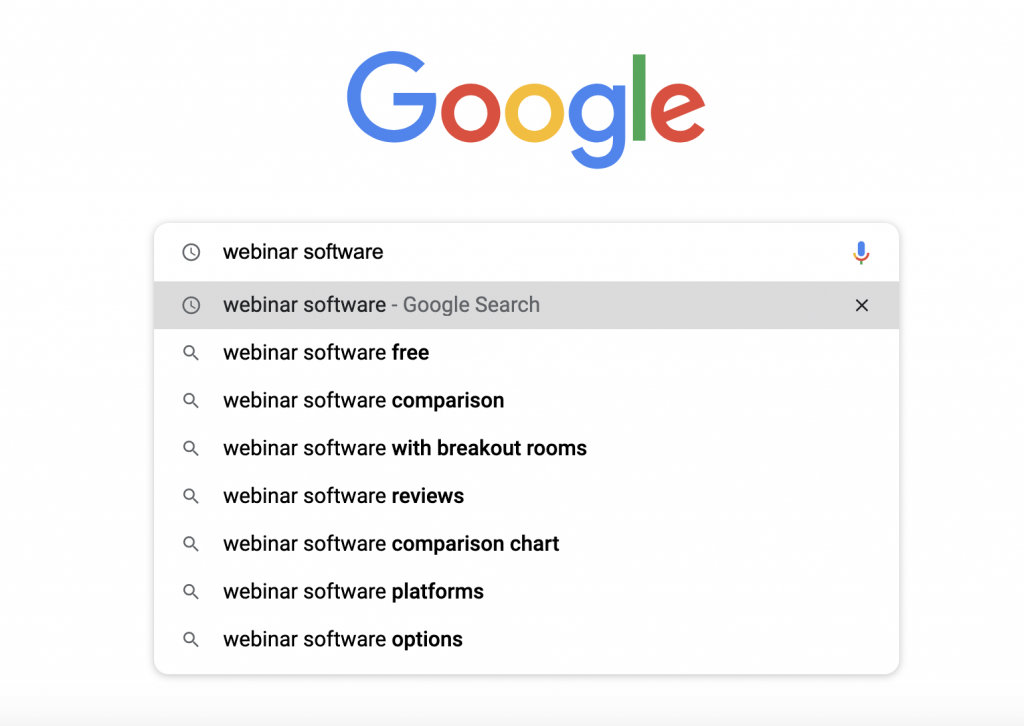 2. Use a keyword research tool
This is where things get a little more scientific… and where GrowthBar gets involved!
GrowthBar's Keyword Research Tool has over 2 billion keywords and 80 billion data points. Simply enter a "head term" — a somewhat broad keyword — and GrowthBar surfaces up to 100 related keywords and their corresponding search volume, difficulty scores, CPCs, and a metric called "Value of Position 1." Hover over the "i" icon next to each to learn more. But here's the summary:
Monthly searches: The total number of monthly Google searches for the given keyword.
Keyword difficulty: A score of 1-100 tells you how competitive the keyword is. A score of 1 indicates the keyword should be easy to rank for. A score of 100 means it might not be worth pursuing that particular keyword. If you have a new website, aim for keywords with a difficulty of 50 or lower.
Estimated CPC: This is the cost-per-click in Google Adwords for the given keyword. In general, a keyword with a higher CPC is more valuable. It's just a way to directionally understand if you have a valuable keyword or not.
Value of position 1: This metric combines monthly searches, estimated CPC, and an estimated click-through rate to give you a sense of how valuable it would be to rank in position one in the Google SERP for that keyword. Use this metric as a directional indication of value.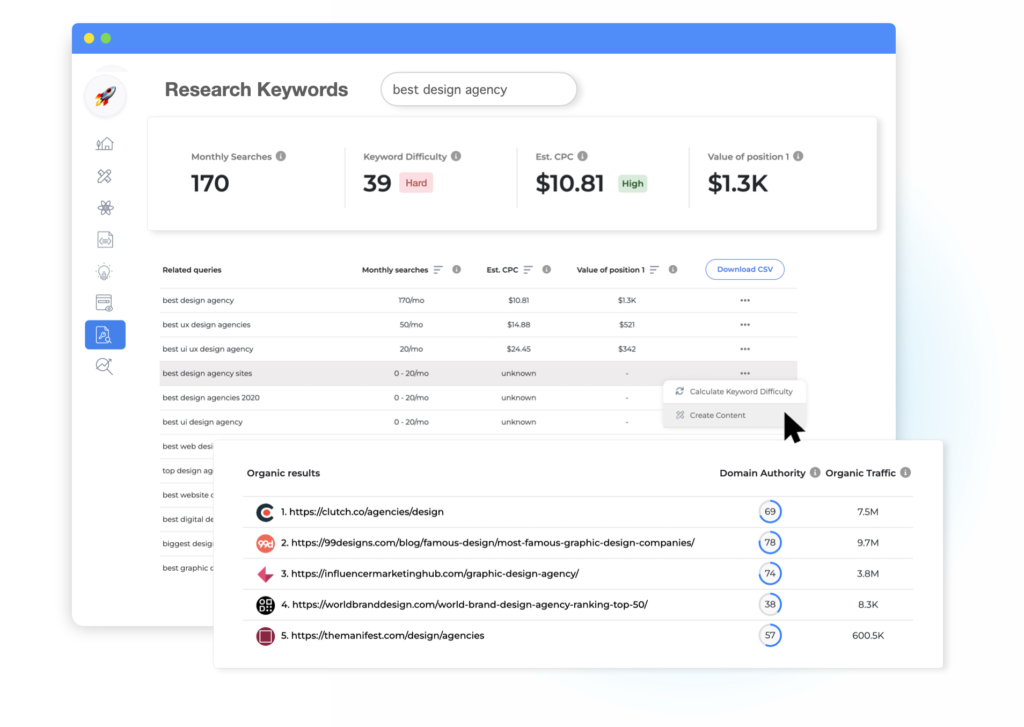 Something we're often asked is, "how many monthly searches make a keyword worth pursuing in my SEO strategy?"
It's a great question.
For some businesses, a keyword has to have 50,000+ searches a month to be worthwhile, whereas other businesses only need a couple of hundred searches a month. In general, there's no "right" number of monthly searches that make a keyword worth pursuing.
Think about it this way: if you're selling a high-ticket item like consulting services or an expensive software tool — something that costs thousands of dollars per month — you only need a few clicks to get profitable traffic. But if you're selling t-shirts or costume jewelry, you need a few hundred clicks to make it worth your while.
Keyword research is the foundation of a great content and SEO strategy.
3. Use a competitor research tool
One final way to plan your content is via competitor research. You can take it to the bank that if a competitor is blogging about a keyword or running Google Ads for a keyword, it's likely a high-intent, profitable search query.
That's where GrowthBar's Site Inspector Tool can help.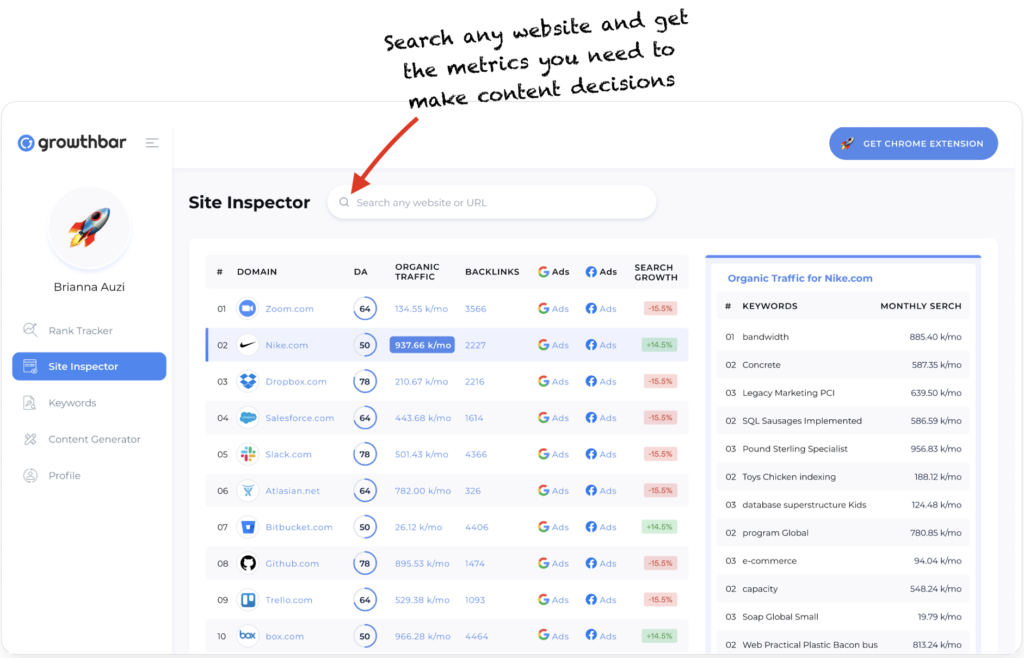 Simply type any domain into the Site Inspector and get the site's domain authority, organic traffic total volume, organic traffic keywords, backlink profile, and Google Ads keywords. Here's the rundown on each:
Domain authority: Domain authority (DA) is a measure of how authoritative a site is. High domain authority sites will more easily rank for keywords than a low domain authority site. It combines several things including the richness of the site's content, the number of backlinks the site has, and the website's age. By the way, it's one of the ways the Keyword Difficulty Score is calculated in the Keyword Research Tool.
Organic traffic total volume: This is simply how much organic traffic a website gets per month.
Organic traffic keywords: Click into the organic traffic report (on the right side of the screen) to see which keywords your competitors rank for organically. Keywords they rank highly for tend to be pretty good targets for you. After all, if your competitors rank for it, it's probably for good reason.
Backlink profile: Remember I said backlinks are the #2 most important part of any SEO strategy? That's why we've included backlink profiles in the Site Inspector. Simply click to see your competitors' backlinks. A good place to start in your link-building journey is to reach out to websites linking to your competitors. There's a good chance if they link to your competition, they might oblige and link to you.
Google Ads keywords: You might be thinking, "I'm not running Google Ads, why do I need this data?" In reality, Google Ads keywords are one of the most important competitive metrics available. Why? Because Google Ads requires you to pay to rank. If a competitor is willing to pay for a keyword, it's likely a high-intent, profitable keyword for you to use in your content and SEO strategy.
Armed with three research methods, make a list of your target keywords and prioritize them. Now let's talk about actually writing great content that ranks.
The Content Generator: Writing & Optimizing High-Quality Content
Once you have a list of keyword topics, it's time to start writing.
GrowthBar's Content Generator enables you to input any keyword or keyphrase you can think of and begin creating a blog post that will rank.
Start by selecting "new article," and then enter your focus (target) keyword and your website (optional). Entering your website will enable GrowthBar to suggest internal links as you write. GrowthBar can also optimize existing articles by clicking "optimize existing article." If you do this, you'll enter your focus keyword and the exact URL of the article you with to optimize.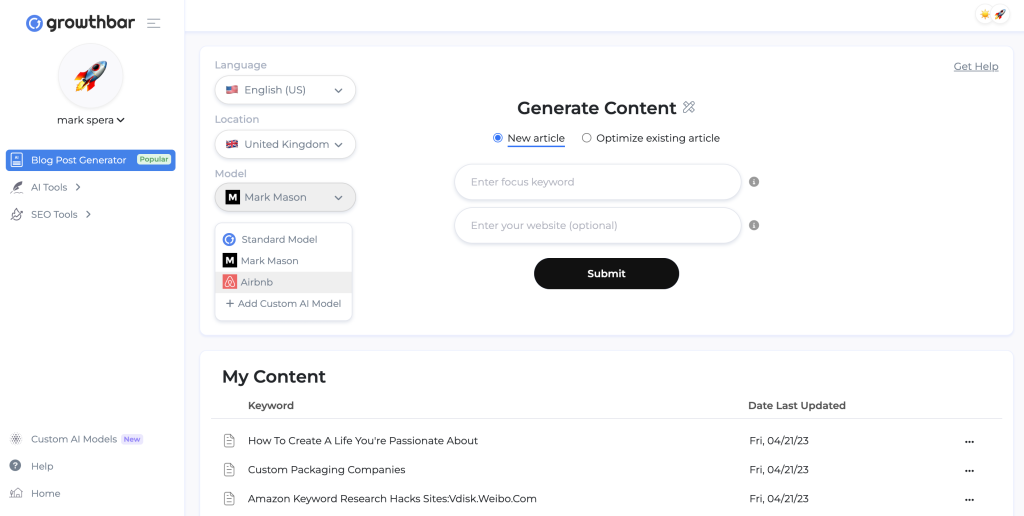 If you opt to write a new article, GrowthBar will begin by surfacing a title and introduction paragraph using generative AI. Use the shuffle button to pick a different title or intro paragraph, or simply write your own! The beginning of your blog post is extremely important. You need to hook the reader, so consider using a personal anecdote, a statistic, or the pain-agitate-solution model to prove to your audience they need to continue reading.
You'll also notice GrowthBar will surface 70+ SEO recommendations. Following those recommendations will help your article get a higher Optimization Score — which is a measure of SEO-friendliness from 0 to 100.
1. Drag-and-Drop
Next, navigate to the drag-and-drop section of GrowthBar to begin creating an article outline. GrowthBar surfaces the headlines of top-ranking competitors, as well as a section at the bottom for "people also search." You can begin dragging headlines into your blog post. Feel free to edit headlines as you drag them in — you don't want to copy headlines exactly from your competitors.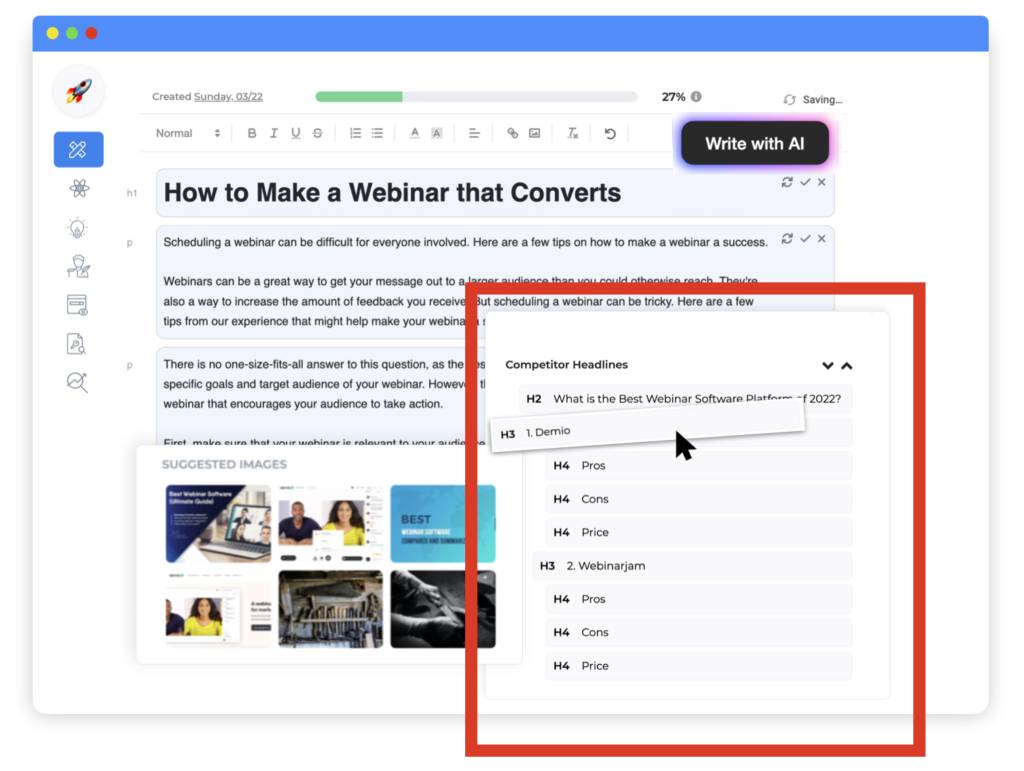 Using headings in your blog posts is SEO best practice. That's because as Google's web crawlers analyze your site, they use your title and headings in a pretty significant way to score your content. Including keywords and related keywords in your headings is generally helpful for helping Google understand your content.
2. Write with AI
Once you have an outline, you can begin using the "Write with AI" feature to build your article. This moment is pretty magical. Put your cursor wherever you want GrowthBar to write and click the button.
Like magic, GrowthBar produces unique content using a series of algorithms that understands what you're writing. And it gets even more precise as it learns your style and preferences.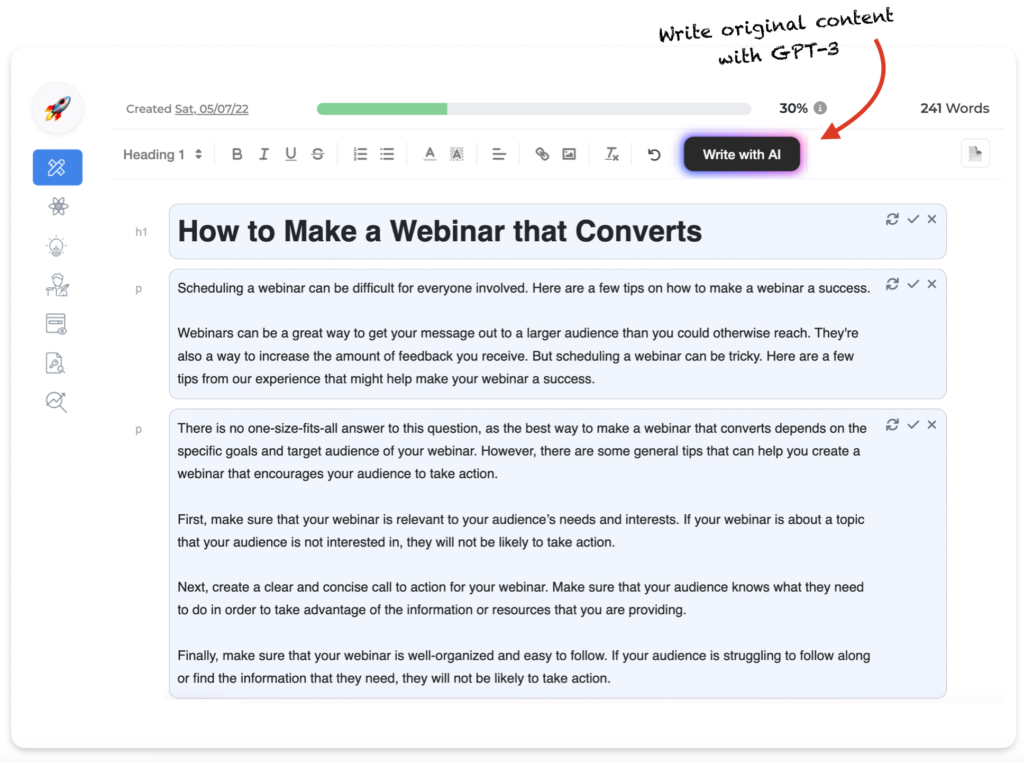 If you click to the right of the Write with AI button, you'll be given more advanced writing options like "give examples," "elaborate," "conclude thought," and more.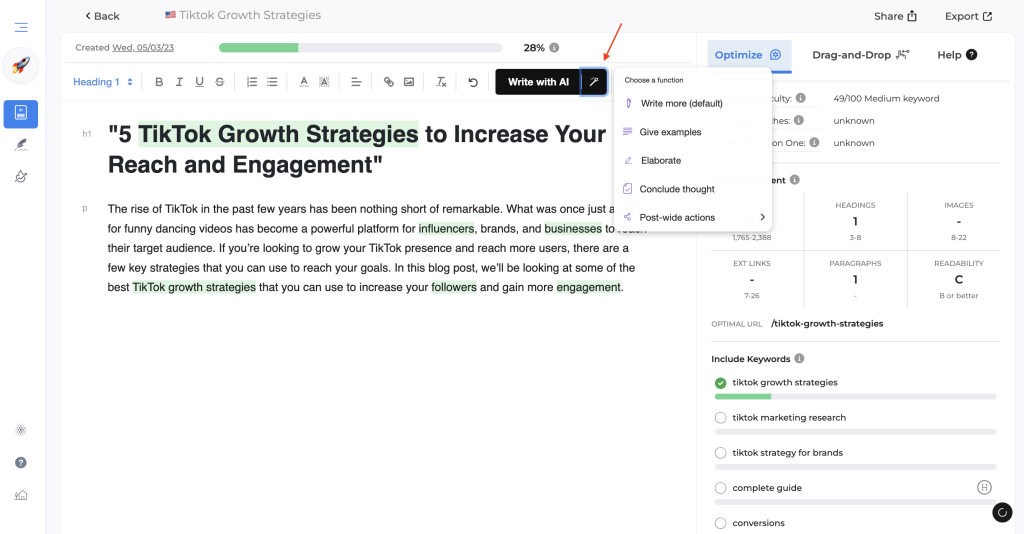 GrowthBar's AI model is constantly evolving to optimize for SEO. We score outputs for accuracy and SEO best practices and then feed the model with tweaks to logic. This means GrowthBar's outputs are more useful than any AI competitors.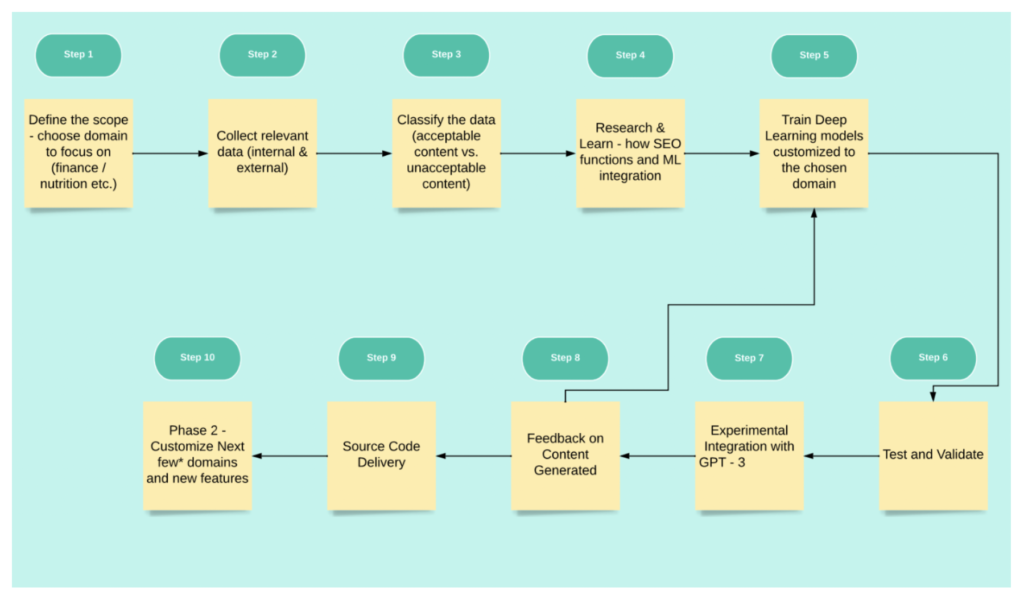 3. Optimize
As you write, you'll notice GrowthBar is actively optimizing your content. On the top of the text editor you'll see the growth bar! This optimization meter will tell you how SEO-optimized your article is for the given keyword based on:
Content relevance to your target keyword
Keyword usage
LSI (symantic) keyword usage
Word count
Headline count
Link count
Readability score
Image count
and more
On the right-hand side of the Content Generator, you will see some of these metrics broken out so that you'll be able to adjust articles to adhere to SEO best practices.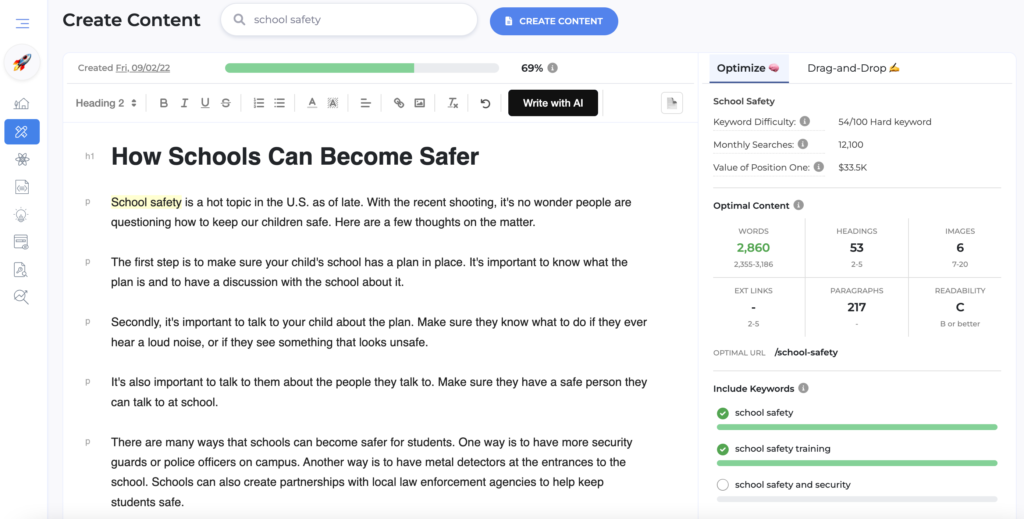 As you write, you'll also notice underlines beneath certain words or sections of your blog post. Blue underlines are GrowthBar's recommendations for SEO-friendliness. Those include suggestions like:
Use your focus keyword in the first 100 words of your article
Make sure your focus keyword appears in the title of your article
Duplicate headlines
Internal links
Duplicate headlines
And more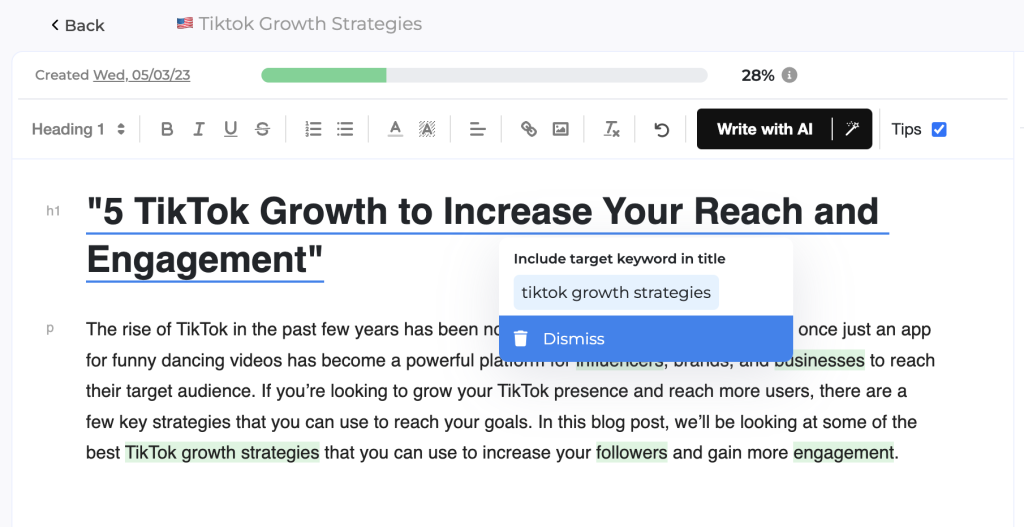 You'll also see grammar suggestions with underlines while you write. GrowthBar integrates Grammarly completely free of charge to all users.
Wrapping Up
GrowthBar also features other bells and whistles including an AI meta description generator, AI blog idea generator, and rank tracker. The first two tools are natural language tools to help save you time in creating meta descriptions for your articles and brainstorming blog topics. The rank tracker is essential if you're an SEO that wants to track your keyword rankings over time (which are bound to go up if you're using GrowthBar).
All in all, we've built GrowthBar to be the #1 AI SEO tool. We know how overwhelming it is to write reams of content and not rank on Google. But GrowthBar makes it much easier to write content and rank FAST.
That's why GrowthBar has 4.9 stars on G2 and Capterra and over 6,000 customers, including companies you've heard of like Postmates, Product Hunt, Minted, TeePublic, and more.
Have any questions? Email us at [email protected].
📚 Also read: