Latest posts by Mark Spera
(see all)
A content calendar, also called an editorial calendar, is a great tool to use to organize your content releases throughout the year.
Content calendars are particularly important if you're working in a team setting.
Sure if you're publishing on a blog by yourself, you can get away with just freewheeling. But if you're managing social media for a company, or you're a freelance writer with multiple clients, you need to have a content calendar. This is especially true if you want to publish content on a regular basis.
Plus, a content calendar gives visibility to an entire organization so teams can plan to cross-promote content accordingly or use certain pieces as sales materials when applicable.

Also read: How to Scale Content Creation or The 7+ Best Article Writing Services
What is a Content Calendar?
A content calendar is a list of all the posts that you plan on publishing and the dates they will be published. It also includes the topics of the posts with a short summary of what they are about. Keep your content calendar updated and you will be able to plan ahead.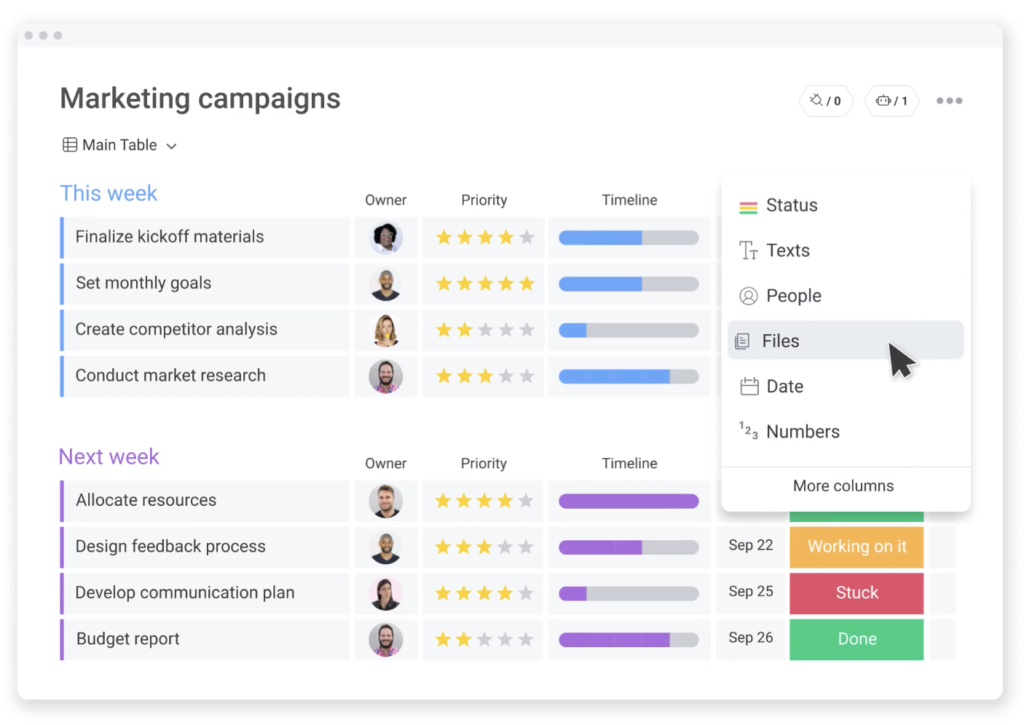 There are a lot of different ways to create a content calendar. You can use a spreadsheet, a content management system, or even a whiteboard. But no matter which method you choose, the key is to make sure your calendar is tailored to your customer's needs and helps streamline the work that your team does.
Here's a guide to creating a content calendar, based on my own experience managing multiple blogs and two companies.
1. Assess Your Needs
Before you can start creating a content calendar, you need to assess your needs. What kind of content do you want to publish? How often do you want to publish it?
Your needs probably differ a lot based on a few things:
Industry: Ecommerce companies will be much more likely to use social media content like Instagram images and videos, while a SaaS product probably will have much more long-form blog content and thought leadership on LinkedIn or Twitter.
Goals: Are you just keeping the lights on or is content part of your acquisition strategy? If you're using content as an SEO acquisition strategy, you will need to be thoughtful about outlining posts and giving enough guidance to writers. If you're a freelance writer yourself, you may need to create different content calendars for each of your clients. Or you may need to create a calendar that includes different types of content, such as blog posts, social media updates, and email newsletters.
Bandwidth: Don't overthink it. If you're a one-man (or woman) operation, you probably should spend your time executing rather than planning content.
Channels: If you're publishing blog posts, you probably don't need to post every day, but if you're using Pinterest or Instagram, you have much higher content needs and shouldn't be shy about posting at least every day (or a couple of times per day).
It's also important to consider your team. If you're a large organization with tight brand guidelines, you may want to get pretty specific with your calendar so that you have enough time to round up creative assets and/or go through rounds of editing.
No matter the case, you should definitely plan at least a couple of months worth of content so that you minimize bottlenecks and get content out the door in an orderly, strategic way.
2. Choose Your Channels
Now that you've determined your audience and what content you will produce, it's time to determine which channels you will use to distribute that content.
Some content, like blog posts, can be distributed through many different channels. Other types of content, like video, are better suited for specific channels. Think about where your customer hangs out. Are they browsing images on Instagram all day long or are they consuming short-form content on Twitter?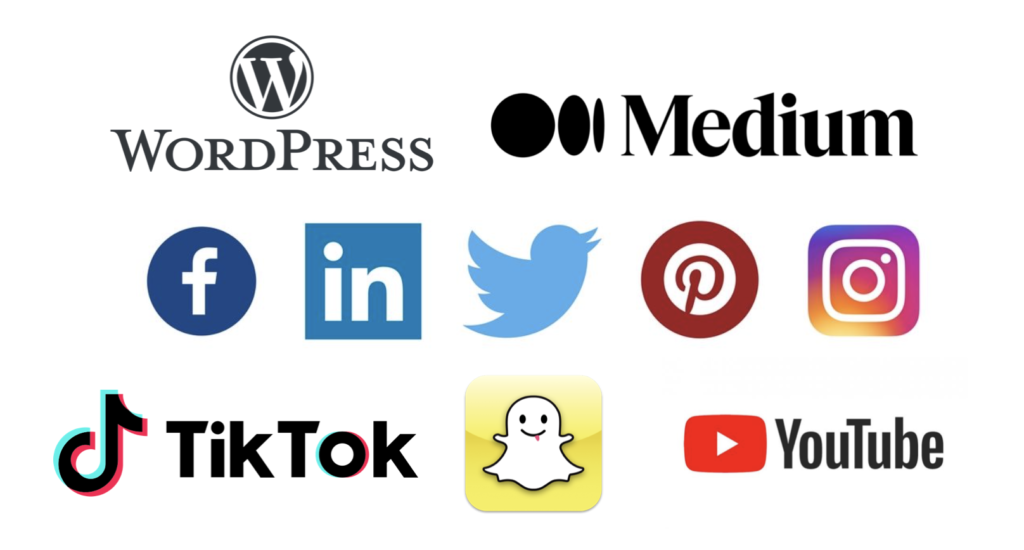 No matter the case, quality over quantity is the name of the game. Oh, and make sure your content suits the platform. In other words, don't post a blog post on Instagram!
These are some common channels for distributing content:
Blog: Blog content is a form of content everyone knows. It's a perfect place to pen thought leadership pieces, SEO content, product announcements and more. Almost every company should start a blog if they haven't already done so.
Facebook: It's no secret that Facebook isn't what it used to be. Only 5.2% of your fans see your posts on Facebook these days. So if you have no fans, stay away. Even if you do have fans, posting on Facebook probably isn't the best way to get content reach these days.
Twitter: Twitter is still a goldmine for certain industries. Particularly if you're a software (SaaS) business, there is a huge audience ready to consume your content.
LinkedIn: Every businessperson on the planet hangs out on LinkedIn. If you're marketing a B2B service, you should post thought leadership updates on LinkedIn.
YouTube: You might think you need great, long-form video content to post on YouTube. Actually, YouTube is really pushing YouTube "Shorts" now — so much that it's surfacing "Shorts" above regular content. What that means is that short-form video content (a la TikTok) will play very well on YouTube.
Instagram: Organic Instagram posting is still quite effective for consumer brands. Video plays particularly well and testimonial videos take the cake. If you can get your hands on videos of customers saying great things about your brand, post it to the 'Gram!
Pinterest: Great for ecommerce businesses and female products (the audience is 77% female). While it was a golden goose for many ecommerce companies, reach has begun to decline as Pinterest focuses more on paid content.
Snapchat: Snapchat is a great place for almost any direct-to-consumer brand to be. Short content that is scroll-stopping and entertaining plays well on the platform. And it's still not entirely saturated with ads.
TikTok: It's an emerging platform and has efficacy for almost any kind of product from ecommerce to personal finance and everything in between. And the audience isn't quite as young as you probably think.
As you can see, there are a number of places to promote your content. Choose wisely for your content calendar and make sure to recycle content across several platforms if possible. For instance, YouTube Shorts, TikTok and Snapchat all operate basically the same. With some small tweaks and you can create a video that serves all three platforms.
And also, make sure your platform matches your medium. Nobody is looking for a spreadsheet tool on Pinterest. Just like an artist advertising their work on LinkedIn may fall on deaf ears.
3. Time Your Content Appropriately (If Applicable)
The best time to post SEO content was yesterday. But for almost everything else, timing does matter. You need to schedule content around product releases, company announcements and seasonal moments.
For product releases and company announcements, my only advice is to plan at least a month ahead of time and try to coordinate your messaging across all channels. You may have heard of the rule of 7: a person is much more likely to take action on your ad (or in this case, post) if they see the ad at least seven times. That means if you coordinate your messaging across channels, the likelihood of it resonating with a perspective buyer is higher than if you scattershot different messaging across platforms.
For seasonal moments, hopefully this helps get you started (not applicable for every business):
January
Post about your New Year's resolutions
Share your favorite healthy recipes
Write about your goals (or company goals) for the new year
Share your favorite fitness tips
Share your favorite tips for staying organized in the new year
February
Share your favorite Valentine's Day ideas
Write about how to show your loved ones you care
Share your favorite love quotes
Share your favorite romantic recipes
Share your plans for the remainder of Q1
March
Share stories about female employees or founders for International Women's Day

Share your favorite St. Patrick's Day ideas

Share a Q1 wrap-up if your company had a great quarter or hit milestones
April
April Fool's Day gag posts
Share tax advice or financial results heading into tax day
Share your favorite Easter ideas
Share your favorite Easter quotes
Share your goals for Q2
Share eco commitments to celebrate Earth Day in late April
And so on.
Of course, the content you create will be vastly different depending on the type of business you're operating. But sticking to a calendar will help you stay organized and "trend jack" — that is, highlight your business in an organic way based around the most important seasonal moments.
4. Keyword Research (For Blog Content)
Once you have a good idea of your topic, it's time to do some keyword research. This will help you determine what people are searching for online related to your topic. You can use a free tool like Google Keyword Planner or a paid tool like GrowthBar to do your research.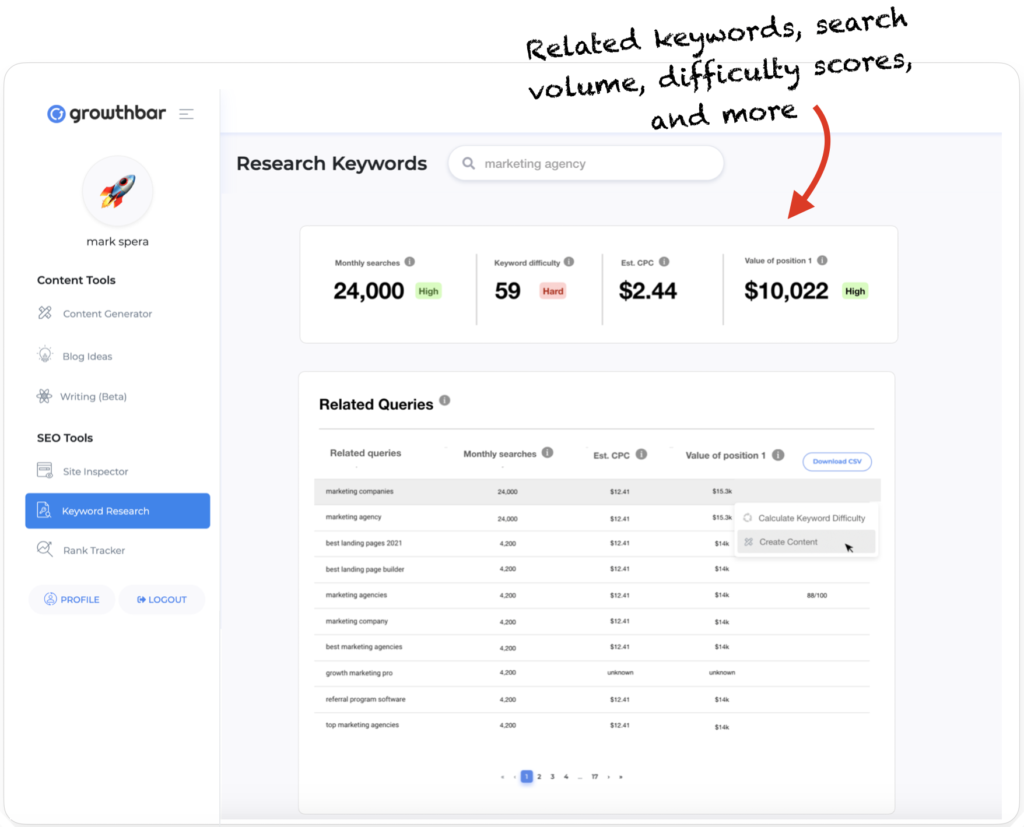 Even if you're writing articles for the purpose of thought leadership or product releases, you still should do some light keyword research. Everything you publish is an opportunity to rank and garner exposure.
Once you have a list of keywords, you'll want to determine which ones are worth targeting in your content. You can do this by determining how often those keywords are being searched for online and how difficult it will be to rank for them. The higher the search volume and the lower the competition, the more worth targeting that keyword is.
Two more advanced ways to research keywords:
Sites with low domain authority will have trouble ranking for just about everything. So if a low domain authority site is ranking for a keyword, you can take it to the bank there is plenty of opportunity for you to muscle your way in. Use a tool like GrowthBar or Semrush to find competitors with low domain authority scores who rank for search terms you care about. Those are good targets.
Use your judgment. If you're in a field with an emerging topic, write about it. I'm a marketer and when GPT-3 came out, I knew there would be a huge swell of search volume for natural language processing and AI writing tools. As such, I immediately wrote an article about the best content generator tools and reviews of various tools in the space. Lo and behold, my articles rank in the top few Google results today.
5. Create Content Briefs
If you're writing long-form content (or really any content) content briefs are essential. Especially if you have a distributed team, proper briefing will ensure that the writer(s) hit the mark in terms of topical coverage, keyword usage, and brand voice.
Some tools like GrowthBar and Surfer SEO enable you to drag and drop elements to create a blog outline fast.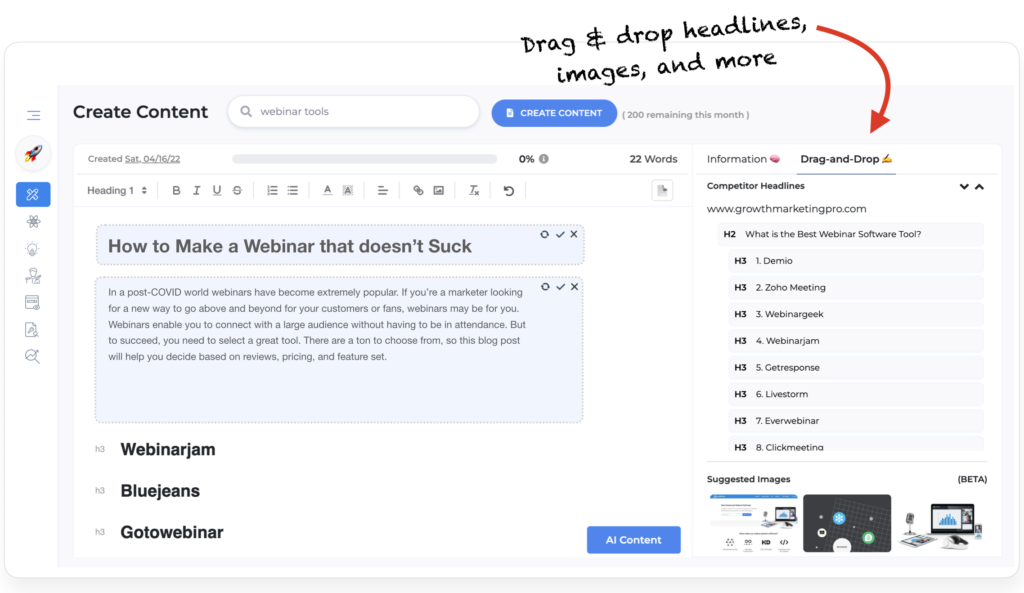 Some things to think about when outlining an article:
What are you trying to achieve with this content? SEO, thought leadership, or something else entirely?
What format will the content take (blog post, video, infographic, etc)?
Who are your target readers/viewers?
What are the key messages or keywords you want to communicate?
What tone should the content take?
Who will create the content?
When do you need the content delivered?
Here's a link to the content outline for this very post!
6. Track What Works, and Improve It
Solicit feedback and track results.
Keep track of what content works well and what doesn't, and use that information to improve your content marketing strategy. Use different analytics tools to track website traffic, social media engagement, and lead generation.
For instance, if you're using social media primarily, use a tool like Hootsuite to track the engagement of your posts. If a certain category of posts is working, you should double down!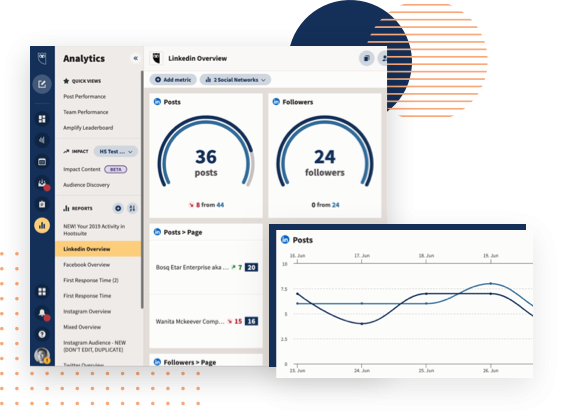 If you're writing blog content for SEO, you definitely want to measure performance so you can double down. What that means may be different depending on your goals, but for me, I always like to tie content to a revenue figure. For that reason, I like to use Google Analytics (or some other rank-tracking tool) to see which content is driving conversions.

No matter the case, don't fly blind when creating your content calendar.
It takes time to make content. So if you're not prescriptive about what content you're creating you'll waste a whole lot of time and money.
7. Use a Content Calendar Tool
As you can tell, when it comes to creating a content calendar, there is a lot to keep track of. Lucky for us, there are a number of tools, ranging from Google Sheets to paid software products like Monday.com and Trello.
While you don't need a tool — particularly if you're a small organization — you may find that it keeps you more organized for a pretty nominal fee. Keep reading for more.
Content Calendar Google Sheets
This content calendar template can be used to track content for your website, blog, or social media accounts. The template includes a column for the date, the type of content, and a brief description. You can use this template to track your content ideas, upcoming posts, and past posts. You can also add columns down the road to track the performance of your posts.
Content Calendar for Social Media (like Instagram)
A social media content calendar isn't much different than the content calendar I linked above. In fact, you can feel free to use my template for social media. But if you're looking for something a bit more specific to social, check out HubSpot's social media content calendar here.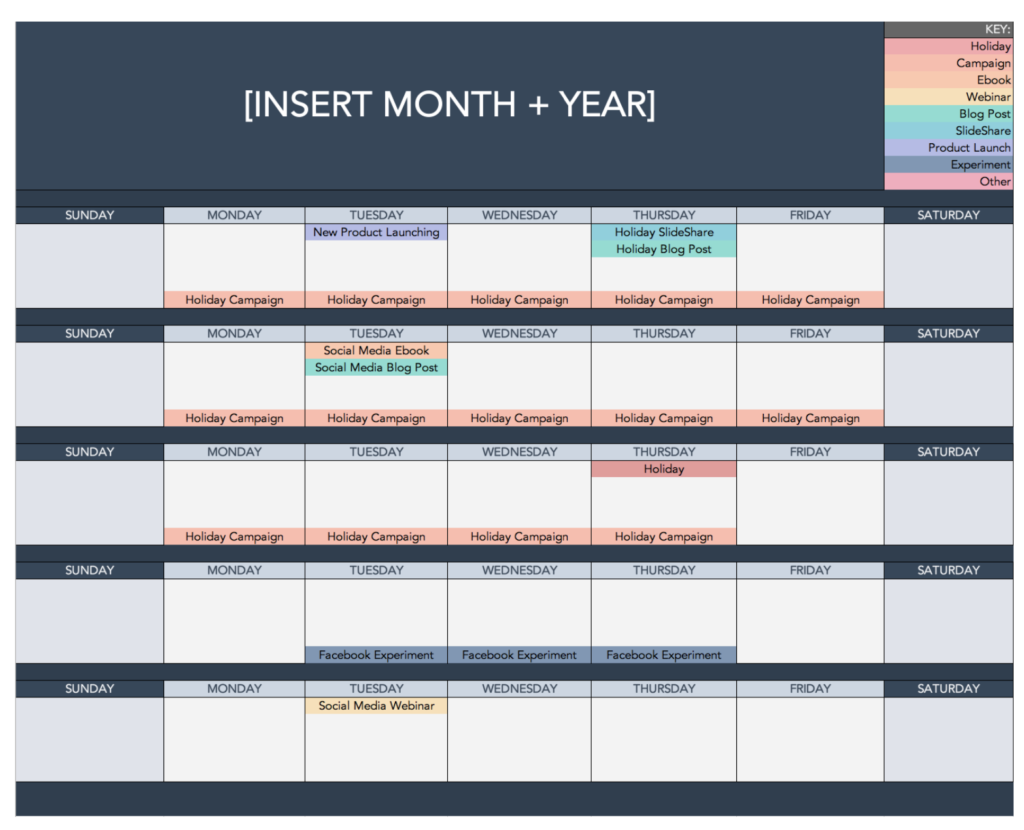 Content Calendar App
As you now know, a content calendar is a one-stop shop for keeping track of all your content ideas and drafts in one place. It helps you to create a schedule for your content, making it easy for you to plan ahead and be more productive.
Most content calendar apps serve many functions — content calendaring being one of them. These are my five favorites:
1. Trello
Trello is a tool to help you manage your daily tasks and to-dos. This free web-based service lets you create boards to organize your tasks and to-dos. You can assign tasks to specific members of your team, set deadlines, attach files, and filter tasks according to the person who assigned them.
I like Trello because it's very user-friendly, colorful and intuitive. See the content calendar feature here. And it's free to start!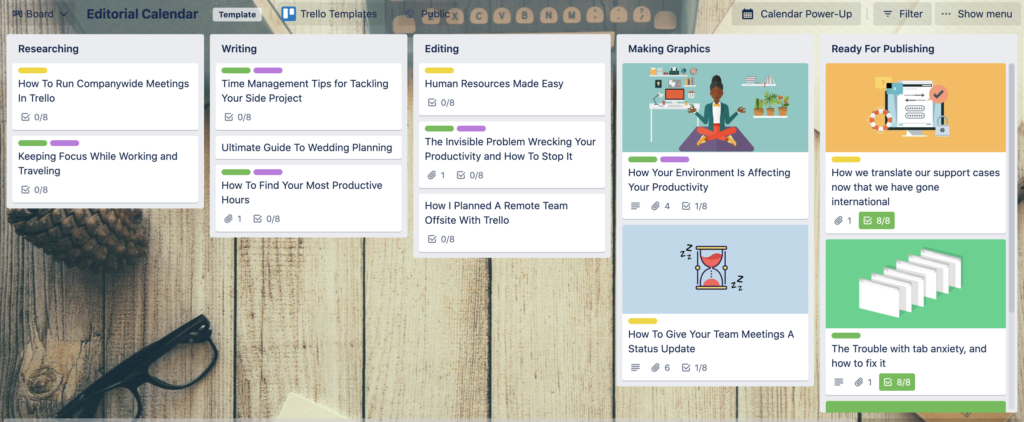 2. Monday.com
Monday.com is a project management software that was designed to make it easier and more productive for teams to communicate and collaborate. Monday.com recognizes that people don't work in a vacuum and that effective communication with colleagues is essential for collaboration. And when it comes to content calendaring, Monday nails it. Like Trello, Monday is free… unless you have more than two teammates — then it starts at $8/user/month.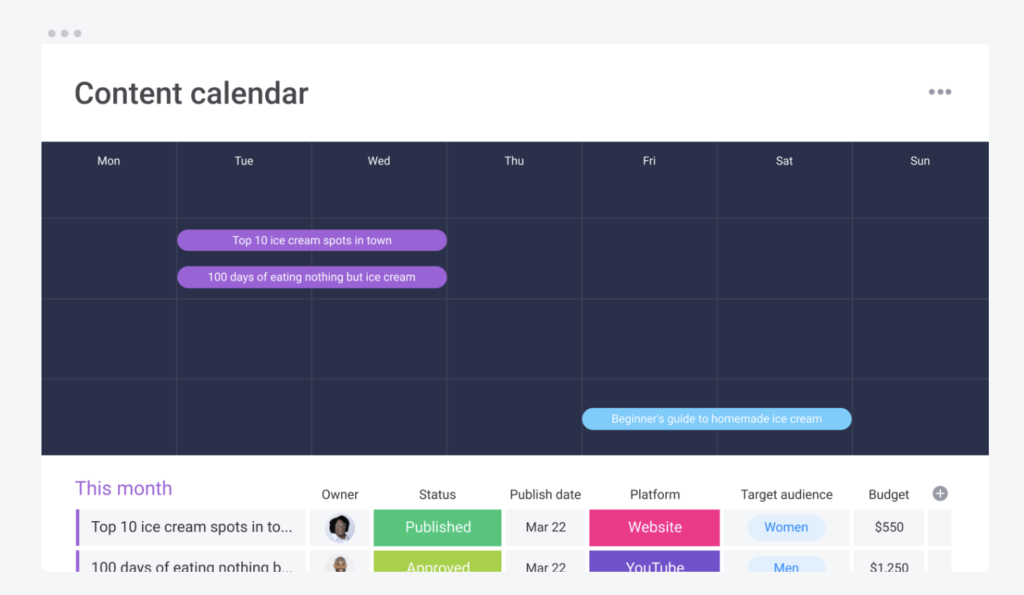 3. Hootsuite
If your primary goal for your content calendar is social media, Hootsuite may be the tool for you.
Hootsuite is a social media management dashboard for managing your online business. It has a variety of features which include posting content on your behalf, scheduling posts, replying to comments and messages, and measuring the performance of your posts. Hootsuite's "Team" feature enables you to assign tasks to team members and collaborate with ease. You can also set up alerts, which will notify you when you receive new messages or comments. Hootsuite helps you plan a content calendar and even shows you when the best time of day to post is.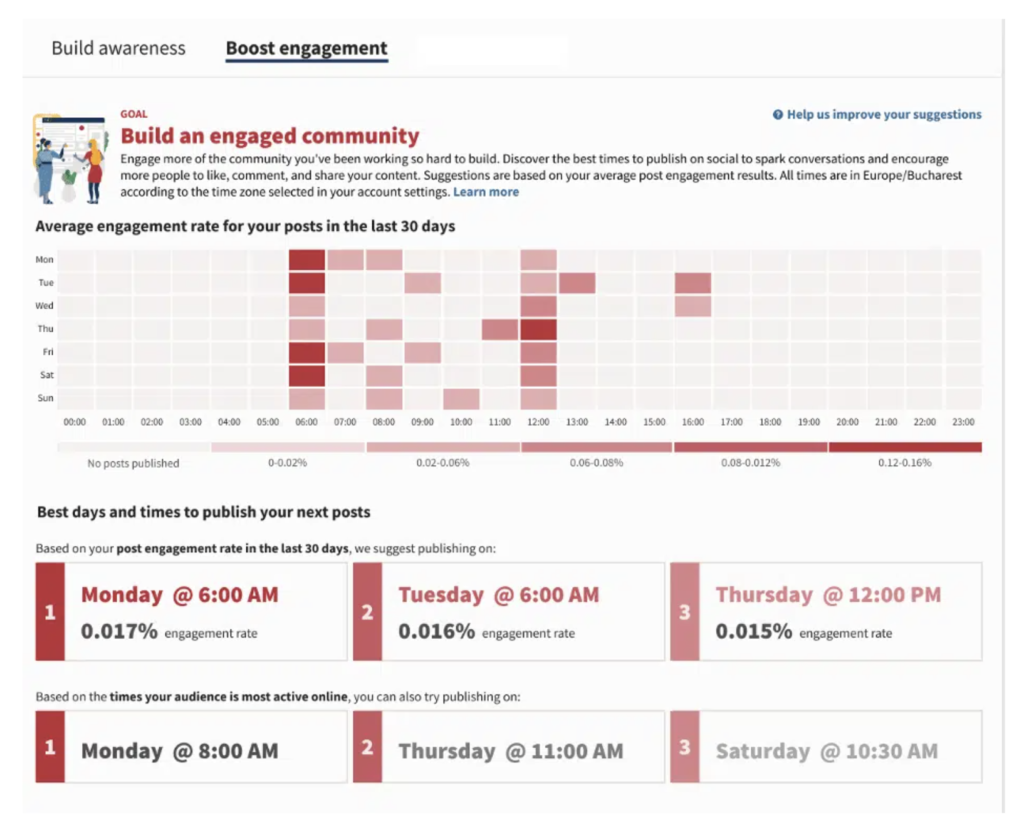 Conclusion
A content calendar is important to your business because it tells you when to create new content. You can use your calendar to plan ahead and know when to post your blog posts, social media posts, videos, or other content. It also helps you know how much content you will have to create in advance and keep teams on the same page.
The importance of a content calendar can't be understated.
By planning ahead, you are able to create consistent messaging, coordinate content across channels, and make sure you have the manpower to get all your content out the door in a timely fashion.
Remember:
Assess your needs
Choose your channels
Time your content appropriately
Conduct keyword and competitive research
Create content briefs
Track and improve
And use a tool
Do these things and you've got a content calendar to write home about.