Latest posts by Mark Spera
(see all)
SEO and automation seem to be a match made in heaven. In fact, more and more SEO professionals are turning to SEO automation to help streamline their work. But what is it?
SEO automation is the process of using tools and hacks to increase your organic traffic with as little manual intervention as possible.
SEO automation tools can help you:
Automate technical SEO: Tools like Screaming Frog and Ahrefs can help you ensure your site is operating optimally by running automated audits.
Automate on-page SEO: On-page SEO (the content on your site) is one of the most time-consuming parts of SEO. AI content generators like GrowthBar enable you to create content using AI — reducing the amount of manual writing. Other tools like WP Multi Pages Generator enables you to create thousands (or millions) of site pages programmatically. Rank trackers that work behind the scenes also reduce a lot of manual time for your on-page SEO efforts.
Automate off-page SEO: Off-page SEO refers primarily to link building. And you guessed it, there are automated tools that enable you to track brand mentions, find new links, and monitor your existing links.
In this post, you'll learn how you can automate SEO for your site using several of my favorite hacks and tools.
Also read: The 12+ Best Money-Making Niche Site Ideas
Try: GrowthBar's AI Writing Tool
Can SEO be Automated?
SEO is an ever-evolving and complex field, and it can be difficult to keep up with the latest changes and trends. Fortunately, there are a number of ways to automate your SEO strategy, making it easier to stay on top of your game.
However, it's important to note that SEO can't be entirely automated. Even the biggest, most well-funded SEO powerhouses like Nerdwallet, HubSpot, Credit Karma, and Healthline employ huge teams of SEOs and writers. AI for SEO is incredibly powerful and great for saving time, but can by no means replace your own elbow grease.
But luckily, lots of the execution work can be done by machines.
The Best SEO Automation Tools
The best SEO automation tools are ones that save you time and boost your efficiency. The best ones are well-priced and of course, solve the use case you're looking to solve.
Here are the best SEO automation tools.
1. WordPress Multi Pages Generator (MPG)
If you're in a search vertical in which programmatic SEO makes sense, you need WordPress Multi Pages Generator (MPG) by Themisle. MPG enables you to quickly and easily create multiple pages on your WordPress site.
All you need is to upload a CSV file or connect with Google Sheets with your variable data. Then set up the template page with the shortcodes to that data. Upload those settings on the MPG page generator dashboard and that's it. Press enter and you can launch a thousand site pages at once.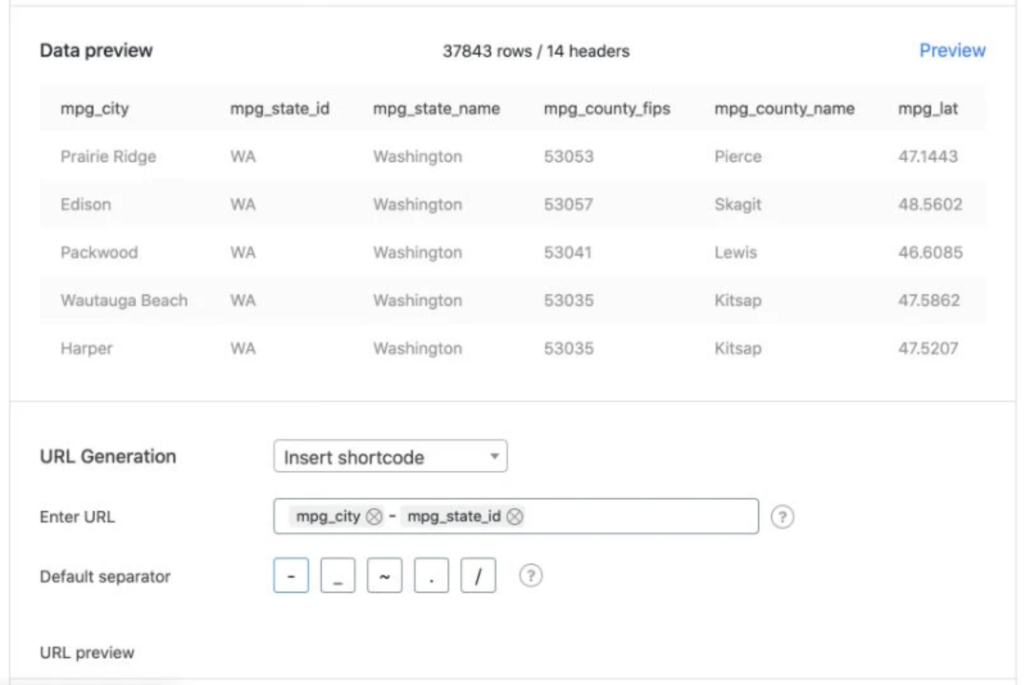 Consider a programmatic SEO strategy if you're in a niche with big search volume and lots of keyword modifiers. For example: coworking spaces. If your website specializes in coworking space reviews in different cities, you can create a spreadsheet of "coworking space reviews" with modifiers. Like "best coworking spaces san diego," "best coworking spaces santa barbara"…
As long as you're being sensible about avoiding thin content, generating lots of pages makes sense for certain businesses. MPG makes programmatic SEO possible.
MPG features:
MPG is a multiple-page generator that works as a WordPress plugin
Pages are templatized, load quickly, and are SEO-optimized
Internal linking: MPG enables you to programmatically add links to your pages
You can embed Google Maps for local businesses
Add schema markup to your pages
Pricing:
Starts at $99/year
2. GrowthBar
Is content a big part of what you do?
GrowthBar is a suite of tools made for content SEO. It will automate a lot of content production and optimization that goes into publishing lots of SEO-optimized content. That means if you're a blogger or part of a marketing team executing an SEO strategy, GrowthBar may be the tool for you.
GrowthBar has a number of features, including traditional SEO functions like keyword research, but it really excels at AI content generation and content audits. Enter a keyword, then click "write with AI." GrowthBar will begin generating paragraph after paragraph of plagiarism-free natural language content. And, as you "write," GrowthBar will surface all elements of the blog post that might be holding it back, including word count, headline count, image count, external links, internal links, readability, NLP keywords, and more.
Plus, GrowthBar enables you to upload existing articles with one click and audit them too!
Finally, GrowthBar automates internal linking by suggesting links right in your article.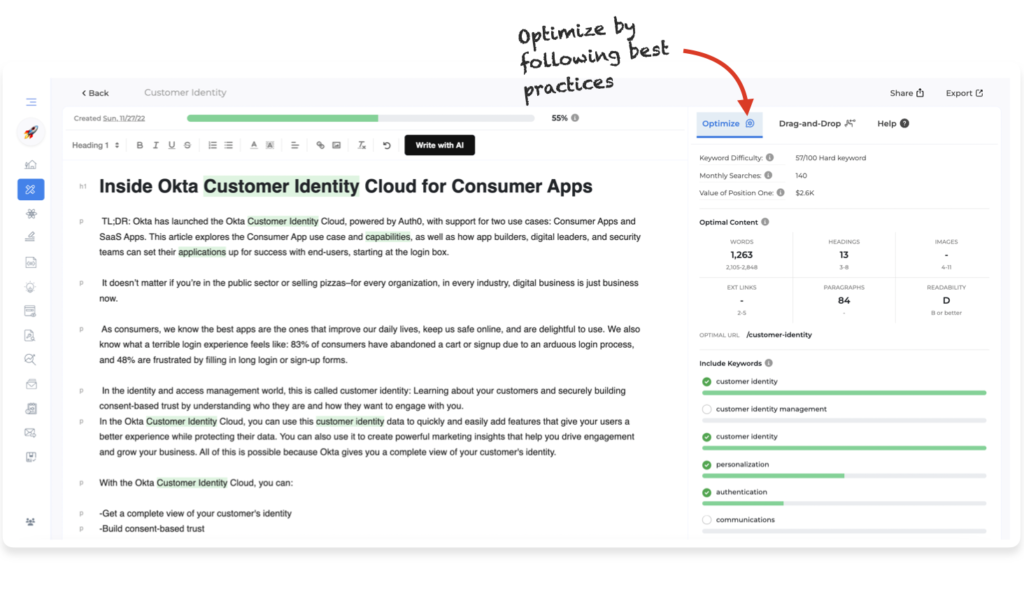 GrowthBar features:
GrowthBar is a full suite of SEO content tools, including AI writing, keyword research, competitive research, and more
Generate full blog posts… automated
Surfaces optimal content metrics, including optimal word count, internal links, LSI keywords, and more
Keyword research across over 2 billion queries
Pricing:
Starts at $29/month
Also read: The 15+ Best Content Generators
3. Screaming Frog
Screaming Frog is one of the best-known technical audit tools out there. Known industry-wide for developing their groundbreaking SEO spider tool, Screaming Frog also has a complete lineup of SEO management software, including link building, pay-per-click (PPC), content and social media marketing, analytics, and conversion rate optimization (CRO).
But where it excels is in its continuous auditing tools. Screaming Frog's core audit tool crawls websites, much like a spider. It takes snapshots of each page as it crawls, and then uses those snapshots to create a visual representation of a website. This representation includes a list of all broken links, in order of how many times they were found. It is also capable of generating a sitemap, finding duplicate content, and scanning for malware.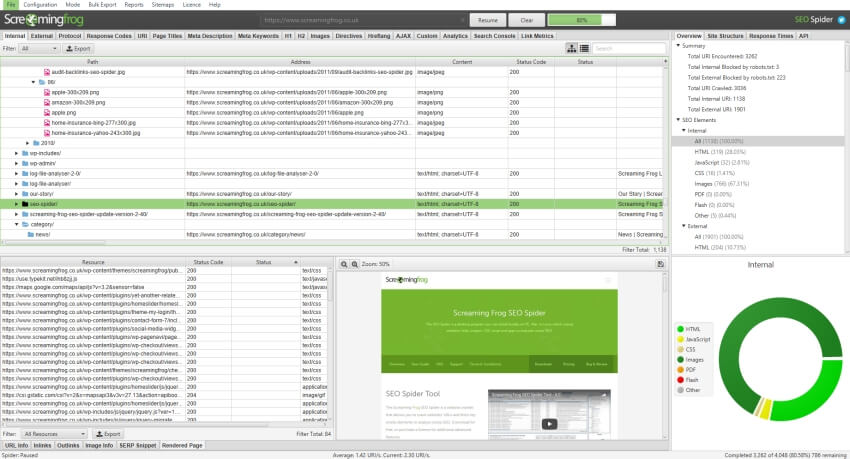 The Spider SEO Crawler allows you to audit up to 500 URLs for free, but upgrading to a premium plan removes that limit as well as opens access to extra features. Sift through page titles and metadata, zero in on duplicate content, extract site data, and even generate XML site maps with ease. Integrate your favorite tools like Google Analytics and PageSpeed Insights with API integration, and get in deep with bot programming directives.
If you're managing large sites, Screaming Frog's integration with Google Data Studio and Google Sheets enables you to get information on crawls as they happen, so you can always stay on top of technical issues on your website.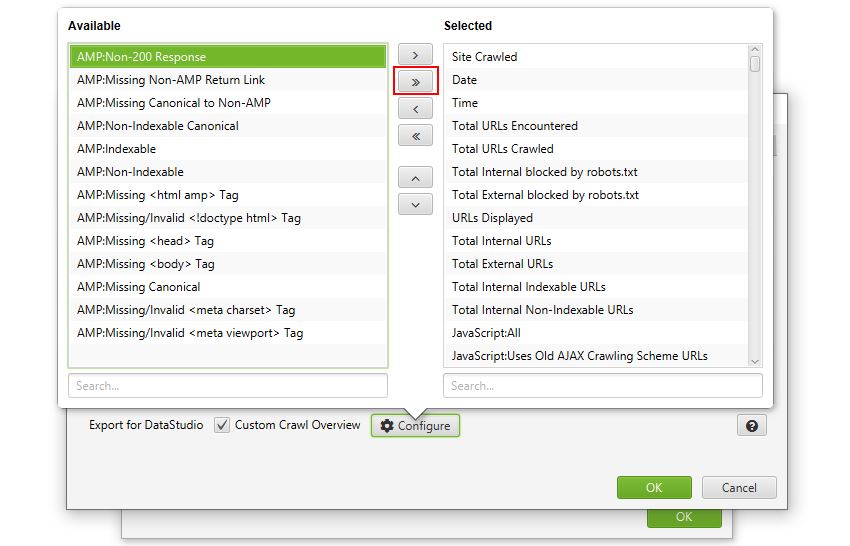 Screaming Frog features:
Full site audits for all technical elements, including headers, broken links, meta descriptions, duplicate content, and much more
Generate automatic XML sitemaps

Log file analyzer

Integrates with Google Search Console
Pricing:
Many features are available for analysis of up to 500 URLs free, but many more advanced features are available, for unlimited URLs, starting at $149.00 per year.
4. Semrush
Semrush is a very comprehensive advertising suite. You've probably heard of it. It's a powerful and easy-to-use product that enables you to track down competitors' organic traffic, paid traffic, organic keywords, and paid keywords. It also has rank tracking, site audit, backlink tracking, social media features, and more.
And you can run a bunch of their features on automation. Semrush enables you to schedule site audits, backlink crawls, log file crawls, position tracking, and a number of reports. If you have an agency, a bunch of this automation is a godsend. You can even set up emails to come to your inbox with all of these reports — which saves you a lot of time.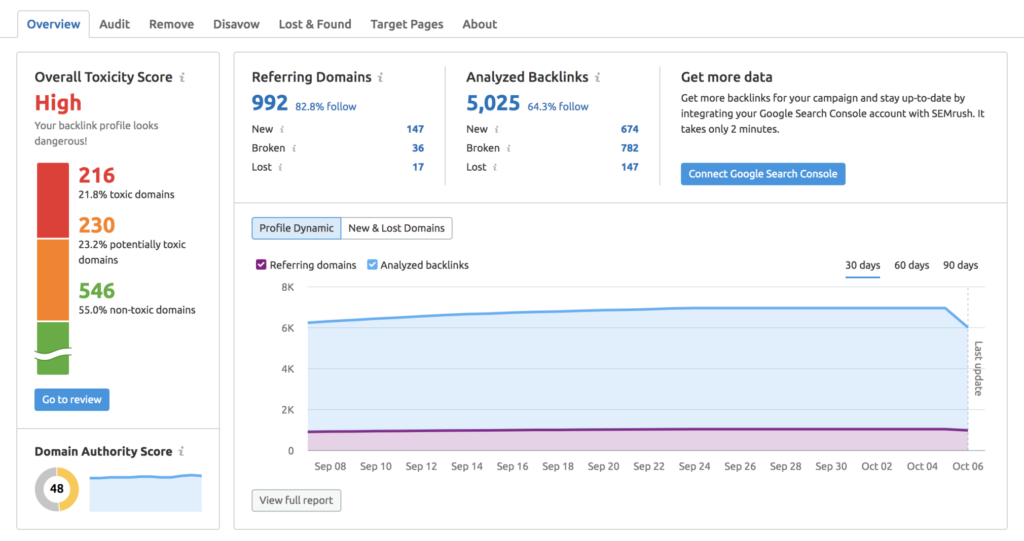 Semrush features:
Perform website audits
Set benchmarks for data analysis
Find and analyze keywords
Competitor overviews
See competitor's paid ads
Track organic keyword rankings
Position tracking
Top movers by position
Technical site audits
Mobile performance audits
Works in multiple languages
Pricing:
Semrush is always running free trials, although the duration changes from time to time. They have 3 paid plans starting at $99/month for their Pro Plan, which allows you to run up to 5 projects.
5. Morphio
Morphio is a data analytics company that helps businesses make better decisions by providing them with actionable insights from their data. It's not entirely an SEO tool, but it does awesome things for digital marketers, SEOs included.
Morphio links up with all your major data sources, including Google Analytics, Facebook Ads, Google Ads, and more. It then alerts you if any major metrics fall out of the normal standard range. So if your conversion rate from Google Ads falls significantly, or your click-through rate from the Google SERP goes down, you'll know in real-time.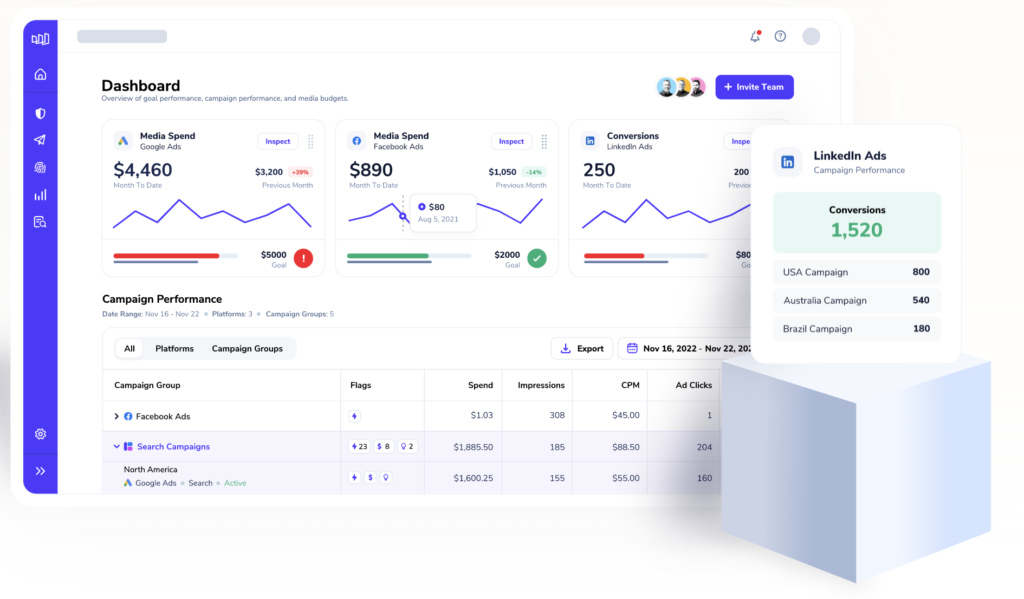 Morphio features:
Identify opportunities to improve your overall marketing performance by optimizing media allocation across campaigns and platforms
Review the SEO health of your web pages and ensure that you are following industry-standard best practices
Rank tracking: track changes in organic search ranking for specific keywords and monitor against the performance of specified competitor domains
Landing page monitoring: detect and be notified of access issues on all destination URLs from connected ad platforms as well as your top-performing organic webpages
Pricing:
Enterprise pricing — contact for details
6. Ahrefs Backlink Checker and Alerts
The Ahrefs backlink checker is a great tool for measuring the quantity and quality of backlinks pointing to a website or URL. Simply enter the URL or domain you wish to check in the field above and hit "Check Backlinks". The tool will then return a report of the number of backlinks found, as well as a list of the websites that are linking to the target URL.
And what's amazing is you can automate sophisticated backlinks metrics with the click of a button. You can get alerted when a specific page (your competitors' or yours) procures a new backlink. You can also set alerts for broken or lost links.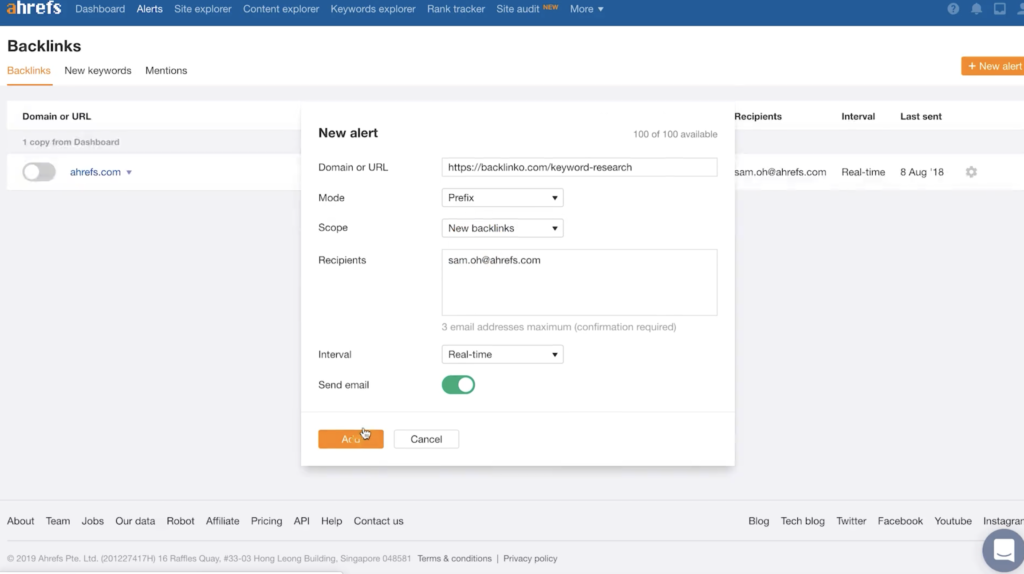 Ahrefs features:
Best-in-class backlink checker with extreme accuracy and support for any site on the web
Great advanced keyword research with search volume, related keywords, difficulty, and historical trend data

Rank tracking: track changes in organic search ranking for specific keywords and monitor the performance of specified competitor domains

Full site audits for all technical aspects
Pricing:
Starts at $99/mo
7. SurferSEO
Another full-featured SEO suite, Surfer SEO doesn't just offer site auditing – they also specialize in continuous monitoring of your site via Google Search Console. Surfer's Grow Flow automated monitoring surfaces alerts when it detects content opportunities on your website. For instance, if it sees that an article has fallen in the SERP or that a page has internal linking opportunities, Grow Flow will tell you. This way, you get recommendations while you sleep!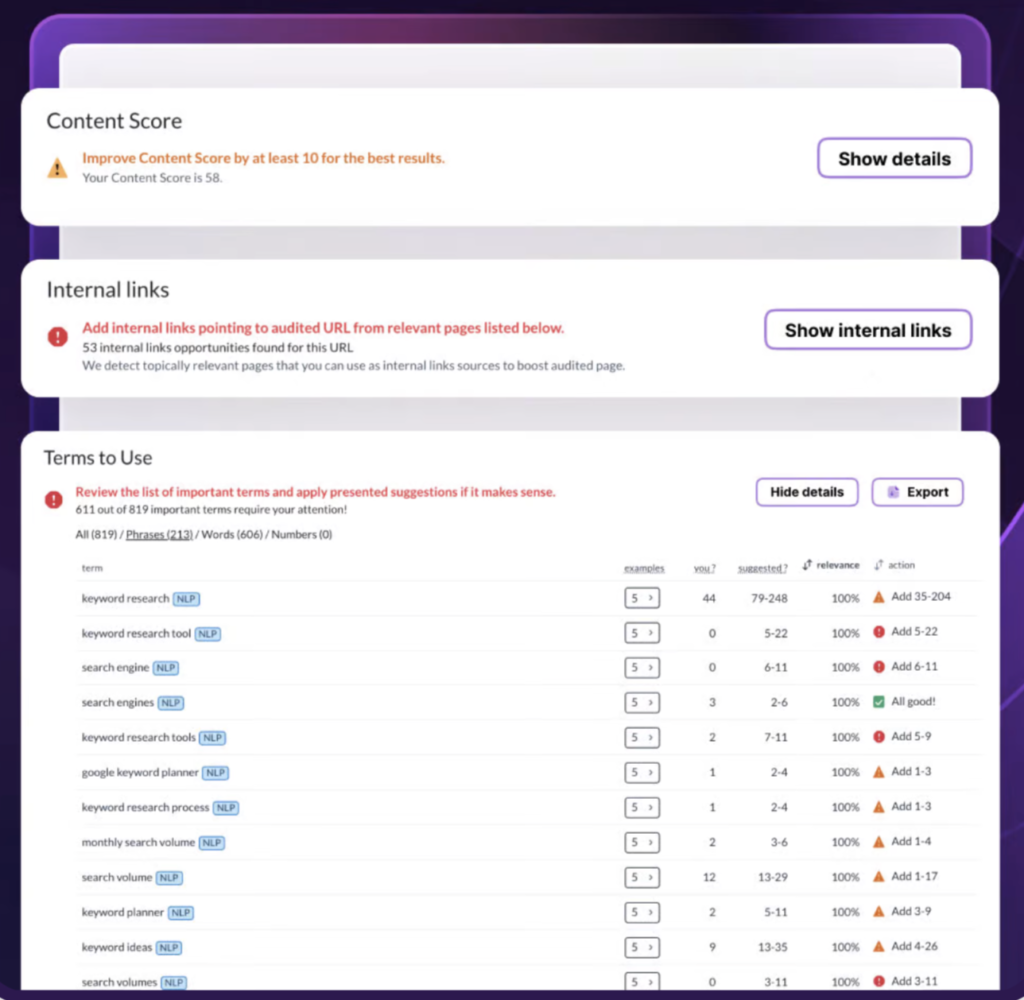 SurferSEO features:
Optimize old blog posts, create landing pages and more
Content scores and content optimization recommendations (length and topic suggestions)
Multi-keyword analysis booster so you can rank for several keywords in one piece
Google Docs and WordPress integration
Use content automation to find opportunities in your existing content set
Pricing
Starts at $59/mo
Also read: Our Surfer SEO Review
8. Google Alerts
The Google Alerts service sends you email notifications of new Google results pages that match your search terms.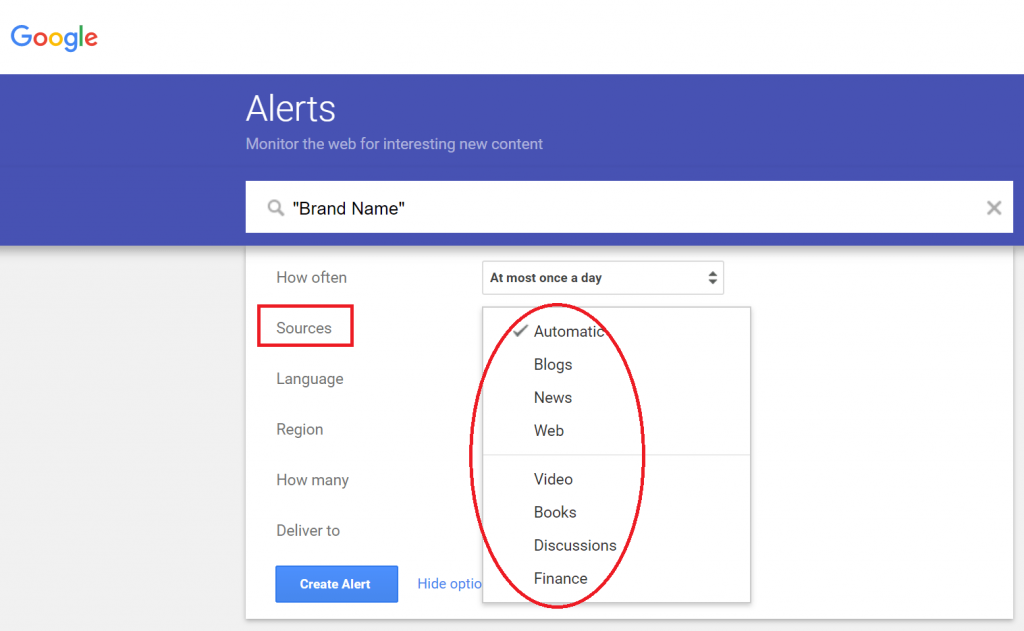 To set up a Google Alert:
1. Go to https://www.google.com/alerts.
2. In the "Create an alert" box, enter the terms you want to be notified about.
3. Select the frequency of alerts and the type of results you want.
4. Click "Create alert."
5. You will be sent an email to activate your alert. Click the link in the email to activate it.
Pretty awesome (free) tool to automate a small part of your backlinking process. Plus it's fun.
9. Rank Trackers
There are a million-and-one rank tracker tools. The point of a rank tracker is to tell you where your website ranks in search engines for certain keywords. Ideally, you want a rank tracker that's accurate, easy to use, and doesn't cost an arm and a leg. Some popular rank trackers are Wincher, GrowthBar, and Ahrefs (yes, many of the tools on this list also feature rank tracking).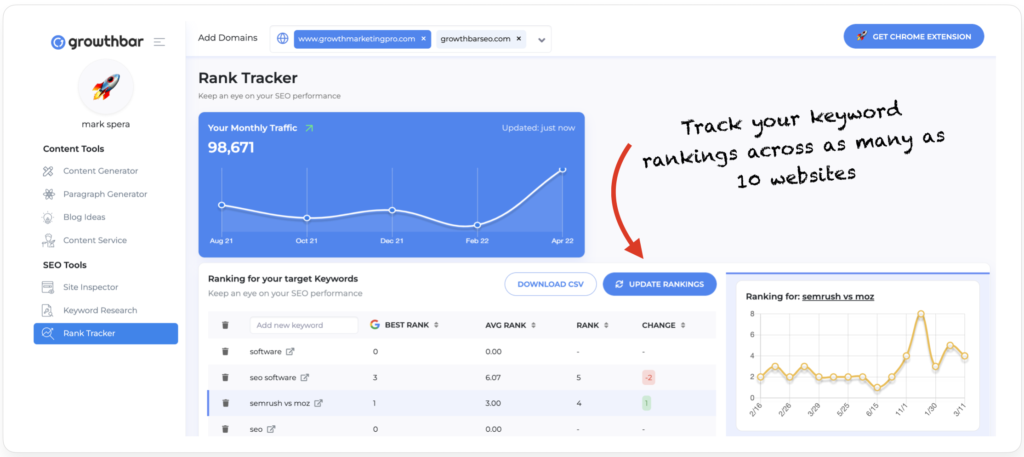 Rank trackers are an important part of SEO because they allow you to track your progress and see if your efforts are paying off. Most of them are automated, so you don't have to do anything to collect your keyword rankings in helpful charts and tables over time.
Also read: The 19+ Best Rank Tracker Tools
SEO Automation with Python
If you know Python, you're in luck.
There are a number of libraries that can help you automate your SEO tasks, making your life a lot easier in the process. One such library is Scrapy, which can be used for a number of different tasks, including data mining, monitoring prices and stock levels, and even crawling websites. Another great library is Beautiful Soup, which can be used for web scraping and extracting data from HTML and XML files.
You can also learn more about search engine scraping here.
Wrapping up
There are a lot of different ways to improve your website's SEO. However, the most important things are to make sure that you are constantly publishing high-quality content that is relevant to your audience, heeding technical SEO best practices, and improving your site's authority.
SEO automation tools to help you track your site's SEO progress and to find new opportunities to improve your ranking.