Latest posts by Mark Spera
(see all)
Content and content marketing are special.
In a world that has advertisements everywhere we look–(about 5,000 per day in fact)–authentic, high-value media is extremely visible and influential.
Content marketing is the creation and distribution of that high value content. It builds trust between companies and prospective buyers, while also building brand awareness. 
Content is everything a business creates to communicate with its audience, from tweets to infographics to podcasts to blog posts. It enables businesses to communicate a unique value proposition as well as carve out a space as a thought leader in your industry—without explicitly selling anything.
I also made a video on the topic!
What is Content for SEO?
If you're reading this post, you probably know that SEO and content go hand-in-hand.
SEO content marketing is the strategy of creating valuable, discoverable, and relevant content through optimizing for search engines.
Without SEO, even the best content may never come up on the top pages of search engines. You need to write blog posts and other content for SEO so that all the hard work you put into your pages gets in front of searchers and potential customers or clients.
But even if your page is optimized so that it's the first position on Google's search engine result page, if the content isn't good, that ranking won't help with actual conversions. That's why a strong relationship between SEO and content is what will help you scale your business.
How SEO Content Creation Can Build Your Business
Growing your SEO-driven blog with proper, quality, fast content creation is one of the best ways to build your business and see a profit.
The more well-written and optimized pieces post, the more organic traffic your site will get. According to this HubSpot study, there's almost a 1 to 1 relationship between publishing posts and organic traffic: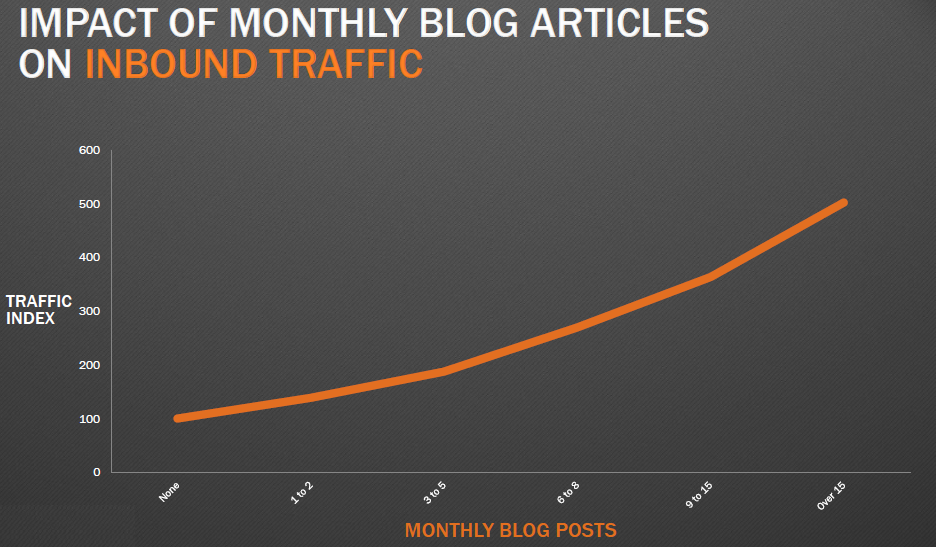 Plus, content marketing can significantly reduce your media spend. With content SEO, you only pay for the cost of making web pages and blog articles. Once you've achieved a high rank for keywords that are driving traffic and sales to your site, you're effectively getting "free" leads.
When SEO is done well, the ROI on time and money spent can be incredibly high. You don't pay for every click or view like with advertisements, which is what makes SEO cost effective short term and long term.
Just think of this: billions of people are searching every day, and each search you direct to your site is worth something to you. SEO is valuable.
If you create quality content specifically for SEO purposes, you'll be able to monetize your blog or website by converting the searchers you've helped into paying customers, whether through product purchases, affiliate marketing, or other means. 
How many posts should you write per week? Read our guide here.
10 Ways to Create High Quality Content for SEO
1. Keyword Research
The first (and probably most important) step in ranking for a topic is to select a list of target keywords for your web page or blog post. The art of finding those keywords is called keyword research, and it's really helpful to use an SEO tool like GrowthBar to do this.
Keywords are the words someone types into Google when they're searching for something. So you want to appear as high in the search results as possible for topics relevant to your business. If you're selling laptops, you want to come up when people are looking for information about laptops, not clothing stores.
Some keywords are more competitive than others. For example, searching just "laptop" will have millions of articles. Trying to rank for that keyword means you'll be competing with Apple, Dell, Amazon, and even Google itself.
That's why it's best to try and optimize for long tail keywords. So in that case "best laptop for college students" or "light laptops for remote workers" will be a better bet.
Once you start brainstorming your keywords, the next step is to verify there is search volume for these queries and determine how difficult they will be to rank for.
Great SEO tools will show you a keyword difficulty score, enabling you to determine which keywords are the most worth pursuing in an SEO strategy. 
2. Headings
Write headlines that are clear, interesting and make use of rich keywords. Headings (headlines) are the titles at the beginning of pages, sections, and paragraphs. They vary in size depending on the importance and location of the heading.
When writing content for SEO, you're going to want to include the keywords you're ranking for in your headings. Search engines use headings to determine that:
Keywords and related words are found in the page's main headings and titles (H1, H2)
The page's sub-headings reflect the main headings (H2, H3, H4)
The page's content reflects the sub-headings (paragraph text)
You should use H2s for major topics, and H3s for smaller topics and listicles. For example, the headline above, "2. Headings," is a H3.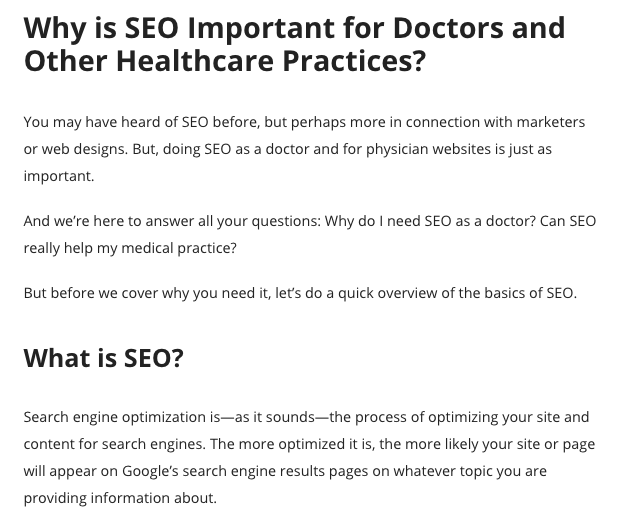 In addition to a great headline, make sure your meta descriptions are interesting and further elaborate on the topic of your article.
Your title and meta description are what show up in the search results, so you want to make them count by including keywords, and also making them clickable.
3. Build up Your Backlinks
More commonly referred to as backlinks or inbound links, backlinks are HTML hyperlinks that direct people from one site to another. When someone links to another site, Google sees this as a kind of vote of confidence in your content and website.
Remember making works cited in school? Backlinks are basically giving credit to other pages and sites you got your information from. The more times you're mentioned on a "works cited," the more authoritative and trustworthy your website looks to search engines.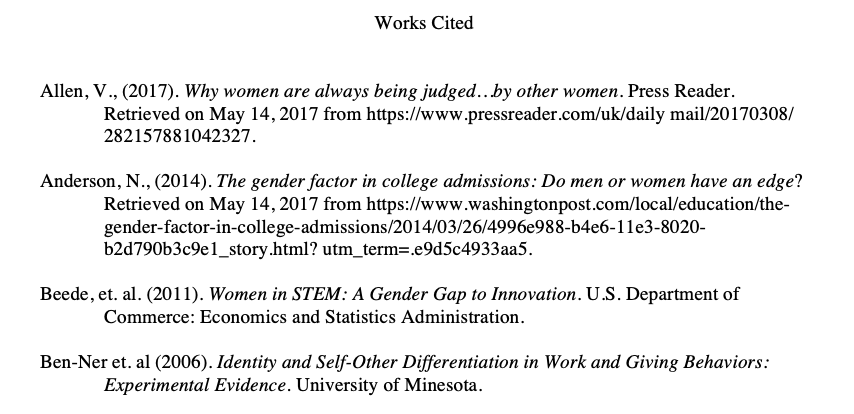 Building backlinks are a necessary part of any good search engine optimization (SEO) strategy, and the best links are from sites that are in the same space or niche as you. When a site like that chooses to link to a piece of your content, it's sending a signal to Google that your content is worth being recommended.
Some natural backlinks could include:
Backlinks from other websites siting your page as authority on a subject
Linking its other brands in footers and navigation
Resources and additional reading in the sidebar
News media features you for doing something newsworthy (PR)
To do this, you'll first need to identify how many backlinks you need. The best way to do this is by using an SEO marketing tool that will show not only how many backlinks you need, but also where competitors are getting links from.
By the way: you can use GrowthBar to quickly view the backlink profile of any site, which means you can see who's linking to your competitors.
4. High Quality Writing
SEO is about the readers: the people using search engines to help them get information and answer questions. And that means your writing should be about them too.
Google is a business. They don't want to provide their customers (searchers) with products (content) that they won't use or like. That's why it's in their best interest to use their search algorithm to reward pages that provide relevant, quality information with higher rankings.
This means when optimizing one should focus on E-A-T (Expertise, Authoritativeness, Trustworthiness) when writing content for SEO.
Posts should offer good quality writing written conversationally in the first person. They should be action-oriented and concise, and make sure to keep it readable with varying sentence structure, shorter paragraphs, and clear formatting (more on that below).
You should also understand keyword density: the percentage of text containing a target keyword out of the total word count of an article. There's no hard and fast rule for keyword density, but in general you should try and use your target keyword once for every 200 or 300 words.
That said, avoid keyword stuffing. Google can tell when you're putting keywords into your piece in unnatural and spammy ways.
5. Proper Formatting
Good formatting is helpful for SEO because it makes your piece more readable—both for readers and for search engines.
Proper formatting for SEO uses these elements to make content more readable and digestible:
Including bullets and numbered lists where relevant.
Vary sentence length and keep paragraphs short and to the point
Add images and tables where appropriate
Include plenty of spacing to make your content consumable on mobile devices
Use headers (H1s, H2s, H3s, etc.) like we discussed above
6. Blog Hierarchy
Search engines have changed their algorithms in response to changes in consumer behavior. They now favor topic-based content.
So while it's great to create individual pieces that rank in the search engines, in order to scale your content for SEO, you'll need to be strategic about how you categorize your blog content and about internal links.
Internal links are contextual links that show your users relevant content, and they allow search engines to find out what content on your site is related and to determine the value of that content.
By linking to other content on your site, you will keep users on page and create a richer experience for them. It also helps Google index your content and understand how all the different pieces are related to each other.
This is related to the concept of the "Topics Cluster Model," in which you have several main topic pillar pages, and then multiple content pages relating back to each of the pillars and each other.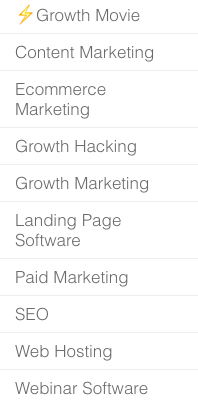 So instead of writing about X, Y, and Z topics—and treating each article as equally important individual pieces—in the cluster model you choose a single "pillar" page which acts as the main hub of content for an overarching topic.
Again, this makes sense for searchers. Are you more likely to find authority about the best laptop to buy on a site that has clusters about laptops, computers, and tablets…or a site that has articles about every topic under the sun?
You'll want to develop content clusters based on the overall topics or product you want your business to compete in, and then use specific keywords in multiple articles under those topics.
Usually, this means you'll have one 3 or 4,000 word blog post on a topic and several other 1,000-2,000 word articles that link back to this long form content.
In addition to internal links between content pages, you can also have links back to your homepage, your navigation bar, and your footer.
7. Great Introductions & Conclusions
We've learned this since elementary school: great introductions and conclusions can make or break a piece of writing.
In your introduction, your goal is to hook your searcher. It's one of the first things they read, to make it catchy, but also authoritative: they want to figure out as quickly as possible if your page will provide them the answer they're looking for. And you really have just a couple seconds to do it, so put some time into this!
There are also some people who will decide whether to read an article by reading the conclusion first. Again, it helps show them whether or not your page can be helpful for them. You want to use the conclusion to summarize the key points of the post to encourage these readers to read your entire article.
8. Content Types
Content for SEO doesn't just have to be a longform blog post. Some great content for SEO could include:
Infographics
Listicles
How-to articles
Case studies
Resource curation (Top 10 laptops of 2021)
Checklists, templates, and "cheat sheets"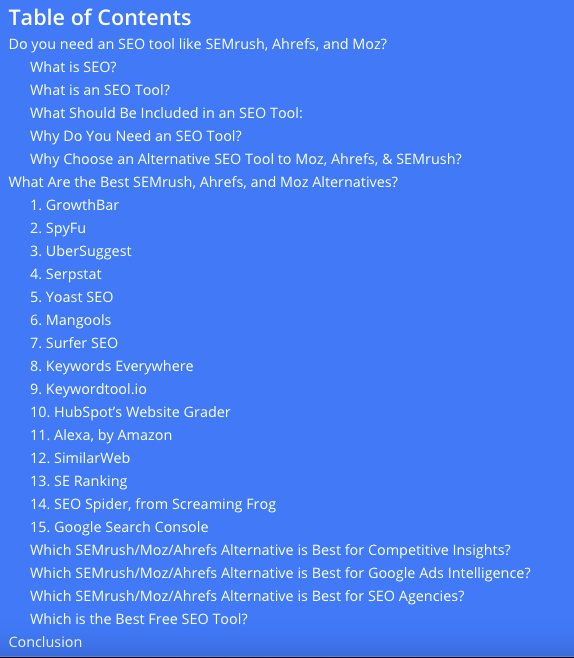 No matter what content you create, you're going to want to make it engaging by using rich images, infographics, and video within the text. You'll curry favor with Google if your content keeps users on-page longer, and infographics and images that are helpful to other sites will garner you more backlinks.
9. Content Promotion
Content promotion is a powerful tool that can help increase the reach of your content and promote sharing. This includes social media sites, forums, email marketing…and making it easy for others to share from these distribution channels.
It's also helpful to share your content with other people in the same industry, and ask if they can link to it from somewhere on their site or within their distribution channels.
This will increase reach, as well as indicate to Google that you're a trustworthy source, since other websites if your niche will promote your information.
10. Track & Improve Your Content
You can optimize all of the pages in the world, but without knowing where you rank within search result pages, and how you can adjust those rankings, it's going to be tough to get far with your SEO content.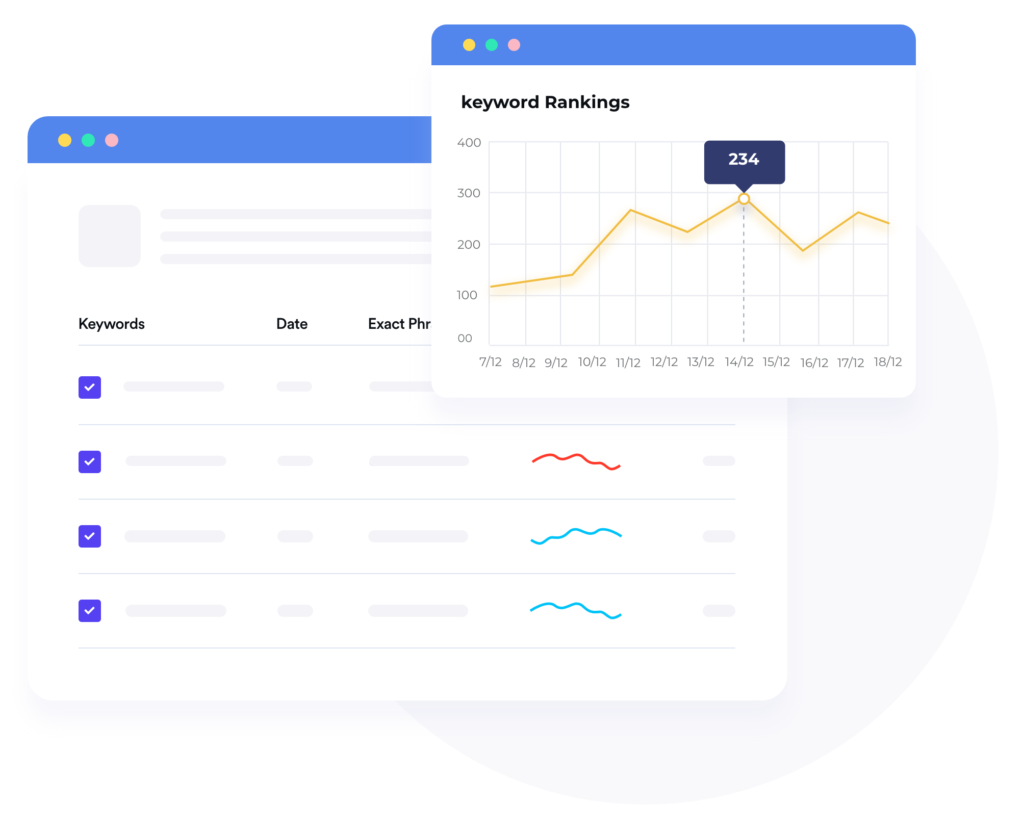 Some metrics to keep track of include:
Your search engine page rank
Your CTR (click-through-rate) based on your title and meta description
How long individuals are staying on your pages
How much revenue you're generating from getting this traffic. If you get a ton of traffic from your pages, but aren't selling any products from that, it's time to adjust your sales and marketing funnels on your site
Using a rank tracking tool or other marketing tool can help with all of these metrics.
Conclusion
In a society saturated with advertisements, sales, and pitches, content exists to help individuals solve problems and learn new things. Searchers can come to your page, read what they have to know…and don't have to buy anything.
But, you'll be building up brand trust and awareness with your name and product every time they consume their content.
Some more good news is that you don't have to do it all yourself. Outsourcing content creation by hiring a blog writing service, using content generators, or even hiring an SEO agency for SEO, will help expedite your SEO content output and bring more searchers (potential customers) to your site.