Latest posts by Mark Spera
(see all)
AI writing tools can help you create better content faster and save time for more impactful items on your to-do list.
Businesses from all walks of life use AI writing tools like Frase.io, Copysmith, Jasper, Copy.ai, and GrowthBar to generate different types of content to grow their businesses and revenue. With the explosion of the generative AI industry, many companies have emerged.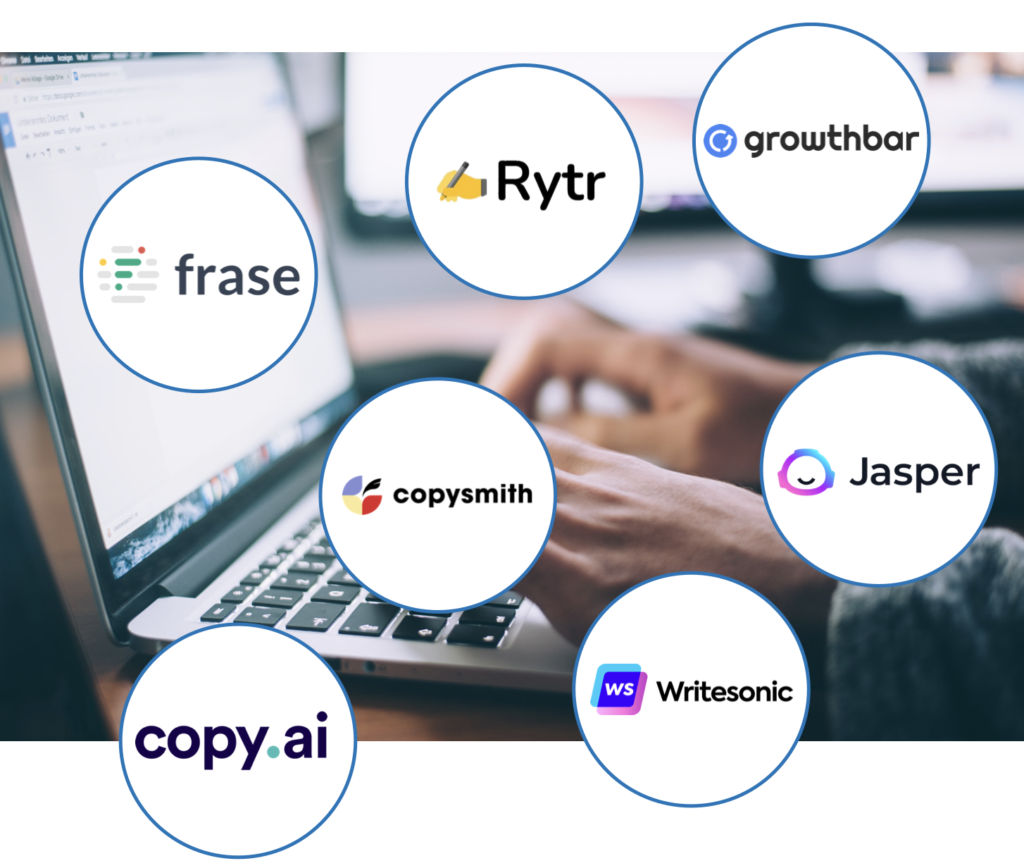 You can create good content using any AI writing tool. However, not all content generators come with the same features and capabilities.
So in this guide, I'll dive deeply into one of the best AI writing tools in the market, known as Frase.
I'll include information about its:
Features
Ease of use
Pros and cons
Pricing
And the alternatives
Let's get started.
What Is Frase?
Frase is an AI writing tool that helps you write and optimize your content to rank higher on Google in minutes. In addition, it automatically adjusts to the style and tone of your business, so you can have a consistent brand style across every piece of content you create.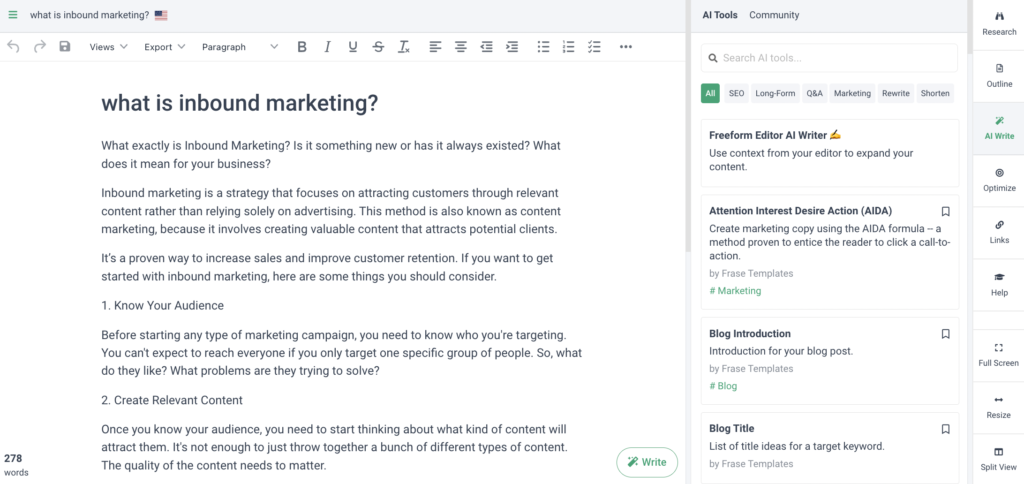 In the past years, Frase has established itself as one of the most high-performance AI tools in the market. It uses AI models like NLP (Natural Language Processing) to give you content from the description and topic you enter into the generator.
It also analyzes your competitor's content and then writes something similar or more quality for you. So you can easily find new ways to beat your competitors.
What Can Frase Generate?
But is Frase better/more comprehensive than the alternatives?
Nothing's worse than spending precious money and time on a tool that doesn't work as expected!
With Frase, you can generate different types of content. To generate content with Frase, you must enter your idea and the content description you want to generate. And Frase does the rest by giving you the content type you specify, including;
Articles
Web pages
Blog posts
Press releases
Web page headlines
Landing page content
And more.

Like Copy AI and Jasper, Frase focuses on multiple types of content generation, whereas tools like Rytr and GrowthBar are laser-focused on long-form content (blog writing).
Unique Features Of Frase
Frase is a simple yet one of the market's most used AI writing tools. So it's free to start creating unique, high-quality, and optimized content for your business. Some of the features of the Frase AI Writing tool include the following.
1. Research
With the research, Frase will process the top 20 results for the search query you enter. Then, Frase automatically analyzes what your top 20 search competitors are writing about, so you don't have to. Instead, you can use the data to improve your content.
In addition, Frase analyzes the top-performing content and provides you with valuable data like; the word count of each top-ranking article, the number of headers, and images. This feature gives you insights on how to structure your article.
With the Frase research feature, you can get insights concerning your target audience. Input a keyword, and Frase will give you a list of questions drawn from popular places like Google and Bing and forums like Quora, Reddit, and more.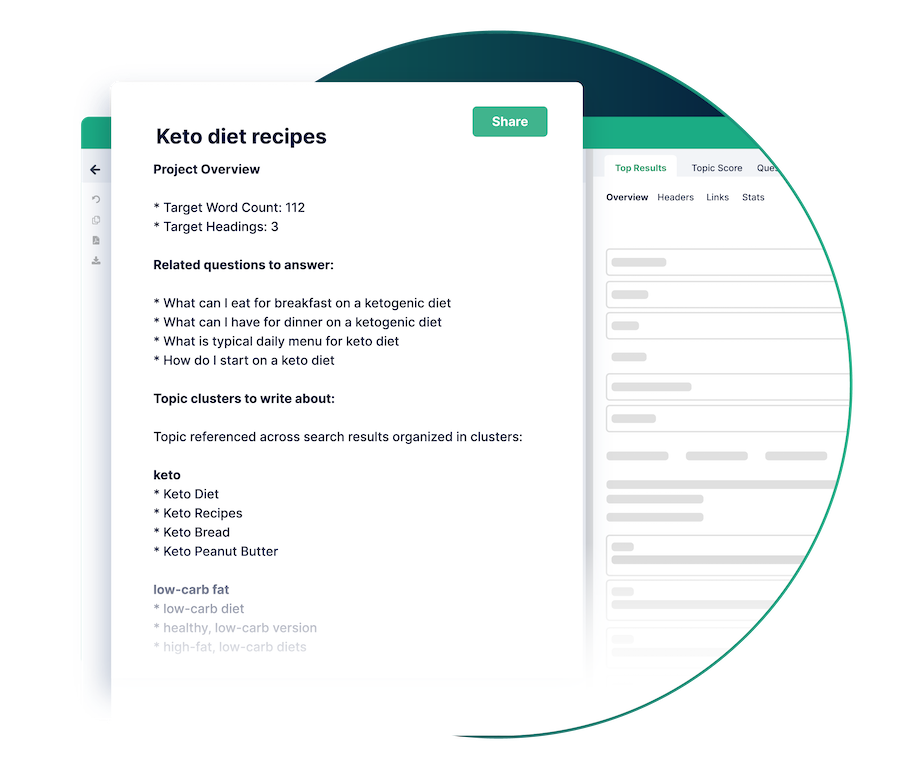 Frase's Question Research saves you time and effort with content research by crawling the places your customers are asking questions.
Hint: Question research is an incredible way to include an FAQs section in your article. FAQs keep people on-page longer and signal to Google that your content is engaging.
2. Outline
Writers know that quality content begins with great headlines and content briefs. Your header is the first impression to your audience. So it must be interesting, and that's where Frase outline comes in: it gives you outlines based on your competitors' headlines.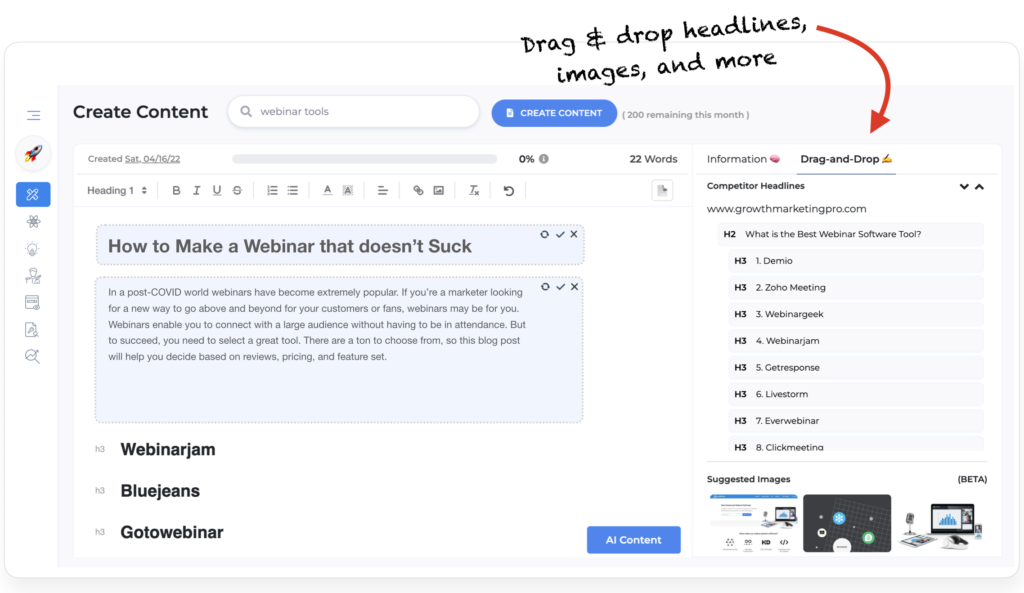 You can also filter the outlines based on H1s, H2s, H3s, H4s, questions, and long-tail keywords. With Frase outline, you no longer need to spend hours scratching your head on how to structure your blog posts.
Also Read: Learn to Write Incredible Content Briefs in 5 Minutes
3. AI Writer
The AI writer is the hero feature of Frase. It enables you to write intelligently with button clicks. Frase can improve your articles by adding essential content elements like headlines, subheadings, and calls to action. The AI writer has additional features like SEO, long-form articles, rewriting, shortening, Q&A, and more.
For example, the Frase AI writing tool has an SEO feature that automatically generates SEO-friendly content. This feature generates keyword-rich content so you can increase traffic from search engines. It automatically suggests images, titles, URLs, metadata, marketing, featured snippet ideas, and more.
The long-form helps you create listicles, how-tos, and another known as "Outline To Draft Generator," which gives you a complete content draft based on your title and outline. The marketing feature is vital for product reviews; it creates content like the pros and cons of using any product.
4. Optimize
Frase also comes with an editing and optimization feature that allows you to make changes to your content before publishing it. You can use this feature to optimize your draft or already published content to improve higher rankings on Google. In addition, Frase will optimize your content for your target keyword and ensure it reads well to both humans and search engines.
It optimizes your content by giving it a score of 0-100%. The higher the number, the better. It also shows you how well-optimized your competitors' contents are; it scores their content from 0-100%, and you see the results in real-time.
You can optimize your content based on long-tail (by topics, clusters, titles, headers) or by status (completed, topic gap, progress, and overuse).
5. Links
Frase also shows you the total links in your competitors' content; a Feature like this is crucial for your blog posts and content strategy because you can contact the site owners and ask for links.
What is fantastic about this feature is that it shows both external and internal links. However, you must connect your Google Search Console data to Frase before you can use the internal linking recommendations.
Also Read: What are Internal Links and Why are they Important?
Pros Of Using Frase
• Frase AI writing tool has comprehensive features that are simple to use.
• It saves you time by helping you write high-quality and optimized content for your business.
• It gives you insights based on your competitors, making it easier to beat them.
• It's affordable and gives you the highest value for your money.
• Support is also great.
Cons Of Using Frase
It lacks research capabilities and metrics, like DA (Domain Authority), Keyword search volumes, keyword difficulty, and more.
Modern AI writing tools make Frase less effective with advanced features like site inspector.
It also lacks rank tracking, which allows you to track your target keyword ranking in SERPs.
Frase can't also estimate traffic value for your target keywords, which shows how much you can make in dollars if you were to rank #1 for your target keyword.
So if you're looking for a tool that can help you fully with research before you write, it misses the mark. Look no further than GrowthBar if that's what you want!
Customers Of Frase
Over 30,000 customers, including marketers, writers, bloggers, and entrepreneurs, use Frase to grow their traffic and increase sales. It targets small businesses that want to create and optimize content for sales funnels. Here are some customers of Frase;
Coursera
Talkspace
Shopify
Active Campaign
Career Karma
Merkle
And more.
Frase Pricing & Plans
Frase.io provides three payment plans for its services; basic, team, and enterprise. The prices for using Frase.io are below.
Basic: $44.99/month or 39.99/month if paid annually. The best plan for individuals and teams executing an SEO plan. It allows you to write and optimize 30 articles/month and generate 10,000 AI characters/ month.
Team: $114.99/month or $99.99/month if paid annually. This plan is best for teams and agencies that want maximum flexibility. This plan allows you to write and optimize unlimited articles and generate 10,000 AI characters/per month.
Enterprise: $X/month or $Y/month if paid annually. Contact sales for negotiation.
Frase also lets you pay an additional $35/month for their SEO add-on, but at your decision.
Bottom Line
Frase is a powerful tool you can use to generate quality articles. It provides you with original and optimized content. Frase also gives you insights based on your top competitors so you can know how to beat them in search traffic.
However, Frase has flaws and drawbacks like any other tool, so we should touch on alternatives.
Frase AI Writing Alternatives
Knowing the alternatives is crucial because you may realize that Frase only provides some of the tools you need to run your content business. Here are some of the best Frase alternatives that offer more robust and up-to-date features.
So when it comes to SEO and content marketing, you have three choices to help streamline your needs.
1. Popular SEO tools
2. Other Frase alternatives
3. All-in-One Tools
1. Popular SEO Tools
You can use popular SEO tools like Ahrefs, Semrush, or Moz. This tool has advanced SEO metrics like search volumes, keyword difficulty, domain authority, SERP analysis, and backlinks. While these tools are the most versatile and robust in the market, they come with downfalls, especially for small business owners, brands tight on budget, and those businesses just starting their journey. For example, most of the time, businesses face two challenges with these tools;
High pricing: $99/month may seem too much for those starting their blogging journey and others in their small businesses.
Lack Of Content Generation Features: If you're a blogger, producing high-quality content is vital for getting traffic from search engines, especially Google, and most of these tools come with no content generation features. That's the reason you need additional tools to produce content faster. So in most instances, you'll need a content generator like those below in addition to popular SEO tools like Ahrefs, Semrush, or other alternatives.
2. Other AI Content Generators
There are a lot of alternatives that can generate content just like Frase. However, most of them come with shortfalls, especially without adding vital features like rank tracking, competitor research, and more advanced keyword research capabilities like traffic value.
Copy AI: A powerful AI writing tool that enables you to complete over 90 writing functions in over 20 languages. Learn more about Copy AI here.
MarketMuse: MarketMuse is a powerful tool for content creators and a top Frase alternative. It provides an easy way to create high-quality content for your site. In addition, it helps you with personalized difficulty scores, internal link-building ideas, and more. Learn more about MarketMuse here.
Rytr: Rytr is another favorite Frase alternative. Like GrowthBar, it's mainly focused on long-form content. It has a slick editor and strong AI outputs.
Side Note: If you want to do robust keyword research and competitors analysis, you can use Ahrefs or Semrush in addition to either Frase, Marketmuse, or Copy AI or get an all-in-one tool like GrowthBar.
3. All-In-One Tools
All-one tools help streamline your content creation process from research to complete optimization. These tools, like GrowthBar, come with most of the features you need, especially if you're blogging for your business.
GrowthBar is more than a content generator. As stated below, it has more robust features and SEO-driven data for your business needs.
Keyword Research
With the GrowthBar keyword research tool, you can get thousands of valuable terms and long-tail keywords to power your organic traffic. It provides:
Monthly search volume.
Keyword difficulty.
Traffic value(my favorite feature).
Related queries.
Google and Facebook ads cost.
AI Writing tool
You can use this tool to create long-form content for your blog in just a few minutes and follow GrowthBar SEO recommendations to perfect it. However, this feature is more than an AI writing tool; it gives you insight into the top-ranking pages, including headlines, critical terms for optimization, and much more.
Keyword Ranking Tool
You won't find this in any content generator. It allows you to track your target keyword performance in SERPs. You get to see the positions of your target keywords in Google. Tracking your target keyword allows you to make adjustments and improve your Google rankings.
You can try GrowthBar and get all the above in addition to more valuable features unavailable in other tools. Companies like Monday.com, Codeless, Minted, Square and over 4,000 use GrowthBar for effective content streamlining and business growth.
Is Frase AI Writing Tool Worth The Price?
Frase.io is an excellent AI writing tool with features that will help your businesses increase online rankings. You don't have to spend more time creating high-quality content, but you can generate thousands of words within minutes.
However, if you compare it to other tools, it needs to catch up by looking at the features and pricing. So if you want to scale your content creation and business growth, look at alternatives that offer more advanced features at a more affordable price, like GrowthBar.