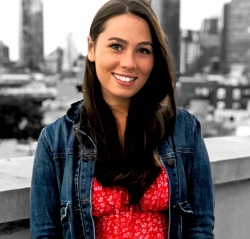 Latest posts by Madeline Hogan
(see all)
While it's not necessarily easy to rank for this post's topic "what is a keyword difficulty or competition score," it's not the hardest topic to rank for either.
According to GrowthBar's Chrome extension (making sure SEO insights are just a click away), the keyword difficulty is 37, which is considered a "medium" ranking difficulty within the range of 0 to 100.
How is this keyword difficulty calculated? What do these scores have to do with SEO (search engine optimization), and what makes a "good" SEO difficulty? Let's see.
What is Keyword Difficulty for SEO?
Keyword difficulty scores are the measure of how difficult it is to rank on the first page for a given keyword via organic search. The score is calculated using a variety of factors, including how many websites are currently targeting the keyword, the authority of those websites, and the search volume for the keyword.
A higher score indicates a higher difficulty, and a lower difficulty indicates a lower difficulty. The ranges are usually:
0-30: Easy
30-50: Medium
50-70: Hard
70+: Very challenging
And within those ranges there is variability. A keyword or phrase with a score of 10 is going to be much easier to rank for than that with a score of 29, though both are "easier" to rank for than a score of 55.
What is a competition score for SEO?
Competition score, SEO difficulty, ranking difficulty, etc. are often all refer to the metric of how difficult it will be to rank for a given keyword.
However, Google uses "competition score" to refer to how challenging it is to win a bid for pay-per-click advertising (PPC). The higher a competition score, the more bids there are for a specific keyword or phrase. Be aware of the context of when you see "competition score," because the competitiveness for advertising is very different than the competitiveness of organic ranking. We'll go more into detail on this below.
Why are keyword difficulty or competition scores important for SEO?
The premise behind search optimization is to write articles that rank high on Google's search engine results pages. You can have the most optimized post of all time, but and if it has a very high keyword difficulty score, you might not see yourself on Google's first page.
That's why it's so important to understand how easy or hard it is to rank for a keyword you want to rank for. You don't want to put in hours of effort in research, writing, editing, and publishing and have nothing to show for it.
What is keyword competitiveness in PPC advertising?
Keyword competitiveness can refer not only to organic traffic, but also the bidding involved in pay-per-click advertising. Just because something has low keyword competition doesn't mean it's easy to rank for organically, and vice versa.
For example, Google's keyword planner shows that there is high competition for the phrase "in ground basketball hoop." But, it's important to know that that doesn't mean it's hard to rank for organically necessarily–there are just a lot of businesses bidding on this keyword for ads.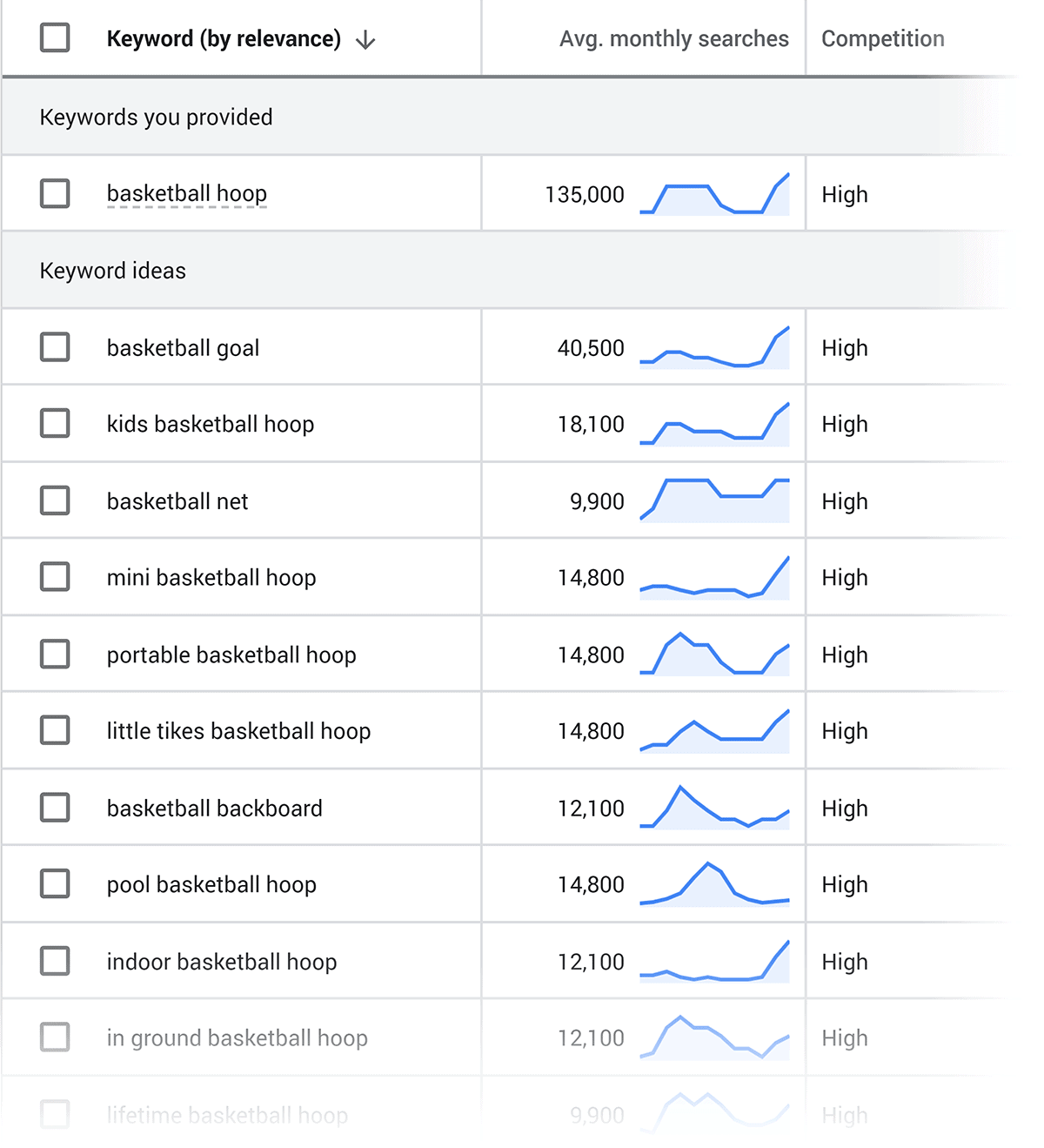 Now let's check the keyword difficulty score on GrowthBar.
With a score of 21, this phrase is relatively easy to rank for. And with a ton of monthly search traffic, this is an SEOs dream content to create. You're not competing with that many people in order to get over 20,000 search views a month.
That means if you rank organically for this keyword–instead of having to pay for the high cost-per-clicks and compete with all the other bids–you'll get the value of position one for free minus whatever time or effort it took you to write your post.
I could go on and on about the value of SEO. I won't right now, but if you happen to sell in ground basketball hoops, please, please write a great optimized blog about them to get all the benefits! (If you do it on GrowthBar, it can take you just minutes.)
How is the Keyword Difficulty or Organic Competition Score Calculated?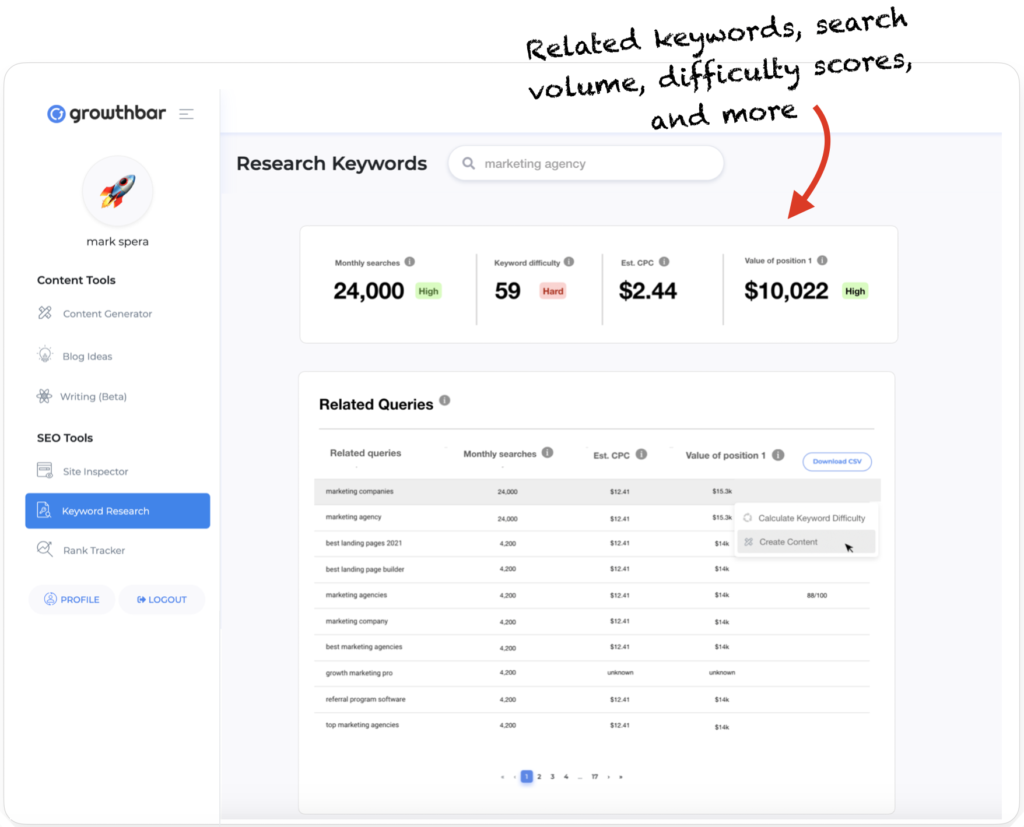 Keyword difficulty score is based on a variety of factors, including how many other websites are targeting the same keyword, how strong the competition is, how much authority your website has, and how much authority the sites have are already ranking for the keyword.
Domain Authority & Page Authority
Domain authority and page authority are two very important factors when it comes to keyword difficulty scores.
Domain authority (DA) is the ranking strength of an entire website or domain. So for example, New York Times has a domain authority of 95, which means:
It will most likely rank very high for post topics it writes
Backlinks from them will improve the DA of the site they're linking to
Linking back to them can show Google your post is well-researched
Page authority is similar, but it's about the authority of a single webpage. Higher page authority can:
Improve the DA of the entire site
Boost page authority of other pages on its site through internal links
If there are multiple sites with high domain authority that are already ranking for a keyword on page one, keyword difficulty will be high. If there are multiple sites that don't necessarily have the highest domain authority–but they have high page authority on the topic–then it will also be harder to rank for.
And of course, vice versa!
Link Equity
How do pages and websites boost authority through links? Link equity, also sometimes called "link juice," is the concept that certain links pass value and authority from one page to another.
Links are signals that the page's content is trusted by whoever is linking to them. Depending on link relevancy, how authoritative the site is, and even where links are located on the page.
Search Volume
Higher search volume can also lead to a more challenging keyword. But that's not always bad. You need at least some search volume to make a post worth it. Even if it's the easier keyword to rank for, if only 10 people are searching for it a month, it might not be worth the time it takes to research, write, and publish it.
Search Intent
While this doesn't impact keyword competition scores, you should also consider search intent when comparing difficulty and search volume. For example, if there is a topic central to your offerings, but there's just not too much search volume yet, if it's easy to rank for you might want to create a thought leadership piece on the topic.
This will help establish expertise in the field you're in–another SEO ranking factor Google considers–and often the people searching for this more specific keyword will have higher search intent. This means they're already further down the marketing funnel than those searching for a keyword with less intent but much more search volume.
What is a "Good" SEO Keyword Difficulty Score?
There isn't really a "good" SEO keyword difficulty score, because what you should try to rank for depends on more than just how hard a keyword is to rank for. Generally of course, the higher the score, the harder it will be to rank for. But the difficulty also depends on your own domain authority. If you have a very high domain authority, like let's say, the New York Times, you can probably rank for just about anything you want to write about.
If you are a new blog with a domain authority in the single digits, it's going to be a lot more challenging to rank for "wordle" than it will be for the New York Times.
And, even if it's easy to rank for, that doesn't mean you should necessarily try to rank for it. If there isn't a high search volume for the keyword, you can just waste time and effort writing a post that no one will see.
How to know what keyword difficulty is too high or too low
Know your own domain authority: Your domain authority matters most here. If you have a very high domain authority (85 and above) you can probably rank for almost anything, so you won't have to check keyword difficulty scores as often.
Check the score: If you're still building up your domain authority, it's important to check the keyword difficulty score and then compare it to your domain authority. Ideally, the keyword difficulty (if ranked from 1–100) should be around where your DA is, or lower.
Check the search volume: If the keyword difficulty seems a little high and the keyword only gets about 100 searches a month, it probably isn't worth the time and effort to write a post on. But, if it has a really high search volume and it's focal to your business, it might be worth it.
Find alternative keywords: Too high of difficulty? Try working with some longer tail keywords that have slightly less search traffic, but are still about the keyword you're trying to rank for.
For example, let's say you're starting a marketing company just for NFT and cryptocurrency websites. You've decided you want to rank for "marketing for NFTs" and you see with GrowthBar's keyword difficulty tool that it's not very easy to rank for, and it doesn't have a high search volume.

So, you use GrowthBar's keyword research tool to find some new keyword ideas and check their difficulty scores, from SEO for NFTS to crypto marketing strategies. What do you know: you find that "NFT marketing" has a difficulty of 28, and a monthly search volume of 1,300. Much, much better!

Then, you use GrowthBar's AI content generator to make an outline, add content, and basically write the post for you. Pretty nice!
How to Do Competitor Keyword Analysis
Competitor keyword analysis can take some time. If you're doing it manually, you'll want to review your competitor's blog post topics and website pages to see what they're trying to rank for. But, that only gives you a general overview of their keyword focus.
The easiest way to do competitor keyword analysis is by using a competitor research tool. It works pretty similarly for a lot of SEO tools, so let me explain it through GrowthBar.
GrowthBar offers competitor analysis in two ways: through the app and the simple Chrome Extension.
To use the Chrome Extension Google whatever keyword you're looking to rank for and not only get the keyword difficulty score, but also the competitive insights on all the websites that are ranking for that keyword, including their organic traffic, backlinks, and the Google and Facebook ads they're running. Let's use our NFT marketing example again.

On the GrowthBar dashboard, head to the Site Inspector to view any sites domain authority, monthly organic traffic numbers, the keywords of the organic traffic they receive (and how many monthly searches those get), the backlinks going to their site (and well as the DA of those backlinks and how many), and the keywords they're paying for on Google ads.
So basically, everything you need to know to make a decision about what keywords to include in your SEO strategy.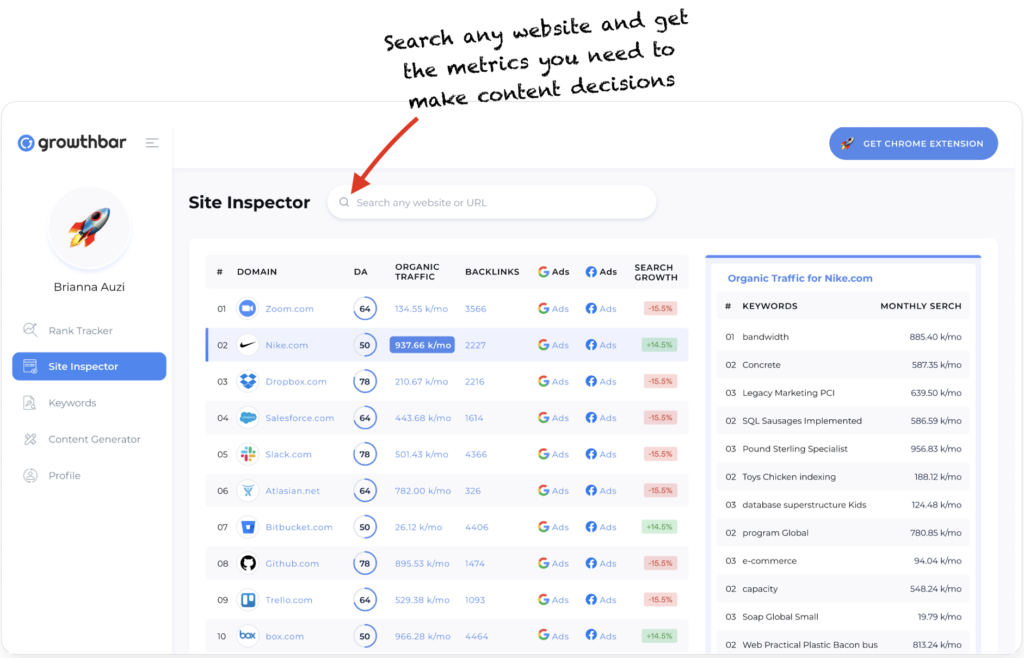 Keyword Difficulty Checker Tools
It's really challenging and time consuming to figure out the keyword difficulty for all the different keywords you're trying to rank for.
GrowthBar
In addition to a competitive analysis tool, GrowthBar is the #1 SEO tool for bloggers and content teams. It combines AI and SEO to help you rank your content on Google. It features not only content generation–for blog outlines, paragraphs, headlines, ideas and more–but also keyword research, backlinks, competitive metrics, and keyword rank tracking.
Key features:
Keyword research (difficulty checker, monthly search volume, and competitive insights)
Competitor analysis
AI content creation
Backlink analysis
Writing editor interface
Pricing: Monthly pricing starts at $29 for Standard, $79 for Pro, and $129 for Advanced.
Ahrefs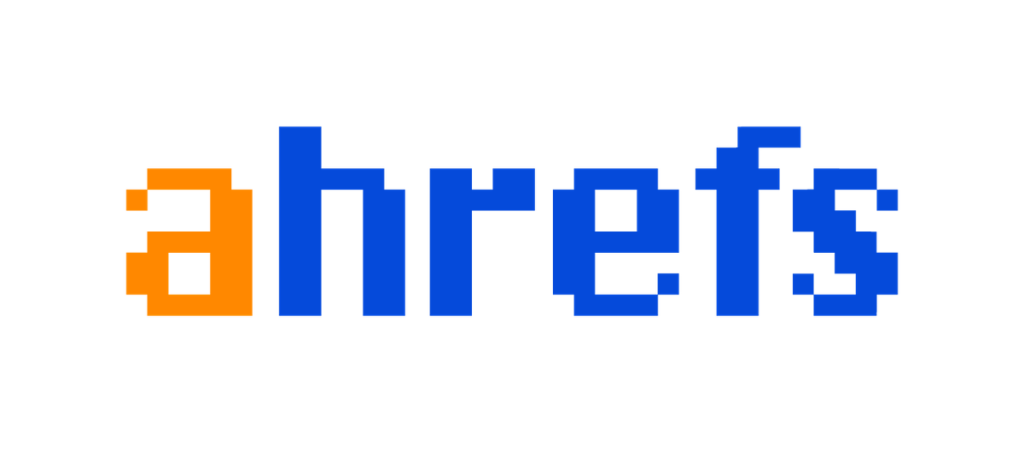 Ahrefs offers a free keyword difficulty checker that evaluates the chances of getting into top 10 of search results (not top 3 or top 1). To calculate their Keyword Difficulty scores, they analyze the search results for a keyword and look at the number of referring domains the top 10 ranking pages have. That is, how many backlinks they have. The more referring domains within the top ranking pages, the higher the Keyword Difficulty.
Key features:
Keyword difficulty ranking
How many backlinks you'll need to get into the top 10 search results
SERP overview for your search time
Pricing: While the keyword difficulty checker is free, to get all of the SERP insights and to use the rest of Ahrefs tools, the cheapest plan starts at $99/month.
Moz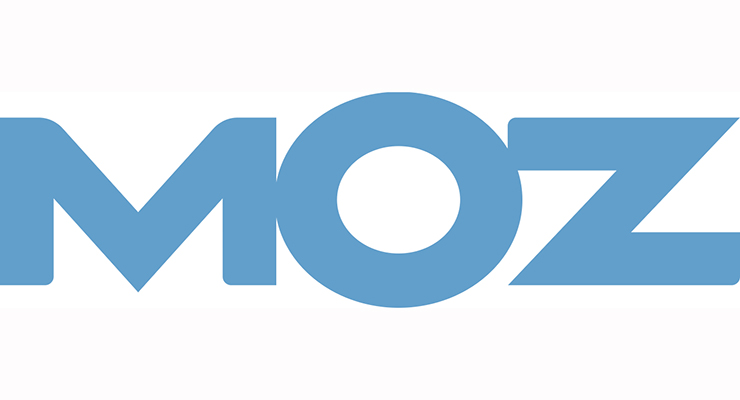 Moz's Keyword Difficulty score takes into account the Page Authority (PA) and Domain Authority (DA) scores of results ranking on the first page of Google for a given query. It then modifies for the projected click-through-rate (CTR) of a given page, putting more weight on high-ranking, more visible pages.
Key features:
Keyword difficulty ranking
Keyword analysis
Priority sorting
Pricing: Moz provides you with a free keyword difficulty ranking in exchange for your email address. To use the rest of Moz's tools, plans start at $99/month.
Find the perfect keyword difficulty level for your SEO goals
Time to sum it up: for SEO success, find a keyword difficulty score that is right around (or below) your current domain authority. Then check its search volume to make sure there are people looking for the term. You can always do a little extra keyword research to see if you can find something a little easier to rank for with just as much (or more search volume).
It's time for you to get started with your keyword ranking difficulty research! Try GrowthBar's Chrome Extension and application free for 5 days to see all the insights you can uncover. You'll be well on your way to creating some quality SEO content in no time!
Also read: