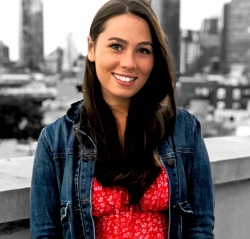 Latest posts by Madeline Hogan
(see all)
You can't really get around it: content is necessary in almost every industry. Whether you're trying to write articles that rank on Google, creating a pitch deck, or becoming an author, you'll need to produce great writing at some point.
The problem is, content takes a lot of time to create and optimize. The solution in 2022? Artificial intelligence. AI marketing tools and writing softwares like Rytr can save marketers, writers, SEOs, and other team members from hours to days of time. No more struggling to rephrase that sentence, or come up with a catchy ad. Rytr (and others) can do that for you.
But to get these benefits, you need to choose an AI content generator that not only produces great content, but provides the use cases you need at the right price point. Is that Rytr? Let's review.
What is Rytr?
Rytr is a content generator that uses artificial intelligence to create unique copy for a number of use cases. Based on the inputs you provide, it produces one, two, or three outputs. It focuses on short form content, like business pitch ideas, brand names, calls to action, email, Facebook, Twitter, and LinkedIn Ads, product descriptions, meta descriptions and more.
Rytr is a straightforward tool that generates various types of copy in seconds. Let's do a quick Rytr overview:
Usability: With easy organization and a simple UI, Rytr is straightforward to use and understand.
Content Templates: Rytr has 30+ use cases, plus variations within each use
Supported Languages: 30+ languages so you can reach all of your potential clients, in 20+ tones of voice.
Quality of Support: With resources, FAQs, guides, live chat, and a private community, Rytr works hard to provide good customer support. Plus, their unlimited plan offers priority email and chat options.
How to Use Rytr
Let's take a look step-by-step on how to use Rytr.

1. Make a Rytr account and log in
First things first: make an account. Rytr has a free option which makes it easy to try, but you'll quickly use up your monthly credits, so I'd try one output for each use case if you want to check it out.
Once you make an account, whenever you go to Rytr.me you can click "Start Ryting" to get access to the Rytr pop-up, which appears directly in the browser. From there, you can open it up into a new browser page.
2. Select your use case
Next, you select your language (they have over 30 options) and use case. Rytr's use cases include:
Blog idea & outline
Blog section writing
Brand name
Business idea pitch
Business ideas
Call to action
Copywriting framework AIDA and PAS
Email
Facebook, Twitter, LinkedIn ads
Google search ads
Interview questions
Job descriptions
Landing page and website copy
Magic command
Post & caption ideas
Product description and product description with bullet points
Profile bio
Question & answer
Replies to reviews and messages
SEO meta description
SEO meta title
SMS & notification
Song lyrics
Story plot
Tagline & headlines
Testimonials & reviews
Video channel description
Video description
Video idea
If you don't find a use case that works for you, you can also make your own custom use cases, which is pretty cool. https://rytr.me/resources#custom-use-cases
3. Fill in the Rytr inputs
Your inputs will depend on your use case. For the blog section writing I chose above, I needed to fill in the section topic as well as what keywords I wanted covered in the section. They suggest providing as much input as possible (up to 125 characters) for the best results.
You can also select your tone form options that include:
Appreciative
Assertive
Awestruck
Candid
Casual
Cautionary
Compassionate
Convincing
Critical
Earnest
Enthusiastic
Formal
Funny
Humble
Humorous
Informative
Inspirational
Joyful
Passionate
Thoughtful
Urgent
Worried
You'll also choose your "Creativity level," either at Optimal or from none (more factual) to max (less factual). For a blog post I want to be as factual as possible, but maybe for story plots or video ideas you'd want "less factual" output.
4. Review the outputs

After you select how many variants you want–one, two, or three–you're ready to go. Click "Ryte for me," and you'll get to review the output from Rytr. I had selected two outputs, and they both sounded like natural language and they are generally pretty accurate.
My only issues here were that my second output was basically the same as my first, and the last line–about the more words you have on your page, the higher your chances are of ranking–isn't necessarily true. But that's what editing is for! (To learn how long a blog post should actually be, head here.)
5. Continue Ryting
After you get your output, Rytr gives you a few options to keep working on your content, which they provide in tips along the way. You can try their:
Magic command: Sends custom text generation requests to AI
Improve: Corrects grammar and improves readability
Rephrase: Rewrites the selected text
Paragraph: Write a paragraph based on the selected text
Continue Ryting: Write more than a paragraph based on the selected text (up to 1,000 characters)
Expand: Inserts words to increase the length of the text
Shorten: Shortens the text to make it succinct and clear
Append: Adds a few words to the end of the text selection
Plagiarism: Tests the authenticity of the content and makes appropriate changes where needed.
I used the "Continue Ryting" option and this is the output I got. Unfortunately, it just rewrote the text I selected into paragraph form, so I couldn't really see how this feature worked.

6. Complete and download your work
You can keep working directly in the Rytr document editor with whatever content you're creating, and then download either as a .docx or .html once your content is ready for the next step. The Rytr interface allows you to add images, links, block quotes, as well as some standard formatting options, and it counts your words and characters as you go.
Rytr Review
Now that we know how to use Rytr, let's review Rytr features, pros, cons, and pricing.
Rytr Features
30+ use cases
30+ languages, in 20+ tones you can select from (convincing, candid, awestruck, inspirational, etc.) to add personality to your content
API available
"Reword" or "shorten" option for text you already have that needs a cleanup
Built-in plagiarism checker
"Continue Ryting" and "Paragraph" options to add on to your content using artificial intelligence
Creativity level, where you can decide how factual (or not) you want your writing to be
One, two, or three variants for each generation
Readability score and time provided for each text section you select
Rytr Pros
Uses scientific copywriting formulas—such as AIDA & PAS—to provide readable, quality output that requires minimal to no editing
Honed content outputs means pretty reliable text generations
Convenient Chrome extension
Free plan option (and affordable plans overall)
You can create your own use case if they don't have one you need
Limitations to Rytr
Only up to three output options for every input, and sometimes the outputs don't change between the variations
You'll have to do some editing of the output, but that is standard for AI writing software
Use cases are all over the map so there's no one complete set for blog writers, or for social media creators, or ad managers, etc.
It requires a decent amount of input, in comparison to other content generators that only requests a few words
Rytr Pricing
All plans get access to their community; all use cases, tones, and languages; and their built-in plagiarism checker.
Free: $0/mo, generate 5,000 characters per month, with all use cases available, plus the plagiarism checker
Saver: $9/mo (or $90 for the year), generate 50,000 characters per month, plus you can build customized use cases
Unlimited: $29/mo (or $290 for the year), generate unlimited characters per month, and you get your own account manager
Our take on Rytr
Rytr is a good tool that's young in this space. Their AI content outputs are generally error-free, and their price points is one of the best on the market. For that reason alone it's worth a try. It's also very flexible in the fact that you can make your own use cases, and that it uses your previous inputs to continue writing–so you can end up with a complete blog or landing page by the end.
That being said, its copywriting options are a bit all over the map, and every time I asked for multiple variations or new paragraphs, I ended up with a lot of the same content. They do provide an opportunity to "report poor output quality" when you review your history which is helpful.
Overall, Rytr is still a good tool for marketers and writers who aren't necessarily as concerned with search engine optimization suggestions.
Rytr Alternatives
While Rytr is a good AI writing tool, there are some Rytr alternatives that are more specified that could be a better option.
GrowthBar
GrowthBar is the #1 SEO tool for bloggers and content teams. It combines AI and SEO to help you rank your content on Google. GrowthBar offers not only content generation–for blog outlines, paragraphs, headlines, ideas and more–but also keyword research, backlinks, competitive metrics, and keyword rank tracking.
Whether you need help with SEO for your NFT site or SEO as a doctor, GrowthBar has you covered.
What it does:
GrowthBar has a wide range of SEO features, but the hero feature content generator is what has earned GrowthBar 5 stars on Capterra and G2 Crowd.
GrowthBar generates content by:
It takes your input keyword/topic, scans the web using a powerful SEO decision engine, and makes suggestions in a content editor using GTP-3 AI — the largest, most powerful language model on earth.
GrowthBar analyzes thousands of data points and the generator delivers you blog title ideas, paragraphs, or a content outline complete with title suggestions, word count suggestions, keywords, headlines, images, and more.
You can write your entire piece in GrowthBar. Just keep clicking "Write with AI" until it's done!
Key features:

AI content creation
Keyword research
Competitor analysis
Google Ad and Facebook Ad data
Backlink analysis
Writing editor interface

Pros:

It's AI content generator offers blog posts titles, paragraphs, outlines, heading suggestions, keywords to include, and much more
Your copy is being designed to rank on Google, so your content can do the work for you
It offers a suite of other SEO tools, as well as access to their writer's marketplace if you need an article writing service

Cons:

It focuses heavily on SEO content, so if you need copy like social media captions, video subtitles, or business ideas then it won't be the best tool for you

Best for: SEO-focused bloggers, freelancers, and marketers who want more than just copy generation.
Pricing: Monthly pricing starts at $29 for Standard, $79 for Pro, and $129 for Advanced.
CopyAI
CopyAI is a short-form copy generator that provides "automated creativity tools" for marketing copy. It enables users to produce email lines, headlines, and bullet-point lists for short copy. Individuals select a type of copy, describe their product, and get 10 results at a time–simple as that for quality short-term content.  
Key features:

90+ copywriting tools including bios, email subject lines, instagram captions, TikTok ideas, name generators, paraphrasing, and…about 80 more!
25+ languages
Grammar and tone checker

Pros:

Can get 10 generations for each input you put in
Free plan option to try before you buy

Cons:

You'll have to put in some editing for the content

Best for:

Bloggers and marketers that have a wide range of content needs

Pricing:

CopyAI offers a free plan, custom enterprise plan, and Pro plan for $35/month or $420 for the year for unlimited credits, unlimited projects, priority support, and access to their newest features.
Also read: Rytr vs CopyAI
Copysmith
Copysmith targets marketing agencies and teams that generate content day in and day out, redirecting the time and resources saved towards company growth. Copysmith produces the content you're looking for through the input of a few keywords.
Key features:

File sharing
Bulk imports and exports of files
One platform for teams

Pros:

Provides helpful content idea templates
Bulk content generator
AI-powered workflow queue

Cons:

Lower priced packages lack innovative features
Higher monthly costs than other platforms

Best for:

Copysmith is geared towards teams of marketers or copywriters frequently collaborating on projects together.

Pricing:

Copysmith's starter package comes in at $19/month, and the team's package will run $118/month, unlocking team-focused features.
Also read: Copysmith vs CopyAI
Jasper
Jasper has many features and functions that solidify it as one of the best long-form content generators on the market. The AI instantly generates high-quality SEO-friendly content for almost endless options even beyond your marketing classics, from "explain it to a child" setting to real estate listings and Quora answers.
When I say "almost endless," I mean it. Jasper has more copy options than most copy generators out there. So if you're looking for versatility, Jasper is a great choice.
Key features:

30+ use cases
25+ languages
18+ tones

Pros:

Long-form writing assistant called "Boss Mode" in addition to 30+ short-form templates
Community "recipe" options you can use to get more AI-made content
Integrations with Surfer SEO to provide more optimized content and Grammarly for perfect writing

Cons:

You'll need to edit the outputs before publishing
Higher monthly costs than other platforms

Best for:

Jasper is great for medium and larger businesses that have a decent budget for content.

Pricing:

Starter: Starts at $29/mo for 20k words per month and access to all 50 copywriting skills
Boss Mode: Starts at $59/mo for 50k words per month, access to all 50 skills, long-form copy, SEO mode, Grammarly integration, plagiarism check, and more
Also read: Jasper vs Rytr or our full review on Jasper.
Conclusion: How good is Rytr?
Rytr is a good AI writing software, especially for being so young. That said, I didn't have the best experience using it for blog writing. And while I think some of their content outputs are helpful, I'm not sure how often you can use their "business idea" or "brand name" outputs.
To create quality content for SEO, I'll stick to GrowthBar, but I'm still interested in trying Rytr's story plots at maximum creativity level.