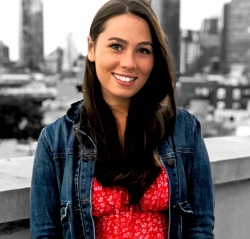 Latest posts by Madeline Hogan
(see all)
SaaS companies are everywhere. The SaaS—software as a service—industry is growing at 13.1% per year, and it's projected to reach $157 billion by 2022. And SEO is one of the most effective ways to grow your SaaS business that quickly.
Whether your SaaS product is new or you're already generating millions in revenue, new customers are the center of your business, which means you need to focus on:
Acquiring customers: getting new leads/customers in the door
Retaining customers: getting customers to renew subscriptions
ARPU: Maximizing your average revenue per user (ARPU)
Of course, you need to keep your existing customers happy and renewing, but if you don't get new ones in the door, you'll eventually stop growing.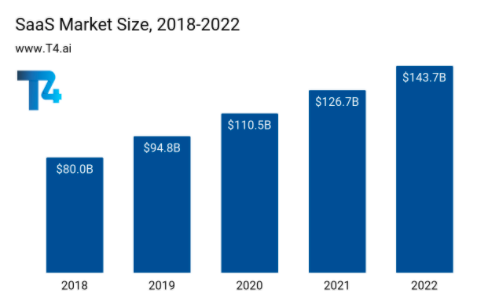 So, in addition to building a great product that the world needs, you have to get more leads and turn those leads into paying customers.
How to get those leads? SEO—search engine optimization—is going to play a huge part in getting all of those leads.
What is SEO?
Search engine optimization is the process of optimizing your site and content for search engines like Google. An SEO strategy can accelerate lead generation for your business if it's done correctly.
The more optimized a post is for a search engine, the higher you'll rank on Google, and more visibility it'll have within the search results.
Once you've achieved a high rank for keywords that are driving traffic and sales to your site, you're effectively getting "free" leads. And those leads are going to be the key to growing your Saas business. When SEO is done well, the ROI on time and money spent can be incredibly high.
What is Saas SEO?
SaaS SEO is—as it sounds—the process of increasing the organic traffic for your SaaS company's website by earning top rankings on Google's search engine result pages for relevant keywords of your market.
While there are differences between SEO for SaaS and SEO for other verticals, Google's main ranking factors remain the same for all different types of business.
Your SaaS SEO strategy should be focused on generating great content that answers a user's search query and naturally earns backlinks.
Will SEO work for my SaaS company?
SEO doesn't work for all companies. If you have a product that is so niche that people aren't searching for it, it's going to be tough to get people to your site via SEO tactics.
But if you're in a market with a high search volume that's not completely saturated, SEO is going to work great for your SaaS company.
When SEO helps you rank higher on SERPs for your target keywords, it gives you the ability to inform your users about your products, become a trusted source of knowledge in your industry, and in turn provide your services to more customers.
Furthermore, without SEO, your competition can rank higher on Google when individuals search: "saas companies for [your service], "saas companies in [your location]," or "best software for [your service]," and lead people to their pages.
How to Use SEO to Grow Your SaaS Business
Though many SEO strategies are similar no matter your business, these five steps are especially important for SEO in SaaS.
1. Define customer personas
For SaaS SEO—compared to SEO for other types of business—having knowledge of your customers' personas and problems at various parts of the customer journey is incredibly important.
Searchers typically discover software when they're looking for a solution to their problems. Maybe they know a software platform exists; maybe they don't.
Your ideal searchers are your target persona: individuals that not only want to read your content, but then take the next step in your sales funnel.
Your job is to tell your ideal customers that your platform can solve their problem. How do you do this? Pop on the SERP when they ask Google a question. How to do that…?
2. Brainstorm relevant keywords 
When trying to grow a SaaS business fast, blogging-focused content marketing works very well for acquiring leads. Simply put, more content = more web traffic… which means lots of potential customers to sell your product to.
You'll be trying to reach individuals in the top of your sales funnel, the middle of it, or the bottom (when they're ready to buy). That means you'll need keywords for each step, and each of these keywords should work on solving some problems in their business.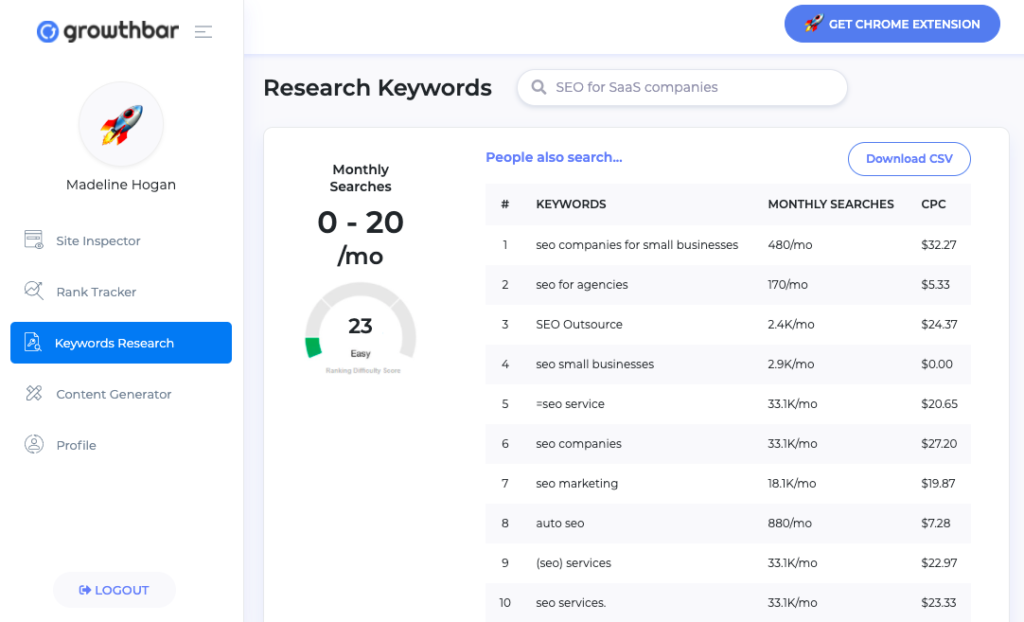 That's where keyword research comes in. Keyword research isn't just about seeing how many people search a topic: it's also about exploring the different ways people phrase those words during their search.
For example, potential customers might be searching "SaaS," but it's more likely they're Googling "online platform for XXX," "software that XXX," or "website for XXX."
And it's not all about the quantity of searchers. If a keyword has a lot of searchers, there are probably a lot of posts you'd have to compete with, making it harder to rank for–especially if those posts are from sites with high Domain Authority.
Keyword research will help you select uncompetitive, highly searched keywords that are specific to your product offering. An SEO tool like GrowthBar is going to be a great way to do that, a lot faster!
When you start the research, you need to consider the intent of your users in each step of the software sales funnel:
Top: Top funnel keywords are going to be broader. These searchers have a problem, but they might not even know your SaaS platform exists. Let's take a look at someone searching for help with SEO. A top of the funnel search might be "how to rank your blog post on Google," or "how do I use Google Search Console?" These posts might help people realize that an SEO tool or SEO marketing agencies could be super helpful in their search for improved SEO.
Middle: These are for the people that are looking for software specifically for the problem they have, which means including words like "software," "platform," or "tool," in your keywords is helpful here. To continue with our example, you'd want to get your company to rank for "top marketing tools," "best SEO agencies," or "software for SEO."
Bottom: This is when your personas are aware of the various softwares that could help solve their problem. At this point, they just want to see which of the softwares is going to best do that (yours)! So in this stage, they might be searching for comparisons between SEO tools–like "Semrush vs. Ahrefs vs. Moz" or even more specific to each tool, like "SEO tool GrowthBar Pricing" or "GrowthBar features."
Competitor search keywords also tend to work for SaaS businesses. If you bid on the branded keywords of your competitors, you're very likely to find some customers who would gladly switch to your service.
3. Create great content
Great content is the backbone to all SEO strategies. Google will only show readers the best stuff on the internet. They're a business, and they want their customers (searchers) to be satisfied with their products (SERPs).
That means content should be insightful, use target keywords, maintain proper internal and external links, as well as have great formatting with headers, images, and easy-to-read font and spacing. In general, posts have the best chance of ranking if they're over 1,800 words long.
In addition to great quality, you'll need great quantity. If you're serious about giving SEO a try, you should aim to publish 5 posts per week for a couple of months.
With that huge velocity of articles, you will get on Google's radar as quickly as possible, which will help you prove or disprove SEO as a viable strategy fast. Don't hesitate to outsource your content creation or use a content generator to move faster.
P.S. Make sure to use WordPress for the blog portion of your site. WordPress naturally organizes your content in ways that optimize for Google's search engine. This is completely essential if you want to build SEO for your SaaS Business fast.
4. Get backlinks
A great SEO strategy for SaaS business (and all businesses) includes backlinking — that is, getting hyperlinks from other authoritative sites on the web to your site.
Especially for new websites, backlinks are very important. They're the only way Google knows that your website is trustworthy enough to send searchers to.
The best links are from sites that are in the same space or niche as you. When a site like that chooses to link to a piece of your content, it's sending a signal to Google that your content is worth being recommended.
There are a number of ways to get backlinks, including PR, guest posting, even buying backlinks…and plain old backlink outreach. It's a huge topic. Learn more about how to get backlinks here.
5. Have a great user experience
User experience (UX) also has a large pact on SEO, and therefore Google's ranking. UX is the overall experience a user has with a company's products or services. Good or bad user experience design is determined by how easy or difficult it is to interact with each aspect of a product or service.
You could have the best information from the most authoritative expert in the world, but if people don't like using your site or viewing your content, it will be very tough to rank well.
To determine the user experience of your site, Google measures how users interact with a page and even tests it themselves using "RankBrain."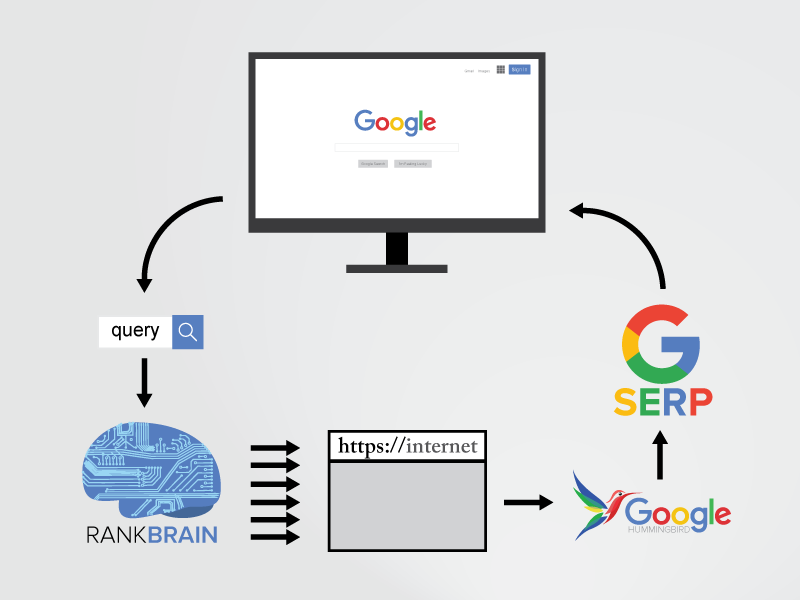 Introduced in 2015, RankBrain is a part of Google's core algorithm that uses machine learning to replicate a visitor's experience with a page. It can be a bit of a black box, but the image above demonstrates the general concept behind it.
It uses signals like pages per session, bounce rate, dwell time, and organic CTR to rank the page based on the quality of that experience. The higher the quality, the better it's going to be for your Google rankings.
Top SEO Agencies & Tools for SaaS
SEO for SaaS isn't that bad right? And you know what would make it even easier? Using marketing agencies and tools for SEO can be a game changer.
Adam Enfroy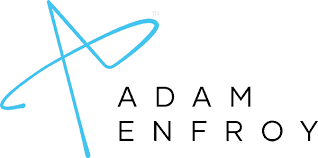 One of our top recommendations of SEO for SaaS is Adam Enfroy.
Adman Enfroy is an individual with the power of an agency: he consults companies to build their SEO by focusing on revenue potential by B2B interests and audience revenue potential.
His approach is simple: "blog like a startup, not a writer." He makes over $80k/month from his blog by focusing on scaling, and offers consulting, business software, and hundreds of software reviews.
Blue Fountain Media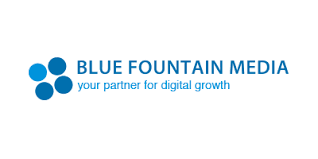 Blue Fountain Media is a New York City-based digital marketing firm that prides itself on focusing on UX, constantly evolving their SEO processes, and using clear, honest communication with their clients.
In addition to Saas SEO, they provide SEO audits, technical SEO support, keyword research, content strategy, and organic marketing. Some of their top clients include Stop & Stor, Delta Star, Workfront, and CDK Global.
Boostability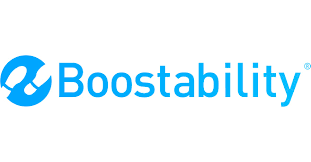 Boostability offers SEO services for large and small businesses, and everything in between. In addition to providing SEO services to SaaS companies, they have their own SaaS platform that enables partners to scale their SEO product offerings.
They also help with keyword research, backlink development, onsite optimization, content creation.
Higher Visibility

Higher Visibility uses SEO, PPC management, social media marketing, and detailed reporting to help their clients see success. Clients include contractors, SaaS (of course!), gyms, hotels, plastic surgery firms.
They offer technical SEO, website design, local SEO, on-page optimization, and white-hat link building.
GrowthBar

GrowthBar is an SEO tool that pulls together only the data points that your SaaS company needs to make marketing decisions. GrowthBar is an SEO and automated content generation tool that has the same backlinking, Google Ads, and organic keyword capabilities as other larger (and more expensive) SEO tools.
For smaller SEO agencies and SaaS platforms, particularly ones that specialize in content, GrowthBar is a must-have. And, you start with a free trial.
WebFX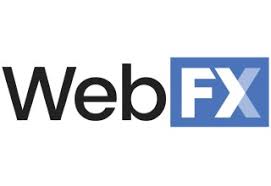 WebFx is a full service digital marketing firm that provides SEO & revenue generation services, content & analytics, and creative & UX. With on-page SEO, off-page SEO, keyword research & strategy, link analysis, link baiting, content development, competitive analysis, they can really improve your SaaS SEO strategy.
Conclusion
SEO for your SaaS company shouldn't happen in a vacuum. You'll need to combine it with other marketing tactics that will help you grow your SaaS business, like PR, content marketing, paid marketing, and more.
And what good is a lot of web traffic if they never hear from you or get to experience your product? Make sure to capture email leads when you get all those potential clients to your site using these top SEO tips to build your SaaS platform.