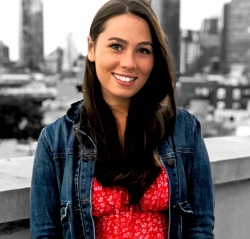 Latest posts by Madeline Hogan
(see all)
If you've been following the latest trends in the cryptosphere, you'll know that NFTs (non-fungible tokens) are a hot topic.
While the market is relatively new, many people are looking to invest in NFTs as a way to diversify their portfolio, or just have something to brag about, because come on, who doesn't want digital perfume for $18,000? 
Whatever the reason, there's a lot of untapped potential in the SEO NFT market that needs to be capitalized on. So if you have an NFT blog, or emerging NFT product, it's time for you to take advantage. 
If you want your NFT website to rank higher on Google you need to make sure you're doing search engine optimization (SEO). With search engines becoming more and more sophisticated, marketing experts are demonstrating that NFT companies need to focus on specific elements of SEO perhaps more than other industries. 
NFT SEO is vital if you want to get searchers' eyes on you. We'll be discussing the benefits of building out your NFT blog with search engine optimization in this how-to guide for non-fungible token search engine optimization.
Need a tool to help you win SEO for NFTs? Try GrowthBar.
What are NFTs?
If you're at this post about doing SEO for an NFT website, you probably know what NFTs are, but let's do a quick review.
NFTs are non-fungible tokens: digital assets that can be obtained in exchange for cryptocurrency, a blockchain currency. These assets are uniquely identifiable, traceable, and verifiable, making them impossible to hack or duplicate.
While they're most often associated with the art world, they can ~virtually~ be any digital good that has an indestructible proof of ownership and the ability to last forever. Even Adidas is launching an NFT clothing line for the metaverse.
What is Search Engine Optimization for NFTs?
If you're publishing content about non-fungible tokens online and want people to find you—which you surely do—it's essential you learn SEO.
Time for the hard truth: without optimizing your NFT content for search engines, you're not going to appear in front of people searching for queries you're targeting. There is just too much information out there.
Using SEO for non-fungible tokens will give you the building "blocks" (crypto pun!) you need to improve your Google ranking, grow your website traffic, and rise your conversion rate.
If you master the fundamentals of SEO while prioritizing NFT-specific elements, a new NFT marketer can outrank big, established websites–even with Google's algorithm changing all the time!
[Want to start at the beginning? Check out our Beginner's Guide to SEO first.]
Need a tool to help you win SEO for NFTs? Try GrowthBar.
Why do you need SEO for NFTs?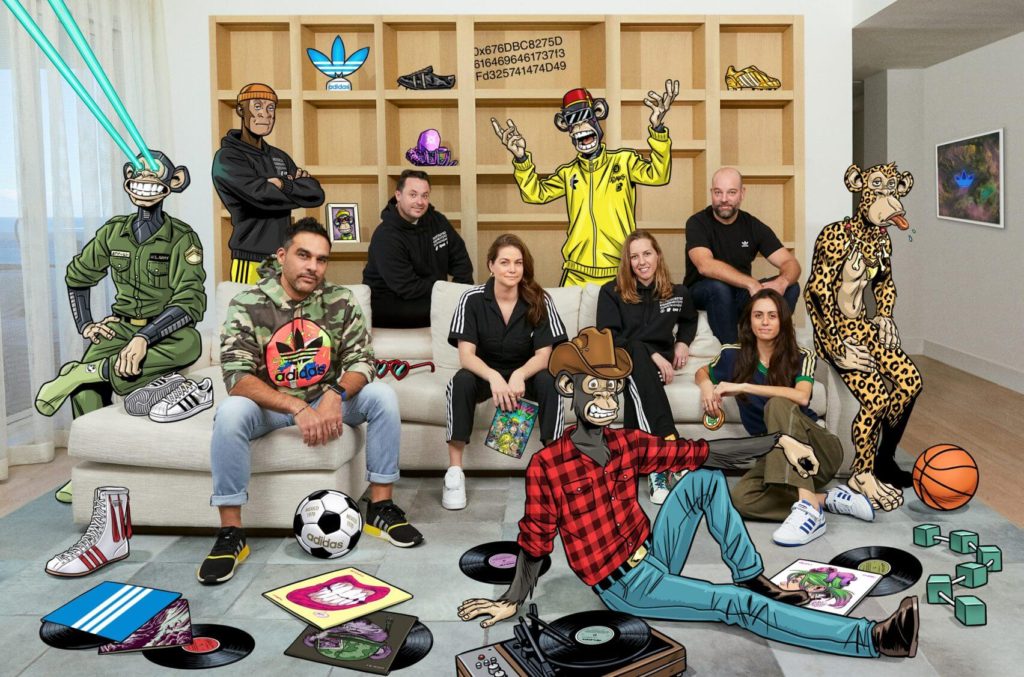 More than one billion people use Google every month. But over 90% of all content indexed by Google gets no traffic. You can write the best, most informative, detailed article on the planet about, I don't know, doing SEO for NFTs—but if you're not optimizing it for search engines, it's not going to be seen.
However, if done right, creating an optimized NFT blog can be one of the best ways to gain traffic, find customers, and establish brand awareness, in a profitable, scalable way.
How? Traditional advertising channels are expensive: you pay on a cost-per-click (CPC) or cost per 1,000 views (CPM) model. With SEO, you only pay for the cost of making web pages and blog articles. You don't pay for every click or view, which makes SEO the most cost-effective–and valuable–marketing channel there is.
Plus, it's one of the best ways to reach consumers. More than 50 percent of all website traffic is organic search–while paid ads are at 10% and social media is at 5%. Not only that, but research shows that around 93 percent of online experiences begin with search engines. If you're a business owner involved with NFTs, it's time to take advantage.
Why is SEO Different for NFT Sites?
While SEO has the same fundamentals across all industries, there are some strategies of search engine optimization NFT blogs and websites will want to focus on. Why?
NFTs Can Impact Finances
If your business is involved in finance, like non-fungible tokens are, you need to take SEO seriously because Google is especially strict in the "Your Money, Your Life" (YMYL) search space. "Your Money, Your Life" pages (YMYL) is a Google term referring to pages that Google determines could impact "the future happiness, health, financial stability, or safety of users."
YMYL pages are held to a higher page quality standard because they can potentially harm searchers physically, financially, or emotionally, and therefore have a greater impact on one's life, than, for example, a post on how to design a dress.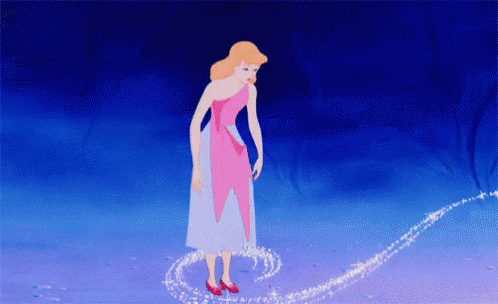 YMYL sites include but aren't limited to:
Medical sites
Ecommerce sites
News websites
Online banking
Economic information
Legal sites
And NFTs
NFTs Are a Complicated Topic
There has also been an increased focus on E-A-T as a ranking factor for Google according to the Quality Rater Guidelines. In fact, the EAT acronym appears at least 186 times in the guidelines, which Search Quality Raters use to help determine website page rankings.
What is EAT? EAT stands for Expertise, Authoritativeness, and Trustworthiness. You should be answering searchers' questions with relevant, accurate information, and presenting it in a readable, interesting way.
And while it's necessary for every blog post to provide expertise, authority, and trustworthiness, with a relatively new, complicated topic that is also considered YMYL, NFT blogs and websites need to prove to Google that they are experts on the topic, searchers can trust the information on their site, and they have authority in the NFT realm.
This is something that you can build up over time by providing accurate, helpful information, high-quality backlinks, and a great internal linking structure. Showing Google that you can help searchers navigate the complicated world of NFTs can lead to rewards on search engine results pages.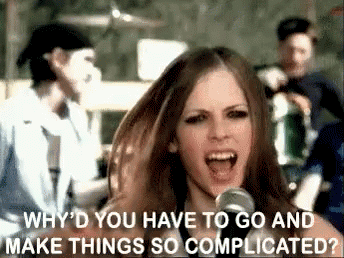 Plus, EAT can be a feedback loop. The more of an expert on a topic you are, the greater authority you have on it, and the more Google and searchers can trust you. And then the more trusted you are, the more backlinks you get, the higher in the rankings you go, and the more authority you'll have, etc.
All three elements create a feedback loop of higher–or lower–rankings so it's vital to prioritize all of them.
NFTs are a Niche Topic (For Now)
As we mentioned above, NFTs are relatively new to the general public and are still siloed in some industries. While this might mean you don't have as high of a search volume, it's great for SEO in the fact that you're working on a niche topic. There is going to be a lot less competition for NFTs than baking websites.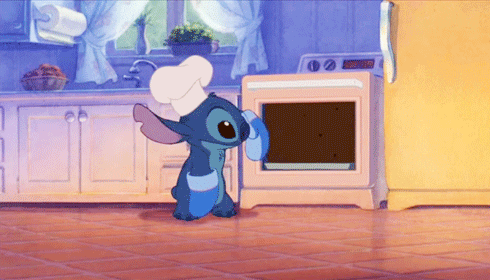 SEO is a long game, so now's the time to start ramping up your SEO efforts and get the increasing number of NFT searchers on your site, where you can convert them into paying customers.
Top SEO Strategies for NFT Websites
So now that we've covered why it's so important for NFT sites to work on search engine optimization, let's get into how you should do that.
1. Keyword research:
Keyword research is the core of search engine optimization. Keywords are any word or phrase that offers a results page when searched on Google or another search engine. They will guide your entire SEO strategy, from your blog posts to backlink strategy to building out landing pages.
For an NFT site, you want to be especially careful choosing keywords based on the persona of your ideal searcher. Who are the people looking to invest in NFTs? How would they ask a question about them, and what information do they need to get them closer to a purchasing decision?
Another thing to consider is what part of the customer journey you want to reach a consumer at.
Do you want to attract people that don't know much about NFTs by trying to rank for "What is an NFT?" Or are you going for those that are already interested in purchasing with "Why are NFTs a good investment?" Or, are you even further down the pipeline with people asking "Where to buy NFTs."
2. Have a great UX/UI
User experience and user interface are two different but interconnected elements that impact traffic, bounce rate, rankings, and a whole lot more. Without a good user experience, you won't want to use a site, no matter how interesting the NFTs are. And a good user experience needs a good user interface—otherwise, there's literally nothing to experience.
Prioritizing UX and UI is a huge part of SEO, especially when it comes to NFTs. NFTs are usually going to be considered and purchased by people with some web experience–and expectations. Keep your NFT site clean, mobile-responsive, easy to use, and beautiful, because NFT customers are not going to be interested in purchasing digital goods from a slow, clunky, or outdated site.
UX & UI isn't just about experience. It's also about accessibility. Sites must follow the WCAG (Web Content Accessibility Guideline), an internationally recognized set of guidelines for digital accessibility that are managed by the W3C, the international web standards group.
Accessibility is broken down into perception, operations, understanding, and robustness—all of which need to be there to keep searchers satisfied and Google from punishing your site. And, all of these elements must be offered whether searchers are on a laptop, desktop, phone, iPad, or any other device.
Want more specifics on UX & UI? Check out our post on how UX & UI impact SEO.
3. URLs & Titles
It seems small, but creating a URL and page or article title with SEO in mind can improve your Google ranking. Urls affect SEO because they impact how understandable and usable your site is.
Like any business, Google wants to be as helpful as it can for its customers, so if your URL structure is confusing, complex, or just hard to read, it can lead to lower rankings on Google's SERP (search engine result pages).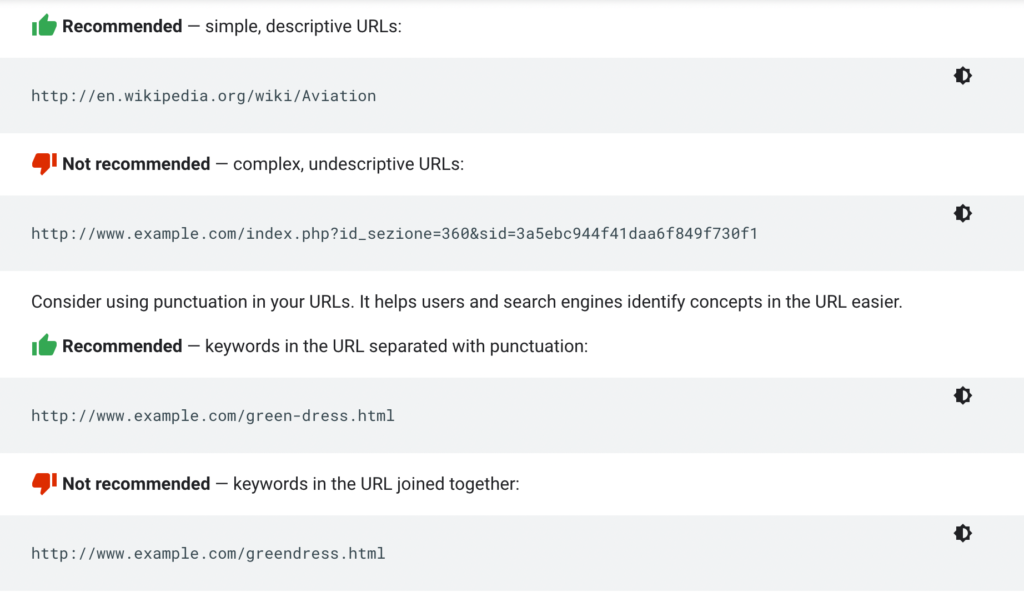 You'll want your URLs to also match with page and blog post titles, which means titles should be clear and straightforward. Both, of course, should also include the keywords you're trying to rank for that page or post, without keyword stuffing.
How to make the best URLs and titles for SEO? Check out our how-to guide.
4. Write Optimized Blog Posts
Write, and write a lot! Search interest for NFTs is very high and because it's such a new topic, there is a lot of search arbitrage available for the taking.
Writing keyword-driven blog posts that are optimized for search engines will help you rank on Google fast. Optimized blog posts will need to incorporate everything we've already discussed, including EAT, keyword research, and a good user experience.
One of the most important things about writing a great blog post is actually making it great. The content should be accurate, informational, and helpful. The format should be readable, skimmable, and include helpful images.
Google wants to give searchers what they're looking for, and it's going to be posts that answer their questions in a clear, interesting, and engaging way.
You also want to be sure you're matching your keywords to the content. If you're writing the post "what is cryptocurrency?" you need to keep it more straightforward because the searchers typing that is probably going to have less technical knowledge than the individuals searching: "Do other blockchains besides Ethereum host their own NFTs?"
Last note here: take advantage of FAQs in the beginning and end of your posts and on your site as a whole. With a complex topic like NFTs, there are almost endless questions you can answer to keep your readers — and search engines — happy.
Sounds tough? Get some support making quality SEO content by:
Need a tool to help you win SEO for NFTs? Write AI blog posts with the click of a button with GrowthBar.
5. Domain Authority
Domain Authority (DA) is important for every website. DA is a number that designates how authoritative you are in your domain. The higher the number, the more trustworthy Google considers you, and the more likely you'll rank higher on SERPs (search engine result pages).
For example, the New York Times has a very high domain authority. That means whatever they write a post on, they'll probably quickly crop up in the top search results. The higher your domain authority is, the less you need to prove to get there quickly.
So if they write a post about non-fungible tokens, they will most likely rank higher than smaller NFT companies just starting off their blog. It can be especially tough for NFT companies because of the higher YMYL standard, as well as it being a ~relatively~ new topic for the general public.
But, it's 100% necessary to prioritize. A better DA means you'll rank higher on SERPs, and most likely get more organic backlinks to your site. More backlinks can lead to an even higher DA, then higher rankings..and the cycle (hopefully) continues. To improve your DA, creating quality content and building up high-quality backlinks is going to help.
Which takes us to…
6. Internal and External Links
Building your link network is going to be crucial for NFT SEO, and it can be one of the trickiest parts of search engine optimization to accomplish. Internal and external links help build out your DA, show Google the organization of your site, keep traffic on your site longer, and overall create a more cohesive web experience for searchers.
Internal links
These are the links that connect all your website's pages and blog posts to one another. When you find relevant anchor text in a post, you'll want to link it back to a blog or page you have on that topic. Think of it this way: if you talk about a topic in your post that you don't explain, you don't want your traffic to go back to Google to figure out what it is. You want to keep them on your site by linking to a post that covers that topic.
For example, let's discuss content clusters, which are very important for an internal linking strategy. In this next sentence, I'm going to add an internal link to GrowthBar's post about SEO content clusters so you can find more information about the topic.
The "Topics Cluster" model or "Content Cluster" model is when a blog or website has several main-topic pillar pages. Each pillar page then has multiple content pages relating back to each pillar, and to one another within each pillar.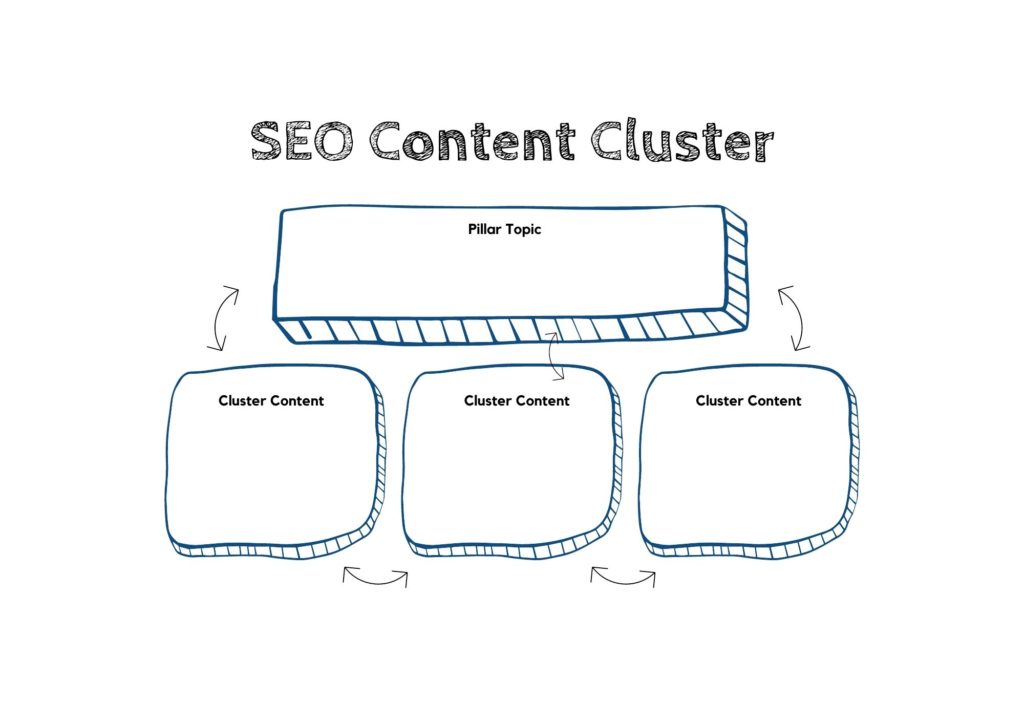 So instead of treating each article as equally important individual pieces, in the cluster model you choose specific "pillar" pages as the main hub of content for an overarching topic. Usually, this means you'll have one 3,000- or 4,000-word blog post on a topic and several other 1,000-2,000 word articles that internally link back to this pillar content.
Plus, these links also show Google that your site is organized and that you have authority on specific topics. If you write about every topic under the sun, you probably don't know much about any of them. If you write a lot about a few topics, you probably have a good handle (and expertise, authority) on those topics and can be trusted.
What is that old proverb about being great at a few things or just okay at a lot of things? SEO is a great example where you'll want to be more than great on the pillar topics you choose.
External links
External links are links that go from your page to outside sources, and vice versa. You're going to want both for SEO.
Links that go from your page to credible outside sources demonstrate to Google that you're using accurate information when writing your piece and that you can back it up. Links to .gov, .edu, or .org sites—as well as sites with the highest domain authority–are going to be stronger.
Think of it this way: if you support an argument with an article written by an obscure blog, it's not going to be as trusted as when you get information from harvard.edu.
Links from other sites to your own are referred to as backlinks. These links are HTML hyperlinks that direct people from one site to another. When someone links to another site, Google sees this as a kind of vote of confidence in your content and website.

Especially for new websites, backlinks are very important. They're the only way Google knows that your website is trustworthy enough to send searchers to.
The best links are from sites that are in the same space or niche as you. When a site like that chooses to link to a piece of your content, it's sending a signal to Google that your content is worth being recommended.
Like references on a resume or documents on works cited, backlinks help verify and authenticate websites and help to promote relevant and authoritative search results. According to Google Senior Strategist Andrey Lipattsev, Google's top three ranking signals are backlinks, RankBrain, and content.
7. Prioritize Security & Privacy:
Privacy and security are paramount with NFT sites, particularly if you are selling them on your site. Most buyers aren't going to make a purchasing decision on a site that doesn't feel secure.
And Google wants a secure site that's easy for their spiders to crawl. If your site isn't visible to search engines, you're not going to appear in the search results no matter how amazing your content is.
Having a secure site means installing an SSL certificate, which adds "HTTPS" to the beginning of your URL, as opposed to unsecured site URL structures that have only "HTTP."
Having a valid SSL certificate encrypts all the data being transferred to and from your site. It's a huge factor in reducing the risk of being hacked and is a ranking signal because it signifies trust.
8. Track Your Progress
Search engine optimization is important, but only if you know what's working–and what's not. An
SEO audit tools can be super helpful here. They uncover website deficiencies that are holding your site back in terms of organic ranking.
Like other audits, this process analyzes your website with a fine-toothed comb, noting problems that hold you back from your optimal organic search performance. Keeping up on-site audits can help to drive organic traffic, secure and maintain strong rankings, and increase revenue.
After an audit, you'll want to keep up with the health of your site and its SEO progress. One of the easiest (and most affordable) ways to do that is by using Google Search Console. Google Search Console is an analytics tool that helps you understand the comings and goings of visitors to your site as well as the performance of your site.
Imagine slipping into Google's shoes and being able to see exactly how Google's crawlers see your website. The information provided to website owners through the Google Search Console includes site performance, highest-traffic queries, and keyword research.
You can also check out an SEO tool like GrowthBar, to get in-depth information on your site's ranking, your ranking for individual keywords, and how you compare to your competitors.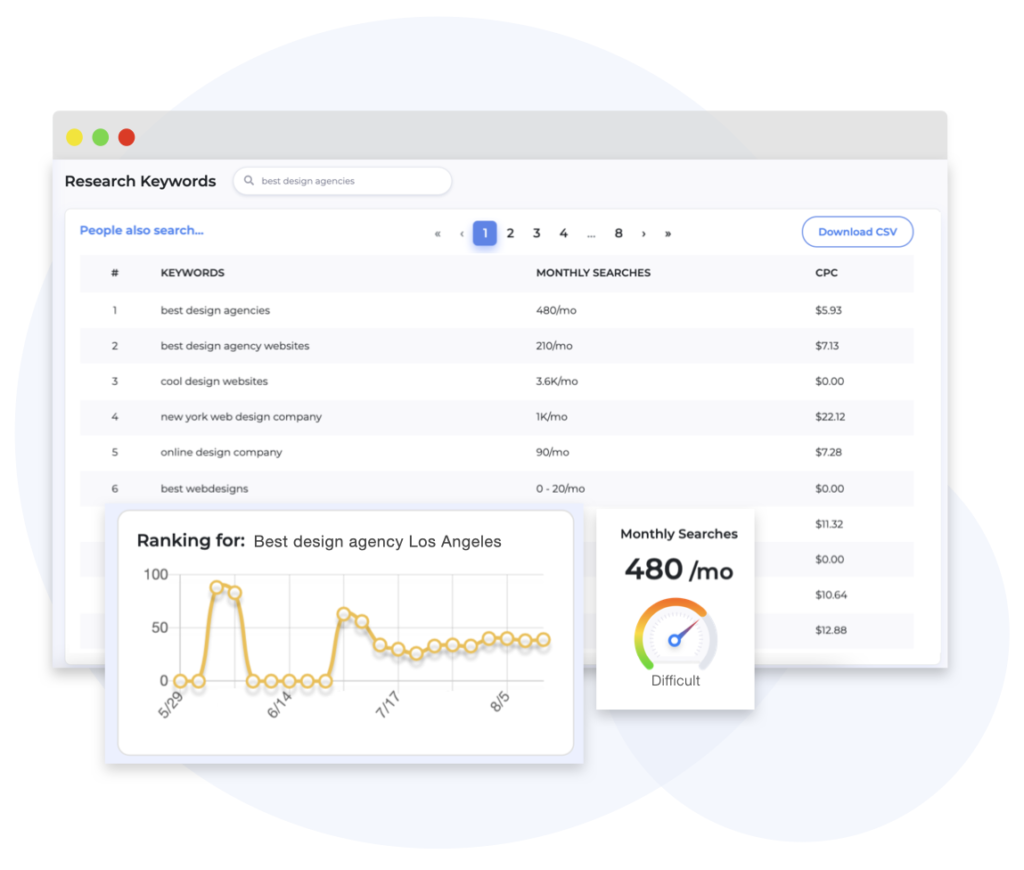 9. Include Other Marketing Strategies
As important as SEO is, it doesn't occur in a vacuum. You'll need to employ strategies to boost your off-page SEO in addition to backlinks. Off-page SEO sends "signals" to your pages and helps boost website traffic.
Whether this is with PR, social media, AI marketing, paid ads, or content marketing, implementing other marketing strategies (perhaps with the help of a marketing agency) will enhance your SEO efforts.
Conclusion: SEO for NFTS is Important!
Speaking of help…don't be afraid to get support with your SEO goals. Search engine optimization–especially for non-fungible token sites–isn't' always straightforward. Content marketers, SEO agencies, and marketing tools can all be great investments in your NFT site.
GrowthBar SEO is going to be one of the first tools you want to try. With an affordable price point, advanced keyword research, a new blog marketplace, GPT-3 content generator, and a whole lot more, try out your five free days of GrowthBar right now to watch your NFT website rise through the ranks.