Latest posts by Mark Spera
(see all)
One of the best ways to improve the organic reach of your website is with optimized on-page SEO.
Fortunately, there are a number of incredible software tools that make it easy and automated. The best on-page SEO tools include big names like GrowthBar, Screaming Frog, Clearscope, and of course, Google's free tools Search Console and Lighthouse Audit.
From running SEO audits, to managing internal linking, to identifying content gaps, on-page SEO tools can help you rank higher.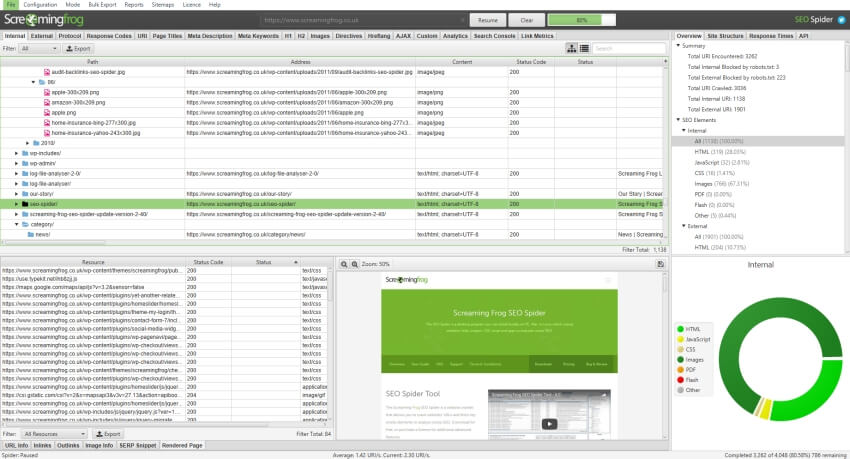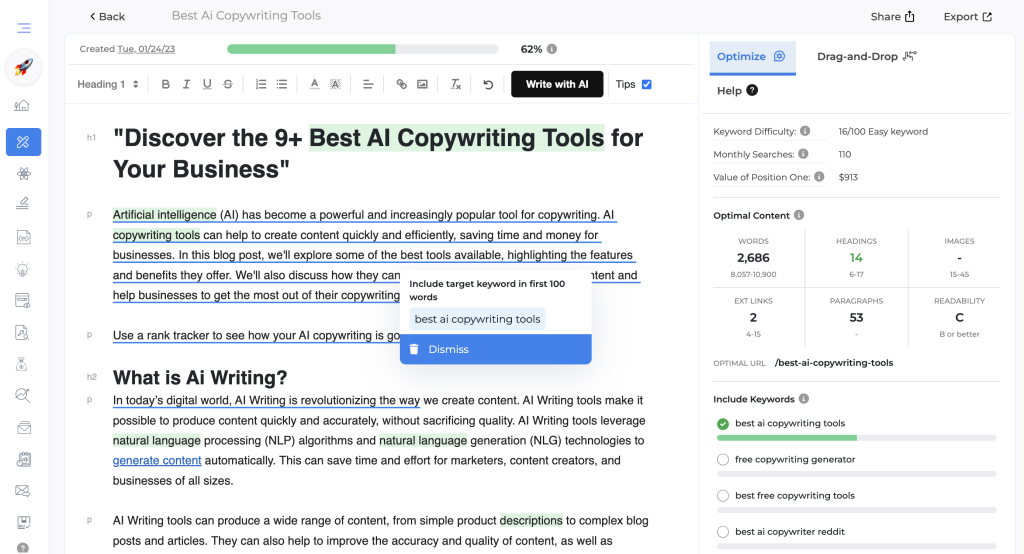 On-page SEO optimization happens from multiple angles though and deciding which tools will best help you reach your goals can be tricky.
In this post, I'll share the 9 best on-page SEO tools, plus use cases, pricing information, and unbiased reviews.
Also read: The (Easy) Steps for Scaling Content Creation
What is On-Page SEO?
On-page SEO is the practice of optimizing the visible parts of your website, including:
Technical details like site speed and search engine crawlability
Content elements like title tags, keyword usage, and readability
And strategic decisions like using proper URLs, satisfying search intent, and optimizing your site for UX/UI
In contrast, off-page SEO is all about backlinks and content that might surround or affect your web pages, such as social media and PR. Whatever is visible on your website to the people who use it, however, is on-page SEO — which is what I'll cover today.
Watch my on-page SEO optimization video to learn more. I share a few tips found nowhere else on the web.
Which are the Best On-Page SEO Tools?
Chasing the Google algorithm can be a breathless task, especially since it's placed increased emphasis on content that meets a user's intent effectively. I'll be judging the best on-page SEO tools based on their ability to help you use this algorithm to your own advantage so that you get more traffic and build up your business.
Here they are, including features, use cases, pricing information, and unbiased reviews from G2.
1. GrowthBar: best for content optimization

GrowthBar is the number one rated AI writing and optimization tool on G2. SEOs love GrowthBar because it enables you to create long-form content from scratch using AI or optimize your existing blog posts for on-page best practices.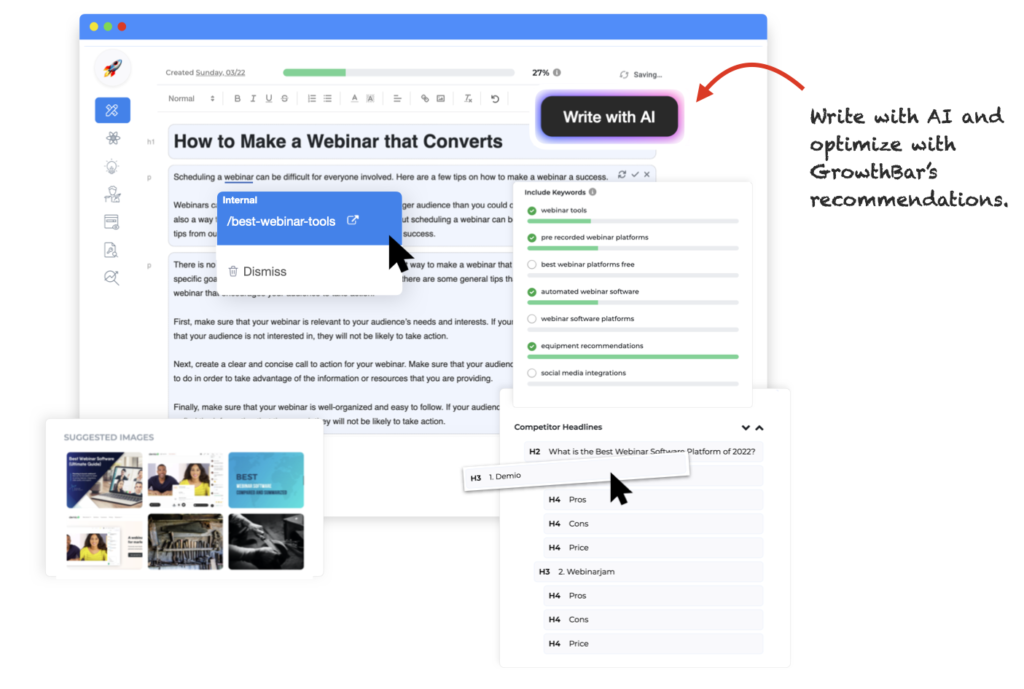 GrowthBar's AI and proprietary algorithms are trained on 175 billion parameters, from books and research texts to websites. The result is online software that can help you find natural-sounding ways to use SEO keywords and produce content that Google and your audience will connect with.
GrowthBar is the best choice for SEOs with content at the forefront of their strategy. If you're producing a lot of content that you need optimized for Google, look no further.
Features:
AI writing, including a 2-minute first draft builder that creates a 1,500+ word blog post with a few clicks of a button
Optimizes blog posts for word count, keyword usage, optimal URLs, readability, and more
Actively suggests internal links and other SEO optimizations right in your posts
Also includes keyword metrics like related keywords, search volume, difficulty score, "people also ask," and a best-in-class rank tracker to track your optimizations
Works in 20+ languages and 20+ countries
G2 Score: 4.9/5
Pricing: A free 5-day trial and then $29 to $129/ month depending on whether you go for the Standard, Pro, or Agency package. GrowthBar also has a 100% money-back guarantee and it's free to try!
Also try: GrowthBar's Free AI Writing Tool
2. Google Search Console: best free on-page SEO tool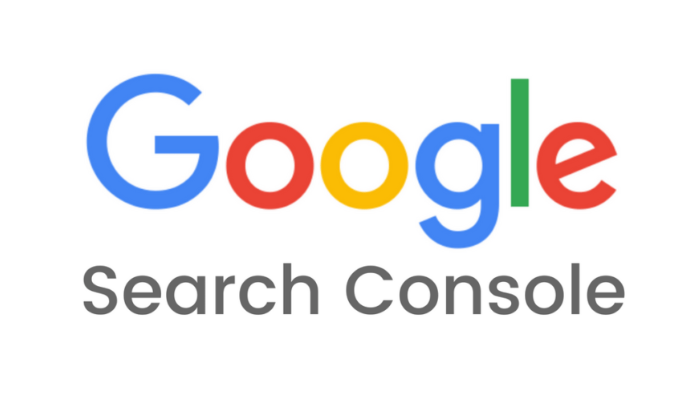 Google Search Console is a free SEO tool from Google that enables you to monitor how your website's doing in the Google SERP (search engine results page). It won't help you choose keywords or put content together, but it can show you how your site is being indexed and represented to users by Google. It can also help you track your keyword rankings over time, investigate page-level technical issues, and identify anomalies in your SEO data. And best of all, it's free!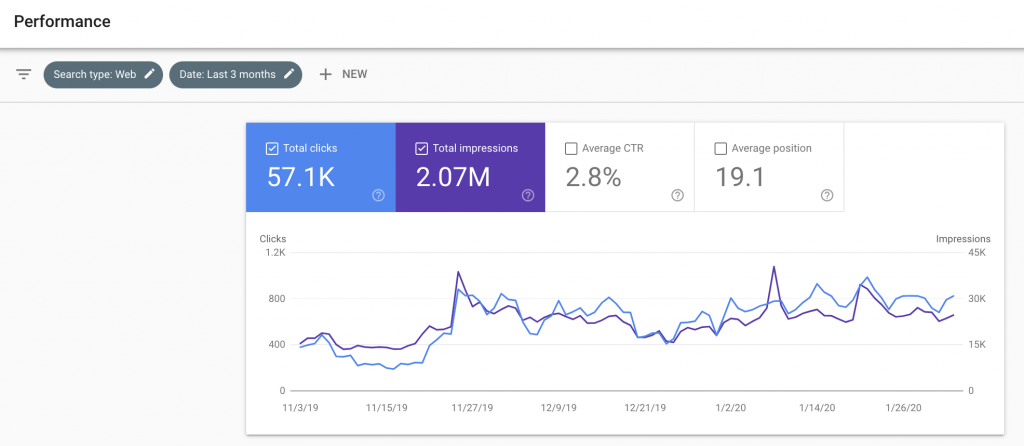 Seeing where and how your website is listed in the eyes of people scrolling online should give some valuable insights into how you can get their attention better and even improve your ranking. Plus, Search Console does a number of other things really well.
I recommend every site owner install Google Search Console. Again, it's helpful for identifying issues and understanding your organic web traffic more deeply. Plus, it's basically the only tool that hooks right into your website data, so it's nearly 100% accurate.
Features:
Clicks, impressions, and keyword rank for all the keywords you rank for — including historical data
Identifies indexing issues, 404 errors, and broken links
You can submit an XML sitemap or force index pages
See page level metrics, so you can understand what search terms pages on your site rank for
You can identify issues as a result of manual penalties or Google algorithm updates
G2 Score: 4.7/5
Pricing: Free
3. Yoast: best for WordPress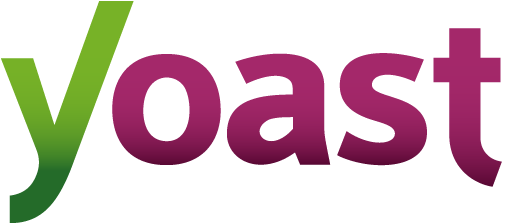 I could not write a list of the best on-page SEO tools without including the software that WordPress ranks as its number one SEO plug-in.
Yoast is used by hundreds of thousands of businesses to optimize on-page SEO. The tool works via a simple plugin directly in the WordPress interface. It enables site owners to optimize their sites via SEO improvements such as meta tags, canonical URLs, 301 redirects, keyword density, and more. They have title and meta description templating as well as the option to see a preview of what your listings will look like on Google search results so that you can see exactly how your site is being represented. I've used Yoast on my WordPress sites for years. For the price, it's one of the best on-page SEO tools out there.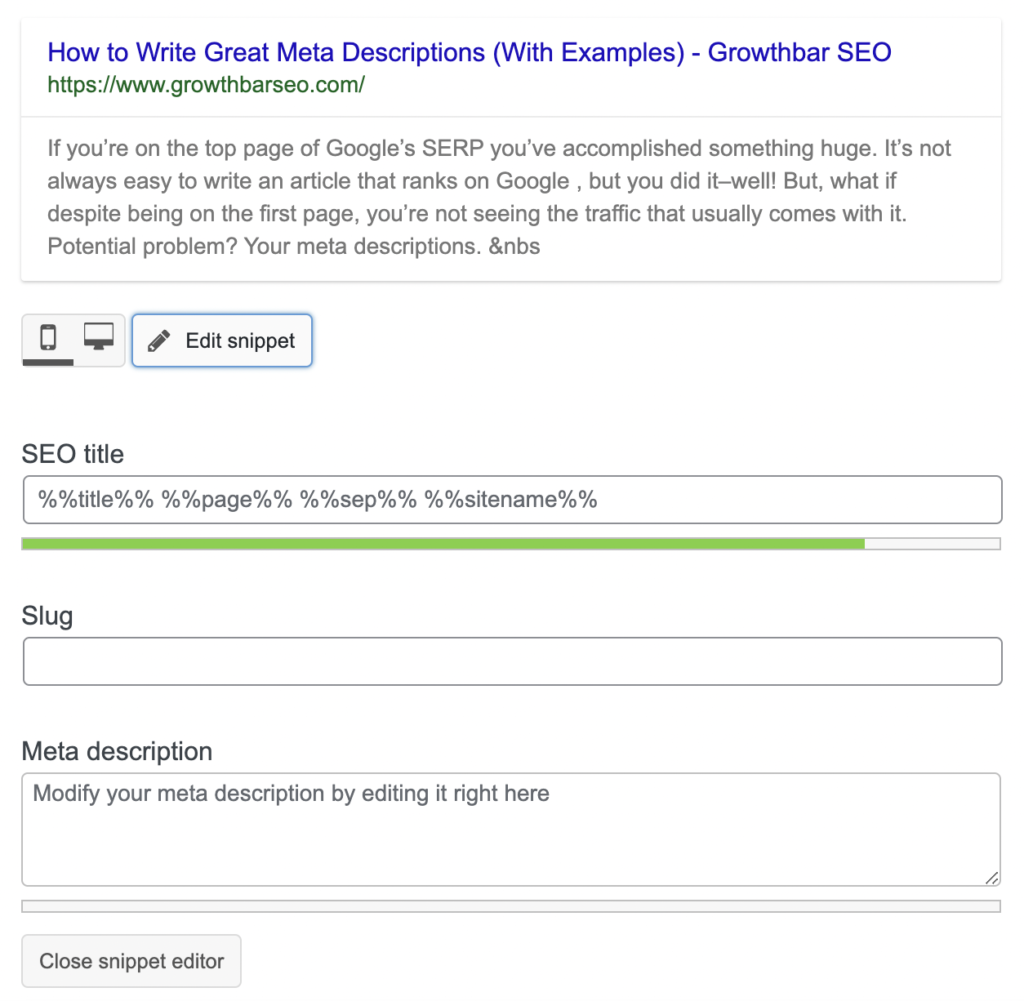 Yoast is an easy download right from the WordPress plugin marketplace. It's powerful becauze it considers the specific context of your site and recommends optimizations along the way.
Features:
Post and page-level optimizations that include keyword density, readability,
Create and optimize your titles and meta descriptions
Internal linking suggestions in your posts and pages
Run 301 redirects
Automate Schema in your WordPress admin panel
Yoast Local SEO helps tailor optimization to the parameters of a local audience
Supports 19 major languages, including Spanish, Portuguese, German, Greek and Arabic
Keyword research courtesy of Semrush
G2 Score: 4.6/5
Pricing: Yoast SEO for Shopify is $19/month with a 14-day free trial. The WordPress Plugin is free for their basic version or $99/year for the Premium Plugin.
Also read: The Ultimate Guide to WordPress SEO [17 Best Practices]
4. Screaming Frog: best technical SEO tool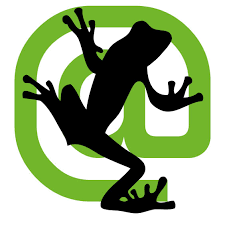 Screaming Frog is not the name of an indie rock band, but rather the leading on-page SEO tool for technical optimizations.
SEO spiders are also referred to as web crawlers, a type of bot that checks the indexing of websites for search engines like Google and in the case of Screaming Frog, finds broken links, audits redirects, and checks the page titles and metadata of your website. It's useful for both on-page and off-page SEO work.
I've spoken a lot about content creation in this post, but this is the tool you need for the nitty gritty side of things. It helps you check SEO issues and makes sure there aren't any duplicates or URL issues blocking your optimization progress. Screaming Frog takes you deeper into your on-page SEO functions by mimicking the Google crawler that's already combing your website to decide how it should be indexed and listed — in this way, it's a bit more of a technical SEO tool. By doing this, the tool allows you greater insight into how your website is being represented and where the gaps are that may be preventing it from doing better.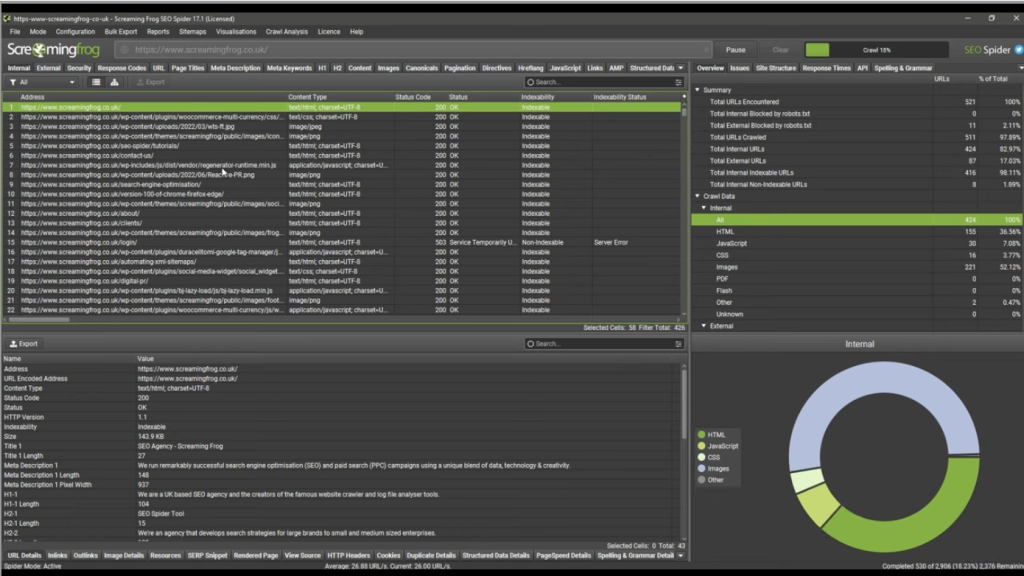 Features:
Find broken links on a website instantly and export errors for fixing or sending to a developer.
Audit redirects to identify chains, loops, and upload URLs for site migration.
Analyze page titles and meta descriptions for length, duplication, and missing data.
Discover duplicate content including exact URLs and low-content pages.
Extract data from web pages using CSS Path, XPath, or regex.
Review URL blocking and directives, canonicals, and rel attributes.
Generate XML Sitemaps and Image XML Sitemaps with advanced configuration.
Integrate with Google Analytics, Search Console, and PageSpeed Insights APIs for user and performance data.
Crawl JavaScript-rich websites using Chromium WRS.
Visualize site architecture using interactive crawl and directory diagrams.
Schedule crawls and automate exports to Google Sheets or via command line.
Compare crawls and staging to track progress of SEO issues and opportunities.
G2 Score: 4.7/5
Pricing: Sold as 1-year licenses, Screaming Frog has a free version and a paid version which is £199/year or roughly $240 (depending on the exchange rate).
Also read: The 12+ Best SEO Audit Tools
5. Clearscope

Like GrowthBar, Clearscope is an AI-Powered SEO tool. It doesn't offer quite the same level of service in terms of feature updates or roadmaps but does have a well-regarded natural language processing — which makes its recommendations really effective. Clearscope uses models from IBM Watson, Google Cloud Natural Language. The edge that they offer is helping not just with identifying popular search terms, but the intent behind them. This falls directly in line with Google's SEO starter guide which encourages sites to prioritize content that engages users. This is much easier to do when you're equipped with knowledge on why they're searching for the things they are.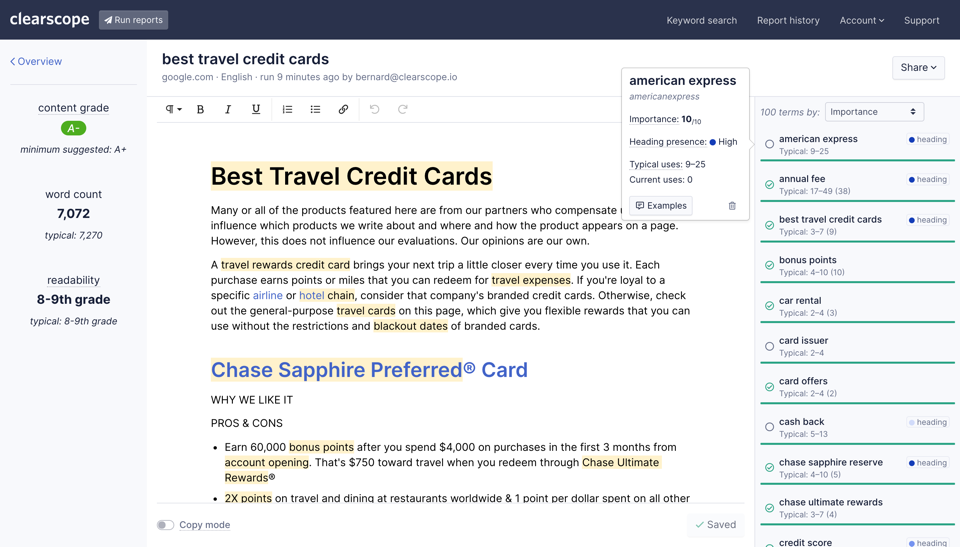 This on-page SEO tool also makes it easy to compare the rankings of your content against that of competitors so that you can see exactly how you're sizing up. One of the most challenging parts of optimizing content is how much noise there can be around what works and what doesn't. The best on-page SEO software, like Clearscope, helps you to cut through that all that so that the content you produce is guaranteed to attract traffic.
Features:
Competitor content analysis
Content length suggestion
Real-time content assessment and overall grade
Content optimization recommendations, including additional keywords to put in your article
Google Docs & WordPress integration
Unlimited sharing and exporting
Free onboarding and training
Keyword planner
G2 Score: 4.9/5
Pricing: The "Essentials" pack starts at $170 per month. Businesses and enterprises that need custom or advanced functionality receive custom pricing based on their exact needs.
6. Surfer SEO

Surfer SEO's platform uses AI to cover a range of SEO-related functions, including helping you find keywords, plan content, analyze SERPs and audit your entire site to see what needs optimizing. This auditing function is hugely useful for anyone who already has an established website but isn't seeing great performance yet and is unsure of where to start with improvements.
Their content editor and its ease are often cited as Surfer SEO's strongest features, easily earning it a spot as one of the best on-page SEO tools available. Not only does it make planning content simple, but the in-built features that compare your content to rivals allow you to stay competitive. Though Surfer SEO doesn't generate full pieces of content, it can produce briefs and headlines in seconds with their Outline Builder. Like Clearscope and Growthbar, NLP (natural language processing) is used to create content that is search friendly and meets your desired topics.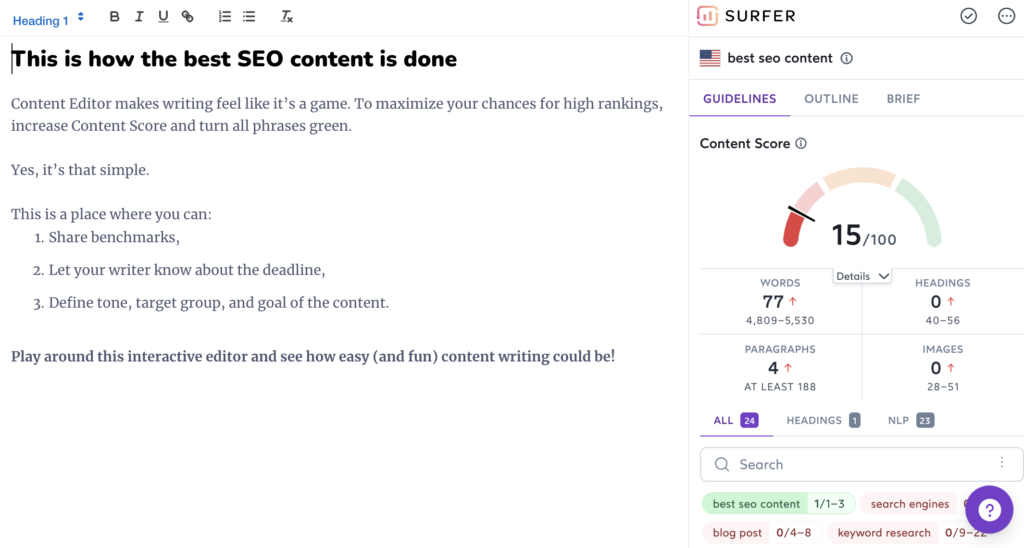 A unique feature that Surfer SEO offers is that it extends beyond the expected Spanish and English functionality and claims to support most known languages. For any businesses working internationally, this is a game-changer.
Features:
Surfer SEO offers a suite of tools to help improve your website's search engine ranking, including optimizing old blog posts, creating landing pages, and more.
With features such as content scoring, multi-keyword analysis, and SEO-driven content briefs, you can easily identify areas for improvement and make changes to your content to better rank for relevant keywords.
Offers integration with Google Docs and WordPress, as well as a Chrome Extension for keyword research and a SERP analyzer.
Recently, Surfer SEO has also added a direct integration with Google Search Console, called Grow Flow, to provide ongoing content optimization opportunities on a weekly basis.
G2 Score: 4.8/5
Pricing: Packages extend from Basic ($59/ month) to Business ($239/month) with the added option for a custom price for larger enterprises. Bonus: they offer a 7-day money-back guarantee for any dissatisfied customers.
7. MarketMuse

This platform is another great option for anyone looking to perform content audits on their site and promises to do it in a fraction of the time it would have taken to perform manually. MarketMuse is AI-driven and describes "cluster creation and analysis" as one of their main offerings. What this translates to is assisting sites with the creation of groups of content that are linked by a common theme. This essentially helps you figure out ways to tackle the same issue from multiple angles so that you can improve your chances of showing up in people's searches.
Think of it as a personalized expansion pack for your content. You start by giving MarketMuse the subject you want to focus on, and their software will branch out from there and show SEO-optimized variants of that topic. It saves users a significant amount of time in brainstorming relevant content, while also assisting with keyword research, competitive content analysis, and general on-page SEO optimization.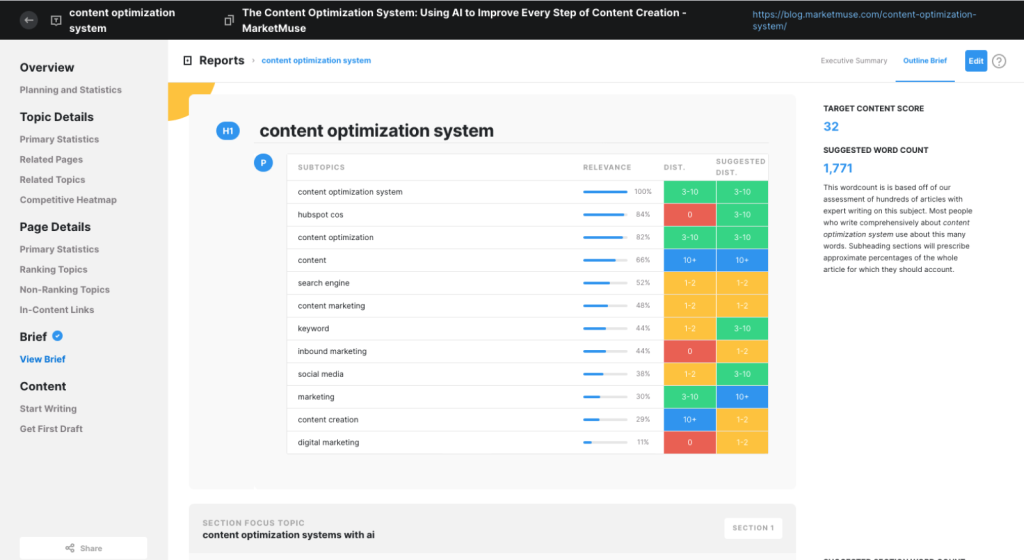 Features:
Content competition analysis
Personalized difficulty scores based on your site and its contents
Fully outlined content briefs about topics to cover word count goals and KPIs
Internal link-building suggestions and external link ideas
Predicts content performance
Inventories and audits current and past content
G2 Score: 4.6/5
Pricing: MarketMuse has a free option with limited functionality and a standard, paid package for $149/ month. Custom pricing is available for premium clients.
8. SEO Powersuite
As the name suggests, this product offers a full suite of SEO tools, but the on-page SEO audit tool is why it made this list. It's a great all-in-one piece of software that mimics many of the functions of Screaming Frog, with its web crawler and URL checker, while combining them with added on-page SEO tools such as keyword research and content editors. SEO Powersuite has a few other great tools too, including a Rank Tracker, WebSite Auditor, and Link Assistant.

Powersuite doesn't offer AI or content planning capabilities, but it does hit many of the basics of on-page SEO in a way that is easy to use and digest. What makes this one of the best on-page SEO tools is that it packs a punch, even without flashy tech. This software supports multiple languages and has almost 20 years in the business to back up its capabilities.
Features:
SEO spider crawling
Full website audit
Core Web Vitals audit and report
Robots.txt and sitemap generator
Visual sitemap generator, in-app content optimization
TF-IDF analysis tool
Fully customizable automated SEO reports on website analysis
G2 Score: 4.5/5
Pricing: Options start with a free license and then extend to a Professional License for $299/year and an Enterprise License for $499/year. A downside that many reviewers have noted is that algorithm updates are not included in this pricing and can be very expensive.
9. Google Lighthouse Audit

We could not write a list of the best on-page SEO tools without including this open-source basic. This is Google's free web page auditing tool and beyond SEO, can also report on overall performance, accessibility, and various other factors.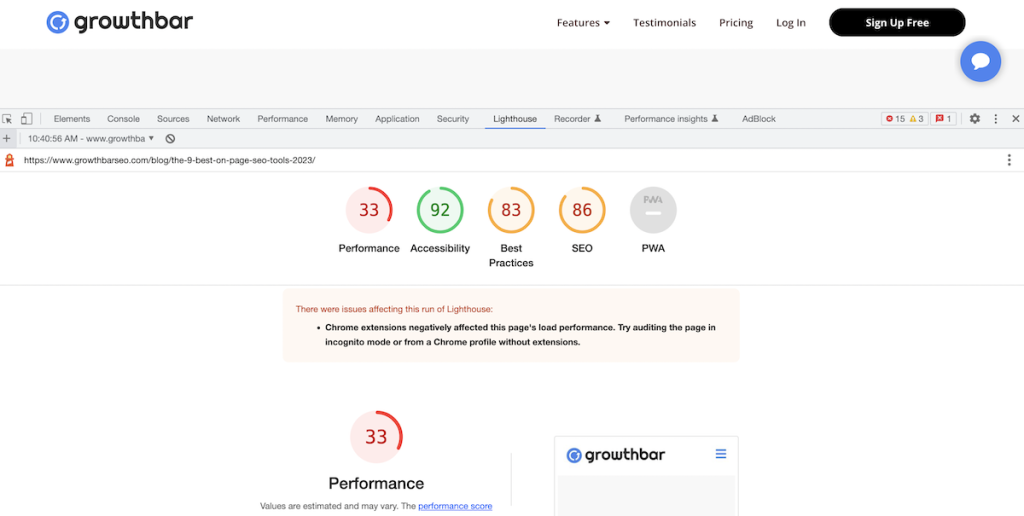 It's available through four different workflow systems so that you can choose what best suits you, but the option to have it as a Chrome extension makes things particularly easy. You simply input the URL you want to be checked and Google will run multiple audits against it before producing a reference document on areas that need fixing and even tips on how to do it. There's also the choice of whether you simply want an accessibility audit or the full report, which for SEO will be necessary.
There are some hiccups though with this software and for larger audits, running it programmatically is recommended over simply using the extension. The benefit is that it's free and can offer a lot to anyone just getting started on their SEO journey.
Features:
Scores your site for performance, accessibility, best practices, and SEO
Performance metrics include speed information like first contentful paint and speed index
Accessibility audit basically tells you if your page is readable with some information about color contrasts and font size
Best practices audit tells you primarily about browser errors
Finally the SEO audit gives you all the information about SEO that you might expect, from meta descriptions to page titles to linking attributes
G2 Score: NA
Pricing: Free
Wrapping Up: The Best On-Page SEO Tools
Ultimately, your goals and KPIs are what will determine what the best on-page SEO tools are for your website. Many of the ones we've mentioned work well in conjunction with each other. For example, if you have an established site that you're aiming to improve, you can start with Google Search Console and check how your site's appearing on SERP and then use a crawler for an overall audit with Google's free Lighthouse audit or a product like Screaming Frog.
For your on-page content writing needs, we have you covered at GrowthBar with an AI writing tool that extends to keyword and competitor research, can generate topics for your blog, and even rewrite paragraphs of existing pieces to make them more SEO-friendly. Creating content that Google loves is what drives traffic and builds businesses and lucky for you, that's exactly what we do best here at GrowthBar.
Beware, some of these tools are free, and others like Marketmuse and Clearscope come with a hefty price tag. The rest are somewhere in between.
See a GrowthBar demo here and sign up for FREE. See for yourself why it's one of the best on-page SEO tools on the planet.
And if you want to learn more about on-page SEO, make sure to read our Ultimate Guide to On-Page SEO.