Latest posts by Mark Spera
(see all)
A niche site can become a powerful tool to help you gain exposure, make a profit, and enjoy the life of your dreams…if you do everything right.
I've started multiple niche sites. I sold one to a public health company and the other makes 6 figures per month in passive income.
In this guide, we'll show you tried and tested steps you can follow to create a successful niche site, monetize it, and live the American (worldwide?) dream.
Let's get started. If you prefer a video, check out this one where I detail the sale of one of my blogs and the steps it took to get there:
What is a Niche Site?
There are over 600 million blogs on the internet.
And a niche site is basically a blog.
It's a website with deep subject matter expertise. The Internet is littered with niche bloggers. My Twitter feed is swamped with these "experts":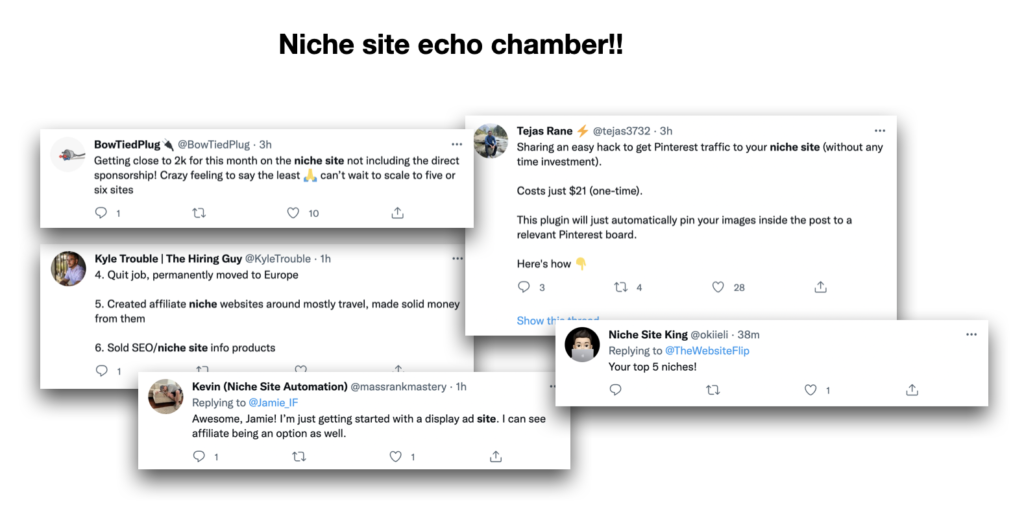 Especially in a post-COVID world, there are a million and one entrepreneurs stepping into the niche site game. That's because it's fun and pretty easy to do — and if done right can be a passive income machine.
Plus, people love writing about what they love:
For example, if you love baking and making cakes for your family and friends and want to share your knowledge with others, you can start a blog about the topic.
Maybe you know a lot about customer service and success and want to start a blog about call center software.
Or perhaps you're an athlete and know all the best equipment. You can review all the incredible products you use and maybe even make extra income through affiliate links.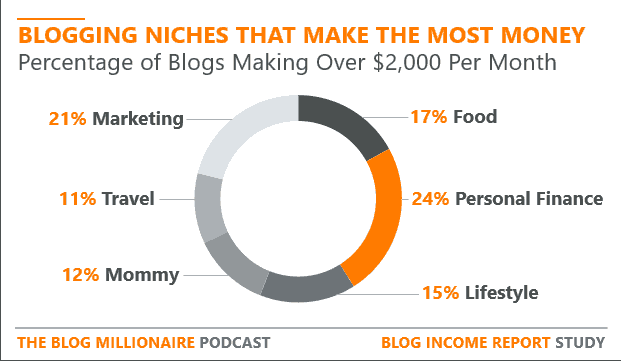 How Does a Niche Site Work?
A niche site works by providing information to readers or customers in your niche. If you're able to garner enough organic (SEO) traffic, you can begin making money.
The typical ways of gaining revenue with a niche site are:
Selling display ad space
Selling other people's products (affiliate commissions)
Selling an online course
Selling your expertise (agency or freelance work)
Selling live training
Or almost anything else you can think of
But first, you need to get traffic… Which is easier said than done.
To get traffic, you need to:
Find a viable search vertical — preferably one with exploding popularity (more on this later).
You'll need to write content regularly for your audience.
Then you have to build credible links to your site.
In all honesty, it's not a difficult formula. I truly believe everyone is smart enough to do it. But it takes careful planning and a lot of hard work.
Read: How Many Blog Posts Should I Write Per Week for SEO?
How Much Can You Make With a Niche Site?
The amount depends on how many visitors per month and how much your readers buy.
Organic traffic is super valuable. Some affiliate sites earn more than $1 million a year. Sites like that include: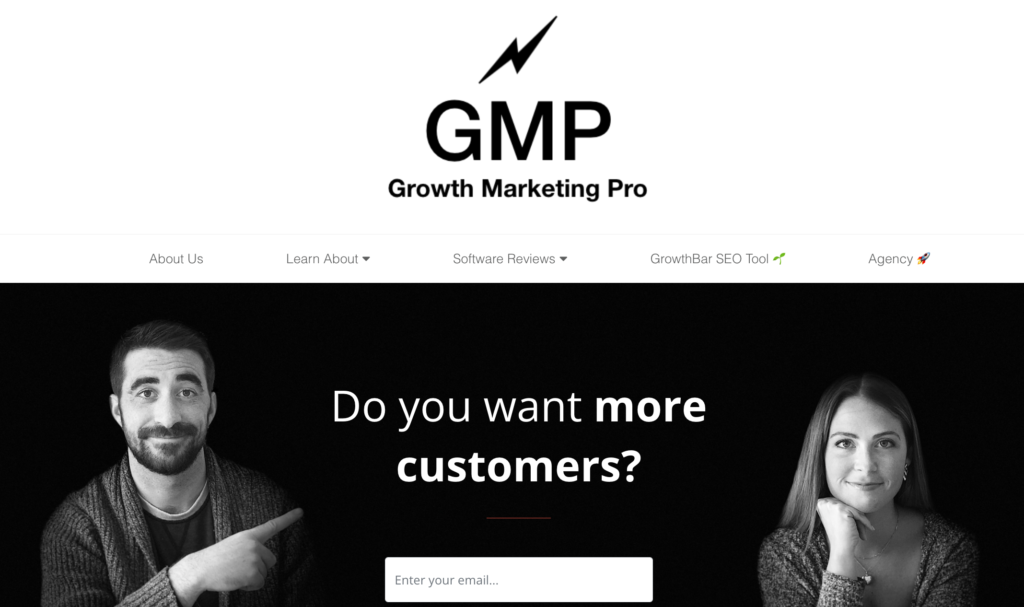 And countless blogs make 5 and 6-figure revenue — which is pretty incredible too.
Success usually comes down to three things:
Whether you choose the right niche
Whether you stick with it or not
And your monetization method
The simplest way is to choose a profitable or in-demand niche for your niche site, and you're sure to make a profit in no time. So let's get started!
Seven Steps to Create a Successful Niche Site
Making an extra $2,000/month or more from a niche site can change your life. I remember when my site, Growth Marketing Pro began covering my monthly rent. It was one of the best feelings ever.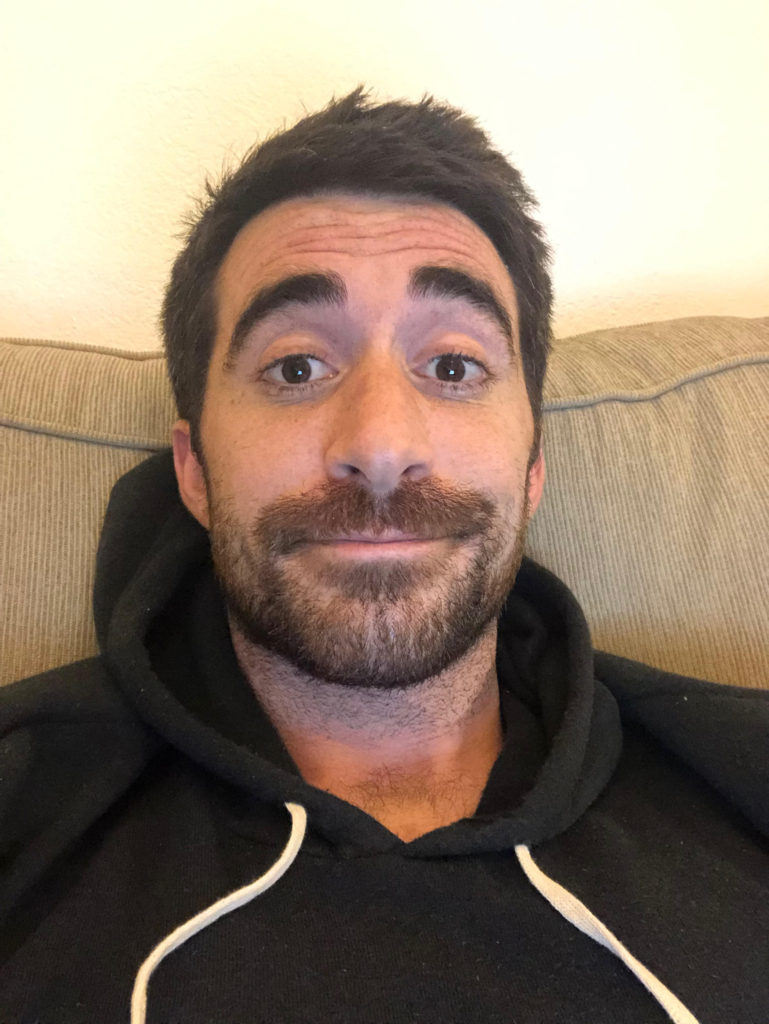 And once we hit $20,000/month, I quit my 9-5.
Here are the seven steps to creating a niche site as a side hustle that will help you quit your day job.
1. Pick the Right Niche
The first step to creating a niche site is choosing your niche. You don't need to be an expert in the niche to create a successful site, but it becomes easier if you have prior knowledge or experience… or at least passion for the niche.
I once started a pet blog. While I love my cat, Kitty, writing about pet food and pet care wasn't my idea of a good time. I gave up on that one (side note: it still makes a few hundred dollars per month).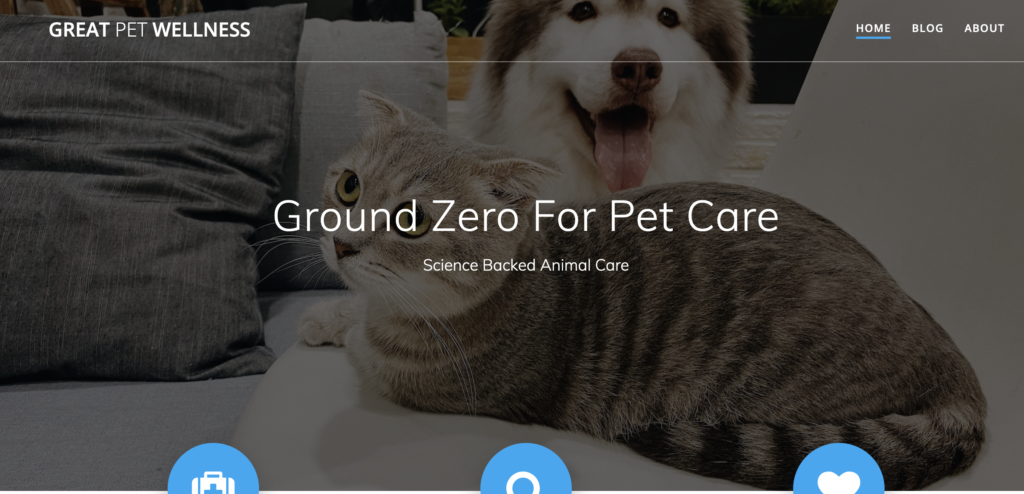 Experience will make it easier to produce high-quality content that your audience will find helpful and engaging.
When looking for the right niche, you want to consider a few things:
Market demand: Your niche needs strong demand, an active community, a steady stream of high-quality content, and many long-tail keywords. It's simple: people are looking for what they want to solve their problems. Therefore, you don't want to spend time creating quality content about topics no one cares to read about.
Your interest: Your niche site should ideally be something you are interested in because you'll spend more time working on it. If you're not interested in the topic, it will be challenging to stick with it long-term.
Your knowledge: It would be easier to create content about topics you're already familiar with. Writing about health topics will be far more manageable if you are a health worker. Writing about marketing will be easy if you've been working at a marketing agency.
Your research: With the ability to research well, you can create content on almost any topic. You can quickly research and review topics and share your opinions about those topics with your audience.
In the beginning, your niche site should focus on just one topic so that you can become the go-to resource for that particular topic. Then, once you get some traction, you can decide to add more topics.
However, the topics must relate to each other. Following the content cluster model is important because Google cares about topical authority. That means specific authors and sites can be "experts" in one or two areas, but probably not more than that.
For example, it would make sense to create a niche site about content marketing, SEO, and digital marketing… but you probably shouldn't include articles about coffee or pets.
Once you've chosen your niche, it's time to move on to step two.
Also read: The 12+ Best Money-Making Niche Site Ideas
2. Research the Right Keywords
The second step is to research your niche inside and out so you know what keywords people are searching for related to your topic and the competition.
One of the best ways to do keyword research is using Google's Keyword Planner Tool, which is free.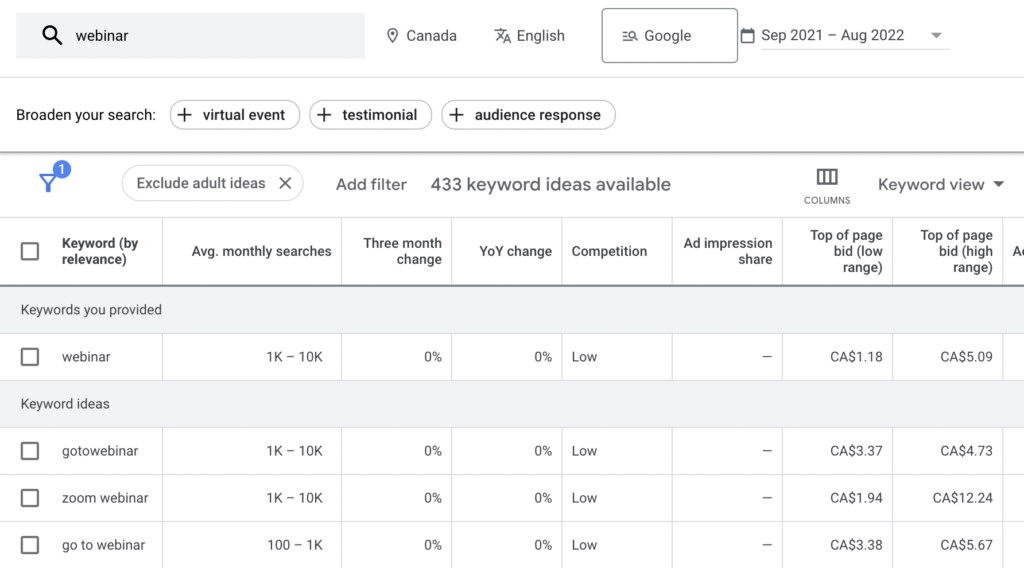 This tool will show how many people are searching for specific keywords related to your topic and the competition for those keywords. Of course, you want to choose keywords with a high number of searches with low competition (more on this later).
Side note: Believe it or not, from experience I know that Google's Keyword Planner isn't all that accurate. For instance, you can see above that "zoom webinar" is a "low competition" keyword. That's simply not true. The good news is that there are other ways to find keywords.
Researching the right keywords is vital because it allows you to confirm the demand for the type of content you want to create.
Here are some questions to ask as part of your research:
Who is my target audience?
What type of content do they consume"?
Determinants of the Right Keywords
You must consider several factors when researching the right keywords for your niche site, especially if you're a beginner. Experts also use these factors to gauge their keyword strategy. These factors include the following:
High-volume Keywords: High-volume keywords have a high number of monthly searches and often a higher keyword difficulty score, making them hard to target in your niche site. Some examples of high-volume keywords include "content marketing," "SEO," and "digital marketing." This means you have a lot of searchers looking for content on this topic…but it can also mean you have a lot of sites competing for this traffic.
Low-volume Keywords: Low-volume keywords are generally less popular and have fewer searches. They're usually longer tail keywords or obscure keywords and tend to be less competitive. An example might be "SEO for NFT sites." It's generally easier to rank for these keywords with less time and effort spent on SEO. But low search volume doesn't always mean less competition.
Low Competition Keywords: Low-competition keywords have high search volume but low competition. These keywords can be easier to rank for initially, and once you do, they will bring in more traffic and conversions than highly competitive keywords. Some examples of low-competition keywords include "content marketing tips," "social media marketing strategies," and "affiliate marketing techniques."
High-Competition Keywords: High-competition keywords are highly sought after by many other websites. This means that there is a lot of content created on the keyword, so it will be harder to rank on the first page of search results. Some examples of high-competition keywords include "social media marketing," "Facebook marketing," and "eCommerce." Think about it this way: what are the chances you'll win a foot race against 10 people vs 100 people? How hard would it be if there are 1,000 people?
Keyword Modifiers: These words or phrases can be added before or after a given keyword to modify its meaning. Some examples of popular keyword modifiers include "best," "guide," and "tips." Using these keywords and modifiers in your content, you can create more targeted and relevant content that directly speaks to your target audience. In addition, these modifiers will help you better connect with your audience and optimize your content for search engines, leading to higher conversions and more traffic over time.
Short-tail Keywords: Short-tail keywords are keyphrases with 1-3 words that cover a broad topic. These keywords will be worth targeting if there is high search volume and lower competition. Because they're so broad, you might not attract your ideal audience. But using these types of keywords strategically in your content and SEO strategies can attract more visitors and conversions to your site, helping you grow your online business and reach new heights.
Long-tail Keywords: Long-tail keywords are longer phrases that typically get less search traffic than shorter keyword variations. However, they tend to be more specific and targeted, making it easier to rank for and gain higher-quality leads. Examples of long-tail keywords include "how to write effective blog posts," "how to write meta descriptions," and "tips for increasing website traffic."
Search Intent: You also want to ensure that people searching for your keyword are looking to buy something or take action. This term is known as "commercial intent," and it's one of the essential factors in choosing a keyword, especially if you want to write content on products or software. You can usually tell the search intent by looking at the SERP (search engine results page) for the keyword you're interested in writing. For example, if you see a lot of ads, people are likely searching with commercial intent.
How Can You Choose The Right Keywords For Your Niche Site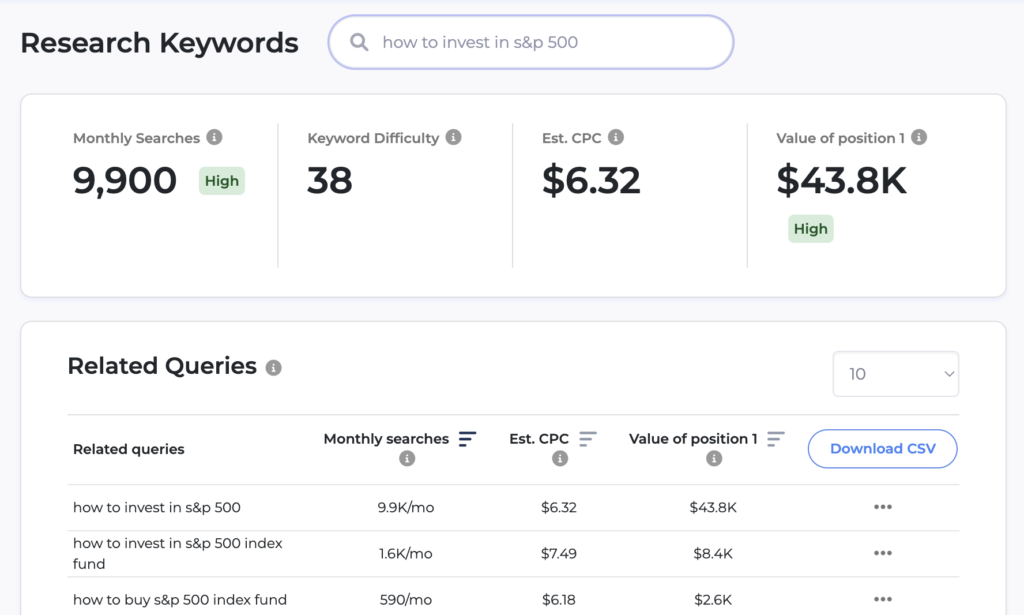 Now that you know the determinants of the right keyword, how do you choose the right one for your niche site?
This section will briefly outline choosing the right keywords based on the determinants. So here are some tips to help you on your journey:
High Volume+Low Competition: With the help of Ahrefs or GrowthBar, you can find keywords worth writing for your niche site. Target keywords that have at least 500 searches per month and a 0-20 keyword difficulty. Some keywords can have a very high search volume with almost no competition. Prioritize these for your niche site.
Low Volume+Low Competition: This type of keyword will be your best bet if you plan on quitting your 9-5 job with a niche site. If a keyword continually gets 50-450 searches per month, don't hesitate to include them in your SEO strategy.
Short-tail+Low Competition: Some keywords are short-tailed but worth writing about for your niche site only if those competitions are low. For example, if the competitions are 0-20, celebrate and create your content around these keywords. Short-tail is also called head-terms or seed keywords.
Long-tail+Low Competition: Not every long-tail keyword is worth targeting. If the competition is 50-100 and it has no search volume, it's not going to be the best keyword to go after. Only write content on long-tail keywords if the competition is between 0-20 and gets at least some search volume. An exception to this rule is if a long-tail keyword is perfectly in your niche and you want to create some thought leadership (not SEO content) on the topic.
Related Queries: Target related queries if the keywords are not too competitive in your niche. You can use a software tool like GrowthBar to find related searches to the keywords you're considering.
Add Modifiers: Add keyword modifiers like best, tips, numbers, top, ultimate, guide, and others to your keywords.
High Competition: You don't always have to avoid high-competition keywords. Once your site's domain authority increases, you can start working on those higher-competition keywords.
Low Competition: These keywords are your best bet if you want high traffic for your niche site. Almost all low-competition keywords are worth targeting in your niche, particularly if they have high search traffic.
Need some tools for keyword research? Try:
And don't be afraid to use your own brain! If you're an expert in a field and you "feel" like people are searching for keyphrases — they probably are. And perhaps those keyphrases are pretty uncompetitive.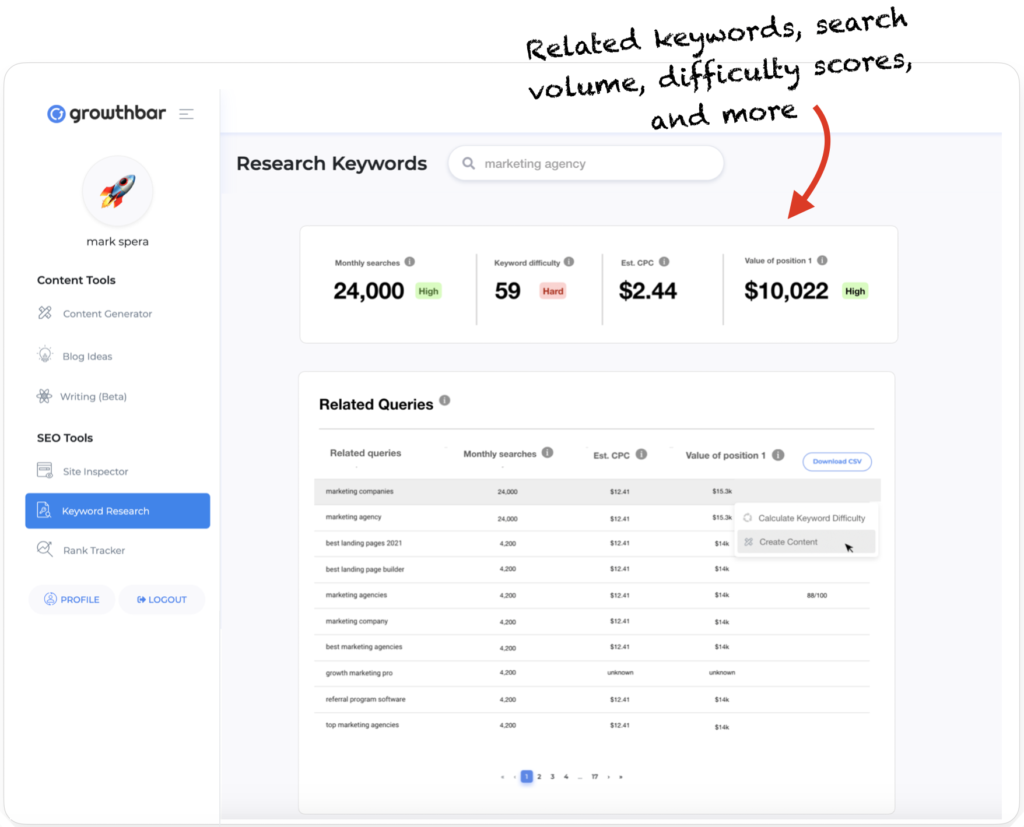 3. Design Your Site
Once you've researched and decided on your niche, the next step is designing your site. At this point, you should know the type of content you want to create and where it will live on your site. This means choosing a layout that is easy for users to navigate and understand, with clearly labeled sections for each type of content.
Creating a great user experience is very important for SEO. It ensures that people repeatedly return to your site. Designing a beautiful UX includes choosing the right platform, adding all the content and plugins you need to power your site, and ensuring everything is secure.
Your platform is critical when creating a niche site. At GrowthBar, we love WordPress. And if you're starting an eCommerce niche site, consider Shopify.
There are many tutorials on how to make a website, so we'll not go into much; however, here are some helpful tips you can follow to design your niche site:
1. Choose WordPress.org as Your Platform
Select a platform that can accommodate all the features and plugins you need to power your site. WordPress.org is the most common platform for niche sites since it's secure, flexible, and scalable. Plus, it's free!
Read: SEO Best Practices for your WordPress Site.

2. Register Domain Name and Hosting
Your domain name is also your online address, and choosing one that is easy to remember and reflects your niche is essential. You can register your domain name using Namecheap, Google Domains, or other sites.
Be sure to secure your site with an SSL certificate. SSL certificates will help protect your site from hackers and keep visitors safe.
A good rule for your niche site is to separate your domain registration from your hosting. You can use Bluehost if you're tight on budget.
3. Choose a Responsive Theme
The theme you choose for your site will determine its overall look and feel. There are thousands of themes available for WordPress.org alone, so you're sure to find one that fits your niche perfectly.
When choosing a theme, consider things like responsive design (so your site looks good on mobile devices), ease of customization, and whether or not it includes the features you need (such as social media integration or eCommerce support if you're writing about that).
4. You Need a Logo
You need a simple logo for your brand to stand out from the crowd. If you've got a unique color scheme, use it in your logo. If not, you can use bright colors that pop. And yes, you can always change your logo, but consistency is important, so take some time to think about this.
5. And a Favicon
You can also create a favicon for your site. A favicon is a tiny icon next to the URL in most browsers. It's another way to brand your site, so give it the same treatment as your logo.
6. Plugins Will Add Functionality to Your Site
Adding the right plugins can make all the difference in terms of functionality and usability for your visitors. Some essential plugins include social media sharing buttons, contact forms, SEO optimization tools, and security features.
For example, you can add Yoast or RankMath, Lazy Load, ShortPixel, and the GrowthBar SEO plugin (which allows you to optimize your blog posts directly in the WordPress dashboard).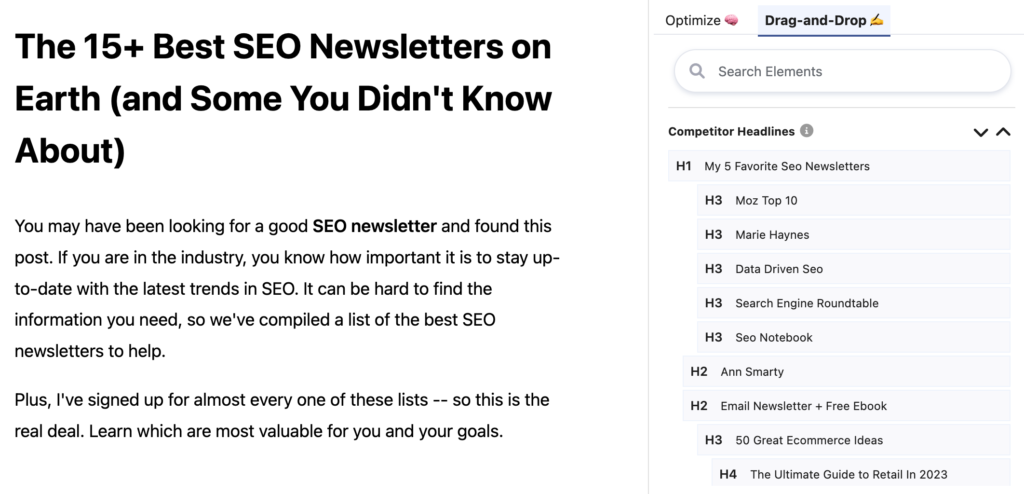 7. Page Builders Can Help
Page builders are drag-and-drop tools that allow you to design your website without touching a line of code. Instead, you simply choose a template, add content, and customize the layout. Page builders are a great way to quickly get your site up and running.
Examples include Visual Composer, Divi, and Beaver Builder, with the easiest and most beginner-friendly being Elementor.
8. User Experience is Crucial
Your niche site should be easy to navigate, with clear calls to action and content that resonates with your target audience.
Pay close attention to things like typography, color scheme, and layout as you build your site, and keep tweaking and testing to find what works best for your users.
Add navigation and footer menus.
Your homepage should include an engaging call-to-action or opt-in form, so interested visitors can easily subscribe to receive updates or download relevant resources.
You may also want to include social media buttons so visitors can share your content across their favorite social networks to reach new audiences.
Create category pages and show them in your topbar
Create "About" and "Contact" pages for your audience to easily connect with you.
By designing an effective site that is easy to navigate and serves its purpose well, you'll keep searchers on your page — and make Google happy!
9. Prioritize Site Speed
Site speed is a crucial ranking factor in search engine algorithms, but it is also crucial for the user experience. Therefore, it is imperative to keep your site fast to load.
Search engines and visitors will not find your site friendly if it takes too much time to load.
Fortunately, you can speed up your site in many ways, such as by reducing the size of images on your site, compressing your images, and enabling some plugins like Lazy load.
With the right design and optimization strategies, you can create a powerful niche site that earns a lot of money!
Also read: How to Start a WordPress Blog
4. Write Quality Content
The fourth step is creating content that is helpful and engaging. Your content should help your audience solve problems and be well-researched, well-written, and informative. If you can provide value to your audience, they'll keep coming back for more.
Quality includes producing blog posts or articles regularly (ideally at least once per week) and other forms of content like infographics, images, podcasts, or videos.
The quality of your content will set you apart from other sites in your industry, so make sure it's original, relevant, and accurate. And remember that the type of content you create for your niche site must provide value for your readers and search engines like Google.
Here are some tips to regularly producing great content:
1. Develop a Long-term Content Strategy
After designing your site, the next step is to develop a content calendar and strategy for reaching and engaging with your target audience. This includes identifying the topics and formats that resonate best with them based on their interests and needs.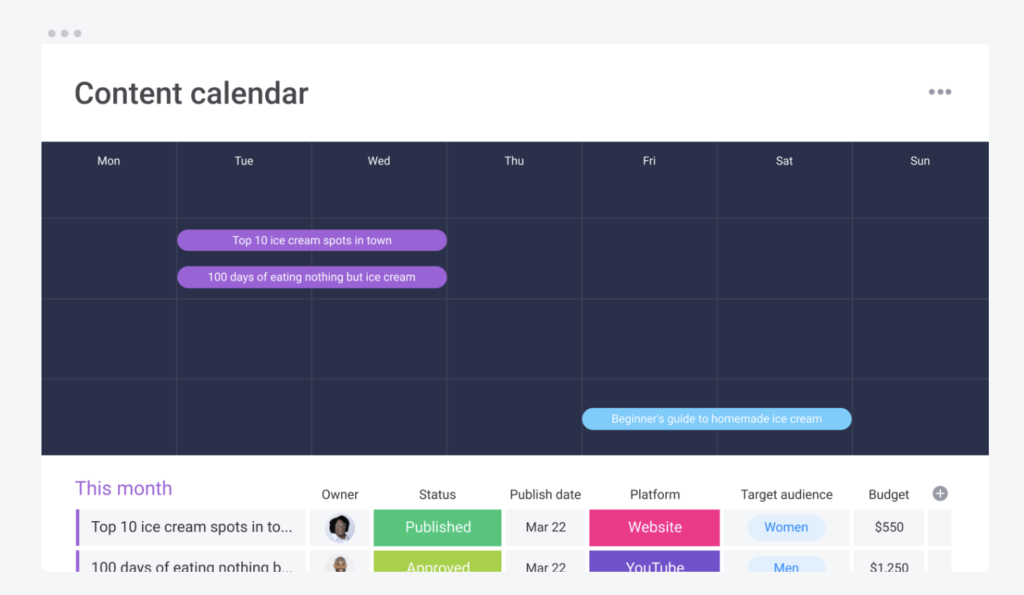 It may take some trial and error before you find what works best but keep at it. Using your keyword research and sticking within your niche helps a lot here.
2. Write Great Headlines
Your posts' headlines are the first thing readers will see, so make sure they are attention-grabbing — but also relevant to the rest of your article.
Headlines make it easy for readers to skim the article to know exactly what content is included and if it's relevant to what they're searching for.
Great headlines should:
Include numbers when possible (such as when starting lists, or numbering lists)
Add modifiers like best, top, easy, etc.
Make sure they follow the right layout. For example, this post's headings look like: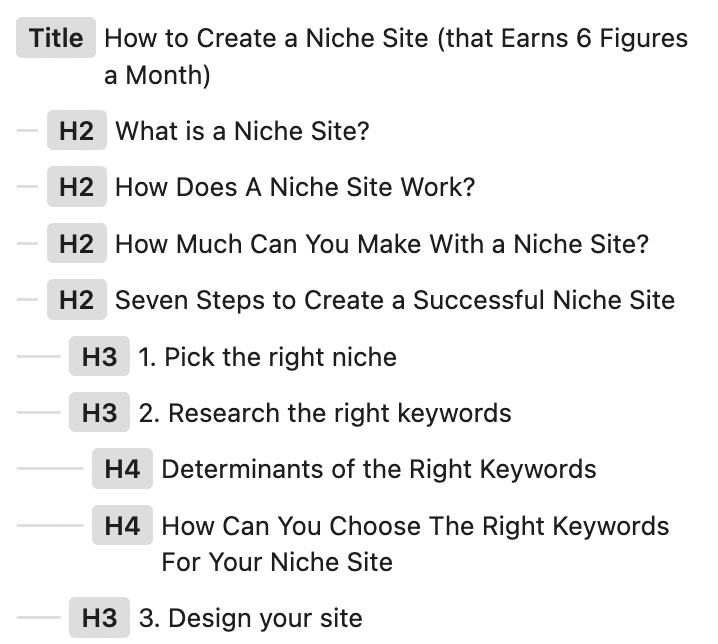 3. Write Enticing Introductions
The introduction of your article is vital. It sets the tone and hooks for the rest of your content. Introductions should be engaging and captivating, drawing readers in and making them want to keep reading.
Avoid using too much jargon or overly complex language, and ensure that you clearly state the main point of your article right off the bat. The reader should know what they're getting as soon as they start reading the post.
Take a look at this example introduction on a post about SEO pillar pages: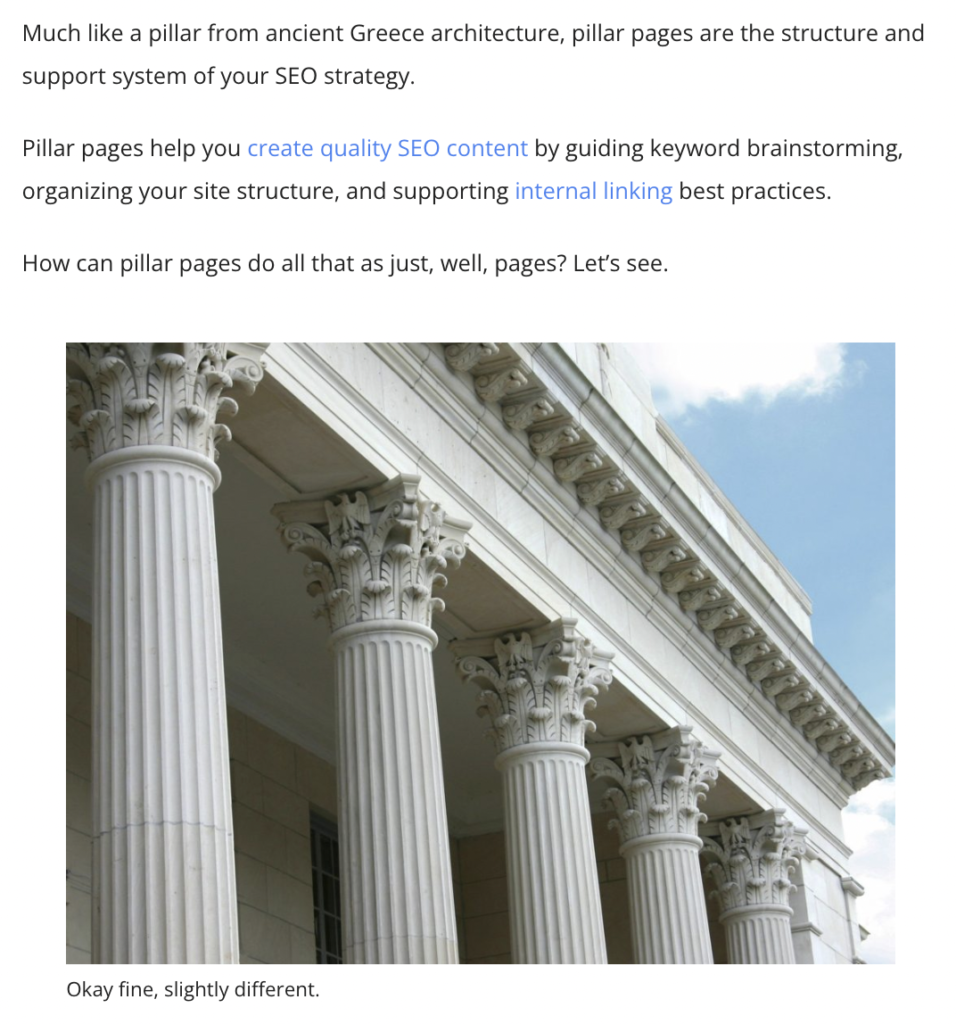 4. Use Keyword-rich Phrases
Use relevant keywords throughout your content to help search engines like Google understand what your article is solving. These phrases will also help readers find your content when searching for specific topics.
To make this easy, you can install a WordPress plugin like GrowthBar SEO which suggests the right keywords to include in your content directly within the default WordPress editor.
5. Structure Your Articles
Breaking your articles down into smaller sections with headings and subheadings helps to make them more readable and easier to scan. It also helps Google identify the main points of your article for ranking purposes. You can use GrowthBar to create content that offers headlines suggestion by using the top-ranking posts.
6. Add Images and Videos
Adding images or videos to your articles makes them more visually appealing and can help break up large blocks of text. Make sure to use images only of high quality and relevant to the topic at hand.
You can use Canva to design images or check out free image sites like Unsplash.
7. Proofread Your Content
It's vital to proofread your content before publishing it to avoid spelling or grammatical errors. Mistakes happen, but proofreading keeps your article looking polished and professional.
You can use Grammarly and other free tools like Hemingway Editor to make this process easier.
8. Write Meta Descriptions
It's important to write meta descriptions for each page and post on your site. Meta descriptions are the short snippets of text that appear under each page in search results. They can help to draw readers in and encourage them to click through to your site.
Focus on writing concise, descriptive descriptions using relevant keywords that accurately summarize your content. With good meta descriptions in place, you can help improve the performance of your niche site and gain more traffic from people searching online.
Plugins can be a huge help here. We use the Yoast plugin to update our meta description before publishing. So this: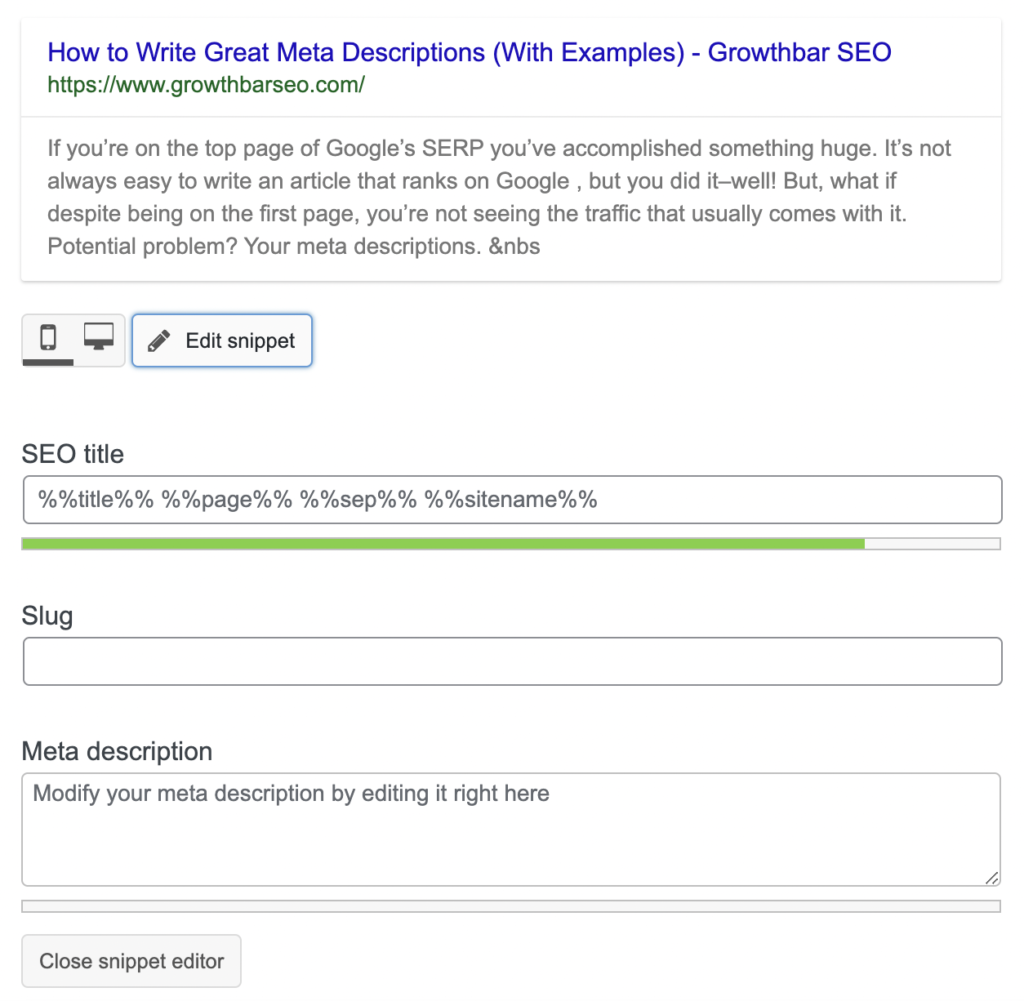 Becomes this:

9. Add Permalinks and SEO Titles
Another point in writing quality content is ensuring each article has a unique permalink (the URL address) and an SEO-friendly title (which shows in SERPs).
Your permalink should be short, descriptive, and relevant to the topic of your article. For example, if you are writing about "5 Tips for Losing Weight," your permalink could be something like "tips-for-losing-weight." or "losing weight."
An important rule is to avoid including numbers in your permalinks. Because once you change the numbers in the permalinks, all your links will break. Or, you'll have to keep a permalink of "5-tips-for-losing weight" for a post with 25 tips!
Your SEO title, meanwhile, must reflect your article's central theme while being eye-catching and keyword-rich. A good SEO title will also help your article appear in search results and encourage people to click through and read it.
Would you rather read a piece titled "Copywriting for SEO," or "The Ultimate Guide to SEO Copywriting: The Only 8 Tips That Matter?"
Use these tips to help make some great titles:
10. Use Content Generators
Consider using content generators to save time while writing quality, valuable content. These tools can help you create articles or blog posts automatically based on keywords you're trying to rank for. AI writing software can be a great way to quickly populate your site with fresh content without writing it all yourself.
Tools like Jasper, Marketmuse, Copy.ai, and others can help you produce content for your site. However, content generators like the GrowthBar SEO tool will help you write content faster and offer you additional robust features to power your SEO efforts — at an affordable price.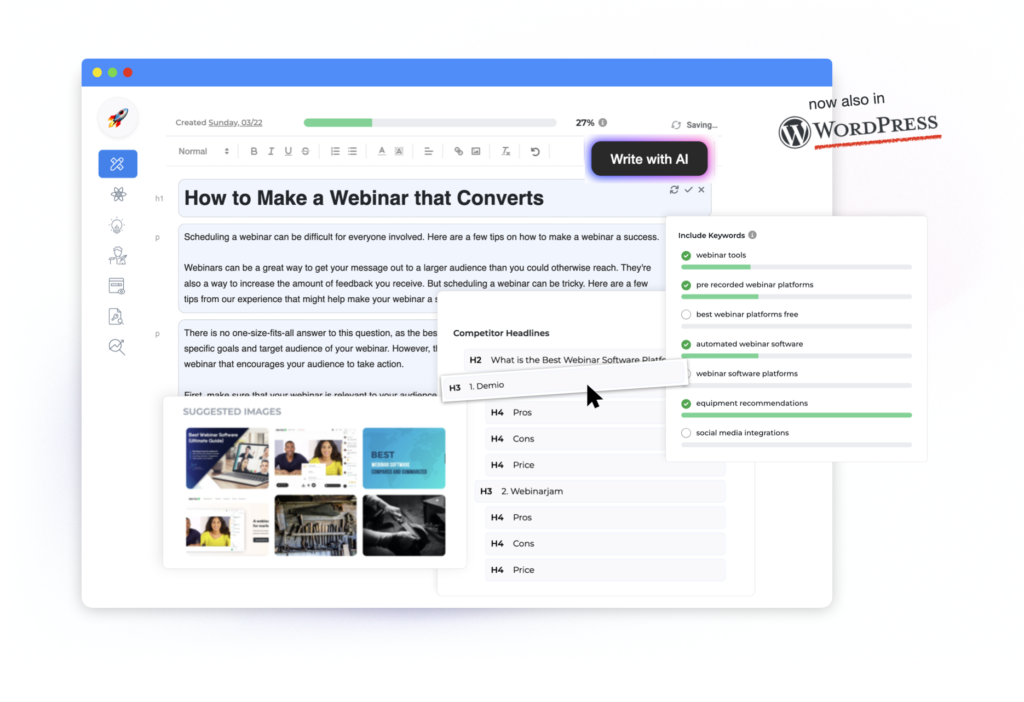 11. Outsource Content Creation
If you want to take your content creation efforts to the next level, consider outsourcing some of this work to professionals. Many great content creators are out there who can help you develop high-quality, engaging content for your niche site regularly at affordable prices.
When it comes to the frequency of posting, there is no one-size-fits-all rule of thumb. The frequency of blogging varies depending on your website, industry, and target audience. However, a good rule of thumb is to blog at least once a week to keep your website fresh and engage your audience—or update an old post once a week.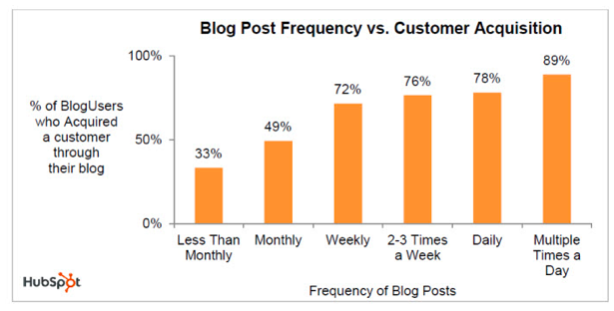 But, when you're starting out, you may want to do more than this. John Mueller at Google has said, "it's hard to call a site authoritative with 30 articles" (source). Also, some verticals require more content (think news sites).
So whether it's writing blog posts, creating videos, or designing infographics and other visual content, content creation, and article writing services can help free you to get up to speed. And they free up some time so you can focus on other aspects of running your site.
5. Capture Traffic
The fifth step is to get traffic to your site. Keep in mind that more traffic isn't always better. You want quality traffic: readers that are more likely to make purchasing decisions and become regular readers.
Your incredible content, great user experience, and niche interest will all help here. But keeping traffic growing requires off-page optimization like following external linking best practices.
List Of Best Link-Building Strategies For Your Niche Site
Links are necessary to grow any website or online business. They're a huge factor in search engine rankings and are crucial for user trust and engagement.
Links are one of the top two criteria Google considers for page ranking, and the majority of marketers believe this trend will continue.
External links improve rankings because they provide a way for websites to build up their link authority or domain authority. Domain authority (DA) is the ranking strength of an entire website or domain. The higher the domain authority your site has, the easier it is to rank highly on Google's search engine result pages.
The following link-building techniques are some ways to get more links to your niche site.
Guest blogging: An excellent way to expand your site is to guest blog on other websites within your niche. You can reach a different audience and build relationships with other bloggers in your field while linking back to your own site. However, guest blogging is primarily to build relationships — not just to get links. Many sites have rules on how often you can link back to your own content within a piece, so make sure to confirm before submission.
HARO: HARO stands for "Help A Reporter Out." HARO is a site journalists use to source stories they might want to feature — some stories which might link back to your site! Look at HARO as a long-term strategy because it takes time to build good relationships with journalists.
Broken link building: Broken link building is a fantastic way to build links to your site or pages. The idea is to locate links on high-authority websites that aren't working anymore, and suggest replacing that link with a link to one of your pages. You might offer to do an article on whatever topic they need, or you might already have a relevant article available. Just be careful that it doesn't look like you're spamming. And, you'll definitely need an SEO tool to do this.
Outreach: You can contact site owners and directly ask them for links. It will be good if you already have some relationship with them. Asking for links is a powerful way to build links to your site. You need to ask for links from relevant sites and ensure you do it in a way that doesn't come off as spammy.
Infographics: Infographics are an increasingly popular way to build links to your niche site and get exposure on social media. The idea is to create a visually attractive and easy-to-digest infographic relevant to your niche. Ideally, other writers will use your infographic in their own content and link back to you as the source.
Paid Links & Link Exchanges: You can pay for links to your niche site but Google generally frowns on this type of link building. It's the same case for link exchanges, where you ask a site to link to them if they will link to you. Since these tactics can hurt your SEO efforts, so it's better to focus organic ways to build traffic to your site.
Social Media Strategies For Growing Traffic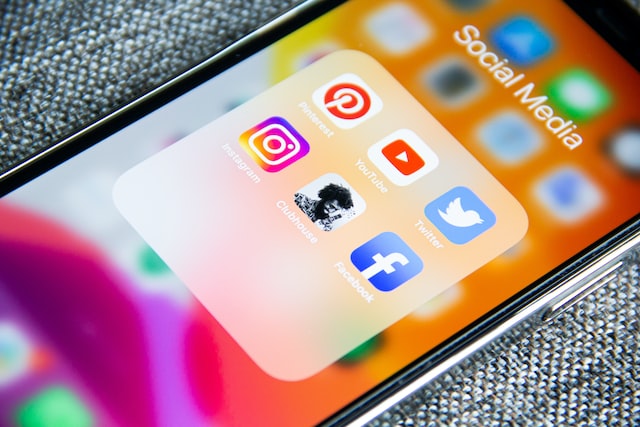 Social media has become a great way to promote blogs and websites to grow traffic. The key is to figure out where your ideal audience is hanging out and become part of their conversations.
Here are some best social media strategies for growing traffic to your site:
Quora: Quora is a platform you can use to get exposure for your niche site. The idea is to create an account, develop authority, and create content relevant to your site. Then, you can answer relevant questions to start generating traffic.
Pinterest: Pinterest is another excellent way to build traffic and exposure for your niche site. You can create boards focused on your niche and share relevant images and content with those communities. As users share your work, you'll get more eyes!
Facebook groups: Facebook groups are powerful platforms for building relationships with like-minded individuals in your industry. You can join relevant Facebook groups, engage with others, and share valuable content from your niche site to help grow your audience. Over time, this can be a powerful way to build traffic and establish yourself as an expert in your field.
Instagram: Through social media marketing strategies, Instagram is also an excellent platform for growing traffic to your niche site. Post high-quality images related to your niche and engage with others on social media by commenting on their posts or liking them. The goal is to drive followers to your site, so make sure you have a Linktree or a link to your site your bio.
Reddit: Reddit is another powerful platform with vast potential for driving traffic to your niche site. The idea is to find relevant subreddits, engage with others, and share high-quality content. You can also use Reddit ads to target specific users with your content, which can be a great way to get exposure and grow your traffic.
YouTube: Use YouTube to create valuable videos related to your niche and share them with your audience. Include links to your site in the description of your videos and try YouTube ads to target specific users with your content.
Twitter: On Twitter you can share links to your content and engage with other users in your industry. Using Twitter can help you build relationships, grow your audience, and get more exposure.
6. Monetize your site
Once you build a following and get traffic to your site, the next step is monetizing your blog.
Depending on your niche site and the content you're creating, there are different ways to generate revenue from your site.
However, it's important to remember that your top priority should be providing value for your audience first and foremost. If you focus on creating great content for your audience, revenue will follow naturally.
Top 5 Ways To Make a Profit Through a Niche Site
Here are some of the popular ways you can make money from your niche site:
1. Affiliate Commissions: You earn an affiliate commission by recommending products or services to your website readers. When a reader makes a purchase using your affiliate link, you'll make a commission on that link. You can sign up for affiliate programs like Amazon Associates, ShareASale, Clickbank, and others. Some sites might even reach out to you specifically for links back to their products.
2. Advertising: If you have a great niche site, you can grow revenue by including ads on your site's content. While Google AdSense is the most common way to make money from display ads, you can also use MediaVine, AdThrive, and Ezoic. Just remember, ads can be frustrating for readers, so make sure you don't take away from the user experience.
3. Selling Services: If you have services that can help your niche readers, your site is the perfect way to sell them. You can freelance your services, take on clients, offer courses and more.
4. Selling Products: If you have products that can help your audience, start selling! Evergreen content like e-books, brochures, infographics, subscriptions, etc., is a great way to make passive products. You can also sell other companies' products if that's relevant to your site.
5. Coaching: Another popular way to monetize your niche site is through coaching. Many experts, like Pat Flynn, Amy Porterfield, Neil Patel, etc., make a living with their coaching programs to help others make a niche site like theirs.
7. Celebrate and Repeat!
Once you have started making money from your first niche site, it's time to celebrate and congratulate yourself for your hard work and success. Just remember to keep doing the things that have worked for you so far, and be open to trying new strategies that might help you reach even greater success in the future.
Then it's time to:
1. Create More Sites
You can decide to create more niche sites to continue growing your online business. Many site owners make money from multiple niche sites rather than one big site. It just takes one site to make it big, so having a few opportunities will help your chances.
Getting pretty good at building niche sites? Offer site-building business to help others build and monetize their niche sites.
2. Build a Team
An excellent strategy for growing your niche business and making more money is to hire a team of people that can help you in specific areas. Hire someone in graphic design to help out with your site design or infographics contents. Find another for keyword research and blog writing, and one to help with inbound leads.
This is a great way to keep scaling if you're interested in building out a small business!
Tools Recommended For Creating a Niche Site
Blogging is all about using quality tools which means you require a few tools to make money from your niche site. This section will show you the best tools to create a niche site.
Tools For Building and Hosting Your Niche Site
Hosting must be the first and foremost thing to consider when starting a website.
You can choose from many hosting platforms, but for a niche site, we recommend the following:
1. WordPress: This platform is the preferred choice for many bloggers and site owners. You can easily create, customize and manage a niche site without technical knowledge or coding skills on WordPress.
2. Bluehost: WordPress recommends Bluehost as one of the most popular and suitable hosting platforms for beginner bloggers and site owners. Their plans are affordable, and customer support is fantastic, so you can get started with your niche site quickly and easily.
3. SiteGround: SiteGround is another excellent hosting platform for beginner bloggers and site owners. They offer great plans, fantastic customer support, and easy-to-use tools to help you quickly start your niche site.
4. Namecheap: An affordable domain registrar, Namecheap is an excellent option for purchasing your domain name. They also offer hosting services at a very affordable price.
5. Google Domains: The tech giant also offers domain registering services if you want Google products.
6. Themes: Choose a WordPress theme with responsive features to make your site look good on all devices. Generatepress, Astra, and Elementor are some of your site's fastest and most responsive themes.
SEO Tools for Your Niche Site
Search Engine Optimization (SEO) is the process of optimizing your site for Google and other search engines. Without SEO, even the best content may never come up on the top pages of search engines.
You need to write blog posts and other content for SEO so that all the hard work you put into your pages gets in front of searchers and potential customers or clients. And SEO tools can help you do this. Here are some of the best:
1. Ahrefs: Ahrefs is suitable for backlink checking, site audits, and keyword research; it's a loved tool by most online marketers. It's also one of the trusted tools in the market. However, it has a high price and may be challenging when starting your niche site.
2. GrowthBar: GrowthBar is an all-in-one tool for your niche site. Its features include keyword research which gives you metrics like search volume, keyword difficulty, traffic value, and more. It also provides competitor analysis, allowing you to see what works for your competitors and suggestions to improve your search rankings.
3. Yoast: This plugin is used by more than 5 million WordPress websites because it makes improving your SEO a breeze. It's a must-have if you plan to monetize your niche site with informational content. It allows you to write an SEO title, add a focus key phrase to make sure your post is optimized, and update your meta description (like we showed above).
4. RankMath: RankMath is one of the newer SEO plugins that has recently grown in popularity. It's a lighter, more affordable alternative to the Yoast SEO plugin.
5. Semrush: Semrush is a robust tool for helping you find keywords with high search volume and that are related to your niche. It also provides you with content insight, backlinks, and a list of links to competitors' backlinks.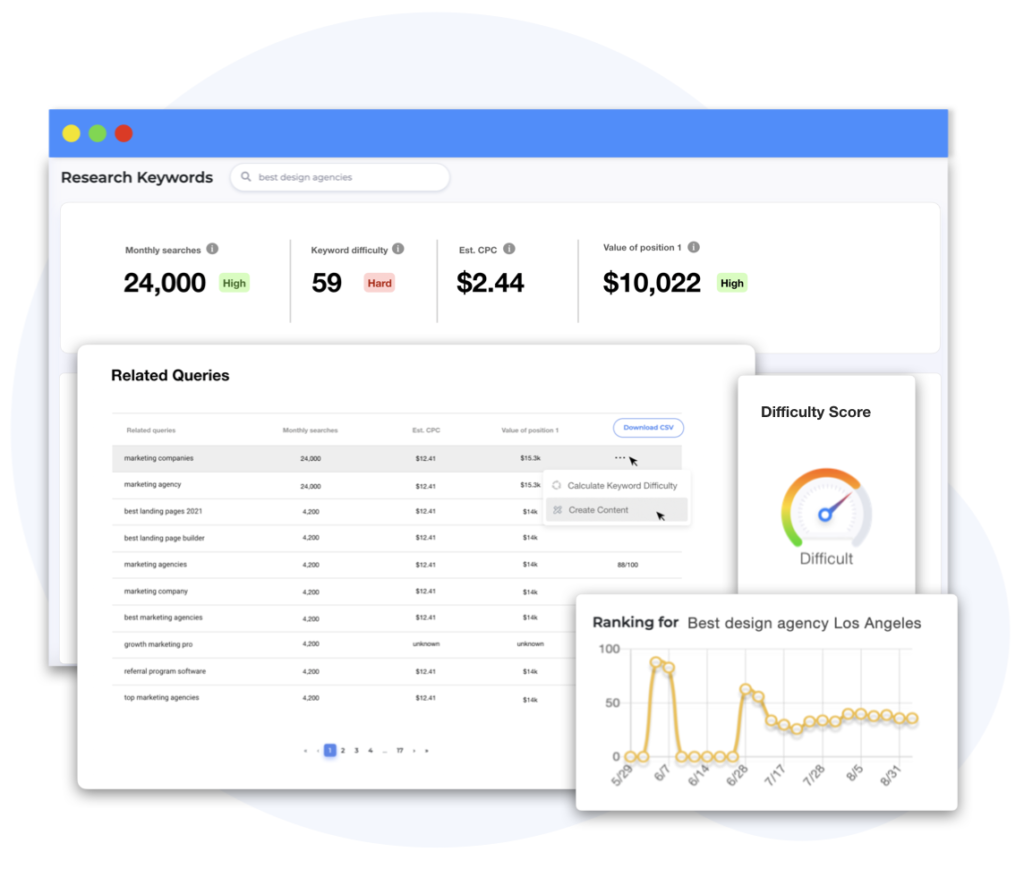 Content Tools For Your Niche Site Content
To thrive in this super-competitive world of niche sites and blogging, you need to have content that is well-researched and backed with facts. There are a lot of content tools to help you do that. Here are our favorites:
1. Google Drive: It's an excellent storing, editing, and collaboration tool. It has docs, sheets, slides, and many other file formats. You find Google Docs helpful if you work with contract writers.
2. Shortpixel: Image optimization is key to ranking in Google Images. It can improve the speed and download time of your images.
3. Canva: Canva is a simple graphic design tool with which you can create stunning graphics for your blog posts and social media posts. It's a must-have content tool. It's a top-rated tool used by bloggers, content marketers, graphic designers, and more.
3. GrowthBar: GrowthBar is the ultimate tool for creating successful niche sites. Whether you have an established niche site or are just starting, GrowthBar has everything you need to succeed online.
4. Grammarly: This free grammar checker will help you find the correct choice of words, spelling, and other mistakes. It even suggests how to improve your sentence structure. The free version is okay, but the premium will help you write better content that resonates with your audience.
6. ConvertKit: ConvertKit is a great tool in the email marketing game. It is particularly effective for bloggers and very small businesses who want simple very automation. It has one of the highest deliverability rates in the industry, which makes it an attractive choice for small businesses.
7. Unbounce: Unbounce was the first landing page builder software. You could actually say they invented the category. It's perfect for optimizing performance marketing campaigns, creating "coming soon" pages, capturing emails on-site, and describing those hard-to-explain elements of your product offering.
The Bottom Line on Niche Site Building
Creating a successful niche website takes time, effort, and dedication. But if you do it right and focus on providing quality content that engages your audience, there's no question that you will see results over time.
With time, patience, hard work, and a strategic approach, it's possible to build a successful niche site that attracts high-quality traffic, yields impressive results, and helps you buy an apartment home for your life's dream.
So get out there and enjoy your success as you continue this journey. Good luck!