Whoever didn't think SEO would be dead this year may cast the first stone.
First, ChatGPT rolled around. Then, Bard started poking its head in until it was finally official. And then AI-powered tools started cropping up like mushrooms. Some of us were on the edge of our seats the whole time, quietly wondering if this would finally be SEO's long-rumored demise.
But of course, we found that AI isn't here to replace us but to make our jobs that much easier. That's why this article pays homage to some of the best AI SEO tools in 2023.
These tools will help you shrink down the "long game" that is SEO, helping you get indexed and move up the SERP rankings faster. Or at least a lot faster than you would without AI.
Let's take a look at them!
Table of Contents
SearchAtlas for Overall SEO
AlliAI for Bulk SEO Changes
GrowthBar SEO for Content Production at Scale
SEMRush for Keyword Research
SurferSEO for SEO Briefs
SiteGuru for SEO Goals
Jasper.ai for AI-Generated Copy
MarketMuse for Content Strategy
WordLift for Structuring Data
CanIRank? for SERP Research
ProRankTracker for Accurate Rank Tracking
MarketingBlocks for Marketing Content Creation
BacklinksAI for Backlink Opportunities
Conclusion
So, what's the surefire path to higher rankings? Consistency is. With SearchAtlas, you can improve your SEO site-wide, task-by-task, on a weekly basis.
From keywords to target, pages to optimize, and technical SEO fixes, you'll always know the exact next steps toward better rankings. That's all thanks to the help of SearchAtlas's AI Growth Management platform, OTTO. It's like an in-house SEO strategist, but without the hassle.
With tools like OTTO, you'll get monthly performance reports – because you deserve to see serious upticks in your organic visibility.
If you want to create more relevant content, improve your technical SEO, and elevate your rankings, listen to OTTO's custom suggestions. That's it.
What it does:
With SearchAtlas, you'll be able to pinpoint and fix SEO issues before they drop your rankings. Resolving those issues is as easy as following intuitive "how to fix" instructional guides.
Who it's for:
Business owners, digital marketers, and SEO professionals who want to take the guesswork out of SEO.
Features include:
Weekly SEO Recommendations and tasks to improve your website rankings
Technical SEO audits with 24/7 issue tracking
On-page SEO analysis and troubleshooting to increase your ranking potential
AI Content Generation that creates high-quality copy in seconds
Pricing:
Starts at $95/month with a 7-day free trial.
AlliAI for Bulk SEO Changes
Nightmare scenario: You need to make hundreds of SEO changes, like, yesterday. And because you have no coding skills, you have to practically beg developers to hurry up.
With AlliAI, you can take back control of your workflow and deploy those changes instantly. All of them. Forget taking months to get tasks done because there's no coding required!
You can create site-wide optimization rules and see the changes live instantly with one click. Even if you need to optimize hundreds or thousands of pages, you can do it all in one single dashboard and save months of manual grunt work.
If you're looking for the speediest way to optimize one or multiple websites for SEO, AlliAI is your tool.
What it does:
AlliAI saves you hundreds to thousands of hours of manual work by bulk-optimizing your website's SEO.
Who it's for:
Agencies and SEO teams who want to streamline their workflow.
Features:
Bulk on-page optimization to deploy site-wide changes with a single click
A live editor to help you make code and content changes right on the page
Self-Optimizer to help you generate site-wide page titles with A/B testing capabilities
Real-time deployment, so you can deploy and view code changes instantly on any page
Pricing:
Starts at $249/month, with a 10-day free trial.
GrowthBar SEO for SEO Strategy and Content Production
You know the drill – to dominate your niche, you should create unique, E-E-A-T-compliant content. But that's only possible if you know what's already ranking out there.
With Old-school SERP scanning, you'd painstakingly look at the first 5 or so results and, somehow, try to make your content better. That would require plenty of researching, copying, pasting, and peace of mind.
Enter GrowthBar. One click is all it takes for a complete SERP scan of hundreds of results, generating a full SEO-optimized outline for your content. Need help writing or rewriting? Growthbar's AI Assistant can write full content pieces and audit/optimize existing content.
What it does:
Write and optimize content 10x faster with AI.
Who it's for:
Marketers, bloggers, and content agencies who want to produce SEO-friendly content at scale.
Features:
Use the AI Writing Tool to create unique, long-form content at half the time
Import and audit any existing blog posts for SEO best practices
Instantly generate dozens of blog post ideas and topics
Inform your content strategy with billions of keywords, generating up to 200 related queries for each keyword
Create your own writing style and write in your brand voice
Pricing:
Starts at $48/month with a 7-day free trial.
SEMRush for Keyword Research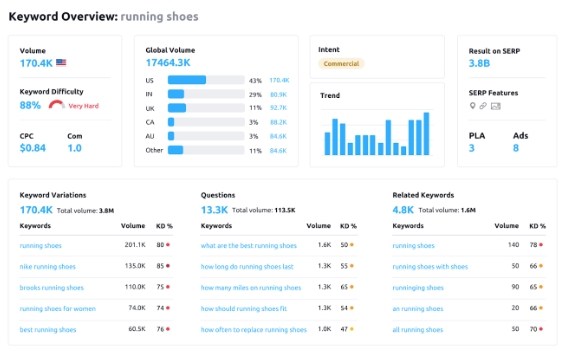 When you think of keyword research, SEMRush is the tool that pops into your mind. That's because it features an arsenal of SEO tools for anyone serious about grabbing top SERP positions.
If you've ever asked yourself, "Which keywords should I target?" – this is your last stop. With SEMRush, you'll be able to discover the best keywords for your marketing strategy based on competitiveness, search volume, search intent, related terms, SERP results, and much more.
You'll also have access to your competitors' top-ranking (and most profitable) keywords, so you can fill in the gaps of your own strategy.
What it does:
SEMRush helps you boost your organic traffic and better understand your rankings vs. your competitors' rankings.
Who it's for:
Marketers and SEO agencies who want to target the most profitable keywords for their content and marketing campaigns.
Features:
Get access to a comprehensive database of over 25 billion keywords
Conduct in-depth SEO website audits
Get expert recommendations to improve your content to increase search rankings
Track and analyze competitor websites and marketing strategies
Pricing:
Starts at $129.95/month with a 14-day free trial.
Read our detailed review of SurferSEO here.
When the plan goes off track, results often fall short. That's why SEO content briefs are so crucial: they help teams stay on the same page throughout the whole creation process. But there are briefs…and then there are half-baked outlines. SurferSEO would never allow the latter.
Besides streamlining the research, writing, and optimization of any content piece, Surfer's AI tool generates complete content briefs with catchy headlines – in seconds. So that your revisions are minimal or non-existent, and you can publish 100% SEO-optimized content faster than ever.
What it does:
SurferSEO generates comprehensive briefs with unique headings and questions, thanks to its Outline Builder tool.
Who it's for:
Basically, any business owner who wants to increase their organic traffic through well-planned content.
Features:
Find errors and improvement opportunities with the SEO Audit add-on
Write and optimize any content piece in any language
Use an accurate plagiarism checker to ensure 100% authenticity and avoid penalties
Get real-time feedback from a handyAI content editor
Pricing:
Starts at $89/month with a 7-day free trial.
SiteGuru for SEO To-Do Lists and Goals
SiteGuru is for those of you who have no idea where to start with your SEO but want to get started anyway.
This is a tool that, put simply, tells you how to reach your SEO goals. Yes, even if that means ranking for a #1 spot.
In just 15 minutes, SiteGuru runs a complete SEO audit on your website to help you find and fix your most pressing SEO issues. If you decide to stick around, you'll get a complete weekly audit with an actionable, no-nonsense to-do list so you reach your goals without spending more than 5 minutes on SEO daily.
What it does:
SiteGuru helps you find low-hanging fruit and achieve SEO goals by giving you a weekly prioritized SEO to-do list.
Who it's for:
Marketers, agencies, and freelancers who wouldn't call themselves "SEO experts".
Features:
A prioritized SEO to-do list with quick actions you can take to improve rankings
Detailed reports for easy on-page optimization
A weekly report with your top keyword insights
Get robust technical SEO checks with step-by-step guidance on how to fix any tech issues
Pricing:
Starts at $29/month with a 14-day trial.
Jasper.ai for AI-Generated Copy
Jasper.ai is for anyone who needs to write any marketing materials, doesn't necessarily have time to write them all, but also wants to improve their online presence.
It doesn't matter if you write blogs, website copy, social captions, or are just looking for some rewriting help – Jasper can do it all for you.
You can train this AI tool to learn all about your brand's voice, tone, and style guide to keep your copy on-brand and consistent no matter where you publish it. You can even ask it to scan your website to learn all about your brand's tone (and variations thereof) in a matter of minutes.
Repurposing content? Give Jasper any piece, and it'll transform it into a full-blown campaign.
What it does:
Jasper generates high-quality copy across different media formats and for 50+ use cases.
Who it's for:
Marketers, content creators, and business owners who want to publish better copy, fast.
Features:
Use the Paragraph Generator tool to create eye-catching paragraphs for your target audience
Leverage the AIDA Framework generator for persuasive copy structure
Get blog post topic ideas for when you're strapped for time
Build original blog post outlines to share with your writers
Pricing:
Starts at $49/month with a 7-day free trial.
MarketMuse for Content Strategy
Your content strategy shouldn't be a guessing game. Unfortunately, manual content audits aren't only time-consuming, but they also pose a higher risk of focusing on the wrong content. And content that doesn't resonate with your audience won't bring you higher rankings.
With MarketMuse, you can streamline and automate your content audits, stop guessing at your content structure, and focus on the right content with AI. The tool will analyze your whole website and give you actionable tips and data-driven insights to improve your content planning. It'll also spot gaps in your competitors' ranking content so you can leverage their missing pieces in your next campaign.
What it does:
MarketMuse uses AI to create a data-driven process that informs your content strategy.
Who it's for:
Content teams of all sizes who want to publish data-driven content at scale.
Features:
Create content briefs that include topics to cover, questions to answer, and important links to include
Identify and fix underperforming content with the optimization tool
See the points your competitors have missed with competitive content analysis
Plan your content better with page-level and site-level SERP insights
Pricing:
Starts absolutely free. Starts with a 7-day free Standard Trial.
WordLift for Structuring Data
Can search engines easily crawl and index your website? If they can't, you'll have a hard time ranking. WordLift helps you put "write for both humans and search engines" into practice.
WordLift helps you increase your website's visibility by enriching your content with Natural Language Processing (NLP) and structured data and creating a cohesive navigation flow within your website—no need to connect the dots yourself.
With Wordlift, your human-first website content can be well-structured and easily crawlable. By helping Google understand the true value of your pages, you can build authority, increase time on site, and get top rankings.
What it does:
WordLift makes it easier for search engine crawlers to index and understand your content.
Who it's for:
Businesses of all sizes who want to grow their business with AI-powered SEO.
Features:
Automatically add structured data to your website with AI
Build a dedicated Knowledge Graph to help search engines better understand your website structure
Use expert content recommendations to help your users discover relevant content across your site
Get semantic analytics and accurate reporting
Pricing:
Starts at €59 with a 14-day free trial.
By the way, you can rank, especially with this tool. CanIRank? gives you deep insights into why a page ranks for a certain position in the SERPS. Then, it shows you what you need to do to take that spot.
So, which links should you add to your content – and where should you add them? What's the best way to get valuable backlinks? How to make your content stand out in the SERPs? CanIRank? answers all of those questions and more, helping you understand and improve your rankings at a glance.
Plus, every single recommendation comes with easy-to-implement SEO tasks. If you don't feel like implementing any changes yourself, that's fine, too! You can delegate those changes to an SEO expert whenever you'd like.
What it does:
CanIRank? gives you insights into the SERP positions you crave, giving you detailed DIY instructions to reach them faster.
Who it's for:
For small businesses and startups aiming to improve their Google rankings.
Features:
Get customized keyword research done in seconds
Calculate any keyword's ROI score with over twice the accuracy of other keyword-tracking tools
Use a Competitor Analysis Tool to understand factors that drive top rankings for any keyword
Prioritize high-value link opportunities with the Link Building Tool
Pricing:
Starts at $49.00/month with a 7-day free trial.
ProRankTracker for Super Accurate Rank Tracking
If you're dead serious about accurate rank-tracking, you'll go ga-ga over ProRankTracker.
While the name gives it all away, ProRankTracker provides you with the most accurate and up-to-date rank-tracking data available on the market. It allows you to track all of your rankings across different platforms and search engine listings, including Google, YouTube, local, Yahoo!, Bing, Amazon, and more. Plus, you can track all of them across mobile and desktop on any device.
For any keywords you track, you can view up to 100 SERP results, plus a trend chart for each URL. That's more data than you could ever ask for.
What it does:
ProRankTracker gives you incredibly accurate rank tracking and reporting.
Who it's for:
SEO agencies/professionals and website owners who want comprehensive SEO reporting.
Features:
Find reports and charts in a dedicated reporting hub
Find terms your website ranked for – even those you aren't tracking – with the Rankings Discovery Tool
View your exact keyword search volume for Google and Bing
Get access to a number of powerful reports you can instantly share with your teams
Pricing:
Starts at $13.5/mo​​​​​​nth with a 30-day free trial.
MarketingBlocks for Marketing Content Creation
On top of blog content, you also need to create videos, graphics, logos…you know, all the things you'd usually try to hack together on Canva (and even then, they wouldn't look how you imagined).
Want to skyrocket your online presence and brand awareness? With MarketingBlocks's AI Assistant Ethan, you can get all of your marketing assets done in minutes with AI. From landing page copy to ads and everything in between, a single keyword or URL is all it takes to generate any type of marketing content. Of course, user-friendly drag-and-drop builders help you edit your assets to your heart's desire until you can confidently hit "Publish."
What it does:
MarketingBlocks creates all of your marketing assets for you, including visuals and copy.
Who it's for:
Time-strapped marketers and business owners who want to save time on market asset creation
Features:
Create full website pages with the AI Page builder
Create professional promo videos with the AI Video Creator
Build a rock-solid brand identity with the AI Brand Kit
Write business plans, blogs, ads, and even books with the AI Writer
Pricing:
Starts at $37/month with a 5-day free trial.
BacklinksAI for Finding Backlink Opportunities
Getting strong backlinks is a proven way to boost your rankings. But especially for new businesses, that can be an arduous task. Even solutions like "Help A Reporter Out" (HARO), which are meant to help you get backlinks, come with a ton of noise, flood your inbox, and make it easy to miss out on great connections.
Thankfully, BacklinksAI saves the day by letting users filter how often they'd like to receive HARO notifications, as well as if they're interested in opportunities that don't include any matching prompts. Users can also use the "auto-reply" feature to save time when replying to reporter prompts.
This way, it's far easier to connect with the best-suited prospects and increase organic traffic – all while drowning out distractions and optimizing time.
What it does:
BacklinksAI automates your HARO outreach, increasing your chances of finding promising backlink opportunities.
Who it's for:
Website or blog owners who want to improve their SERP rankings through high-quality backlinks.
Features:
Apply smart filters to adjust the backlink opportunities you'd like to receive
Choose your email frequency (once daily, three times daily, or once a week)
Get matching prompts delivered to your inbox at your selected frequency
Easily generate prompt responses with the auto-reply feature
Pricing:
Starts out free, with a standard price of $9/month.
Conclusion
Above are some of the best SEO AI tools of 2023. While I've mentioned each tool for more specific use cases, you'll still find many overlapping features.
The main commonality among all of them is making SEO more approachable for anyone dreaming of higher rankings.
People won't stop searching. People won't stop Googling things, especially if they involve long-tail keywords. Even as SEO shifts drastically right before our eyes, climbing to the top of the SERPs still takes plenty of expertise, content creation, technical optimization, and backlink building. But with AI, things just got easier by a long shot.
Looking for help with creating powerful SEO strategies, from keyword research and competitor analysis to creating content? Try GrowthBar today!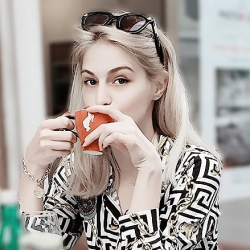 Latest posts by Lana Rafaela
(see all)